This article is incomplete. Please edit this page and help bring it up to standards.
Reason: Please complete storylines for 2013 and edit storylines for 2014
Please remove this template once this article is no longer incomplete.
Ava Jerome is a fictional character on the ABC daytime soap opera General Hospital.  She is the daughter of the late mob boss, Victor Jerome and his mistress, Delia Ryan Coleridge.
She had been portrayed by Maura West since the character's debut on May 8, 2013.
Casting and creation
In early April, Jamey Giddens and Jillian Bowe of Daytime Confidential reported a rumor that the Daytime Emmy Award winner Maura West, best known for her role as Carly Snyder on As the World Turns, was set to join the cast in a top secret role.
On April 24, nearly two weeks after Confidential's original report, Soap Opera Digest and other soap opera media confirmed the news and revealed that West had joined the cast in the newly created role of Ava Jerome, and was slated to appear sometime in May.[7]
ABC Soaps In Depth editor Richard M. Simms immediately speculated that the character shared a connection to the infamous '80s crime family, the Jerome family.
In an interview with Soap Opera Digest, West revealed that her agent, Mamie Sparer was contacted by General Hospital casting director, Mark Teschner who had her come in to meet with executive producer, Frank Valentini and that the meeting prompted her to sign on to appear as Ava.
Of her role, West admitted the part was only scheduled as a five-day stint, however, she was offered a contract before she even began work on the soap. In an interview with TV Guide's Michael Logan, West was asked what made her take on the role of Ava. She admitted,
"Next to nothing. You have to put your faith in people, which was hard because I'd never met [executive producer] Frank Valentini and [head writer] Ron Carlivati, but they are so fun, so infectious! But, then, Ava was not intended to hang around all that long."
West made her debut on May 8, 2013.[8]
When asked about the casting of West in the role, Valentini and Carlivati admitted they both felt West was perfect for the role. "When Ron and I had talked about this character, there were several actresses we had in mind initially, and a couple of things didn't work out. Then I thought about Maura, and when I said it to Ron, we both said, 'Absolutely!' So we both kind of stumbled upon it at the same time, because we are both not physically in the same city, we are often on the phone," Valentini revealed in an interview in December 2013. Valentini also admitted that he knew there might be some on West's part when it came to accepting the role.
He explained, "I understood she wasn't necessarily into the idea of doing another soap, because she had not the best experience on another show. But, I thought let's do it and let's see what happens." Carlivati also mentioned being a fan of West's from her time on World Turns, stating, "I was a fan of hers from As the World Turns. And when you first see Maura, she is so classically beautiful. I was not that familiar with As the World Turns, but when you would turn it on, you would see this beautiful woman who just seems to be appropriate as a soap actress."
In 2015, West won a Daytime Emmy for Outstanding Lead Actress for her role as Ava Jerome.
Introduction
Ava answers the door and Luke Spencer introduces himself. Ava reveals that she is the mother of Lauren Frank and tells Luke the story of she and Franco met and he had a charming side. After they knew that she was pregnant, she realized that Franco had a darker side and wanted to keep Lauren away from it. Luke lets Ava know that Franco is biologically a Quartermaine, and Lauren is entitled to shares of the family company, ELQ.
He gives her a proxy statement to hand over to Lauren, signing in favor of Tracy Quartermaine. Luke leaves and Morgan Corinthos walks down the staircase. Morgan ran to Ava's house when the people who he owed money threatened to come after him. It's later revealed that Morgan is dating her daughter, Kiki (later revealed to be short for Lauren Katherine Jerome).
Storylines
Ava and Kiki talk about the situation with Morgan. Ava convinces Kiki to go to Port Charles to be with Morgan, and she soon comes too. She tracks down Tracy, and tells her she will get her daughter to sign over her shares in exchange for a large sum of money. Tracy agrees, wanting control of ELQ. Ava tells Kiki that her father is the serial killer Franco and that he is the twin brother of Jason Morgan and also the grandson of late Edward Quartermaine, which entitles Kiki to a piece of the shares of the company ELQ. Ava tries to get Kiki to sign over her shares, but Kiki angrily disagrees to sign when Ava reveals she was bribed into getting Kiki's signature. Ava also meets Duke Lavery, when Ava goes to ELQ to talk to AJ Quartermaine, and they have a conversation about her surname of Jerome.  Duke has a past with the Jerome mob family.
Franco is revealed to be alive, and Ava tries to keep him away from Kiki. However, Kiki eventually comes to the Quartermaine house, where Franco is, and ends up moving in, along with Morgan. Ava tries to blackmail Franco into leaving Kiki alone by revealing that she knows Franco was the one who poisoned the ELQ relish. It's revealed that Ava was the one who shot Olivia Falconeri in a botched attempt to kill Franco. Ava agrees to let Franco have a relationship with Kiki, while Franco agrees to help Ava take over ELQ using his shares. The two move into the Quartermaine mansion, pretending to be a couple.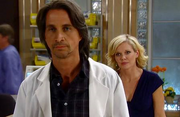 Ava spots Dr. Silas Clay when she goes to find Kiki and Ava gets Silas to agree to go get some coffee.  The coffee conversation doesn't end well, with Silas leaving Kelly's and Ava storming out soon after. It is revealed that Ava and Silas had a romantic relationship and Silas is the true father of her daughter, Kiki.  Ava tries to keep Silas from finding out that Kiki is his daughter, but Silas is still suspicious about Kiki's paternity. Morgan, meanwhile, catches Ava lying to Silas, and Ava admits to him that Silas is actually Kiki's biological father. However, she convinces him to keep it a secret from Kiki because if she finds out, she might leave Morgan for his brother, Michael, whom she's attracted to, but who she thinks is her cousin. Morgan, desperate to hold onto Kiki, agrees to keep the secret.
Franco is beaten up and admitted to the hospital, where the doctors later diagnose him with a potentially fatal brain tumor. Franco agrees to undergo surgery for it, but before he does, he signs over his shares of ELQ to Ava, giving her voting rights. Ava stages a coup with Tracy, planning to take the company once Tracy has control of it, by voting Franco's shares in favor of Tracy. However, Kiki sides with AJ, and the Quartermaines' housekeeper, Alice, switches sides, meaning AJ keeps his position as CEO. Ava is disappointed, and tries to figure out another plan. Meanwhile, she gets a visit from Duke, who is still suspicious Ava is tied to the Jerome mob family, especially because he's found out that Ava has a mysterious financial backer funding her activities. Ava writes him off and leaves.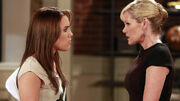 Ava shows up at the office of Crimson magazine, where it's revealed she knows the publisher, Derek Wells. She addresses Derek as Julian, and it's revealed that he's actually Julian Jerome, head of the Jerome mob and Ava's brother. The two of them plan to take control of Port Charles again, as their family once had in the 1980's. They are targeting Sonny Corinthos, who currently controls the mob business in Port Charles. Julian is disappointed because of Ava's failed scheme to take over ELQ. However, Ava tells Julian that Kiki is engaged to Sonny's son, and that will provide her leverage. It's also revealed that Ava & Julian are behind the gambling scam that put Morgan in debt, and she is playing him so Morgan will be in her debt.
Silas lets it slip to Ava that he had a DNA test run on Kiki. When he refuses to back down on Ava's insistence, Ava reports him to the chief of staff, Dr. Monica Quartermaine. Ava then takes the results from Monica to ensure no one knows the truth. Silas refuses to back down and plans to tell Kiki, but Ava threatens him to not go anywhere near her daughter. However, Connie Falconeri has already acquired Kiki's birth certificate and published the story in the newspaper by the time Ava stops Silas. Ava finds out and tries to locate Kiki, but runs into Silas, and finally admits that Kiki's his daughter. He storms out, angry, and Ava goes and confronts Julian for publishing the story. Julian, though, thinks it's an advantage since Tracy now has control and tells Ava to secure her position in ELQ, which Ava does by threatening Tracy with switching Franco's vote to support AJ.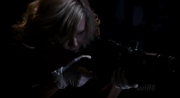 Ava goes looking for her daughter at General Hospital, when Kiki goes to tell Franco that they're not father and daughter. The two of them are angry at Ava, who tries to explain herself. However, Kiki tells Ava she's now married to Morgan. Ava's shocked, and realizes Morgan married Kiki so she couldn't leave him. Franco lets Ava know she's not off the hook with him, and Kiki also tells her to stay away from her and Morgan, even though Ava wishes them well. Ava later comes by and blackmails Morgan, saying that she could expose his lies and reconcile with her daughter. Morgan, though, is desperate to hold onto Kiki, and tells Ava he is willing to do anything to make sure Kiki never finds out. Ava agrees to hold onto the favor, and leaves. Ava is thrown out of the Quartermaine house, as is Franco, who admits to Tracy that he poisoned the relish. They both end up staying at the Metro Court.
Ava goes to visit Sonny, wanting his help to arrange a wedding reception for Morgan and Kiki. Sonny, though, doesn't want to because he is mourning the death of his girlfriend, Connie. Ava realizes that Sonny is supposed to be taking medication that he's not, and is behaving erratically, as a result. She goes and tells Kiki about the party, but Kiki doesn't want it. Morgan, though, convinces her to have it, and Kiki agrees on the condition that Silas is invited, as well. Later, Ava meets Julian at the pier, where they meet their associate, Vince, who was kidnapped by Sonny's men, Shawn Butler & Max Giambetti. He admits that he told them his boss' name, but doesn't think they'll buy it since everyone believes Julian is dead. Julian, however, kills Vince, and Ava throws his body into the water.
At the party, Ava sees Silas and gets him to agree to a dance with her. She tries to convince him to give their relationship another chance, but Silas refuses. Ava kisses him to change his mind, but he pushes her away, and runs after Sam Morgan. Meanwhile, Sonny reveals to the guests that Morgan knew about Kiki's paternity before they married, and has been lying ever since. Ava goes to find Silas, and overhears him telling Sam that he wants nothing to do with Ava, and he's interested in Sam. Ava tries to scare Sam off by claiming that Silas has dark secrets. Sam dares her to reveal them, and Ava backs off. Silas and Sam leave, and Ava breaks a vase in her meltdown.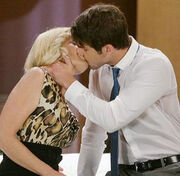 Ava goes back to her room, where Morgan shows up. He reveals that Kiki has left him after finding out the truth about him lying to her. After overhearing Silas commenting that he doesn't want anything to do with Ava and Morgan losing his wife, the two heartbroken people talk and console each other.  Morgan kisses Ava and she initially doesn't want it, but succumbs to it and has sex with her son-in-law. The next day, the two of them are discovered first by Carly, who wants to kick Ava out, then by Michael & Kiki. Morgan refuses to be sorry for what they did, but Ava is mortified about being discovered by her daughter. Kiki writes Ava off, and leaves with Michael. Ava moves out of the Metro Court before Carly can kick her out, and into a penthouse Julian had arranged for her. Morgan also moves in, claiming he has nowhere to go. When Morgan overhears Ava calling Julian her brother he figures out that he is not Derek Wells. Ava tries to save Morgan when Julian orders a hit on him. Eventuallly Morgan agrees to help Julian take down Sonny and moves in with Ava.
Meanwhile, Sam finds out that Ava is the daughter of Victor Jerome and Delia Ryan. Ava hosts a gallery for Franco that ends in disaster; Sonny arrives and reveals that he knows Derek is really Julian, and that Ava is his partner. He confronts Morgan about working with the Jeromes, who tells off Sonny and stays loyal to the Jeromes. Sam confronts Julian about knowing he's her biological father, and Julian reveals that Sonny has a hitman waiting to kill him outside. Sam tells Sonny not to, because Julian was going to give bone marrow to store for her son, Danny, in case he suffers a relapse in his cancer. Ava uses this as leverage, and guilt-trips Sonny into calling off the hit. Sonny lets Sam know, though, that Julian will not donate his bone marrow, because he's going to use it as leverage to stay alive.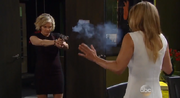 After Sonny leaves, Sam confronts Julian and Ava, who in a roundabout fashion, confirm that Julian will not donate his bone marrow to store because Sonny will kill him. Sam is furious at both of them for using her son as leverage and storms out. Ava tries to get Silas to convince Sam, but Silas coldly tells Ava to leave him & Sam alone. Ava later goes to the docks, where she finds Morgan beaten up after getting into a fight with Michael. Ava finds Julian's enforcer and her good friend, Carlos Rivera, at the pier one night. He tells her about how he still loves his ex-girlfriend, Sabrina Santiago, but she's now marrying Patrick Drake. Carlos found out that Patrick's wife, Robin, thought to have died a year earlier, is actually alive, but Sabrina doesn't believe him. Ava tells him to go to Patrick with this, but Carlos is convinced Patrick would believe him even less. After he leaves, Ava is shown to have stolen Metro Court security footage in her possession, which she burns afterwards.
Ava goes to Patrick's house on the day of his wedding, and tells him about what Carlos saw. She tries to plant a seed of doubt by revealing that Carlos told Sabrina, but she never told Patrick. Patrick, though, feels skeptical and tells Ava to leave. Ava goes on the witness stand at court when A.J. is charged with killing Connie. She testifies that she saw A.J. drunk at the bar the night Connie was killed, complaining about how Connie had ruined his life. However, her testimony is discredited because she doesn't have any physical proof A.J. actually committed the crime. Kiki confronts her afterwards about her testimony, and makes it clear to her mom she still wants nothing to do with her. Ava gets a call from Silas when he gets a mysterious call from an NYPD detective digging into him. He tells Ava that someone is trying to find out the truth about their past, and the secret they're hiding.
Morgan breaks up with Ava, when he returns home to his father. Ava comes to Sonny's office to see Morgan. Morgan tells her they can't be together, but she doesn't accept it. Morgan suggest that she leaves Julian to come work for Sonny. Ava agrees and Sonny comes to talk to her, he says she has to prove it. Since it was valentines day, Ava sent Morgan a text message telling him to meet her in a hotel room. Morgan texts back that he can't, but shows up anyway. He tried to leave insisting that he didn't know why he even came but they end up sleeping together. Ava then, to prove to Sonny she was serious and trustworthy, downloads all of Julians important files onto a flash drive she gives to Sonny.
She goes to New York as an alibi for A.J.'s murder and tells Morgan before she goes. This leaves him extremely worried when he shows up at her apartment building tot be told by the police someone was shot in her apartment. Ava later texts him that she is still in New York even though Morgan had discovered it was A.J. that was shot in her apartment. When Ava does return from New York Morgan goes to her apartment happy to see her. Morgan asks Ava if she was the one who shot A.J., and she tells him no, which was what he thought.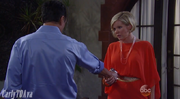 When Ava see's the paper, she gets nervous and is on her way to warn Silas but runs into Morgan outside the gallery who wants to know why she was in a hurry. She tells tries to lie, but Morgan can see right through it, and is worried. When Morgan and Ava go inside the gallery he tells her that he is going to get her a glass of water, and then they can talk. on his way to get her water he see's the paper on the floor. She lies and says the reason she is in a rush is not because of the article he wants to know the real reason. She tells him that if he loves her she will let him go without asking. Morgan unhappily agrees and tells her if there is ever another time she needs to leave without telling him where there will be no relationship between them.
After talking to Silas, she is about to leave when Morgan shows up. He told her that he followed her and that he saw the way she was with Silas and asked her if she still loved him. She replied that a part of her will always love Silas but that she still loves him. When he starts to get upset about the news she asks him if he still had feeling for Kiki. The next morning they are at the Metro Court together since it was a safe place to meet. Morgan brings up the conversation they had had the night before, him thinking the relationship was over. She tells him the same thing she told him before, this time taking a lot less upset. He is about to kiss her but Ava stops him saying that she needed an answer to her question. He tells her that it's like she said, a part of him will always love Kiki but that doesn't mean he doesn't love her. He informs her that Kiki is his past and she is his future. This time Ava doesn't stop him when he goes to kiss her neck. while there kissing Morgan's phone rings and he answers it while she is still kissing his neck. Kiki was on the phone wanting to see Morgan right away, some agrees to go see her. As he is getting dressed, Ava asked who it was and where he was going. He told her that Kiki had called and that she sounded upset. He promised to tell her if it was anything serious and left, telling her he loved her.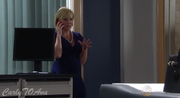 In March 2014, Ava is confronted by A.J for her role in Connie's murder and she pulls a gun on him. A struggle ensues and A.J ends up strangling Ava just as Sonny walks in, remembering how he caught A.J strangling Connie before her death Sonny snaps and shots A.J with Ava egging him on. Ava and Sonny begin a cover up of the murder because Sonny had promised Michael he would not harm A.J and Ava does not want her part both murders revealed. Ava gets Carlos Rivera to confess to the murder and threatens his pregnant ex-fiancé Sabrina Santiago. Sonny and Ava being to bond over the connection of their secret because they have no one else to confide in. On April 25, After A.J's funeral Sonny and Ava slept together in the Quatermaine crypt after an emotional conversation. Morgan walks in right after and immediately ends things with Ava then goes to Julian and tells him about Ava's betrayal.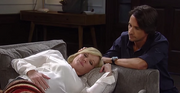 After, Julian tries to kill her, Sonny has her hide out on his island until things die down. When Ava is ready to go home Sonny comes to island and reveals that he knows she shot Olivia and shot and killed Connie. Just as Sonny is about to kill Ava she reveals that she is pregnant with either his child or his grandchild. On June 4, a blood test confirms that Ava is indeed pregnant. After Ava's pregnancy is confirmed, Sonny forces her to move into his house. Ava brings her mother Delia to town and Delia agrees to help Ava gets her hands on the flash drive with incriminating evidence of Sonny killing A.J. However, their plans fails after Sonny catches them and Delia is escorted back to New York by Shawn. While at the hospital for a doctor's appointment with Sonny, Ava gets a hold of a phone when Sonny is out of the room and calls Julian. She begs for his help and in exchange promises to give him information on Sonny. Julian comes to the hospital and Ava tells him that Sonny killed AJ. In exchange, Julian got her out of the hospital, effectively saving her from imprisonment at Sonny's house and they went back to her penthouse. On August 19, Ava celebrates her birthday with Kiki and feels her baby kick for the first time.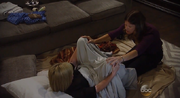 On September 11, Ava is hospitalized with severe cramps resulting from preterm labor and Nurse Santiago is harsh with her after believing she caused the accident that killed Sabrina's son. After Ava is cleared to go home, Sabrina shows up at her house apologizing for being so harsh with her at the hospital giving her a prescription that would cause her to miscarry that she switched with her real medication. Ava was also almost kidnapped by Sonny's men but Ava go away with Jordan's help. While on the road, she accidentally run over Jason Morgan and then calls Jordan, who takes the blame. Ava then ends up at the Brownstone. While at the Brownstone, Ava starts cramping again. Morgan goes to Jordan to get her pills and Ava starts taking them. Her cramps continue to get worse and thats when Ava finds out that she got the wrong meds and that she might be labor. Ava can't go to the hospital for fear that Sonny's men will kidnap her. Kiki suggests that she go get Silas and she does. Silas check Ava out and gives her a shot of terbutaline which stops her labor. Silas says that it looks like Ava will be able to carry to term.
At the end of October, Nina shows up and tells Ava that she is here for her baby. Nina injects Ava with a paralytic and then with a medicine that induces labor. On November 4, (Halloween on the show), Ava give birth to a baby girl with Nina's help. After the baby is born, Nina and her mother attempt to steal the baby but give Ava a chance to plead her case. Ava tells Nina that Madeline hired her to seduce Silas. When that doesn't work, she appeals to Madeline as a mother not to let Nina take her baby, but Madeline refuses. Ava is taken to the hospital where Kiki confront her about killing Connie. Ava tries to deny it, but is eventually forced to come clean. She asks Kiki to ask about her baby, and then slips away from the hospital. Ava goes to Silas and begs him to hide her from Sonny. Silas learns from Kiki what Ava has done, but agrees to help Ava find her baby. In New York, Silas and Ava run into Kiki and Morgan at the diner where Delia works, and they agree to work together to find the baby. As soon as the baby is safe, Dante arrests Ava for Connie's murder.
Ava is denied bail and she is remanded to Pentonville until her trial. Before leaving, Ava names her newborn daughter Avery. Kiki becomes the legal guardian because both of her parents are in prison. Ava has a nightmare about Kiki taking Avery from her and wakes up to find Madeline taunting her. Madeline gloats to Ava about how she will get out of prison. after the guard sends Ava and Madeline back to their cells, the guard pulls out a pocket knife, and prepares to kill Ava, but he is called away.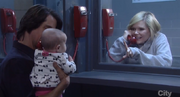 Ava sneaks into the men's side of Pentonville and asks Julian for help. She thinks Sonny sent the guy, but Julian thinks "Fluke" did. Ava tells Julian her plans to sneak on to the transport vehicle that will take Madeline to court. Julian tells her he is coming with her. Before they can talk further, Ava is caught by a guard and ushered back to the women's side. Ava thinks this guard is going to try and kill her as well, but the guard tells her she has a visitor. Ava goes into the visitor's room to see Silas holding Avery. Ava tells Silas that someone is trying to kill her. Silas suggests she reports it to the guards, but Ava says that the guards will protect each other, and says she plans to sneak aboard when Madeline goes to court. Silas tells her to do whatever she needs to do to stay alive. Before leaving, Ava tells her daughter how much she loves her.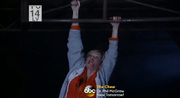 Ava tells Madeline that she will be going with her to the courthouse and testify on Madeline's behalf. As the guard escorts Ava to the van, she sees the guard that threatened her. Ava pleads with the guard not to let the other guard hurt her. The other guard tells the guard to take Madeline into the van and he will take care of Ava. Ava finds her self cornered as the guard advances on her with his blade drawn. Suddenly, Sonny appears and knocks the guard out. Ava, Sonny, Franco, and Julian all get into the van and leave Pentonville together. They end up getting into a car accident caused by Johnny and Carlos. Later on, Ava is held at gunpoint by Carlos while she begs for her life. Carlos isn't having any of it so he shoots Ava then she accidentally falls off a bridge. Sonny goes looking for Ava on Julian's request and finds her hanging onto the bridge for dear life. She begs him to help her and when he finally agrees, he says he's only doing it because Connie would want him too. He tries to pull her up but she looses her grip and falls, yelling "Sonny".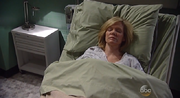 On February 26, she is revealed to be alive, and being hidden away and cared for by Silas. On March 3, Ava eavesdrops on her own memorial, and is touched by the kind words her family says about her. On March 4, Ava reveals herself to Delia, and is reunited with her daughter. She planned to run away with Avery, but decided she couldn't. When she got back to where she was hiding, Silas revealed to her, that she is dying. On March 9, it is revealed that Ava has terminal leukemia. Silas tells Ava that he has not found a bone marrow donor from anyone in her family that had been tested.
On June 3, it came out that Avery saved Ava. Ava then came to town as Deniese. but eventually got exposed. but was able to avoid prison when the recording of her killing Connie disappeared that then gets revealed that Paul Hornsby took the recording and he blackmails her into working for him. On September 24 ava comes to claim Avery and just as she about to take her home Carly reads paper ava can claim Avery in 24 hours which she does on October 1 2015 she claims Avery and takes her home.
Crimes Committed
Adultery; had an affair with Silas Clay while he was married to Nina [1991-1992]
Ran an illegal online gambling ring and knowingly lured Morgan Corinthos into a gambling debt with Julian Jerome [pre−Apr 2013]
Shot Olivia Faconeri while trying to aim for Franco [Jun 2013]
Threatened Silas Clay with a knife [Summer 2013]
Murdered Connie Falconeri [Aug 23, 2013; revealed Feb 25, 2014]
Framed A.J. Quartermaine for the murder of Connie Falconeri [Aug 2013-Mar 2014]
Accessory to the murder of Vince, a henchman for the Jerome organization (Ava pushed his body into the harbor after Julian shot him) [Sep 16, 2013]
Destroyed evidence in the murder of Connie Falconeri [Nov 18-22, 2013]
Threatened to kill Carly Corinthos-Jacks [Jan 2014]
Threatened Julian at gunpoint [Jan 28, 2014]
Stole information from Julian's laptop [Feb 2014]
Ordered Carlos Rivera to murder A.J. Quartermaine [Feb 2014]
Threatened A.J. Quartermaine at gunpoint [Mar 2014]
Accessory to the murder of A.J. Quartermaine [Mar 2014]
Tried to strangle A.J. at the hospital (he stopped her) [Mar 14, 2014]
Threatened a pregnant Sabrina Santiago if Carlos exposed her role in A.J.'s murder [Apr 18-21, 2014]
Ordered a hit on Sabrina and her unborn child if Carlos exposed her role in A.J.'s murder [Apr 22, 2014]
Blackmailed Carlos into falsely confessing to A.J's murder [Apr 28, 2014]
Threatened Julian at gunpoint [May 6, 2014]
Bashed Max Giambetti over the head with a vase in self-defense [Sep 22, 2014]
Accidentally ran over Jason Morgan [Sep 24, 2014]
Let Jordan assume responsibility for running over Jason [Sep 24, 2014]
Hid in Silas' apartment knowing she was a wanted criminal [Nov-Dec 2014]
Assaulted Carlos Rivera in self-defense [Feb 2, 2015]
Faked her death to hide from the police [Feb 3-Aug 24, 2015]
Assumed a new identity to avoid returning to prison for the murder of Connie Falconeri [May 25-Aug 24, 2015; revealed Jun 4, 2015]
Accessory to murder; failed to report to the police when she saw that Silas Clay had been stabbed [Jul 31, 2015; revealed Aug 6, 2015]
Blackmailed Franco [Aug 10, 2015]
Framed Nina Reeves for the murder of Silas Clay [Aug 24-31, 2015]
Obstruction of justice; knows that Paul Hornsby shot Sonny and is keeping quiet about it [Sep 22, 2015-present]
Threatened to kill Sonny Corinthos [Nov 5, 2015]
Continues to threaten to have Sonny's visitation of Avery revoked [Feb 3, 2016-present]
Slapped Paul Hornsby [Feb 19, 2016; shown on Feb 24, 2016]
Attacked Paul Hornsby and threatened to kill him [Feb 26, 2016]
Got into a cat fight with Carly [May 25, 2016]
Destroyed Carly's phone [revealed June 1, 2016]
Withholding information that Nile Carradine is actually Nikolas Cassadine [Jun 13, 2016-present]
Aided and abetted Nikolas' escape [Jun 13-Jul 19, 2016]
Attacked and tied up a woman who tried to thwart her and Nikolas' escape [Jun 23, 2016]
Blackmailed Nikolas by threatening to reveal his cover if she went back to Port Charles because he would no longer allow her to aid and abett him [Jun 27, 2016]
Obstruction of justice; knows that Nikolas murdered his grandmother, Helena and is keeping quiet about it [Jul 11, 2016-present]
Seduced Valentin in order to try and escape, then attacked him with a book in self-defense [Jul 22, 2016]
Stalked Morgan [Aug 16, 2016]
Stole Morgan's pills and went through his belongings behind his back [Aug 16, 2016]
Hired a hit man to assault Morgan in an attempt to get him to pick a fight with him [Aug 22, 2016; it worked]
Switched out Morgan's pills [Aug 23, 2016]
Health and Vitals
Choked by A.J. Quartermaine [Mar 4, 2014]
Threatened by Carlos Rivera [Apr 21, 2014]
Held at gunpoint and almost killed by her brother, Julian [May 2-5, 2014]
Held at gunpoint and almost killed by Sonny Corinthos [May 29-30, 2014]
Held prisoner at Sonny's house [Jun 6-Jul 24, 2014]
Had a glass of water thrown at her face by her mother [Jul 7, 2014]
Held at gunpoint and threatened by Mickey Diamond [Jul 24, 2014]
Held at gunpoint by Mickey for a second time [Jul 25, 2014]
Experienced Braxton Hicks contractions [Sep 11, 2014]
Had her medication switched with pills that cause premature labor or miscarriage in pregnant women [Sep 17, 2014]
Almost kidnapped by Sonny's men [Sep 22-23, 2014]
Became a nervous wreck after running over Jason Morgan [Sep 24, 2014]
Experienced more Braxton Hicks contractions [Oct 8, 2014]
Went into premature labor as a result of taking pills given to her by Sabrina Santiago, but it was stopped [Oct 16, 2014]
Was given a shot of terbutaline to stop her labor [Oct 20, 2014]
Paralyzed [Oct 31, 2014]
Injected with a drug by Nina Reeves that caused her to go into premature labor again [Oct 31, 2014; shown on Nov 3, 2014]
Tried to crawl out of the Brownstone; failed [Oct 31, 2014; shown on Nov 3, 2014]
Gave birth to her premature daughter completely natural [Oct 31, 2014; shown on Nov 4, 2014]
Held at gunpoint and almost killed by Sonny again but Michael stopped him [Nov 6, 2014]
Unable to walk straight after giving birth and collapsed [Nov 7, 2014]
Held at knifepoint, threatened, and almost killed by a prison guard [Jan 23, 2015]
Threatened and almost killed by a prison guard again [Jan 29, 2015]
Rendered unconscious in a car accident caused by Johnny Zacchara and Carlos Rivera under Luke's orders [Jan 30, 2015]
Held at gunpoint by Carlos Rivera [Feb 2-3, 2015]
Shot in the shoulder by Carlos [Feb 3, 2015]
Knocked off a bridge by Carlos after getting shot [Feb 3, 2015]
Left hanging off a bridge by Carlos and then Sonny tried to rescue her, but failed causing Ava to fall [Feb 3, 2015]
Presumed dead [Feb 3-26, 2015]
Had terminal leukemia, but received a life saving bone morrow transplant from her daughter, Avery; in remission [terminal leukemia revealed Mar 9, 2015; transplant performed Apr 2015; transplant revealed Jun 3-4, 2015]
Her DNA was slightly altered by the transplant [revealed May 27, 2015]
Burned her fingerprints off [revealed May 27, 2015]
Attacked and threatened by Nina Reeves [Aug 13, 2015]
Framed by Nina for the murder of Silas Clay [Aug 25-31, 2015]
Threatened by Sonny again [Oct 7, 2015]
Manhandled by Sonny after she antagonized him (he tightly grabbed her wrist and would't let go) [Nov 9-10, 2015]
Held hostage at gunpoint in a chapel-full of people by Landon Dixon [Feb 19, 2016; shown from Feb 23-24, 2016]
Offered herself up as a hostage to protect the Davis girls [Feb 19, 2016; shown on Feb 24, 2016]
Blackmailed by Carly into giving up Avery (with a sex tape) [May-Jun 2016; it worked]
Locked in a room (along with Nikolas Cassadine) by Huxley Lynch
Got shot by taser stun gun [Jun 23, 2016]
Held hostage at gunpoint in a room of people on Cassadine Island by Valentin Cassadine (aka Theo Hart) [Jul 15-26, 2016]
Taken hostage at gunpoint by Valentin and almost got shot by him [Jul 19, 2016]
Threatened with a gun by Valentin Cassadine multiple times [Jul 22, 2016]
Was exposed to malaria [revealed Aug 9, 2016[9]]
Family tree
See also
References
v - e

Current Contract Characters
Curtis Ashford
 ·
Jordan Ashford
 ·
Franco Baldwin
 ·
Hayden Barnes-Cassadine
 ·
Nikolas Cassadine
 ·
Morgan Corinthos
 ·
Sonny Corinthos
 ·
Carly Corinthos-Jacks
 ·
Alexis Davis
 ·
Anna Devane
 ·
Dante Falconeri
 ·
Olivia Falconeri
 ·
Dr. Hamilton Finn
 ·
Nelle Hayes
 ·
Paul Hornsby
 ·
Ava Jerome
 ·
Julian Jerome
 ·
Kiki Jerome
 ·
Maxie Jones
 ·
Dr. Andre Maddox
 ·
Jason Morgan
 ·
Sam Morgan
 ·
Dr. Griffin Munro
 ·
Dillon Quartermaine
 ·
Michael Quartermaine
 ·
Tracy Quartermaine
 ·
Nina Reeves
 ·
Nurse Sabrina Santiago
 ·
Laura Spencer
 ·
Valerie Spencer
 ·
Lulu Spencer-Falconeri
 ·
Nurse Elizabeth Webber
 ·
Nathan West
Current Recurring Characters
T.J. Ashford
 ·
Ned Ashton
 ·
Scott Baldwin
 ·
Claudette Beaulieu
 ·
Valentin Cassadine
 ·
Lucy Coe
 ·
Darby Collette
 ·
Dr. Kevin Collins
 ·
Brad Cooper
 ·
Kristina Corinthos-Davis
 ·
Landon Dixon
 ·
Naomi Dreyfus
 ·
Nurse Amy Driscoll
 ·
Nurse Felix DuBois
 ·
Parker Forsyth
 ·
Max Giambetti
 ·
Milo Giambetti
 ·
Alice Gunderson
 ·
Jasper Jacks
 ·
Nurse Epiphany Johnson
 ·
Dr. Lucas Jones
 ·
Ric Lansing
 ·
Molly Lansing-Davis
 ·
Dr. Kelly Lee
 ·
Janice Lomax
 ·
Huxley Lynch
 ·
Rosalie Martinez
 ·
Diane Miller
 ·
Dr. Liesl Obrecht
 ·
Dr. Monica Quartermaine
 ·
Dr. Joe Rivera
 ·
Aaron Roland
 ·
Delia Ryan Coleridge
 ·
Felicia Scorpio
 ·
Mac Scorpio
 ·
Robert Scorpio
 ·
Dr. Robin Scorpio-Drake
 ·
Nurse Bobbie Spencer
 ·
Damian Spinelli
 ·
Ellie Trout
 ·
David Walters
 ·
Heather Webber
Current Child Characters
Spencer Cassadine
 ·
Leo Falconeri
 ·
Rocco Falconeri
 ·
Josslyn Jacks
 ·
Avery Jerome-Corinthos
 ·
Danny Morgan
 ·
Teddy Rivera
 ·
Emma Scorpio-Drake
 ·
Aiden Spencer
 ·
Cameron Spencer
 ·
Jake Spencer
 ·
Georgie Spinelli
Deceased and Presumed Dead Characters
Benny Abrahms
 ·
Bernie Abrahms
 ·
Dr. Rachel Adair
 ·
Diego Alcazar
 ·
Lorenzo Alcazar
 ·
Luis Alcazar
 ·
Sage Alcazar
 ·
Ruby Anderson
 ·
Dr. Andy Archer
 ·
Dominique Baldwin
 ·
Cooper Barrett
 ·
Alison Barrington
 ·
Amanda Barrington
 ·
Kiefer Bauer
 ·
Warren Bauer
 ·
Jesse Beaudry
 ·
Katherine Bell
 ·
Connor Bishop
 ·
Mary Bishop
 ·
Paige Bowen
 ·
Nurse Jessie Brewer
 ·
Nancy Brewer
 ·
Dr. Phil Brewer
 ·
Carter
 ·
Helena Cassadine
 ·
Irina Cassadine
 ·
Kristina Cassadine
 ·
Mikkos Cassadine
 ·
Stavros Cassadine
 ·
Stefan Cassadine
 ·
Tony Cassadine
 ·
Victor Cassadine
 ·
Stone Cates
 ·
Dr. Ryan Chamberlain
 ·
Dr. Silas Clay
 ·
Stephen Clay
 ·
Adela Corinthos
 ·
Lily Corinthos
 ·
Dr. Ian Devlin
 ·
Mickey Diamond
 ·
Ronnie Dimestico
 ·
Dr. Pierce Dorman
 ·
John Durant
 ·
Bill Eckert
 ·
Connie Falconeri
 ·
Andrea Floyd
 ·
Dr. Russell Ford
 ·
Dr. Steve Hardy
 ·
Peter Harrell, Sr.
 ·
Peter Harrell, Jr.
 ·
Abby Haver
 ·
Logan Hayes
 ·
Theo Hoffman
 ·
John Jacks
 ·
Aleksander Janacek
 ·
Victor Jerome
 ·
Stan Johnson
 ·
B.J. Jones
 ·
Georgie Jones
 ·
Tania Jones
 ·
Dr. Tony Jones
 ·
Dr. Ewen Keenan
 ·
Rafe Kovich, Jr.
 ·
Dr. Eve Lambert
 ·
Trevor Lansing
 ·
Duke Lavery
 ·
Dr. Cameron Lewis
 ·
Victor Lord III
 ·
Hope Manning-Thornhart
 ·
Reese Marshall
 ·
Courtney Matthews
 ·
Dr. Matthew Mayes
 ·
Danny McCall
 ·
Lila McCall
 ·
Nurse Leyla Mir
 ·
Trey Mitchell
 ·
Susan Moore
 ·
Chloe Morgan
 ·
Henry Nakamura
 ·
Dr. Lisa Niles
 ·
A.J. Quartermaine
 ·
Dr. Alan Quartermaine
 ·
Alexandria Quartermaine
 ·
Edward Quartermaine
 ·
Dr. Emily Quartermaine
 ·
Lila Quartermaine
 ·
Carlos Rivera
 ·
Faith Rosco
 ·
Manny Ruiz
 ·
Gabriel Santiago
 ·
Joe Scully
 ·
Joe Scully, Jr.
 ·
Kyle Sloane
 ·
Damian Smith
 ·
Frank Smith
 ·
Shirley Smith
 ·
Zander Smith
 ·
Lena Spencer
 ·
Pat Spencer
 ·
Siobhan Spencer
 ·
Tim Spencer
 ·
Olivia St. John
 ·
Nurse Diana Taylor
 ·
Martha Taylor
 ·
Dr. Peter Taylor
 ·
Tracy Taylor
 ·
Dr. Asher Thomas
 ·
Cole Thornhart
 ·
Nurse Amy Vining
 ·
Bradley Ward
 ·
Justus Ward
 ·
Mary Mae Ward
 ·
Dr. Rick Webber
 ·
Dr. Karen Wexler
 ·
Dawn Winthrop
 ·
Deke Woods
 ·
Dr. Maggie Wurth
 ·
Anthony Zacchara
 ·
Claudia Zacchara-Corinthos
Off-screen and Former Characters
Lila Rae Alcazar
 ·
Dr. Grant Andrews
 ·
Terri Arnett
 ·
Brook Lynn Ashton
 ·
Larry Ashton
 ·
Christina Baldwin
 ·
Dr. Gail Baldwin
 ·
Lee Baldwin
 ·
Serena Baldwin
 ·
Dr. Tom Baldwin
 ·
Brenda Barrett
 ·
Julia Barrett
 ·
Melinda Bauer
 ·
Shawn Butler
 ·
Gia Campbell
 ·
Peter Carroll
 ·
Dimitri Cassadine
 ·
Petros Cassadine
 ·
Jagger Cates
 ·
Lois Cerullo
 ·
Skye Chandler-Quartermaine
 ·
Dr. Linda Chu
 ·
Father Coates
 ·
Mike Corbin
 ·
Angie Costello
 ·
Blair Cramer
 ·
Jolene Crowell
 ·
Nurse Nadine Crowell
 ·
Dr. Rae Cummings
 ·
Marco Dane
 ·
Téa Delgado
 ·
Roy DiLucca
 ·
Anna Donely
 ·
Sean Donely
 ·
Tiffany Donely
 ·
Dr. Noah Drake
 ·
Dr. Patrick Drake
 ·
Taylor DuBois
 ·
Toussaint Dubois
 ·
Jenny Eckert
 ·
Sly Eckert
 ·
William Eichner
 ·
Angel Ellis
 ·
John Everett
 ·
Cesar Faison
 ·
Nurse Fletcher
 ·
Pres Floyd
 ·
Nurse Betsy Frank
 ·
Ivy Gatling
 ·
Nurse Audrey Hardy
 ·
Dr. Simone Hardy
 ·
Dr. Tom Hardy
 ·
Dr. Tommy Hardy
 ·
David Harper
 ·
Jimmy Lee Holt
 ·
Dr. Matt Hunter
 ·
Anton Ivanov
 ·
Lady Jane Jacks
 ·
Jerry Jacks
 ·
Terrell Jackson
 ·
Miranda Jameson
 ·
Frisco Jones
 ·
Dr. Leo Julian
 ·
Rose Kelly
 ·
Winifred Leeds
 ·
Guy Lewis
 ·
Victor Lord, Jr.
 ·
Ethan Lovett
 ·
Starr Manning
 ·
Todd Manning
 ·
John McBain
 ·
Colleen McHenry
 ·
Miguel Morez
 ·
‎Hope Morgan
 ·
Ken Morgan
 ·
Delores Padilla
 ·
Blackie Parrish
 ·
Nurse Penny
 ·
Grant Putnam
 ·
Celia Quartermaine
 ·
Burt Ramsey
 ·
Coleman Ratcliffe
 ·
Madeline Reeves
 ·
Cruz Rodriguez
 ·
Casey Rogers
 ·
Father Mateo Ruiz
 ·
Juan Santiago
 ·
Alec Scott
 ·
Hannah Scott
 ·
Jeffrey Scribner
 ·
Rebecca Shaw
 ·
Jennifer Smith
 ·
Lucky Spencer
 ·
Luke Spencer
 ·
Suzanne Stanwyck
 ·
Nurse Mischa Stephens
 ·
Holly Sutton
 ·
Marcus Taggert
 ·
Nurse Regina Thompson
 ·
Claire Walsh
 ·
Faith Ward
 ·
Keesha Ward
 ·
Dr. Maya Ward
 ·
Dr. Jeff Webber
 ·
Dr. Lesley Webber
 ·
Dr. Sarah Webber
 ·
Dr. Steve Webber
 ·
Dr. Britt Westbourne
 ·
Dr. Lainey Winters
 ·
Grace Yang
 ·
Johnny Zacchara
Crew
Shelly Altman (Head writer, 2011-2012, 2015-present)
 ·
Ron Carlivati (Head writer, 2012-2015)
 ·
Jill Farren Phelps (Executive producer, 2001-2012)
 ·
Robert Guza, Jr. (Head writer, 1996, 1997-2000, 2002-2008, 2008-2011)
 ·
H. Wesley Kenney (Executive producer, 1987-1989; Head writer, 1988)
 ·
Gloria Monty (Executive producer, 1978-1987, 1991-1992; Head writer, 1981)
 ·
Jean Passanante (Head writer, 2015-present)
 ·
Wendy Riche (Executive producer, 1992-2001)
 ·
Frank Valentini (Executive producer, 2012-present)
 ·
Garin Wolf (Head writer, 2008, 2011-2012)
Related Topics
List of cast members
 ·
List of current actors
 ·
History of General Hospital