Bensonhurst, Brooklyn, New York is a neighborhood located in the south-western part of the New York City borough of Brooklyn. It is a real-life place that is mentioned countless of times throughout General Hospital due to many Port Charles residents once living in Bensonhurst.  It is about six hours from Bensonhurst to the fictional Port Charles, New York (given some clues by the show on Port Charles fictional relative location).
Relation to General Hospital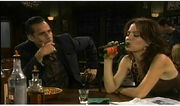 Bensonhurst is the home-neighborhood of Sonny Corinthos, Olivia Falconeri, Connie Falconeri, Dante Falconeri, Ronnie Dimestico, Lois Cerullo, Joe Scully and Joe Scully, Jr. on the fictional show General Hospital. Brook Lynn Ashton and Ned Ashton also lived here for a long period of time.