Britt Westbourne (Kelly Thiebaud)
Comments

193
531pages on
this wiki
Dr. Britta "Britt" Westbourne, MD[3] is a fictional character on the ABC soap opera General Hospital. She has been portrayed by actress Kelly Thiebaud since September 19, 2012.
Personality
Edit
Britt was noted for her "bitchy" attitude, characterized as an "evil" villainous. The term "Britch" (A combination of Britt and Bitch) has become widely popular when referring to the character, either in the show's script or social media and message boards. Despite the character being initially viewed as a pointless role who would be removed from the show quickly, Britt's unfolding storyline—that revealed her to be the daughter of supervillain parents Cesar Faison and Liesl Obrecht—has garnered both her and Thiebaud praise for making her nastiness believable, with Zap2it calling her a "natural". Though she loves playing the nasty side of Britt, Thiebaud is pleased to show the character's many layers.
Redemption
Edit
Although Britt was written to be a heartless villain, Britt was proven to be popular among fans and critics [4][5][6] with some even disliking Britt's enemy, the "good girl", Sabrina Santiago (Teresa Castillo), claiming she is "too immature". In late summer 2013, viewers started to notice a "change" in a character, after she bonds a friendship with sometime GH character, Nikolas Cassadine. Britt confides in Nikolas quoting, "...I should have been an adult and realized the truth and cut my losses. Instead I dug in. I tried harder to win him over. Emma too.[...] But Emma didn't let me from the start, and she's even more stubborn than Patrick. [...] After every gift fell flat and every outing ended with attitude, I lost my temper and acted like a child. [...] It's not something I'm proud of."
Storylines
Edit
One day, Dr. Britt Westbourne comes and pulls Patrick Drake away to talk to him. While talking, she asks Patrick out on a date, to which he agrees. Britt notices that Sabrina Santiago has a crush on Patrick, though doesn't view her as a threat. She manages to strong-arm Sabrina into babysitting for Patrick's daughter, Emma. On the date, things don't go as planned when Sabrina calls and tells Britt that the babysitting isn't going well. Britt tries to tell Sabrina to deal with it, but Sabrina calls back and Patrick and Britt have to go home. After this incident, Britt begins to worry if Sabrina is a threat.
Britt is disgusted when she finds out Sabrina and Patrick almost kissed at midnight on New Year's Eve. Britt confronts Sabrina and tells her to stay away from Patrick and to never babysit again. Patrick agrees to this idea and tells Emma to say goodbye to Sabrina, upsetting Emma. Later in that month, things turn for worse for Britt. After getting disrespected by Emma many times, Britt breaks down and tells Emma "she doesn't like her". This upsets Emma, which causes her to run away. Sabrina then finds Emma and Emma reveals everything that happened to Britt to Sabrina, who she had formed a sisterly bond with. Sabrina then tells Patrick this and he dumps Britt. Britt, angry, vows to get back at Sabrina.
After lying about the true parents of Maxie Jones' unborn baby girl, she blackmails Maxie into helping her ruin Sabrina. This ends however when Maxie's father, Frisco, confronts her and even causes Britt to break her leg, suddenly ending the storyline. Sabrina is then shocked when she finds out she didn't graduate nursing school. Patrick finds out about this and lashes out at Britt, accusing her of changing the results of Sabrina's test. After finding out Sabrina was framed of cheating, everyone lashes out at her and they find out Britt did it. No charges were pressed and Britt got a "warning".
In March 2013, it is revealed she is the daughter of Dr. Liesl Obrecht, the woman who has been helping hold Patrick's wife, Robin, hostage. Liesl tries to convince Britt to get Patrick back. Later it is revealed that Liesl had an affair with her "partner-in-crime" Cesar Faison and that is how Britt was produced. Britt and her mother's master plan is revealed when Britt takes the stage at revived Nurses' Ball to inform Patrick, Sabrina, Emma and everybody else that she is pregnant with his child, shocking everyone. Britt told Patrick that she was going to have an abortion and she and Patrick even made it to the abortion clinic but he convinced her not to have the abortion even thou she never intended on getting one in the first place.
Britt then schemes again and claims she has severe morning sickness (hyperemesis gravidarum). When the tests are done, it is revealed she does in fact have this. It is then learned Britt's new friend and lab technician, Brad Cooper, changed the results for her. Due to this sickness, Britt is put on bed rest and convinces Patrick to let her move in with him. However, Patrick eventually gets smart and realizes Britt can't stay with him. Sabrina offers to move Britt in with her, to which Patrick reluctantly agrees, and, later, so does Britt, as she has no other option.
Britt soon starts a bond with
Nikolas Cassadine
, who helps her deal with Patrick not loving her. When her mother returns to town, she tells her mother she is done trying to get Patrick back. Her mother refuses to stop the schemes, even after it is revealed Patrick isn't the baby's real father. Britt soon covers for
her mother when Liesl accidentally poisons
Duke Lavery
, while she was attempting to poison
Anna Devane
 instead.
With the help of Sabrina, Felix DuBois, and computer tech Damian Spinelli, everyone finds out Liesl is Britt's mother. Upon Anna hearing this, she storms into Britt's apartment looking for Liesl. When Anna learns that Britt is lying to her about Liesl's whereabouts, Anna arrests a heavily pregnant Britt. She is bailed out by Nikolas and Patrick finds out about Britt's mother and her arrest.  Patrick goes over to Spoon Island to confront Britt and says that he will fight Britt for full custody over the baby due to the threat that Britt's mother poses.  Britt then states that he will never get full custody because the baby is not his. According to Britt, Brad is the father of her son (via sperm donation).
After Patrick leaves, Sabrina comes by to confront Britt, and the two get into an argument. Britt starts having contractions, and goes into labor. Though Sabrina is initially compelled to leave her, she ends up helping to deliver Britt's baby boy, with the help of Nikolas. Britt soons realizes her son is sick, and needs to get to a hospital because his lungs are filled with fluid. Sabrina ends up having to take him, but Britt's son, Ben, manages to survive with the help of Dr. Silas Clay.
Britt tries to get a place to stay besides Wyndemere, but when Nikolas insists on bringing them home, Britt relents and brings Ben back there. Nikolas leaves for the christening of his niece, and Britt finds Liesl in Wyndemere soon after with Ben. Dr. Obrecht thinks Britt is trying to make Patrick jealous by staying with Nikolas, but Britt informs her that Patrick is not part of her life anymore because she told him the truth about Ben. Liesl is furious, but Britt won't back down, and tells her mother to leave or she'll call the police. Liesl doesn't think Britt will do it, but Britt says she won't have to, because Nikolas will be home soon, and will discover Liesl there. Soon after, Nikolas comes back and finds Britt unconscious and Ben gone.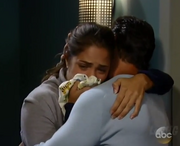 Britt becomes overwrought with worry when she realizes that her mother took her son. Though Nikolas gets Anna involved, she leaves in the midst of the investigation to go to Switzerland. Britt, meanwhile, is worried about her son. Nikolas asks Britt why Dr. Obrecht would take her son, and Britt figures out that she took him to Faison, and admits to Nikolas that Faison is her father. She receives a video message from her mother soon after, of Dr. Obrecht with Ben, claiming they'll be a happy family soon. Nikolas sees the video, and recognizes where Dr. Obrecht is: his family estate on Cassadine Island. Soon after Britt and Nikolas board a plane and head to Athens. Once they land, Nik calls Anna and tells her that Obrecht is on Cassadine Island. Despite Anna's warning to stay off the island, Nikolas and Britt charter a boat anyways.
When they arrive, they learn from the guards that Obrecht and Jerry Jacks are currently residing on the island. Nikolas heads off to confront Jerry and warns Britt to stay put. But soon after, she became restless and headed off in search of Ben. She ran into her mother and demanded to know where her son was. Obrecht told Britt that Ben was upstairs and tried to warn her of something else, but Britt pushed her away. Obrecht fell hitting her head on the coffee table and became unconscious. Britt hurries upstairs and finds her son in the arms of her father, Faison. Faison claims he's going to raise Ben as his heir, but Britt claims that Ben isn't even her son, therefore not related to Faison either. Faison thinks she's lying, and threatens her, but Nikolas shows up and helps her out.
Soon after, Britt finds out that Robin is alive, having been held hostage by Britt's parents. Faison and Obrecht corner the three of them with Ben, and hold them at gunpoint. Then, Jerry shows up and reveals that he's holding Robin's parents, Anna and Robert Scorpio, and will only let them go if Robin creates a cure for his polonium poisoning. Nikolas and Britt say they have to go back to Port Charles, or people will become suspicious. Jerry agrees, but has Faison and Obrecht watch them and Robin to make sure they don't turn against him. Britt, Nikolas, Robin, and Ben come back held in captivity by Faison and Obrecht on Wyndemere. Britt takes Ben to get checked out at the hospital, and finds out Patrick & Sabrina are engaged. Distressed, Britt nearly tells Patrick about Robin being alive, but holds back when Nikolas tells her to. However, she later lets Robin know about this, who is upset to know her husband has moved on.
When Luke Spencer comes back to town, Robin is anxious to get his blood sample since he's the one who received the antidote she came up with. Britt & Nikolas manage to pulls strings so Robin can get into the lab unnoticed to analyze the sample. While she's there, though, she's found by Carlos Rivera, Sabrina's ex-boyfriend. Robin thinks she's safe, but Britt lets her know that Carlos knows who she is and told Sabrina, who refused to believe him. Britt helps Robin synthesize the antidote, but Anna & Robert show up, having overpowered Jerry and escaped. They find Obrecht holding Duke captive, and Faison holding both Luke and Nikolas captive. They manage to overpower both of them, saving Duke, Nikolas, and Luke. Britt tells Robin to run so she can stop Patrick and Sabrina's wedding. Meanwhile, Britt and Nikolas become close, and eventually decide to be a couple, despite the danger they're in. Anna and Robert eventually escape, and rescue Britt, Robin, and Nikolas from Obrecht and Faison. Britt and Nikolas become closer, and decide to be a couple once Robin goes back to her family, and Obrecht and Faison are both captured. However, soon after, her mother calls her from police custody, warning Britt to help her out or she'll reveal the "truth" about Ben. Britt goes to the police station, where Obrecht tells her to arrange bail or hire a lawyer, or her secret about Ben will be revealed. Britt leaves, and finds Brad at Wyndemere. He tells her that Dante and Lulu Falconeri have found out their remaining embryos are missing, and want to question her about them. He warns them they'll find out that Britt has their son.
In flashbacks, it's revealed that after Patrick dumped Britt, Obrecht told her to get pregnant in order to get Patrick back. Britt wanted to find a suitable sperm donor, but Obrecht reminded her about the embryos she had fertilized for Dante and Lulu. One was implanted into Maxie, which she ended up miscarrying. Britt had Brad steal the other two, and Obrecht implanted them into Britt. Only one was viable, and it led to Britt becoming pregnant with "her son." Ben is actually Dante and Lulu's biological child.
Britt tells Dante she doesn't know what happened to his and Lulu's embryos. Britt later tells her mother how she's worried that Nikolas will break up with her if he finds out she stole his sister's embryos and that Ben is actually Lulu's son. Though she wants to tell the truth, she's afraid to out of fear of losing Nikolas. Britt tests Lulu to see about trying surrogacy again but learns that Lulu has no viable eggs and there for will likely never be able to have her own child.
Britt spends New Years with Nikolas. On February 14th, Elizabeth tells Britt that she ran a DNA test on Ben and Dante and that she knows that they are father and son. When she and Nikolas leave the Falconeri Loft, Nikolas proposes to Britt once again, which she accepts
Crimes Committed
Edit
Blackmailed Maxie Jones into sabotaging the career of nursing student Sabrina Santiago [Feb 2013]
Ordered Maxie Jones to switch a medicine bottle in order to make Sabrina give Patrick the wrong meds which caused Officer Bud Carlson to die [Feb 2013]
Stole a copy of the answer key to the nursing exam and made it look like Sabrina Santiago had cheated on the nursing exam [Mar 2013]
Lied and said that she was going to abort "her" baby, to get Patrick's attention; (she never intended on getting one in the first place) [Apr 2013]
Conspired with Brad Cooper to fake hyperemesis gravidarum during her pregnancy and in exchange guaranteed Brad a promotion [May 2013]
Conspired with Dr. Liesl Obrecht to pass another man's child off as Patrick Drake's (which included altering a paternity test) [Jul-Aug 2013]
Arrested for obstruction of justice after lying to the police regarding her mother's whereabouts [Aug 2013]
Fraud; conspired with her mother, Dr. Liesl Obrecht and Brad Cooper to steal Dante and Lulu Falconeri's remaining two embryos, was implanted with them and gave birth to their son, Ben [Feb 2013; revealed Dec 2013]
Assaulted Elizabeth Webber after she assaulted her; which turned into a cat fight [Feb 14, 2014]
Health and Vitals
Edit
Fell in the parking lot and broke her leg; (Kelly, the actress who plays Britt, broke her femur [Jan 2013]) [Mar 2013]
Gave birth completely natural [Sep 2013]
Clobbered over the head by her mother, Dr. Liesl Obrecht and rendered unconscious [Sept 2013]
Broke her wrist, it is unknown what happened; (Kelly broke her wrist in a skateboarding mishap [Jan 2014]) [Feb 2014]
Family tree
Edit
References
Edit
v - e
Current Contract Characters
T.J. Ashford
 ·
Shawn Butler
 ·
Nikolas Cassadine
 ·
Dr. Silas Clay
 ·
Michael Corinthos
 ·
Morgan Corinthos
 ·
Sonny Corinthos
 ·
Alexis Davis
 ·
Anna Devane
 ·
Dr. Patrick Drake
 ·
Nurse Felix DuBois
 ·
Dante Falconeri
 ·
Olivia Falconeri
 ·
Robert "Franco" Frank
 ·
Carly Jacks
 ·
Ava Jerome
 ·
Julian Jerome
 ·
Kiki Jerome
 ·
Maxie Jones
 ·
Sam Morgan
 ·
A.J. Quartermaine
 ·
Tracy Quartermaine
 ·
Nurse Sabrina Santiago
 ·
Mac Scorpio
 ·
Dr. Robin Scorpio-Drake
 ·
Luke Spencer
 ·
Lulu Spencer-Falconeri
 ·
Nurse Elizabeth Webber
 ·
Nathan West
 ·
Dr. Britt Westbourne
Current Recurring Characters
Scott Baldwin
 ·
Spencer Cassadine
 ·
Victor Cassadine
 ·
Father Coates
 ·
Lucy Coe
 ·
Dr. Kevin Collins
 ·
Brad Cooper
 ·
Taylor DuBois
 ·
Connie Falconeri
 ·
Max Giambetti
 ·
Milo Giambetti
 ·
Alice Gunderson
 ·
Josslyn Jacks
 ·
Nurse Epiphany Johnson
 ·
Lucas Jones
 ·
Rafe Kovich, Jr.
 ·
Ric Lansing
 ·
Molly Lansing-Davis
 ·
Duke Lavery
 ·
Janice Lomax
 ·
Diane Miller
 ·
Danny Morgan
 ·
Dr. Liesl Obrecht
 ·
Dr. Monica Quartermaine
 ·
Coleman Ratcliffe
 ·
Carlos Rivera
 ·
Emma Scorpio-Drake
 ·
Felicia Scorpio-Jones
 ·
Aiden Spencer
 ·
Nurse Bobbie Spencer
 ·
Cameron Spencer
 ·
Heather Webber
 ·
Dr. Lesley Webber
 ·
Ben Westbourne
Forthcoming Characters
Dr. Emily Bowen-Quartermaine
Deceased and Presumed Dead Characters
Benny Abrahms
 ·
Bernie Abrahms
 ·
Diego Alcazar
 ·
Lorenzo Alcázar
 ·
Luís Alcázar
 ·
Sage Alcazar
 ·
Ruby Anderson
 ·
Dr. Andy Archer
 ·
Dominique Baldwin
 ·
Cooper Barrett
 ·
Alison Barrington
 ·
Amanda Barrington
 ·
Kiefer Bauer
 ·
Warren Bauer
 ·
Jesse Beaudry
 ·
Katherine Bell
 ·
Connor Bishop
 ·
Mary Bishop
 ·
Paige Bowen
 ·
Nurse Jessie Brewer
 ·
Nancy Brewer
 ·
Dr. Phil Brewer
 ·
Irina Cassadine
 ·
Kristina Cassadine
 ·
Mikkos Cassadine
 ·
Stefan Cassadine
 ·
Tony Cassadine
 ·
Stone Cates
 ·
Dr. Ryan Chamberlain
 ·
Stephen Clay
 ·
Adela Corinthos
 ·
Lily Corinthos
 ·
Dr. Ian Devlin
 ·
Ronnie Dimestico
 ·
Dr. Pierce Dorman
 ·
John Durant
 ·
Bill Eckert
 ·
Cesar Faison
 ·
Andrea Floyd
 ·
Dr. Russell Ford
 ·
Dr. Steve Hardy
 ·
Abby Haver
 ·
Logan Hayes
 ·
Theo Hoffman
 ·
John Jacks
 ·
Aleksander Janáček
 ·
Victor Jerome
 ·
Stan Johnson
 ·
B.J. Jones
 ·
Georgie Jones
 ·
Tania Jones
 ·
Dr. Tony Jones
 ·
Dr. Ewen Keenan
 ·
Dr. Eve Lambert
 ·
Trevor Lansing
 ·
Dr. Cameron Lewis
 ·
Victor Lord III
 ·
Hope Manning-Thornhart
 ·
Reese Marshall
 ·
Courtney Matthews
 ·
Danny McCall
 ·
Lila McCall
 ·
Nurse Leyla Mir
 ·
Trey Mitchell
 ·
Susan Moore
 ·
Chloe Morgan
 ·
Jason Morgan
 ·
Dr. Lisa Niles
 ·
Dr. Alan Quartermaine
 ·
Alexandria Quartermaine
 ·
Edward Quartermaine
 ·
Lila Quartermaine
 ·
Faith Rosco
 ·
Manny Ruiz
 ·
Joe Scully
 ·
Joe Scully, Jr.
 ·
Frank Smith
 ·
Shirley Smith
 ·
Zander Smith
 ·
Jake Spencer
 ·
Lena Spencer
 ·
Siobhan Spencer
 ·
Tim Spencer
 ·
Olivia St. John
 ·
Nurse Diana Taylor
 ·
Martha Taylor
 ·
Dr. Peter Taylor
 ·
Tracy Taylor
 ·
Dr. Asher Thomas
 ·
Cole Thornhart
 ·
Nurse Amy Vining
 ·
Bradley Ward
 ·
Justus Ward
 ·
Mary Mae Ward
 ·
Dr. Rick Webber
 ·
Dr. Karen Wexler
 ·
Dawn Winthrop
 ·
Deke Woods
 ·
Dr. Maggie Wurth
 ·
Anthony Zacchara
 ·
Claudia Zacchara-Corinthos
Off-screen and Former Characters
Lila Rae Alcazar
 ·
Nurse Karen Anderson
 ·
Terri Arnett
 ·
Brook Lynn Ashton
 ·
Larry Ashton
 ·
Ned Ashton
 ·
Christina Baldwin
 ·
Dr. Gail Baldwin
 ·
Laura Baldwin
 ·
Lee Baldwin
 ·
Serena Baldwin
 ·
Dr. Tom Baldwin
 ·
Brenda Barrett
 ·
Julia Barrett
 ·
Melinda Bauer
 ·
Gia Campbell
 ·
Peter Carroll
 ·
Helena Cassadine
 ·
Stavros Cassadine
 ·
Valentin Cassadine
 ·
Jagger Cates
 ·
Lois Cerullo
 ·
Skye Chandler-Quartermaine
 ·
Mike Corbin
 ·
Kristina Corinthos-Davis
 ·
Angie Costello
 ·
Blair Cramer
 ·
Jolene Crowell
 ·
Nurse Nadine Crowell
 ·
Dr. Rae Cummings
 ·
Téa Delgado
 ·
Roy DiLucca
 ·
Anna Donely
 ·
Sean Donely
 ·
Tiffany Donely
 ·
Dr. Noah Drake
 ·
Toussaint Dubois
 ·
Sly Eckert
 ·
Angel Ellis
 ·
John Everett
 ·
Pres Floyd
 ·
Nurse Audrey Hardy
 ·
Dr. Simone Hardy
 ·
Dr. Tom Hardy
 ·
Dr. Tommy Hardy
 ·
David Harper
 ·
Jimmy Lee Holt
 ·
Paul Hornsby
 ·
Dr. Matt Hunter
 ·
Anton Ivanov
 ·
Lady Jane Jacks
 ·
Jasper "Jax" Jacks
 ·
Jerry Jacks
 ·
Terrell Jackson
 ·
Frisco Jones
 ·
Dr. Leo Julian
 ·
Rose Kelly
 ·
Dr. Kelly Lee
 ·
Winifred Leeds
 ·
Guy Lewis
 ·
Victor Lord, Jr.
 ·
Ethan Lovett
 ·
Starr Manning
 ·
Todd Manning
 ·
John McBain
 ·
Miguel Morez
 ·
Ken Morgan
 ·
Delores Padilla
 ·
Blackie Parrish
 ·
Nurse Penny
 ·
Celia Quartermaine
 ·
Dillon Quartermaine
 ·
Burt Ramsey
 ·
Cruz Rodriguez
 ·
Casey Rogers
 ·
Father Mateo Ruiz
 ·
Delia Ryan Coleridge
 ·
Juan Santiago
 ·
Robert Scorpio
 ·
Alec Scott
 ·
Hannah Scott
 ·
Rebecca Shaw
 ·
Lucky Spencer
 ·
Damian Spinelli
 ·
Georgie Spinelli
 ·
Suzanne Stanwyck
 ·
Nurse Mischa Stephens
 ·
Holly Sutton
 ·
Marcus Taggert
 ·
Nurse Regina Thompson
 ·
Ellie Trout
 ·
Claire Walsh
 ·
Faith Ward
 ·
Keesha Ward
 ·
Dr. Maya Ward
 ·
Dr. Jeff Webber
 ·
Dr. Sarah Webber
 ·
Dr. Steve Webber
 ·
Dr. Lainey Winters
 ·
Grace Yang
 ·
Johnny Zacchara
Crew
Ron Carlivati (Head writer, 2012-present)
 ·
Jill Farren Phelps (Executive producer, 2001-2012)
 ·
Robert Guza, Jr. (Head writer, 1996; 1997-2000; 2002-2008; 2008-2011)
 ·
H. Wesley Kenney (Executive producer, 1987-1989; Head writer, 1988)
 ·
Gloria Monty (Executive producer, 1978-1987, 1991-1992; Head writer, 1981)
 ·
Wendy Riche (Executive producer, 1992-2001)
 ·
Frank Valentini (Executive producer, 2012-present)
 ·
Garin Wolf (Head writer, 2008; 2011-2012)
Related Topics
Cross reference of character names
 ·
List of cast members
 ·
List of current actors
 ·
History of General Hospital