This article is incomplete. Please edit this page and help bring it up to standards.
Reason: Needs 2002-03 storylines written up.
Please remove this template once this article is no longer incomplete.
Stephen redirects here; for other uses of the name, see Steven (disambiguation)
Stephen Clay was a fictional character on the American daytime soap opera General Hospital.
Casting
He was originated by Michael Easton on the now defunct spinoff Port Charles in 2001. He was portrayed by Easton from May 11 to December 3, 2001; and again from October 25, 2002 until the series' end on October 3, 2003.
Easton is most known for portraying John McBain on the now canceled ABC soap opera One Life to Live (2003-2012) and General Hospital (2012-2013).
When several former PC characters and actors returned to GH in 2013, writers decided to revisit the vampire storyline from PC as a way to pay tribute.[1] They put their own spin on it, and Easton started playing a dual role of John and an adapted version of Caleb on February 4 to March 13, 2013.[2] On May 13th, Michael Easton started playing Stephen Clay's (aka Caleb Morley)'s brother, Dr. Silas Clay.
Storylines
Caleb is from a long line of vampires from Transylvania. He fell in love with a woman named Olivia, who also fell in love with him. When Olivia found out that Caleb was a vampire and he wanted her to become one too when they got married, she left him. Caleb then killed her, but didn't take her blood. He was still obsessed with her however.
Caleb has a kinder, gentler personality, Michael, who is manifested to try to suppress Caleb's evilness. Michael poses as a priest, and lives in an abandoned monastery in the woods. He meets Eve Lambert, who lives in a nearby cabin, and they become friends. The Caleb personality, however, comes out and Eve stumbles upon him. Caleb takes Eve hostage, but Michael then takes over again and frees her. Michael tells Eve that he and Caleb are twins, and that Caleb is evil and dangerous and needs to be locked up. Eve believes him.
Later, Michael married Eve and her boyfriend Ian Thornhart, and Eve invites him to stay with them. Ian gets suspicious that Michael is in love with Eve and just won't admit it because he's a priest. Ian then learns about Caleb and tells Michael to stay away from his wife. Michael starts having trouble staying in control. Caleb knows that Michael is in love with Eve, so Michael gives Eve a necklace that will protect her from Caleb. Soon, Michael's actions start to worry Eve, so she gets her ex-husband, psychiatrist Kevin Collins, to help her. Eve and Kevin then figure out that Michael and Caleb are not twins, but the same person.
Caleb sees a young girl in the woods with her boyfriend and is captivated by her. After a motorcycle crash, the boyfriend, Jack Ramsey, is near death and Caleb finishes him off, making him one of the undead, although he didn't know it. Caleb then meets the girl, Livvie Locke, in an alley and exerts a hypnotic, erotic influence over her. He convinces her to abandon everyone she loves and spend the rest of her life with him. Caleb then plans to kidnap Eve and Ian's son at birth. Livvie's loved ones figure out what is happening; and at the hospital, Caleb plays with everyone's minds and tries to kill them. Lucy Coe, a vampire slayer, tries to kill Caleb. Caleb and Livvie are on the hospital roof, and the Michael personality causes a lightning bolt to come down and hit Caleb, turning him to ash. Caleb's spirit, however, lingered.
Unbeknownst to everyone, Caleb had planted seeds of doubt and insecurity in all the couples. These seeds grow each week, every time they give into arguing, casting blame or throwing around accusations. Caleb has power over Livvie, and she is controlling all of this, getting in between couples. Caleb then forces her to kill Lucy. Caleb returns in the flesh and gathered everyone he hates together, planning to kill them. However, it's revealed that Livvie and Lucy have faked her death and are working together to take down Caleb. Livvie has broken through his hold over her and drives a stake through Caleb's heart. Though Caleb was killed, he was brought back from the dead. This occurred because Rafe had returned and a balance was needed. Under the name of Stephen Clay he started a rock band and reappeared at a televised concert. Over time he and Livvie married only for her to learn he got Alison Barrington pregnant because of a wish she made.
Lucy Coe arrived in Port Charles in January 2013, and encountered John McBain, whom she mistook for Caleb. At the time, he was hanging out with Sam Morgan, and Lucy mistakes her for Livvie. However, they don't know who she is, and try and walk away. But Lucy stabs John later, thinking she's killing Caleb, to protect "Livvie." She ends up getting arrested and sent to Ferncliff Sanitarium, after being declared insane.
Alison later arrives with her teenage son Rafe Kovich Jr. She ends up dead by the silver arrow/spear that she gave to Rafe. John McBain arrives on the scene and takes Rafe to the PCPD. Rafe is processed and booked. Rafe says he did not kill his mother and initially points to McBain as the murderer when Police Commissioner Anna Devane asks who killed his mother. The murder weapon is tested for fingerprints and the results show that Alison, Rafe, and "John's" prints are on the murder weapon. 
John McBain starts to warm up to the possible idea that there might be someone that looks like him and decides to work with Rafe to possibly find out who could be the true killer. At the same time, Caleb is shown returning to the crime scene. Lucy escapes Ferncliff with Todd Manning and Heather Webber and goes to Wyndemere. Todd and Heather soon after head out after convincing Lucy to take a nap. Lucy is awoken by Caleb, which possibly could be a dream. Caleb goes to the jail cell that Rafe is being held in and takes him, with some help with a guard, to the crime scene.  Caleb decides to re-construct the crime in order to kill the guard. He tries to disappear with his son afterwards, but Rafe refuses to go anywhere and escapes.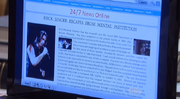 Caleb goes to Port Charles University and kills Professor Jay Mosser because he gave information about Caleb's ring to John McBain. Caleb is about to leave, but Sam shows up outside the office, and tries to get in. Caleb realizes who she is, and decides to wait for her to come in. But when Mosser's assistant shows up, Caleb escapes through the window. Caleb then heads to the Pier and finds Heather with Danny Morgan. Heather mistakes him for John. Caleb realizes that Danny is Sam's son, while Heather claims Danny is hers. Caleb plans to use Danny to get Sam[3], and chokes Heather to that end. He then throws Heather into the water, and tries to leave with Danny. But Todd shows up and stops him, believing him to be John, as well. Caleb tells him to leave, but Todd refuses. The police show up, and Caleb escapes. 
Anna and Sam arrive and Sam gets Danny back.  Anna arrests Todd, who proclaims his innocence. After the police leave, Sam is left alone with Danny. Caleb approaches her, and tries to pass himself off as John. But Sam calls his bluff, telling him she knows he's actually Caleb, and to leave her alone. But Caleb insists they're meant to be together, and traps Sam and Danny. John, Lucy, and Rafe escape the PCPD with help from Molly Lansing-Davis and goes to PCU for information. In a backstory of what happened to "Stephen Clay", McBain tells the story how Caleb/Stephen Clay was a musician with a vampire stage persona. Caleb's wife Livvie Locke died and Caleb became deranged. Clay was then institutionalized after committing seven murders and vowed to reunite with Livvie (Sam Morgan's look-alike).
Caleb (John McBain's look-alike) takes Sam and Danny to Wyndemere where he has Sam on the couch and Danny in the stroller. Lucy, John, and Rafe arrived at Wyndemere where Lucy blows their cover. Caleb takes Sam into the closet and then eventually into the tunnels underneath the mansion. Rafe takes Danny and John & Lucy go in search of Caleb Morley/Stephen Clay. John finds Caleb that has Sam on a bed-shape table. He has bitten Sam three times which Caleb has stated is required to refreshen Sam's memory. Caleb ties John up and had Lucy by the throat, but Sam distracts him by stating his name. John wrestles him for the silver arrow and eventually stabs Caleb with it. There was no pulse on Caleb and McBain revealed that there was fake teeth when he took them off of Caleb's mouth. McBain takes Sam upstairs to the living room. Lucy stays, wonders why Caleb is dead, and then starts to leave; Caleb's ring glows.
Lucy, John, and Rafe go back to the PCPD and are later released when Mayor Lomax and the DA decide to give the three a heroic feeling and tell the media that they were acting in accordance with the Police Department. Lucy and Anna go to check on the body to make sure that he is indeed dead.  They both conclude that he is dead. However, after Lucy and Anna leave, Caleb's body on the table is shown as the medical examiner (who resembles Caleb) takes Caleb's ring off his finger, puts it on, and it's revealed that the body was none other than the medical examiner, while Caleb is revealed to still be alive walks away.
In middle May, Sam Morgan arrives at a Manhattan hospital where Michael Corinthos says that Morgan Corinthos is taken after being beaten up by the gambling ring thugs.  Morgan sneaks out while Michael tries to find him.  Sam spots a doctor and speculates that it is Stephen Clay (the new name for Caleb).  The doctor says that he doesn't know what Sam is talking about and leaves to treat a relish-poisoned sicken Elizabeth Webber (who is there in support of AJ Quartermaine).  The doctor, Silas Clay, reveals that he is the brother of Stephen Clay.
Crimes Committed
Killed several people for their blood over many years
Killed Jack Ramsey and turned him into a vampire
Transformed Gabriela Garza into a vampire
Kidnapped Livvie Locke to make her his bride
Killed Rafe Kovich in the past
Used his demonic powers to tear apart couples in Port Charles
Turned Elizabeth Barrington into a vampire
Tricked Rafe Kovich and Alison Barrington into believing they were siblings
Killed seven people and committed to a mental institution [late 2003, revealed in Feb 2013]
Killed Rafe Kovich [late 2003; revealed Feb 2013]
Escaped the mental institution [Oct 2011; revealed in Feb 2013][4]
Killed Alison Barrington [Jan 31, 2013]
Impersonated an officer; pretended to be John McBain in order to get his son, Rafe Kovich, Jr., out of jail [Feb 8, 2013]
Stole police evidence from the PCPD [Feb 2013]
Killed Officer Bud Carlson [Feb 8, 2013]
Tried to kidnap Rafe Kovich, Jr. [Feb 8, 2013]
Killed a professor, Jay Mosser, who was giving information to John McBain [Feb 13, 2013]
Choked and threw Heather Webber into the water off Pier 52 [Feb 14, 2013]
Tried to kidnap Danny Morgan, but took off after struggling with Todd Manning and hearing sirens [Feb 14, 2013]
Kidnapped Sam Morgan and Danny Morgan [Feb 15, 2013]
Drugged and bit Sam Morgan [Feb 2013]
Bit Sam Morgan again, then tied her up [Feb 26, 2013]
Threatened to kill Sam Morgan [Feb 26, 2013]
Tied up John McBain [Feb 27, 2013]
Tried to kill John and Lucy Coe [Feb 28, 2013]
Health and Vitals
On General Hospital
Died after being stabbed in the chest with a silver-tipped arrow by John McBain [Feb 28, 2013]
References
v - e

Current Contract Characters
Curtis Ashford
 ·
Jordan Ashford
 ·
Franco Baldwin
 ·
Rachel Berlin
 ·
Nikolas Cassadine
 ·
Carly Corinthos
 ·
Morgan Corinthos
 ·
Sonny Corinthos
 ·
Alexis Davis
 ·
Anna Devane
 ·
Dante Falconeri
 ·
Olivia Falconeri
 ·
Dr. Hamilton Finn
 ·
Paul Hornsby
 ·
Ava Jerome
 ·
Julian Jerome
 ·
Kiki Jerome
 ·
Maxie Jones
 ·
Dr. Andre Maddox
 ·
Jason Morgan
 ·
Sam Morgan
 ·
Dr. Griffin Munro
 ·
Dillon Quartermaine
 ·
Michael Quartermaine
 ·
Tracy Quartermaine
 ·
Nina Reeves
 ·
Nurse Sabrina Santiago
 ·
Laura Spencer
 ·
Valerie Spencer
 ·
Lulu Spencer-Falconeri
 ·
Nurse Elizabeth Webber
 ·
Nathan West
Current Recurring Characters
T.J. Ashford
 ·
Ned Ashton
 ·
Scott Baldwin
 ·
Lucy Coe
 ·
Darby Collette
 ·
Dr. Kevin Collins
 ·
Brad Cooper
 ·
Kristina Corinthos-Davis
 ·
Landon Dixon
 ·
Nurse Felix DuBois
 ·
Parker Forsyth
 ·
Max Giambetti
 ·
Milo Giambetti
 ·
Alice Gunderson
 ·
Nurse Epiphany Johnson
 ·
Dr. Lucas Jones
 ·
Ric Lansing
 ·
Molly Lansing-Davis
 ·
Dr. Kelly Lee
 ·
Janice Lomax
 ·
Rosalie Martinez
 ·
Dr. Matthew Mayes
 ·
Diane Miller
 ·
Dr. Liesl Obrecht
 ·
Dr. Monica Quartermaine
 ·
Carlos Rivera
 ·
Delia Ryan Coleridge
 ·
Felicia Scorpio
 ·
Mac Scorpio
 ·
Robert Scorpio
 ·
Nurse Bobbie Spencer
 ·
Damian Spinelli
 ·
Ellie Trout
 ·
David Walters
 ·
Heather Webber
Current Child Characters
Spencer Cassadine
 ·
Leo Falconeri
 ·
Rocco Falconeri
 ·
Josslyn Jacks
 ·
Avery Jerome-Corinthos
 ·
Danny Morgan
 ·
Emma Scorpio-Drake
 ·
Aiden Spencer
 ·
Cameron Spencer
 ·
Jake Spencer
 ·
Georgie Spinelli
Forthcoming Characters
Dr. Robin Scorpio-Drake
Deceased and Presumed Dead Characters
Benny Abrahms
 ·
Bernie Abrahms
 ·
Dr. Rachel Adair
 ·
Diego Alcazar
 ·
Lorenzo Alcazar
 ·
Luis Alcazar
 ·
Sage Alcazar
 ·
Ruby Anderson
 ·
Dr. Andy Archer
 ·
Dominique Baldwin
 ·
Cooper Barrett
 ·
Alison Barrington
 ·
Amanda Barrington
 ·
Kiefer Bauer
 ·
Warren Bauer
 ·
Jesse Beaudry
 ·
Katherine Bell
 ·
Connor Bishop
 ·
Mary Bishop
 ·
Paige Bowen
 ·
Nurse Jessie Brewer
 ·
Nancy Brewer
 ·
Dr. Phil Brewer
 ·
Carter
 ·
Helena Cassadine
 ·
Irina Cassadine
 ·
Kristina Cassadine
 ·
Mikkos Cassadine
 ·
Stavros Cassadine
 ·
Stefan Cassadine
 ·
Tony Cassadine
 ·
Victor Cassadine
 ·
Stone Cates
 ·
Dr. Ryan Chamberlain
 ·
Dr. Silas Clay
 ·
Stephen Clay
 ·
Adela Corinthos
 ·
Lily Corinthos
 ·
Dr. Ian Devlin
 ·
Mickey Diamond
 ·
Ronnie Dimestico
 ·
Dr. Pierce Dorman
 ·
John Durant
 ·
Bill Eckert
 ·
Connie Falconeri
 ·
Andrea Floyd
 ·
Dr. Russell Ford
 ·
Dr. Steve Hardy
 ·
Peter Harrell, Sr.
 ·
Peter Harrell, Jr.
 ·
Abby Haver
 ·
Logan Hayes
 ·
Theo Hoffman
 ·
John Jacks
 ·
Aleksander Janacek
 ·
Victor Jerome
 ·
Stan Johnson
 ·
B.J. Jones
 ·
Georgie Jones
 ·
Tania Jones
 ·
Dr. Tony Jones
 ·
Dr. Ewen Keenan
 ·
Rafe Kovich, Jr.
 ·
Dr. Eve Lambert
 ·
Trevor Lansing
 ·
Duke Lavery
 ·
Dr. Cameron Lewis
 ·
Victor Lord III
 ·
Hope Manning-Thornhart
 ·
Reese Marshall
 ·
Courtney Matthews
 ·
Danny McCall
 ·
Lila McCall
 ·
Nurse Leyla Mir
 ·
Trey Mitchell
 ·
Susan Moore
 ·
Chloe Morgan
 ·
Henry Nakamura
 ·
Dr. Lisa Niles
 ·
A.J. Quartermaine
 ·
Dr. Alan Quartermaine
 ·
Alexandria Quartermaine
 ·
Edward Quartermaine
 ·
Dr. Emily Quartermaine
 ·
Lila Quartermaine
 ·
Faith Rosco
 ·
Manny Ruiz
 ·
Gabriel Santiago
 ·
Joe Scully
 ·
Joe Scully, Jr.
 ·
Kyle Sloane
 ·
Damian Smith
 ·
Frank Smith
 ·
Shirley Smith
 ·
Zander Smith
 ·
Lena Spencer
 ·
Pat Spencer
 ·
Siobhan Spencer
 ·
Tim Spencer
 ·
Olivia St. John
 ·
Nurse Diana Taylor
 ·
Martha Taylor
 ·
Dr. Peter Taylor
 ·
Tracy Taylor
 ·
Dr. Asher Thomas
 ·
Cole Thornhart
 ·
Nurse Amy Vining
 ·
Bradley Ward
 ·
Justus Ward
 ·
Mary Mae Ward
 ·
Dr. Rick Webber
 ·
Dr. Karen Wexler
 ·
Dawn Winthrop
 ·
Deke Woods
 ·
Dr. Maggie Wurth
 ·
Anthony Zacchara
 ·
Claudia Zacchara-Corinthos
Off-screen and Former Characters
Lila Rae Alcazar
 ·
Dr. Grant Andrews
 ·
Terri Arnett
 ·
Brook Lynn Ashton
 ·
Larry Ashton
 ·
Christina Baldwin
 ·
Dr. Gail Baldwin
 ·
Lee Baldwin
 ·
Serena Baldwin
 ·
Dr. Tom Baldwin
 ·
Brenda Barrett
 ·
Julia Barrett
 ·
Melinda Bauer
 ·
Shawn Butler
 ·
Gia Campbell
 ·
Peter Carroll
 ·
Dimitri Cassadine
 ·
Petros Cassadine
 ·
Valentin Cassadine
 ·
Jagger Cates
 ·
Lois Cerullo
 ·
Skye Chandler-Quartermaine
 ·
Dr. Linda Chu
 ·
Father Coates
 ·
Mike Corbin
 ·
Angie Costello
 ·
Blair Cramer
 ·
Jolene Crowell
 ·
Nurse Nadine Crowell
 ·
Dr. Rae Cummings
 ·
Marco Dane
 ·
Téa Delgado
 ·
Roy DiLucca
 ·
Anna Donely
 ·
Sean Donely
 ·
Tiffany Donely
 ·
Dr. Noah Drake
 ·
Dr. Patrick Drake
 ·
Taylor DuBois
 ·
Toussaint Dubois
 ·
Jenny Eckert
 ·
Sly Eckert
 ·
William Eichner
 ·
Angel Ellis
 ·
John Everett
 ·
Cesar Faison
 ·
Nurse Fletcher
 ·
Pres Floyd
 ·
Nurse Betsy Frank
 ·
Ivy Gatling
 ·
Nurse Audrey Hardy
 ·
Dr. Simone Hardy
 ·
Dr. Tom Hardy
 ·
Dr. Tommy Hardy
 ·
David Harper
 ·
Jimmy Lee Holt
 ·
Dr. Matt Hunter
 ·
Anton Ivanov
 ·
Lady Jane Jacks
 ·
Jasper "Jax" Jacks
 ·
Jerry Jacks
 ·
Terrell Jackson
 ·
Miranda Jameson
 ·
Frisco Jones
 ·
Dr. Leo Julian
 ·
Rose Kelly
 ·
Winifred Leeds
 ·
Guy Lewis
 ·
Victor Lord, Jr.
 ·
Ethan Lovett
 ·
Starr Manning
 ·
Todd Manning
 ·
John McBain
 ·
Miguel Morez
 ·
‎Hope Morgan
 ·
Ken Morgan
 ·
Delores Padilla
 ·
Blackie Parrish
 ·
Nurse Penny
 ·
Grant Putnam
 ·
Celia Quartermaine
 ·
Burt Ramsey
 ·
Coleman Ratcliffe
 ·
Madeline Reeves
 ·
Cruz Rodriguez
 ·
Casey Rogers
 ·
Father Mateo Ruiz
 ·
Juan Santiago
 ·
Alec Scott
 ·
Hannah Scott
 ·
Jeffrey Scribner
 ·
Rebecca Shaw
 ·
Jennifer Smith
 ·
Lucky Spencer
 ·
Luke Spencer
 ·
Suzanne Stanwyck
 ·
Nurse Mischa Stephens
 ·
Holly Sutton
 ·
Marcus Taggert
 ·
Nurse Regina Thompson
 ·
Claire Walsh
 ·
Faith Ward
 ·
Keesha Ward
 ·
Dr. Maya Ward
 ·
Dr. Jeff Webber
 ·
Dr. Lesley Webber
 ·
Dr. Sarah Webber
 ·
Dr. Steve Webber
 ·
Dr. Britt Westbourne
 ·
Dr. Lainey Winters
 ·
Grace Yang
 ·
Johnny Zacchara
Crew
Shelly Altman (Head writer, 2011-2012, 2015-present)
 ·
Ron Carlivati (Head writer, 2012-2015)
 ·
Jill Farren Phelps (Executive producer, 2001-2012)
 ·
Robert Guza, Jr. (Head writer, 1996, 1997-2000, 2002-2008, 2008-2011)
 ·
H. Wesley Kenney (Executive producer, 1987-1989; Head writer, 1988)
 ·
Gloria Monty (Executive producer, 1978-1987, 1991-1992; Head writer, 1981)
 ·
Jean Passanante (Head writer, 2015-present)
 ·
Wendy Riche (Executive producer, 1992-2001)
 ·
Frank Valentini (Executive producer, 2012-present)
 ·
Garin Wolf (Head writer, 2008, 2011-2012)
Related Topics
List of cast members
 ·
List of current actors
 ·
History of General Hospital