Carly Jacks (Laura Wright)
Comments

26
519pages on
this wiki
Caroline Leigh "Carly" Jacks (née Benson; formerly Quartermaine, Corinthos, and Alcazar) is a fictional character on General Hospital and is currently being portrayed by Laura Sisk Wright. The role has not only been faced with controversial pair-ups (most notably with Sonny Corinthos), it has been portrayed by numerous actresses, including Sarah Brown, who departed the role in 2001.
Carly is known as the girl "you love and hate". She is known for her relationships with Jason Morgan, Sonny Corinthos, and Jasper Jacks. Carly is also known for her feuds with the Quartermaine family, Robin Scorpio, Hannah Scott, Sam McCall, Alexis Davis, Elizabeth Webber, Claudia Corinthos, Skye Quartermaine, Faith Rosco, and sometimes her own family. She is the mother of Michael Corinthos (with AJ; adopted by Sonny), Morgan Corinthos (with Sonny), and Josslyn Jacks (with Jax).
Character portrayal history
Brown
The role of Carly was originated on April 8, 1996 by Sarah Brown,[5] who "quickly became an overnight sensation" and received three Daytime Emmy Awards for her portrayal of Carly.[6] She won for Outstanding Younger Actress in 1997[7] and 1998,[8] was nominated in 1999,[9] and won again for Outstanding Supporting Actress in 2000.[10] Brown appeared on the cover of Soap Opera Digest 19 times during her run in the role,[6][11] and won two Soap Opera Digest Awards in 1998 (Younger Lead Actress)[12] and 2000 (Favorite Actress).[13]
In January 2000, it was reported that Brown would be exiting General Hospital when her contract was over in March of that year.[14] Brown's character was put in an important storyline and the show had already lost several of its actors, including Jonathan Jackson (Lucky) and Steve Burton (Jason). Brown agreed to stay for one year and General Hospital began to create an exit in December 2000 if Brown decided not to renew her contract.[15] Gina Tognoni was rumored to replace Brown.[16] Brown decided to stay with the series for a month. "My contract expired today, but I will stay with the show 4 more weeks to wrap it all up for them," she said. "I am not leaving because of money issues or contract issues. I am leaving because my heart is telling me I'm done."[17] She departed the series on April 23, 2001.[5]
Braun
Fans protested Brown's departure, and sent emails to Jill Farren Phelps in an effort to get the actress rehired.[18] However, Tamara Braun replaced her on May 2, 2001. In a November 11, 2001 interview with Soap Opera Digest, Braun commented on being a high profile recast: "I really didn't know about the uproar, which was good. But I was informed about it before I started working. I thought to myself, 'Holy guacamole ... I'm going into something here. But all I can do is the best that I can.' I think on some level, a lot of people were waiting for me to fail."[19]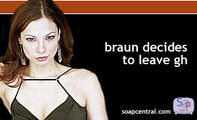 Bransford
Braun departed the role on April 15, 2005, and on April 18, 2005, Jennifer Bransford assumed the role.[5] Phelps released a statement on the recast: "[The audience] will eventually accept a new Carly, especially if Maurice is determined to make it work." During Bransford's tenure, Shayne Lamas also portrayed the role as a teenager in several flashbacks. On October 5, 2005, Bransford was released from her contract.[5] A representative of General Hospital said, "Jennifer's casting in the role of Carly did not work out. She is a consummate actress and she's good at what she does. We wish her all the best in her future endeavors."[20]
Wright
After Bransford's dismissal, rumors began circulating that Laura Wright, known for portraying Cassie Layne Winslow on Guiding Light, was being considered for the role. On November 4, 2005, Wright debuted as Carly.[5] ABC Daytime president Brian Frons stated: "Carly is a complex character, and we are excited to bring Laura [Wright]'s talent, beauty and intelligence to this role."[21] In Novemebr 2009, Wright re-signed with General Hospital for 4 years, extending her stay well beyond 2013.
Storylines
Coming to town/identity revealed
A 22-year old woman named Carly Roberts arrives in town on April 5, 1996
[22]
with a single desire to destroy her birth mother,
Bobbie Spencer
, for giving her up for adoption. She applies for a position at General Hospital as a physical therapist. After a brief discussion with
Ruby Anderson
 she gets a room at Kelly's Diner. Carly soon befriends
Monica Quartermaine
, who introduces her to the entire hospital staff. The rest of the staff also seem pleased with Carly. The only exception is
Amy Vining
, who causes friction between Monica and Carly. Carly befriends A.J. Quartermaine and begins a sexual relationship with his brother,
Jason
, after meeting him at
Jake's
. Carly slowly works her way in to the Spencer family and uses
Tony
to her advantage to get in to the nursing program. Carly begins to slowly seduce Tony and the two kiss on Bobbie's birthday. Carly gets an apartment with Tony and seduces him in December 1996. On Bobbie and Tony's wedding anniversary Bobbie walks in on Carly and Tony in bed and decides to divorce him. Carly also becomes good friends with her old flame, Jason. Eventually her identity is discovered by her uncle
Luke Spencer
. Luke decides to keep Carly's true identity a secret to protect Bobbie. He threatened Carly to attempt to drive her out of town. This attempt fails and just drives Carly closer to her former fling Jason.
After a bitter fight with Tony, Carly beds a drunk A.J. Quartermaine in March 1997. Carly soon finds out that she is pregnant. When AJ fails to remember the tryst tries to pass the baby off as Tony's. After discovering that Tony plans to leave her and get custody of the baby, Carly claims that the child was her former lover Jason's. She reveals to him that she is really Caroline Leigh Benson, Bobbie's daughter. Carly moves in to the penthouse and gives birth to the child on December 26, 1997. Michael is born with a heart condition which leaves Carly afraid to touch her son. Eventually this leads to Carly leaving town due to postpartum depression in 1998 still having never held her son. Carly returns just in time for the christening but refuses to participate. Jason named her child was named Michael Morgan after Jason's mob boss, and best friend, Sonny "Michael" Corinthos. During her absence Michael hires Bobbie as a nurse for Michael. Even after she returns Carly still struggles with being able to hold or help Michael. This leads to many heated discussions with Bobbie about her ability to be a good mother. After a while Carly decides she is ready to hold Michael and Bobbie drives her to the Port Charles Hotel where Michael is at dinner with Jason and his godparents, Emily and Mike. Carly hold Michael and reveals in front of everyone that she was really Caroline Benson, the daughter Bobbie had given up for adoption as a teenager. Bobbie refuses to believe Carly but eventually comes around and the two begin a tentative relationship.
Michael and Robin were both kidnapped by Tony Jones. Jason managed to save them in the nick of time as Robin was rapidly getting sicker. Eventually Tony Jones was prosecuted for the kidnapping, but when a jury handed down a minor sentence, Carly shot her former lover in open court and was sentenced to serve time in Shadybrook. Jason had a plan to get her out but AJ tricked into thinking that Jason would convince a judge she was sane and make her serve a full sentence for the shooting so that he could raise Michael with Robin. This lead to Carly faking that she throughout she was Caroline Benson from Florida. When Jason came to pick her up and bring her home the doctors thought she has lost her mind and sent her to Ferncliff, a mental institution. After Jason secured her release, Carly and Michael moved into the cottage with Jason and his girlfriend Robin Scorpio in December 1998.
After Robin reveal's Michael's paternity to A.J., A.J. blackmails Carly in to a marriage, even though she and Jason are planning a future with Michael. Carly misreads a close moment between Elizabeth Spencer and Jason and sleeps with Sonny Corinthos, causing Jason to leave town. Carly soon discovers that she is pregnant, leading Sonny to provide Carly evidence that A.J. committed arson. Carly divorces A.J. in July 2000 and unwillingly moves in to Sonny's penthouse, where the couple slowly fell in love.
Sonny and Carly
After a fight with A.J., Carly tumbles down a staircase at the Quartermaine mansion, causing her to miscarry and suffer fertility damage. After Carly witnesses Sonny committing a crime, she marries him to avoid the prosecution forceing her to testifying at his trial in October 2000. After almost losing Sonny in a fire on Valentine's day 2001, Sonny and Carly renew their vows in Martinique.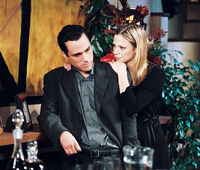 Carly attempted to free Sonny from the mob, but Sonny sees this as betrayal and as a result files for divorce. After catching Sonny and Alexis in bed, Carly faks her own death. Fearing that he would lose her, Sonny re-marries Carly in July 2002. Alexis discovers she is pregnant but a paternity test declares her fiancée, Ned Ashton as the father. That year, Courtney Jacks, Sonny's half-sister, arrives in town and marries A.J. Quartermaine. Carly becomes good friends with Courtney, and even supports her getting married to Jason. Carly become pregnant in 2003 with Sonny's baby. Ric Lansing, Sonny's half-brother, believing that Sonny had caused his wife, Elizabeth Webber's miscarriage, kidnaps Carly and kept her in a panic room in his house. His plan was to pass Carly's baby as his and Elizabeth's. She is later kidnapped from Ric's home by Lorenzo Alcazar.  Lorenzo develops feelings for her while he is holding her on his yacht. As Carly enters in to labor, Sonny finds Alcazar over Carly helping her give birth and shoots him in the chest. The bullet passes through and lodges in Carly's brain as shes is giving birth to baby Morgan on October 23, 2003. After she wakes up from her coma, she felt detached from her loved ones and remained drawn to Alcazar.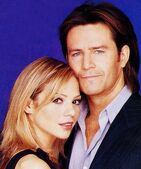 On the night of the Port Charles hotel fire, Alexis confesses to Carly that Kristina is actually Sonny's daughter. Carly uses this information to force Alexis to represent her in a custody battle against Sonny in exchange for Kristina's paternity being kept a secret. In 2004, Carly discovers her biological father is John Durant, criminal prosecutor, who is overjoyed to discover her divorcing Sonny. Sonny eventually discovers Kristina's paternity and divorces Carly in 2005. Kristina is then baptized with Carly as her godmother. With the new divorce, she turns back to her old flame, Lorenzo Alcazar. Michael and Morgan are kidnapped by A.J. Quartermaine. Michael is presumed dead but surprisingly returns home safe and sound with his sibling. Sonny began to sleep with FBI agent, Reese Marshall.
Carly discovers that Reese is her supposedly dead best friend, Charlotte 'Carly' Roberts, who's identity Carly stole upon her arrival in 1996. Carly suffers a nervous breakdown, leading her to marry Lorenzo Alcazar. [23]Carly was sent to Roselawn, where she was repeatedly stalked by a psychotic killer named Manny Ruiz who was after Sonny Corinthos. Manny causes numerous problems for the Corinthos family, leading Carly to pull herself together. Upon her release in January 2006, she divorces Lorenzo, gains control of the property that the Metro Court was being built on.  A deadly case of encephilitis swept through, affecting Sonny, Jason, and her friend Courtney, who dies after giving birth to Jax's son, John Michael Jacks. Carly and Jax bond while working on the hotel and keeping Jax's son's paternity a secert and eventually start dating. 
Love triangle
The child's biological father was actually Nikolas Cassadine, which was revealed by Robin Scorpio at the child's baptism. Carly and Jax lost John and the two planned on marrying in 2006. Carly is soon pursued by Sonny, who attempts to stop the wedding, With Jax leaving town days before the wedding, Carly barges in to Sonny's office to ask him to let her and Jax be. As she barges in, she witnesses Sonny shoot Lorenzo, forcing her to marry him so she would not have to testify against him. They were wed in January 2007.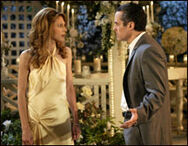 In February 2007, Carly was about to head to the Dominican Republic to get a divorce but was held at gunpoint with 15 other people at the Metro Court hotel. It was during the crisis that she admits to Sonny that she loves him. The gunman blew up the entire hotel and after the rescue, Carly slept with Sonny. Jax returns to town to discover his fiancée married to Sonny. Jax and Carly reconcile and the two wed the day after Carly's divorce to Sonny was finalized. Sonny moved on to Kate Howard, who becomes Carly's nemesis. Carly later discovers that the main gunman at the Metro Court crisis was Jerry Jacks, Jax's older brother. Jerry lures Jax out of town, causing Carly to go frantic. When Jax returns, she discovers he was raped by Jerry's ex-fiance.
Marriage to Jax
In July 2007, After her best friend Jason was charged for Lorenzo Alcazar's murder, Carly promises Jerry that she would forgive him if he got Jason free. When a mysterious killer begins stalking the women in Port Charles, Carly finds her children's longtime nanny Leticia strangled in her house. Believing that she had been the intended victim, Carly begins a dangerous game of cat and mouse with the man dubbed the "Text Message Killer," using text messages to lure him out of hiding at Nikolas's Black and White Ball. After Jason's sister Emily Quartermaine is murdered, the killer attacks Carly, escapes unharmed. The killer is eventually revealed to be Carly's former stepson Diego Alcazar, who is attempting to avenge the deaths of his father Alcazar and other family members in Spring 2008.
During this, Carly has a strong disliking of Kate Howard, Sonny's new girlfriend.
Carly decides that she would like to have a baby and so she slept with Jax on Christmas Day, 2007. After struggling with fertility issues Carly's pregnancy is confirmed on February 5, 2008. Claudia Zacchara, Johnny's sister, arrives in town and sleeps with Sonny, causing friction between the two women. Carly miscarries the baby when she and Michael are caught in a warehouse explosion. Michael is later shot in the head, placing him in to a coma in April 2008. To relieve herself, she sleeps with Sonny, leading her weeks later to think that she is pregnant. Sonny almost marries Kate Howard, but Kate was shot at the altar On September 21, 2008.
Jax discovers the tryst and leaves her but the two reconcile on New Years Eve, 2008, even though Jax slept with Kate. Sonny was shot by a Russian mobster, who left him for dead. Carly nurses Sonny back to health. To regain power in the Corinthos organization, Sonny marries Claudia in December 2008, much to Carly's disgust. Carly also befriends Sonny former lover and Kate's cousin, Olivia Falconeri, although they later do defriend.
Re-marriage and Josslyn
Carly and Jax renew their wedding vows and consummate their new marriage on March 18, 2009 after almost losing each other, in which Carly discovers she is pregnant, but the child she carries could lead her to have a stroke. She finally confesses to Jax, who urges her not to abort. Michael returns from his year long coma as a 17-year old on May 18, 2009 to be rebellious towards her, leading her to place him under the care of the Quartermaines up until her child is born. After Claudia alerts Carly that she is pregnant with Sonny's child, the two tumble down the staircase of General Hospital, in which both women were left unharmed.
After Claudia was run off the road, causing her to lose her baby, Michael panicked that he was the driver. Carly pulled Claudia out of the burning car, and ending up being hospitalized herself. Following her release, both Michael and half-sister Kristina Davis went on the run to Veracruz, Mexico. After Jason and Sam brought them back home, Kristina was revealed to be the driver. After his return, Michael chose to live with mother and Jax opposed to the Quartermaines. Carly is overly stressed as Michael starts the new year at school. Carly and Jax attend their friend Spinelli's wedding to Maxie Jones. After having a dream sequence about her unborn daughter as a teenager, she decides to name the child Josslyn John Jacks.[24] Carly sees Jax as overly protective when he puts her on a diet to help the baby, but when she goes into premature labor on October 14, 2009, after having some french fries, she realizes Jax was right and decides to adhere to his rules after the labor is stopped.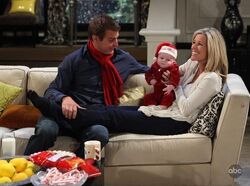 On October 29, 2009, Sonny is throwing Claudia a birthday party, but Carly decides not to go and just rest at home for her unborn baby's sake. She ends up going when Michael and Morgan's bodyguard, Dominic, tells her Michael is at the party, and she goes to pick him up. Claudia takes Carly hostage after Sonny publicly announces her involvement in Michael's shooting. Carly enters in to pre-mature labour as she is being held hostage in a stolen car driven by Claudia. Carly is able to distract a distraught Claudia and takes control of the wheel, crashing the car and knocking Claudia unconscious. Claudia survives and finds Carly about to give birth in a cabin. After helping Carly give birth to Josslyn, Claudia becomes obsessed with the child and is about to leave with the newborn just as Michael arrives and bludgeons Claudia to death with an axehandle. Carly, Jason, and Sonny cover up Claudia's murder. Carly has since found out her husband's involvement in Michael's shooting and the two separate, only to reconcile on Thanksgiving Day, 2009.
Carly is kidnapped by Franco on January 3, 2010, an enemy of Jason, fearing for the security of her family, she and Jax plan to relocate to Australia, but the plans never go in effect. On January 7, 2010, Michael refuses and while in an argument between Carly and Michael, he breaks down in front of Carly over his responsibility in Claudia's murder. Carly organizes a christening for Josslyn on January 29, 2010. After the christening, she discovers that Dominic is an undercover cop, as well as Sonny and Olivia's son, Dante. Carly files for divorce after learning that Jax had helped Dante collect evidence against Sonny. In April 2010, Sonny is put on trial for Claudia's murder while Michael is forced to hide out in the Caribbean to avoid testifying. As the jury delivers its verdict to Sonny, Dante and Lulu reveal to the courts that Michael was the one who killed Claudia. Carly is furious with Lulu for betraying her. Michael is sentenced to 5 years in prison with possibility of parole in 2. Carly, upset with Dante and Lulu for hurting her son, hires Brook Lynn Ashton, Dante's old friend, to break Dante and Lulu up, while she lets Dante and Lulu think she has accepted what happened to Michael and moved on.
Divoring Jax and meeting Shawn
Carly is very angry when Brenda returns to town. This even causes Jax and Carly to get a divorce, along with other problems. Brenda soon starts dating Sonny and they get engaged. Carly then learns that Brenda had a son with Sonny's son, Dante. Carly attends Brenda and Sonny's wedding and threatens to expose Brenda unless she leaves town. However, Brenda admits the truth to Sonny herself, and Carly's plan blows up in her face when Dante reveals that, while Brenda was indeed pregnant, the father was someone else and he had merely pretended to be the father out of friendship. Sonny forgives Brenda immediately and makes a memorable speech about how much he loves her and doesn't want to lose her again; Sonny and Brenda marry and Carly respectfully accepts. When Brenda is captured after the reception by the Balkan, now revealed to be Theo Hoffman, Carly promises to help Sonny in any way she can, despite Jax's adamant resolve to only help the police. Carly also admits that she did try to break up Brenda and Sonny, but underestimated his love for Brenda. Carly reassures Sonny that he will find Brenda and genuinely states that she will be happy for him when he does.
When Michael decides to consummate his relationship with an ex-stripper named Abby Haver, Carly is upset at first, but then is happy and starts to like Abby.
In March 2011, Josslyn is very sick and goes to the hospital. At the hospital Doctor Terrell Jackson tells then that she has cancer and needs a new organ. That same night Elizabeth Webber and Jason's son got hit by a car and died. Carly begged Jason and Liz for Jake's organ. Finally they said yes and Josslyn was getting better. That week Carly got a video from Franco a killer and kidnapped who said he is watching over Josslyn. Jason then hires a bodyguard named Shawn who protects Josslyn. Jax doesn't like Shawn cause he used to work for Theo. Jax then tells Carly he wants full-custody of Josslyn and Carly says no. After a long and painful custody battle, which consisted of manipulations by both Jax and Carly's ex Sonny Corinthos, Carly was awarded full custody of Josslyn. In July 2011, Carly sends Morgan to a boarding school, which he enjoys according to Carly.
In early August 2011, Carly learns from Skye Chandler, Jax is back in town. Carly panicks, thinking Jax kidnapped Josslyn, and goes to Jason. While driving to save Josslyn, Carly and Jason get in a car attack with Elizabeth Webber and Siobhan Spencer. Carly is OK, other than a broken wrist, but Jason isn't. At the hospital, it is learned Jason has a head injury. Both, Monica and Sam are very mad at Carly and Sam even slaps Carly on the mouth. Later, with the help of Robin and Sonny, Shawn returns Josslyn to Carly.
Carly turns to Alexis to get help to get her kids away from Sonny, but after many fights, she says no. Sonny shows up at her house later, wanting to see Morgan. Though Carly tells him to go away, he refuses and comes into the house. There, Carly reveals that Morgan has been put into military school to keep him safe. Sonny is also only allowed to see him while Carly is there, under guard. Sonny ends up going to the school, anyway, trying to bribe and threaten the headmaster, but is unsuccessful. Carly hears about this, and later tells Sonny that she's done defending him to Morgan, and trying to keep peace between them. Sonny refuses to give up, and tells Carly that he's not done.
On September 20, Carly receives a package from Hawaii, addressed to Josslyn, and believes it's a gift from Jason, who's on his honeymoon with Sam. However, when she opens the card, it's revealed to be from Franco, Carly goes to Shawn, who in turn tries to get in touch with Jason or Sam. When neither of them answer, Shawn decides to go to Hawaii to check on them, and Carly ends up on the flight with Josslyn. When they arrive in Hawaii, neither Jason nor Sam are happy to see them, but when they show Franco's message to Josslyn, they realize they are in danger. Carly is afraid he could be somewhere nearby, and wants Jason and Sam to get away from him. But Sam doesn't want to go back, saying that their honeymoon is important. Jason has his men determine Franco's location, Toronto, and decides to finish their honeymoon, much to Carly's dismay. Jason tells Carly he's going to respect his wife's desires because she now comes first. Carly understands Jason respecting Sam's wishes, but wishes he would trust her. To prove that, she tells him Jax is alive. Carly and Shawn leave with Josslyn the next day back to Port Charles.
Shawn, Todd, and Johnny
In December 2011, Michael's girlfriend Abby Haver dies. Michael then goes to Austrialia to speard Abby's ashes. However, while there Michael sees a man who looks like Jax. When Michael tells his mother, Carly lies and says she doesn't know. Later, Michael overhears Jason talking to Carly about Jax really being alive. Michael is outranged at Carly. He confronts her at the New Year's Party at the Metro Court and he then leaves. Everyone at the party is angry, including Alexis, Kate, and Sonny. While leaving, Michael sees Jason crash his motorcycle.
Michael is fine, but Jason isn't. Jason has head injuries, but is saved by Patrick. However, before the surgery Parick refused to do the surgery because his wife, Robin who is Carly's enemy, died trying to save his life. After calming down, Patrick does the surgery for Robin. When Carly finds out Robin died, she goes to be with Jason, but Sam tells her she can't tell Jason about Robin because it be bad for his health. Carly, however, disargees with Sam and after trying many times, tells Jason. Jason and Sam fight, but they make up leaving Carly mad.
In-between New Years and Robin's death, Carly begins to date Johnny. She also begans fighting with Kate again, because Jax left his half of the Metro Court to her.
In March 2012, Carly mets Blair Cramer and Todd Manning from Llanview. They are in-town because their daughter, Starr who is Michael's new friend, has just lost her boyfriend and daughter to a car crash. The Police think Sonny caused the accident, (Anthony's tires were shot out and his car crashed into Starr's) leaving the Mannings mad at Sonny. One night in March, Blair and Carly bond over drinks and become friends. Blair then gets a call to go to the Courthouse and finds Todd holding a gun on Sonny. Todd is then stopped by John McBain and brought back to Llanview to face murder charges against his brother, Victor Lord, Jr. Blair soon also returns to Llanview to take care of her two other kids, Sam and Jack. Later, Sonny is found non-guilty of the accident.
Carly's relationship with Johnny is still strong, even though Johnny is an enemy of Sonny and Jason. In late April, Carly finds Johnny and Kate making love in Johnny's bed. Carly is very mad and even gets into a physical fight with Kate at the Metro Court. During the fight, Carly steals Kate's notepad and learns Kate has DID, her other personality being "Connie". Carly isn't sure if Kate is lying or if she really does have DID. Johnny tries to get back together with Carly, but she says no. Michael finds Starr pointing a gun at Sonny. Michael calls 911 and Starr goes to jail. Later, Todd returns to town to help Starr. His murder charges were dropped because he had PTSD, from being kidnapped for 7 years. Even though their kids are against each other, Carly and Todd remain friends and spend time together. While at the PCPD visiting Starr, Todd hears Kate tell Alexis she may have shot out Anthony's tires as "Connie". Todd then makes a deal with Sonny, Michael will say he didn't see Starr pointing a gun at Sonny or he'll tell police Kate shot out the tires. Sonny argees to the deal and Starr gets out of jail. Carly also has a disliking of Tea Delgado, Starr's lawyer, Todd's ex-wife, and the wife of Victor.
After a brief-absent, Shawn returns and catchs up with Carly at Kelly's, mostly talking about TJ. Carly is shocked to learn Sam was raped by Franco and that her baby is Franco's. She is also suprised to learn Franco is Jason's twin. When Carly confronts Jason about this, she finds out he and Sam are separated because he doesn't know if he can accept the baby and he didn't like her hanging out with John McBain. Carly, who wasn't happy with their marriage, surprisingly tells Jason to make things right with Sam because she believes he can love Sam's baby and that Sam truly loves Jason.
Carly later finds out that Sam's baby died, and Jason blames himself for not being there to help her. Carly still tries to get Jason to make things right with Sam, saying they should get a second chance. After this conversation, Carly calls Johnny, wanting to talk, and says she's willing to make up with him, provided that he doesn't lie to her. However, the day of Sonny and Kate's wedding, Connie emerges and says she's already married to Johnny. Carly is furious, but when she's alone with Johnny, she asks him to be honest with her. He knows she didn't marry Connie willingly because he asked her to run away with him the night before. But Johnny says that he married Connie because he loved her, and he can't be the man for Carly. Carly says goodbye to him once and for all, breaking up with him for good.
Carly finds out from Michael that Sam's baby is alive, and was switched with Tea's son at birth. Carly goes to the hospital, where Jason is with baby Daniel, and asks if he's going to get back together with Sam. Jason leaves that decision to Sam, something Carly is not happy about. But Jason tells her to let it go. Sam comes back, and Carly tells her to not deprive her son of Jason, who can be a great father. Sam & Jason make up, but that night, Jason goes missing after being shot at the pier. Carly is devastated by this, and leans on Todd for support.
Carly starts a friendship with Todd and the two start making out in Todd's apartment during the week of Halloween. After Carly stops making out with Todd, she leaves to the Pier 52 to have time to think. Carly, then sees A.J., is spooked and falls down. When she wakes up, Sonny is standing over her, and she insists A.J. was there. Sonny doesn't believe her, and she later believes she was hallucinating. A.J. is proven to be alive, though, and Carly calls the police on him, despite Michael's protests.
Carly comes into Todd's office one day when he calls security because of an intruder. Carly finds out the intruder is Sam, who was looking for her sister, Molly's, missing manuscript that was given to Todd. Carly convinces Todd to let Sam go for her son's sake, but Sam retaliates that Todd already separated her from her son once. Carly doesn't believe Todd, citing Heather Webber was the one with the grudge against Sam. Heather switched the babies and the DNA test, and Jason is actually Daniel's father. Sam tells Carly not to be a fool, because Jason wouldn't want that.
New Year's and start of 2013
Carly and Todd have Christmas and New Years together. They have sex in Todd's Metro Court apartment. She learns of the car crash involving Michael and Starr, and head to the hospital. The car crash also involves Connie and Johnny. Johnny revealed that he was the one responsible for the deaths of Starr's boyfriend and daughter Cole and Hope. Carly is disgusted by the truth of Johnny's misdeeds, but mistakenly sticks up for Todd when Johnny says that Todd's hands are not clean either. Johnny revealed that Todd knew Johnny had killed Cole and Hope, but kept quiet because he was blackmailed to. Carly learns that Todd actually did play an active role in the switching of Danny Morgan and Victor Lord III. Carly is mad that Todd repeatedly lied to her and officially ends their friendship. Carly later went to visit Todd, and found out he had known Danny was Jason's son for months, but didn't say anything for fear of getting caught.
Carly ends up drunk at The Floating Rib, and is there when A.J., Connie, and Sonny get into a fight. A.J. later realizes Carly is too drunk to drive, and takes her back to the hotel, where she goes to Todd's room and cuts up his clothes as revenge for hurting her. The next day, she wakes up hungover, and wonders why A.J. stayed with her. A.J. says it's because he wants to be a good parent for Michael, and that means putting up with Carly. Carly later goes to Todd's arraignment, where he pleads not guilty by insanity, and Carly is furious he refuses to take responsibility for his actions.
Todd escapes from Ferncliff, and tries to head out of town. When Carly finds him, he tries to convince her to come with him. When Luke comes in, she tries to hide Todd, but Luke discovers him. He tells Carly he won't call the police if Carly tells him about the "missing Quartermaine heir." Carly relents, and tells Luke that Franco mentioned he had a daughter named Lauren. After Luke leaves, Todd wonders why Carly covered for him, when he's just hurt her. Carly tells him not to look too deeply into him, and says goodbye to him before he leaves.
Carly visits Starr after finding out she gained ownership of half of the Haunted Star from Johnny. They both are upset by Todd's betrayal, but both hope he gets out of town without getting caught. Carly later comes to Pier 52, and finds Todd being arrested by Commissioner Anna Devane for trying to kidnap Danny again. However, Todd insists that he was actually trying to rescue Danny from Detective John McBain. Carly is furious at Todd for making excuses, but Todd insists he's telling the truth.
After Todd and Anna leave, Carly talks to Sam, wondering how Todd can blame John. Sam, though, tells her that John was arrested for murder, but believes he has a lookalike running around town committing murders, so Todd could be telling the truth. Carly says Happy Valentine's Day to both Sam and Danny, then leaves to the police station to find Todd. She tells him she believes that he was trying to rescue Danny, but that's all she believes him about.  It is later revealed to them that Todd was telling the truth about the lookalike.
March 2013-present
Todd stands trial - he decides to have a bench trial, whereby only the judge decides what laws is applicable to the case, whether Todd is guilty, and what his punishment would be if he would be found guilty.  Carly and A.J. debate at the Metro Court restaurant with Michael present.  They leave.  Todd comes and begs her to take him back. Carly says that she is with another man - this turns out to be A.J.  Carly kisses A.J. and then states to Todd that A.J. is her boyfriend. She makes out with A.J.  Elizabeth Webber arriving at the Metro Court for her date with A.J. watches Carly and A.J. make out. (4-12-13) After A.J. can not get hold off Elizabeth (due to Carly and him making out), he decides to help Carly and starts to be clingly and romantic.  Todd vows that he will uncover the truth and heads back to his room.  He calls (Starr, presumably according to previews) and says he needs help.  Back at the restaurant, AJ tells Carly that he wants the information of the Quartermaine heir.  Todd sends a man in an Easter Bunny costume and Carly thinks that it is Todd's idea.  The man lies and tells Carly that "a man from Australia" sent him (referring to Jaxs). The man drops off gifts in the living room.  In reality, the stuffed bunny has a hidden camera and Todd watches Carly and A.J. tell each other that them being together is an act.  Todd Manning hears that it is a ruse and goes to tell them that he knows the truth.  AJ leaves and Todd Manning is subsequently dumped on March 20th, leaving town after the charges against him are dismissed.
Jax shows up wanting Carly to sign the divorce papers again because the last ones were lost. Jax informs her that Brenda and him are getting married. Carly says to Jax that Brenda is probably already at Sonny's to plead to Sonny to take her back.  Later, Brenda confesses that this is the truth and Jax calls out of the engagement. During the Nurses Ball, Carly and Brenda have an argument and she kicks Brenda out.  Carly helps Sabrina Santiago with her dating problems with Patrick Drake.  Carly witnesses another Sonny and AJ argument and seeing AJ having another panic attack.  Carly and AJ goes to the Quartermaine mansion and Carly gets AJ furious about his dating problems with Elizabeth and in a fit of passion, they sleep together on May 1st, 2013.
AJ gets arrested for the murder of Connie Falconeri in late summer. though it is uncertain if he's the true culprit. Carly starts being interested with Franco (Howarth) and hosts the disastrous wedding reception of Morgan and Kiki. She learns that Franco is not a Quartermaine and he is the son of Heather Webber and Scott Baldwin.  She witnesses the holdup of her mother Bobbie Spencer with Jerry Jacks in December 2013.
Crimes Committed
1996-1999
2000-2004
2005-2009
2010-present
Health and Vitals
Family tree
See also
References
v - e

Current Contract Characters
T.J. Ashford
 ·
Shawn Butler
 ·
Nikolas Cassadine
 ·
Dr. Silas Clay
 ·
Michael Corinthos
 ·
Morgan Corinthos
 ·
Sonny Corinthos
 ·
Alexis Davis
 ·
Anna Devane
 ·
Dr. Patrick Drake
 ·
Nurse Felix DuBois
 ·
Dante Falconeri
 ·
Olivia Falconeri
 ·
Robert "Franco" Frank
 ·
Carly Jacks
 ·
Ava Jerome
 ·
Julian Jerome
 ·
Kiki Jerome
 ·
Maxie Jones
 ·
Rafe Kovich, Jr.
 ·
Sam Morgan
 ·
A.J. Quartermaine
 ·
Tracy Quartermaine
 ·
Nurse Sabrina Santiago
 ·
Mac Scorpio
 ·
Dr. Robin Scorpio-Drake
 ·
Luke Spencer
 ·
Lulu Spencer-Falconeri
 ·
Nurse Elizabeth Webber
 ·
Dr. Britt Westbourne
Current Recurring Characters
Scott Baldwin
 ·
Helena Cassadine
 ·
Spencer Cassadine
 ·
Father Coates
 ·
Lucy Coe
 ·
Dr. Kevin Collins
 ·
Brad Cooper
 ·
Anna Donely
 ·
Sean Donely
 ·
Taylor DuBois
 ·
Connie Falconeri II
 ·
Max Giambetti
 ·
Milo Giambetti
 ·
Alice Gunderson
 ·
Jerry Jacks
 ·
Josslyn Jacks
 ·
Nurse Epiphany Johnson
 ·
Molly Lansing-Davis
 ·
Duke Lavery
 ·
Janice Lomax
 ·
Diane Miller
 ·
Danny Morgan
 ·
Dr. Liesl Obrecht
 ·
Nurse Penny
 ·
Dr. Monica Quartermaine
 ·
Coleman Ratcliffe
 ·
Carlos Rivera
 ·
Robert Scorpio
 ·
Emma Scorpio-Drake
 ·
Felicia Scorpio-Jones
 ·
Aiden Spencer
 ·
Nurse Bobbie Spencer
 ·
Cameron Spencer
 ·
Damian Spinelli
 ·
Holly Sutton
 ·
Ellie Trout
 ·
Heather Webber
 ·
Dr. Lesley Webber
 ·
Ben Westbourne
Forthcoming Characters
Victor Cassadine
 ·
Lucas Jones
Deceased and Presumed Dead Characters
Benny Abrahms
 ·
Bernie Abrahms
 ·
Diego Alcazar
 ·
Lorenzo Alcázar
 ·
Luís Alcázar
 ·
Sage Alcazar
 ·
Ruby Anderson
 ·
Dr. Andy Archer
 ·
Dominique Baldwin
 ·
Cooper Barrett
 ·
Alison Barrington
 ·
Amanda Barrington
 ·
Kiefer Bauer
 ·
Warren Bauer
 ·
Jesse Beaudry
 ·
Katherine Bell
 ·
Connor Bishop
 ·
Mary Bishop
 ·
Paige Bowen
 ·
Dr. Emily Bowen-Quartermaine
 ·
Nurse Jessie Brewer
 ·
Nancy Brewer
 ·
Dr. Phil Brewer
 ·
Irina Cassadine
 ·
Kristina Cassadine
 ·
Mikkos Cassadine
 ·
Stavros Cassadine
 ·
Stefan Cassadine
 ·
Tony Cassadine
 ·
Stone Cates
 ·
Dr. Ryan Chamberlain
 ·
Stephen Clay
 ·
Adela Corinthos
 ·
Lily Corinthos
 ·
Dr. Ian Devlin
 ·
Ronnie Dimestico
 ·
Dr. Pierce Dorman
 ·
John Durant
 ·
Bill Eckert
 ·
Cesar Faison
 ·
Connie Falconeri
 ·
Andrea Floyd
 ·
Dr. Russell Ford
 ·
Dr. Steve Hardy
 ·
Abby Haver
 ·
Logan Hayes
 ·
Theo Hoffman
 ·
John Jacks
 ·
Aleksander Janáček
 ·
Victor Jerome
 ·
Stan Johnson
 ·
B.J. Jones
 ·
Georgie Jones
 ·
Tania Jones
 ·
Dr. Tony Jones
 ·
Dr. Ewen Keenan
 ·
Dr. Eve Lambert
 ·
Trevor Lansing
 ·
Dr. Cameron Lewis
 ·
Victor Lord III
 ·
Hope Manning-Thornhart
 ·
Reese Marshall
 ·
Courtney Matthews
 ·
Danny McCall
 ·
Lila McCall
 ·
Nurse Leyla Mir
 ·
Trey Mitchell
 ·
Susan Moore
 ·
Chloe Morgan
 ·
Jason Morgan
 ·
Dr. Lisa Niles
 ·
Dr. Alan Quartermaine
 ·
Alexandria Quartermaine
 ·
Edward Quartermaine
 ·
Lila Quartermaine
 ·
Faith Rosco
 ·
Manny Ruiz
 ·
Joe Scully
 ·
Joe Scully, Jr.
 ·
Frank Smith
 ·
Shirley Smith
 ·
Zander Smith
 ·
Jake Spencer
 ·
Lena Spencer
 ·
Siobhan Spencer
 ·
Tim Spencer
 ·
Olivia St. John
 ·
Nurse Diana Taylor
 ·
Martha Taylor
 ·
Dr. Peter Taylor
 ·
Tracy Taylor
 ·
Dr. Asher Thomas
 ·
Cole Thornhart
 ·
Nurse Amy Vining
 ·
Bradley Ward
 ·
Justus Ward
 ·
Mary Mae Ward
 ·
Dr. Rick Webber
 ·
Dr. Karen Wexler
 ·
Dawn Winthrop
 ·
Deke Woods
 ·
Dr. Maggie Wurth
 ·
Anthony Zacchara
 ·
Claudia Zacchara-Corinthos
Off-screen and Former Characters
Lila Rae Alcazar
 ·
Nurse Karen Anderson
 ·
Terri Arnett
 ·
Brook Lynn Ashton
 ·
Larry Ashton
 ·
Ned Ashton
 ·
Christina Baldwin
 ·
Dr. Gail Baldwin
 ·
Laura Baldwin
 ·
Lee Baldwin
 ·
Serena Baldwin
 ·
Dr. Tom Baldwin
 ·
Brenda Barrett
 ·
Julia Barrett
 ·
Melinda Bauer
 ·
Gia Campbell
 ·
Peter Carroll
 ·
Valentin Cassadine
 ·
Jagger Cates
 ·
Lois Cerullo
 ·
Skye Chandler-Quartermaine
 ·
Mike Corbin
 ·
Kristina Corinthos-Davis
 ·
Angie Costello
 ·
Blair Cramer
 ·
Jolene Crowell
 ·
Nurse Nadine Crowell
 ·
Dr. Rae Cummings
 ·
Téa Delgado
 ·
Roy DiLucca
 ·
Tiffany Donely
 ·
Dr. Noah Drake
 ·
Toussaint Dubois
 ·
Sly Eckert
 ·
Angel Ellis
 ·
John Everett
 ·
Pres Floyd
 ·
Nurse Audrey Hardy
 ·
Dr. Simone Hardy
 ·
Dr. Tom Hardy
 ·
Dr. Tommy Hardy
 ·
David Harper
 ·
Jimmy Lee Holt
 ·
Dr. Matt Hunter
 ·
Anton Ivanov
 ·
Lady Jane Jacks
 ·
Jasper "Jax" Jacks
 ·
Terrell Jackson
 ·
Frisco Jones
 ·
Dr. Leo Julian
 ·
Rose Kelly
 ·
Ric Lansing
 ·
Dr. Kelly Lee
 ·
Winifred Leeds
 ·
Guy Lewis
 ·
Victor Lord, Jr.
 ·
Ethan Lovett
 ·
Starr Manning
 ·
Todd Manning
 ·
John McBain
 ·
Miguel Morez
 ·
Ken Morgan
 ·
Delores Padilla
 ·
Blackie Parrish
 ·
Celia Quartermaine
 ·
Dillon Quartermaine
 ·
Burt Ramsey
 ·
Cruz Rodriguez
 ·
Casey Rogers
 ·
Father Mateo Ruiz
 ·
Delia Ryan Coleridge
 ·
Juan Santiago
 ·
Alec Scott
 ·
Hannah Scott
 ·
Rebecca Shaw
 ·
Lucky Spencer
 ·
Suzanne Stanwyck
 ·
Nurse Mischa Stephens
 ·
Marcus Taggert
 ·
Nurse Regina Thompson
 ·
Claire Walsh
 ·
Faith Ward
 ·
Keesha Ward
 ·
Dr. Maya Ward
 ·
Dr. Jeff Webber
 ·
Dr. Sarah Webber
 ·
Dr. Steve Webber
 ·
Dr. Lainey Winters
 ·
Grace Yang
 ·
Johnny Zacchara
Crew
Ron Carlivati (Head writer, 2012-present)
 ·
Jill Farren Phelps (Executive producer, 2001-2012)
 ·
Robert Guza, Jr. (Head writer, 1996; 1997-2000; 2002-2008; 2008-2011)
 ·
H. Wesley Kenney (Executive producer, 1987-1989; Head writer, 1988)
 ·
Gloria Monty (Executive producer, 1978-1987, 1991-1992; Head writer, 1981)
 ·
Wendy Riche (Executive producer, 1992-2001)
 ·
Frank Valentini (Executive producer, 2012-present)
 ·
Garin Wolf (Head writer, 2008; 2011-2012)
Related Topics
Cross reference of character names
 ·
List of cast members
 ·
List of current actors
 ·
History of General Hospital