Courtney Matthews (Alicia Leigh Willis)
Comments

14
Courtney Matthews
Alicia Leigh Willis as Courtney Matthews
General Hospital
Portrayed by
Alicia Leigh Willis
Duration
2001-06, 2015
First appearance
December 20, 2001
Last appearance
May 5, 2015
Cause/reason
Appeared as a ghost to her son, Spencer
Created by
Megan McTavish
Introduced by
Jill Farren Phelps
Profile
Namesake(s)
The Metro Court hotel
Gender
Female
Born
August 12, 1982
Died
February 21, 2006
General Hospital
Port Charles, New York
Age
23 (at death)
Cause of death
Encephalitis
Occupation
Founder of the Courtney Matthews Foundation
Residence
Old Town Lot
Port Charles, New York
Courtney Matthews (formerly Quartermaine, Morgan, and Jacks) was a fictional character on the ABC soap opera, General Hospital. She was the daughter of Mike Corbin and Janine Matthews, and the half sister of mob boss, Sonny Corinthos.
Courtney was portrayed by Alicia Leigh Willis from December 20, 2001 until February 21, 2006.
Willis received two consecutive Emmy nominations for her portrayal of Courtney.
Willis returned, as a ghost, on May 4-5, 2015.
Casting
In September 2001, General Hospital released a casting call for Courtney, described to be in her early 20s and "sexy, vibrant and dynamic."[3] The character was speculated to be the sister of Sonny Corinthos, played by Maurice Benard. Benard had hinted at a recent fan club event that Sonny's sister would be brought on canvas.[3]
Alicia Leigh Willis was cast in the role of Courtney in December 2001. Casting director Mark Teschner fought for her to be hired in the role, and coached her before her callback with the show's executive producer at the time Jill Farren Phelps.[4] Years later, Teschner spoke highly of his experience with Willis, "She nailed it and she got the role and four years later, she was one of the most successful additions on the show. That's also very gratifying when you fight for somebody and they do you right by doing a great job with the role."[4]
In 2006, Willis chose not to renew her contract. She was written off the show, but at her goodbye party on set, Jill Farren Phelps asked if she would stay on and wrap up her character's pregnancy storyline, to which Willis agreed.[5]
As the story played out, Willis voiced her opinion on Soap Talk on her character's future, "I love playing Courtney and to see someone else come in, it's like, 'It's my character!' I don't want to see someone else come in, but if they do, I wish them all the luck."[5] Although the network had initially announced recasting the role,[6] it was later confirmed that the character would in fact be killed off.[7] Willis last appeared on February 21, 2006.
Storylines
Courtney came to Port Charles, following her mother, Janine Matthews, who was blackmailing Edward Quartermaine for money. There, Janine came face-to-face with Mike Corbin, her old flame. When Courtney met him, she realized that he was her father, who Janine had told her died a long time ago. Courtney was eager to build a relationship with her father and also found out she had a half-brother, Sonny Corinthos.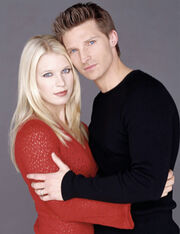 However, due to her mother's deception, her relationship with Janine fell apart. Courtney was lost with how to deal with Sonny's overprotective nature, and ended up falling for A.J. Quartermaine. Unknown to Courtney, A.J. was using her to get back his son, Michael Corinthos, who had been adopted by Sonny with Michael's mother, Carly. In time, however, A.J. would realize that he genuinely loved Courtney, as well, and they would get married. Their marriage, however, was met with a lot of hostility from the Port Charles residents and A.J.'s family ended up freezing his accounts, leaving him penniless. Both he and Courtney tried to manage with low-level jobs, him working at the docks and she waiting tables at Kelly's, but A.J. turned to alcohol, which he had been addicted to before, and ended up driving into a strip club and causing major damages. Courtney agreed to work the debt off by stripping at the club to help A.J., but she didn't tell him. Sonny, though, and his main enforcer, Jason Morgan, who was also A.J.'s brother revealed this to A.J. He ended up hiring the owner to stalk Courtney. When Courtney found out about this, she divorced A.J.
While dealing with the stalker, she asked Jason to help her out, and ended up falling in love with him. She also developed a bond with Carly Corinthos, Sonny's wife at the time. Courtney became pregnant with Jason's child, but ended up miscarrying after being kidnapped by Lorenzo Alcazar, Jason's enemy. She escaped, but her baby did not survive. Jason and Courtney married in France. The nature of Jason's mob work, however, began to affect Courtney, and she decided to leave him rather than watch him die. She shot officer Brian Beck to defend Jason, but Brian named Zander Smith as the shooter. Brian was shot dead in the Port Charles Hotel fire by Andy Capelli, and this would eventually lead to Zander's death. Jason and Courtney broke up because of this, despite the fact they still loved each other. Courtney moved on eventually and started a foundation for under-privileged kids, and asked Jasper "Jax" Jacks to serve on the board for the foundation. Jax made a bet with Courtney that if he didn't get her to fall in love with him, he would donate $10 million to her foundation. Despite her constant denial in order to get the money, she fell in love with Jax, who eventually proposed. Courtney accepted, and the two got married in June 2005.
Courtney and Jax wanted to start their own family, but Courtney found out that she was infertile due to her miscarriage. They decided to have a child through a surrogate, and Elizabeth Webber volunteered to do this. She ended up having to use one of her own eggs, though, as Courtney found out that none of her eggs were viable. Courtney started feeling left out when Jax and Elizabeth spent more time together, as a result of the pregnancy. Her marriage started becoming strained, and she found a shoulder to lean on with Nikolas Cassadine, who was having troubles with his wife, Emily. Nikolas and Courtney helped each other out as friends, but turned into an adultress affair. Elizabeth ended up miscarrying the child. Jax and Emily would find out about their spouses, and filed for divorce. Courtney started an affair with Nikolas, as a result, falling in love with him and finding happiness in life again. To her surprise and joy, Courtney found out she was pregnant. However, she was not sure if Jax or Nikolas was the father. A DNA test said that Jax was the father, and though they were disappointed, Nikolas and Courtney were determined to fight to make sure the child stayed with them. When they found out that the test might have been tampered with, though, they had a second DNA test run at a separate lab. This test, though, also said that Jax was the father. Courtney and Nikolas still decided they would fight to keep the child with them once it was born.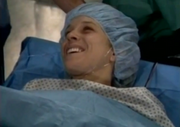 Nikolas's evil grandmother, Helena Cassadine, came to town when she found out that Nikolas was possibly going to be a father.[8] She intended to take her great-grandson and raise him as the Cassadine heir. Courtney decided to leave town after mistaking a close moment between Nikolas and Emily. Helena, however, intercepted and kidnapped her. Courtney managed to escape and subsequently went into hiding. She returned in February 2006 when the deadly encephalitis virus was going around Port Charles. She was admitted to the hospital when she contracted the virus. There, she reunited with Nikolas, who also contracted the virus, and they got engaged. Courtney's symptoms grew worse, and she went into premature labor as a result. The doctors said the baby was at risk, so she decided to have a C-section to save her child.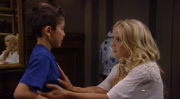 Courtney gave birth to a boy on February 20, 2006, though he was born severely premature. Jax and Nikolas were both at the hospital, trying to help Courtney. After giving birth, Courtney told Jax she wanted to name the child John after Jax's father. Jax finally confessed the truth to Courtney: Nikolas was the baby's biological father. He had both tests changed to make it look like he was the father so that the baby and Courtney would be safe from Helena. Courtney was upset, but forgave him and demanded to see Nikolas. However, by the time he got there, Courtney was too weak from the virus and giving birth. With her last breath, she told Nikolas that she loved him.
She died without telling Nikolas he was her baby's father. Jax chose not to tell Nikolas the truth, and named the baby John Michael Jacks, after his and Courtney's father. Carly, now in a relationship with Jax, found out the truth, but chose to keep the secret and help Jax raise John. The doctor who helped Jax change the results retired and decided to leave the real results behind to have a clean conscience. Nikolas's friend, Dr. Robin Scorpio, found the results, which proved that Nikolas was baby John's father and told him at John's baptism. Jax finally admitted the truth to Nikolas, and subsequently gave John back to him. Nikolas renamed his and Courtney's son Spencer Cassadine.
On May 4-5, 2015, Courtney returns to help her son. She helps Spencer realize that he is not disfigured by taking off his mask for him so he can see that his face does not look bad at all. She also tells him that no matter where he is or what he is doing she is always there.
Crimes Committed
Improper use of medical equipment: Used an emergency helicopter administered by Alan to escape Port Charles from the rooftop of General Hospital
Shot Coleman Ratcliff [Oct 2002]
Held A.J. Quartermaine at gunpoint [Jan 27, 2003]
Ran down Elizabeth Webber with her car after taking too many pain pills [Sep 5, 2003]
Defied a court order: Along with Jason, took Michael and Morgan to France when a social worker arrived to take them away [Dec 9, 2003]
Assaulted Faith Rosco and her bodyguard [Dec 17, 2003; arrested and released]
Shot Brian Beck in the back [Jan 23, 2004]
Assaulted Jason by hitting him in the head to prevent him from killing Lorenzo Alcazar [Apr 12, 2004]
Adultery; had an affair with Nikolas Cassadine while she was married to Jax and he was married to Emily [2005]
Health and Vitals
Held hostage by Lorenzo Alcázar [Aug 2003]
Suffered a miscarriage when she jumped into freezing water [Aug 2003]
Car accident [Oct 22, 2003]
Addicted to pain killers [2003]
Injured in a train wreck [Nov 2005]
Experienced cramping during her pregnancy [Nov 2005]
Kidnapped by Helena Cassadine [Jan 2006]
Fell ill during the encephalitis plague that hit Port Charles [Feb 2006]
Gave birth to her son, Spencer via C-section [Feb 2006]
Succumbed to the deadly virus shortly after giving birth [Feb 2006]
Family tree
External links
Courtney Matthews profile on SoapCentral
References
v - e

Current Contract Characters
Jordan Ashford
 ·
T.J. Ashford
 ·
Franco Baldwin
 ·
Hayden Barnes
 ·
Nikolas Cassadine
 ·
Morgan Corinthos
 ·
Sonny Corinthos
 ·
Carly Corinthos-Jacks
 ·
Alexis Davis
 ·
Anna Devane
 ·
Dr. Patrick Drake
 ·
Dante Falconeri
 ·
Olivia Falconeri
 ·
Paul Hornsby
 ·
Ava Jerome
 ·
Julian Jerome
 ·
Kiki Jerome
 ·
Maxie Jones
 ·
Nina Lansing
 ·
Jason Morgan
 ·
Sam Morgan
 ·
Dillon Quartermaine
 ·
Michael Quartermaine
 ·
Tracy Quartermaine
 ·
Nurse Sabrina Santiago
 ·
Laura Spencer
 ·
Valerie Spencer
 ·
Lulu Spencer-Falconeri
 ·
Nurse Elizabeth Webber
 ·
Nathan West
Current Recurring Characters
Scott Baldwin
 ·
Helena Cassadine
 ·
Dr. Linda Chu
 ·
Lucy Coe
 ·
Dr. Kevin Collins
 ·
Brad Cooper
 ·
Nurse Felix DuBois
 ·
Max Giambetti
 ·
Milo Giambetti
 ·
Alice Gunderson
 ·
Jerry Jacks
 ·
Nurse Epiphany Johnson
 ·
Dr. Lucas Jones
 ·
Ric Lansing
 ·
Janice Lomax
 ·
Rosalie Martinez
 ·
Diane Miller
 ·
Dr. Liesl Obrecht
 ·
Dr. Monica Quartermaine
 ·
Madeline Reeves
 ·
Delia Ryan Coleridge
 ·
Felicia Scorpio
 ·
Mac Scorpio
 ·
Kyle Sloane
 ·
Nurse Bobbie Spencer
 ·
David Walters
 ·
Heather Webber
Current Child Characters
Spencer Cassadine
 ·
Avery Corinthos
 ·
Emma Drake
 ·
Leo Falconeri
 ·
Rocco Falconeri
 ·
Josslyn Jacks
 ·
Molly Lansing-Davis
 ·
Danny Morgan
 ·
Aiden Spencer
 ·
Cameron Spencer
 ·
Jake Spencer
 ·
Georgie Spinelli
Forthcoming Characters
Kristina Corinthos-Davis
Deceased and Presumed Dead Characters
Benny Abrahms
 ·
Bernie Abrahms
 ·
Dr. Rachel Adair
 ·
Diego Alcazar
 ·
Lorenzo Alcazar
 ·
Luis Alcazar
 ·
Sage Alcazar
 ·
Ruby Anderson
 ·
Dr. Andy Archer
 ·
Dominique Baldwin
 ·
Cooper Barrett
 ·
Alison Barrington
 ·
Amanda Barrington
 ·
Kiefer Bauer
 ·
Warren Bauer
 ·
Jesse Beaudry
 ·
Katherine Bell
 ·
Connor Bishop
 ·
Mary Bishop
 ·
Paige Bowen
 ·
Nurse Jessie Brewer
 ·
Nancy Brewer
 ·
Dr. Phil Brewer
 ·
Carter
 ·
Irina Cassadine
 ·
Kristina Cassadine
 ·
Mikkos Cassadine
 ·
Stavros Cassadine
 ·
Stefan Cassadine
 ·
Tony Cassadine
 ·
Victor Cassadine
 ·
Stone Cates
 ·
Dr. Ryan Chamberlain
 ·
Dr. Silas Clay
 ·
Stephen Clay
 ·
Adela Corinthos
 ·
Lily Corinthos
 ·
Dr. Ian Devlin
 ·
Mickey Diamond
 ·
Ronnie Dimestico
 ·
Dr. Pierce Dorman
 ·
John Durant
 ·
Bill Eckert
 ·
Connie Falconeri
 ·
Andrea Floyd
 ·
Dr. Russell Ford
 ·
Dr. Steve Hardy
 ·
Peter Harrell, Sr.
 ·
Peter Harrell, Jr.
 ·
Abby Haver
 ·
Logan Hayes
 ·
Theo Hoffman
 ·
John Jacks
 ·
Aleksander Janacek
 ·
Victor Jerome
 ·
Stan Johnson
 ·
B.J. Jones
 ·
Georgie Jones
 ·
Tania Jones
 ·
Dr. Tony Jones
 ·
Dr. Ewen Keenan
 ·
Rafe Kovich, Jr.
 ·
Dr. Eve Lambert
 ·
Trevor Lansing
 ·
Duke Lavery
 ·
Dr. Cameron Lewis
 ·
Victor Lord III
 ·
Hope Manning-Thornhart
 ·
Reese Marshall
 ·
Courtney Matthews
 ·
Danny McCall
 ·
Lila McCall
 ·
Nurse Leyla Mir
 ·
Trey Mitchell
 ·
Susan Moore
 ·
Chloe Morgan
 ·
Henry Nakamura
 ·
Dr. Lisa Niles
 ·
A.J. Quartermaine
 ·
Dr. Alan Quartermaine
 ·
Alexandria Quartermaine
 ·
Edward Quartermaine
 ·
Dr. Emily Quartermaine
 ·
Lila Quartermaine
 ·
Carlos Rivera
 ·
Faith Rosco
 ·
Manny Ruiz
 ·
Gabriel Santiago
 ·
Joe Scully
 ·
Joe Scully, Jr.
 ·
Damian Smith
 ·
Frank Smith
 ·
Shirley Smith
 ·
Zander Smith
 ·
Lena Spencer
 ·
Pat Spencer
 ·
Siobhan Spencer
 ·
Tim Spencer
 ·
Olivia St. John
 ·
Nurse Diana Taylor
 ·
Martha Taylor
 ·
Dr. Peter Taylor
 ·
Tracy Taylor
 ·
Dr. Asher Thomas
 ·
Cole Thornhart
 ·
Nurse Amy Vining
 ·
Bradley Ward
 ·
Justus Ward
 ·
Mary Mae Ward
 ·
Dr. Rick Webber
 ·
Dr. Karen Wexler
 ·
Dawn Winthrop
 ·
Deke Woods
 ·
Dr. Maggie Wurth
 ·
Anthony Zacchara
 ·
Claudia Zacchara-Corinthos
Off-screen and Former Characters
Lila Rae Alcazar
 ·
Dr. Grant Andrews
 ·
Terri Arnett
 ·
Brook Lynn Ashton
 ·
Larry Ashton
 ·
Ned Ashton
 ·
Christina Baldwin
 ·
Dr. Gail Baldwin
 ·
Lee Baldwin
 ·
Serena Baldwin
 ·
Dr. Tom Baldwin
 ·
Brenda Barrett
 ·
Julia Barrett
 ·
Melinda Bauer
 ·
Shawn Butler
 ·
Gia Campbell
 ·
Peter Carroll
 ·
Dimitri Cassadine
 ·
Petros Cassadine
 ·
Valentin Cassadine
 ·
Jagger Cates
 ·
Lois Cerullo
 ·
Skye Chandler-Quartermaine
 ·
Father Coates
 ·
Mike Corbin
 ·
Angie Costello
 ·
Blair Cramer
 ·
Jolene Crowell
 ·
Nurse Nadine Crowell
 ·
Dr. Rae Cummings
 ·
Marco Dane
 ·
Téa Delgado
 ·
Roy DiLucca
 ·
Anna Donely
 ·
Sean Donely
 ·
Tiffany Donely
 ·
Dr. Noah Drake
 ·
Taylor DuBois
 ·
Toussaint Dubois
 ·
Jenny Eckert
 ·
Sly Eckert
 ·
William Eichner
 ·
Angel Ellis
 ·
John Everett
 ·
Cesar Faison
 ·
Nurse Fletcher
 ·
Pres Floyd
 ·
Nurse Betsy Frank
 ·
Ivy Gatling
 ·
Nurse Audrey Hardy
 ·
Dr. Simone Hardy
 ·
Dr. Tom Hardy
 ·
Dr. Tommy Hardy
 ·
David Harper
 ·
Jimmy Lee Holt
 ·
Dr. Matt Hunter
 ·
Anton Ivanov
 ·
Lady Jane Jacks
 ·
Jasper "Jax" Jacks
 ·
Terrell Jackson
 ·
Miranda Jameson
 ·
Frisco Jones
 ·
Dr. Leo Julian
 ·
Rose Kelly
 ·
Dr. Kelly Lee
 ·
Winifred Leeds
 ·
Guy Lewis
 ·
Victor Lord, Jr.
 ·
Ethan Lovett
 ·
Starr Manning
 ·
Todd Manning
 ·
John McBain
 ·
Miguel Morez
 ·
‎Hope Morgan
 ·
Ken Morgan
 ·
Delores Padilla
 ·
Blackie Parrish
 ·
Nurse Penny
 ·
Grant Putnam
 ·
Celia Quartermaine
 ·
Burt Ramsey
 ·
Coleman Ratcliffe
 ·
Cruz Rodriguez
 ·
Casey Rogers
 ·
Father Mateo Ruiz
 ·
Juan Santiago
 ·
Robert Scorpio
 ·
Dr. Robin Scorpio-Drake
 ·
Alec Scott
 ·
Hannah Scott
 ·
Jeffrey Scribner
 ·
Rebecca Shaw
 ·
Jennifer Smith
 ·
Lucky Spencer
 ·
Luke Spencer
 ·
Damian Spinelli
 ·
Suzanne Stanwyck
 ·
Nurse Mischa Stephens
 ·
Holly Sutton
 ·
Marcus Taggert
 ·
Nurse Regina Thompson
 ·
Ellie Trout
 ·
Claire Walsh
 ·
Faith Ward
 ·
Keesha Ward
 ·
Dr. Maya Ward
 ·
Dr. Jeff Webber
 ·
Dr. Lesley Webber
 ·
Dr. Sarah Webber
 ·
Dr. Steve Webber
 ·
Dr. Britt Westbourne
 ·
Dr. Lainey Winters
 ·
Grace Yang
 ·
Johnny Zacchara
Crew
Ron Carlivati (Head writer, 2012-2015)
 ·
Jill Farren Phelps (Executive producer, 2001-2012)
 ·
Robert Guza, Jr. (Head writer, 1996, 1997-2000, 2002-2008, 2008-2011)
 ·
H. Wesley Kenney (Executive producer, 1987-1989; Head writer, 1988)
 ·
Gloria Monty (Executive producer, 1978-1987, 1991-1992; Head writer, 1981)
 ·
Wendy Riche (Executive producer, 1992-2001)
 ·
Frank Valentini (Executive producer, 2012-present)
 ·
Garin Wolf (Head writer, 2008, 2011-2012)
Related Topics
List of cast members
 ·
List of current actors
 ·
History of General Hospital