Dominic redirects here, for other uses of the name, see Dominic (disambiguation).
This article is incomplete. Please edit this page and help bring it up to standards.
Reason: Finish up storylines for 2014 and start 2015-16
Please remove this template once this article is no longer incomplete.
Det. Dante Angelo Falconeri[6] is a fictional character on the ABC daytime soap opera General Hospital. He is the son of mob boss, Sonny Corinthos and his old flame, Olivia Falconeri.
He has been portrayed by actor Dominic Zamprogna since the character's debut on June 22, 2009.
Development
The series put out a casting call for the character and newcomer Nathan Parsons auditioned for the role. However, Parsons was cast in the role of Ethan Lovett instead. In September 2008, Soap Opera Weekly reported that the role could go to former Guiding Light star, Tom Pelphrey. It was speculated that ABC's offer to an actor of Pelphrey's caliber for the role of Dante was allegedly in response to possible departure of longtime leading man, Steve Burton who portrayed Jason Morgan.
TV Guide alleged that the rumor was planted by the network to scare Burton into resigning with the series. By October 2008, Soap Opera Weekly reported that another Emmy winner, David Lago, known for his role as Raul Guittierez on The Young and the Restless had been cast in the role. Lago's first airdate was tentatively set for late November.
Upon the announcement, it was reported the Pelphrey had turned down the role. However, by December ABC still had not confirmed Lago's casting and it was believed that actors were still auditioning for the role. In January 2009, Soap Central reported that ABC was prepared to make a decision between Lago and Pelphrey for the role. Meanwhile, Pelphrey relocated to California which fueled speculation that he had been cast in the role. However, Pelphrey then issued a statement admitting he was looking for work outside of daytime making Lago the lead candidate for the role of Dante. A member of the casting department also revealed that the casting could be held off.
In May 2009 it was announced that Pelphrey would return to Guiding Light to help usher it off the air and it was rumored that the role was being held for him. despite conflicting reports that the once suspended casting call had been reactivated. According to Soap Central, ABC was unable to cast the actor they initially wanted in the role, but the network refused to comment on the their initial idea for casting. The delayed casting led to reintroduction of Sonny's other son, Michael. Lago later revealed that he was never contacted by the series, but he was definitely open to it. Pelphrey revealed in an interview that he had been contacted by ABC, but he turned down the role.
In late May 2009, Soapnet reported that Dominic Zamprogna was set to join the cast of the soap in the mysterious role of Dominic. Soap Opera Digest confirmed the news and confirmed that the Canadian actor's first air date was June 22, 2009.
Zamprogna revealed in an interview that his manager told him about the role; he filmed the audition and sent to the casting director, Mark Teschner. Teschner loved the tape and sent it to the producers. A week later, the producers had Zamprogna fly to Los Angeles to read with Maurice Benard, and they immediately offered him a contract. Teschner remembered Zamprogna from when he auditioned for role of Juan Santiago about 10 years earlier, a role that went to Michael Saucedo.
Aaron Refvem portrayed a young Dante in a dream that Dante had during surgery on February 2, 2010.[7]
In 2014, Zamprogna was nominated for a Daytime Emmy for Outstanding Supporting Actor.
According to the initial casting call, the character of Dante is "charming and flirtatious" with and abundantly arrogant, much like his father. Zamprogna initially described the character as a "smart, intelligent, loving kind of thug." The character is also written as very "witty," and "funny."
He is almost fearless. "He's putting himself in front of people that could pull out a gun and shoot him right there." However, the character's fearless attitude is what makes the other character's respect him. Zamprogna continued, "[Dante]'s gutsy" but not the typical "tough guy."
The character is also very loyal to his family, and he is always "quick on his feet" said Zamprogna. Dante has a strong stance on morality that is very "black and white." For him, there are no "grey areas." Of his character, Zamprogna said that even when Dante is working undercover, "He's real. No BS."
Background
Dante was born in Bensonhurst around 1985 to a 15-year-old Olivia Falconeri. Olivia had a brief relationship with Sonny Corinthos in high school. After the relationship ended, Sonny began dating Olivia's cousin Connie (now known as Kate Howard, though Connie's name is used in the DID storyline of 2012-13). After Sonny left Bensonhurst, Olivia learned she was pregnant. The only other person who knew Sonny was Dante's father was Connie. Olivia swore her to secrecy to protect Dante from Sonny's dangerous lifestyle. Dante would later become a cop and unknowingly try to take down his father.
In What If..., it was revealed that before coming to Port Charles, Dante had a one night stand with Tess Buchanan from The ABC Soap One Life To Live. When he woke up the next morning, he discovered she had stolen his wallet.
The truth about Dante's paternity did eventually come out in January/February 2010 after Sonny shot him for being an undercover cop. After a rough patch between Dante and his parents, things settled down and he has a good relationship with both of them. He also has a good relationship with all of his siblings.
Through his father's marriage, he gained Carly Corinthos-Jacks as a stepmother (a women who also used to despise him but they have since made amends).
He has a son named, Rocco, who was born via surrogate in September of 2013, with his now ex-wife/current girlfriend, Lulu Spencer-Falconeri. On March 4, Dante and Lulu received their finalized divorce papers but they have since decided to spend the rest of their lives together. They also have shared custody of Rocco. Lulu and Rocco moved back in with Dante on May 6, 2016.
His current partner at the PCPD is Det. Nathan West.
Storylines
On June 22, 2009, Dante—operating under the alias "Dominic Pirelli"—arrives in Port Charles under the orders of Claudia Zacchara to kill Jason Morgan. However, Claudia's brother Johnny intervenes and saves Jason's life, killing several of the shooters. Though he is shot, Dante manages to slip away and finds Morgan Corinthos, who attempts to navigate Dante out of the forest until Carly Jacks, Morgan's mom shows up. While holding Carly and Morgan at gunpoint, Dante is attacked by Michael Corinthos. Carly tells him to leave and they can act like this never happened and he agrees. Dante finds his way to Sonny's house were he confronts Claudia about her failed plan. Claudia lets him sleep in her bedroom then attempts to kill him the next day. He meets Kristina Davis, Sonny's daughter and she helps him out. He finally shows himself to his mother who is kind of upset that he's in Port Charles but also happy to see him. He doesn't tell her why he's there. Dante goes to Sonny looking for a job. He attempts to get Jason to trust him, but with Claudia and Johnny against him, Jason is hesitant. Dante then seeks out Kristina asking for access to her father. Sonny decides to give him a chance anyway when Dante storms into Sonny's house while Carly is with him. Before Sonny shoots him, he explains that if he wanted trouble, he would have hurt Carly and her sons, but he didn't.
Dante flirts with Claudia whenever he gets a chance knowing she hates him. Dante also has a crush on Carly Jacks and has a growing likeness for her. He unknowingly rents a room from his grandfather, Mike Corbin, at Kelly's Diner.[8] On July 31, 2009, Dante, still going by Dominic, meets Lulu Spencer at Jake's. He is very much attracted to her and they seem to be getting along until her brothers, Lucky and Ethan, beat him up because he works for Sonny. Lulu pretends she's not interested in him but he doesn't stop flirting. After Lulu takes him to the hospital, Dante walks in on Johnny and Olivia about to have sex. Lulu and Dominic share their first kiss on August 26, 2009 after he dares her. "Dominic" begins forming a close brother-like relationship with Morgan, ultimately leading Dominic to protect Morgan from being run over by Edward Quartermaine on September 4, 2009. After nearly facing death, Dante heals up but his identity is discovered by Jasper Jax, Carly's husband. He then finds himself identifying with both Sonny and Morgan when they talk about their pasts as baseball players and how they all played the same position.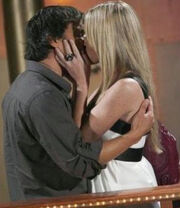 Claudia discovers that "Dominic" is really Sonny and Olivia's son after hearing Olivia and Kate Howard talking outside of Jake's. Claudia threatens both Olivia and Dante with the secret. She tells Olivia that she will tell Dante about his paternity, and she tells both that she will tell Sonny that "Dominic" is not loyal. She forces Olivia to break up with Johnny and tries to get Dante into bed, wanting to become pregnant to save herself from Sonny. Dante refuses, later telling Lulu he wants his kids to be "planned for, wanted, loved."[9] In November, Lulu also discovers his identity, after the two were nearly killed in search of Claudia Zacchara, who kidnapped a pregnant Carly. Although Carly returns, Claudia doesn't, making Dante suspect Sonny of killing Claudia. Dante collects any evidence found in the Corinthos mansion and hands it to Ronnie. Dominic protects Sonny in an ambush in November 2009, gaining his trust. Dante figures out later that Franco's work corresponds with one of a tagger he arrested when he was a rookie cop. On December 11, 2009, he goes to the PCPD to look up the arrest, but he is caught by Lucky Spencer, Lulu's brother. Lucky, though, figures out who Dante is, and helps Dante try to bust Sonny. Dante takes Lulu on a date to the opera, and despite herself, Lulu finds that she likes the opera.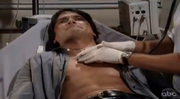 On January 5, 2010, Franco kidnaps Sam, Jason's girlfriend, and Lulu. Jason calls Dominic right after a confrontation with Franco, and tells him where Lulu is, and that she's sitting on a bomb. Dante rushes to save her. Jason finds Sam, but they find out too late that the bomb that Franco planted was fake, but the one Lulu was siting on was real and blows up the warehouse. Luckily, both Dominic and Lulu make it out safely. When the warehouse is being cleaned up, the police find Claudia's body. While trying to get information on Claudia's murder case, he runs into Johnny, who reveals that he knows who Dante is. The two team up to bust Sonny in January 2010. Dante, meanwhile, confesses to Lulu that he loves her, and that's why he has to let her go. However, she tells him to let her decide for herself whether she's safe or not, and they decide to continue their relationship. On January 28, 2010, Ronnie informs Dante that the arrest warrant for Sonny has come in. Dante tells Ronnie they're going to wait until after Josslyn Jacks christening to take Sonny down to let the family have "one last good day."[10]
On the day of Josslyn's christening, Sonny discovers that Dominic is an undercover cop and shoots Dante while Olivia barges in. She desperately runs to Dante to save him, turning to Sonny and telling him that he just shot his own son.[11] Sonny and Olivia rush Dante into the hospital, where the doctor tells them Dante needs to undergo surgery to have the bullet removed. Dante comes in and out of consciousness before going in for the operation, and one of those times, he wakes up to find Sonny next to his bed, and goes unconscious again right after Sonny tells him he's his father. Dante survives the surgery and wakes up on February 3, 2010 with Lulu by his side. Dante still remains angry with Olivia for not telling him the truth about who his father is. To avoid Sonny facing any other charges, Dante and Olivia lie to investigators on how the shooting actually happened, claiming Dante accidentally shot himself.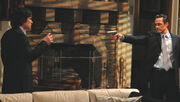 Sonny wants to build a relationship with his son, but Dante tells him he is not interested and he only thinks of him as the criminal he is intending to take down. He remains firm in his resolve to bring down Sonny as he is slowly recovering. Dante is visited first by Carly, then by Robin Scorpio, asking him to consider going easy on Sonny. Dante listens, but remains firm in his resolve to take down Sonny. FBI Agent Rayner suspects Dante of lying about his shooting, and takes away his NYPD badge and forces him to resign from the force. Commissioner Mac Scorpio later comes in and offers Dante a job as a PCPD officer, which Dante agrees to. He is called by federal prosecutor Claire Walsh to testify at Sonny's arraignment while he's still recovering, and sticks to his story that he shot himself, but adds that Sonny has the resources to run. The judge chooses to not revoke Sonny's bail, and Dante later tells Sonny that he doesn't want him to go to prison for shooting him, but for killing Claudia. Dante is later assigned to find intel that will help put his brother, Michael, on the stand. He is reluctant to do so, but when Claire threatens to end his career unless he finds out what Michael knows, he decides to question Michael to see what he knows.
Dante goes to talk to Michael, who is staying at Sonny's house during the trial. He quickly realizes that it's not going to be easy, since Michael is fiercely loyal to his dad and resents Dante with a passion. Michael starts telling Dante that he knows something about Claudia's death, but before he gets any further, Sonny comes in and tells Dante to stay away from his brother. Dante realizes Michael knows something that Sonny won't let him say, and tries to convince Sonny to let Michael say whatever it is he knows about Claudia, to no avail. He and Ronnie come back later to talk to Michael, only to find Sonny has already made him disappear. Dante and Lucky work together to find out what Michael knows, but they figure Michael saw Sonny kill Claudia. Dante goes to Sonny's island to get Michael, but he slips right under Dante's eye and he leaves without Michael. He's convinced he has a solid case without Michael's testimony. Dante testifies the first day, and is goaded by Claire into revealing Michael as a potential witness. He later confronts Claire, who refuses to proceed with Dante's airtight case unless she gets Michael as a witness. Dante defends Morgan from Ronnie at the police station once, making Ronnie question his loyalty.
Dante's sister, Kristina, is assaulted on March 12, 2010, and identifies Ethan Lovett as her attacker. Dante manages to stop Sonny from shooting Ethan, and later goes to see Kristina at the hospital. This is the first time they meet as brother and sister, and are able to get along. Dante later overhears Sonny telling Kristina about his mother's abuse, which he talks to Olivia about, grateful that he had a strong mother to defend him from any potential abusers. Luke Spencer, Ethan's father, as well as Lucky's and Lulu's, asks Dante to help Lucky investigate Kristina's abuse when Ethan swears to Luke that he did not beat up Kristina. Dante agrees, worried his sister will get beat up again. Lucky and Dante manage to zero in on Kristina's volatile boyfriend, Kiefer Bauer. They interrogate him in a good cop/bad cop style, and they realize Kiefer was the one who beat up Kristina and wait for him to make a mistake to catch him.
Dante decides to go talk to Kristina, but he and Lucky find the Davis house open and blood on the floor. Lucky later finds out Kristina's mom, Alexis, brought Kristina in to the ER, badly beaten. Dante goes to the hospital to get her statement, and she finally admits that Kiefer beat her both times and has in fact been abusing her for months. Sonny, having listened outside the door during Kristina's confession, later asks for a minute alone with Dante, grateful that Kristina was able to trust him enough to tell him the truth. However, Dante rips into him, telling Sonny that the only reason Kristina lied was so that Sonny wouldn't kill Kiefer, and her biggest concern at this moment is whether or not Sonny has sent Jason out to do so when it should be getting better. He accuses Sonny of being a horrible father, and when Olivia walks in on the fight, Sonny takes his frustration out on her. Olivia holds her own, though, and when she leaves, Dante punches Sonny on behalf of his mother, challenging Sonny to "come and get him, if he pushes him too far."[12] Dante realizes just how dangerous Sonny's world is, and reconciles with his mother when he comes down, thanking her for taking care of him and forgiving her for keeping the secret. Kiefer's abusive nature quickly becomes public knowledge, and Ethan is given a clean slate.
Meanwhile, Kiefer is killed in a hit-and-run on the same night of Kristina's second beating. While investigating this, Dante is pressured by Ronnie and prosecutor Claire Walsh to find Michael to testify at Sonny's trial. However, it turns up no results, and Claire resorts to putting Morgan on the stand. Dante finds out when Carly comes to the station, wanting her son back. Dante calls in a favor to tell Carly where Morgan is, but before she shows up, Dante bursts in and goes to bat for Morgan, only to end up in jail for contempt.[13] Alexis later confesses to Mac Scorpio that she accidentally hit Kiefer while driving Kristina to the hospital. After being released, Dante discovers from Molly and Morgan that Kiefer's father, Warren Bauer, is ruthlessly persecuting Alexis and Kristina for Kiefer's death and has launched a smear campaign to make everyone think that Alexis hit Kiefer on purpose and that Kristina accused Kiefer of beating her to cover it up. When they ask him for help, Dante explains that, as a cop, he has to see both sides of the situation; Warren has a right to an investigation because Alexis did hit Kiefer and kept going, and because Kristina lied to the police for weeks and didn't say anything about Kiefer attacking her until after he died.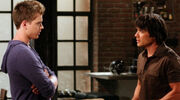 Mac subsequently assigns Dante to a narcotics case, which he knows is a decoy. He finds out Ronnie went to Sonny's island to get Michael, so he goes to Jason, thinking he got Michael back in Port Charles to avoid Ronnie. However, it turns out Jason didn't know and after Dante leaves, he shifts Michael to a hotel room. Unfortunately, Michael calls Morgan, who accidentally lets Dante know where Michael is. Dante shows up at the hotel, with the subpoena in hand. When Michael calls Dante on not getting him when he was on the island, Dante says that Michael should tell the truth that he saw his father kill Claudia. However, Michael yells that he was the one who killed Claudia and Sonny is covering for him. Dante is wondering why Michael is still covering for Sonny, but Michael gives him a bloody shirt, which he wore the night he killed Claudia. Dante decides to investigate his claim and takes him back to Port Charles to testify.[14] On April 21, 2010, Dante gets proof that Michael killed Claudia, and goes to confront Sonny about it. Meanwhile, after briefly visiting Kristina at the Davis residence and being caught by Alexis, Michael escapes to the Quartermaine estate, but not before Alexis alerts the police to his return.
Dante walks into the courtroom right as the verdict on Sonny is about to come in and states that Michael is in fact the real killer. Michael is found by Lucky and confesses to killing Claudia again. Lucky brings Michael in to the PCPD. Later, Michael is charged with a Class D murder and is sentenced to 5 years of prison. Dante, like everyone else involved, is left guilt-ridden by his role in the tragedy; he had thought that the judge would see Sonny as detrimental to Michael's well-being and pass a lenient sentence on him. Everyone rails at Dante and blames him for sending Michael to prison, especially Carly who pulls a gun on Dante and verbally attacks Lulu, her cousin. Jason makes a deal with Claire and heads to prison to protect Michael. Claire and Jax turn to Dante for help on persuading the judge to release Michael, and Dante eventually convinces him to release Michael under certain conditions; Michael will stay with Dante, wear an ankle monitor, and have minimal contact with Sonny.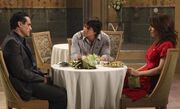 Dante is later assigned to a case to catch serial killer, Franco. Knowing that he is Franco's main target, Jason strikes up a deal with Dante and Claire and is released from prison as bait. After Franco visits all the people he formerly hurt in Port Charles and leaves many clues, they are lead to Franco's art show in Los Angeles, California. Jason confronts Franco in the stairwell of a building, leading to a shoot out that ends on the roof. Franco jumps over the ledge of the building and falls to his death. They later find that it wasn't really Franco who jumped from the building, but a look-alike. Jason is subsequently sent back to Pentonville only to be released a few weeks later when Claire discovers a loophole in his plea bargain.
In May 2010, Carly brings Brook Lynn Ashton to town when she learns of her past friendship with Dante. She wants Brook to break up Dante and Lulu by seducing Dante. Dante is initially excited to see Brook, as they have a history together. However, he doesn't realize Brooks true intentions. On May 5, 2010, Dante and Lulu make love for the first time. On May 25, Lulu tells Dante that she had an abortion. On August 17, 2010, Brook Lynn asks Dante to come to Jake's and talk. When he arrives she makes up a story that she is suffering from panic attacks, when in reality she is being paid by Carly Jacks to seduce Dante and take a picture, in order to break Dante and Lulu up. Brook Lynn gets Dante a beer and drugs it. After they talk, Brook Lynn takes Dante back to the loft and seduces him. Lulu then arrives to see Brook Lynn in her underwear making out with Dante. Lulu kicks Brook Lynn out and yells at Dante. The next morning Dante doesn't remember anything, but Michael explains what happened. Dante then brings flowers and cupcakes to Lulu in an attempt to reconcile. Dante and Lulu make up and Dante goes to Kelly's to talk to Brook Lynn. Brook claims she didn't drug him. Brook leaves town a few months later.
In September 2010, Lulu's brother Lucky heads to Ireland on an undercover assignment for Interpol, and he and Lulu try to assist him. When Brenda Barrett returns to town, it is revealed that she and Dante have a past together. He had been assigned to guard her, along with three other officers. One night while they were on a walk, the Balkan's son, Aleksander Janacek, came after Brenda and attacked Dante. Brenda picked up the gun that had fallen and shot Aleksander. He died and Dante covered for Brenda by throwing the body in the water. She also was pregnant and Dante signed over his rights to her.
In late December, 2010, Dante's mother goes on the General Hospital ski trip as a chaperone. While driving to the ski resort, their bus crashes. Dante learns about the crash and rushes to find Olivia. Michael and Molly, who were also on the bus, signal for him and Brenda to pull over. Michael leads Dante to his mother and he tells her to promise that she will be okay, as no Falconeri mother ever breaks a promise to her child. The rescue crew comes and takes her to the hospital. Steve Webber tells him that his mother hung on for him. Once he arrives at the hospital, he constantly asks the doctors if they know how his mother is doing. Lulu arrives and tries to help Dante, and soon after, Patrick Drake, who has been operating on Olivia, comes out and tells Dante that his mother has a 50/50 chance of making it, while in reality she has even lower chances. Dante and Lulu go into Olivia's room and find Steve with her. Both Steve and Lulu encourage Dante to talk to his unconscious mother. Once Steve has left the room, he tells his mother to keep fighting and that he loves her. On January 6, 2011, Olivia wakes up and tells him that she hung on for him.
A few weeks later, Theo Hoffman goes to Dante's apartment while Lulu is there. They start talking and Theo reveals that Brenda killed Aleksander in 2007 and Dante covered it up. Lulu confronts Dante and storms out. Dante later stops by her apartment, but she refuses to forgive him. They run into each other again near his apartment and he offers to take her somewhere, but she tells him that she can't date him if he's still in love with Brenda. Jason calls Dante to an alley after Michael's friend Abby Haver is attacked. Jason tells him to take them home, but Dante wants to call the cops on Brandon Lowell, Abby's attacker. Abby is taken to the hospital and Dante takes her statement, in which she tells him that she wasn't raped, but she would have been if Michael hadn't shown up.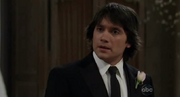 On January 31, 2011, Brenda stops by his apartment and talks to him about the baby. She says that she wanted to go on a trip and was cleared for travel, but when she got to Africa, she spiked a fever. She fainted, and when she woke up, she saw Suzanne standing over her and knew that she had miscarried. Dante tries to comfort her and she hugs him. Lulu stops by and finds Brenda in Dante's arms. She walks out and Brenda tells him to go after her. Lulu goes back to her apartment and Dante comes by. He knocks on the door but Lulu doesn't want to let him in. Maxie eventually opens the door and leaves to visit Matt. He explains that he had a rough night because Michael's friend was almost raped and he was only trying to comfort Brenda, still hiding the details of the baby. She says that she'll forgive him for tonight, but that they're still broken up.
He goes to the hospital to follow up on Abby's attack. Michael reveals to him that while he was in Pentonville, he was raped. Dante gives him a heartfelt apology, feeling as if it was his fault. He heads home and tosses his badge and gun on the table. He recalls the events of when Judge Carroll sent Michael to prison. Carly stops by and confronts him about Michael being raped in prison. She picks up his gun off the table and points it at him. He tells her to shoot him because she can't hate him any more than he hates himself. Through a series of flashbacks and conversations, it is revealed that Dante helped Brenda cover up the murder of her ex-boyfriend, Aleksander Janáček, the son of international crime figure, Theo Hoffman also known as The Balkan. Dante's secrets leads to Lulu breaking up with him. In February 2011, at Sonny and Brenda's wedding, with Dante serving as the best man, Carly shocks everyone by revealing that Brenda and Dante had a child together. Dante told the truth that he only pretended to be the father to keep The Balkan from finding out about the child. The Balkan plants a bomb on Sonny and Brenda car and Brenda disappears after it explodes. Though Brenda is eventually rescued, Dante's fellow police officers aren't happy with how he cooperated with Sonny and Jason to find her.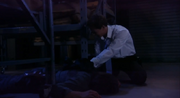 Dante and Lulu reconcile after he promises never to lie to her again. Luke leaves town, refusing to face the fact that his drinking caused him to run down his grandson Jake and Lulu goes after him. Dante tracks her to a bordello in Florida where Lulu works undercover as a waitress. The owner discovers Dante is a cop, and attempts to rape Lulu before she and Dante escape. The couple then travels to Helena Cassadine's island in Greece looking for Luke. Lulu's brother Nikolas convinces her to return home. In August 2011, Dante asks Lulu to move into his apartment and she is hesitant. He later asks Lulu to marry him and she hesitates but eventually decides to accept his proposal over dinner. When Dante goes to Sonny's warehouse to investigate he is shot by Anthony Zacchara. Dante recovers but Lulu is terrified to marry him fearing he'll leave her as a widow.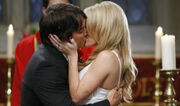 Lulu eventually comes to terms with her fear and accepts Dante's proposal. While on a trip to New York, Dante and Lulu are married by his cousin Tommy in a private ceremony, with only Olivia in attendance. Meanwhile, Lulu begins at the PCPD as the evidence room clerk. Dante, Ronnie and Dante's new partner Delores Padilla get involved in a case of a man who is beating strippers. In February 2012 Dante attends Sonny's charity benefit in his honor for General Hospital's pulmonary wing. Dante and Johnny get into an argument in which Sonny reveals that Claudia was Johnny's mother, not his sister. When Dante and Sonny argue in the parking lot, Sonny pushes Dante out the way of a bullet and Dante begins to understand just how much Sonny loves him and their relationship starts to mend somewhat.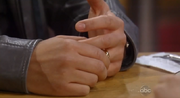 Dante and Michael find Starr Manning whose car is hanging off a cliff after a car accident with Anthony. It is soon learned that Sonny allegedly shot out Anthony's tires and Dante must arrest him. In May 2012, Dante is shocked when Ronnie is revealed to be the man beating up the strippers and he kidnaps Lulu when she figures it out. Fortunately with the help of John McBain, he rescues Lulu, who was shot in the arm. After that, Lulu ends up selling half of the Haunted Star to Johnny without telling him and that puts a strain on their marriage. On the night of the opening, Dante gets held up at work looking for his father-in-law, who was kidnapped by Heather Webber. On the same night, his Mom was drugged by Heather.
Dantes' mother, Olivia is drugged by an insane Heather Webber and later that same night, his father-in-law Luke is also shot by Heather, which lands them both in the hospital. After everything settles down, Dante and Lulu have a serious talk about their marriage and decide that everything is fine. Olivia hallucinated that Lulu was heavily pregnant, when in reality Lulu might be pregnant. Dante doesn't know that Lulu took a test. On August 13, Dante finds the test, which is positive, but he thinks the test is Maxie's. Lulu tells him that Maxie isn't the one who is pregnant she is. He is so shocked that he almost chokes. Then he tells her how happy he is and asks her if she has any reservations and she said no. Afterwards, The expectant couple celebrates. The next morning when the couple wakes up they discuss the baby and decide to keep the pregnancy a secret until they know more. After they talk, Lulu schedules an OB appointment for later that day. At the appointment the doctor tells them that Lulu is not pregnant. They decide to try to get pregnant right away but have problems.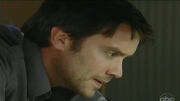 Dante and Lulu find out that she can't carry a baby to term. They try the adoption route, but Lulu lies on the application and the agency blacklisted them throughout the national database. Lulu interviews potential surrogate mothers, but can not find the right one. Maxie then proposes that she could be the surrogate mother, but Lulu rejects that as well. After interviewing more potential candidates they realize that Maxie is their best option. On Christmas Eve, Dante and Lulu find out that Maxie is pregnant. On New Year's Eve, Maxie trips and falls while trying to get rid of a puppy that came inside her apartment. She goes to the hospital, where her doctor, Britt Westbourne, tells her that she miscarried the baby. Maxie is heartbroken, and tries to tell Dante & Lulu, but is unable to bring herself to. Maxie goes back to the hospital, and asks Britt to implant with another of Dante & Lulu's embryos so they wouldn't find out that Maxie had miscarried. However, Britt tells Maxie she's already pregnant because of a one-night-stand she had with Spinelli. Maxie decides to pass her child off as Lulu and Dante's so they will get the child they want.
In late March, Lulu and Dante go to Maxie's sonogram appointment and are ecstatic at the sight/sound of their baby. Lulu & Dante have a small party to celebrate the baby's first sonogram photo, Lulu receives a ticking gift addressed from her aunt Bobbie for the baby. It turns out that the gift she receives first is not from Bobbie and is a trap. Dante finds Lulu unconscious in their apartment but before he can help her he is knocked unconscious. When he wakes up Lulu is gone. While Dante is at the PCPD attempting to get Olivia to have another vision that might help them find Lulu, Nikolas is shot trying to tell Luke and Laura something about Lulu. Dante and his boss, Commissioner Anna Devane, go to the park in search of the shooter and find Shawn wearing a hoodie and carrying a gun. He says he was just trying to help find the shooter. Shawn gets shot and while Anna goes to look for help Dante continues to look for the shooter. He finds the shooter attempting to take another shot at Shawn. Dante then attempts to get the shooter to tell him where Lulu is but the shooter takes a Cyanide pill and dies before revealing any information.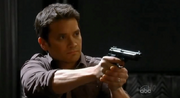 He is informed that Luke has been given temporary WSB credentials and joins in finding Lulu. Dante is able to help Luke and Laura get out of being held at gunpoint. He is later seen at the Cassadine Island where he finds Lulu in a cryogenic chamber. He helps entrapping a newly back-from-the-dead, Stavros Cassadine in the chamber and helps move Lulu onto a table slab. He pleads for Lulu to come back after Luke and Laura try.  Lulu awakes and doesn't know who they are or where she is at. They are able to convince her that they should go back to Port Charles, New York. On the plane, Dante starts trying to push memories on Lulu, which upsets her. Olivia doesn't help the situation when she smothers Lulu with gifts and balloons. They go to the hospital and Dante continues being pushy. This leads Lulu to run away and she ends up at The Floating Rib. Dante goes to the Floating Rib the day after when Maxie is able to identify Lulu's ring that she left there, on Felicia Jones' hand. Max tells Dante that Milo has a lead on the disappearance of Lulu. Sonny informs Dante that he is leaving town to find a missing Morgan. 
Max comes into the office to let Sonny know what he has found out, but Sonny leaves.  While Max is informing Dante about Lulu being at Milo's studio apartment, Lulu and Milo kiss. Dante shows up at Milo's apartment, and tries to get Lulu to come home with him. Lulu is overwhelmed, and Dante eventually relents, letting her stay with Milo. The more Lulu hangs out with Milo, the closer they become. This starts to make Dante's patience wear thin, and he punches Milo in frustration. Sonny comes, though, and stops Milo from retaliating. Dante calms down, but is still hurt about not having his wife around.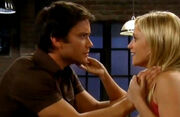 Dante finds Lulu one night by herself, and brings her back home so she will be safe. Eventually, here, she gets her memories back, and Dante is thrilled when she says she remembers everything. The two of them get back to focusing on the impending arrival of their child. Lulu tells Dante how she thinks Maxie is becoming too attached to "their baby." They're not able to discuss it further, though, because Maxie goes into labor. She gives birth to a healthy baby girl. Dante and Lulu are bonding with their newborn daughter with their family when Dante gets called away. He finds out his cousin, Kate, now going by her birth name, Connie Falconeri, was murdered.
Dante ends up having to find Sonny when officers tell him Sonny called the police, but was gone by the time the police got there. They show him a message next to Connie she wrote out in her blood right before she died: the letters "AJ". Dante goes to the Quartermaine house, where he finds Sonny pointing a gun at A.J. Quartermaine. Dante and Michael eventually talk Sonny out of killing A.J., but Dante arrests A.J. afterwards for Connie's murder. Olivia is distraught over losing Connie, but calls Dante because she thinks Sonny will try to commit suicide because of losing Connie, the woman Sonny loved. Eventually, he, Olivia, Morgan & Michael find Sonny right before he's about to kill himself and convince him to stop for their sake. Dante goes back to the hospital, and tells Lulu what happened to Connie.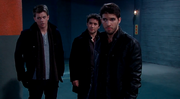 Eventually, they decide to name their newborn daughter, Connie in memory of Dante's cousin. They also are worried when Maxie seems overly attached to "their daughter." Maxie agrees to counseling, while Lulu and Dante experience the feeling of being new parents. Eventually, Dante and Lulu hold a christening for Connie, and ask Maxie and Spinelli to be the godparents. At the christening, though, lab tech Brad Cooper shows up and tells Dante and Lulu that Connie is Spinelli and Maxie's biological child. Dante recalls an argument Spinelli had with his girlfriend, Ellie Trout, about the baby, and believes Brad is telling the truth. Lulu is finding it hard to believe, but after recalling Maxie's attachment to the baby, she realizes Brad is telling the truth. Maxie and Spinelli eventually admit the truth, and Dante & Lulu leave, heartbroken and betrayed.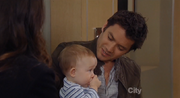 Lulu tells Dante she wants to fight for the legal rights to adopt baby Connie. In court, both she and Maxie reveal each other's dirty secrets, painting each other as unfit. In one particular instance, Maxie's attorney asks Lulu about the fact that she was planning to run away with Connie, a fact Lulu blurted out to Maxie in a moment of anger. Lulu claims Maxie's lying, and begs Dante afterwards to back up her claim. However, Dante says Lulu lied, and confirms that Lulu did want to run away with Connie, but he stopped her. In the end, Dante and Lulu lose custody, but so does Maxie, as the judge grants Spinelli sole custody, believing Maxie to be an unfit mother too.
Lulu is furious with Dante for not lying for her, claiming he's lied on the stand when he told the court that Sonny didn't shoot him. Dante claims the lies were just building, and would eventually catch up with them. They eventually give Connie over to Spinelli with a heavy heart. Dante runs into Sonny one day, and reveals that Lulu has pushed him away since they lost Connie, believing he could have helped them keep Connie by lying under oath. Dante says he's just as heartbroken as Lulu is, having lost his daughter. Sonny encourages him to keep going by reaching out to Lulu. Dante goes and meets Lulu, and tells her they should try for another child. Lulu is hesitant, but is finally convinced. However, once they come to the hospital, they find out from Ellie that their remaining embryos are gone. Confused, they question Brad, who claims to have no idea about it. They call Britt, who doesn't answer their call. It's revealed that Britt, with the help of Brad and her mother, Dr. Liesl Obrecht, had Dante and Lulu's remaining embryos implanted into herself illegally because she was trying to get back together with Patrick Drake. Her son, Ben, is actually Dante and Lulu's biological child.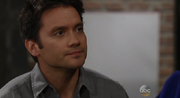 Meanwhile, Dr. Obrecht is arrested for the slew of crimes she's committed, many against Anna and her family. She says she has something important to tell Dante, but Dante believes she's manipulating him, and shuts her down. Britt comes to the station to talk to her mother, and claims she has no idea what happened to Dante and Lulu's embryos. When Dante leaves, Britt and Obrecht reveal how after Patrick broke up with her, Obrecht convinced her to get pregnant so she could get Patrick back. She convinced her to use the embryos of Dante and Lulu to get pregnant. Obrecht implanted both into Britt, but only one was viable, and led to Britt giving birth to Ben.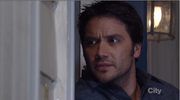 Britt tells Brad to lead Dante and Lulu in another direction. Brad gives them a forged document stating Ellie had the embryos destroyed. Lulu invites Nikolas over to her place for Christmas, and he brings Britt, whom he is dating, and Ben. When Dante comes home he gets to meet Ben for the first time, and he and Lulu spend time with him, without realizing that Ben is actually their son. Dante and Lulu decide that they want to start the process of in vitro again. Before Dante and Lulu start the process of trying for another baby, Dante runs in Britt and Ben at the hospital and unknowingly spends time with his son again. On NYE, Britt does an ultrasound on Lulu and tells them that Lulu's eggs are no longer viable. Lulu and Dante are devastated and because of everything that has happened and Lulu blaming him for losing the baby, Lulu ends up leaving him and doesn't know when she will be back.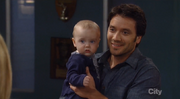 Eventually, Dante and Lulu decide to work things out. They also learn that Ben is Dante's son. On March 24, Elizabeth Webber shows Lulu a letter that Britt wrote revealing that Ben is Lulu's son, not her's. On March 25, Lulu confronts Britt at her and Nikolas' engagement party, and Britt finally admits the truth about Ben's full parentage. On March 26, Obrecht holds a dagger on Dante and Lulu, kidnaps Ben and holds him hostage at Elizabeth Webber's house. On April 8, Dante rescues Ben and reunites him with Lulu. On April 11, Dante and Lulu bring their son home and rename him Rocco. Dante later gets a call from the PCPD and it turns out to Liesl Obrecht who wants to make a deal. Obrecht tells him that she has his and Lulu's other child (i.e. their embryo).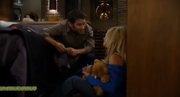 The next morning, Dante and Lulu wake up with Rocco in bed with them and then discuss what Obrecht said about having their embryo. Later that day, they go see Obrecht and find out that she wants the charges against her and her daughter to be dropped and full immunity in exchange for their embryo. Dante tries to convince Scott to drop the charges while Lulu tries to do the same with Nikolas and Elizabeth. After all parties are on board, Dante and Lulu tell Obrecht that she is going to get her deal and she sends them to Kelly's to get their embryo from Victor.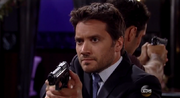 On May 15, Anna tells Dante and Lulu that the embryo they got from Victor was in fact theirs. After she leaves Dante and Lulu discuss their options for having another child and Lulu suggests that she carry their chid. She goes on to explain that the doctor never said that it was impossible for her to carry a child just unlikely. When Dante gets called away they decide to table the discussion but Lulu makes an appointment anyways. On May 27, Dante meets Lulu and Rocco at Kelly's where she tells him that she set up a fertility appointment and they decide to go together. On June 11, Dante and Lulu go to their fertility appointment where they find out that Lulu may have been misdiagnosed. She may have a septate uterus, which can be corrected with a simple procedure, instead of a bicornuate uterus.
After the appointment they decide to think on it for awhile. The next day Dante finds out that Lulu wants to have the procedure and he is on board. On July 1, Lulu has a procedure to find out if she has bicornuate uterus or a septate uterus. After the procedure, he and Lulu find out that she indeed had a septate uterus and it was corrected. The doctor tells them that after a few weeks of recovery she should be able to carry a baby to term. In mid-July, Dante and Lulu go to the Floating Rib with Rocco and Olivia and discuss when they want to have another child. A few days later, they decide to start right away.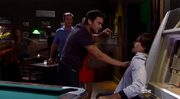 Dante and Lulu go to Maxie wedding where he finds Nathan tied up because Levi beat him up after Nathan discovered what he was up too. Later on, during the big Levi reveal, Lulu is taken hostage by Levi's accomplice. Dante also has to put down his gun so nothing happens Lulu. Later on, Levi and his accomplice kidnap Lulu (along with Maxie). Later on, Dante and Nathan start looking for Lulu and Maxie. They soon discover the boats captain in the water and question him. They find out that the girls were okay and were talking up a storm. They also find out that the boat was sinking and that the girls were probably at the bottom of the lake. Dante wants to go find his wife but all he do is stand there and wait while the dive team searches the water for them. One of the officers finds Maxie vail in the water. After the search one of the officers comes back with Maxie's vail leading everyone to believe that Lulu and Maxie were gone.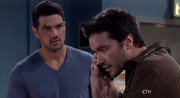 Later on, Dante goes to Sonny for help finding the girls. Sonny tells him to talk to Coleman because he is a fence and may be working with Levi. When Dante confronts him it turns out that he is involved. He tells Dante and Nathan where the meeting was suppose to take place. Dante and Nathan head to the cabin where they find Scribner shot, and the girls and Levi are nowhere to be found. Dante and Nathan search for clues and find a picture of Frisco and Felicia and Frisco is circled. Dante and Nathan decide to split up, Dante heads to the station to talk to Anna while Nathan heads to the hospital to talk to Felicia. When Dante gets to the station he finds out that Anna isn't there and he starts to lose his cool. Sonny and Olivia try to calm him down and then convince him to go home and get some rest. When he gets home he promises Rocco that his mother will come home.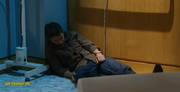 The next morning, Dante is in bed playing with Rocco. When Elizabeth shows up to watch Rocco, he goes back to work. Anna and Nathan catch him up on Peter, Sr. and Peter, Jr. After they talk, Dante gets a call from Lulu. While on the phone with Lulu, Dante and Nathan try to trace the call but Levi gets a hold of the phone and ends it. Luckily, the phone call was just long enough to trace and there is a location on the girls. Dante and Nathan get a team together and head to the house where the girls are. Dante and Nathan try to negotiate with Levi, who is using Lulu as a human shield. Dante is able to get him to promise to let Maxie go when he gets what he wants but Levi says that Lulu is coming with him regardless because there are other plans in store for her. Lulu is able to elbow Levi and Dante shoots him in the shoulder. Dante and Lulu reunite but their reunion is cut short when gas starts to fill the room and everyone passes out. Dante is later seen chained to a pole with Lulu a few feet away. Dante wakes up and sees Lulu. They start talking and Lulu starts freaking out so he tries to reassure her. They start discussing "Luke's" behavior and Dante is about to tell her about the investigation when they get a surprise visitor, Stavros. It turns out that Stavros plans on impregnating Lulu with an embryo he created with her egg and his sperm before she was cryogenically frozen.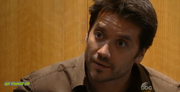 Dante does everything to stall Stavros from implanting Lulu with the embryo. They tell him that she can't carry a baby to term but Stavros says he knows that Lulu got a procedure to correct that. Stavros is about to take Lulu to get started on the implantation but Dante brings up everything Maxie had to go through to be implanted with their embryo and all of the hormone shots she had to have for weeks because of this Stavros has to delay his plan but he makes it clear that it's just stalling the enviable and that Lulu will have his child. After Stavros leaves, Dante and Lulu discuss the possibly that he might be lying but she says that it doesn't matter because he's going to take her away from Dante. He promises her that he will do whatever he has to do to make sure that Stavros never hurts her again. Later on, when Stavros comes back, he threatens to shoot Dante in the head if Lulu doesn't get a hormone shot. Lulu agrees, much to Dante's protests, and then when the shot is done Stavros says that Lulu is coming with him.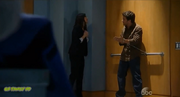 Lulu is later dragged off kicking and screaming with Dante promising to come get her. Anna hears Dante screaming for Lulu so she rushes to him and they talk about Stavros having Lulu and his promise to find her. He tells her that he needs to get him out of the cuff but there is no key so she has to shoot it off. Much to her dislike, Anna shoots off Dante's cuff and he leaves to find Lulu. Dante hears Lulu calling for him and busts in the room, gun blazing. Stavros puts a scalpel to Lulu neck and threatens to slit her throat. Dante puts his gun down and kicks it over to Stavros which distracts him. This gives Lulu the chance to elbow him and get free but not without Lulu getting cut with the scalpel. Dante starts fighting with Stavros while Lulu fights with Dr. Young.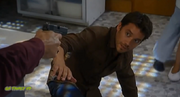 Stavros gets the upper hand and threatens to shoot Dante but Lulu throws herself in front of him saying that if Stavros wants to kill Dante he will have to kill her first. Lulu says she believes Stavros won't kill her because he wants her to carry his child but Stavros says that with surrogacy anyone can carry the baby so he decides to shoot anyways. Luckily, Dante is able to push Lulu out of the way. He and Stavros start fighting again and it is revealed that Dante shot and killed Stavros. While tending to the cut on Lulu's neck, Nathan and Maxie walk in and tell them that the building is going to blow up and that they need to get out now. While trying to find a way out they run into Anna and Obrecht. Dante and everyone else head for the front door but it's lock as well so they all agree to shoot at the door in order to break the lock. Dante and Nathan kick the door open and everyone is free but not long after, the clinic blows up.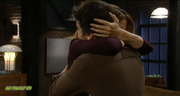 Later on, Dante is reunited with his mom and his son. He and Lulu explain to Nikolas that Stavros was apart of this whole thing and that he's now dead. Nikolas is about to them about "Luke" when they ask if it can wait because they need to come down from this latest disaster. After Nikolas and Olivia leave, Dante is seen in bed with Rocco and Lulu joins them after her shower. Dante says that he just wants to do what they were doing before Maxie's wedding but Lulu says that she doesn't want to because of what Stavros did to her. She just wants to enjoy it just being the three of them so they agree to wait to have another child.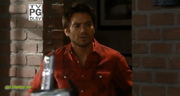 The next morning Dante and Lulu discuss how happy they are to be home and then they make love. Afterwards, Dante takes a shower and then comes back in but hears Lulu and Tracy talking about Luke so he just decides to listen. When he hears Tracy say that she doesn't know who Luke is anymore, he tells them that he thinks he might know whats going on with Luke. When Lulu asks Dante what's going on, he says he shouldn't have brought it up but Lulu says that he was trying to tell her something while they were at the clinic, that Anna was having him investigate her father. He explains that Anna thinks that Luke could be the head of the Jerome crime family. Dante and Lulu find out from Tracy that it could be true because at Nikolas and Britt's engagement party she found Luke in the stables with Julian Jerome. They continue to talk about Luke and his behavior and they also try to contact him. Later on, Patrick and Sam show up. They share their suspicion that Luke caused Patrick's accident with Dante, Lulu and Tracy.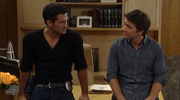 Dante tells Lulu that Tracy is getting ready to go to Amsterdam to meet with Luke and that Sam and Patrick are going to be there as well. Dante suggests that they be there as well but Lulu decides it's best for her to stay with Rocco and Dante agrees that he needs to stay home too. A thrilled Lulu hugs Dante and they watch their little boy sleep. Later on, Dante gives Nathan advice about Maxie while Lulu is gives Maxie advice about Nathan. Dante goes home and he and Lulu talk about Nathan and Maxie and how they are rooting for them but hope that Maxie doesn't break Nathan's heart. The next day, Dante is at the PCPD talking to Nathan about his disaster date with Maxie.
Crimes Committed
Helped cover up the death of Aleksander Janáček [2007; revealed in a flashback in 2010]
Due to being undercover in Sonny's organization, he was involved in many "unscrupulous" activities [Jun 2009-Jan 2010; as Dominic]
Grabbed Morgan Corinthos in the woods, held him at gunpoint and threatened to take him hostage [Jun 23, 2009; as Dominic]
Held a gun on Carly Corinthos-Jacks and her other son, Michael in the woods [Jun 23, 2009; as Dominic]
Hijacked a Zacchara drug shipment; arrested but was never charged [Aug 11, 2009; as Dominic]
Assaulted Kiefer Bauer in defense of Morgan (He shoved him up against a wall on the docks) [Aug 13, 2009; as Dominic]
Punched Johnny Zacchara [Aug 20, 2009; as Dominic]
Perjury; lied on the stand when he told the police that he shot himself when in fact it was Sonny who shot him [Feb 5, 2010]
Assaulted and threatened Ronnie Dimestico [Mar 29-30, 2010]
Punched his father, Sonny [Apr 6, 2010]
Obstruction of justice (was arrested and later released) [Apr 12, 2010]
Covered for Michael [Aug 2010]
Took Jason Morgan's transfer papers [Aug 5, 2010]
Covered for Michael again [Apr 2011]
Beat up and held Javier at gunpoint in defense of Lulu [Jul 18, 2011]
Covered for Michael a third time [Jan 2012]
Shot a gun out of Helena Cassadine's hand right before she was about to kill his mother-in-law, Laura [Apr 1, 2013]
Held Helena at gunpoint [Apr 1, 2013]
Punched Milo Giambetti [May 2013]
Shot Franco in the shoulder while he was trying to escape police custody [Feb 4, 2014]
Shot Peter Harrell, Jr. in the shoulder in defense of his wife, Lulu [Sep 2, 2014]
Hit William Eichner over the head, rendering him unconscious [Sep 15, 2014]
Got into a fist fight with Stavros [Sep 16, 2014]
Shot and killed Stavros Cassadine in defense of himself and Lulu [Sep 16, 2014]
Shoved Johnny Zacchara [Jan 16, 2015]
Fought with Johnny Zacchara [Jan 19, 2015]
Broke into the old Spencer family house on Elm Street [Jan 27, 2015]
Held his father-in-law, Luke Spencer at gunpoint and handcuffed him to a stair rail [Jan 28, 2015]
Threatened to kill Luke Spencer if he went anywhere near Lulu and Rocco [Feb 25, 2015]
Threatened to kill Dillon Quartermaine (Dante said that if he saw Dillon, he would break his neck) [Jul 2, 2015]
Adultery; slept with Valerie Spencer while married to Lulu [Jul 6, 2015]
Punched Julian Jerome [Sep 11, 2015]
Adultery; had an affair with Valerie while married to Lulu [Nov-Dec 2015]
Helped cover up the fact that Lulu had a part in Valerie almost dying in a fire [Jan 2016]
Assaulted Valentin Cassadine [Jul 25, 2016]
Health and Vitals
Had bad asthma as a child, but grew out of it [prior to his 2009 arrival; revealed Oct 3, 2011]
Broke his wrist during a Little League game [prior to his 2009 arrival; revealed Nov 22, 2011]
Suffered a concussion at age ten [prior to his 2009 arrival]
Suffered a broken arm in high school [prior to his 2009 arrival]
Had been knocked unconscious six times[15] [prior to his 2009 arrival; revealed Jan 6, 2011]
Cut his foot on broken glass [prior to his 2009 arrival]
Had his wallet stolen by Tess Buchanan [prior to his 2009 arrival]: revealed in What If...]
Choked by Aleksander Janáček [2007; revealed in a flashback in 2010]
Shot in the abdomen by Jason Morgan during an ambush in the woods [Jun 2009; as Dominic]
Bitten by Morgan Corinthos [Jun 2009; as Dominic]
Almost smothered to death with a pillow by Claudia Zacchara [Jun 2009; as Dominic]
Beat up by Lucky Spencer and Ethan Lovett because he was talking to their sister, Lulu [Jul 31-Aug 3, 2009; as Dominic]
Hospitalized for internal injuries after being hit by a car while trying to save his brother, Morgan [Sep 9, 2009; as Dominic]
Knocked out by Tommy Sodo to preserve his cover [Oct 2009; as Dominic]
Stayed in the freezing water with Lulu Spencer, until she was rescued because her foot got stuck [Nov 2009; as Dominic]
Ran into a warehouse to save Lulu Spencer from a bomb; the bomb did explode, but they both got out safely [Jan 2010; as Dominic]
Shot in the chest at point blank range by his father, Sonny Corinthos and required surgery to remove a bullet lodged near his spine (Dante was an undercover at the time and neither him nor Sonny knew about their connection as father and son) [Jan 29, 2010; as Dominic]
His heart stopped during surgery [Feb 2, 2010]
Allergic to goldenrod [revealed Jun 4, 2010]
Drugged by Brook Lynn Ashton [Aug 17, 2010]
Choked by Anton Banovic [Nov 1, 2010]
Held at gunpoint by Carly Corinthos-Jacks [Feb 2-3, 2011]
Beat up and rendered unconscious by Javier's thugs at a brothel in Jacksonville, Florida [Jul 15, 2011]
Hit over the head and rendered unconscious by Lucky Spencer [Aug 2, 2011]
Rendered unconscious after his father, Sonny punched him [Aug 11, 2011]
Shot in the back at Sonny's coffee warehouse by Anthony Zacchara and required surgery to remove a bullet from his lungs (the doctors had to remove the lower lobe of his left lung) [Sep 23, 2011]
Collapsed in an alley [Nov 23, 2011]
Almost got shot by Ronnie Dimestico, but his father, Sonny took the bullet instead [Feb 2012; revealed May 2012]
Framed by Ronnie Dimestico for the attacks on the dancers at Vaughn's and was made to look like a dirty cop (held in police custody, but Delores Padilla released him) [Apr 30, 2012]
Held at gunpoint and threatened by Ronnie [May 2012]
Experienced a fever after ingesting the toxin Jerry Jacks had placed in the Port Charles water supply [Sep 2012]
Had a sperm count [Oct 2012]
Gave a sperm sample that was used to fertilize 3 of his then-wife's eggs [Dec 2012; has one of those embryos left and it's in cold storage]
Clobbered over the head and rendered unconscious by Stavros Cassadine [Mar 21, 2013]
Kidnapped by Helena Cassadine's goons [Apr 2013]
Thrown overboard by Helena's goons [Apr 2013]
Broke a glass in his hand [Apr 2013]
Has Latex-fruit syndrome and uses hydrocortisone cream; he passed it down to his son, Rocco [revealed Feb 3, 2014]
Threatened with a dagger by Liesl Obrecht [Mar 2014]
Saved Sam Morgan from being hit by a car; he pulled her out of the way before Rafe could hit her [Jul 3, 2014]
Rendered unconscious after breathing gaseous fumes [Sep 2, 2014]
Kidnapped and hostage (along with Lulu) by Victor Cassadine and his henchmen [Sep 8-17, 2014]
Handcuffed to a metal pole [Sep 8-15, 2014]
Threatened by Stavros Cassadine (Stavros said he would shoot Dante in the head if Lulu didn't get the hormone shots) [Sep 12, 2014]
Had his cuff shot off by Anna Devane [Sep 15, 2014]
Almost got shot by Stavros after he got the upper hand during a fight [Sep 16, 2014]
Was trapped in a building that was about to blow up, but got out before it did [Sep 16-17, 2014]
Punched in the stomach by Johnny Zacchara [Jan 19, 2015]
Pushed down the stairs into the basement of the old Spencer family house by Luke Spencer and rendered unconscious (suffered a laceration to his head as a result) [Jan 28-29, 2015]
Assaulted with a crow bar by Luke and rendered unconscious again (suffered at least two more lacerations to his head as a result) [Jan 29, 2015]
Trapped in the basement of the old Spencer family house with a bomb that was about to go off and a corpse [Jan 29, 2015]
Took the brunt of an explosion and was rendered unconscious for a third time [revealed Feb 3, 2015]
Collapsed when he tried to get out of bed in the ER [Feb 4, 2015]
Threatened by Luke Spencer [Feb 25, 2015]
Slapped by Lulu [Nov 2, 2015]
Unlawful imprisonment; locked in a hotel suite (along with Lulu) by Nathan and Maxie (and his mother, Olivia) [Feb 14, 2016; shown on Feb 12, 2016]
Jumped into freezing water to save Lulu [Feb 19, 2016; shown on Feb 24, 2016]
Attacked with a pen (impaled in the shoulder) by Carlos Rivera in a prison transfer vehicle [May 6, 2016; revealed May 9, 2016]
Rendered unconscious in a car accident [May 6-9, 2016]
Trapped under the transfer vehicle [revealed May 9, 2016]
Held hostage at gunpoint in a room of people on Cassadine Island by Valentin Cassadine (aka Theo Hart) [Jul 15-26, 2016]
Held at gunpoint and almost killed by Valentin [Jul 26, 2016]
Was exposed to malaria [revealed Aug 9, 2016[16]]
Family tree
See also
References
External links
v - e

Current Contract Characters
Curtis Ashford
 ·
Jordan Ashford
 ·
Franco Baldwin
 ·
Hayden Barnes-Cassadine
 ·
Nikolas Cassadine
 ·
Morgan Corinthos
 ·
Sonny Corinthos
 ·
Carly Corinthos-Jacks
 ·
Alexis Davis
 ·
Anna Devane
 ·
Dante Falconeri
 ·
Olivia Falconeri
 ·
Dr. Hamilton Finn
 ·
Nelle Hayes
 ·
Paul Hornsby
 ·
Ava Jerome
 ·
Julian Jerome
 ·
Kiki Jerome
 ·
Maxie Jones
 ·
Dr. Andre Maddox
 ·
Jason Morgan
 ·
Sam Morgan
 ·
Dr. Griffin Munro
 ·
Dillon Quartermaine
 ·
Michael Quartermaine
 ·
Tracy Quartermaine
 ·
Nina Reeves
 ·
Nurse Sabrina Santiago
 ·
Laura Spencer
 ·
Valerie Spencer
 ·
Lulu Spencer-Falconeri
 ·
Nurse Elizabeth Webber
 ·
Nathan West
Current Recurring Characters
T.J. Ashford
 ·
Ned Ashton
 ·
Scott Baldwin
 ·
Claudette Beaulieu
 ·
Valentin Cassadine
 ·
Lucy Coe
 ·
Darby Collette
 ·
Dr. Kevin Collins
 ·
Brad Cooper
 ·
Kristina Corinthos-Davis
 ·
Landon Dixon
 ·
Naomi Dreyfus
 ·
Nurse Amy Driscoll
 ·
Nurse Felix DuBois
 ·
Parker Forsyth
 ·
Max Giambetti
 ·
Milo Giambetti
 ·
Alice Gunderson
 ·
Jasper Jacks
 ·
Nurse Epiphany Johnson
 ·
Dr. Lucas Jones
 ·
Ric Lansing
 ·
Molly Lansing-Davis
 ·
Dr. Kelly Lee
 ·
Janice Lomax
 ·
Huxley Lynch
 ·
Rosalie Martinez
 ·
Diane Miller
 ·
Dr. Liesl Obrecht
 ·
Dr. Monica Quartermaine
 ·
Dr. Joe Rivera
 ·
Aaron Roland
 ·
Delia Ryan Coleridge
 ·
Felicia Scorpio
 ·
Mac Scorpio
 ·
Robert Scorpio
 ·
Dr. Robin Scorpio-Drake
 ·
Nurse Bobbie Spencer
 ·
Damian Spinelli
 ·
Ellie Trout
 ·
David Walters
 ·
Heather Webber
Current Child Characters
Spencer Cassadine
 ·
Leo Falconeri
 ·
Rocco Falconeri
 ·
Josslyn Jacks
 ·
Avery Jerome-Corinthos
 ·
Danny Morgan
 ·
Teddy Rivera
 ·
Emma Scorpio-Drake
 ·
Aiden Spencer
 ·
Cameron Spencer
 ·
Jake Spencer
 ·
Georgie Spinelli
Deceased and Presumed Dead Characters
Benny Abrahms
 ·
Bernie Abrahms
 ·
Dr. Rachel Adair
 ·
Diego Alcazar
 ·
Lorenzo Alcazar
 ·
Luis Alcazar
 ·
Sage Alcazar
 ·
Ruby Anderson
 ·
Dr. Andy Archer
 ·
Dominique Baldwin
 ·
Cooper Barrett
 ·
Alison Barrington
 ·
Amanda Barrington
 ·
Kiefer Bauer
 ·
Warren Bauer
 ·
Jesse Beaudry
 ·
Katherine Bell
 ·
Connor Bishop
 ·
Mary Bishop
 ·
Paige Bowen
 ·
Nurse Jessie Brewer
 ·
Nancy Brewer
 ·
Dr. Phil Brewer
 ·
Carter
 ·
Helena Cassadine
 ·
Irina Cassadine
 ·
Kristina Cassadine
 ·
Mikkos Cassadine
 ·
Stavros Cassadine
 ·
Stefan Cassadine
 ·
Tony Cassadine
 ·
Victor Cassadine
 ·
Stone Cates
 ·
Dr. Ryan Chamberlain
 ·
Dr. Silas Clay
 ·
Stephen Clay
 ·
Adela Corinthos
 ·
Lily Corinthos
 ·
Dr. Ian Devlin
 ·
Mickey Diamond
 ·
Ronnie Dimestico
 ·
Dr. Pierce Dorman
 ·
John Durant
 ·
Bill Eckert
 ·
Connie Falconeri
 ·
Andrea Floyd
 ·
Dr. Russell Ford
 ·
Dr. Steve Hardy
 ·
Peter Harrell, Sr.
 ·
Peter Harrell, Jr.
 ·
Abby Haver
 ·
Logan Hayes
 ·
Theo Hoffman
 ·
John Jacks
 ·
Aleksander Janacek
 ·
Victor Jerome
 ·
Stan Johnson
 ·
B.J. Jones
 ·
Georgie Jones
 ·
Tania Jones
 ·
Dr. Tony Jones
 ·
Dr. Ewen Keenan
 ·
Rafe Kovich, Jr.
 ·
Dr. Eve Lambert
 ·
Trevor Lansing
 ·
Duke Lavery
 ·
Dr. Cameron Lewis
 ·
Victor Lord III
 ·
Hope Manning-Thornhart
 ·
Reese Marshall
 ·
Courtney Matthews
 ·
Dr. Matthew Mayes
 ·
Danny McCall
 ·
Lila McCall
 ·
Nurse Leyla Mir
 ·
Trey Mitchell
 ·
Susan Moore
 ·
Chloe Morgan
 ·
Henry Nakamura
 ·
Dr. Lisa Niles
 ·
A.J. Quartermaine
 ·
Dr. Alan Quartermaine
 ·
Alexandria Quartermaine
 ·
Edward Quartermaine
 ·
Dr. Emily Quartermaine
 ·
Lila Quartermaine
 ·
Carlos Rivera
 ·
Faith Rosco
 ·
Manny Ruiz
 ·
Gabriel Santiago
 ·
Joe Scully
 ·
Joe Scully, Jr.
 ·
Kyle Sloane
 ·
Damian Smith
 ·
Frank Smith
 ·
Shirley Smith
 ·
Zander Smith
 ·
Lena Spencer
 ·
Pat Spencer
 ·
Siobhan Spencer
 ·
Tim Spencer
 ·
Olivia St. John
 ·
Nurse Diana Taylor
 ·
Martha Taylor
 ·
Dr. Peter Taylor
 ·
Tracy Taylor
 ·
Dr. Asher Thomas
 ·
Cole Thornhart
 ·
Nurse Amy Vining
 ·
Bradley Ward
 ·
Justus Ward
 ·
Mary Mae Ward
 ·
Dr. Rick Webber
 ·
Dr. Karen Wexler
 ·
Dawn Winthrop
 ·
Deke Woods
 ·
Dr. Maggie Wurth
 ·
Anthony Zacchara
 ·
Claudia Zacchara-Corinthos
Off-screen and Former Characters
Lila Rae Alcazar
 ·
Dr. Grant Andrews
 ·
Terri Arnett
 ·
Brook Lynn Ashton
 ·
Larry Ashton
 ·
Christina Baldwin
 ·
Dr. Gail Baldwin
 ·
Lee Baldwin
 ·
Serena Baldwin
 ·
Dr. Tom Baldwin
 ·
Brenda Barrett
 ·
Julia Barrett
 ·
Melinda Bauer
 ·
Shawn Butler
 ·
Gia Campbell
 ·
Peter Carroll
 ·
Dimitri Cassadine
 ·
Petros Cassadine
 ·
Jagger Cates
 ·
Lois Cerullo
 ·
Skye Chandler-Quartermaine
 ·
Dr. Linda Chu
 ·
Father Coates
 ·
Mike Corbin
 ·
Angie Costello
 ·
Blair Cramer
 ·
Jolene Crowell
 ·
Nurse Nadine Crowell
 ·
Dr. Rae Cummings
 ·
Marco Dane
 ·
Téa Delgado
 ·
Roy DiLucca
 ·
Anna Donely
 ·
Sean Donely
 ·
Tiffany Donely
 ·
Dr. Noah Drake
 ·
Dr. Patrick Drake
 ·
Taylor DuBois
 ·
Toussaint Dubois
 ·
Jenny Eckert
 ·
Sly Eckert
 ·
William Eichner
 ·
Angel Ellis
 ·
John Everett
 ·
Cesar Faison
 ·
Nurse Fletcher
 ·
Pres Floyd
 ·
Nurse Betsy Frank
 ·
Ivy Gatling
 ·
Nurse Audrey Hardy
 ·
Dr. Simone Hardy
 ·
Dr. Tom Hardy
 ·
Dr. Tommy Hardy
 ·
David Harper
 ·
Jimmy Lee Holt
 ·
Dr. Matt Hunter
 ·
Anton Ivanov
 ·
Lady Jane Jacks
 ·
Jerry Jacks
 ·
Terrell Jackson
 ·
Miranda Jameson
 ·
Frisco Jones
 ·
Dr. Leo Julian
 ·
Rose Kelly
 ·
Winifred Leeds
 ·
Guy Lewis
 ·
Victor Lord, Jr.
 ·
Ethan Lovett
 ·
Starr Manning
 ·
Todd Manning
 ·
John McBain
 ·
Colleen McHenry
 ·
Miguel Morez
 ·
‎Hope Morgan
 ·
Ken Morgan
 ·
Delores Padilla
 ·
Blackie Parrish
 ·
Nurse Penny
 ·
Grant Putnam
 ·
Celia Quartermaine
 ·
Burt Ramsey
 ·
Coleman Ratcliffe
 ·
Madeline Reeves
 ·
Cruz Rodriguez
 ·
Casey Rogers
 ·
Father Mateo Ruiz
 ·
Juan Santiago
 ·
Alec Scott
 ·
Hannah Scott
 ·
Jeffrey Scribner
 ·
Rebecca Shaw
 ·
Jennifer Smith
 ·
Lucky Spencer
 ·
Luke Spencer
 ·
Suzanne Stanwyck
 ·
Nurse Mischa Stephens
 ·
Holly Sutton
 ·
Marcus Taggert
 ·
Nurse Regina Thompson
 ·
Claire Walsh
 ·
Faith Ward
 ·
Keesha Ward
 ·
Dr. Maya Ward
 ·
Dr. Jeff Webber
 ·
Dr. Lesley Webber
 ·
Dr. Sarah Webber
 ·
Dr. Steve Webber
 ·
Dr. Britt Westbourne
 ·
Dr. Lainey Winters
 ·
Grace Yang
 ·
Johnny Zacchara
Crew
Shelly Altman (Head writer, 2011-2012, 2015-present)
 ·
Ron Carlivati (Head writer, 2012-2015)
 ·
Jill Farren Phelps (Executive producer, 2001-2012)
 ·
Robert Guza, Jr. (Head writer, 1996, 1997-2000, 2002-2008, 2008-2011)
 ·
H. Wesley Kenney (Executive producer, 1987-1989; Head writer, 1988)
 ·
Gloria Monty (Executive producer, 1978-1987, 1991-1992; Head writer, 1981)
 ·
Jean Passanante (Head writer, 2015-present)
 ·
Wendy Riche (Executive producer, 1992-2001)
 ·
Frank Valentini (Executive producer, 2012-present)
 ·
Garin Wolf (Head writer, 2008, 2011-2012)
Related Topics
List of cast members
 ·
List of current actors
 ·
History of General Hospital