Duke Lavery was a fictional character on the popular ABC soap opera General Hospital.
The character was created and originated in 1986 by Ian Buchanan. Buchanan played the role of Duke from 1986 until 1989. Greg Beecroft took over the role from 1989 to 1990, when the character was killed off. In August 2012, however, Ian Buchanan returned, appearing to be Duke, alive.
It was a shock to most viewers since the media did not report it, and it was not included in spoilers of the show. It was revealed that Greg Beecroft's character was not Duke after all, but an imposter.
In November 2012, it was revealed that the man dressed as Duke Lavery since August is actually Cesar Faison, but Faison is actually holding the real Duke captive. Now, the real Duke Lavery is free and in Port Charles
On May 2, 2015, Duke died from too much blood loss at General Hospital, after being shot in the stomach by Carlos Rivera under the orders of Julian Jerome, a day earlier.
Casting
Ian Buchanan first appeared in the role of Duke Lavery on June 6, 1986.[7][8] After a three-year run, Buchanan departed from the series on November 10, 1989.[9]
Greg Beecroft stepped into the role on November 15, 1989, as Duke with plastic surgery.[10]
However, the initial recast was met with much disapproval due to Beecroft's lack of chemistry with costar, Finola Hughes who portrayed Duke's love interest, Anna Devane. Just as viewers seemed to be accepting the recast, Beecroft's Duke was killed off on March 19, 1990.[11][12]
In 1988, Buchanan won the Soap Opera Digest Award as the Best Newcomer for his portrayal of Duke. Buchanan also earned in the Outstanding Hero category in 1989. Buchanan also earned two nominations with Hughes as the Favorite Supercouple in 1988 and 1989.[13]
In the summer of 2012, General Hospital's new executive producer, Frank Valentini began hinting at a huge surprise set for the August 27, 2012, episode through his Twitter account.[14][15][16]
Days earlier, Buchanan himself fed into fan speculation that he would be reprising his role as Duke with a very vague Twitter message to fans.[17][18][19] Buchanan reappeared on August 27, 2012, but was initially unclear if he was actually portraying Duke. However, Valentini later confirmed that Duke was alive and well in an interview with Michael Logan of TV Guide.[20][21]
Valentini and head writer, Ron Carlivati immediately pursued Buchanan who had recently been fired from NBC's Days of our Lives as Ian McAllister. His return would immediately cause trouble for Hughes's Anna and Anthony Geary's Luke Spencer who had recently become romantically involved. Valentini stated:[22]
Duke was killed off again on May 11, 2015.[23][24]
Buchanan returned for several episodes as ghost Duke starting on May 11, 2016.[25][26] He also returned on May 27, 2016.
Background
Duke is born in Scotland to a 17-year-old Mary Fitzhugh. Duke is the product of Mary's affair with mobster Angus McKay and she later marries into the Lavery family to make sure her baby has a name.
Storylines
Duke, who was previously afflicted with paralysis recovered from his injury and received a light prison sentence for his mob activities. In early 1987, it was revealed that Duke was the son of the imprisoned Angus McKay and Sister Camilla McKay, the beautiful, yet troubled young nun was his half-sister and also the daughter of Angus. In earlier years before it was discovered that they were related, Camilla had fallen for Duke. The mystery surrounding Camilla deepened even further, when it became apparent that she was being haunted and deeply troubled by a night in her past that she could not remember. The night of mystery occurred the night she spent in L'Orleans, Canada. Duke's father Angus, even though imprisoned and elderly desperately wanted to end the violence and mob rivalry between the McKay and Jerome families.
In order to halt the upcoming mob war, Angus made the ultimate sacrifice and he drank poison and died. With his dying breath, Angus made Duke promise to look after Camilla. Soon after Angus' death, Duke was paroled and now a free man he returned to the club and set out to raise the necessary funds to pay the heavy fine for his past crimes. When his debt was repaid, Duke would finally be free to marry the love of his life, Anna Devane. Anna accompanied Duke to L'Orleans for Angus' funeral and while there, he intuition went into overdrive. She started to put the pieces together and realized that there must have been more to Duke and Camilla's past besides a simple sibling rivalry. Duke denied it vehemently, but Anna was right. The truth was the revelation that Duke was Camilla's brother, sent her to commit a murder that she couldn't remember. Now four years later, Camilla was trying to remember the truth, but Duke warned against it, telling Camilla that the truth would destroy both of their lives.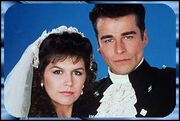 After doing some more digging, Camilla discovered that Angus was not her real father after all, nor was Duke her brother. She abandoned the sisterhood and began focusing on a scheme to win Duke back. She contacted a sleazy reporter named Mark Calin and by digging in Duke and Camilla's past, Calin discovered that Duke had covered up a murder back in L'Orleans four years ago. On Duke and Anna's wedding day, Calin exposed Duke's dark secret and in the middle of the ceremony, the wedding was crashed with reporters. During all the chaos, Camilla's memories from that night came back to her and she realized that the person she murdered was Evan Jerome. Camilla was acquitted of her crime in Canada, but she came to the realization that she could never win Duke's love. So with a heavy heart, she eventually left Port Charles. Anna later broke up with Duke and started up her own PI agency. Anna's ex-husband Robert Scorpio returned back to Port Charles and partnered with Anna in her agency, but Robert returned with the sad news that his beloved wife Holly Sutton had been killed in a plane crash.
Robert attempted to win back his former love Anna, but in the end Anna chose to be with Duke. Robert watched as Duke and Anna rekindled their love and married in a Scottish wedding and decided to move on. When Anna is kidnapped by the insane Grant Putnam, Duke desperately turned to underworld crime boss Victor Jerome to help find her. Duke and Robert both independently tracked down Grant in the Adirondack Mountains. In a final snowmobile chase, Robert caught up to Grant and in a heart-stopping climax, he rescued the evil killer just as he was about to plummet from a cliff. After subduing Grant, Robert turned to Anna, who raced into his comforting arms, overjoyed that her ordeal was finally over.
Just then, Duke arrived on the scene and stood in stunned silence as he witnessed the sight of his wife in her ex-husband's arms. Duke struggled to keep his mob involvement a secret, but when Victor Jerome's son Julian took a bullet meant for Duke, he made a deathbed request for Duke to help his father legitimize the mob, and a grieving Victor intended to hold Duke to that promise. Meanwhile, Victor's daughter Olivia Jerome became attracted to Duke. Olivia was obsessed with ruling the mob and ordered the hit on her brother Julian. When Olivia realized that she couldn't lure Duke away from his pregnant wife Anna, she decided to kill him instead. Anna became her unintended victim however, when she was caught in an elevator rigged crash, set by Olivia. Anna was rushed to General Hospital, but she ended up miscarrying her and Duke's child due to the fall. Olivia was later gunned down in her hotel suite and when the police arrived on the scene, the found Anna with a gun, standing over Olivia's body.
Olivia went into a coma and Anna was charged with attempted murder. However the charges against Anna were false and the real killer turned out to be Dino, Olivia's one-time henchman and the illegitimate son of Victor Jerome. When Olivia woke up and recovered from her injuries, she was shipped off to a mental institution. Anna was overjoyed when Olivia was found guilty of mob activities and shipped off to a mental institution. Olivia escaped several times in the future, but her reign of terror against Duke and Anna was finally over. Sadly though, Anna's marriage was also over. After Duke testified against the mob, his life and the lives of his loves ones were put in danger. Fearing that Anna and her daughter Robin Scorpio's lives were in danger, Duke sacrificed himself and faked his death in a warehouse explosion, entering the Witness Protection program. After hearing of Victor Jerome's death, Duke thought that it would now be safe for him to live back on the outside world. However, what Duke didn't know was that Victor's not-so-dead son Julian, was alive and hell-bent on getting revenge for his father.
The Jerome crime family, that had been weakened by the death of their boss Victor re-grouped under the command of his son Julian. Julian had two main objectives; to neutralize his dangerous sister Olivia and to see Duke Lavery truly dead. Julian planned to kill Duke and frame his sister Olivia for the crime. Thinking it was safe, Duke finally returned to Port Charles with a new face, a new name and no Scottish accent. Duke had undergone plastic surgery while in the witness protection program and gained a new face and identity. He returned under the alias of Johnathan Paget was posed as an art dealer. As art dealer Jonathan Paget, he handled Sean Donely's purchase of some rare Chinese porcelain, from the Wellington Collection. Duke wanted to go right to his beloved wife Anna and reunite with her, but he knew Julian Jerome was on his trail. Julian shot and killed his sister Olivia, who had clued Anna in on the fact that Duke was still alive. Before Duke and Anna could be reunited, Duke was gunned down by Julian and he supposedly died in Anna's arms.
In 2012, Duke's stepdaughter, Robin, seemingly dies in a lab explosion at General Hospital. She is later revealed to be alive, however. Dr. Ewen Keenan had orchestrated her "death" on the orders of Jerry Jacks, who is also presumed dead. Everyone believes Robin is dead, but Heather Webber tells Robin's mother Anna that she saw Robin at Ferncliff Asylum. After investigating, Anna doesn't find Robin, but does find a brochure for a facility in Switzerland. Anna and Luke Spencer go there to look for Robin. They don't find her, but on August 27, a man who looks like Duke with his old face is revealed to be alive, and to have been the one who removed Robin from the Swiss facility.
This man reappears on October 8, 2012 with a comatose Robin. He expresses his sorrow at her present condition and promises to reunite her with Anna when the time is right. He then confronts Anna in Port Charles, and she is shocked to see him. He tells her that he was taken by Jerome's people out of witness protection and thrown into a Turkish prison. A man named Jonathan Paget soon became his cellmate. What Duke didn't know is that Paget was a plant and a mole for Jerome. Paget's objective was to learn all about Duke's life and go to Port Charles and impersonate him. He tells Anna he finally got out to reunite with his wife. Their embrace is soon interrupted by Luke Spencer. The man appearing to be Duke is shocked to discover that Anna and Luke are in a relationship and living together. He soon mentions the fact that since he isn't dead, Anna is still his wife. Anna leaves for work promising they will all talk later. He warns Luke that whatever relationship he had with Anna is now over.
This man is revealed to be in league with Joe Scully, Jr., and it was his idea for Joe Jr.'s son, Trey, to marry Sonny Corinthos' daughter Kristina and then kill her so Trey would inherit all her money. In a flashback to December 2011 when Bernie Abrahms, Corinthos' private accountant, was shot, the man appearing to be Duke showed up masquerading as a doctor. He threatened Bernie's family if Bernie did not transfer all of Sonny's assets to Kristina. Luke remains suspicious of this man and demands a DNA test, but the PCPD do not have Duke's DNA on file, so it is of no help. The man then orders Scully to go to the docks and kill Bernie to prevent him from telling Sonny what they had done the year before. Jason arrives and shoots Joe Jr. after Scully had already shot Bernie. Bernie manages to contact Sonny and tell him where he is. Jason runs over to Bernie and tries to help him, but he is suddenly shot from behind. The man appearing to be Duke reveals himself from the darkness, having shot Jason. He kicks Jason into the harbor below, and shoots Bernie again, killing him. He returns to Anna's hotel room, where he finds Luke and Anna arguing about him. He agrees to a thumbprint exam, and the results come back positive. He's "proven" to be Duke Lavery.
This man then visits Anna and tells her that he needs to go to Washington to talk with officials about his "imprisonment." In actuality, he goes back to the Lucerne, Switzerland mental institution to check on Robin. On November 9, he acts like he is a fellow captive to Robin in her room to try and handle the situation. Robin starts reminiscing about childhood memories with Duke, and she starts throwing incorrect information. "Duke" cannot distinguish from false and correct information and Robin realizes that the man is not Duke Lavery. The person with the face, and apparently the fingerprints, of Duke Lavery starts to take off a Duke mask. Robin is shocked at the real identity of the man. The man that has been running around as Duke is actually Cesar Faison. The "real" Duke, however, is also revealed to be alive. The "real" Duke is a prisoner in the Swiss mental institution, being held prisoner by Faison as well.
On December 12, 2012 Faison is unmasked and Duke Lavery is found.  Duke Lavery comes back to Port Charles. He is hired by A.J. Quartermaine to work for ELQ Industries.  He does research about the company due to the assets being freezed by the SEC because of the former CEO Tracy's actions.  He finds that there was a pickle relish, Pickle Lila, that helped ELQ reboost from its knees. He steals the key that Tracy locked the pantry's refrigerator with, then he steals the jar of pickle ralish.  He takes the pickle ralish to Starr's and Michael's (son of A.J. and co-worker) apartment. He then goes to Kelly's and talks to Felicia.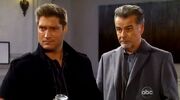 He and Anna go on a date at the Metro Court.  Duke gives Anna an expensive necklace and Duke says that he does have the money to give her a gift.  Anna and Duke kiss and is witnessed by Laura Webber (Luke's ex-wife) and Scott Baldwin.  Laura was on the impression that Luke was committed to Anna. She initally thinks that Anna is cheating  on Luke, but then realizes that there is another explanation.  Duke pays the bill, but later the waiter says that the money is counterfeit.  It's revealed that the money that Duke was given by Tracy Quartermaine to double-cross A.J. was used to pay the bill and the necklace. This means that Tracy's down payment was counterfeit. Anna broke up with Duke because he took Tracy ralish and that was breaking the law she felt like he was in the mob again. Doing the Nurse Ball Anna and Duke did Scottland dance after the dance they decide to get back together.
One day Duke was at ELQ in AJ office when women came into the office Duke told her his name and that he works for AJ. The women told him her name was Ava Jerome Duke look shocked Duke told her about crime family name the Jerome's that he use to work for them. Duke ask her was she member of the family. Ava said no she wasn't member of the family she also said she does not know those pepole. Ava told him there alot of pepole might have last name Jerome. Duke told her that all of Jerome's are dead. Ava then told Duke to tell AJ she stopped buy and left Duke didn't buy it. He told Anna about Ava and that she might be a Jerome. Anna told him she dosen't know what him inovled in the mob. Duke told her that he wasn't going to to back to his old life. Mac Scorpio Robert's brother ask Duke can be be his best men at his wedding to Felicia Jones Duke said yes.
Duke was a the Quartermaine Mansion he was in the room reading newsapaper Ava was also in the room. Duke kept telling her that she was part of the Jerome family. Duke told her that he went to her art gallery in New York he did background he demand her to tell him who her mystery partner was. Ava told him nothing Duke still didn't buy it Duke said that her mystery partner could be in the mob. Duke told her about how the Jerome's and how they had he and Anna unborn child killed by them and that they mess with is family and friends and that if they are back he won't let them do it again. Duke then went to Anna and told him about is meeting with Ava. Anna told him that he can't get back in the mob but she said she will talk to Ava becuase she wants to know if the family that killed they unbirn child is back. She said since to Duke can not be in mob that will go to Sonny Corinthos.
It was revealed that Ava is a Jerome she is Victor Jerome daughter she may or may not be the same person as Olivia Jerome and is was also revealed that Julian Jerome is alive and he's in Port Charles running a newsapaper and Magazine under another name as Derek Wells. The night before Mac and Felicia wedding Dr. Liesl Obrecht the one who held Duke prisoner back in Switzerland came to the party she wanted to posion Anna becuase Faison fell in love with Anna and insted of her. She took the posion and put it in Anna drink but Duke pick up the wrong drink and he drank it. Then he went outside to he saw Dr. Obrecht so Duke grab her Duke told her that she was trying is mess with Anna and him but then he collapsed.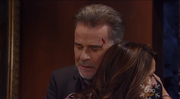 Anna found him and took him to the hosptial. Dante told Anna does duke have any enemies Anna said Ava Jerome. Patrick came in and told Anna that good news and that Duke will be ok and he will be wake soon. Duke woke up and told Anna that Dr. Obrecht was the one that posion him and that she was Port Charles. Duke and Anna came face to face with Derek Wells aka Julain Jerome but they didn't recognize as Julian. Duke ask Derek for a job and Derek tells Duke got give him is information. In September, Derek hires Duke to work for him at his newspaper as his assistant. On November 26, Duke was reunited with his step-daughter, Robin.
Determined to get revenge on Julian, Duke joined forces with Sonny, and covered for Sonny when he murdered A.J. Duke's loytalty to Sonny put a wedge in his relationship with Anna, and became close friends with Lucy Coe. Sonny was exposed on October 31st, 2014, and Duke's role in the cover up came out as well. Anna arrested him, but Lucy bailed him out of jail. Sonny made a deal to plead guilty, so long as Duke goes free. Sonny asked Duke to take over the business while he was in jail, and Duke agreed to honor Sonny's request.
On May 1, 2015, Duke and Anna decided to leave Port Charles together, but he was shot in the stomach during a struggle with Carlos Rivera. He died at the hospital from blood loss a day later.
On May 14, Duke appeared in Sonny's dream. Anna avenged Duke's death by shooting Carlos to "death" on May 18. On May 11, 2016, Duke appeared to Anna in dream where Anna told him he had a son, and imagined how Duke would react to the news. On May 27, Duke appeared to Anna, in spirit, after the Nurses Ball was over to do one last tango with her.
Crimes Committed
Helped Camellia cover up a murder in L'Orleans [prior to 1986]
Laundered money through his nightclub for Burt Ramsey's organization [1986]
Dumped the dead bodies of rival mobsters left in his club into the river [1988]
Accidently killed an enemy of Victor Jerome during a struggle for a gun [1988]
Mob activities [Dec 2013-May 2015]
Stole the jar of Pickle-Lila relish under the orders of A.J. Quartermaine [Feb 2013]
Beat up Julian Jerome on Sonny's orders [Jan 24, 2014]
Lied about the whereabouts of Sonny Corinthos on the night of A.J. Quartermaine's murder [Mar 10, 2014]
Ordered Shawn Butler and Jordan Ashford to dispose of a ballot box that held votes from the mayoral election [revealed Jan 13, 2015]
Engaged in a gun battle with Julian and his men [Mar 11, 2015]
Held Julian at gunpoint and almost killed him [Mar 11, 2015]
Ordered Jordan to kill Julian [Mar 13, 2015]
Has been using the Metro Court's tea box for illegal mob money [revealed Mar 19, 2015]
Sent one of his snipers to kill Jordan [Apr 22, 2015]
Tried to shoot Carlos Rivera during a struggle for the gun [May 1, 2015; shown on May 7, 2015]
Indirectly responsible for the death of Bruce, the gunman he sent to kill Jordan Ashford [May 2, 2015; shown on May 8, 2015]
Health and Vitals
Temporarily paralyzed after he took a bullet meant for Robert Scorpio [1986]
Held captive in a Turkish prison for 25 years [1986-2011]
Held captive at a clinic in Lucerne, Switzerland by Cesar Faison [2011-12]
Hospitalized after being poisoned with the sedative propofol by Liesl Obrecht [Aug 2013]
Tied up and held hostage in the catacombs of Wyndemere by Cesar Faison [Nov 2013]
Engaged in a gun battle with Julian and his men [Mar 11, 2015]
Stalked by Carlos Rivera, who was planning to kill him under Julian Jerome's orders [Mar 16-17, 2015; Carlos stopped when Duke entered the Metro Court]
Almost got shot by Carlos under Julian's orders [Apr 24, 2015]
Shot in the stomach by Carlos during a struggle for a gun under Julian's orders [May 1, 2015; shown on May 7, 2015; revealed May 8, 2015]
Died of blood loss after being shot in the stomach by Carlos under Julian's orders [May 2, 2015[27]; shown on May 11, 2015]
Family tree
Angus
McKay
Mary
Fitzhugh
Duke
Lavery
Margaret
Munro
Griffin
Munro
References
See also
v - e

Current Contract Characters
Curtis Ashford
 ·
Jordan Ashford
 ·
Franco Baldwin
 ·
Hayden Barnes-Cassadine
 ·
Nikolas Cassadine
 ·
Morgan Corinthos
 ·
Sonny Corinthos
 ·
Carly Corinthos-Jacks
 ·
Alexis Davis
 ·
Anna Devane
 ·
Dante Falconeri
 ·
Olivia Falconeri
 ·
Dr. Hamilton Finn
 ·
Nelle Hayes
 ·
Paul Hornsby
 ·
Ava Jerome
 ·
Julian Jerome
 ·
Kiki Jerome
 ·
Maxie Jones
 ·
Dr. Andre Maddox
 ·
Jason Morgan
 ·
Sam Morgan
 ·
Dr. Griffin Munro
 ·
Dillon Quartermaine
 ·
Michael Quartermaine
 ·
Tracy Quartermaine
 ·
Nina Reeves
 ·
Nurse Sabrina Santiago
 ·
Laura Spencer
 ·
Valerie Spencer
 ·
Lulu Spencer-Falconeri
 ·
Nurse Elizabeth Webber
 ·
Nathan West
Current Recurring Characters
T.J. Ashford
 ·
Ned Ashton
 ·
Scott Baldwin
 ·
Claudette Beaulieu
 ·
Valentin Cassadine
 ·
Lucy Coe
 ·
Darby Collette
 ·
Dr. Kevin Collins
 ·
Brad Cooper
 ·
Kristina Corinthos-Davis
 ·
Landon Dixon
 ·
Naomi Dreyfus
 ·
Nurse Amy Driscoll
 ·
Nurse Felix DuBois
 ·
Parker Forsyth
 ·
Max Giambetti
 ·
Milo Giambetti
 ·
Alice Gunderson
 ·
Jasper Jacks
 ·
Nurse Epiphany Johnson
 ·
Dr. Lucas Jones
 ·
Ric Lansing
 ·
Molly Lansing-Davis
 ·
Dr. Kelly Lee
 ·
Janice Lomax
 ·
Huxley Lynch
 ·
Rosalie Martinez
 ·
Diane Miller
 ·
Dr. Liesl Obrecht
 ·
Dr. Monica Quartermaine
 ·
Dr. Joe Rivera
 ·
Aaron Roland
 ·
Delia Ryan Coleridge
 ·
Felicia Scorpio
 ·
Mac Scorpio
 ·
Robert Scorpio
 ·
Dr. Robin Scorpio-Drake
 ·
Nurse Bobbie Spencer
 ·
Damian Spinelli
 ·
Ellie Trout
 ·
David Walters
 ·
Heather Webber
Current Child Characters
Spencer Cassadine
 ·
Leo Falconeri
 ·
Rocco Falconeri
 ·
Josslyn Jacks
 ·
Avery Jerome-Corinthos
 ·
Danny Morgan
 ·
Teddy Rivera
 ·
Emma Scorpio-Drake
 ·
Aiden Spencer
 ·
Cameron Spencer
 ·
Jake Spencer
 ·
Georgie Spinelli
Deceased and Presumed Dead Characters
Benny Abrahms
 ·
Bernie Abrahms
 ·
Dr. Rachel Adair
 ·
Diego Alcazar
 ·
Lorenzo Alcazar
 ·
Luis Alcazar
 ·
Sage Alcazar
 ·
Ruby Anderson
 ·
Dr. Andy Archer
 ·
Dominique Baldwin
 ·
Cooper Barrett
 ·
Alison Barrington
 ·
Amanda Barrington
 ·
Kiefer Bauer
 ·
Warren Bauer
 ·
Jesse Beaudry
 ·
Katherine Bell
 ·
Connor Bishop
 ·
Mary Bishop
 ·
Paige Bowen
 ·
Nurse Jessie Brewer
 ·
Nancy Brewer
 ·
Dr. Phil Brewer
 ·
Carter
 ·
Helena Cassadine
 ·
Irina Cassadine
 ·
Kristina Cassadine
 ·
Mikkos Cassadine
 ·
Stavros Cassadine
 ·
Stefan Cassadine
 ·
Tony Cassadine
 ·
Victor Cassadine
 ·
Stone Cates
 ·
Dr. Ryan Chamberlain
 ·
Dr. Silas Clay
 ·
Stephen Clay
 ·
Adela Corinthos
 ·
Lily Corinthos
 ·
Dr. Ian Devlin
 ·
Mickey Diamond
 ·
Ronnie Dimestico
 ·
Dr. Pierce Dorman
 ·
John Durant
 ·
Bill Eckert
 ·
Connie Falconeri
 ·
Andrea Floyd
 ·
Dr. Russell Ford
 ·
Dr. Steve Hardy
 ·
Peter Harrell, Sr.
 ·
Peter Harrell, Jr.
 ·
Abby Haver
 ·
Logan Hayes
 ·
Theo Hoffman
 ·
John Jacks
 ·
Aleksander Janacek
 ·
Victor Jerome
 ·
Stan Johnson
 ·
B.J. Jones
 ·
Georgie Jones
 ·
Tania Jones
 ·
Dr. Tony Jones
 ·
Dr. Ewen Keenan
 ·
Rafe Kovich, Jr.
 ·
Dr. Eve Lambert
 ·
Trevor Lansing
 ·
Duke Lavery
 ·
Dr. Cameron Lewis
 ·
Victor Lord III
 ·
Hope Manning-Thornhart
 ·
Reese Marshall
 ·
Courtney Matthews
 ·
Dr. Matthew Mayes
 ·
Danny McCall
 ·
Lila McCall
 ·
Nurse Leyla Mir
 ·
Trey Mitchell
 ·
Susan Moore
 ·
Chloe Morgan
 ·
Henry Nakamura
 ·
Dr. Lisa Niles
 ·
A.J. Quartermaine
 ·
Dr. Alan Quartermaine
 ·
Alexandria Quartermaine
 ·
Edward Quartermaine
 ·
Dr. Emily Quartermaine
 ·
Lila Quartermaine
 ·
Carlos Rivera
 ·
Faith Rosco
 ·
Manny Ruiz
 ·
Gabriel Santiago
 ·
Joe Scully
 ·
Joe Scully, Jr.
 ·
Kyle Sloane
 ·
Damian Smith
 ·
Frank Smith
 ·
Shirley Smith
 ·
Zander Smith
 ·
Lena Spencer
 ·
Pat Spencer
 ·
Siobhan Spencer
 ·
Tim Spencer
 ·
Olivia St. John
 ·
Nurse Diana Taylor
 ·
Martha Taylor
 ·
Dr. Peter Taylor
 ·
Tracy Taylor
 ·
Dr. Asher Thomas
 ·
Cole Thornhart
 ·
Nurse Amy Vining
 ·
Bradley Ward
 ·
Justus Ward
 ·
Mary Mae Ward
 ·
Dr. Rick Webber
 ·
Dr. Karen Wexler
 ·
Dawn Winthrop
 ·
Deke Woods
 ·
Dr. Maggie Wurth
 ·
Anthony Zacchara
 ·
Claudia Zacchara-Corinthos
Off-screen and Former Characters
Lila Rae Alcazar
 ·
Dr. Grant Andrews
 ·
Terri Arnett
 ·
Brook Lynn Ashton
 ·
Larry Ashton
 ·
Christina Baldwin
 ·
Dr. Gail Baldwin
 ·
Lee Baldwin
 ·
Serena Baldwin
 ·
Dr. Tom Baldwin
 ·
Brenda Barrett
 ·
Julia Barrett
 ·
Melinda Bauer
 ·
Shawn Butler
 ·
Gia Campbell
 ·
Peter Carroll
 ·
Dimitri Cassadine
 ·
Petros Cassadine
 ·
Jagger Cates
 ·
Lois Cerullo
 ·
Skye Chandler-Quartermaine
 ·
Dr. Linda Chu
 ·
Father Coates
 ·
Mike Corbin
 ·
Angie Costello
 ·
Blair Cramer
 ·
Jolene Crowell
 ·
Nurse Nadine Crowell
 ·
Dr. Rae Cummings
 ·
Marco Dane
 ·
Téa Delgado
 ·
Roy DiLucca
 ·
Anna Donely
 ·
Sean Donely
 ·
Tiffany Donely
 ·
Dr. Noah Drake
 ·
Dr. Patrick Drake
 ·
Taylor DuBois
 ·
Toussaint Dubois
 ·
Jenny Eckert
 ·
Sly Eckert
 ·
William Eichner
 ·
Angel Ellis
 ·
John Everett
 ·
Cesar Faison
 ·
Nurse Fletcher
 ·
Pres Floyd
 ·
Nurse Betsy Frank
 ·
Ivy Gatling
 ·
Nurse Audrey Hardy
 ·
Dr. Simone Hardy
 ·
Dr. Tom Hardy
 ·
Dr. Tommy Hardy
 ·
David Harper
 ·
Jimmy Lee Holt
 ·
Dr. Matt Hunter
 ·
Anton Ivanov
 ·
Lady Jane Jacks
 ·
Jerry Jacks
 ·
Terrell Jackson
 ·
Miranda Jameson
 ·
Frisco Jones
 ·
Dr. Leo Julian
 ·
Rose Kelly
 ·
Winifred Leeds
 ·
Guy Lewis
 ·
Victor Lord, Jr.
 ·
Ethan Lovett
 ·
Starr Manning
 ·
Todd Manning
 ·
John McBain
 ·
Colleen McHenry
 ·
Miguel Morez
 ·
‎Hope Morgan
 ·
Ken Morgan
 ·
Delores Padilla
 ·
Blackie Parrish
 ·
Nurse Penny
 ·
Grant Putnam
 ·
Celia Quartermaine
 ·
Burt Ramsey
 ·
Coleman Ratcliffe
 ·
Madeline Reeves
 ·
Cruz Rodriguez
 ·
Casey Rogers
 ·
Father Mateo Ruiz
 ·
Juan Santiago
 ·
Alec Scott
 ·
Hannah Scott
 ·
Jeffrey Scribner
 ·
Rebecca Shaw
 ·
Jennifer Smith
 ·
Lucky Spencer
 ·
Luke Spencer
 ·
Suzanne Stanwyck
 ·
Nurse Mischa Stephens
 ·
Holly Sutton
 ·
Marcus Taggert
 ·
Nurse Regina Thompson
 ·
Claire Walsh
 ·
Faith Ward
 ·
Keesha Ward
 ·
Dr. Maya Ward
 ·
Dr. Jeff Webber
 ·
Dr. Lesley Webber
 ·
Dr. Sarah Webber
 ·
Dr. Steve Webber
 ·
Dr. Britt Westbourne
 ·
Dr. Lainey Winters
 ·
Grace Yang
 ·
Johnny Zacchara
Crew
Shelly Altman (Head writer, 2011-2012, 2015-present)
 ·
Ron Carlivati (Head writer, 2012-2015)
 ·
Jill Farren Phelps (Executive producer, 2001-2012)
 ·
Robert Guza, Jr. (Head writer, 1996, 1997-2000, 2002-2008, 2008-2011)
 ·
H. Wesley Kenney (Executive producer, 1987-1989; Head writer, 1988)
 ·
Gloria Monty (Executive producer, 1978-1987, 1991-1992; Head writer, 1981)
 ·
Jean Passanante (Head writer, 2015-present)
 ·
Wendy Riche (Executive producer, 1992-2001)
 ·
Frank Valentini (Executive producer, 2012-present)
 ·
Garin Wolf (Head writer, 2008, 2011-2012)
Related Topics
List of cast members
 ·
List of current actors
 ·
History of General Hospital