Emma Scorpio-Drake (Brooklyn Rae Silzer)
Comments

25
482pages on
this wiki
Emma Redirects here, for other uses of the name, see Emma (disambiguation)
Emma Scorpio-Drake
Brooklyn Rae Silzer as Emma Scorpio-Drake
General Hospital
Portrayed by
Ruby and Rose Romero (2008-209)
Gianna and Jessie Salvatierra (2009-11)
Francesca Cistone (2011)
Brooklyn Rae Silzer
(2011-present)
Current status
Recurring
Duration
2008-present
First appearance
November 4, 2008
Created by
Robert Guza, Jr.
Introduced by
Jill Farren Phelps
Profile
Alias(es)
Emma Grace Scorpio-Drake (full name)
Emma Drake
Born
November 4, 2008
(Revised to 2006)[1]
General Hospital
Port Charles, New York
Age
6
Residence
Queens Point
Port Charles, New York
Gianna and Jessie Salvatierra as Emma Scorpio-Drake
Francesca Cistone as Emma Scorpio-Drake

Emma Grace Scorpio-Drake is the daughter of Patrick Drake and Robin Scorpio. Emma is considered a miracle child because she was naturally conceived, even though her mother is HIV-positive and her father wasn't infected when Emma was conceived.
Storylines
Edit
Background and birth
Edit
Robin decides she wants to have a child, but when her boyfriend, Patrick, doesn't want to, Robin decides to use an anonymous sperm donor to have a child. Just as she is about to set up the donor to get an in vitro with, Robin's cousin, Georgie Jones, is killed by a serial killer in town. At her funeral, her sister, Maxie, rips into their mother for abandoning Georgie, and Robin is overwhelmed by everything that happens. She goes to Patrick's apartment because she is so distraught. He consoles her and they end up sleeping together.
A month later, Robin undergoes tests before her in vitro is done, and is shocked to find out she was already pregnant. She realizes from her gestation period that the baby is Patrick's and during their one-night-stand, the condom broke. Robin worries that she could have infected Patrick due to her HIV status. She goes to tell him that she's pregnant and that he might have been infected with HIV, but she overhears him talking to another doctor about the fact that he underwent tests to see if he had HIV when he realized the condom broke; the results were negative.
Robin decides to keep the secret of the paternity, but during a heated fight with Patrick, she admits that she is pregnant. Robin tells her uncle Mac Scorpio that the father of her baby is not as much a stranger as they think. Patrick overhears and eventually puts together the pieces, and realizes Robin is carrying his child. When he confronts her, she finally admits that he's the father. He tells her he wants to be a part of his child's life, but Robin tells him that she's going to raise the baby on her own, just as she planned.
Over the course of her pregnancy, Patrick and Robin slowly reconcile to the point when Robin agrees to let Patrick be a part of their child's life, who they eventually find out is a girl. Not long before the baby comes, Patrick proposes to Robin, and she rejects him. When she has an early labor scare, Patrick backs off. Robin later proposes to Patrick, realizing how much she loves him. Patrick declines, thinking Robin is doing this out of guilt. Robin's uncle, Mac, eventually forces them together on October 9, 2008, and Robin finally accepts Patrick's proposal and they get engaged.
Robin and Patrick set their wedding date for October 29, 2008, but Patrick gets held up at the hospital. When he finally shows and the wedding gets underway, Robin's water breaks and she's rushed to the hospital. She has a complicated delivery when her doctor and friend, Kelly Lee, realizes the umbilical cord is wrapped around the baby's neck. After undergoing a C-section, Robin and Patrick's baby girl is born. They name her Emma Grace Scorpio Drake and their family celebrates with them.
While holding his daughter for the first time, Patrick spots a nick on Emma's ear, and both Emma's parents fear she might have been infected with HIV. Luckily, she is proved to be HIV-negative. Right after finding this out, Robin crashes due to Disseminated Intravascular Coagulation. Patrick and her entire family ask her to pull through for Emma's sake. Eventually, she wakes up and fights for the sake of her family.
Robin's PPD
Edit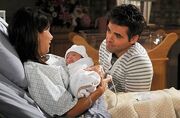 When Robin and Emma go home, Robin appears to have trouble in being a mother. Luckily, Maxie and her uncle Mac tell her to be patient. Patrick and Robin decide to set another wedding date so their daughter can be there, and they are officially married on December 29, 2008. Robin battles postpartum depression (PPD) in the beginning of 2009, and Patrick becomes increasingly worried about what this could do to Emma. During the hospital crisis in February 2009, Patrick is at the hospital trying to correct a surgery gone wrong, and Robin is at home, still not able to help Emma because of her post-partum depression. She pulls herself together long enough to realize that Emma is running a high fever. She tries to get Emma to the hospital, but they get stranded when the van breaks down. They are rescued by Maxie and Johnny Zacchara. Maxie and Johnny get Robin and Emma to the hospital, where they find out Patrick is under quarantine. Robin tells them to take Emma to Mercy Hospital while Robin helps passengers be evacuated from General Hospital. Patrick finds out Robin sent Emma with Maxie, and realizes her PPD is out of control. Robin is eventually brought to Mercy by Johnny, who tells Robin that Emma needs her now. At Mercy, Robin finds out Emma has pneumonia. After a few hours with Robin, Emma is cured, and the doctor says that it was due to "the power of a mother's love."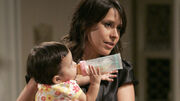 Robin's PPD escalates to the point that she hallucinates an older Emma on a pier one night. She falls into the harbor, and Patrick is afraid she purposely tried to kill herself. He pleads with her not to leave their daughter. Robin admits that she has PPD, and that she needs help. Robin refuses to take the pills her psychiatrist prescribes to her, but she goes to therapy sessions.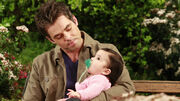 Kelly finds out about Robin not taking the medication, and she wants to tell Patrick the truth. Robin loses her temper and Emma's stroller ends up going down a stairwell. Luckily, Patrick stops it in time. Kelly tells him what happened after Robin and Emma leave, and Patrick stages an intervention, where Robin finally admits that she needs help and she agrees to go to an out-of-state facility for treatment. Robin returns home a few months later, eager to raise a family with Patrick and Emma.
Trouble with Lisa
Edit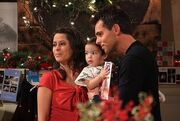 Patrick's ex-girlfriend, Lisa Niles, comes to town in late 2009. When Robin is out of town in Africa doing volunteer work as a doctor in July 2010, Patrick sleeps with Lisa. He regrets it immediately, but Lisa becomes obsessed with Patrick. Lisa takes Emma out soon after for ice cream without Patrick and Robin's permission. Eventually, Lisa brings Emma home while Patrick and Robin are out looking for them. Lisa becomes delusional, telling Patrick she can be a mother to Emma "in case anything happened to Robin." Patrick sees the threat and realizes Lisa has lost her mind.
In an attempt to protect Emma, Robin moves in with her uncle Mac while she and Patrick plan to beat Lisa at her own game. Lisa finds out she is getting played and she becomes dangerous. She puts tranqulizer pills in Robins HIV medication. When Robin unknowingly takes the pills and drives, she goes unconscious while Emma is in the backseat and crashes the van. Lisa kidnaps Robin while she is still unconscious. Patrick and Mac later find the van with Emma inside, alive but alone. Patrick realizes Robin would never leave Emma alone, and that Lisa has taken her. Patrick later found Robin in the bottom of a well that she had fallen into while trying to escape Lisa and he rescues her. Emma is soon reunited with her mom.
After the latest incident with Lisa, Emma and her mom moved into Mac Scorpio's house, the old Scorpio home, for protection. Emma and Robin celebrated Halloween unaware that Lisa had been released from Shadybrook Sanitarium. While Robin ran inside of Kelly's to grab something for her and Emma, she left Emma outside in a stroller. Lisa comes and pushes Emma's stroller away. When Robin goes back outside and can't find Emma, she beings frantically looking for her. Emma was later discovered around the corner, unharmed. Robin blamed Lisa for the incident, although she had no proof. It was later shown that Lisa was in fact the culprit and was messing with Robin in an attempt to gaslight her.
Emma and Robin moved back in with Patrick after Mac's house was burned down by an accidental fire that was started after Emma's birthday party. Lisa who had been stalking Robin outside of the home ran inside and saved Emma and Robin when she saw the house go up in flames. However despite Lisa's heroics, she still held a grudge toward Robin and continued to plot against her.
Patrick and Robin attempted to move past the Lisa drama and started attending marriage counseling. Kristina Corinthos-Davis became Emma's babysitter. Lisa began manipulating Kristina and Emma in an attempt to mess with Patrick and Robin. Kristina told Patrick and Robin of Lisa's deeds and they manage to trap her as she tries to lock Robin in a basement and kill her. Caught red-handed, Lisa was carted off to jail.
Lisa returned two more times to terrorize Emma's family until she was finally stopped. During her last act, an attack on Patrick and Robin on a boat party celebrating her Uncle Matt's research, Lisa was killed and thrown overboard. Patrick and Robin were able to move on from Lisa but were met with health problems when Robin's HIV medication stopped working. Robin got sicker and was afraid of scaring Emma with her illness. She wanted to disappear to spare her family pain but Jason Morgan convince her to stay and fight for her family. Robin was able to find a new drug protocol that worked for her and she recovered. Patrick, Robin and Emma, then took a trip out to a plot of land on which they would one day build their dream home.
Robin's death
Edit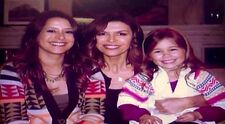 In early February 2012, Emma was visited by her grandmother, Anna Devane. She is also later visited by her grandfather Robert Scorpio who brought her two stuffed koala bears, one to represent Robin and the other to represent Emma. However tragedy struck young Emma's life again when her mother Robin was tragically killed in a lab explosion while working on a drug protocol to save Jason's life. Patrick had a hard time breaking the news to Emma, but with the help of Elizabeth Webber, they were able to break the news of Robin's death to her together. Emma did not understand at first, but became deeply saddened when she started to realize that her mother was never coming home again. Patrick stayed by Emma's side and never left her through this ordeal.
During Patrick's depression in May 2012, Patrick has been dumping Emma on Elizabeth Webber. On May 14th, 2012, while at Kelly's with Elizabeth and Aiden, she complains that she misses her father and her mother. Jason Morgan walks in and helps Elizabeth talk to Emma, explaining that Robin will always be in her heart and Jason even tells Emma how much Robin meant to him.
Patrick's depression caused him to start stealing amphetamines from the hospital to get through his days without Robin. After going through a detox treatment to get clean, he promised Emma that he's been sick but he's all better and that he's not going to die.
Emma later gets a new baby-sitter in the form of nursing student Sabrina Santiago who Emma bonds with. Emma is very preceptive when her father brings over his new date, Dr. Britt Westbourne. Britt says several bad things about nurses and Emma starts to dislike Britt.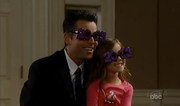 On January 23, Emma is devastated when Patrick tells her that Sabrina can't babysit her anymore and that Britt will do it, Emma does not like the idea and tells her father that she doesn't like Britt.
On January 25, Emma goes missing when her father was outside of Kelly's doing an over-the-phone consult and Britt was in the restrooms. Sabrina finds Emma on the docks and returns her to the Kelly's.  Emma tells Sabrina that Britt told her that she didn't like her.
In March 2013, she and Elizabeth go to see Sabrina and Felix graduate from nursing school. Milo asks Sabrina out, and neither Emma nor Felix is happy about it; as Emma wants Sabrina to be with her father Patrick, and Felix wants Milo for himself. Emma performs Call Me Maybe at the 2013
Nurse's Ball
with Sabrina.  After Britt announces her pregnancy ar the nurses ball Emma tells Anna she doesn't want a brother or sister if it means Britt has to be her new mom. Emma is very happy about her dad dating Sabrina.
Family tree
Edit
References
Edit
↑

Patrick stated that Emma was 5 on November 30, 2011
v - e

Current Contract Characters
T.J. Ashford
 ·
Shawn Butler
 ·
Dr. Silas Clay
 ·
Michael Corinthos
 ·
Morgan Corinthos
 ·
Sonny Corinthos
 ·
Alexis Davis
 ·
Anna Devane
 ·
Dr. Patrick Drake
 ·
Felix DuBois
 ·
Connie Falconeri
 ·
Dante Falconeri
 ·
Olivia Falconeri
 ·
Carly Jacks
 ·
Ava Jerome
 ·
Kiki Jerome
 ·
Maxie Jones
 ·
Rafe Kovich, Jr.
 ·
Sam Morgan
 ·
A.J. Quartermaine
 ·
Tracy Quartermaine
 ·
Sabrina Santiago
 ·
Mac Scorpio
 ·
Laura Spencer
 ·
Luke Spencer
 ·
Lulu Spencer-Falconeri
 ·
Damian Spinelli
 ·
Elizabeth Webber
 ·
Dr. Britt Westbourne
Current Recurring Characters
Ned Ashton
 ·
Scott Baldwin
 ·
Helena Cassadine
 ·
Nikolas Cassadine
 ·
Spencer Cassadine
 ·
Stavros Cassadine
 ·
Father Coates
 ·
Lucy Coe
 ·
Dr. Kevin Collins
 ·
Max Giambetti
 ·
Milo Giambetti
 ·
Alice Gunderson
 ·
Anton Ivanov
 ·
Josslyn Jacks
 ·
Epiphany Johnson
 ·
Felicia Jones
 ·
Molly Lansing-Davis
 ·
Duke Lavery
 ·
Dr. Kelly Lee
 ·
Janice Lomax
 ·
Diane Miller
 ·
Danny Morgan
 ·
Dr. Monica Quartermaine
 ·
Coleman Ratcliffe
 ·
Emma Scorpio-Drake
 ·
Aiden Spencer
 ·
Cameron Spencer
 ·
Ellie Trout
 ·
Heather Webber
 ·
Dr. Lesley Webber
 ·
Johnny Zacchara
Forthcoming Characters
Taylor DuBois
Deceased and Presumed Dead Characters
Benny Abrahms
 ·
Bernie Abrahms
 ·
Diego Alcazar
 ·
Lorenzo Alcázar
 ·
Luís Alcázar
 ·
Sage Alcazar
 ·
Ruby Anderson
 ·
Dr. Andy Archer
 ·
Dominique Baldwin
 ·
Cooper Barrett
 ·
Alison Barrington
 ·
Amanda Barrington
 ·
Kiefer Bauer
 ·
Warren Bauer
 ·
Jesse Beaudry
 ·
Katherine Bell
 ·
Connor Bishop
 ·
Mary Bishop
 ·
Paige Bowen
 ·
Dr. Emily Bowen-Quartermaine
 ·
Jessie Brewer
 ·
Nancy Brewer
 ·
Dr. Phil Brewer
 ·
Irina Cassadine
 ·
Kristina Cassadine
 ·
Mikkos Cassadine
 ·
Stefan Cassadine
 ·
Tony Cassadine
 ·
Victor Cassadine
 ·
Stone Cates
 ·
Dr. Ryan Chamberlain
 ·
Adela Corinthos
 ·
Lily Corinthos
 ·
Dr. Ian Devlin
 ·
Ronnie Dimestico
 ·
Dr. Pierce Dorman
 ·
John Durant
 ·
Bill Eckert
 ·
Andrea Floyd
 ·
Dr. Russell Ford
 ·
Franco
 ·
Dr. Steve Hardy
 ·
Abby Haver
 ·
Logan Hayes
 ·
Theo Hoffman
 ·
John Jacks
 ·
Aleksander Janáček
 ·
Stan Johnson
 ·
B.J. Jones
 ·
Georgie Jones
 ·
Tania Jones
 ·
Dr. Tony Jones
 ·
Dr. Ewen Keenan
 ·
Dr. Eve Lambert
 ·
Trevor Lansing
 ·
Dr. Cameron Lewis
 ·
Victor Lord III
 ·
Hope Manning-Thornhart
 ·
Reese Marshall
 ·
Courtney Matthews
 ·
Danny McCall
 ·
Lila McCall
 ·
Leyla Mir
 ·
Trey Mitchell
 ·
Susan Moore
 ·
Chloe Morgan
 ·
Jason Morgan
 ·
Caleb Morley
 ·
Dr. Lisa Niles
 ·
Dr. Alan Quartermaine
 ·
Alexandria Quartermaine
 ·
Edward Quartermaine
 ·
Lila Quartermaine
 ·
Faith Rosco
 ·
Manny Ruiz
 ·
Joe Scully
 ·
Joe Scully, Jr.
 ·
Frank Smith
 ·
Shirley Smith
 ·
Zander Smith
 ·
Jake Spencer
 ·
Lena Spencer
 ·
Siobhan Spencer
 ·
Tim Spencer
 ·
Diana Taylor
 ·
Martha Taylor
 ·
Dr. Peter Taylor
 ·
Tracy Taylor
 ·
Dr. Asher Thomas
 ·
Cole Thornhart
 ·
Amy Vining
 ·
Bradley Ward
 ·
Justus Ward
 ·
Mary Mae Ward
 ·
Dr. Rick Webber
 ·
Dr. Karen Wexler
 ·
Dawn Winthrop
 ·
Deke Woods
 ·
Dr. Maggie Wurth
 ·
Anthony Zacchara
 ·
Claudia Zacchara Corinthos
Off-screen and Former Characters
Lila Rae Alcazar
 ·
Terri Arnett
 ·
Brook Lynn Ashton
 ·
Larry Ashton
 ·
Christina Baldwin
 ·
Dr. Gail Baldwin
 ·
Lee Baldwin
 ·
Serena Baldwin
 ·
Dr. Tom Baldwin
 ·
Brenda Barrett
 ·
Julia Barrett
 ·
Melinda Bauer
 ·
Gia Campbell
 ·
Peter Carroll
 ·
Valentin Cassadine
 ·
Jagger Cates
 ·
Lois Cerullo
 ·
Skye Chandler-Quartermaine
 ·
Mike Corbin
 ·
Kristina Corinthos-Davis
 ·
Angie Costello
 ·
Blair Cramer
 ·
Jolene Crowell
 ·
Nadine Crowell
 ·
Dr. Rae Cummings
 ·
Téa Delgado
 ·
Roy DiLucca
 ·
Sean Donely
 ·
Tiffany Donely
 ·
Dr. Noah Drake
 ·
Toussaint Dubois
 ·
Sly Eckert
 ·
Angel Ellis
 ·
Cesar Faison
 ·
Pres Floyd
 ·
Audrey Hardy
 ·
Dr. Simone Hardy
 ·
Dr. Tom Hardy
 ·
Dr. Tommy Hardy
 ·
David Harper
 ·
Jimmy Lee Holt
 ·
Dr. Matt Hunter
 ·
Jane Jacks
 ·
Jasper Jacks
 ·
Jerry Jacks
 ·
Terrell Jackson
 ·
Frisco Jones
 ·
Lucas Jones
 ·
Dr. Leo Julian
 ·
Rose Kelly
 ·
Ric Lansing
 ·
Winifred Leeds
 ·
Guy Lewis
 ·
Victor Lord, Jr.
 ·
Ethan Lovett
 ·
Starr Manning
 ·
Todd Manning
 ·
John McBain
 ·
Miguel Morez
 ·
Ken Morgan
 ·
Dr. Lisa Obrecht
 ·
Delores Padilla
 ·
Blackie Parrish
 ·
Celia Quartermaine
 ·
Dillon Quartermaine
 ·
Burt Ramsey
 ·
Cruz Rodriguez
 ·
Casey Rogers
 ·
Father Mateo Ruiz
 ·
Juan Santiago
 ·
Robert Scorpio
 ·
Dr. Robin Scorpio-Drake
 ·
Alec Scott
 ·
Hannah Scott
 ·
Rebecca Shaw
 ·
Bobbie Spencer
 ·
Lucky Spencer
 ·
Suzanne Stanwyck
 ·
Mischa Stephens
 ·
Holly Sutton
 ·
Marcus Taggert
 ·
Regina Thompson
 ·
Claire Walsh
 ·
Faith Ward
 ·
Keesha Ward
 ·
Dr. Maya Ward
 ·
Dr. Jeff Webber
 ·
Dr. Sarah Webber
 ·
Dr. Steve Webber
 ·
Dr. Lainey Winters
 ·
Grace Yang
Crew
Ron Carlivati (Head writer, 2012-present)
 ·
Jill Farren Phelps (Executive producer, 2001-2012)
 ·
Robert Guza, Jr. (Head writer, 1996; 1997-2000; 2002-2008; 2008-2011)
 ·
H. Wesley Kenney (Executive producer, 1987-1989; Head writer, 1988)
 ·
Gloria Monty (Executive producer, 1978-1987, 1991-1992; Head writer, 1981)
 ·
Wendy Riche (Executive producer, 1992-2001)
 ·
Frank Valentini (Executive producer, 2012-present)
 ·
Garin Wolf (Head writer, 2008; 2011-2012)
Related Topics
Cross reference of character names
 ·
List of cast members
 ·
History of General Hospital