This article is incomplete. Please edit this page and help bring it up to standards.
Please remove this template once this article is no longer incomplete.
Ethan Lovett and Kristina Corinthos-Davis
Nathan Parsons and Lexi Ainsworth as
Ethan Lovett and Kristina Corinthos-Davis
General Hospital
Couple nickname
Ethina/Krithan
Marriage/relationship dates
2009-11 (flirtatious)
2010 (kissed)
2009-present
Status
Friends
Profile
Age at wedding or meeting
Ethan (22)
Kristina (17)
Gender
Male, Female
Couple residence
Unknown (Ethan)
Corinthos-Davis Apartment
Port Charles, New York
(Kristina)

Ethan Lovett and Kristina Corinthos-Davis are fictional characters on the ABC daytime soap opera, General Hospital.
The two became a popular pairing despite never actually getting together, though a possible relationship was hinted at throughout the show.
Background/Casting
Ethan is the son of Luke Spencer and Holly Sutton, which was established on May 29, 2009.[1]
Ethan was portrayed by actor Nathan Parsons from January 2009 to July 2015.
Kristina is the daughter of mob boss, Sonny Corinthos and attorney, Alexis Davis. She was conceived during a one night stand when Alexis was working for Sonny.
The role of Kristina was portrayed by actress Lexi Ainsworth in June 2009. In 2011, Ainsworth was nominated for a Daytime Emmy for Outstanding Younger Actress for her role as Kristina. She left the role in November 2011 and was replaced by Lindsey Morgan, who debuted in 2012 and left in 2013. Ainsworth returned as Kristina in the fall of 2015.
Storylines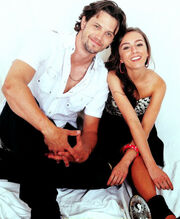 References
Ad blocker interference detected!
Wikia is a free-to-use site that makes money from advertising. We have a modified experience for viewers using ad blockers

Wikia is not accessible if you've made further modifications. Remove the custom ad blocker rule(s) and the page will load as expected.