Franco (Roger Howarth)
Comments

115
519pages on
this wiki
Franco
Roger Howarth as Franco
General Hospital
Portrayed by
James Franco (2009-12)
Roger Howarth (2013-present)
Current status
Contract
Duration
2009-10, 2011, 2012, 2013-present
First appearance
November 19, 2009
Created by
Robert Guza, Jr.
Introduced by
Jill Farren Phelps (2009, 2011, 2012)
Frank Valentini (2013)
Profile
Nickname(s)
Bobby (by Karen)
The Demented One
The Darkly Focused One
(by Spinelli)
Alias(es)
Hunter Thompson
Keith Richards[1]
Franco Quartermaine
Jason Morgan
Gender
Male
Born
September 14, 1982[2]
(Revised to 1974)[3]
New York, New York
Age
39
Occupation
Artist
Serial killer
Terrorist
Owns 10% of voting stock of ELQ Enterprises
Residence
Metro Court Hotel
1420 Quartz Ln, Rm 403
Port Charles, New York
James Franco as Franco
Robert James "Franco" Frank[6] is a fictional character on ABC's daytime drama General Hospital. The character was originated by actor James Franco starting November 19, 2009 and was listed as a special guest star before the opening credits. James Franco was last seen as "Franco" on January 13, 2012.  Roger Howarth has portrayed the character since May 13, 2013, the character's identity having been revealed on May 29.
James Franco left the role for a short time on January 11, 2010. He returned to General Hospital on June 30, 2010, and his character was part of a summer-long storyline. He returned for two episodes on Febuary 25 and 28, 2011. Franco returned on September 20, 2011 and was assumed to have been murdered on January 13, 2012 by Jason Morgan. However, it is revealed in May 2013, that Franco (now played by Roger Howarth) survived the shooting and escaped the burning studio. Franco is an eccentric and reclusive photographer, sociopath and serial killer. He is also a former graffiti artist. He is the biological son of Scott Baldwin and Heather Webber. He was formerly believed to be the son of Alan Quartermaine and Susan Moore. He was sold off at birth by his mother to nurse Karen Anderson.
Storylines
Edit
Prior to being seen on the show, Franco witnessed Jason, Max, and Milo disposing of the body of Claudia Zacchara, after she had been killed by her step-son, Michael Corinthos on November 5, 2009. He then sent photos of a re-enactment that he had created of Claudia's murder to Jason.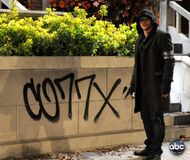 Franco disguises himself as a homeless vagrant and spray paints his tag, CO77X, on a wall where Joey Limbo and his crew have been hired by
Anthony Zacchara
to murder
Sonny Corinthos
and
Dante Falconeri
. Limbo notices Franco and asks him what he's doing. Franco says nothing but holds out his hand for spare change. Joey throws down some coins which fall to the floor.
On November 20, 2009, Franco, still dressed as a vagrant, witnesses Jason, Sonny, Max, Milo and Dante engage in a shoot-out with Joey Limbo and his men. Joey and his men get shot; and Jason, Sonny, Max, Milo, and Dante leave. Seeing that Joey is still alive, Franco approaches his body and steps on his neck until Limbo dies. He then repositions his body in an odd position.
Following the incident, Franco attends the opening for his art exhibit, filled with numerous crime scene re-enactments, which has been organized by Maxie Jones and Kate Howard for Crimson. Maxie is placed in charge of insuring that all Franco's needs are met, which takes a turn for the worse when Franco takes her back to his studio. Later on when the two are alone, Franco blindfolds her, takes photographs of her in a chalk outline, and then sleeps with her.
During the week of December 7, 2009, Franco finally comes face-to-face with Jason Morgan, offering him beer and pretzels, unnerving Jason about how much he idolizes how he murders people, calling it art, telling Jason they are the same. Franco is less than thrilled with Jason's lack of respect for Franco and his work. Jason leaves after Franco tells him he saw Michael kill Claudia. Once Jason has left, Franco decides to send Jason another message to let him know he's serious. On December 14, Spinelli goes over to Franco's to confront him about his sleeping with his then-girlfriend, Maxie. Franco tells Spinelli to tell his "Stone Cold" he's not through with him yet.
On December 15, Maxie and Lulu break into Franco's apartment to look for photos of Maxie to dispose of them, and they run into Franco's agent Gillian Carlyle, who informs the two young ladies that Franco's back in Paris. On December 18, Franco is in an alley when he is approached by Dante's cop partner Ronnie Dimestico; it is then revealed that the two have been working together for quite a long time. After Ronnie leaves, he is run over by a dark car driven by Franco, and Lulu rushes him to the hospital. Lulu encounters Franco in Ronnie's room after Franco told Ronnie to give Jason Morgan a message. He then exits, and soon after, Jason and Dante arrive. Ronnie, hooked up on a ventilator, gives Jason the message, and CO77X is seen spray painted in Ronnie's hospital room. During the week of December 28, Franco kidnaps Jason's girlfriend Sam McCall and his best friend Carly Corinthos. Franco waits for Jason to come and try to rescue them. Carly manages to escape, however. On January 6, 2010 Franco goes to Crimson to get Maxie for a game with Jason where he would have to choose between Sam and Maxie, but she is not there, so he kidnaps Lulu. Both Sam and Lulu are strapped to bombs. Jason rescues Sam, and Dante rescues Lulu. Franco soon leaves town after leaving Jason a video message.
While Jason is in prison to protect his nephew Michael, he kills a man, Carter, who has been tormenting Michael. As Carter loses consciousness, he tells Jason that Franco says "hi."
On July 1, 2010, Franco is seen as a homeless person who is holding up a sign saying, "Will entertain for money." Diane Miller comes across him and says she left her purse at home when Franco asks her for some change. So instead, he pulls out a little toy monkey to entertain her and tells her he hopes to get a real one someday as she hands him twenty dollars that she had in her briefcase, and a stick of gum. After she leaves, Franco gets up and spray paints his tag on a crate. When Jason goes home, Franco follows him to Harbor View Towers. The next day, while Maxie is alone talking on the phone, Franco steps out of the elevator and hands her six red roses.
When Dante and Jason visit Franco's mother, Karen Anderson, she tells them that she doesn't have a son.
Jason and Dante later head to Los Angeles, where Franco is preparing a large exhibit at the MoCA based on his exploits in Port Charles. While searching for Franco, the pair discover a DVD revealing that Franco had paid Carter off to attack Michael in order to play mind games with Jason. Jason chases Franco to the top of a building, which Franco seemingly jumps off of. It is later revealed that it wasn't Franco, and that he simply faked his death.
It is revealed that Franco took Aiden Cassadine to give to his mother to raise as the son that she always wanted. Lucky Spencer later reclaims the child without incident or reprisal from Franco.
Franco is mentioned when his agent attempts to ask international model Brenda Barrett to pose for a few pictures. Knowing of Franco's history as a serial killer, Brenda turns down the offer, refusing to glorify violence for money.
2011-2012
Edit
Franco is seen in February of 2011, when Brenda Barrett's limo explodes. He asks Jason if he "liked the fireworks."
In late 2011, Franco watched Jason and Sam as they prepared for their wedding. In November, Franco followed them on their honeymoon in Hawaii. Franco tricked both Jason and Sam into drinking a drugged beer. He makes it seem that he has raped Sam while Jason was trapped by him and watching on a TV monitor. Jason finds Franco in an undisclosed studio. Franco taunts Jason upon his arrival. Jason shoots Franco twice in the chest and leaves him there in his burning studio. It is later revealed that Sam is pregnant, and at first it is believed that the baby is either Jason or Franco's. The paternity test results come back and Jason, not Franco, is shown to be the father. But Franco had one secret that died with him.
In early 2012, Jason finds a disc from Franco. He and Sam play it, and it is a recording of a newborn baby in a hospital bassinet with an ID bracelet that says Baby Boy Moore. They assume it's Jason, as his birth mother was Susan Moore. They have no idea why Franco sent this. In late March 2012, Sam visits the hospital where Jason was born. The only information she finds is that Heather Webber was in the room when Jason was born. Sam then goes to Ferncliff after finding out that Heather is there. Heather explains that Susan gave birth to two babies, and that the one in the photograph Sam shows Heather from the video isn't Jason. Heather tells Sam that Jason's twin brother was sold to a nurse, Betsy Frank. Sam realizes that is Franco's "mother's" name, meaning that Jason and Franco were fraternal twins. Heather is happy to know that she is related to Franco, because she admires his work.
Knowing that Jason and Franco were brothers, Sam realizes that the paternity test may not be correct since they didn't take that into consideration. Sam gets a DNA sample of Franco from John McBain, who has connections to the FBI, and has her doctor Kelly Lee do a DNA test against both potential fathers. When Sam gets the results, they say that Franco, not Jason, is the father of her baby.
Jason has trouble coming to grips with the idea of Franco being the baby's father, and doesn't know if he can raise his child as his own. On June 1, Daniel Edward Morgan was born. On June 8 it was shown that Jason was the baby's real father not Franco. Heather Webber switched the paternity test.
2013 return
Edit
A mystery man is seen walking into one of The Chew's green rooms.  The man is watching a television screen taping AJ Quartermaine and Tracy Quartermaine trying to deal with the disastrous pickle relish showdown because the food experts, the other personnel, and Elizabeth Webber have just recently gotten food poisoning. It is implied that the mystery man is the one that caused the food poisoning. Tracy makes AJ take the blame for the disaster. The mystery man also speaks to the production assistant Todd, but gets him to leave with the excuse that Mario Batali should be treated to.
The mystery man is then seen flying from New York City to Port Charles, New York. A fellow passenger comes and sits with him and the passenger asks if he is famous. He replies with a comment about what constitutes being famous or something down those lines. He states that he is going to Port Charles for hopefully both business and pleasure.
The mystery man is then seen talking to Heather Webber. He states that he hurt Sam Morgan. Then he is seen renting out the Haunted Star from Lulu Spencer-Falconeri, who has just recently lost her memory of past events and does not recognize him. He is able to avoid revealing his name and states that the party is where he is going to reveal his identity.
After talking to Lulu, he is then seen talking to Dr. Silas Clay, who is at the Pier eavesdropping on Lucy Coe's Stephen Clay Experience tour. His guests for the Identity Reveal Party include the following: Carly Jacks, Sonny Corinthos, Michael Corinthos, Elizabeth Webber, AJ Quartermaine, Sam Morgan, Maxie Jones, and Damian Spinelli.  When the guests call him "Franco," he answers them in the affirmative.
Franco is able to convince Sam and Carly to stop Sonny from killing him on the spot.  He uses the standard excuse that he has valuable information that they want to know. He says that he didn't rape Sam back in 2011, and shows a recording of him walking away from Sam when she was passed out. Franco also states that he shown Jason the first part of the conversation between him and Carter, but then reveals that the second portion was his attempt to make Carter protect Michael.
He is then subsequently taken in police custody and is revealed that Sam Morgan (presumably?) knocked him out.  He goes to his bail hearing and Mr. Lazaro, the district attorney, agrees with Diane Miller's "convincing argument", but it's revealed that Mr. Lazaro made an agreement with Sonny Corinthos to allow Franco to go out in bail.  He conducts an informal family meeting when he goes to the Quartermaine's Mansion where he talks with his step-mother Monica Quartermaine and including feuding AJ Quartermaine and Tracy Quartermaine. Ava Jerome and Lauren "Kiki" Jerome show up as well. Carly goes to the Quartermaine Mansion to see Franco she invites him to dinner the Metro Court Hotel and he agrees and goes to get ready. Carly gets on the phone with Shawn to tell a lie that the hit that Sonny called off was back on. Franco and Carly are at the hotel on balcony. Olivia tells Sonny that Franco and Carly are having dinner. Sonny goes to the balcony to tell Carly to leave Franco alone. Olivia has vision of Sonny covered in blood she rushes to him and tells him to get away Shawn Butler takes shot and hits Olivia. Later it turned out to be Ava Jerome that was the one trying to kill Franco and shot Olivia. Kiki and Michael make out on June 17th episode and then they eventually go to the Quartermaine Mansion separately and learn that they are cousins.
Franco and Ava moved into the Quartermine Mansion. Ava blackmail Franco she told him if she does not get the Quartermaines money that she's going to tell AJ or the police that he was behind the food poisoning. Franco found out from Carly that there was another shooter and he figured out that it was Ava so he blackmail her if he doesn't get a relationship with Kiki he going to the police and Ava agreed.
Sonny and Shawn came to the boathouse Sonny ask to leave his son Kiki boyfriend Morgan Corinthos alone and leave the Quartermaines. Franco did not want to leave so Sonny had Shawn beat him up. Alexis Davis came in and took Franco to the hospital so he can get help and also to see if he was match so Danny can have his bone marrow. Franco had seizure and woke up as saying his name was Jason. Franco left his room he went to see Danny and took him from the hospital to Jason and Sam penthouse. Sam figured out where to find Danny she went to the penthouse Franco came down stairs dress in Jason clothes and kissed Sam and she slap's him and they fight and Franco knocks out Sam and takes Danny. Carly finds him and Danny Franco takes Carly's advice and gives Danny back.
Back at the hospital Franco was back to normal but he find out he has brain tumor and Franco agreed to have surgery. He pulled threw surgery. Franco was a match to save Danny's life but Franco had cancer cells so he couldn't give his bone marrow. Franco learned that Kiki is not his daughter. Franco was released from the hospital but he had to go to court and got the charges drop. Monica kick him out of her house and Franco moves into the Metro Court Hotel and Carly wished him a happy birthday. Franco learned because of the victims that he's killed over the years filed lawsuit against him making him broke so Franco went back to painting. Diane Miller tells Franco that he should do an art show so that he can make some money to pay Carly for the hotel room. Franco's art dealer comes to see his work and tells him that they suck. The art dealer, however, did like the painting that Heather gave Franco, so he tells Franco to paint more of those paintings for the show.
On November 8, during Franco's art show, Heather reveals that she is his biological mother and Scott Baldwin is his father.
Crimes committed
Edit
Serial killer [2000s]
Killed Joey Limbo after a mob shoot out [Nov 2009]
Stalked Jason Morgan [Nov-Dec 2009]
Suspected of hitting cop Ronnie Dimestico with a car [Dec 2009]
Kidnapped Carly Jacks [Jan 2010]
Kidnapped Sam McCall [Jan 2010]
Kidnapped Lulu Spencer [Jan 2010]
Blew up two warehouses [Jan 2010]
Indrirectly responsible for the rape of Michael Corinthos III. [May 21, 2010, additional information on May 30, 2013]
Kidnapped Elizabeth Webber's newborn son Aiden Spencer [Jul 21, 2010]
Held a woman at gunpoint during "Francophrenia" [Jul 23, 2010]
Strangled a videographer during "Francophrenia" [Jul 23, 2010]
Followed and stalked Jason and Sam Morgan to Hawaii [October 2011]
Poisoning Pickle Lila and Pickle Eddie. [May 2013]
Made it appear that he had raped Sam Morgan [Oct 2011, retracted on May 29, 2013]
Kidnapped Danny Morgan [July 18, 2013 as Jason Morgan]
Knocked Sam out and took Danny again [July 19, 2013 as Jason Morgan]
Health and Vitals
Edit
Shot by Jason Morgan. [Jan 2012]
Strangled by AJ Quartermaine. [May 2013]
Pistol whipped by Sam Morgan. [May 2013]
Hospitalized after being assaulted by Shawn Butler under the orders of Sonny Corinthos [Jul 2013]
Diagnosed with a brain tumor and underwent surgery [Jul 2013]
Saved Michael from drowning [Nov 12, 2013]
Family tree
Edit
References
Edit
v - e

Current Contract Characters
T.J. Ashford
 ·
Shawn Butler
 ·
Nikolas Cassadine
 ·
Dr. Silas Clay
 ·
Michael Corinthos
 ·
Morgan Corinthos
 ·
Sonny Corinthos
 ·
Alexis Davis
 ·
Anna Devane
 ·
Dr. Patrick Drake
 ·
Nurse Felix DuBois
 ·
Dante Falconeri
 ·
Olivia Falconeri
 ·
Robert "Franco" Frank
 ·
Carly Jacks
 ·
Ava Jerome
 ·
Julian Jerome
 ·
Kiki Jerome
 ·
Maxie Jones
 ·
Rafe Kovich, Jr.
 ·
Sam Morgan
 ·
A.J. Quartermaine
 ·
Tracy Quartermaine
 ·
Nurse Sabrina Santiago
 ·
Mac Scorpio
 ·
Dr. Robin Scorpio-Drake
 ·
Luke Spencer
 ·
Lulu Spencer-Falconeri
 ·
Nurse Elizabeth Webber
 ·
Dr. Britt Westbourne
Current Recurring Characters
Scott Baldwin
 ·
Helena Cassadine
 ·
Spencer Cassadine
 ·
Father Coates
 ·
Lucy Coe
 ·
Dr. Kevin Collins
 ·
Brad Cooper
 ·
Anna Donely
 ·
Sean Donely
 ·
Taylor DuBois
 ·
Cesar Faison
 ·
Connie Falconeri II
 ·
Max Giambetti
 ·
Milo Giambetti
 ·
Alice Gunderson
 ·
Jerry Jacks
 ·
Josslyn Jacks
 ·
Nurse Epiphany Johnson
 ·
Molly Lansing-Davis
 ·
Duke Lavery
 ·
Janice Lomax
 ·
Diane Miller
 ·
Danny Morgan
 ·
Dr. Liesl Obrecht
 ·
Nurse Penny
 ·
Dr. Monica Quartermaine
 ·
Coleman Ratcliffe
 ·
Carlos Rivera
 ·
Robert Scorpio
 ·
Emma Scorpio-Drake
 ·
Felicia Scorpio-Jones
 ·
Aiden Spencer
 ·
Nurse Bobbie Spencer
 ·
Cameron Spencer
 ·
Damian Spinelli
 ·
Holly Sutton
 ·
Ellie Trout
 ·
Heather Webber
 ·
Dr. Lesley Webber
 ·
Ben Westbourne
Forthcoming Characters
Victor Cassadine
Deceased and Presumed Dead Characters
Benny Abrahms
 ·
Bernie Abrahms
 ·
Diego Alcazar
 ·
Lorenzo Alcázar
 ·
Luís Alcázar
 ·
Sage Alcazar
 ·
Ruby Anderson
 ·
Dr. Andy Archer
 ·
Dominique Baldwin
 ·
Cooper Barrett
 ·
Alison Barrington
 ·
Amanda Barrington
 ·
Kiefer Bauer
 ·
Warren Bauer
 ·
Jesse Beaudry
 ·
Katherine Bell
 ·
Connor Bishop
 ·
Mary Bishop
 ·
Paige Bowen
 ·
Dr. Emily Bowen-Quartermaine
 ·
Nurse Jessie Brewer
 ·
Nancy Brewer
 ·
Dr. Phil Brewer
 ·
Irina Cassadine
 ·
Kristina Cassadine
 ·
Mikkos Cassadine
 ·
Stavros Cassadine
 ·
Stefan Cassadine
 ·
Tony Cassadine
 ·
Stone Cates
 ·
Dr. Ryan Chamberlain
 ·
Stephen Clay
 ·
Adela Corinthos
 ·
Lily Corinthos
 ·
Dr. Ian Devlin
 ·
Ronnie Dimestico
 ·
Dr. Pierce Dorman
 ·
John Durant
 ·
Bill Eckert
 ·
Connie Falconeri
 ·
Andrea Floyd
 ·
Dr. Russell Ford
 ·
Dr. Steve Hardy
 ·
Abby Haver
 ·
Logan Hayes
 ·
Theo Hoffman
 ·
John Jacks
 ·
Aleksander Janáček
 ·
Victor Jerome
 ·
Stan Johnson
 ·
B.J. Jones
 ·
Georgie Jones
 ·
Tania Jones
 ·
Dr. Tony Jones
 ·
Dr. Ewen Keenan
 ·
Dr. Eve Lambert
 ·
Trevor Lansing
 ·
Dr. Cameron Lewis
 ·
Victor Lord III
 ·
Hope Manning-Thornhart
 ·
Reese Marshall
 ·
Courtney Matthews
 ·
Danny McCall
 ·
Lila McCall
 ·
Nurse Leyla Mir
 ·
Trey Mitchell
 ·
Susan Moore
 ·
Chloe Morgan
 ·
Jason Morgan
 ·
Dr. Lisa Niles
 ·
Dr. Alan Quartermaine
 ·
Alexandria Quartermaine
 ·
Edward Quartermaine
 ·
Lila Quartermaine
 ·
Faith Rosco
 ·
Manny Ruiz
 ·
Joe Scully
 ·
Joe Scully, Jr.
 ·
Frank Smith
 ·
Shirley Smith
 ·
Zander Smith
 ·
Jake Spencer
 ·
Lena Spencer
 ·
Siobhan Spencer
 ·
Tim Spencer
 ·
Olivia St. John
 ·
Nurse Diana Taylor
 ·
Martha Taylor
 ·
Dr. Peter Taylor
 ·
Tracy Taylor
 ·
Dr. Asher Thomas
 ·
Cole Thornhart
 ·
Nurse Amy Vining
 ·
Bradley Ward
 ·
Justus Ward
 ·
Mary Mae Ward
 ·
Dr. Rick Webber
 ·
Dr. Karen Wexler
 ·
Dawn Winthrop
 ·
Deke Woods
 ·
Dr. Maggie Wurth
 ·
Anthony Zacchara
 ·
Claudia Zacchara-Corinthos
Off-screen and Former Characters
Lila Rae Alcazar
 ·
Nurse Karen Anderson
 ·
Terri Arnett
 ·
Brook Lynn Ashton
 ·
Larry Ashton
 ·
Ned Ashton
 ·
Christina Baldwin
 ·
Dr. Gail Baldwin
 ·
Laura Baldwin
 ·
Lee Baldwin
 ·
Serena Baldwin
 ·
Dr. Tom Baldwin
 ·
Brenda Barrett
 ·
Julia Barrett
 ·
Melinda Bauer
 ·
Gia Campbell
 ·
Peter Carroll
 ·
Valentin Cassadine
 ·
Jagger Cates
 ·
Lois Cerullo
 ·
Skye Chandler-Quartermaine
 ·
Mike Corbin
 ·
Kristina Corinthos-Davis
 ·
Angie Costello
 ·
Blair Cramer
 ·
Jolene Crowell
 ·
Nurse Nadine Crowell
 ·
Dr. Rae Cummings
 ·
Téa Delgado
 ·
Roy DiLucca
 ·
Tiffany Donely
 ·
Dr. Noah Drake
 ·
Toussaint Dubois
 ·
Sly Eckert
 ·
Angel Ellis
 ·
John Everett
 ·
Pres Floyd
 ·
Nurse Audrey Hardy
 ·
Dr. Simone Hardy
 ·
Dr. Tom Hardy
 ·
Dr. Tommy Hardy
 ·
David Harper
 ·
Jimmy Lee Holt
 ·
Dr. Matt Hunter
 ·
Anton Ivanov
 ·
Lady Jane Jacks
 ·
Jasper "Jax" Jacks
 ·
Terrell Jackson
 ·
Frisco Jones
 ·
Lucas Jones
 ·
Dr. Leo Julian
 ·
Rose Kelly
 ·
Ric Lansing
 ·
Dr. Kelly Lee
 ·
Winifred Leeds
 ·
Guy Lewis
 ·
Victor Lord, Jr.
 ·
Ethan Lovett
 ·
Starr Manning
 ·
Todd Manning
 ·
John McBain
 ·
Miguel Morez
 ·
Ken Morgan
 ·
Delores Padilla
 ·
Blackie Parrish
 ·
Celia Quartermaine
 ·
Dillon Quartermaine
 ·
Burt Ramsey
 ·
Cruz Rodriguez
 ·
Casey Rogers
 ·
Father Mateo Ruiz
 ·
Delia Ryan Coleridge
 ·
Juan Santiago
 ·
Alec Scott
 ·
Hannah Scott
 ·
Rebecca Shaw
 ·
Lucky Spencer
 ·
Suzanne Stanwyck
 ·
Nurse Mischa Stephens
 ·
Marcus Taggert
 ·
Nurse Regina Thompson
 ·
Claire Walsh
 ·
Faith Ward
 ·
Keesha Ward
 ·
Dr. Maya Ward
 ·
Dr. Jeff Webber
 ·
Dr. Sarah Webber
 ·
Dr. Steve Webber
 ·
Dr. Lainey Winters
 ·
Grace Yang
 ·
Johnny Zacchara
Crew
Ron Carlivati (Head writer, 2012-present)
 ·
Jill Farren Phelps (Executive producer, 2001-2012)
 ·
Robert Guza, Jr. (Head writer, 1996; 1997-2000; 2002-2008; 2008-2011)
 ·
H. Wesley Kenney (Executive producer, 1987-1989; Head writer, 1988)
 ·
Gloria Monty (Executive producer, 1978-1987, 1991-1992; Head writer, 1981)
 ·
Wendy Riche (Executive producer, 1992-2001)
 ·
Frank Valentini (Executive producer, 2012-present)
 ·
Garin Wolf (Head writer, 2008; 2011-2012)
Related Topics
Cross reference of character names
 ·
List of cast members
 ·
List of current actors
 ·
History of General Hospital