Georgie redirects here. For other uses of the name, see Georgie (disambiguation)
Georgie Spinelli
Harper Rose Barash as Georgie Spinelli
General Hospital
Portrayed by
Elle and Eve Tanz (2013)
Londyn and Teagan (2013-14)
Harper Rose Barash (2015)
Duration
2013-15
First appearance
August 21, 2013
Last appearance
December 24, 2015
Cause/reason
Went back to Portland, OR
Created by
Ron Carlivati
Introduced by
Frank Valentini
Profile
Birth name
Constanza Louise "Connie" Falconeri II
Namesake(s)
Georgie Jones
Connie Falconeri
Nickname(s)
The Wee One (by Spinelli)
Little Georgie (by Maxie and Ellie)
Gender
Female
Born
August 21, 2013
General Hospital
Port Charles, New York
Age
3
Title
Aztec royalty
Residence
Spinelli Apt. #203[1]
Portland, Oregon
Londyn and Teagan as Georgie Spinelli
Elle and Eve as Connie Falconeri II
Georgianna "Georgie" Spinelli is a fictional character on the ABC daytime soap opera General Hospital. She is the daughter of Damian Spinelli and his ex-fiancée, Maxie Jones via one night stand.
She was formerly believed to be the daughter of Det. Dante Falconeri and his ex-wife/current girlfriend, Lulu Spencer-Falconeri via IVF.
Casting
Georgie was portrayed by twins Elle and Eve Tanz in 2013.[2]
Georgie was portrayed by twins Londyn and Teagan in 2013, when Georgie was aged by a couple of months.[3] They also made two guest appearances on May 20, 2014 and on December 24 & 29 2014.
She was portrayed by Harper Rose Barash, the real-life daughter of Kirsten Storms, who plays Georgie's on-screen mother, Maxie and Brandon Barash, who played Johnny Zacchara. She made debut on February 13, 2015[4] and she made her last appearance on April 14, 2015.[5]
Her mother, Kirsten stated in a live chat that she didn't know if Harper would be filming anymore scenes since Georgie's on-screen father would be returning.[6] However, on November 18, 2015, Soap Opera Digest broke the news that Emily Wilson would reprise the role of Ellie for the holidays and would be bringing Georgie (Harper) with her.[7] She made an appearance on December 24, 2015.
According to Star Kidz, Georgie has been slightly de-aged since Harper joined the cast, but it is unknown to how old.[8]
Background
In late 2012, after Dante and Lulu found out that she couldn't carry to a baby to term, Maxie Jones offered to be their surrogate. Lulu was sceptical at first but eventually warmed up to the idea and accepted Maxie's offer. The doctors implanted Maxie with one of their fertilized embryos and found out she was pregnant on Christmas Eve.
On New Years Eve, Maxie tripped over a dog and miscarried Dante and Lulu's baby but didn't tell anyone. She ended up sleeping with Spinelli later that night and got pregnant with his baby. On January 18, 2013, when Maxie found out that she was pregnant again she decided to pass the baby off as the Falconeri's and also decided not to tell Spinelli.
Maxie feels baby Georgie move for the first time on April 26. Maxie really started to bond with the baby once she found out it was a girl on June 27. On July 11, Maxie suggested that Lulu name the baby Georgie after her late sister, Georgie Jones, but Lulu said that she needed to save that name for her own daughter.
On July 16, Maxie had a childbirth class but both Dante and Lulu were not able to be there so the baby's real father, Damian Spinelli stepped in. In August, right after Georgie was born, Ellie revealed to Spinelli that he was her biological father. He later confronts Maxie and they mutually decide to let the Falconeri's raise their child. The truth is revealed to Dante and Lulu on September 30.
In November, Lante and Spixie started a nasty custody battle over baby Georgie. Spinelli ends up winning full custody and her mother, Maxie is not allowed to see her for a period of six months. On Decemeber 16, Georgie gets to see her mom before she and her father leave Port Charles.
On June 20, 2014, Maxie's case is revisited; however, she is denied custody and visitation rights for another six months. It is later revealed that her then boyfriend, Peter Harrell, Jr. (aka Levi), sabotaged the court case by telling the judge that Det. Nathan West lied.
In October, Judge Walters tells Maxie that she can't date and/or be seen with Nathan West if she wants to get visitation with her daughter at her custody hearing in December.
On December 16, Maxie is denied custody and visitation rights again, for another six months because the judge found out that she saw Nathan. On December 22, thanks to Nathan and his mother, Dr. Liesl Obrecht, Judge Walters reversed his ruling and Maxie now has visitation rights.
On January 20, 2015, it was revealed that Maxie and Spinelli have shared custody of Georgie now.
Storylines
Georgie was born onscreen August 21, 2013 via an emergency C-section to Dante and Lulu Falconeri after Maxie's water breaks at her parents wedding reception. Maxie, Lulu and her parents go to the hospital and they are joined by Dante, who call the perspective "grandparents". When Maxie starts having really painful contraction she asks for Spinelli saying he should be here, which confuses Dante and Lulu so she tells them she must be confused because she's tired.
As Maxie continues to labor, the baby starts having heart decelerations and Maxie thinks that she gave the baby a bad heart but Lulu reassures her that her heart condition has nothing do with the baby because she is not biologically hers. It turns out that her heart is fine but the umbilical cord is wrapped around her neck so the doctor is going to monitor the baby closely. Later on, Spinelli shows up to support Maxie during her labor. Soon after, the monitors start going off and it is revealed that the baby isn't getting enough oxygen so they have to deliver her right away via an emergency C-section. Maxie says she needs to tell Spinelli something about the baby before they go, but the doctor said they can't wait so she doesn't get the chance to tell him. They perform an emergency C-section with Lulu in the operating room while Dante and Spinelli watch from the gallery. When the baby is born she lets out a loud and strong cry. Lulu holds Maxie's hand while she (Lulu) cuts the cord and the baby is taken away.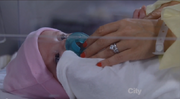 Afterwards, she gets to meet her "parents" and "grandparents", while her biological mother, Maxie starts hemorrhaging but the bleeding is stopped and Maxie lives. Meanwhile, Ellie Trout is telling her biological father, Spinelli the truth about her parentage. Later on, when Lulu suggests she and Dante name "their" daughter, Jacquelyn, Dante says it sounds too much like Spinelli (called the Jackal). Maxie tries to breastfeed the baby but Spinelli stops her and confronts her about keeping the baby's real parents a secret. When Dante and Lulu find out about what Maxie tried to do they threaten to ban her from "their" daughter's life but Maxie says they can't and in the end they don't. Dante and Lulu decided to name the baby, Connie in memory of Dante's late cousin and Lulu's former boss, Connie Falconeri. Dante and Lulu take her home and have a rough couple of nights because "Connie" wants her biological mom, Maxie but they eventually do calm her down.
On September 27, she was baptized as Constanza Louise Falconeri, with Maxie and Spinelli as her godparents. After the baptism, Brad Cooper comes in and tells Dante and Lulu that "Connie" is really Maxie and Spinelli's daughter. Maxie and Spinelli deny that Brad's statement is true and Lulu believes them but Dante doesn't. He starts to interrogate them and Lulu finally figures out (by remembering that Maxie has repeatedly tried telling her something about the baby and then Maxie bonding with the unborn baby) that what Brad said is true. Dante and Lulu have a heated confrontation with Maxie and Spinelli ending with Lulu slapping Maxie and then leaving the church with Dante.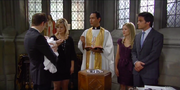 Back at the loft Lulu tells Dante that regardless of the truth she wants to fight to keep "Connie" and at the same time Maxie and Spinelli decide that they want their daughter back. Dante and Lulu calls and ask Spinelli and Maxie to come over so they can talk about "Connie", (Spixie thought that Lante were going to give them back their baby) when they get there they find out that Dante and Lulu had invited them over to sign adoption papers but Spinelli and Maxie tell them that they won't because they want "Connie" but Lulu says she will give them the baby over her dead body, Spixie is floored so Maxie throws the adoption papers on the table and they leave and thus begins a very nasty custody battle. The custody battle started on November 13, 2013 with Alexis Davis representing Dante and Lulu, and Diane Miller representing Spinelli and Maxie.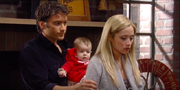 The custody battle gets very heated but in the end, on November 19, 2013, the Falconeri's lose custody, and the judge awards full custody and parental rights to her biological father, Spinelli. Her biological mother, Maxie is deemed unfit and therefore is denied visitation and is not allowed near "Connie" for a period of 6 months, at which point the possibility of visitation can be revisited. Spinelli and "Connie" moved in with his friend, Sam Morgan and her son, Danny Morgan, so he could keep to the terms of the judge's ruling. Initially Maxie had a hard time staying away from her daughter, and even tried to see "Connie", but Spinelli refused to let her, out of fear that if they got caught, they would both lose custody of their daughter. Devastated over not being able to see her daughter, Maxie attempted suicide with some pills, but was stopped by her thought to be dead cousin, Robin Scorpio-Drake, who convinced her that she was strong enough to withstand the next six months and be better for her daughter.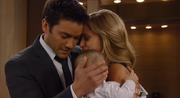 Shortly after, Spinelli's girlfriend, Ellie received a job offer from a hospital in Portland, Oregon. They were both adamantly against taking the job because neither wanted to take "Connie" that far away from Maxie, but Maxie encouraged Ellie to take the job and told Spinelli that she wanted him and the baby to move to Portland with Ellie. Maxie explained that she wanted them to make the move, because it would be easier to stick to the judge's ruling if her daughter was 3,000 miles away and not right across town. Ellie and Spinelli eventually decide to make the move to Portland and take "Connie" with them. On December 13-16, Spinelli takes the baby to see Maxie before they leave and they decide to rename their daughter Georgie, after Maxie's late sister and Spinelli's friend, Georgie Jones.
On May 20, Georgie is seen with her father and Ellie at their home in Portland, when Carly Jacks and Franco visit, because they need Spinelli's help reconstructing a recording on the late A.J. Quartermaine's phone. Georgie is in Ellie's arm the whole time but Franco does ask to hold to which Ellie says no. It is also revealed that since moving to Portland Georgie has her dad at home taking care of her. On December 24, Georgie reunites with her mother for Christmas. Her mom brings her a lot of cute clothes and presents from Dante and Lulu and Mac and Felicia. She also gets to meet Nathan over the phone. On December 29, Georgie gets to meet Nathan in person.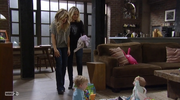 In late January, Maxie tells Johnny that Georgie will be coming to visit soon and that she is really excited. In early February, Nathan and Maxie are seen setting up Georgie's crib. On February 13 (14th on the show), Georgie returns to Port Charles. A couple of days later, Georgie finally meets Rocco and they have a playdate. In March, Georgie spends time with her grandparents, Mac and Felicia. On March 10, she ends in the ER with a fever. Her parents rush to be with her and find out from Lucas that she has the flu. Lucas wants to keep her over night so Maxie and Spinelli stay with her. While in the ER, the three of them have a very sweet family moment that Nathan walks in on. The next day, Georgie is seen in a hospital with room with her mom and aunt Lulu. Later on, Sam comes by and mentions how much she looks like her mom. Then Nathan stops by to check on her and to talk to Maxie.
On March 18, Georgie is at home sleeping and recovering well. On March 20, Georgie and her mom run into Dante at Kelly's, where Maxie finds out that Spinelli and Nathan are having a duel to see who gets to be with her. Maxie is so upset that she leaves Georgie with Dante and rushes off to stop it. On April 10, Georgie is seen attempting to be feed by her mother, while her father is putting kid friendly shows on the DVR. They then see the news report about Avery and Spinelli promises Maxie that nothing like that will ever happen to Georgie. Then, Georgie listens to her parents argue about who deflects more and talk about the elephant in the room (Mr. Snoozy)--them getting back together. On April 14, Georgie gets a visit from Ellie. Her parents do get back together but eventually break up because they are both in love with different people. On July 7, Maxie says that she's on her way to Portland to visit Georgie.
In December, Georgie returns to Port Charles with her father and Ellie to visit her mother for the holidays.
Health and Vitals
Almost taken on the run by Lulu (and Dante) twice (once before her custody hearing and once after they lost custody and it was Lulu's idea but Dante stopped her both times) [Oct 29 & Nov 19, 2013]
Born via emergency C-section because the cord was wrapped around her neck [Aug 21, 2013]
Had the flu and was admitted to the hospital over night as a precaution [Mar 10, 2015]
Family tree
Photo gallery
References
v - e

Current Contract Characters
Curtis Ashford
 ·
Jordan Ashford
 ·
Franco Baldwin
 ·
Hayden Barnes-Cassadine
 ·
Nikolas Cassadine
 ·
Morgan Corinthos
 ·
Sonny Corinthos
 ·
Carly Corinthos-Jacks
 ·
Alexis Davis
 ·
Anna Devane
 ·
Dante Falconeri
 ·
Olivia Falconeri
 ·
Dr. Hamilton Finn
 ·
Nelle Hayes
 ·
Paul Hornsby
 ·
Ava Jerome
 ·
Julian Jerome
 ·
Kiki Jerome
 ·
Maxie Jones
 ·
Dr. Andre Maddox
 ·
Jason Morgan
 ·
Sam Morgan
 ·
Dr. Griffin Munro
 ·
Dillon Quartermaine
 ·
Michael Quartermaine
 ·
Tracy Quartermaine
 ·
Nina Reeves
 ·
Nurse Sabrina Santiago
 ·
Laura Spencer
 ·
Valerie Spencer
 ·
Lulu Spencer-Falconeri
 ·
Nurse Elizabeth Webber
 ·
Nathan West
Current Recurring Characters
T.J. Ashford
 ·
Ned Ashton
 ·
Scott Baldwin
 ·
Claudette Beaulieu
 ·
Valentin Cassadine
 ·
Lucy Coe
 ·
Darby Collette
 ·
Dr. Kevin Collins
 ·
Brad Cooper
 ·
Kristina Corinthos-Davis
 ·
Landon Dixon
 ·
Naomi Dreyfus
 ·
Nurse Amy Driscoll
 ·
Nurse Felix DuBois
 ·
Parker Forsyth
 ·
Max Giambetti
 ·
Milo Giambetti
 ·
Alice Gunderson
 ·
Jasper Jacks
 ·
Nurse Epiphany Johnson
 ·
Dr. Lucas Jones
 ·
Ric Lansing
 ·
Molly Lansing-Davis
 ·
Dr. Kelly Lee
 ·
Janice Lomax
 ·
Huxley Lynch
 ·
Rosalie Martinez
 ·
Diane Miller
 ·
Dr. Liesl Obrecht
 ·
Dr. Monica Quartermaine
 ·
Dr. Joe Rivera
 ·
Aaron Roland
 ·
Delia Ryan Coleridge
 ·
Felicia Scorpio
 ·
Mac Scorpio
 ·
Robert Scorpio
 ·
Dr. Robin Scorpio-Drake
 ·
Nurse Bobbie Spencer
 ·
Damian Spinelli
 ·
Ellie Trout
 ·
David Walters
 ·
Heather Webber
Current Child Characters
Spencer Cassadine
 ·
Leo Falconeri
 ·
Rocco Falconeri
 ·
Josslyn Jacks
 ·
Avery Jerome-Corinthos
 ·
Danny Morgan
 ·
Teddy Rivera
 ·
Emma Scorpio-Drake
 ·
Aiden Spencer
 ·
Cameron Spencer
 ·
Jake Spencer
 ·
Georgie Spinelli
Deceased and Presumed Dead Characters
Benny Abrahms
 ·
Bernie Abrahms
 ·
Dr. Rachel Adair
 ·
Diego Alcazar
 ·
Lorenzo Alcazar
 ·
Luis Alcazar
 ·
Sage Alcazar
 ·
Ruby Anderson
 ·
Dr. Andy Archer
 ·
Dominique Baldwin
 ·
Cooper Barrett
 ·
Alison Barrington
 ·
Amanda Barrington
 ·
Kiefer Bauer
 ·
Warren Bauer
 ·
Jesse Beaudry
 ·
Katherine Bell
 ·
Connor Bishop
 ·
Mary Bishop
 ·
Paige Bowen
 ·
Nurse Jessie Brewer
 ·
Nancy Brewer
 ·
Dr. Phil Brewer
 ·
Carter
 ·
Helena Cassadine
 ·
Irina Cassadine
 ·
Kristina Cassadine
 ·
Mikkos Cassadine
 ·
Stavros Cassadine
 ·
Stefan Cassadine
 ·
Tony Cassadine
 ·
Victor Cassadine
 ·
Stone Cates
 ·
Dr. Ryan Chamberlain
 ·
Dr. Silas Clay
 ·
Stephen Clay
 ·
Adela Corinthos
 ·
Lily Corinthos
 ·
Dr. Ian Devlin
 ·
Mickey Diamond
 ·
Ronnie Dimestico
 ·
Dr. Pierce Dorman
 ·
John Durant
 ·
Bill Eckert
 ·
Connie Falconeri
 ·
Andrea Floyd
 ·
Dr. Russell Ford
 ·
Dr. Steve Hardy
 ·
Peter Harrell, Sr.
 ·
Peter Harrell, Jr.
 ·
Abby Haver
 ·
Logan Hayes
 ·
Theo Hoffman
 ·
John Jacks
 ·
Aleksander Janacek
 ·
Victor Jerome
 ·
Stan Johnson
 ·
B.J. Jones
 ·
Georgie Jones
 ·
Tania Jones
 ·
Dr. Tony Jones
 ·
Dr. Ewen Keenan
 ·
Rafe Kovich, Jr.
 ·
Dr. Eve Lambert
 ·
Trevor Lansing
 ·
Duke Lavery
 ·
Dr. Cameron Lewis
 ·
Victor Lord III
 ·
Hope Manning-Thornhart
 ·
Reese Marshall
 ·
Courtney Matthews
 ·
Dr. Matthew Mayes
 ·
Danny McCall
 ·
Lila McCall
 ·
Nurse Leyla Mir
 ·
Trey Mitchell
 ·
Susan Moore
 ·
Chloe Morgan
 ·
Henry Nakamura
 ·
Dr. Lisa Niles
 ·
A.J. Quartermaine
 ·
Dr. Alan Quartermaine
 ·
Alexandria Quartermaine
 ·
Edward Quartermaine
 ·
Dr. Emily Quartermaine
 ·
Lila Quartermaine
 ·
Carlos Rivera
 ·
Faith Rosco
 ·
Manny Ruiz
 ·
Gabriel Santiago
 ·
Joe Scully
 ·
Joe Scully, Jr.
 ·
Kyle Sloane
 ·
Damian Smith
 ·
Frank Smith
 ·
Shirley Smith
 ·
Zander Smith
 ·
Lena Spencer
 ·
Pat Spencer
 ·
Siobhan Spencer
 ·
Tim Spencer
 ·
Olivia St. John
 ·
Nurse Diana Taylor
 ·
Martha Taylor
 ·
Dr. Peter Taylor
 ·
Tracy Taylor
 ·
Dr. Asher Thomas
 ·
Cole Thornhart
 ·
Nurse Amy Vining
 ·
Bradley Ward
 ·
Justus Ward
 ·
Mary Mae Ward
 ·
Dr. Rick Webber
 ·
Dr. Karen Wexler
 ·
Dawn Winthrop
 ·
Deke Woods
 ·
Dr. Maggie Wurth
 ·
Anthony Zacchara
 ·
Claudia Zacchara-Corinthos
Off-screen and Former Characters
Lila Rae Alcazar
 ·
Dr. Grant Andrews
 ·
Terri Arnett
 ·
Brook Lynn Ashton
 ·
Larry Ashton
 ·
Christina Baldwin
 ·
Dr. Gail Baldwin
 ·
Lee Baldwin
 ·
Serena Baldwin
 ·
Dr. Tom Baldwin
 ·
Brenda Barrett
 ·
Julia Barrett
 ·
Melinda Bauer
 ·
Shawn Butler
 ·
Gia Campbell
 ·
Peter Carroll
 ·
Dimitri Cassadine
 ·
Petros Cassadine
 ·
Jagger Cates
 ·
Lois Cerullo
 ·
Skye Chandler-Quartermaine
 ·
Dr. Linda Chu
 ·
Father Coates
 ·
Mike Corbin
 ·
Angie Costello
 ·
Blair Cramer
 ·
Jolene Crowell
 ·
Nurse Nadine Crowell
 ·
Dr. Rae Cummings
 ·
Marco Dane
 ·
Téa Delgado
 ·
Roy DiLucca
 ·
Anna Donely
 ·
Sean Donely
 ·
Tiffany Donely
 ·
Dr. Noah Drake
 ·
Dr. Patrick Drake
 ·
Taylor DuBois
 ·
Toussaint Dubois
 ·
Jenny Eckert
 ·
Sly Eckert
 ·
William Eichner
 ·
Angel Ellis
 ·
John Everett
 ·
Cesar Faison
 ·
Nurse Fletcher
 ·
Pres Floyd
 ·
Nurse Betsy Frank
 ·
Ivy Gatling
 ·
Nurse Audrey Hardy
 ·
Dr. Simone Hardy
 ·
Dr. Tom Hardy
 ·
Dr. Tommy Hardy
 ·
David Harper
 ·
Jimmy Lee Holt
 ·
Dr. Matt Hunter
 ·
Anton Ivanov
 ·
Lady Jane Jacks
 ·
Jerry Jacks
 ·
Terrell Jackson
 ·
Miranda Jameson
 ·
Frisco Jones
 ·
Dr. Leo Julian
 ·
Rose Kelly
 ·
Winifred Leeds
 ·
Guy Lewis
 ·
Victor Lord, Jr.
 ·
Ethan Lovett
 ·
Starr Manning
 ·
Todd Manning
 ·
John McBain
 ·
Colleen McHenry
 ·
Miguel Morez
 ·
‎Hope Morgan
 ·
Ken Morgan
 ·
Delores Padilla
 ·
Blackie Parrish
 ·
Nurse Penny
 ·
Grant Putnam
 ·
Celia Quartermaine
 ·
Burt Ramsey
 ·
Coleman Ratcliffe
 ·
Madeline Reeves
 ·
Cruz Rodriguez
 ·
Casey Rogers
 ·
Father Mateo Ruiz
 ·
Juan Santiago
 ·
Alec Scott
 ·
Hannah Scott
 ·
Jeffrey Scribner
 ·
Rebecca Shaw
 ·
Jennifer Smith
 ·
Lucky Spencer
 ·
Luke Spencer
 ·
Suzanne Stanwyck
 ·
Nurse Mischa Stephens
 ·
Holly Sutton
 ·
Marcus Taggert
 ·
Nurse Regina Thompson
 ·
Claire Walsh
 ·
Faith Ward
 ·
Keesha Ward
 ·
Dr. Maya Ward
 ·
Dr. Jeff Webber
 ·
Dr. Lesley Webber
 ·
Dr. Sarah Webber
 ·
Dr. Steve Webber
 ·
Dr. Britt Westbourne
 ·
Dr. Lainey Winters
 ·
Grace Yang
 ·
Johnny Zacchara
Crew
Shelly Altman (Head writer, 2011-2012, 2015-present)
 ·
Ron Carlivati (Head writer, 2012-2015)
 ·
Jill Farren Phelps (Executive producer, 2001-2012)
 ·
Robert Guza, Jr. (Head writer, 1996, 1997-2000, 2002-2008, 2008-2011)
 ·
H. Wesley Kenney (Executive producer, 1987-1989; Head writer, 1988)
 ·
Gloria Monty (Executive producer, 1978-1987, 1991-1992; Head writer, 1981)
 ·
Jean Passanante (Head writer, 2015-present)
 ·
Wendy Riche (Executive producer, 1992-2001)
 ·
Frank Valentini (Executive producer, 2012-present)
 ·
Garin Wolf (Head writer, 2008, 2011-2012)
Related Topics
List of cast members
 ·
List of current actors
 ·
History of General Hospital