This article is incomplete. Please edit this page and help bring it up to standards.
Reason: Only GH storylines through 1981 have been written up; not all What If storylines are written up; Needs YM, PC and NS storylines written up.
Please remove this template once this article is no longer incomplete.
General Hospital was created by Frank and Doris Hursley. The first episode aired April 1, 1963 on ABC.
Original cast
The first episode of General Hospital aired April 1, 1963 on ABC. This was the original cast.
Important crew
Creators: Frank and Doris Hursley
Executive Producer: Frank Valentini (2012-present)
Head Writers:

Shelly Altman and Jean Passanante (2015-present)


Former Executive Producers: Jill Farren Phelps (2001-2012)

 ·

Wendy Riche (1992-2001)

 ·

Gloria Monty (1991-1992)

 ·

Joseph Hardy (1989-1991)

 ·

H. Wesley Kenney (1987-1989)

 ·

Gloria Monty (1978-1987)

 ·

Tom Donovan (1975-1977)

 ·

James Young (1963-1975)

 ·

Selig J. Seligman (1963)


Former Head Writers: Ron Carlivati (2012-2015)

 ·

Garin Wolf and Shelly Altman (2011-2012)

 ·

Garin Wolf (2011)

 ·

Robert Guza, Jr. (2008-2011)

 ·

Garin Wolf (2008)

 ·

Robert Guza, Jr. (2007-2008)

 ·

Robert Guza, Jr. and Meg Bennett (2007)

 ·

Robert Guza, Jr. (2006-2007)

 ·

Robert Guza, Jr. and Charles Pratt, Jr. (2002-2006)

 ·

Megan McTavish (2001-2002)

 ·

Elizabeth Korte and Michele Val Jean (2001)

 ·

Robert Guza, Jr. and Meg Bennett (1997-2000)

 ·

Janet Iacobuzio and Christopher Whitesell (1997)

 ·

Richard Culliton and Karen Harris (1996-1997)

 ·

Robert Guza, Jr. and Karen Harris (1996)

 ·

Claire Labine (1993-1996)

 ·

Bill Levinson (1993)

 ·

Maralyn Thoma and Bill Levinson (1992-1993)

 ·

Maralyn Thoma (1992)

 ·

Norma Monty (1991-1992)

 ·

Gene Palumbo, Norma Monty, and John Whelpley (1991)

 ·

Gene Palumbo (1989-1991)

 ·

Ann Marcus and Norma Monty (1988)

 ·

H. Wesley Kenney (1988)

 ·

Ann Marcus and Norma Monty (1987-1988)

 ·

Pat Falken Smith and Norma Monty (1985-1987)

 ·

Anne Howard Bailey (1982-1985)

 ·

John William and Joyce Hooper Corrington (1982)

 ·

Thom Racina, Leah Laiman, and Robert J. Shaw (1981-1982)

 ·

Gloria Monty and Thom Racina (1981)

 ·

Pat Falken Smith and Margaret DePriest (1979-1981)

 ·

Douglas Marland and Frank Salisbury (1978-1979)

 ·

Douglas Marland (1977-1978)

 ·

Irving and Tex Elman (1977)

 ·

Richard and Suzanne Holland (1977)

 ·

Eileen and Robert Mason Pollock (1976-1977)

 ·

Richard and Suzanne Holland (1975)

 ·

Bridget and Jerome Dobson (1973-1975)

 ·

Frank and Doris Hursley (1963-1973)

 ·

Theodore and Mathilde Ferro (1963)
Storylines
1960s
Steve and Audrey Hardy
The early years of General Hospital revolved around the seventh floor of a hospital, the internal medicine department, in an unnamed mid-sized city in the Eastern US. Dr. Steve Hardy was the Chief of Internal Medicine and the main character of the show. Dr. Hardy spent what seemed like all his time at the hospital--his days, his nights, and even his weekends--seeing patients and completing paperwork. Because of all the time and attention he gave his work, his fiance Peggy Mercer left him for writer Roy Lansing in the fall of 1963.
Audrey March arrived in town in February of 1964. She came to visit her much older sister Nurse Lucille March, who was the senior nurse on the seventh floor, but decided to stay when she met Steve. They soon began to date. Steve and Audrey became engaged, then briefly broke up, but got back together when Steve helped Audrey recover from lymphoma. Steve and Audrey were then married in 1965.
Audrey was worried when she failed to get pregnant after two years of trying, so she secretly had herself artificially inseminated. When Steve found out, he felt betrayed and moved out. Steve later came around though, but when Audrey miscarried, she was devastated and filed for divorce. She then left town and went to Vietnam.
Audrey returned after six months and got a job as a pediatrics nurse at the hospital. Steve, however, had moved on with hospital volunteer Denise Wilton. Audrey, trying to prove she was over Steve, married Dr. Tom Baldwin. She was still in love with Steve though and couldn't bring herself to consummate the marriage. Tom raped her, and when she found she was pregnant, Audrey sued Tom for divorce and left town again.
Jessie and Phil Brewer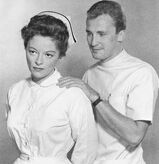 Steve Hardy
was good friends with Nurse
Jessie Brewer
, who was having problems in the love area herself. She and her husband Dr.
Phil Brewer
, who was seven years younger than she, had been drifting apart, partly due to his affair with the younger Cynthia Allison, who was engaged to Dr. Ken Martin. Phil finally confessed to his affair with Cynthia, and Jessie filed for divorce. The couple though came back together when Jessie found out she was pregnant, then broke up again when she miscarried the baby on July 24, 1964.
Phil then raped Jessie, and he left town. Jessie then found out she was pregnant, and lawyer and addiction counselor Lee Baldwin, who had long loved Jessie, offered to marry her. They planned to marry the day that Jessie and Phil's divorce was finalized. Plans changed, however, when Nurse Lucille March told Phil that Jessie was pregnant and he came back to town. She vowed to go through with the marriage to Lee, but on the day before their wedding, Jessie went into labor, and she was still legally married to Phil.
Their daughter Nancy was born with a heart condition, and she died on July 27, 1966. Their divorce finally went through, and Phil moved to San Francisco.
After divorcing Phil, Jessie dated obstetrician Dr. John Prentice and married him. John was very ill and dying. His twenty-year-old daughter Polly Prentice resented John rewriting his will to give Jessie everything. Days later, John was dead. Jessie was put on trial, along with Dr. Tom Baldwin, with whom Polly had revealed Jessie had had an affair, for the murder of John Prentice. Jessie and Tom were found guilty, but Phil returned to town, pledging to prove Jessie innocent. Tom got Polly to confess to her father's murder, and Jessie and Tom were set free.
Thinking Phil had changed, Jessie remarried him. She was wrong though, and Phil started having an affair with Polly. Phil and Polly were in a car accident and Polly miscarried a baby she claimed was Phil's. Charges were brought against Phil, and he fled town. Months later, in November of 1969, Phil was presumed dead when a "P. Brewer" was listed among the dead in an airplane crash in South America.
Psychiatrist Dr. Peter Taylor came to town and took a liking to Jessie, and they eventually married. Phil, however, was not actually dead.
Angie Costello and Eddie Weeks
Steve Hardy's first patient at General Hospital was teenager Angie Costello, who had been in a bad car accident when her boyfriend Eddie Weeks had decided to drive drunk. Angie's face was badly disfigured and it took surgeons hours to repair the damage. Angie was despondent and contemplated suicide. Steve and nurse Jessie Brewer, however, talked her out of it. Angie was then called to testify against Eddie in his drunk driving trial. She admitted on the stand that he had had a few beers before getting behind the wheel, and that helped the prosecution get a guilty ruling. Eddie was sentenced to probation and the young couple broke up.
Angie, however, found out she was pregnant and Jessie calmed and comforted her. Angie gave her son up for adoption to Janet Fleming. Then, two years later, Angie and Eddie started dating again and decided they wanted their son back. When Janet wouldn't give the baby back, the teenagers kidnapped him. When they were caught, Lee Baldwin defended them, and they were sentenced to probation, and they had to give the baby back to Janet.
Lee and Meg Baldwin
In the summer of 1966, a widowed nurse named Meg Bentley came to town with her young son Scotty and her seventeen-year-old stepdaughter Brooke. Lee Baldwin liked Meg and they became great friends, but Meg became engaged to Dr. Noel Clinton. Noel, however, shocked Meg when he left her for Brooke the day before their wedding. Meg then turned to Lee and they began to date. Late in 1966, Meg and Lee married, and Lee adopted Scotty.
Meg, however, started getting paranoid that Lee was having an affair with her nursing school friend Iris Fairchild, who was working for Lee as his secretary. Lee and Meg briefly separated, but got back together after Lee donated his kidney to save Scotty's life.
1970s
Audrey Hardy Baldwin Hobart
In February of 1971, Audrey Hardy Baldwin returned to Port Charles, without the baby she was pregnant with when she left town two years earlier. She claimed her baby was stillborn. Audrey, who was still legally married to Tom Baldwin, was not telling the truth however. In actuality, her baby, whom she called Stevie, was living across town with Peggy Nelson.
Audrey thought that if Tom knew the baby was alive, that he would never give them up and contest the divorce. Audrey planned to tell Steve Hardy that Peggy's child was a foster child and, after divorcing Tom, she would marry Steve and they would adopt him. Peggy, however, found out about the plan and started blackmailing Audrey. If Audrey didn't pay Peggy $500 a month, Peggy would reveal the truth about Stevie.
On the night of September 24, 1971, Audrey came home with Stevie and a gun. She was agitated and panicking. She put the gun in the water tank of the toilet. Across town, Peggy was lying dead from a gunshot wound. The truth about Stevie came out and all the evidence pointed to Audrey being the murderer. Audrey, however, adamantly told Steve that she was innocent, and he believed her. In the end, Peggy's ex-husband Arnold Nelson was revealed as the true murderer.
Seeing as the truth was out, Audrey had to go back to her marriage with Tom. Stevie was renamed Tommy, and Tom eventually kidnapped Tommy and fled to Mexico. Months later, a nanny, Florence Andrews, brought Tommy back to Audrey, saying Tom had died. After Tommy came home, he fell ill and needed open-heart surgery. Dr. Jim Hobart saved young Tommy's life. Audrey was so grateful that she started dating Jim, and later married him.
In 1976, Audrey's marriage to Jim was failing. He started an affair with medical student Sally Grimes, and Audrey turned back to Steve for support. After Jim left her, a depressed Audrey took a bunch of sleeping pills. Steve came in, found her, and rushed her to GH, where she pulled through.
One day, Audrey went into Steve's office and declared her love for Steve, and he returned her feelings. Steve was so excited, he ran out of his office and fell down the stairs. After touch-and-go surgery, Steve was rendered paralyzed. He declared that he would not marry Audrey until he could walk down the aisle with her.
Audrey and Steve planned to remarry, the problem, though, was that Tom Baldwin was not actually dead. He was actually in a prison in Mexico for a murder he didn't commit. When Steve was able to walk again, they remarried. When they returned from their honeymoon, they found Tom back in Port Charles. He said he didn't want any trouble, he just wanted his son.
Seeing as Tom was back, Audrey was conflicted as to what to do. Tom said he was still in love with Audrey, and Tommy wanted his parents back together. Audrey, however, was in love with Steve. Audrey refused to resume her and Tom's marriage, and Tom said he'd leave and go to Salt Lake City, but that he was taking Tommy with him. Tommy ran away and, seeing the strain he was putting on his son, Tom reluctantly divorced Audrey and left town without Tommy.
Audrey and Steve were finally legally married in the autumn of 1977.
Lee Baldwin
In 1970, Brooke came to live with Lee and Meg Baldwin after her marriage to Noel Clinton broke up. Meg then was diagnosed with breast cancer and had to undergo a radical mastectomy. Meg became increasingly jealous of Brooke and had a nervous breakdown. Lee was then forced to institutionalize her.
After Meg was released from the institution, she suffered from a severe case of hypertension. Dr. Lesley Williams was assigned to Meg's case. Meg became increasingly jealous of Lesley and paranoid that she was after her husband. One day, Meg lashed out at Lee and died of a stroke.
Adoption agent Caroline Chandler came to town and got reacquainted with her old friend Lee. They began dating and then married.
Lee returned to Port Charles in 1977 to help his brother Tom Baldwin with his custody battle with Audrey Hardy. He intended to go back home to Florida, but he got word that his wife Caroline and her son Bobby were lost at sea. After going back to Florida briefly to make funeral arrangements, Lee returned to Port Charles.
Upon his return, he befriended Dr. Gail Adamson. Seeing as Lee was grieving his wife and stepson, Gail contacted Lee's adopted son Scotty, asking him to come back to town.
The Brewer-Taylor quadrangle

After recovering from the plane crash in Venezuela,
Phil Brewer
sneaked back into town wearing a beard and using the alias Harold Williamson, believing he was still wanted for the murder of Polly Prentice. He took a job as a dishwasher at a restaurant and started a relationship with
Diana Maynard
. He still longed for
Jessie
, but knew he couldn't be with her.
Diana found out Phil's true identity, but chose to keep it a secret, as well as not telling Phil that the charges against him had been dropped. Phil, though, found out the truth on his own when he searched through old newspapers at the library. He was then angry at Diana for keeping this information from him.
Phil went to see Jessie, but when he saw her with her new husband Peter Taylor, he sped off, only to crash his car. He lay in his hospital bed, covered with bandages. After delicate brain surgery, his bandages were removed, and Jessie saw and recognized him. While Phil was in the hospital, Diana found out she was pregnant with his child.
Jessie, however, went back to Phil, and Diana and Peter turned to each other. Phil found out the baby was his, and left Jessie, wanting to be with Diana. Diana, however, loved Peter and soon married him and then gave birth to Phil's son, whom she named Tracy Taylor. Diana hated Phil so much that when Tracy came down with pneumonia, she refused to take him to the hospital, knowing she'd run into Phil. Because of this, Tracy died.
Phil became increasingly obsessed with Diana, and one night, he raped her. Diana, however, kept it a secret from Peter, fearing repercussions. Diana then found out she was pregnant again, with Phil's baby. She gave birth to Martha Taylor, and Phil left for Africa. When the secret came out, Peter rejected Diana, feeling betrayed, and Diana filed for divorce.
In Africa, Phil still longed for Diana. He got Nurse Augusta McLeod, Nurse Jane Dawson's cousin, to help him. Augusta seduced Peter, and Diana struck up a relationship with Dr. Joel Stratton. The couple was heading to divorce, but at the last minute, reconciled. Due to the reconciliation, Augusta told Phil he needed to return to town. Augusta needed Phil's help to break them up because she was pregnant with Peter's child.
When Phil arrived, in front of the seventh floor nurses' station, he told Peter that Augusta was pregnant with his child. Phil threatened to tell Diana, and Peter knocked down Phil and loudly shouted for him to stay away from Diana or he would kill Phil. Later that night, December 6, 1974, Phil was found dead. There were many suspects, but Jessie Brewer was charged with the murder. Before Jessie went to trial, Diana confessed to the murder and produced the murder weapon, a blood-stained geode. Diana was finally exonerated when Jim Hobart remembered seeing August McLeod with Phil that night.
Augusta confessed and went to prison, where she had her baby, who was placed in a foster home.
The Dawsons
Nurse Jane Dawson was married to Howie Dawson, who often would cheat on her and gamble away their money on horse races, but Jane always forgave him because she loved him so much. Howie didn't want children, so without his wife's knowledge, he underwent a vasectomy. This caused Jane to nearly divorce him, but she forgave him when he told her it would never happen again and he had it reversed.
The Dawsons then had a daughter, named Joanne. Howie, however, continued his old ways. When he played around with Brooke Clinton, Jane finally had had enough. She told him she wanted a whole marriage, or none at all. Howie decided to leave Brooke. He took her out to one last dinner, but after he dropped her home, she was murdered by her other boyfriend and ex-boss Burt Douglas. Howie was the main suspect in the murder case, but was exonerated when he recalled seeing Burt that night.
In 1974, Howie quit his job and left town, leaving Jane relieved. He returned only once when his infant daughter Joanne died. Jane then fell for Dr. Henry Pinkham, whose wife Sharon had left. The couple decided they needed a fresh start, so they both transferred to Mercy Hospital.
Laura Vining Webber Baldwin
Getting Laura back
Dr. Lesley Williams' first patient at General Hospital was Mrs. Florence Grey. Florence revealed her marital woes to psychiatrist Dr. Peter Taylor. She told him how her husband Gordon Grey was a professor and had had an affair years before with a student, who had gotten pregnant. She said that a baby girl was born and died soon after. Peter informed Lesley of this, not thinking anything of it, and Lesley knew that she was the student Florence spoke of. Lesley then couldn't stop thinking about her daughter.
Lesley started dating millionaire Cameron Faulkner. The couple got married and a patient named Doris Roach told Lesley that she had been a nurse where she had given birth to her daughter. She said that the baby did not die like Lesley thought. Instead, Lesley's father had paid her to switch the baby with the body of a dead baby at the clinic.
With this new information, Lesley was determined to find her child. Cameron hired Mac McLaughlin to find the child. He found twelve-year-old Laura Vining living with her parents and younger sister Amy Vining just a few miles away. Lesley went to a candy store where she saw Laura. She then struck up a friendship with Laura, buying her lunch and presents.
Laura's parents Barbara and Jason Vining were curious as to what Lesley wanted with their daughter. When the truth that Lesley was her biological mother came out, they vowed to not let Laura go. A custody battle ensued. The judge gave temporary custody to Lesley, so that Laura could choose with whom she wanted to reside.
Laura had a hard time choosing between the Vinings and the Faulkners. She started suffering from high fevers and convulsions from being under such great emotional pain. Lesley decided to drop the custody suit and return Laura to the Vinings to avoid further emotional pain. Lesley remained obsessed with her daughter though. Laura suffered another attack, and Barbara asked Lesley to remain in Laura's life.
Cameron was very jealous of the time Lesley spent with Laura instead of him. When Laura decided to spend the summer of 1976 with them, he declared that it was time to get her out of their lives for good. Cameron paid Margaret Clifford, another former nurse at the clinic where Laura was born, $10,000 to tell Lesley that Doris Roach had lied and that Laura is not actually her daughter. Lesley decided to go to Barbara and tell her what she was told, but when she got there, the house was deserted. Lesley then found a check for $25,000 from Cameron to Barbara. Cam realized that his plan was exposed and exploded. He brutally raped Lesley, then kidnapped her. In the car, Lesley grabbed the steering wheel, causing it to crash, killing Cameron.
In 1977, Rick Webber grew closer to Lesley as they went out to look for Laura. In Detroit, they found information that led them to Canada. There, Barbara dragged the now teenage, rebellious Laura away from a commune. Laura shouted at both of her mothers that she didn't want either one of them. Rick succeeded in getting Laura away from the commune and was able to bring her back to Port Charles where he got through to her that both of her mothers loved her. Laura then went to live with Lesley, and Rick adopted her after he married Lesley.
In September of 1977, Laura's adoptive father Rick's old friend David Hamilton came to live with them after he lost his wife and kids in a hurricane. Laura adored David and they struck up a friendship, which worried Laura's mother Lesley. Laura suffered from a severe case of growing pains. She accused Rick, Lesley, and her boyfriend Scotty of treating her like a child. She said that David and Dr. Monica Webber treated her like an adult. Laura then convinced Monica to give her birth control pills.
After David made a pass at Lesley and she rejected him, he moved on to the impressionable Laura. He seduced her, and Laura started an affair with the much older David. Laura began neglecting her schoolwork, family, and friends. Laura begged David to take her away from Port Charles. She went to meet him, and David screamed at her that he didn't want her, he had always wanted her mother. Laura was furious and pushed David, who fell and hit his head on the fireplace hearth, killing him.
Lesley confessed to the murder to protect Laura. Laura, however, had blocked the incident from her mind and didn't remember any of it. Lesley was indicted by a grand jury, but before she could stand trial, Laura remembered what happened and confessed, freeing Lesley. Laura was sentenced to probation.
Laura, Scotty, Bobbie, and Luke
Scotty Baldwin had gotten a job at General Hospital as a clerk and met teenager Laura Webber. They soon started dating, but broke up when she moved to David Hamilton. After Laura was sentenced to probation for his murder, she and Scotty started dating again.
In 1978, Nurse Bobbie Spencer came to town and quickly took a liking to Scotty. Laura, however, was in the way. Bobbie set out to break the young couple up, so that she could have Scotty to herself. After one of their arguments, Bobbie comforted Scotty and took him home to her rooming house, which was forbidden. Because of this, she was evicted, and moved in with Jessie Brewer.
Scotty and Bobbie then began to sleep together, but he decided to spend more time with Laura, and Bobbie didn't want to hear it. She said that Scotty was the first man she ever slept with that she truly loved, since she had a past as a prostitute. When Scotty left Bobbie for Laura, she called her older brother Luke Spencer to come and help her get Laura out of the way.
Bobbie got Luke to tamper with Scotty's car so that the couple would be out past Laura's curfew for her probation. She then called Laura's probation officer, John Higgins, alerting him of the violation. Bobbie and Luke tried scheme after scheme to get Laura sent to reform school, and if they didn't work, she thought, she'd get pregnant with Scotty's child.
Early in 1979, Bobbie faked a pregnancy. She even faked a positive pregnancy test to convince Scotty. She tricked Scotty into a marriage proposal, and it seemed that Bobbie would finally have her man. But, Lesley found out about Bobbie's scheming, and revealed the truth to Scotty days before their wedding. Scotty left Bobbie and went back to Laura.
Laura and Scotty planned for a June wedding, but her parents were against it. They felt Laura was still too young to get married. Laura became disillusioned as the wedding date approached and little had been done. She returned the engagement ring to Scotty, only for Bobbie to get Roy DiLucca to steal if from him for her next scheme to get Scotty.
Bobbie convinced the bartender at the Campus Disco to slip Scotty a mickey, and then she took him back to his place. When Laura arrived, Bobbie made it appear that they had been having sex and put Laura's engagement ring on her finger. Then, she opened the door. When Laura saw the scene, she ran out, but she and Scotty did get back together and had their June wedding.
Scotty found himself working all the time and had little time for his new wife Laura. Bored, Laura convinced Luke to give her a job as a waitress at the Campus Disco, which he managed. Luke had fallen in love with Laura the moment he saw her months before. Luke and Laura soon became friends.
Although Luke was no stranger to petty crimes, and had ties to mobster Frank Smith, Laura saw the good in him. Luke quickly became obsessed with Laura and he started having dreams about her. Laura, too, became fascinated with Luke.
One time, Luke confessed intimate feelings to a shocked Laura. He pulled back and promised they'd be just friends. Luke had been working for Frank Smith, and to test his loyalty, Frank asked Luke to assassinate Mitch Williams, who was running for Senate, on election night. This was a certain suicide mission, and Luke knew he was marked for death.
One night, after Laura had had an argument with Scotty, a drunk Luke came to her at the Campus Disco after closing. He cried to her that he was going to die in a month. Feeling his life and dreams were over, and in an outpouring of love, jealousy, obsession, sexual tension, and rage, Luke confessed his feelings to Laura. Laura became frightened at how Luke was acting and talking. He then pulled her to the floor, where he raped her.
Luke immediately regretted what he had done. Laura told a police officer she had been raped, but she didn't tell anyone that it was Luke who had done it. Roy DiLucca was a suspect, and Laura saved him by giving a false description of her rapist. Laura also kept her job at the Campus Disco, which undoubtedly was awkward and uneasy for both Luke and Laura. Luke and Laura ironically remained friends, as Laura struggled to figure out whether Luke actually brutally raped her, or if she encouraged him.
The Webbers
In March of 1976, Terri Arnett came to town after the death of her father Dr. Lars Webber and his wife Helen. Terri's younger brothers were Drs. Rick and Jeff Webber. Their father, Lars, was an old friend of Dr. Steve Hardy. Rick volunteered for a six-month medical stint in Africa, where he was reported dead after a small plane crashed. Jeff and his wife Monica both graduated from medical school and got jobs at General Hospital. Monica had previously been engaged to Rick, but moved on to his younger brother Jeff after hearing of Rick's death.
Jeff, Rick, Monica, Lesley, and Heather
Jeff feared that everyone at the hospital compared him to his late brother, Rick. Jeff began making errors at the hospital and Steve Hardy accused him of being hung up on the ghost of his dead brother. Rick, however, was not actually dead. He was being held against his will in Africa. When his prison was hit in a bombing raid, he was set free. Jeff had mixed emotions when he found out his brother was coming home. He was worried that he would come back for Monica, which was in deed Rick's plan.
Upon Rick's return, a complicated love triangle ensued between Monica and the brothers. One night, Monica and Rick proclaimed their love for each other. They knew they couldn't act on their love though since Monica was married to Jeff, and they tried to stay away from each other. Rick confided in Dr. Mark Dante, who advised him to get a new girl in order to get over Monica.
Monica and Jeff's marriage was in shambles. Monica wanted to divorce, but couldn't without Jeff's consent. So, she refused to sleep with him. Then the scheming Heather Grant set her sights on Jeff. She went out of her way to be near him. Heather found a letter from Rick to Monica and arranged for Jeff to find it. Jeff got suspicious of Rick and Monica's relationship and started using a variety of pills to sleep, stay awake, and numb pain. Jeff finally confronted Monica with the letter and grabbed her. Monica ran off to Rick's and purposefully tore her dress, telling Rick that Jeff did it to her. The two then made love.
Rick had moved into an apartment in the same building as Lesley Faulkner, and the two had become close friends. Lesley found out she was pregnant with her late-husband Cameron's baby from the night he raped her. Lesley was falling in love with Rick, and when Monica found out that Lesley was pregnant, she assumed it was Rick's, until Terri set her straight. Fearing Lesley was moving in on Rick, Monica confronted her. She told Lesley to stay away from Rick, that they were having an affair.
Heather, meanwhile, had decided to seduce Jeff and get pregnant with his child. She wanted to give him what he wanted: sex, marriage, and a baby. Heather arranged for Jeff to find out that Monica had spent the night at Rick's, hoping he'd turn to her, especially since she had found out she was pregnant with his child. He didn't, however. He instead disappeared. He was found at a bar, drunk, despondent, and high on amphetamines. Jeff spent the night in the back there, and when Mark Dante came to get him the next day, a gunshot was heard. Jeff was found in the back with a self-inflicted gunshot wound to his head.
Jeff's suicide attempt caused everything to change. Rick told Monica what happened and promptly ended their affair. Terri told Steve Hardy that there was a letter that their late mother Helene had written and she was instructed to only get it out of the safe deposit box in the case of a life and death crisis for Jeff. Steve assured her, however, that Jeff would pull through, and he did after major surgery, so the letter stayed unopened. However, while Jeff was in a coma and took an unexpected turn for the worse, Terri and Steve went to retrieve the letter.
There were actually two letters, one to Terri, and one to Steve. In the one to Terri, it was revealed that Helene and Steve had been high school sweethearts and how Helene had divorced Lars and went back to Steve for a short time. Helene said in the letter that she and Steve had agreed to marry after he returned from the Korean War. The letter to Steve revealed that Helene had gotten pregnant with Jeff during that time, and when Steve was reported MIA, she went back to Lars, keeping Jeff's paternity a secret.
Jeff then woke up from his coma. Steve shared the news of Jeff's paternity with Audrey, but they kept it a secret from everyone else. Jeff and Monica resumed their marriage, but Heather still wanted Jeff. When Jeff found out that Heather was pregnant with his child, he asked her to either give the baby to him and Monica, or have an abortion. Heather would do neither. She planned on selling the baby to Diana and Peter Taylor, who wanted a sibling for their daughter Martha.
Since Rick and Monica had ended their affair, he got closer to Lesley. He was helping her look for her daughter Laura, whom they found in Canada. After they returned to Port Charles, Rick got through to the troubled teen that her mother Lesley and her adoptive mother Barbara both loved her. Lesley was deeply touched by this. Rick proposed marriage to her, and Lesley admitted she was in love with him, and accepted his proposal.
Monica was shaken when she heard Rick and Lesley were getting married, so she asked Jeff for a divorce. Then Jeff asked Heather to marry him on the rebound. Heather accepted, but when her ex-husband Larry Joe told Jeff of her scheming ways, he broke things off with her and Heather left town. Diana was devastated that she wouldn't get the baby Heather had promised her.
Monica wanted Rick more than ever and went to confront Lesley. She told Lesley that if she didn't break things off with Rick, she would go public with their affair and ruin Rick's career. Monica stormed out and Lesley then fell down the stairs, suffering a miscarriage. Lesley was devastated and left town, but upon her return, Rick convinced her that they belonged together, and the two were married in 1977.
Heather gave birth to her and Jeff's son, Steven Lars Webber, took $500 from Jeff, and fled to New York City. Her landlady Edna Hadley helped Heather sell Steven Lars to the Taylors for $10,000. The Taylors would not know that the baby was in fact Heather's. Heather though only got $1800 of the $10,000 because of money she had to pay Edna and the lawyer they hired. Heather was angry at how little money she got and wanted her son back, but was unable to get him.
When Jeff went to find Heather in New York City, she told him that Steven Lars had died. He was devastated and asked her to marry him, and she accepted. Back in Port Charles, Heather began to spend a lot of time with the Taylors' newly adopted son P.J. She became the Taylors' nanny and no one knew she was actually P.J.'s birth mother.
Heather's mother Alice Grant soon realized the baby's true identity, and Heather thought about leaving town, but Jeff offered her a job at the hospital, and she decided to stay. Jeff and Heather were married in 1978 and she then found out she was pregnant again.
In 1979, an epidemic of Lassa Fever broke out, forcing the hospital to be quarantined. Steve Hardy fell ill, and, thinking he was dying, Audrey revealed the truth to Jeff about his paternity. The truth shook both Jeff and Rick. Jeff spun out of control, and Rick started neglecting his hospital duties.
As Rick was reeling over learning that Jeff was not Lars' son, Monica comforted him. He and Monica, who was now married to Alan Quartermaine, tried to control their feelings, but one night, they slipped and made love. Rick later, however, broke things off with Monica for good, going back to Lesley.
After Heather stepped up her plan to win back Steven Lars by trying to make Diana go insane and trying to slip her LSD, Jeff had her committed. Jeff then found solace in his newly found father Steve Hardy. Peter then learned from Heather's mother Alice the truth about P.J. Peter, however, died shortly after. Diana found out the truth when she found a note Peter had written that said "P.J. is Steven Lars."
Monica was pregnant, with what she thought was Rick's baby. Lesley helped deliver the baby in a difficult delivery at the Quartermaine Mansion. During the delivery, Monica was delirious and said that Rick was the father. Rick later confessed to Lesley that he had slept with Monica, and Lesley told Rick that she already knew. They separated, but agreed to not divorce.
Mark Dante and Terri
Mark was in a love triangle with Rick and Jeff's sister Terri. He couldn't act on his feelings for Terri because he already had a wife, Mary-Ellen, in an asylum back in Boston. Mark then brought Mary-Ellen to town and put her in a sanitarium outside of town. When Mary-Ellen found out about her husband's passion for Terri, she vowed to keep them apart.
Mary-Ellen was released from the sanitarium in 1977 and wanted to get Terri away from her husband. She had her chauffeur Lenny rig the breaks on Terri's car so that she would crash. After the crash, Mark had to perform heroic surgery on her to save her life. When Terri remembered fighting with Mary-Ellen before the crash, she threatened to tell Mark. Mary-Ellen then slashed her wrists in a suicide attempt, and Terri backed down. Terri left Mark in fear of what Mary-Ellen might do if she didn't. Terri then left town.
Alan and Monica Quartermaine
Rick Webber decided to build a new cardiac wing at the hospital. He contacted Dr. Alan Quartermaine to help finance it. When Alan arrived late in 1977, Monica Webber took notice. She was very attracted to the tall and handsome, and wealthy, doctor.
At first, Monica and Alan were very combative with each other. They disagreed on pretty much everything. But then, it waned and changed into romance in early 1978. Alan had planned for his visit to Port Charles to be brief, but decided to stay when he fell in love with Monica and married her. Soon after, Alan's upper crust and eccentric family came to town as well.
It didn't take long for Alan's insecurities to come forward when Rick and Monica developed a close working relationship. Monica assured Alan she was over Rick, but Alan wasn't so sure. It intensified when Monica and Rick began getting even closer and Alan started getting even more suspicious. Monica did finally have an affair with Rick in 1979, which she hid from Alan.
Monica and Alan separated, but when Rick told Monica that they were definitely over, Monica didn't know what to do. She decided to go back to Alan, but found that she was pregnant, and she believed the father to be Rick.
Alan's sister Tracy was scared that, since her older brother was now having a child, his child would inherit the Quartermaine fortune, instead of her son Ned Ashton. So, Tracy decided she had to prove that the father of Monica's baby was Rick, not Alan.
One December night, during a snowstorm, Monica went into labor. The phone lines were down, and the electricity was out, but Lesley Webber and Gail Baldwin showed up. Monica had a long and difficult premature, breech delivery, but Alan Jr. was born. Delirious during the delivery, Monica muttered that Rick was her baby's father, which she did not remember saying later, and did not tell anyone else.
1980s
Alan and Monica's marital woes
In 1980, Rick Webber had a malpractice hearing, where he had to confess under oath details of his affair with Monica Quartermaine. Alan was able to get his hands on the deposition from the hearing and began to terrorize Monica, which panicked her. She couldn't tell whether Alan actually knew about her affair. Alan then found out that Alan Jr. was Rick's son when the baby developed a heart problem. Seeing lab results, Alan noticed that the child had the same blood type as Rick.
Not letting anyone know he knew about the affair and Alan Jr.'s paternity, Alan came up with a plan to kill Rick and Monica. He built a nursery in the attic of the Quartermaine Mansion, and rigged the roof to collapse. During Alan Jr.'s christening, Alan sent Rick and Monica to see the nursery. Alan then realized that Lee Baldwin suspected that Alan was up to something. Panicking, Alan rushed up to the attic nursery and pushed Rick and Monica out of the way as the roof came crashing down. Everyone viewed Alan as a hero, but Alan's sister Tracy was convinced that Alan had tried to kill Rick and Monica.
Rick wanted to claim his son, and vowed to tell Alan the truth, not knowing that Alan already knew. Rick's wife Lesley supported him, and filed for divorce so that he could marry Monica. Rick then told Alan about his affair with Monica and that Alan Jr. was his son. Alan pretended he was surprised, then privately vowed to kill Rick and Monica. Alan secretly bought a gun and started taking target practice in the basement of the mansion.
One day, Alan followed Rick and Monica to a cottage they rented, believing they were going there to make love. He waited a while, then started up the stairs with the gun. The cottage then exploded due to an unknown gas line break. The explosion knocked Alan off the stairs and Monica found him lying there with the gun nearby. She knew he had tried to kill them.
Monica then realized that Alan Jr. had a birthmark just like Alan's, and Alan's mother Lila informed her it was a family trait. Monica took Alan Jr. to a hematologist where, through finding he had a rare blood phenomenon, she found out that the baby really was Alan's. Monica still wanted to leave Alan and marry Rick, so she got him to confess that he had tried to kill them, and got it on tape.
Seeing that she could ruin him with the taped confession, Alan agreed to let Monica go. But, the hematologist, Dr. Henry, told Alan that the baby was actually his. Alan then announced in front of the entire hospital at an event that Alan Jr. was his son. Rick then rejected Monica, and Monica reluctantly went back to Alan.
In 1981, Alan agreed to finance Susan Moore's purchase of the Campus Disco from Frank Smith, who was now in prison. Monica saw Alan's spending time with Susan as the beginning of her freedom from Alan, and freedom to be with Rick. Rick, however, was getting closer to his ex-wife Lesley, though. Feeling rejected by Monica, Alan turned to Susan and the two started an affair.
Susan quickly became pregnant and went to New York to secretly have their baby, Jason. Alan thought divorce from Monica was out of the question, because he knew Monica would fight for custody of his son Alan Jr. Monica and Alan came together again when Alan Jr. had a recurrence of his heart ailment and needed surgery. Their reunion ended though when Alan found out that Monica had hired private investigators to investigate him.
Alan tracked down Susan and persuaded her to bring baby Jason back to Port Charles. Alan, however, was still reluctant to divorce Monica, fearing a custody battle. Through the private investigators, Monica found out about Alan's secret son Jason and confronted Alan. She demanded that he give her full custody of Alan Jr. or she would create a public scandal for him.
Rick and Lesley Webber
In 1980, Lesley left Rick when he thought he was the father of Monica Quartermaine's son, Alan Jr., so that he could marry Monica. Monica, however, found out that the baby was actually her husband Alan's. Rick and Lesley began setting up a new clinic together and became close again.
In 1981, they planned to remarry, and they also planned to open a new waterfront sports center. They also began proceedings to adopt a little boy, Mike.
Luke and Laura
Summer on the run
In 1980, despite everything that had happened between Luke and Laura in the months before, namely the rape, they still remained drawn to each other. Laura's husband Scotty, however, was growing closer to the truth about Laura's rape. Luke loved Laura, but dated Jennifer Smith, Frank's daughter, in an effort to forget his feeling for her. Whenever Laura saw them together, she would become jealous.
One night, Laura accidentally locked herself in Luke's closet at the Campus Disco. While in there, she overheard a conversation between Luke, Frank, and Frank's right-hand man Bill Watson. The mobsters discovered Laura had heard their incriminating conversation and Frank marked Laura for death. Luke certainly didn't want Laura dead, so he agreed to marry Frank's daughter Jennifer in exchange for Laura's life.
As Luke and Jennifer's wedding day approached, Jennifer invited Laura to go sailing with them. Luke had his sister, Bobbie, delay Scotty and Jennifer so that he could have some time alone with Laura on the boat. While on the boat alone, Luke and Laura professed their love for each other. Luke was startled when Laura reciprocated his feelings and sent her away. Laura ran off, ashamed of her feelings. Laura then wrote a letter of release to Luke, but it sounded like a love letter. On the wedding day, Scotty found it, and in it, found out Luke was the one who had raped Laura.
In exchange for marrying his daughter, Luke asked Frank to give him a contract giving him title to his legitimate businesses. Luke was able to get a hold of Frank's little black book, which consisted of the key players in the local mob, and photograph it, but it was coded. Luke, tried to blackmail Frank and demanded that Frank draw him up a new contract and no one would ever see the photographs. Instead, Frank told him that he couldn't get out of marrying Jennifer and if he caused any more trouble for him he would be a dead man.
Knowing that Luke had raped Laura, Scotty got on board the boat where the wedding was to take place and got into a fistfight with Luke. Luke plunged overboard and was briefly presumed dead. Laura stood on the dock and a hand grabbed her leg. It was Luke, begging for help.
Feeling her marriage was over, Laura ran away with Luke. They ran from a hitman named Hutch, whom Frank had hired to kill them, and were on a mission to decode the black book and solve the mystery of the left-handed boy. Luke had overheard Frank talking about the left-handed boy, but he didn't know who, or what, it was. He only knew that the left-handed boy could break the power of the local mob.
While on the run, they rented a room in Beechers Corners and Laura draped a blanket over a rope between their sides of the room. Luke loved Laura, and Laura told Luke she loved him for the first time. Luke wanted Laura, but agreed to wait until she was ready.
They went on to Fair Oaks, where Luke saw a statue named the left-handed boy. The inscription on the statue helped him decode the black book. In the statue, Luke found Frank's private stash of gold. There was a shootout at the statue between Luke and two hitmen, and Luke was hit. Laura rushed over to him, to discover Luke was wearing a bullet proof vest. They went back to Beechers Corners, where the makeshift wall came down and they shared a night of passion.
When they returned to Port Charles, Luke was saddened when Laura told a crowd of reporters that she was still Mrs. Scott Baldwin. Laura went back to her apartment to ask Scotty for a divorce, but found that he had already left her. She then tried to contact Luke, but he had vowed to not let Laura back into his life.
New life together
In 1981, Laura dated an Australian man who had come to town named Robert Scorpio for a short time, and purposefully made Luke jealous. Later, Laura confessed to Luke that she had lied about the rape and that she really loved him that night, but was too naive to admit it to anyone, even herself. Luke couldn't respond to her confession.
Later, Luke took Laura out and asked him to marry her, which she promptly accepted. Laura then put ads in newspapers looking for Scotty so that she could divorce him.
After the Ice Princess saga, Luke and Laura hurriedly planned a November wedding. Laura was still legally married to Scotty, however. He agreed to a divorce, but Laura had still not received the papers two days before the wedding. It turned out that Scotty's alcoholic father Lee had burned them because he was bitter over Laura's betrayal. Laura decided to go through with the wedding, getting an ex-parte divorce, risking Scotty contesting it.
They were married November 16, 1981 on the lawn of the mayor's mansion. Unbeknownst to them, Mikkos' widow, Helena Cassadine watched them say their vows from afar and vowed revenge on them for killing her husband. At the reception, Scotty showed up, declaring that there was no marriage. Luke got into a fist fight with Scotty and knocked him out. Luke and Laura then took off to Beechers Corners for their honeymoon.
Then, Luke met with Helena at her request, and said he had a "strange burning sensation" when she compared him to Mikkos and put her hands on his shoulders. Helena also donated $10 million to General Hospital, which they found strange.
Laura went to New York with Tiffany Hill, who said she could become a star in the cosmetics industry. While there, Laura became apprehensive, feeling she was being watched, which she was, by a man named David Grey.
Jeff, Heather, and Diana's murder
In 1980, Jeff Webber started dating Annie Logan and they wanted to marry, but they couldn't because Jeff was still married to Heather, who was in an institution. Diana Taylor, though, the woman who had secretly illegally adopted Jeff's son Steven Lars, also tried to woo Jeff.
Heather emerged from her delusional state, but overhead a nurse say that she might face charges for what she had done to Diana. Heather then impersonated a nurse and escaped. For months, she would secretly go in and out of the institution as the nurse. When she was out, she would spy on both Jeff and Steven Lars.
In 1981, Heather was briefly released from the sanitarium and pretended she had no memory of her past, but Diana, Annie, and Heather's mother Alice Grant suspected that Heather was still unstable as ever. After Jeff struggled with a prowler who broke into Heather's, Diana changed her will to name Lesley Webber guardian of P.J. in the event of her death.
Alice was sick of Heather's schemes and threatened to tell Diana and Jeff the truth about Steven Lars if she pulled any more stunts. Diana, however, wasn't finished. She stole a gun from the Webber home and planned to murder Diana. Heather was then put back into the institution, but would sneak out again. She hid the gun in her room at the institution, and when she went to Diana's apartment with it, she saw Diana and Jeff making love. She left, even more determined to kill Diana. She later stole copies of Diana's new will that named Lesley P.J.'s guardian and tore them up.
Diana then finally told Jeff the truth about P.J., that he was in fact his son Steven Lars. She gave him a copy of P.J.'s foot prints and told him to compare them to Steven Lars' foot prints, which were on file at General Hospital. Jeff got angry with Diana for not telling him sooner and stormed out, just as Annie was arriving. Seeing Jeff leaving, Annie followed behind him. Heather then arrived to see Annie and Jeff leaving, and went in to kill Diana.
Moments later, Diana's dead body lied on the kitchen floor. Heather then wrote Annie's name in the blood next to the body, attempting to frame her for the murder. At first, it seemed to be an open and shut case. Annie's wallet was found outside of Diana's apartment, she was seen at Diana's, and her name was written in Diana's blood. The forensic report, however, said that Diana had died instantly and didn't have time to scrawl Annie's name, so they ruled her out. Heather was then the prime suspect. After this, fearing for Steven Lars' safety, Jeff took his son and moved to Nevada, where his father, Steve Hardy, had gotten him a job at a hospital.
Heather's roommate at the sanitarium at first gave her an alibi, saying she was there asleep at the time of the murder. But, then she ended up giving the police Heather's gun she had hid in the room. The police, however, found that Heather's gun was not the gun that killed Diana. Heather was joyous by this, but then got a letter from Jeff asking for a divorce, stating he found someone new. She was devastated at losing the man she loved.
Heather then found another gun, in her mother's apartment. She took it and hid it in her purse. Speeding home, she was stopped by a police officer, who saw the gun and took her to the police station. Ballistic tests confirmed that that gun was the gun that killed Diana. Heather was then booked for the murder, but then there was a turn of events. Heather's mother Alice confessed that she had gone to Diana's apartment where she saw Heather about to kill Diana. She said that when Heather pulled out her gun, Diana pulled a gun of her own. Alice tried to wrestle the gun away from her, and ended up shooting her. The charges were dropped against Alice due to extenuating circumstances. Heather, though, was put on probation.
Edward disinherits Tracy
In 1980, Tracy Quartermaine still wanted to prove that her brother Alan's baby, Alan Jr., was actually Rick Webber's son so that her son Ned would be the heir to the Quartermaine fortune. Tracy brought a paternity suit against Alan's wife Monica. Tracy went to the court and tried to get the judge to order a blood test on the baby to prove his paternity, which infuriated her father Edward.
Edward drew up a new will, disinheriting Tracy. Edward then decided to test Tracy. Before signing the will, he approached her with it. He then suddenly collapsed, apparently having a heart attacked. He begged Tracy to give him his heart medication. Tracy refused though, unless he promised not to sign the will. Edward then popped up, laughing. Tracy had failed his test miserably.
Edward then gave Tracy two million dollars, saying it could only be used for her husband Mitch Williams' campaign for governor. Tracy then took the money to Mitch and joined him in Albany.
The Ice Princess
In 1981, Edward Quartermaine's niece Alexandria arrived in town and began working at ELQ Enterprises. Alex hired Luke Spencer to do some investigative work for her to locate her competitors, the Cassadines. Alex assured him the job was legitimate, but Luke was wary of it. One day, he arrived home to a ransacked apartment and was held at gunpoint by a man with an Australian accent. The man wanted information about the Ice Princess, and Luke didn't know what he was talking about. The man was later revealed to be Robert Scorpio, an international financier.
Robert told Luke that the Ice Princess was a statuette; it was actually a large uncut diamond that Alex had painted black and was mounted on a pedestal. Luke agreed to help Alex and Edward find it, but for a price. Robert also wanted it, and offered Luke $50,000 to find it for him. The Ice Princess was shipped to Port Charles, but when Alex went to the docks to claim it, she found it had been stolen. Now, not only were Luke, Robert, and Alex after it, but so was Cassadine brother Tony Cassadine, who was using the alias Tony Castle.
Luke met a ditzy woman named Emma Lutz who had had the Ice Princess, but thinking it ugly, had given it to Lila Quartermaine for an art auction she was sponsoring to benefit General Hospital. Luke, Robert, Alex, and Tony all planned to still it the night of the auction. During the auction, the lights went out. When they came back on, both the Ice Princess and Luke were gone; but Luke resurfaced weeks later, he didn't have the statuette.
Robert teamed up with Luke to find the Ice Princess, while Alex teamed up with Tony. Alex and Tony knew a secret, that the base of the Ice Princess contained a secret formula for a powerful weapon that could give the Cassadine brothers the power to hold the world hostage. Alex and Tony got their hands on the formula, and Robert revealed to Luke and Laura that we was actually an agent for the World Security Bureau and had to stop the Ice Princess from falling into the wrong hands. Luke, Robert, and Laura secretly boarding the Cassadine yacht, where the formula was held. They ended up on a tropical island where Mikkos Cassadine, the mastermind of operation, was waiting.
They sneaked onto the island and Mikkos revealed he had plans to build a weather machine that would produce carbonic snow and freeze the world. He would first threaten world leaders by freezing Port Charles as an example to the rest of the world. B-actress Tiffany Hill was also on the island, as Cassadine brother Victor's girlfriend. She was repulsed by this plan. She ran into Robert and, she decided to help him and Luke and Laura stop Mikkos. Meanwhile, back in Port Charles, the temperature was dropping and a blizzard took place. Port Charles was declared a disaster area.
Robert sneaked into Mikkos' compound, then Luke and Laura sneaked in as well. They set off an alarm, and as they were running to escape, they came upon an ice chamber, with frozen bodies in it, including Alex and Tony. They were then captured, and brought before Mikkos, where they were reunited with Robert, whom had also been captured. Luke told Mikkos he would help him, and said he would convince the WSB to surrender. But, during a radio transmission, Luke started to give away their location, at which point Mikkos angrily turned off the radio. There was a scuffle and Mikkos attempted to throw Luke into the ice chamber, but Mikkos was the one who ended up going in and dying. He was then able to turn off the machine, saving the world.
1990s
(to be added)
2000s
(to be added)
2010s
(to be added)
Title sequence gallery
Stills
Videos
00:18

General Hospital Opening 1963.

01:59

General Hospital 1967 credits extended version

00:19

GENERAL HOSPITAL (1978-1993 Opening Sequence)

00:45

General Hospital Opening

00:46

General Hospital Opening v3 (Siren)

00:49

New GH Opening Credits

00:12

General Hospital - New Opening (2012) Version 2

00:36

General Hospital 50th Anniversary Opening
The Young Marrieds
Ran October 5, 1964–March 25, 1966 - The Young Marrieds was the first attempt at a sister soap for General Hospital. It was set in the fictional suburb of Queen's Point, which was considered by the writers to be a suburb of Port Charles, New York. It centered around three married couples and their marriage problems. It was canceled due to low ratings.[1]
Storylines
(to be added)
Robin's Diary
Released November of 1995 - Robin's Diary is a book written by former General Hospital script writer Judith Pinsker, and published by ABC Daytime Press. It is based on the love storyline of Robin Scorpio and Stone Cates, which was written by Claire Labine.[2] On the show, Robin keeps a diary, and this publication is meant to be that diary. It also includes excerpts from the memory book Robin gave to Stone on air. The memory book consists of letters to Stone from many Port Charles residents.
Port Charles
Ran June 2, 1997–October 3, 2003 - Port Charles was the first true spinoff of General Hospital, involving characters from the parent show. It started out focusing on the intern program at General Hospital, but in December of 2000, it started airing thirteen week arcs, or "books." These books included stories about forbidden love, vampires, and life after death.[3] Sometimes, stories on Port Charles intersected with stories on the parent show, as with the annual Nurses' Ball.
Storylines
(to be added)
General Hospital: Night Shift
Ran July 12, 2007–October 21, 2008 - General Hospital: Night Shift was the second spinoff of General Hospital to include characters from the parent show. It aired one night a week during primetime on SOAPnet, a cable channel that is owned by ABC. It ran for two seasons, the first season being from July 12, 2007 to October 4, 2007; and the second season from July 22, 2008 to October 21, 2008.[4] The premise of the show was to follow the characters at General Hospital during the evening hours, roughly from dusk to dawn.
Storylines
(to be added)
Night Shift: Claire & Kyle
Ran July 22, 2008-October 14, 2008 - Night Shift: Claire & Kyle was a spinoff of the General Hospital spinoff General Hospital: Night Shift. It was a thirteen-part weekly series of short webisodes on SoapNet.com that coincided with the second season of Night Shift and revolved around the friendship of medical interns Kyle Julian and Claire Simpson and their lives outside of work at the hospital.
Storylines
(to be added)
What If...
Aired July 12, 2010-August 30, 2010 - What If... was a series of short webisodes that aired on ABC.com and SoapNet.com that were directed by then-One Life to Live, and current General Hospital, executive producer Frank Valentini. The shorts explored what it might be like if various characters from General Hospital, One Life to Live, and All My Children met one another. The webisodes were completely separate from the storylines of the three soap operas; and what occurred in the shorts are not considered actual events in the lives of the characters.
Storylines
Erica/Sonny​ - "Love in a Time of Claustrophobia"
Erica Kane, from Pine Valley, PA is in an elevator at her "Woman of the Year" award ceremony. She has to give a speech and is very anxious. Outside the elevator, Sonny Corinthos, from Port Charles, NY, is talking on his cell phone to Jason Morgan and tells him, "Let me worry about finding the alibi, you get rid of the evidence." Sonny then enters the elevator and hits the emergency stop button and starts kissing Erica. Erica pushes him off and asks, "What do you think you're doing?". Sonny then says, "For the camera; we need to look like we're all over each other." Erica then realizes it's Sonny Corinthos and says that he is on the news a lot for his "coffee business." Sonny then asks her to be his "alibi," and Erica reply's, "I was just named Woman of the Year. I do NOT makeout with mobsters. So, if you don't get this thing moving, I'm afraid I'm the one who's going to need an alibi." Sonny then tries to start the elevator, but it doesn't work! Sonny starts to panic, due to his claustrophobia. Erica then tells him to calm down and relax. Erica then asks him if he has any kids and he replies, "four," and shows her a picture of Kristina, Michael, and Morgan. Erica then asks where his other son is. Sonny tells Erica he didn't meet him until recently and that his son dislikes him. Erica then says she can relate due to her long-lost daughter, Kendall. She says Kendall used to hate her, but now they are closer than ever. Erica then tells him there is still hope for Sonny and his son. The elevator then starts working, they wave at each other, and exit.
Spinelli/"Todd" - "Fear of Flying"
Damian Spinelli from GH and "Todd Manning" (later revealed to be Todd's twin brother Victor Lord, Jr.) from OLTL are on an air plane together.
Carly/Ryan - "How to be Bad"
Carly Corinthos from GH gives Ryan Lavery from AMC a refresher course on how to be a "bad boy."
Greenlee/Jason - "Blame it on the Alcohol"
Jason Morgan from GH and Greenlee Smythe from AMC are on a plane. Greenlee is drunk and Jason helps her get through the flight.  Greenlee throws up on Jason's shoes.
Angie and Jesse/Starr - "Why Did I Get Married"
Starr Manning from OLTL (the original Starr, pre-switch to GH and pre-OLTL reboot recast) is in an elevator when Angie and Jessie Hubbard from AMC enter and start arguing.
Dante/Tess - "I Might Like You Better if We Slept Together"
Dante Falconeri from GH and Tess Buchanan from OLTL are in a plane.
Luke/Viki - "Pain in My Heart"
Luke Spencer from GH and Viki Lord Banks from OLTL are in an elevator (this one is green), and they get stuck.
Maxie/Rex - "Learning How to Fly"
Maxie Jones from GH and Rex Balsom from OLTL are on a plane.
Blair/Tad - "I Suck at Love"
Blair Cramer from OLTL (briefly on GH in a recurring status, but returning for Prospect Park's OLTL reboot) and Tad Martin from AMC are on a plane.  Blair is crying over her failed marital relationships and Tad tries to comfort her.  The scene cuts into a music video-like with Tad and Blair singing about the failed relationships, which turns out to be a dream.  Blair and Tad wake up on each other shoulders when a stewardess comes and says that they arrived at Jamaica.  Blair leaves while Tad follows and throws his plane ticket on a seat.
John/Sam - "Love in an Elevator"
Sam McCall from GH and John McBain from OLTL (the original McBain, pre-switch to GH and pre-OLTL reboot recast) are featured. Sam is in a disguise and they ride the same elevator that the Erica/Sonny scene was shot in. This What If... scene is the only one where the two character later actually meet, when the character John McBain moves to General Hospital.
The Secret Life of Damian Spinelli
Released April 5, 2011 - The Secret Life of Damian Spinelli is a book written by author Carolyn Hennesy, who plays Diane Miller on General Hospital, and published by Hyperion. It tells the story of how attorney Diane Miller has a meeting with private investigator and computer expert Damian Spinelli, who wants her to write down the stories of his encounters with various characters in Port Charles. The book tells these stories, which are beyond Diane's wildest imagination, and keeps both the reader and Diane asking the question as to whether these stories really happened.[5] The stories in the book are written from Spinelli's point of view. They are meant to be from the character's imagination, and are not considered actual events in the lives of Port Charles residents.
Love in Maine
Released March 12, 2013 - Love in Maine is a novel written by Molly Lansing-Davis on General Hospital, but will be published in the real-world listing Connie Falconeri as the author. It was published by Hyperion, and is a romance novel about a college athlete who falls for her landlady's Army diver son.[6]
Maine Squeeze
Released September 3, 2013 - Maine Squeeze is the sequel to Love in Maine and was written by Molly Lansing-Davis on General Hospital. Published by Hyperion.[7]
See also
Characters · Children · Families · Couples · Locations · Events · Episodes · Books and shows · Actors and actresses · Crew members · Music
External links
References
Warner, Gary. (1995). General Hospital: The complete scrapbook. General Publishing Group: Los Angeles.
v - e

Current Contract Characters
Curtis Ashford
 ·
Jordan Ashford
 ·
Franco Baldwin
 ·
Hayden Barnes-Cassadine
 ·
Nikolas Cassadine
 ·
Morgan Corinthos
 ·
Sonny Corinthos
 ·
Carly Corinthos-Jacks
 ·
Alexis Davis
 ·
Anna Devane
 ·
Dante Falconeri
 ·
Olivia Falconeri
 ·
Dr. Hamilton Finn
 ·
Nelle Hayes
 ·
Paul Hornsby
 ·
Ava Jerome
 ·
Julian Jerome
 ·
Kiki Jerome
 ·
Maxie Jones
 ·
Dr. Andre Maddox
 ·
Jason Morgan
 ·
Sam Morgan
 ·
Dr. Griffin Munro
 ·
Dillon Quartermaine
 ·
Michael Quartermaine
 ·
Tracy Quartermaine
 ·
Nina Reeves
 ·
Nurse Sabrina Santiago
 ·
Laura Spencer
 ·
Valerie Spencer
 ·
Lulu Spencer-Falconeri
 ·
Nurse Elizabeth Webber
 ·
Nathan West
Current Recurring Characters
T.J. Ashford
 ·
Ned Ashton
 ·
Scott Baldwin
 ·
Claudette Beaulieu
 ·
Valentin Cassadine
 ·
Lucy Coe
 ·
Darby Collette
 ·
Dr. Kevin Collins
 ·
Brad Cooper
 ·
Kristina Corinthos-Davis
 ·
Landon Dixon
 ·
Naomi Dreyfus
 ·
Nurse Amy Driscoll
 ·
Nurse Felix DuBois
 ·
Parker Forsyth
 ·
Max Giambetti
 ·
Milo Giambetti
 ·
Alice Gunderson
 ·
Jasper Jacks
 ·
Nurse Epiphany Johnson
 ·
Dr. Lucas Jones
 ·
Ric Lansing
 ·
Molly Lansing-Davis
 ·
Dr. Kelly Lee
 ·
Janice Lomax
 ·
Huxley Lynch
 ·
Rosalie Martinez
 ·
Diane Miller
 ·
Dr. Liesl Obrecht
 ·
Dr. Monica Quartermaine
 ·
Dr. Joe Rivera
 ·
Aaron Roland
 ·
Delia Ryan Coleridge
 ·
Felicia Scorpio
 ·
Mac Scorpio
 ·
Robert Scorpio
 ·
Dr. Robin Scorpio-Drake
 ·
Nurse Bobbie Spencer
 ·
Damian Spinelli
 ·
Ellie Trout
 ·
David Walters
 ·
Heather Webber
Current Child Characters
Spencer Cassadine
 ·
Leo Falconeri
 ·
Rocco Falconeri
 ·
Josslyn Jacks
 ·
Avery Jerome-Corinthos
 ·
Danny Morgan
 ·
Teddy Rivera
 ·
Emma Scorpio-Drake
 ·
Aiden Spencer
 ·
Cameron Spencer
 ·
Jake Spencer
 ·
Georgie Spinelli
Deceased and Presumed Dead Characters
Benny Abrahms
 ·
Bernie Abrahms
 ·
Dr. Rachel Adair
 ·
Diego Alcazar
 ·
Lorenzo Alcazar
 ·
Luis Alcazar
 ·
Sage Alcazar
 ·
Ruby Anderson
 ·
Dr. Andy Archer
 ·
Dominique Baldwin
 ·
Cooper Barrett
 ·
Alison Barrington
 ·
Amanda Barrington
 ·
Kiefer Bauer
 ·
Warren Bauer
 ·
Jesse Beaudry
 ·
Katherine Bell
 ·
Connor Bishop
 ·
Mary Bishop
 ·
Paige Bowen
 ·
Nurse Jessie Brewer
 ·
Nancy Brewer
 ·
Dr. Phil Brewer
 ·
Carter
 ·
Helena Cassadine
 ·
Irina Cassadine
 ·
Kristina Cassadine
 ·
Mikkos Cassadine
 ·
Stavros Cassadine
 ·
Stefan Cassadine
 ·
Tony Cassadine
 ·
Victor Cassadine
 ·
Stone Cates
 ·
Dr. Ryan Chamberlain
 ·
Dr. Silas Clay
 ·
Stephen Clay
 ·
Adela Corinthos
 ·
Lily Corinthos
 ·
Dr. Ian Devlin
 ·
Mickey Diamond
 ·
Ronnie Dimestico
 ·
Dr. Pierce Dorman
 ·
John Durant
 ·
Bill Eckert
 ·
Connie Falconeri
 ·
Andrea Floyd
 ·
Dr. Russell Ford
 ·
Dr. Steve Hardy
 ·
Peter Harrell, Sr.
 ·
Peter Harrell, Jr.
 ·
Abby Haver
 ·
Logan Hayes
 ·
Theo Hoffman
 ·
John Jacks
 ·
Aleksander Janacek
 ·
Victor Jerome
 ·
Stan Johnson
 ·
B.J. Jones
 ·
Georgie Jones
 ·
Tania Jones
 ·
Dr. Tony Jones
 ·
Dr. Ewen Keenan
 ·
Rafe Kovich, Jr.
 ·
Dr. Eve Lambert
 ·
Trevor Lansing
 ·
Duke Lavery
 ·
Dr. Cameron Lewis
 ·
Victor Lord III
 ·
Hope Manning-Thornhart
 ·
Reese Marshall
 ·
Courtney Matthews
 ·
Dr. Matthew Mayes
 ·
Danny McCall
 ·
Lila McCall
 ·
Nurse Leyla Mir
 ·
Trey Mitchell
 ·
Susan Moore
 ·
Chloe Morgan
 ·
Henry Nakamura
 ·
Dr. Lisa Niles
 ·
A.J. Quartermaine
 ·
Dr. Alan Quartermaine
 ·
Alexandria Quartermaine
 ·
Edward Quartermaine
 ·
Dr. Emily Quartermaine
 ·
Lila Quartermaine
 ·
Carlos Rivera
 ·
Faith Rosco
 ·
Manny Ruiz
 ·
Gabriel Santiago
 ·
Joe Scully
 ·
Joe Scully, Jr.
 ·
Kyle Sloane
 ·
Damian Smith
 ·
Frank Smith
 ·
Shirley Smith
 ·
Zander Smith
 ·
Lena Spencer
 ·
Pat Spencer
 ·
Siobhan Spencer
 ·
Tim Spencer
 ·
Olivia St. John
 ·
Nurse Diana Taylor
 ·
Martha Taylor
 ·
Dr. Peter Taylor
 ·
Tracy Taylor
 ·
Dr. Asher Thomas
 ·
Cole Thornhart
 ·
Nurse Amy Vining
 ·
Bradley Ward
 ·
Justus Ward
 ·
Mary Mae Ward
 ·
Dr. Rick Webber
 ·
Dr. Karen Wexler
 ·
Dawn Winthrop
 ·
Deke Woods
 ·
Dr. Maggie Wurth
 ·
Anthony Zacchara
 ·
Claudia Zacchara-Corinthos
Off-screen and Former Characters
Lila Rae Alcazar
 ·
Dr. Grant Andrews
 ·
Terri Arnett
 ·
Brook Lynn Ashton
 ·
Larry Ashton
 ·
Christina Baldwin
 ·
Dr. Gail Baldwin
 ·
Lee Baldwin
 ·
Serena Baldwin
 ·
Dr. Tom Baldwin
 ·
Brenda Barrett
 ·
Julia Barrett
 ·
Melinda Bauer
 ·
Shawn Butler
 ·
Gia Campbell
 ·
Peter Carroll
 ·
Dimitri Cassadine
 ·
Petros Cassadine
 ·
Jagger Cates
 ·
Lois Cerullo
 ·
Skye Chandler-Quartermaine
 ·
Dr. Linda Chu
 ·
Father Coates
 ·
Mike Corbin
 ·
Angie Costello
 ·
Blair Cramer
 ·
Jolene Crowell
 ·
Nurse Nadine Crowell
 ·
Dr. Rae Cummings
 ·
Marco Dane
 ·
Téa Delgado
 ·
Roy DiLucca
 ·
Anna Donely
 ·
Sean Donely
 ·
Tiffany Donely
 ·
Dr. Noah Drake
 ·
Dr. Patrick Drake
 ·
Taylor DuBois
 ·
Toussaint Dubois
 ·
Jenny Eckert
 ·
Sly Eckert
 ·
William Eichner
 ·
Angel Ellis
 ·
John Everett
 ·
Cesar Faison
 ·
Nurse Fletcher
 ·
Pres Floyd
 ·
Nurse Betsy Frank
 ·
Ivy Gatling
 ·
Nurse Audrey Hardy
 ·
Dr. Simone Hardy
 ·
Dr. Tom Hardy
 ·
Dr. Tommy Hardy
 ·
David Harper
 ·
Jimmy Lee Holt
 ·
Dr. Matt Hunter
 ·
Anton Ivanov
 ·
Lady Jane Jacks
 ·
Jerry Jacks
 ·
Terrell Jackson
 ·
Miranda Jameson
 ·
Frisco Jones
 ·
Dr. Leo Julian
 ·
Rose Kelly
 ·
Winifred Leeds
 ·
Guy Lewis
 ·
Victor Lord, Jr.
 ·
Ethan Lovett
 ·
Starr Manning
 ·
Todd Manning
 ·
John McBain
 ·
Colleen McHenry
 ·
Miguel Morez
 ·
‎Hope Morgan
 ·
Ken Morgan
 ·
Delores Padilla
 ·
Blackie Parrish
 ·
Nurse Penny
 ·
Grant Putnam
 ·
Celia Quartermaine
 ·
Burt Ramsey
 ·
Coleman Ratcliffe
 ·
Madeline Reeves
 ·
Cruz Rodriguez
 ·
Casey Rogers
 ·
Father Mateo Ruiz
 ·
Juan Santiago
 ·
Alec Scott
 ·
Hannah Scott
 ·
Jeffrey Scribner
 ·
Rebecca Shaw
 ·
Jennifer Smith
 ·
Lucky Spencer
 ·
Luke Spencer
 ·
Suzanne Stanwyck
 ·
Nurse Mischa Stephens
 ·
Holly Sutton
 ·
Marcus Taggert
 ·
Nurse Regina Thompson
 ·
Claire Walsh
 ·
Faith Ward
 ·
Keesha Ward
 ·
Dr. Maya Ward
 ·
Dr. Jeff Webber
 ·
Dr. Lesley Webber
 ·
Dr. Sarah Webber
 ·
Dr. Steve Webber
 ·
Dr. Britt Westbourne
 ·
Dr. Lainey Winters
 ·
Grace Yang
 ·
Johnny Zacchara
Crew
Shelly Altman (Head writer, 2011-2012, 2015-present)
 ·
Ron Carlivati (Head writer, 2012-2015)
 ·
Jill Farren Phelps (Executive producer, 2001-2012)
 ·
Robert Guza, Jr. (Head writer, 1996, 1997-2000, 2002-2008, 2008-2011)
 ·
H. Wesley Kenney (Executive producer, 1987-1989; Head writer, 1988)
 ·
Gloria Monty (Executive producer, 1978-1987, 1991-1992; Head writer, 1981)
 ·
Jean Passanante (Head writer, 2015-present)
 ·
Wendy Riche (Executive producer, 1992-2001)
 ·
Frank Valentini (Executive producer, 2012-present)
 ·
Garin Wolf (Head writer, 2008, 2011-2012)
Related Topics
List of cast members
 ·
List of current actors
 ·
History of General Hospital