Jake redirects here. For other uses of this name, see Jake (disambiguation).
Jacob Martin "Jake" Spencer is a fictional character on the ABC daytime soap opera General Hospital and has appeared on its SOAPnet spin-off General Hospital: Night Shift. He is the son of former mob boss, Jason Morgan and his now ex-fiancée, Nurse Elizabeth Webber via one night stand and the legal son of Lucky Spencer.
He was born onscreen on May 4, 2007.
Casting
Twins Landon and Trey portrayed Jake in 2007.[2]
Triplets Amanda, Miranda, and Maryssa Jones portrayed Jake in 2007 on GH and GH: Night Shift.[3]
Twins Edward and James Nigbor portrayed Jake from 2007-11. The Nigbor twins are not identical. James Nigbor returned to the role on July 9, 2015 but has since been recast and made his last appearance on March 3, 2016.[4][5]

On April 12, 2016, Soap Opera Digest announced that the role of Jake has been recast by Hudson West.[6] West was recently featured in the FX series American Crime Story: The People V. O.J. Simpson as Marcia Clarks son, Travis. According to Star Kidz, Jake has been slightly de-aged since West joined the cast, but it is unknown to how old.[7] West made his debut on April 25, 2016.
Background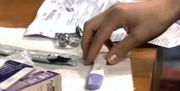 Elizabeth finds out her husband, Lucky, is addicted to pain pills and is having an affair with Maxie Jones. After promising to get clean, Elizabeth again finds Lucky in bed with Maxie and is devastated. She ends up going to her longtime friend, Jason Morgan for comfort, where she finds out that Jason walked in on his girlfriend, Sam McCall, in bed with Ric Lansing. The two of them sleep together to console each other. In the morning, they both decide to go their separate ways for the sake of the people they love.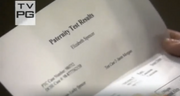 Later, though, Elizabeth finds out she's pregnant and is not sure if Jason or Lucky is the father. Lucky, high on drugs, tries to make a fake drug bust on Jason and ends up nearly hitting Elizabeth. When he (and Jason) finds out she's pregnant, he promises to get clean for the sake of the baby. Elizabeth later has a paternity test done on her baby and it shows that Jason is the father. She keeps this a secret, however, and lets everyone believe Lucky is the father. During her pregnancy Elizabeth was under constant stress do to the fact that she was keeping the paternity a secret. She also to took two hard falls while pregnant and suffered from hypothermia. During the Metro Court hostage crisis, Elizabeth has cramps do to dehydration but they stopped. Following the hostage crisis. Elizabeth ends up telling Jason the truth, while stuck in an elevator with him. After she and Jason were rescued, she stayed overnight in the hospital to monitor her pregnancy.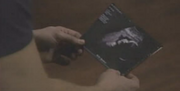 Jason and Elizabeth vowed to do whatever they have to do to keep their child safe, including having Jason give up his rights to their son in order to protect him from the mob. However during the Black and White Ball in 2007, after being egged on by Sam (who found out right after Jake was born), Jason comes clean with Lucky about being Jake's father. Eventually, though, Jason, Liz, Lucky and Sam agree to continue letting everyone believe that Lucky is Jake's father in order to keep him safe. However even letting everyone believe that Lucky is Jake's father, he was still kidnapped by the Russian mob as they found out that he's Jason's son.
In 2011, it was believed that Jake had died in a hit-in-run caused by his legal paternal-grandfather, Luke Spencer.
In October 2012, his father, Jason was presumed dead when he was shot in the back by Cesar Faison, who was masquerading as Duke Lavery. In 2014, Jake's father came back as an amnesiac calling himself Jake Doe after being hit by a car.
After 4 years, on July 6, 2015, Lucky tells Luke and Laura that Jake is alive. On July 9, Luke finds Jake on Cassadine Island with Helena and Jake is reunited with his father, Lucky. Soon after, Jake was reunited with his parents, Jason and Elizabeth.
In July 2015, Jake meet his paternal half-brother, Danny Morgan.
Jake also knows that both Lucky and Jason are his fathers. On November 6, Jason, who was known then as Jake Doe, tells Jake that his name is Jason and he's his father. Everyone now knows that Jason is Jake's father as well. On May 9, 2016, Jason remembers everything including Jake.
Storylines
On May 4, 2007, Elizabeth goes into labor and passes out while trying to call for help. Jason, who stopped by to check on Elizabeth, takes her to General Hospital. Her son is delivered via emergency C-section, and although he wasn't breathing when he was born luckily he and his mom are saved. Jason spends some time with his son while waiting for Elizabeth to wake up before Lucky arrives. While the two bond as a family with Jake, Elizabeth goes into a coma. She doesn't wake up for awhile. Jason had a request from Elizabeth that if something happened to her, Jason would tell Lucky the truth. Lucky for Jason, just as he's about to tell Lucky that he himself is the father, Elizabeth wakes up. Elizabeth names her baby Jacob Martin. Both she and Lucky agree to name their friends, Nikolas Cassadine and Emily Quartermaine as godparents. She tells Lucky, Nikolas, and Emily that the reason she chose the name was because she always liked the name Jake, and Martin was to honor her late maternal grandfather. When Jason visits her and Jake, she tells him the other reason for the name—she gave her son Jason's initials as a part of his name. Jason is honored and happy that she and Jake are safe.
Sam eventually finds out the truth about Jake and is devastated. She wanted to have Jason's child, but found out she was infertile due to a gunshot wound she sustained when someone tried to kill Jason. When Maureen Harper kidnaps Jake in the park while Elizabeth has her back turned, Sam watches the kidnapping and says nothing. Jason, under arrest for murdering Lorenzo Alcazar, quickly gets himself out of jail to go and find his son. He gets the help of Amelia Joffee, who made several calls to Maureen and heard a baby crying. She became suspicious, as Maureen's newborn daughter died a few months before in a house fire. Jason and Amelia track down Maureen and find Jake with her. Maureen hands the baby over, and reveals that Sam saw the kidnapping happen. This causes Sam and Jason to break up.
Lucky and Elizabeth end up divorcing when Jason reveals that he is Jake's father at the Black and White Ball. Later on, Lucky agrees to let everyone believe he is Jake's father to keep him safe, to both Elizabeth and Jason's satisfaction. In December 2008, the Russian mob threatens Jason. This leads to him sending Elizabeth with Jake and her other son, Cameron, up to the mountains in a remote cabin with Sam to hide out. The Russian mob, however, finds them, and Sam and Liz hold them off, but Jake ends up getting kidnapped. Jason eventually shows up, and he and Sam give chase to the Russians to find Jake. They corner them in a warehouse, but it catches fire. Luckily, Sam jumped out of a window with Jake right before it blew up. They bring Jake back to Elizabeth and Lucky, and Jason decides to leave parenting Jake to Elizabeth and Lucky to keep him safe, breaking up with Liz in the process.
In September 2009, Port Charles hosts a carnival at GH. A reconciled Liz and Lucky bring Cameron and Jake along, while Jason and Sam are on a date, bringing them together again. Jake runs away from Elizabeth just before Jake's great-grandfather, Edward Quartermaine, drives his car through the carnival, unconscious at the wheel. His car collapses the tent Jake went into, and Jason, Elizabeth, Sam, and Lucky rummage through the debris and are able to find Jake, who is rushed into the hospital with a suspected concussion.[8] Luckily, the doctor gives a clean bill of health, and Jake goes home with his family in good condition.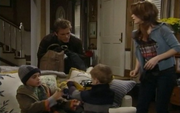 On March 17-18, 2011, Jake is hit by a car in a hit and run. He is declared brain dead and is put on life support. After Carly Jacks learns of this, she goes to Jason and informs him that her daughter, Josslyn, has cancer and needs an organ transplant. She asks Jason for Jake's kidneys. Lucky and Elizabeth agree to donate Jake's organs, and the transplant saves Josslyn's life. After a police investigation, it is revealed that Luke Spencer was the one who hit Jake. Most people agree that it was a horrible accident, but Lucky blames his father's drinking for the accident. Luke, stricken with grief over killing his son's son, spins out of control. He trashes the Haunted Star, tries to provoke Jason into killing him, and eventually leaves town. Luke eventually returns, and sobers up.
In Jake's honor, Luke later sets up a charity in Jake's name and Elizabeth and Jason thank him for honoring their son. He also has Coleman Ratcliffe change Jake's bar to The Floating Rib because Luke didn't want a big neon sign that said Jake on it.
On July 9, 2015, Luke went to Cassadine Island to find Jake after Lucky told him that Jake was alive. Lucky didn't say where Jake could be found, but Luke assumed Cassadine Island, so that's where they went. After talking to Helena, she finally told him it was true, and after four years, Jake was alive. Luke didn't believe it until Jake drove his remote control car into the living room, ironically hitting Luke in the foot. Helena left them alone to talk. Jake then tells Luke his name is Jake and asks Luke what his name is.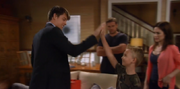 Jake is then reunited with Lucky, then Elizabeth and then meets big Jake (Jason). He is also given a clean bill of health by Patrick. After the appointment, Jake meets Sam and Carly again. He then meets his grandma, Monica and cousin, Michael. On August 14, he finally meets his little brother, Danny and they play together with motorcycles, while their mothers look on, Sam, with a smile on her face and Elizabeth, with a look of terror on hers. Right before Sam and Danny leave, Jake (Jason) comes back and sees them. Jake later watches his parents get engaged (again).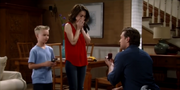 In September, Jake wakes up from a dream that Jason was going leave him but he reassured him that he won't. In October, Jake comes home with a cut over his eye from fall while running home. His mom treats the cut and he goes upstairs but he just ends up sitting on the stairs listening to his mom and grandma talk about how Jake is really Jason and that Laura is worried about him (little Jake).
Jake is later seen standing outside his parents room and he tells them that grandma is there. Later on, Jake colors a picture for his grandma. Then Laura hears a scream and goes to what happened and sees Cameron, with a mask on his face, on the floor holding his head. Jake tells Laura that Cameron fell but Cameron said that Jake pushed him by accident because he didn't like his Halloween mask. Later, Jason and Elizabeth come home and while Elizabeth and Laura talk, Jake and Jason bond and Jake tells him that he's his real daddy. Later, Elizabeth tries to tell Jake that he misunderstood and that she just said that Jake will be his dad.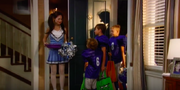 On Halloween, Jake is seen with his brothers and father about to go trick or treating in football costumes. He then asks where the candy comes from and Cameron tells him that they go door to door and Jake asks how they know that the people won't hurt them, to which Cameron responds "what?" but Jason tells him that no one is getting hurt because he will be with them the whole time. Just then Elizabeth walks in and they all go trick or treating. He is seen coming home from trick or treating with his family.After talking to Jason, Elizabeth asks Cameron and Jake if they would be okay with Jake adopting them after they get married. Cameron says yes and so does Jake but he again says that Jake doesn't have to adopt him because he's already his son. Elizabeth soon puts a stop to the conversation.
In November, he is seen rehearsing what he is going to say at the wedding. Later on, he is seen getting ready with his brothers. Afterwards, Michael and Sabrina come to Elizabeth's house to pick up him and his brothers but before they go, Jake and Aiden ask their grandma Laura if she is coming to the wedding and she tells them no. When Jake and Aiden arrive at the church, Jake asks if they can go up to the choir loft with Cameron but Sabrina says no but they can wait for him at the bottom of the stairs, then Michael tells them not to mess anything up.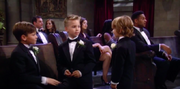 At the church, he is seen with his brothers writing in the guest book, when Felix walks up and takes away the pen. The boys start getting impatient so Epiphany takes them out to the courtyard to play. They are then seen in the church at their seats when they hear music, which they think means the wedding is starting, so they go to the bridal room and drag their mom out. When they get out there, they wonder why Jake isn't there yet. To keep the out of the way, Patrick sends them to their seats. They return a few minutes later ask their mom when the wedding is going to start and Elizabeth says not yet. Seeing that they are getting more impatient, Epiphany interjects and offers to take them to get ice cream with Felix and Sabrina.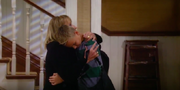 The next morning, Jason tells Jake that no one will be calling him little Jake anymore because his (Jason's) name is Jason and he's his father, to which Jake hugs him and says I know. Jason then tries to get Jake to tell him what he means, he asks if he saw him or anything on Cassadine island but Liz injects and stops the conversation before Jake rats her out, by telling him to go get ready for school. Before Jake goes to school, he gets a visit from his grandma Monica, who hugs him and tells him to learn a lot and to be nice to the other kids. Then his mom takes him to school.
On Thanksgiving, Jake goes to the Quartermaine's, where he's greeted by his grandma. When Jake find out that Helena is dead, he gets so upset that he drops a glass figure and when his mom asks if he's upset, he says yes. This is when his mother finally realizes that he needs help. Later on, his little brother, Danny arrives and they play with cars and motorcycles and he also tells Danny that his mom, Elizabeth knows a secret about their dad, which Sam overhears. Later on, the whole family (Monica, Tracy, Michael, Jason, Jake, Danny, Sam and Dillon) including Elizabeth, Patrick, Sabrina and Paul have pizza after the power goes out due to Paul trying to deep fry the turkey. The next day, Jake and Danny have a playdate. During the playdate, Sam asks Jake about the secret he's keeping and he tells her that it made his grandma Laura mad at his mom, but once he starts to clam up Sam backs off. After Jason leaves Elizabeth house without telling her to apologize to Sam for yelling at her he comes down stairs and asks his mother were daddy was.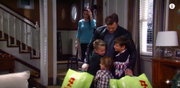 On Christmas, Jake and his brothers talk about what they want for Christmas and Jake says he has everything he wants--to be home with mom and dad. Then Elizabeth pulls out the Christmas stockings and Jake asks if she had to get him but she says no she kept his from when he was little. Then the boys wonder if Jason is going to be there and Elizabeth says she doesn't know because Jason is in jail. Jake then gets upsets and says he hates Christmas. Afterwards, Elizabeth sits the boys down and tells them the real story of Christmas. After the story, Jason shows up with presents for the boys. Jake asks if he home for good so Jason sits the boys down and tells them they have the best mom and that he loves them and will see them a lot but he can't stay. Later on, the boys go see Santa.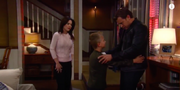 On New Year's Eve, Jake tells his mother that he saw someone outside the house and that he needs his daddy. Elizabeth calls the cops and then calls Jason to come over because Jake is scared. When he gets there Jason makes it clear that he is always there for Jake and decides to stay the night for him. The next day, Jason has a brief conversation with Elizabeth about a custody arrangement for Jake. Elizabeth tells Jason she never thought about Jake having to live in two places before but she agrees to an arrangement.
On January 6, 2016, Elizabeth takes Jake to work with her because he says he has a stomach ache and because his sitter can't watch him today. Once they get to hospital, they see Franco and she tells Jake to promise her not to talk to him. Franco comes over to Jake and Elizabeth who are sitting on a bench and asks Jake if he wants to color but Jake tells him that he's not suppose to talk to him. Then Officer Young comes to update Elizabeth on the case of who Jake possibly saw. So Jake will not hear Elizabeth, she reluctantly lets Jake talk to Franco after he gives Jake crayons to color with and she tells Franco she will be watching him and that Jake is sick and remember that. When Elizabeth comes back Jake and Franco are playing and then she takes Jake to get something to eat. Jake leaves the paper he was coloring with on the bench and Franco picks it up and see that Jake was drawing creepy houses with a black background surrounding them. Later on, Elizabeth and Jake are seen outside of Kelly's but when she sees Sam with Jason, she suggests that they go to an Italian restaurant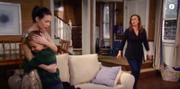 Jake and Laura end up scaring Elizabeth since she didn't think anyone was home. Laura then tells Elizabeth that Audrey asked her to pick up Jake and bring him home since he said he was not feeling well. Then Jake tells Elizabeth that he feels better when mommy and daddy are home with him. After he says that Elizabeth tells Jake that he can go upstairs and play videos games. Once Elizabeth thinks her son is upstairs she talks to Laura about Jason and just as Elizabeth says that she thinks Sam and Jason are getting closer. Laura tells Elizabeth that Jake is on the stairs listening to there conversation. Elizabeth then tells him "what did I say about listening to adult conservation, Jake" and he tells her sorry and he goes back up stairs.
Jake is later seen staying at the Metro Court with his parents since Jason is worry about the picture that was found broken in Elizabeth's house. Later on, Jason takes Jake for ice cream. When they get back to the room Sam is there and Jake is very rude to her. Jake then claims that Sam was the person that broken into his mother's house and broke their family picture. Jason says he knows it wasn't Sam and that it's not good to lie. The next day, Jake goes to see a therapist that Kevin Collins recommended. Later on, the therapist tells Elizabeth that Jake is very attached to his father and she thinks that art therapy with Franco will be good for him much to Elizabeth's shock. The therapist also suggested verbal therapy. While Elizabeth talks to the therapist, Jake colors with Franco.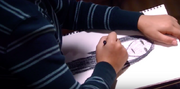 Jake gets upset that Sam is in his house and again blames her for breaking the family picture. Sam tries to tell him that she would never try to hurt him, but he claims that she already did. Then Elizabeth takes Jake upstairs to build a race track. Elizabeth tries to explain to him that her and Jason love him, but they are not getting married and they are not living together anymore. Then Laura shows up and Jake goes to bed. While Elizabeth and Laura are talking Jake eavesdrops and hears his mom bad mouth Sam. Jake is then seen drawing a picture of what looks like a dead Sam.
A few days later, Elizabeth asks Jake if he wants to come play soccer with his brothers, to which he tells her that he hates soccer. Afterwards Jason comes over and Jake shows him a picture he drew of the two of them and says that "he can put it in the room that you and mommy sleep in." Jason then explains to him, again, that he loves Jake and his brothers but that he and Elizabeth are not getting married nor will he be living with them, to which Jake does not react well too. After Elizabeth leaves for work, Jason sits down with Jake and looks through his drawings and finds a disturbing picture (dead looking Sam). Jake then asks if he likes his drawings.
On January 29, Jake is seen with his dad, who is asking him about the lady in the picture. First he says the lady is pretend, then from a video game. Jason tries to get him to open but before he does the sitter shows up. Then Jason leaves and Jake and his sitter play with silly string but Jake gets it in her hairs so she leaves him alone to go clean up. While alone Jake throws something through the window to make it look like the stalker and then cuts his finger. A few minutes later, Sam shows up to see Elizabeth, who isn't home and she asks Jake where the sitter is and if he broke the window because the glass is on the outside not the inside. He denies breaking the window and runs to the basement to hide from Sam. Sam ends up tripping on the steps and falls down the stairs. Jake just watches as she falls and looks as she lays at the bottom of the stairs.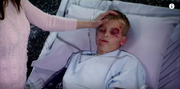 Jake is then seen looking at Sam and asking if she's okay. Then his babysitter calls his name wondering where he is. Jake goes upstairs and then when Jason and Elizabeth arrive they find that Jake is gone. Then Elizabeth finds a note from Jake saying goodbye. Jason goes looking for Jake while Elizabeth stays home. When Jason gets back, he tells Elizabeth that Jake's bike is missing. A few minutes later, there is a screech and horns honking and Elizabeth screams "Jake!!". Jake is later seen in the hospital with facial bruising, a broken arm and leg and internal bleeding. Except this time the doctor has revealed that his prognosis is good. Jake regains consciousness with his parents by his side and tells them that he didn't runaway for the reason they think. Jake is then wheeled in for surgery.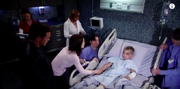 On February 4, Lucas tells Elizabeth and Jason that their was a complication during surgery. It was revealed that there was another bleeder but they fixed both of them and he's out of surgery and stable. Elizabeth goes to visit an unconscious Jake and then Jason visits him and he wakes up. Jake tries to tell Jason about Sam but falls asleep before he can get the words out. When he wakes up he tells his mom that "he killed her". The next day, he says something about killing Sam but he starts to confuse reality with his video games but before Elizabeth can get any details he passes out again.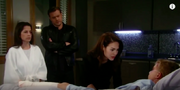 The next day, Elizabeth is seen sleeping in Jake's hospital room. Soon after Jason shows up, Jake wakes up and asks if they are going to be a family and if his parents are going to be together. Elizabeth tells him that they will always be a family and his dad is his dad but that his parents won't be together. She also finally tells Jake that Sam had nothing to do with his parents breaking up, that it was all her fault because she lied. Later on, Sam shows up to reassure Jake that she's fine but Jake thinks she's a ghost. Sam tells him that she's alive and well and that none of this is his fault.
On February 17, Elizabeth and Jason find out that Jake injuries are worse then the doctors previously thought and that he needs special individual care. After finding this out, Jake's parents decide that Monica's recommendation to take him to Shriners Hospitals for Children in Philly is the best course of action. On February 29, it was revealed that he had surgery to place rods in his left forearm and left tibia and the surgery was successful. Later on, Cameron and Aiden (and Nikolas) come to visit him and his brothers along with his dad promise to help him become better at baseball. On March 1, Danny and Sam come to visit. Danny also brings Jake a truck. Afterwards, he and Jake go to the hospital playroom to play with Cameron and Aiden. Later on, Jake FaceTimes Franco.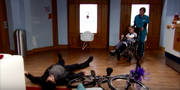 On March 3, Elizabeth tells Jake that his bike is trashed but that he's going home and back to school. Elizabeth also tells him that there will be a welcome home, Jake party. Elizabeth also tells Jake that he can start a drawing class after school when they get back and then he asks if it can be with Franco and his mom says maybe. Later on, Jake FaceTimes Franco again and then Franco shows up at Shriners riding the bike he got for Jake. A little while later, Jason and Sam show up to help Elizabeth take him home. Before they leave the hospital, Jake and Danny go to the playroom.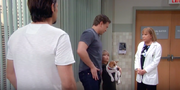 On April 25, Jake is seen with his father waiting for Franco to show up for their art therapy session. Jake tells his dad that Franco is hardly ever late for their sessions and that he always shows up. Franco shows up with a puppy just as Jason goes to call Elizabeth. Jake asks Franco if he can have the puppy and Franco says yes but Jason says no. Jason tells Jake that it isn't the right time for a puppy to which Jake responds "I hate you." Monica injects and suggests to Jake that they take the puppy to see the grounds keeper who has been looking for a dog so Jake leaves and goes with Monica.
On May 16, Jake and his mom head to his therapist even thou he thought he was going to see Franco. Elizabeth tells Jake that he isn't going to see Franco anymore which upsets him a lot. Soon after Franco shows up and tells Jake that both of his parents decided to stop their sessions because Jason doesn't think that Franco is the right person to work with Jake. Jake is very unhappy with this and decides to go to his therapist appointment on his own but instead he runs away and ends up on Franco's doorstep. Later on, Franco calls Elizabeth to come get her son. Jake tells his mom that she didn't listen to him so why should he listen to her. After talking to Franco, Elizabeth takes Jake home.
On May 25, Jake sings This Changes Everything, at the 2016 Nurses' Ball, which ends up as a duet with Franco because Jake gets stage fright.
On June 22, Jake is seen with his mother and Franco at the new house (The Brownstone).
In August, Jake is reunited with his dad after his trip (Jason). Later in the month, Jake finds out that his dad and Sam are engaged and he is really happy about it because Sam makes his dad happy like Franco makes his mom happy.
Crimes Committed
Pushed his brother, Cameron into a shelf, which caused him to hit his head [revealed Oct 2015]
Lied about seeing a man in the window on New Years Eve [Dec 31, 2015; revealed Jan-Feb 2016]
Made it seem like there was a stalker in order to push his parents back together [Jan 2016; revealed Jan-Feb 2016]
Smashed a family photo and made it seem like someone broke in and smashed it [Jan 2016; revealed Jan-Feb 2016]
Smashed a window and tried to make it seem like someone threw a rock at him (Jake) [Jan 29, 2016; revealed Jan-Feb 2016]
Unknowingly left Sam for dead in the basement of his house after she fell down the stairs (he thought she was already dead) [Feb 1, 2016]
Ran away because of what he thought he had done to Sam [revealed Feb 1, 2016]
Indirectly responsible for the destruction of the Webber family house as well as the injuries his father, Jason and then stepmother, Sam incured as a result of him rescuing her
Health and Vitals
Wasn't breathing when he was born [May 4, 2007]
Kidnapped by Maureen Harper [Jun 2007]
Had an ear infection [Jul 2007; GH:NS]
Terrorized by two armed goons, in the park, under the orders of Sam McCall [Aug 2007]
Suffered from smoke inhalation after being caught in a fire that his brother, , Cameron started [Jan 2008]
Stopped breathing at GH due to the smoke inhalation [Jan 2008]
Kidnapped by the Russian mob [Dec 2008]
Was in Sam's arms when she jumped out of a window right before an explosion [Dec 2008]
Trapped under a collapsed carnival tent after his drugged great-grandfather, Edward Quartermaine, plowed into it with his car; suffered a mild concussion [Sep 2009]
Presumed dead after being the victim of a hit-and-run; his legal grandfather, Luke Spencer hit him while driving drunk [Mar 2011]
Held captive by Helena Cassadine [Mar 2011-Jul 2015; revealed Jul 2015]
Fell while running home from school (suffered a laceration above his eye) [revealed Oct 9, 2015]
Cut his finger on a piece of broken glass [Jan 29, 2016]
Hit by a car while on his bike after he ran away and was rendered unconscious [revealed Feb 1, 2016; revealed Feb 2, 2016]
Suffered facial bruising and cuts as a result of the accident [revealed Feb 2, 2016]
Suffered multiple fractures to his left leg and left arm in the accident (required surgery to place rods in his left forearm and left tibia and it was successful revealed Feb 29, 2016) [revealed Feb 2, 2016; revealed Feb 16, 2016]
Underwent surgery to treat internal bleeding [revealed Feb 2, 2016]
Had a complication during surgery (there was a second bleeder but they were both repaired and the surgery was successful) [revealed Feb 5, 2016]
Passed out multiple times due to being drugged up after surgery [Feb 2016]
Family tree
Photo gallery
References
v - e

Current Contract Characters
Curtis Ashford
 ·
Jordan Ashford
 ·
Franco Baldwin
 ·
Hayden Barnes-Cassadine
 ·
Nikolas Cassadine
 ·
Morgan Corinthos
 ·
Sonny Corinthos
 ·
Carly Corinthos-Jacks
 ·
Alexis Davis
 ·
Anna Devane
 ·
Dante Falconeri
 ·
Olivia Falconeri
 ·
Dr. Hamilton Finn
 ·
Nelle Hayes
 ·
Paul Hornsby
 ·
Ava Jerome
 ·
Julian Jerome
 ·
Kiki Jerome
 ·
Maxie Jones
 ·
Dr. Andre Maddox
 ·
Jason Morgan
 ·
Sam Morgan
 ·
Dr. Griffin Munro
 ·
Dillon Quartermaine
 ·
Michael Quartermaine
 ·
Tracy Quartermaine
 ·
Nina Reeves
 ·
Nurse Sabrina Santiago
 ·
Laura Spencer
 ·
Valerie Spencer
 ·
Lulu Spencer-Falconeri
 ·
Nurse Elizabeth Webber
 ·
Nathan West
Current Recurring Characters
T.J. Ashford
 ·
Ned Ashton
 ·
Scott Baldwin
 ·
Claudette Beaulieu
 ·
Valentin Cassadine
 ·
Lucy Coe
 ·
Darby Collette
 ·
Dr. Kevin Collins
 ·
Brad Cooper
 ·
Kristina Corinthos-Davis
 ·
Landon Dixon
 ·
Naomi Dreyfus
 ·
Nurse Amy Driscoll
 ·
Nurse Felix DuBois
 ·
Parker Forsyth
 ·
Max Giambetti
 ·
Milo Giambetti
 ·
Alice Gunderson
 ·
Jasper Jacks
 ·
Nurse Epiphany Johnson
 ·
Dr. Lucas Jones
 ·
Ric Lansing
 ·
Molly Lansing-Davis
 ·
Dr. Kelly Lee
 ·
Janice Lomax
 ·
Huxley Lynch
 ·
Rosalie Martinez
 ·
Diane Miller
 ·
Dr. Liesl Obrecht
 ·
Dr. Monica Quartermaine
 ·
Dr. Joe Rivera
 ·
Aaron Roland
 ·
Delia Ryan Coleridge
 ·
Felicia Scorpio
 ·
Mac Scorpio
 ·
Robert Scorpio
 ·
Dr. Robin Scorpio-Drake
 ·
Nurse Bobbie Spencer
 ·
Damian Spinelli
 ·
Ellie Trout
 ·
David Walters
 ·
Heather Webber
Current Child Characters
Spencer Cassadine
 ·
Leo Falconeri
 ·
Rocco Falconeri
 ·
Josslyn Jacks
 ·
Avery Jerome-Corinthos
 ·
Danny Morgan
 ·
Teddy Rivera
 ·
Emma Scorpio-Drake
 ·
Aiden Spencer
 ·
Cameron Spencer
 ·
Jake Spencer
 ·
Georgie Spinelli
Deceased and Presumed Dead Characters
Benny Abrahms
 ·
Bernie Abrahms
 ·
Dr. Rachel Adair
 ·
Diego Alcazar
 ·
Lorenzo Alcazar
 ·
Luis Alcazar
 ·
Sage Alcazar
 ·
Ruby Anderson
 ·
Dr. Andy Archer
 ·
Dominique Baldwin
 ·
Cooper Barrett
 ·
Alison Barrington
 ·
Amanda Barrington
 ·
Kiefer Bauer
 ·
Warren Bauer
 ·
Jesse Beaudry
 ·
Katherine Bell
 ·
Connor Bishop
 ·
Mary Bishop
 ·
Paige Bowen
 ·
Nurse Jessie Brewer
 ·
Nancy Brewer
 ·
Dr. Phil Brewer
 ·
Carter
 ·
Helena Cassadine
 ·
Irina Cassadine
 ·
Kristina Cassadine
 ·
Mikkos Cassadine
 ·
Stavros Cassadine
 ·
Stefan Cassadine
 ·
Tony Cassadine
 ·
Victor Cassadine
 ·
Stone Cates
 ·
Dr. Ryan Chamberlain
 ·
Dr. Silas Clay
 ·
Stephen Clay
 ·
Adela Corinthos
 ·
Lily Corinthos
 ·
Dr. Ian Devlin
 ·
Mickey Diamond
 ·
Ronnie Dimestico
 ·
Dr. Pierce Dorman
 ·
John Durant
 ·
Bill Eckert
 ·
Connie Falconeri
 ·
Andrea Floyd
 ·
Dr. Russell Ford
 ·
Dr. Steve Hardy
 ·
Peter Harrell, Sr.
 ·
Peter Harrell, Jr.
 ·
Abby Haver
 ·
Logan Hayes
 ·
Theo Hoffman
 ·
John Jacks
 ·
Aleksander Janacek
 ·
Victor Jerome
 ·
Stan Johnson
 ·
B.J. Jones
 ·
Georgie Jones
 ·
Tania Jones
 ·
Dr. Tony Jones
 ·
Dr. Ewen Keenan
 ·
Rafe Kovich, Jr.
 ·
Dr. Eve Lambert
 ·
Trevor Lansing
 ·
Duke Lavery
 ·
Dr. Cameron Lewis
 ·
Victor Lord III
 ·
Hope Manning-Thornhart
 ·
Reese Marshall
 ·
Courtney Matthews
 ·
Dr. Matthew Mayes
 ·
Danny McCall
 ·
Lila McCall
 ·
Nurse Leyla Mir
 ·
Trey Mitchell
 ·
Susan Moore
 ·
Chloe Morgan
 ·
Henry Nakamura
 ·
Dr. Lisa Niles
 ·
A.J. Quartermaine
 ·
Dr. Alan Quartermaine
 ·
Alexandria Quartermaine
 ·
Edward Quartermaine
 ·
Dr. Emily Quartermaine
 ·
Lila Quartermaine
 ·
Carlos Rivera
 ·
Faith Rosco
 ·
Manny Ruiz
 ·
Gabriel Santiago
 ·
Joe Scully
 ·
Joe Scully, Jr.
 ·
Kyle Sloane
 ·
Damian Smith
 ·
Frank Smith
 ·
Shirley Smith
 ·
Zander Smith
 ·
Lena Spencer
 ·
Pat Spencer
 ·
Siobhan Spencer
 ·
Tim Spencer
 ·
Olivia St. John
 ·
Nurse Diana Taylor
 ·
Martha Taylor
 ·
Dr. Peter Taylor
 ·
Tracy Taylor
 ·
Dr. Asher Thomas
 ·
Cole Thornhart
 ·
Nurse Amy Vining
 ·
Bradley Ward
 ·
Justus Ward
 ·
Mary Mae Ward
 ·
Dr. Rick Webber
 ·
Dr. Karen Wexler
 ·
Dawn Winthrop
 ·
Deke Woods
 ·
Dr. Maggie Wurth
 ·
Anthony Zacchara
 ·
Claudia Zacchara-Corinthos
Off-screen and Former Characters
Lila Rae Alcazar
 ·
Dr. Grant Andrews
 ·
Terri Arnett
 ·
Brook Lynn Ashton
 ·
Larry Ashton
 ·
Christina Baldwin
 ·
Dr. Gail Baldwin
 ·
Lee Baldwin
 ·
Serena Baldwin
 ·
Dr. Tom Baldwin
 ·
Brenda Barrett
 ·
Julia Barrett
 ·
Melinda Bauer
 ·
Shawn Butler
 ·
Gia Campbell
 ·
Peter Carroll
 ·
Dimitri Cassadine
 ·
Petros Cassadine
 ·
Jagger Cates
 ·
Lois Cerullo
 ·
Skye Chandler-Quartermaine
 ·
Dr. Linda Chu
 ·
Father Coates
 ·
Mike Corbin
 ·
Angie Costello
 ·
Blair Cramer
 ·
Jolene Crowell
 ·
Nurse Nadine Crowell
 ·
Dr. Rae Cummings
 ·
Marco Dane
 ·
Téa Delgado
 ·
Roy DiLucca
 ·
Anna Donely
 ·
Sean Donely
 ·
Tiffany Donely
 ·
Dr. Noah Drake
 ·
Dr. Patrick Drake
 ·
Taylor DuBois
 ·
Toussaint Dubois
 ·
Jenny Eckert
 ·
Sly Eckert
 ·
William Eichner
 ·
Angel Ellis
 ·
John Everett
 ·
Cesar Faison
 ·
Nurse Fletcher
 ·
Pres Floyd
 ·
Nurse Betsy Frank
 ·
Ivy Gatling
 ·
Nurse Audrey Hardy
 ·
Dr. Simone Hardy
 ·
Dr. Tom Hardy
 ·
Dr. Tommy Hardy
 ·
David Harper
 ·
Jimmy Lee Holt
 ·
Dr. Matt Hunter
 ·
Anton Ivanov
 ·
Lady Jane Jacks
 ·
Jerry Jacks
 ·
Terrell Jackson
 ·
Miranda Jameson
 ·
Frisco Jones
 ·
Dr. Leo Julian
 ·
Rose Kelly
 ·
Winifred Leeds
 ·
Guy Lewis
 ·
Victor Lord, Jr.
 ·
Ethan Lovett
 ·
Starr Manning
 ·
Todd Manning
 ·
John McBain
 ·
Colleen McHenry
 ·
Miguel Morez
 ·
‎Hope Morgan
 ·
Ken Morgan
 ·
Delores Padilla
 ·
Blackie Parrish
 ·
Nurse Penny
 ·
Grant Putnam
 ·
Celia Quartermaine
 ·
Burt Ramsey
 ·
Coleman Ratcliffe
 ·
Madeline Reeves
 ·
Cruz Rodriguez
 ·
Casey Rogers
 ·
Father Mateo Ruiz
 ·
Juan Santiago
 ·
Alec Scott
 ·
Hannah Scott
 ·
Jeffrey Scribner
 ·
Rebecca Shaw
 ·
Jennifer Smith
 ·
Lucky Spencer
 ·
Luke Spencer
 ·
Suzanne Stanwyck
 ·
Nurse Mischa Stephens
 ·
Holly Sutton
 ·
Marcus Taggert
 ·
Nurse Regina Thompson
 ·
Claire Walsh
 ·
Faith Ward
 ·
Keesha Ward
 ·
Dr. Maya Ward
 ·
Dr. Jeff Webber
 ·
Dr. Lesley Webber
 ·
Dr. Sarah Webber
 ·
Dr. Steve Webber
 ·
Dr. Britt Westbourne
 ·
Dr. Lainey Winters
 ·
Grace Yang
 ·
Johnny Zacchara
Crew
Shelly Altman (Head writer, 2011-2012, 2015-present)
 ·
Ron Carlivati (Head writer, 2012-2015)
 ·
Jill Farren Phelps (Executive producer, 2001-2012)
 ·
Robert Guza, Jr. (Head writer, 1996, 1997-2000, 2002-2008, 2008-2011)
 ·
H. Wesley Kenney (Executive producer, 1987-1989; Head writer, 1988)
 ·
Gloria Monty (Executive producer, 1978-1987, 1991-1992; Head writer, 1981)
 ·
Jean Passanante (Head writer, 2015-present)
 ·
Wendy Riche (Executive producer, 1992-2001)
 ·
Frank Valentini (Executive producer, 2012-present)
 ·
Garin Wolf (Head writer, 2008, 2011-2012)
Related Topics
List of cast members
 ·
List of current actors
 ·
History of General Hospital