Jason Morgan (Steve Burton)
Comments

96
519pages on
this wiki
Jason redirects here. For other uses of the name, see Jason (disambiguation).
Jason Morgan
Steve Burton as Jason Morgan
General Hospital
Portrayed by
Quinn Carlson (1982)
Bryan Beck (1983-86)
Steve Burton
(1990-00, 2000, 2001, 2002-12)
Carmel Fainbaum
(baby Jason; 2012)
Duration
1982-86, 1990-00, 2000, 2001, 2002-12
First appearance
1982 (on GH)
Last appearance
October 30, 2012 (on GH)
Cause/reason
Appeared in Sam's hallucination
Created by
Thom Racina
Leah Laiman
Introduced by
Gloria Monty (GH, 1982)
Joseph Hardy (GH, 1990)
Wendy Riche (GH, 2000)
Jill Farren Phelps
(GH, 2001, 2002; NS 2007)
Book appearances
Robin's Diary
The Secret Life
Spin-off appearances
General Hospital: Night Shift
What If...
Profile
Nickname(s)
Stone Cold (by Spinelli)
Jase
Alias(es)
Jason Moore (birth name)
Jason Quartermaine (raised as)
Namesake(s)
Morgan Corinthos
Jacob Martin Spencer
Gender
Male
Born
September 14, 1981
(revised to 1974)
New York, New York
Died
October 22, 2012
Pier 52
Port Charles, New York
Age
38 (at presumed death)
Cause of death
Presumed dead after being shot by Faison and kicked into the harbor
Occupation
Enforcer for Corinthos-Morgan
Coffee importer
Owns 10% of voting stock, non-voting stockholder of ELQ
Residence
122 Harbor View Dr, PH #2
Port Charles, New York

Relationships
Family
Cassadine, McCall, Jerome, Morgan, Quartermaine
Parents
Alan Quartermaine
Susan Moore
(both deceased)
Monica Quartermaine (adoptive)
Siblings
Skye Chandler-Quartermaine (adopted)
A.J. Quartermaine
Emily Bowen-Quartermaine
(adopted; deceased)
(paternal half)
Dawn Winthrop
(adoptive maternal half; deceased)
Spouses
Brenda Barrett
(2002-03; annulled)
Courtney Matthews
(2003-04; invalid; deceased)
Sam McCall
(2011-12; dissolved by his death)
Romances
Karen Wexler
(dated; as Jason Quartermaine; deceased)
Keesha Ward
(lovers; as Jason Quartermaine)
Robin Scorpio (lovers)
Carly Benson
(one-night stand; dated)
Sam McCall
(dated, lovers, engaged)
[2005-07; 2009-11]
Elizabeth Webber
(lovers, engaged; 2007-08)
(kissed, 2012)
Children
Michael Corinthos (former legal)
Unnamed child
(with Courtney; miscarriage)
Lila McCall (surrogate; stillborn)
Hope Morgan (former foster)
(with Sam)
Jake Spencer
(with Elizabeth; deceased)
Danny Morgan (with Sam)
Grandparents
Edward and Lila Quartermaine (paternal; deceased)
Aunts and uncles
Bradley Ward (deceased)
Tracy Quartermaine
Jimmy Lee Holt
(paternal)
Nieces and nephews
Lila Rae Alcazar (via Skye)
Michael Corinthos (via A.J.)

First cousins
Justus Ward (deceased)
Faith Ward
Ned Ashton
Dillon Quartermaine
(paternal cousins)
Maya Ward
(paternal once removed, via Faith)
Brook Lynn Ashton
(paternal once removed, via Ned)
Heather Webber
(maternal, once removed)
Godchildren
Morgan Benson
Josslyn Jacks
Other relatives
Steven Webber
(maternal second cousin)
Jason Morgan (né Moore, raised Quartermaine) was a fictional character on the ABC soap opera, General Hospital and has appeared on its SOAPnet spin-off series, General Hospital: Night Shift. He was one of the longest-running characters on the show, having been played by various actors since the character's birth in 1982. The role is best known as Emmy award winning Steve Burton, who joined the cast in 1991 and eventually left the show in 2012.
Within the show's storyline, Jason is the biological son of show icon Dr. Alan Quartermaine, from an affair with Susan Moore. Originally a bright and ethical teenager whose main ambition in life was to become a doctor, the character would be revamped into a organized crime family enforcer and hitman in the Corinthos Crime Family, after sustaining a massive head injury that resulted in permanent brain damage and substantial memory loss.
Personality and traits
Edit
Prior to the car accident, Jason was depicted as a kind-hearted and affable young man. Since then, however, Jason has been largely depicted as taciturn and largely emotionless, and has largely severed his ties with the Quartermaine family. However, Jason is quite a complex character and has his own set of morals.
Even after his accident, Jason displayed several acts of compassion and love, comforting Robin after the death of Stone and helping her to realize that she could live a normal life with HIV. Though no longer romantically involved, the two remain good friends to this day.
Despite his high-ranking position in the Corinthos mob, Jason is somewhat of a vigilante and has often helped to bring down criminals worse than he and Sonny. He frequently displays loyalty and compassion to his loved ones and friends, and can be roused to phenomenal fury whenever they, especially his longtime lover Sam McCall, are harmed or endangered; for example, he yelled at and manhandled Alexis Davis when her actions caused the stillbirth of Sam's daughter. Additionally, upon discovering that Sam had been terrorizing Elizabeth Webber since she discovered that Jason was Jake's biological father, Jason was outraged and openly threatened to kill Sam if she ever tried anything to hurt Elizabeth's family again.
He has a great deal of kindness and affection towards Sonny's children, particularly Michael and Kristina, and has shown to care a great deal for Molly Lansing despite his history of enmity with her father. Because of the circumstances of Michael's upbringing, Jason has vowed never to get children involved in the mob again; when Molly approached him and requested that he kill Warren Bauer when he began to harass the Davis family, Jason turned her down for that exact reason and told her that she shouldn't try to get involved with the mob because she was "too good."
Jason is also surprisingly perceptive and shows an impressive deductive streak; for example, when Kristina was beaten and hospitalized by her boyfriend Kiefer and told everyone that Ethan Lovett was her attacker, Jason was the first to realize she was lying when nearly everyone else in Port Charles, including Kristina's own parents, was completely fooled.
Storylines
Edit
Birth and accident
Edit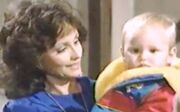 Jason was conceived out of his father, Alan Quartermaine's, affair with Susan Moore. When Jason was born, Alan supported him financially, but was fighting for custody over his other son A.J. Jason lived with his mother and step-father Scott Baldwin up until her death, after which he moved in with Alan and Monica. Jason and A.J. were sent off to boarding school as children.
When Jason and A.J. returned, Jason, who was a successful student and athlete, was treated as the family favorite while A.J. was failing and dealing with alcoholism. Jason had relationships with
Karen Wexler
,
Brenda Barrett
, and
Keesha Ward
, who A.J. also loved. Jason had supported Monica through her health crisis and adored his adoptive sister,
Emily Quartermaine
. In December 1995, an intoxicated A.J. ran his car into a tree. Jason, who had been attempting to stop A.J. from driving, was in the passenger seat and hit his head on a large boulder
after being ejected from the car. To spare A.J., his cousin
Ned Ashton
claimed responsibility for the accident. Jason suffered brain injuries that resulted in total memory loss. Upon waking up from his coma, Jason had no recollection of his past and resented all the Quartermaines except his grandmother and Emily. He moved out of the Quartermaine Mansion and changed his last name to Morgan, to honor his grandmother,
Lila Morgan Quartermaine
. He became Sonny Corinthos' enforcer in his mob business and began to date
Robin Scorpio
.
Carly and Michael
Edit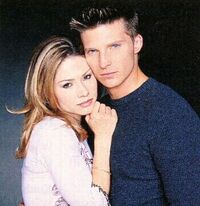 Due to the fact that Robin was HIV-positive, Jason began to sleep with Carly Roberts but Jason chose to be with Robin instead. Jason and Carly still remained friends. Jason, working for Sonny, discovered that a drugs were being imported, which caused his sister, Emily to collapse. Due to the fact that the mob was too much for Robin, the couple split up but Jason held a promise never to be romantically involved with Carly.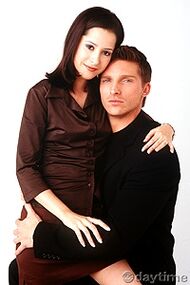 To help Carly, Jason pretended to be the father of her baby so that neither of the two men that she slept with could take her baby away. Robin returned to Port Charles and Jason confessed that the child was A.J.'s according to a paternity test but would still like to be the child's father until Carly can take care of her son.Jason and Robin reunited and made love for the first time. After Robin was almost killed in an explosion, Jason left the mob. Carly was released from the hospital and began to put a strain on Jason and Robin's relationship. Robin told AJ that he was Michael's father in an attempt to free Jason and the baby from Carly. This sent Carly in to depression and left town. Jason and Michael bonded over this time but Jason temporarily lost custody of Michael. AJ and Carly married, and a judge awarded joint custody to Jason, Carly, and AJ. Jason feared his hatred of AJ would hurt Michael and signed away all rights. He remained a big part of Michael's life and they are very close.
Jason began comforting Elizabeth Webber over the death of her boyfriend. Carly misunderstood their relationship and slept with Sonny. Jason was unable to deal with the betrayal of Sonny and Carly, and left town. Sonny and Carly began a real relationship, which Jason eventually accepted.
Jason was forced to protect Sonny's sister, Courtney Matthews, when she was being stalked by A.J. Quartermaine. Jason and Courtney began a relationship which they had to keep secret, fearing Carly and Sonny's disapproval. Carly was overjoyed once discovering. After Luis Alcazar was murdered, Brenda and Jason became the prime suspects and were forced to wed to refrain from testifying. They divorced soon after, and Sonny discovered Courtney and Jason's affair which led to him firing Jason. Sonny eventually gave his approval, however, and Courtney and Jason became engaged. However, on the night of their wedding, their best friend Carly was kidnapped. Courtney was pregnant, but lost the baby when trying to escape from Lorenzo Alcazar. Eventually, she and Jason married in France but due to the mob lifestyle, they divorced.
Sam McCall
Edit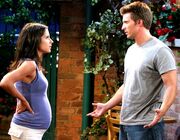 Jason and Sam McCall were arrested for aiding and abetting Sonny. Jason offered her a million dollars to leave town when he discovered that Sonny and Sam had had an affair while he was married to Carly. Sam refused and moved in with Sonny. Sonny and Carly reconciled, but Jason discovered that Sam was pregnant with Sonny's child. Jason prevented her from having an abortion and when she was planning on leaving town, Jason convinced her to stay, with Jason pretending to be the father of Sam's baby in order to protect Sonny and Carly's reconciliation. Sam moved into the penthouse with Jason althought the two have tension over their predicatment they begin a friendship. Jason convinces Sam that they should marry to make everyone believe they are having this baby and although they did make it to the altar, their wedding did not go through. When Sam's violent ex-boyfriend attempts to kidnap her, Jason rescues her. When it is believed that she was responsible for burning down her mother's house and killing her, Jason discovers that Sam is protecting her disabled brother Danny who was actually responsible. Jason has Danny sent to a school out of state to protect him. When Sonny and Alexis Davis' daughter Kristina is ill, Sam is asked to provide the stem cells but before she could come to that decision she gives birth to a stillborn baby girl which Jason gets to hold. Jason is there when she awakes and is forced to tell convince her that her baby died. Jason and Sam return to the penthouse and mourn the death of the child that would have been theirs. Jason and Sam share their first kiss after his sister Emily's wedding. After their second kiss they agree to part friends only and Sam leaves the penthouse. Eventually Jason asks her to return and live with him. Sam asks Jason to help her raise a little girl she has been given custody of, and although they make an initial attempt at gaining full custody, it falls through and Sam leaves Jason in hurt and anger.
When Sonny's daughter Kristina is discovered missing, Jason is shot in the belly attempting to rescue Sam who was accused of the kidnapping. When all three of Sonny's children were eventually kidnapped, Jason and Sam worked together to discover that A.J. Quartermaine and Faith Rosco were the kidnappers. When Michael was believed to be killed Sam helped Jason discover he was still alive and being brainwashed by his father A.J.. Jason and Sam worked together to help Michael get the psychiatric care he needed in the aftermath of his kidnapping, however Jason learned that the doctor treating Michael was the same doctor who treated him after he awoke from his accident years earlier. Jason takes an experimental drug which helps him remember Dr Thomas tried to kill him on A.J.'s orders. After Jason lost his memory again, Jason fell in love with Sam again and they move to Hawaii when Jason decides he wants nothing to do with his old mob life. Jason and Sam are forced to return to Port Charles when the Ruiz family vows revenge on Jason. In late November 2005, after weeks of dibilitating pain, Sam convinced Jason to go on an experimental drug that Robin Scorpio founded that would help him regain his memory. The drug worked but this caused a brain aneurysm and they moved back to Hawaii where they planned to spend the last days of Jason's life. Although Jason initially refuses, Robin and Patrick Drake operate on him saving his life, when he comes to the decision that he wants to live in order to stay with Sam.
Elizabeth and Jake
Edit
Jason and Sam later discover that Sam's mother is Alexis Davis. Although Sam and Jason wanted to have children, she was shot with a bullet meant for Jason, resulting in her inability to become pregnant again. Due to his guilt and under the influence of her new mother, Jason broke up with Sam in the hospital when she woke up from her coma. After months of hurt and rejection, Sam slept with her mother's husband, Ric Lansing, to cause her mother grief but Jason discovered them instead. Jason slept with Elizabeth Spencer, which resulted in a pregnancy. Jason and Sam admit their infidelity to one another and agree to work on their relationship when it is later discovered that Elizabeth is pregnant. Eventually a DNA test is completed and all believe the baby to be Elizabeth and her husband Lucky Spencer's child. Jason and Sam reunite and attempt to try for their baby. Jason also had to come to terms with Sonny dating his sister, Emily. The relationship drove a wedge between Jason and Sonny, and Jason took over Sonny's business entirely without Sonny's consent. This resulted in a fist fight between the two that a teary-eyed Emily had to break up. Jason's estranged father Alan died in early 2007 during the Metro Court hostage crisis, just as they were beginning to rebuild their relationship. Jason took his death hard, and privately confided to Monica during the memorial service that he had flashes of good childhood memories of Alan and that he regretted all the years he pushed him away.
Elizabeth gives birth to a son, Jacob Martin Spencer, in May 2007. Jason had recently discovered that the baby was his son, but they agreed to let Lucky believe he was the father in order to protect their child from the mob. Jason lies to Sam about the baby's paternity pulling away from her emotionally, but when she discovers their lies she spirals out of control. When Sam watches and says nothing when she sees Jason and Elizabeth's son, Jake, being kidnapped. Jason and Sam's relationship ends, and Jason recovers his son with the help of Amelia Joffe. Jason and Elizabeth admit their love as her marriage dissolves. Jason reveals Jake's paternity to Lucky at the Black and White Ball. Lucky and Sam agree to keep the secret, and Elizabeth and Jason begin to meet secretly. They become engaged but on the same day of their engagement, Michael is shot, and Jason ends their engagement. A war with the rival Russian mob began to escalate in November 2008. Jason agrees when Lucky proposes sending Elizabeth, the boys, and Sam, to hide in a cabin in the woods. During a shootout with Russians who had followed the women to the cabin, Jake is kidnapped once again. Sam goes with Jason to search for Jake, where she rescues Jake and they return him safely to Elizabeth. Jason and Elizabeth once again vow to never see each other again for the safety of the boys.
Problems with the Feds
Edit
Jason denies Sonny access to the organization when he wants it back. In order to regain his power, Sonny becomes head of the Zacchara organization by marrying Claudia Corinthos. Jason is later offered a blanket of immunity by Agent Rayner if he informs on Sonny Corinthos and Anthony Zacchara, but he refuses to give up Sonny. After Spinelli was set up by a geeky undercover agent named Winifred Leeds, he was arrested for his illegal activity. Jason is forced to agree to Rayner's deal to gain Spinelli's freedom. Jason asks Sonny to quit working with the Zaccharas, but Sonny refuses. Spinelli is freed from the FBI's hold when Sam, with the help of Winifred, destroys all the evidence against him. Jason and Sonny reconcile, and Jason is more than happy to give Sonny back the business.
Second relationship with Sam
Edit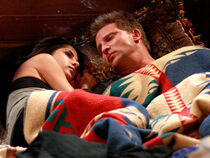 Jason obtains evidence that Claudia Corinthos is responsible for Michael's shooting. Jason is also dealing with Carly and her unstable son. In May 2009, his nephew Michael Corinthos wakes up from his year-long coma, but due to brain damage he is now an aggressive 17-year-old. Jason refuses to allow Michael's request to join his father's business and agrees with Carly that Michael should live at the Quartermaine Mansion for his own good. Jason resumes a friendship with Sam, who has partnered with Spinelli in her quest to start a private investigation firm.
Jason depends on Sam's skills to help him with an issue involving Dominic Pirelli, a new mob soldier who was trying to make his way into Sonny's organization. When Michael and Kristina run away because both teenagers each believed themselves to be the driver responsible for Claudia's car accident that resulted in the loss of her unborn baby, Jason and Sam take off to Mexico after them, recapturing some of their former closeness along the way. A resurfaced Jerry Jacks manages to capture Sam, luring Jason into a trap. During the ensuing shootout, Jason is pinned beneath a pile of rubble and Jerry taunts Jason with lies about Claudia's innocence before shooting him twice and leaving him for dead. Sam escapes and returns just in time to rescue Jason and nurse him back to health, and then they make love. On August 28, 2009, Jason and Sam find Michael and Kristina in Cancun, Mexico, and bring them back to Port Charles a few days later. Jason tells Sonny about his altercation with Jerry and about Jerry's claims of Claudia's innocence in Michael's shooting.
Despite their denials, Jason and Sam's renewed closeness is apparent to everyone, especially after they are caught kissing by Maxie and Spinelli. Jason is given a lecture from both Carly and Maxie on how he should treat Sam if he wishes to stay with her. Jason listens to Carly's advice and refuses to let Sam back out of going to the carnival with him. The carnival takes a chaotic turn when Jason's grandfather Edward Quartermaine has a drug-induced heart attack and passes out behind the wheel, plunging his car down the carnival midway. Jake is injured at the carnival, and Jason turns to Sam for comfort and reassurance multiple times during this ordeal. While at the hospital, Jason witnesses Nikolas and Liz kissing, and ends up at Sam's apartment where he reveals that he missed their closeness. After some initial reservations on Sam's part they end up making love again at his penthouse. Believing themselves to be alone, they are caught by surprise the next morning when they come downstairs in each other's arms only to find Spinelli and Maxie's wedding party planners in the living room.
Claudia's murder and Kristina's abuse
Edit
Jason and Sam tell Sonny that Claudia orchestrated Michael's shooting. Sonny publically humiliates Claudia and attempts to get rid of her. In defence, Claudia kidnaps Carly, who goes in to labour. Michael finds Claudia stealing Carly's newborn daughter and bludgeons her to death. Jason covers the murder. In November, Jason is tormented by an artist named Franco who is interested in causing Jason's downfall. In January 2010, Franco kidnaps Lulu and Sam and straps them both to bomb, placing them on the opposite side of Port Charles. Jason saves Sam while Dominic saves Lulu. Franco leaves town soon after. Jason and Lulu are named godparents to Carly's daughter, Josslyn Jacks, on January 29, 2010. On that day, Dominic is revealed to a be an undercover cop named Dante Falconeri, who is also Sonny's son. Although Jason wishes Dante dead, Sonny asks him not to. When Sonny is arrested for Claudia's murder, Jason moves Michael over to Sonny's island to prevent him Michael from confessing.
When Kristina is abused and hospitalized by her boyfriend Kiefer Bauer, Jason is the first to see through her lies to protect him and convinces Dante and Lucky to investigate further. Eventually, Kiefer's abusive nature, and thus the truth about Kristina's attacks, becomes public knowledge after he beats her a second time; however, Alexis accidentally hits Kiefer with her car and kills him while taking Kristina to the hospital that same night, causing his father, Warren Bauer, to become obsessed with getting revenge on Kristina and Alexis. In response, Jason is approached by Molly, who desperately begs him to "make Mr. Bauer disappear." Jason turns her down, explaining that he doesn't want to get children involved in the mob after what happened to Michael.
Franco's and Brenda's returns
Edit
Sonny is put on trial for his alleged role in Claudia's death, and the prosecutor, Claire Walsh, does everything in her power to ensure that Sonny is convicted, going so far as to make Johnny Zacchara falsely testify that Sonny routinely physically abused Claudia and force Morgan Corinthos onto the stand. However, just as the jury is about to reach a verdict, Dante enters the courtroom and surrenders Michael as Claudia's true killer. Once Dante's allegations are proven, the judge unfairly sentences Michael to five years in Pentonville State Prison as a message to Sonny and Carly, leaving everyone present shocked and upset. On May 20, in order to protect Michael, Jason makes a deal with Claire and is sent to Pentonville as well. Jason was regularly visited by Sam, who at one point posed as his ex-wife, Brenda Barrett, in order to get a conjugal visit. He is also visited by Alexis for advice on how to handle the increasingly rebellious Kristina, who is now in a relationship with Johnny (it is later revealed that Kristina was only pretending to date Johnny to spite Sonny). Dante, Claire, and Jax, guilt-ridden over their roles in Michael's incarceration, eventually convince the judge to release Michael on parole, while Jason remains in Pentonville.
On June 30, Franco returns to Port Charles with the intent to resume his feud with Jason; in response, Jason makes a deal with Dante and Claire and is released from Pentonville to draw Franco out of hiding. In July, Jason and Dante go to L.A. to find Franco. In late July/early August, they had thought that Franco had died (from his fall off the roof), but it was someone else. Franco revels that he had Carter beat and 'mess' up Michael. Franco also has a nurse named "J. Morgan" take Aiden Cassadine, the newborn son of Elizabeth and Lucky Spencer, because he had the number 66 on his ID bracelet. Franco was obsessed with the number 66 and wanted his mom to have the "perfect" son. Aiden is found and returned to Elizabeth by Lucky. Franco eventually escapes, and Jason is sent back to prison only to be released a few weeks later after Sonny and Claire find a loophole in his plea bargain.
On September 16, 2010, Jason went to Rome, to serve as a bodyguard to help protect Brenda from the Balkan. This is the first time they have seen each other since she went back to Paris in early 2003. Jason and Brenda return to Port Charles in late September. Brenda moved into the Penthouse with him because it was the best way to protect her from the Balkan. Jason's relationship with Brenda is that of a love/hate or brother/sister relationship. Jason finds her irritating and a pain in the ass, and Brenda finds his unemotional facade aggravating.
With Brenda living with Jason, he and Sam barely get to spend anytime together. He briefly asks Sam to move in but she says no saying that it is not right timing. Jason and Sam continue to work on protecting Brenda and finding out the identity of the Balkan. During this storyline Michael finally admits to Jason that he was raped by Carter in prison which hits Jason really hard. In early 2011, Sam finds out that there is a fertility construction surgery that she can have that might give her the possibility of having a baby. She and Jason discuss the possiblity of her having the surgery to keep her options open but agree that their lives are not set up for kids. At one point she even thinks she is pregnant but results prove that she is not.
Jason and Sam discovered that Brenda's defense attorney, Theo Hoffman, was the Balkan, and immediately went out to stop him; in the process, Jason was caught in an ambush and barely escaped. After the reception, Brenda was seemingly killed in a car bomb. When the authorities managed to get through the wreckage, everybody was shocked to discover Sam within the limo, with no sign of Brenda. Fortunately, due to bomb-proofing, Sam survived the explosion with only a concussion and temporary hearing loss. Though it was believed that the Balkan was the one who planted the bomb, Jason received a call from the newly returned Franco, who hinted that he was the one who planted the bomb.
In the meantime, Jason interrogates Shawn Butler, a mercenary who had previously worked for Theo, for information. Shawn insists that he does not know where Theo and Brenda are and he wants Theo taken down just as badly as they do, but Jason does not believe him. Shawn says that he has access to records on Theo that may help them, but they are contained in a biometric lock that only he can bypass. After much persuasion, Jason agrees to let Shawn get the information, and also asks him to check the records to see if Theo has any connection with Franco.
Later, Jason discovers from Michael that he had gone after an assassin hired by Theo to kill Shawn and apprehended him with Dante's help. Jason is anything but pleased that Michael risked breaking his parole and got "too close to the business," only for Michael to snap and shout that he wants to help and is sick of people not believing in him. Jason explains that he gave up a lot of choices when he went to work for Sonny, revealing that he is Jake Webber's biological father, and tells Michael that he merely doesn't want him to make the same mistake.
Eventually, Jason, Sonny, and Dante manage to track down Brenda, finding her near-death after being injected with a neurotoxin. Sonny rushes her to the hospital while Jason and Dante attempt to stop Theo, who escapes. Jason and Dante quickly begin to butt heads over their differing opinions regarding apprehending Theo; Jason is perfectly willing to kill him for hurting Sam, while Dante is determined to arrest Theo despite Jason's insistence that Theo, being a lawyer, would easily find a way out of it.
While Brenda is recovering in the hospital, Jason has Spinelli surf the Web to find out if Theo has any connections in Port Charles, discovering that he did indeed have one with a family aligned to the Corinthos organization. Jason immediately departs, vowing that anyone who hurts Sam needs to be dealt with. In the ensuing confrontation, Theo's contact insists that he has no idea where the Balkan is now, and explains to Jason that he put Theo in contact with Johnny Zacchara. The contact declares that it was a mistake to help Theo and doesn't to business with people who attack women.
Jason immediately confronts Johnny, who insists that he had no idea that Theo was targeting Brenda and had nothing to do with Sam's kidnapping. However, Johnny does admit that he lent some muscle to Theo and killed the man who was following Sam. Johnny even declares that he could have easily killed Jason too, and for that, Jason owes him a life debt.
Jake's death and moving forward
Edit
On March 18, 2011, Jason's son, Jake runs out his mother's house, into the street and gets hit by a car. Jake is rushed to the hospital, and Patrick and Robin Drake operate on him to try and save his life, but there was just too much damage, and Jake dies on the operating table as Jason watches from the observation window. Jason later had to break the news to Lucky, who then went and broke the news of Jake's death to Elizabeth. Carly, who was also at the hospital because her daughter Josslyn had just been diagnosed with kidney cancer, found Jason at the hospital rooftop and told him of Josslyn's illness. She felt horrible for Jason's loss, but wanted him to consider donating Jake's kidneys to Josslyn in order to save her daughter's life. Jason approached Elizabeth about helping Carly, but Elizabeth was furious at first and didn't want to hear it. Later after some convincing from Lucky, Liz and Lucky made the decision together to give Jake's kidneys to Josslyn and donate the rest of his organs. Josslyn was taken into surgery and made a full recovery.
Jason continues to grieve over the loss of Jake while also dealing with Luke Spencer, who was revealed as the person who hit Jake with his car and was determined to have Jason kill him. Jason later discovers the extent of Carly and Jax's marital problems, and that Jax is trying to take Josslyn away from Carly. He begins to help Carly keep Josslyn when she gets into a custody battle with Jax and has Spinelli dig up dirt on Jax. During a trial recess, Jason, Sonny, and Carly realize that Jax bribed Grace Yang, the mediator, to falsely paint Carly as unfit. Sonny subsequently goes behind Carly's back and blackmails Grace into framing Jax in a hotel room for her attempted assault after drugging him and planting illegal narcotics in the room. As a result of this incident, the judge gave Carly full custody of Josslyn.
The custody battle concluded and Jason re-focused on his life with Sam. He and Sam realized you can't protect a child by giving them away. Sam has a fertility reconstruction procedure, and the results are successful. Sam will be able to have children again. Jason also comes to realize that he never wants to part with Sam, and on July 21, 2011, Jason proposes to Sam, and she accepts.
Carly comes by when Jason and Sam are planning their wedding, asking for Jason's help to stop Jax from taking Josslyn. On their way to Carly's house, Jason and Carly get into an accident with Elizabeth and Lucky's wife, Siobhan. Jason is rushed to the hospital, and subsequently has to undergo surgery. Jason comes out of the surgery and begins to experience seizures. Patrick discovers a piece of nonorganic material shifting in his frontal lobe. It turns out to be a piece of the dashboard from the original accident that flew into his nose. Jason has to have another surgery to remove the inorganic matter and the surgery is a success.
Marriage and honeymoon
Edit
While Jason is in recovery from the surgery, he and Sam continue to plan their wedding. One disaster comes after another, as all of Maxie's wedding plans turn into disasters. The wedding planning begins to overwhelm Sam, and Jason takes her on a bike ride to calm her nerves. The end up at a Chinese restaurant in the Asian Quarter and learn that the owner is also an ordained minister. On September 22, 2011, Sam and Jason get privately married in a garden on the restaurant's property. Earlier in the day, Edward had given Jason his grandmother Lila's ring to give to Sam, and Monica had given Sam her late husband Alan's ring to give to Jason. Jason and Sam exchanged these rings as they wed in a small and intimate ceremony. They go to the "wedding" the following day and tell their loved ones that they already got married but have a reception at the church's courtyard.
After the reception Jason and Sam leave for their honeymoon. They spend a few days in Hawaii before, Shawn and Carly interrupt with the news that Franco had returned. Jason has his men do a thorough investigation and they track Franco to Toronto. Believing that they were in the clear, Shawn and Carly returned home and Jason and Sam stayed in Hawaii to finish their honeymoon. On their last night Sam and Jason were both tricked into drinking an open beer not knowing it was drugged by Franco. Jason woke up trapped in a room with a TV showing Franco carrying an unconscious Sam into their bedroom. As he watches, Jason begs to be let out and threatens Franco. When Jason is finally freed he runs to a sleeping Sam. Because of the amnesia-like effect of the drug the only thing Sam can remember is that a man was in bed with her. Jason then tells her what he saw and they both realize that Franco raped her.
They return to Port Charles and Jason begins losing his temper and searching for Franco. He is tormented by visions of what he saw on the TV and the guilt of not being able to protect his wife. He is powerless to take Sam's pain away which intensifies his anger. He has several outbursts including attacking the former mayor. Finding Franco and making him pay become an obsession to Jason. His anger causes everyone to become concerned.
Jason finally locates Franco in an undisclosed studio and sets off to confront him. Franco taunts Jason upon his arrival, but Jason ends the confrontation quickly by shooting Franco twice in the chest -- killing him. He later returns home to tell Sam that the Franco ordeal was over and they could move on with their lives, however Sam cuts him off by telling him that she is pregnant. They discus their options and decide to have an early paternity test done to determine the baby's paternity. Jason tells Sam that he will support her no matter the outcome of the test. Meanwhile as he and Sam await the paternity test results, his headaches worsened. After running more tests, Robin told Jason that his outbursts are caused by a cerebral edema as a result of the surgery.
Jason and Sam later receive the results of the paternity test and Jason learns that he is the father of Sam's baby. He and Sam go away and spend a couple nights at their wedding night cabin. When they return home, they inform friends and family of their happy news. Jason later collapses in the PH and Sam insists that he see a doctor. At the hospital, Patrick runs more tests and has to break the news to Jason that his condition is inoperable. Determine to save him, Robin begins working on a drug protocol to cure Jason. Robin comes up with a medicine to save him, but tragically dies in a lab explosion. Patrick, grief-stricken and angry refuses to give Jason the medicine or even operate on him. But after Sam begs him for his help, he decides to do the surgery because it is what Robin would want. Patrick operates on Jason and administers the medication successfully.
Marriage troubles and birth of son
Edit
After learning about Robin's death, Jason becomes angry with Sam for keeping the truth from him. They argue but Jason eventually forgives her and they reconcile when he learns that she was trying to protect him and acted out of love. After he is recovered from the surgery, he and Sam decide to figure out what the DVD that Franco left behind meant. Sam goes to the Ferncliff mental institution where she meets with Heather Webber who tells Sam that Franco is Jason's fraternal twin brother. Sam runs another DNA test and is devastated when it says Franco is the father. She tells Jason and he has a hard time accepting the news. Jason and Sam decide to separate for a little while to work on their marital issues.
When Jason realizes that he can love and accept the baby as his own, he goes to the motel where Sam was staying to tell her, unaware that she had gone into labor and given birth to a baby boy. A torrential rainstorm prevented Sam from getting to the hospital and she was forced to give birth in the motel with the help of John McBain. Jason was jealous of Sam's growing friendship with John so he sent two guys to beat John up and convince him to go back home. This action prevented John from getting Sam and the baby to the hospital. Sam leaves the motel with the baby to look for help and after placing the baby somewhere safe, she passes out.
Jason finds Sam and the baby and is forced to tell her that her baby is dead. They are unaware however that Todd Manning and Heather switched Sam's son with the late newborn son of Téa Delgado. Sam says that she wanted to name the baby Jason Morgan, Jr. It was later revealed that Heather switched the paternity results and made it appear that Franco was the father of Sam's child when in reality, the baby is truly Jason's biological son, but this truth remains unknown to everyone except Heather and Todd.
Jason then tries to comfort Sam over her loss and make things right between them again. But when she finds out that he had John beat up, she refuses to forgive him, and pushes him away. Jason still tries to reconcile with her, coming to the baby's memorial and asking Sam to come home with him. She still refuses. Jason tries to fix his marriage, but when he sees Sam kissing John on July 4th, he decides he and Sam cannot repair their relationship. He runs into Elizabeth after seeing Sam and John, and impulsively kisses her. But he later regrets it, telling Elizabeth he was angry.
The next day, Jason takes off his wedding ring. However, when Elizabeth's brother, Steve, finds out, he tells Jason to stay away from Elizabeth, which Sam overhears. When she confronts him about kissing Elizabeth, Jason confronts her about kissing John. They both make it clear to each other that they believe their marriage is over, as Sam tells Jason that Elizabeth is welcome to him. Jason also tells Elizabeth that their marriage was done the night Sam's baby "died."
Jason is talking to Carly, who is trying to convince Jason to go back to Sam, when he hears Sam is working for Todd Manning. Jason wonders why, when Sam already has a job, when he realizes she's investigating Todd. He goes to see Sam, and asks her if she's investigating Todd. When Sam asks why he cares, Jason says because she is his wife, and he's worried she could get hurt because Todd is dangerous. Sam tells him she is investigating Todd because he hired Heather Webber under suspicious circumstances. When she tells Jason she's trying to break into Todd's safe, he offers to stand guard while she does that, and Sam accepts. Todd comes back before she can get in, but she & Jason are cordial to each other afterwards, showing kindness to each other for the first time since the "death" of Sam's baby.
Jason and Sam decide to get a divorce in August of 2012. They share a heartbreaking goodbye and kiss. Their plan to divorce gets put on hold, however, when Alexis and Josslyn are kidnapped and end up in the hospital with a mystery illness. Jason teams up with John to find out what the mystery illness is. When Jason & John go to Wyndemere, the last place Alexis and Josslyn were, they find Dr. Ewen Keenan there. Jason is suspicious he is involved, but doesn't have anything to prove it. Eventually, it's revealed that the perpetrator is Jerry Jacks, who has poisoned the Port Charles water supply, and injected Josslyn and Alexis with the antidote for the poison. Jerry demands a large sum of money in return for the antidote.
Jason believes Ewen is working with Jerry, but Spinelli and Elizabeth, who is dating Ewen, do not believe him. However, his suspicions prove to be correct, and Ewen kidnaps Elizabeth. Jason has Spinelli track them down, but when he gets there, Ewen is holding Elizabeth at gunpoint. He shoots Jason in the leg so he can escape, but Elizabeth manages to escape and Jason shoots and kills Ewen. Elizabeth brings Jason to the hospital to treat his leg. While they are there, Sam and John come in after she fainted to make sure she hasn't been infected with the poison.
Baby switch reveal
Edit
When they both are left alone, Sam shares with Jason a fantasy she had where her son survived and what their life would be like. Unable to bear Sam blaming herself for her son's death, Jason asks Patrick to clarify what happened to Sam's baby for them. Patrick brings the autopsy report, and tells Jason & Sam that the baby had hemophilia and died of respiratory failure. When Jason asks if he could have been saved if he had made it to the hospital, Patrick says the baby couldn't have survived because his lungs weren't developed. Jason & Sam realize that it wasn't their fault the baby didn't make it.
Jason takes a look at the autopsy, and realizes that something doesn't add up. The baby's blood type is different from both Sam and Franco's. Elizabeth tells Jason it's probably just a hospital error. Jason later brings it up to Spinelli, who tries to find a way to clarify the information. Spinelli finds out Sam donated the baby's tissue to the hospital, and it's still stored there, which means they can run a test to see if the blood type was recorded correctly.
Jason goes home on his birthday, and finds Elizabeth there decorating the penthouse for the occasion. Jason is not in the mood to celebrate, and Elizabeth asks if he's still divorcing Sam, which Jason confirms. She ends up kissing him, but Jason stops her, saying they don't have a future, but Elizabeth isn't convinced. Before they can discuss it any further, Spinelli comes back with the results. He tells Jason the baby's blood type wasn't a mistake, and Jason realizes the baby that died wasn't Sam's. When Jason retraces what happened to Sam and her baby the night of the storm, Spinelli realizes Heather was involved in the switch. Jason decides to go to Ferncliff to talk to Heather, but Spinelli gets a phone call from Steve, Heather's son, and informs Jason that Heather escaped from Ferncliff.
Jason talks to Steve about where Heather could be, and when Steve asks why, Jason tells him he thinks Heather took Sam's baby. Steve doesn't believe it, but when Jason lays out the facts, Steve is shocked at what his mother did. When Jason tells him he's not sure where the other baby came from, Steve reveals that he treated Téa Delgado and her newborn son the night of the storm. He gets Téa's medical file, and the baby is revealed to have the same blood type as Sam, as well as beta-thalassemia, a blood condition that runs in Sam's family. Jason realizes Sam's baby is alive, and living with Téa.
Jason calls John and shares his suspicions. John reveals that Téa was with Todd the night of the storm, and starts to believe he was involved in the switch, as well. To clarify his suspicions, Jason asks John to get a DNA sample from Téa's suspicions to confirm. After John leaves, Jason lets Elizabeth know what he found out. When John comes with the DNA sample, Jason asks Elizabeth to run it against Sam's. When he gets the results back, though, the results are negative, and Jason is disappointed. Spinelli, though, encourages him to keep digging. However, the night of Sonny's wedding, Elizabeth comes over to Jason's house and reveals that she switched the DNA tests. When Jason asks if she has the real results, she hands them over, which reveal that Téa's son is actually Sam's baby. Jason asks why Elizabeth would do that, and Elizabeth says it was because of what Sam did to Jake, but also because she wanted to be with Jason, and was trying to separate him and Sam. She apologizes for what she's done, and Jason is understanding and forgives her.
Jason calls John over and shows him the real results. John goes to tell Téa the truth, and Jason leaves to tell Sam. When he goes there, he finds out Elizabeth came over and admitted to Sam she was trying to split them up. Before Jason can say anything more, Kristina comes in with her husband, Trey Mitchell, and tells Jason & Sam she was almost killed by Joe Scully, Jr., Trey's father and Sonny's nemesis. Dante comes over to get their statements, and after the three of them leave, Jason gets a call from John that the baby has been kidnapped by Heather.
Jason again goes to Steve and reveals that Sam's baby was switched with Téa's, and Heather has kidnapped Sam's son. He asks Steve to keep an eye out for his mother. Steve asks if Sam knows, and Jason reveals he didn't tell her because she would worry. Steve tells Jason she has a right to know, and asks Jason if Sam would really want to be protected like this. Jason realizes he's right, and goes over to Sam's house and reveals her baby is alive. When Sam is about to leave, Jason reveals that Heather has kidnapped the baby while she was posing as a nanny. Meanwhile, John comes over to give them an update on the investigation. While he's there, Spinelli calls Jason and tells him Steve came in to the hospital after being attacked by Heather.
Jason and Sam go to the hospital, and find out from Steve that Heather is looking for a second chance at motherhood and has taken the baby to raise as her own. Sam is worried, and Jason promises her they'll get her son back. When Sam comments on how she doesn't remember what her son looks like, Jason goes to Dante and gets copies of pictures that the PCPD has of the baby. He shows them to Sam, and she's overjoyed her son is strong and healthy, and Téa has taken care of him well. Jason promises her she'll hold her son again. Dante leaves when John and Commissioner Anna Devane get a lead on Heather. While they're waiting, Jason and Sam hear a noise. They find Olivia hurt in the stairwell, and she tells them Heather pushed her, and is in the hospital with the baby. When Jason asks where she is, Olivia says she went to the roof, and Jason & Sam run to the roof, cornering Heather and the baby.
Both Jason and Sam plead with Heather to give them the baby. Heather says Jason will never love the baby because he's Franco's son, but Jason says that it's his son, and he wants him back. Sam then asks for the baby, and in exchange, she'll help Heather repair her relationship with her son. However, when Anna calls out to Heather, and tells her the police have surrounded the building, Heather realizes she's trapped. She goes to the ledge, and says if she can't have the baby, no one can. She topples off the ledge, and Jason runs towards her, trying to get the baby. Heather hits the ground below, but Jason manages to grab the baby out of her arms, and saves his life. Afterwards, he gives the baby to Sam, happy that Sam is finally able to hold her son again.
Jason and Sam go back into the hospital with John to get the baby checked out. Before they can, though, Téa runs in with Todd and tries to take "her son" back. John has Jason & Sam taken away so he can explain to Téa the truth. Jason & Sam have her son checked out, but he is determined to be in perfect health. Afterwards, Sam tells Jason how she's not sure what to do next, but Jason tells her she'll figure it out as she gets to know her son. Téa later comes by the room, and tells them she knows the baby isn't hers. She asks to say goodbye, and though Jason is hesitant, Sam lets her hold the baby. When Téa gives the baby back, Sam thanks Téa for taking good care of him. Téa leaves, and Sam tells Jason that in her fantasy, they named her son Daniel Edward, which is what she names her son.
Taking Danny home and presumed death
Edit
Jason later tells Sonny that he's hoping Sam and Danny will come home with him, because he wants to be a father to her son and take care of both of them. Sonny tells him to fight for his family. Later, Jason brings Monica by to introduce him to Daniel. When Monica asks Jason & Sam what the baby's last name is (McCall or Morgan), both of them become awkward and admit they haven't figured it out. Just then, Alexis, Molly, and Kristina come in, and start fawning over Daniel. Meanwhile, Jason steps out with Monica, who tells Jason that he and Sam should repair their marriage now that she has her son back. Jason tells her that it's up to Sam if they get back together. Jason comes in and hears Alexis telling Sam that they have set up all the baby equipment at her house, and it will be ready when Sam and Danny come home.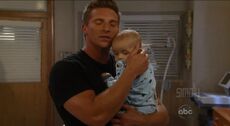 After they leave, Jason asks Sam to bring Danny home with him. He tells her that he's sorry for all the pain he has caused her, and he wants to prove it to her by loving both her and her son as a family. When Sam reminds him of how he expressed doubt about loving the baby, he says that went away and he loves Danny more than he ever thought possible and he wants to be his father. Sam leaves to get Danny's bottle, and Carly comes by, having just heard the news. She's thrilled for Jason, and hopes he's getting back together with Sam. Jason tells her that's up to Sam. When Sam comes back, Carly encourages her to get back with Jason. After she leaves, Jason tells Sam that she makes the final decision. Sam decides they've waited long enough, and tells Jason she and Danny are coming home with him, and the two of them reunite.
After Sam, Jason and Danny go home, they take a family picture, and then Jason leaves when
Bernie
frantically summons him to Pier 52. When Jason arrives at the pier, he sees
Joe Scully, Jr.
hovering over Bernie, whom he has just shot. Jason pulls his gun on Joe, and Joe moves to shoot Jason, but Jason shoots Joe first. Jason then rushes over to Bernie, who says he needs to tell him "about the money;" but before Bernie can finish,
Cesar Faison
, disguised as
Duke Lavery
, appears from behind and shoots Jason. Faison then kicks Jason's bleeding and dying body into the harbor. Divers go into the harbor, but are unable to recover Jason's body, and he is presumed dead. 
Jason's disappearance hits the town hard, especially Sam, who refuses to believe Jason is dead, despite everyone else saying there's no chance of him coming back. A week after Jason disappears, Sam finally finds out Jason is Danny's biological father. She sees Jason walking through the door, only to be disappointed later when she realizes he was never there and she imagined him.
When Faison is captured and arrested by John, he confesses to also shooting Jason and throwing him into the harbor. John comes back and tells Sam about this, and Sam finally begins to accept that Jason is gone.
Crimes committed
Edit
Due to his business, is involved in many "unscrupulous" activitiveties
Commited Grand Theft Auto along with Jagger Cates and Karen Wexler to payoff a blackmail scheme [1992]
Stole from Edward Quartermaine's rare coin collection [1992]
Stole his parents checkbook and forged a check to payoff a blackmail scheme [1992]
Arrested for Train Surfing [1996]
Threatened to kill his father Alan Quartermaine after he brought up Sonny's dead wife Lily [1996]
Threatened to Kill Jasper Jax after he broke up a fight with Sonny Corinthos
Threatened to kill Dr Pierce Dorman on numerous ocassions [1997]
Put on trial for Luis Alcazar's murder [Nov 2002 to Feb 2003; charges dropped]
Arrested for interfering with the capture of Sonny Corinthos [Dec 2003]
Defied a court order; along with Courtney Matthews, took Michael and Morgan Corinthos to France when a social worker arrived to take them away [Dec 2003]
Kidnapped Lorenzo Alcazar and held him captive [Jan 6, 2004 to Jan 19, 2004]
Had Faith Rosco committed to a mental facility under false pretenses [Jan 2004]
Offered Samantha McCall $1 million to leave Port Charles [Jan 2004]
Accused of shooting Brian (not guilty) [Feb 2004]
Killed Andy Capelli in self-defense [Feb 2004]
Perjury; signed a statement claiming that Andy Capelli killed Zander Smith during the P.C. Hotel fire to protect Elizabeth Webber [Mar 2004]
Attempted murder; tried to throw Faith Rosco over the balcony of her hotel room [Mar 2004]
Attempted murder; almost murdered Lorenzo Alcazar, but was knocked out by Courtney [Apr 2004]
Killed Nico, who shot Sonny and attempted to kill/kidnap Sam [Summer 2004]
Attempted to kill Faith upon her arrival back in Port Charles [Summer 2004]
Broke into John Durant's apartment [Summer 2004]
Bugged John Durant's apartment [Nov 2004]
Helped Sam elude police custody to clear her name in Kristina Corinthos-Davis' kidnapping [Feb 2005]
Carried out a hit against the Sandoval Family at Metro Court [Spring 2005]
Shoot-out with Faith Rosco and her men [Summer 2005]
Shot and killed Asher Thomas [Aug 2005]
Arrested for the attempted murder of Manny Ruiz (never convicted) [Jan 2006]
Controlled the Corinthos holdings during Sonny's breakdown [Spring/Summer 2006]
Staged a bust for Lucky to help his career [Jun 2006]
Shot a suspect, allowing Lucky to take credit [Jun 2006]
Killed Many Ruiz during a struggle on the hospital roof top [Jul 2006]
Helped Sam McCall evade capture after escaping from jail [Nov 2006]
Attempted to kill James Craig a.k.a Jerry Jacks after Metro Court Hostage Crisis [Feb 2007]
Shoot out with Lorenzo's men in The Cellar [Apr 2007]
Engaged in a shoot-out with Jerry Jacks [May 2007]
Murdered Lorenzo Alcazar [Jun 2007]
Jumped bail to rescue his kidnapped son [Jul 2007]
Threatened to kill Sam McCall after he learned she witnessed his son Jake Spencer's kidnapping by hired goons [Summer 2007]
Shot and killed Ian Devlin [May 2008]
Burned down the Zacchara mansion [Jun 2008]
Knew Lulu Spencer murdered Logan Hayes and aided the cover-up of his death [Jul 2008]
Beat up two of Karpov's guards after they injured Spinelli [Sep 2008]
Shot and killed three of Karpov's associates [Nov 2008]
Covered up the murder of Claudia Zacchara [Nov 2009]
Murdered Carter, the man who attacked Michael [Jun 2010]
Assaulted former mayor Prescott Floyd [Dec 2011]
Shot and 'killed' Franco and burned his residence [Jan 2012]
Arrested for the 'murder' of Franco [May 2012]
Ordered two men to beat up John McBain [Jun 2012]
Delivered Joe Scully, Jr. to Sonny and shot Joe Scully, Jr.'s associates [Jul 2012]
Held Jerry Jacks at gunpoint [Aug 2012]
Shot and killed Ewen Keenan [Sep 2012]
Shot and killed Joe Scully, Jr. [Oct 2012]
Health and Vitals
Edit
Suffered permanent brain damage following an accident induced by his brother, A.J. [Dec 1995]
Almost killed by Asher Thomas under the orders of A.J. while in a coma [1996]
Shot by Moreno's men when their mob meeting went wrong [Nov 1999]
Injured in a car accident with Courtney while headed to tell Sonny about them [Feb 2003]
Shot by an FBI agent [Feb 2005]
Began suffering severe headaches after taking an experimental drug [2005]
Began suffering extreme seizures as a side effect of the drug and required surgery [2005]
Almost poisned to death by Asher Thomas [2005]
Shot will attempting to rescue Samantha McCall from Manny Ruiz [Jul 2006]
Shot by police [Nov 2006]
Injured his hands rescuing Elizabeth from Diego Alcazar [March 2008]
Suffered a bout of Asian flu [June 2008]
Suffered a bullet graze to his arm [Jan 2009]
Shot in the shoulder by Sam McCall during the hospital bio-toxin crisis [Feb 2009]
Developed an infection after Jerry Jacks shot him and trapped Jason underneath the rubble of an abandoned church [Aug 2009]
Suffered a head injury after a car accident [Aug 2011]
Underwent brain surgery to remove a piece of dashboard from his 1995 car accident with A.J.[Aug 2011]
Drugged and trapped in a room by Franco and forced to watch Franco sexually assault Sam [Nov 2011]
Knocked unconscious after running into Michael while on his motorcycle [Dec 2011]
Passed out in the hospital corridor [Jan 2012]
Diagnosed with brain swelling [Jan 2012]
Underwent surgery to relieve swelling in his brain [Feb 2012]
Experienced a fever after being exposed to the toxin Jerry Jacks had placed in the water supply [Sep 2012]
Shot in the leg by Ewen Keenan while rescuing Elizabeth Webber from Keenan [Sep 2012]
Presumed dead after being shot in the back by Cesar Faison (disguised as Duke Lavery) and dumped into the harbor [Oct 2012]
Family tree
Edit
External links
Edit
References
Edit
v - e

Current Contract Characters
T.J. Ashford
 ·
Shawn Butler
 ·
Nikolas Cassadine
 ·
Dr. Silas Clay
 ·
Michael Corinthos
 ·
Morgan Corinthos
 ·
Sonny Corinthos
 ·
Alexis Davis
 ·
Anna Devane
 ·
Dr. Patrick Drake
 ·
Nurse Felix DuBois
 ·
Dante Falconeri
 ·
Olivia Falconeri
 ·
Robert "Franco" Frank
 ·
Carly Jacks
 ·
Ava Jerome
 ·
Julian Jerome
 ·
Kiki Jerome
 ·
Maxie Jones
 ·
Rafe Kovich, Jr.
 ·
Sam Morgan
 ·
A.J. Quartermaine
 ·
Tracy Quartermaine
 ·
Nurse Sabrina Santiago
 ·
Mac Scorpio
 ·
Dr. Robin Scorpio-Drake
 ·
Luke Spencer
 ·
Lulu Spencer-Falconeri
 ·
Nurse Elizabeth Webber
 ·
Dr. Britt Westbourne
Current Recurring Characters
Scott Baldwin
 ·
Helena Cassadine
 ·
Spencer Cassadine
 ·
Father Coates
 ·
Lucy Coe
 ·
Dr. Kevin Collins
 ·
Brad Cooper
 ·
Anna Donely
 ·
Sean Donely
 ·
Taylor DuBois
 ·
Cesar Faison
 ·
Connie Falconeri II
 ·
Max Giambetti
 ·
Milo Giambetti
 ·
Alice Gunderson
 ·
Jerry Jacks
 ·
Josslyn Jacks
 ·
Nurse Epiphany Johnson
 ·
Molly Lansing-Davis
 ·
Duke Lavery
 ·
Janice Lomax
 ·
Diane Miller
 ·
Danny Morgan
 ·
Dr. Liesl Obrecht
 ·
Nurse Penny
 ·
Dr. Monica Quartermaine
 ·
Coleman Ratcliffe
 ·
Carlos Rivera
 ·
Robert Scorpio
 ·
Emma Scorpio-Drake
 ·
Felicia Scorpio-Jones
 ·
Aiden Spencer
 ·
Nurse Bobbie Spencer
 ·
Cameron Spencer
 ·
Damian Spinelli
 ·
Holly Sutton
 ·
Ellie Trout
 ·
Heather Webber
 ·
Dr. Lesley Webber
 ·
Ben Westbourne
Forthcoming Characters
Victor Cassadine
 ·
Lucas Jones
Deceased and Presumed Dead Characters
Benny Abrahms
 ·
Bernie Abrahms
 ·
Diego Alcazar
 ·
Lorenzo Alcázar
 ·
Luís Alcázar
 ·
Sage Alcazar
 ·
Ruby Anderson
 ·
Dr. Andy Archer
 ·
Dominique Baldwin
 ·
Cooper Barrett
 ·
Alison Barrington
 ·
Amanda Barrington
 ·
Kiefer Bauer
 ·
Warren Bauer
 ·
Jesse Beaudry
 ·
Katherine Bell
 ·
Connor Bishop
 ·
Mary Bishop
 ·
Paige Bowen
 ·
Dr. Emily Bowen-Quartermaine
 ·
Nurse Jessie Brewer
 ·
Nancy Brewer
 ·
Dr. Phil Brewer
 ·
Irina Cassadine
 ·
Kristina Cassadine
 ·
Mikkos Cassadine
 ·
Stavros Cassadine
 ·
Stefan Cassadine
 ·
Tony Cassadine
 ·
Stone Cates
 ·
Dr. Ryan Chamberlain
 ·
Stephen Clay
 ·
Adela Corinthos
 ·
Lily Corinthos
 ·
Dr. Ian Devlin
 ·
Ronnie Dimestico
 ·
Dr. Pierce Dorman
 ·
John Durant
 ·
Bill Eckert
 ·
Connie Falconeri
 ·
Andrea Floyd
 ·
Dr. Russell Ford
 ·
Dr. Steve Hardy
 ·
Abby Haver
 ·
Logan Hayes
 ·
Theo Hoffman
 ·
John Jacks
 ·
Aleksander Janáček
 ·
Victor Jerome
 ·
Stan Johnson
 ·
B.J. Jones
 ·
Georgie Jones
 ·
Tania Jones
 ·
Dr. Tony Jones
 ·
Dr. Ewen Keenan
 ·
Dr. Eve Lambert
 ·
Trevor Lansing
 ·
Dr. Cameron Lewis
 ·
Victor Lord III
 ·
Hope Manning-Thornhart
 ·
Reese Marshall
 ·
Courtney Matthews
 ·
Danny McCall
 ·
Lila McCall
 ·
Nurse Leyla Mir
 ·
Trey Mitchell
 ·
Susan Moore
 ·
Chloe Morgan
 ·
Jason Morgan
 ·
Dr. Lisa Niles
 ·
Dr. Alan Quartermaine
 ·
Alexandria Quartermaine
 ·
Edward Quartermaine
 ·
Lila Quartermaine
 ·
Faith Rosco
 ·
Manny Ruiz
 ·
Joe Scully
 ·
Joe Scully, Jr.
 ·
Frank Smith
 ·
Shirley Smith
 ·
Zander Smith
 ·
Jake Spencer
 ·
Lena Spencer
 ·
Siobhan Spencer
 ·
Tim Spencer
 ·
Olivia St. John
 ·
Nurse Diana Taylor
 ·
Martha Taylor
 ·
Dr. Peter Taylor
 ·
Tracy Taylor
 ·
Dr. Asher Thomas
 ·
Cole Thornhart
 ·
Nurse Amy Vining
 ·
Bradley Ward
 ·
Justus Ward
 ·
Mary Mae Ward
 ·
Dr. Rick Webber
 ·
Dr. Karen Wexler
 ·
Dawn Winthrop
 ·
Deke Woods
 ·
Dr. Maggie Wurth
 ·
Anthony Zacchara
 ·
Claudia Zacchara-Corinthos
Off-screen and Former Characters
Lila Rae Alcazar
 ·
Nurse Karen Anderson
 ·
Terri Arnett
 ·
Brook Lynn Ashton
 ·
Larry Ashton
 ·
Ned Ashton
 ·
Christina Baldwin
 ·
Dr. Gail Baldwin
 ·
Laura Baldwin
 ·
Lee Baldwin
 ·
Serena Baldwin
 ·
Dr. Tom Baldwin
 ·
Brenda Barrett
 ·
Julia Barrett
 ·
Melinda Bauer
 ·
Gia Campbell
 ·
Peter Carroll
 ·
Valentin Cassadine
 ·
Jagger Cates
 ·
Lois Cerullo
 ·
Skye Chandler-Quartermaine
 ·
Mike Corbin
 ·
Kristina Corinthos-Davis
 ·
Angie Costello
 ·
Blair Cramer
 ·
Jolene Crowell
 ·
Nurse Nadine Crowell
 ·
Dr. Rae Cummings
 ·
Téa Delgado
 ·
Roy DiLucca
 ·
Tiffany Donely
 ·
Dr. Noah Drake
 ·
Toussaint Dubois
 ·
Sly Eckert
 ·
Angel Ellis
 ·
John Everett
 ·
Pres Floyd
 ·
Nurse Audrey Hardy
 ·
Dr. Simone Hardy
 ·
Dr. Tom Hardy
 ·
Dr. Tommy Hardy
 ·
David Harper
 ·
Jimmy Lee Holt
 ·
Dr. Matt Hunter
 ·
Anton Ivanov
 ·
Lady Jane Jacks
 ·
Jasper "Jax" Jacks
 ·
Terrell Jackson
 ·
Frisco Jones
 ·
Dr. Leo Julian
 ·
Rose Kelly
 ·
Ric Lansing
 ·
Dr. Kelly Lee
 ·
Winifred Leeds
 ·
Guy Lewis
 ·
Victor Lord, Jr.
 ·
Ethan Lovett
 ·
Starr Manning
 ·
Todd Manning
 ·
John McBain
 ·
Miguel Morez
 ·
Ken Morgan
 ·
Delores Padilla
 ·
Blackie Parrish
 ·
Celia Quartermaine
 ·
Dillon Quartermaine
 ·
Burt Ramsey
 ·
Cruz Rodriguez
 ·
Casey Rogers
 ·
Father Mateo Ruiz
 ·
Delia Ryan Coleridge
 ·
Juan Santiago
 ·
Alec Scott
 ·
Hannah Scott
 ·
Rebecca Shaw
 ·
Lucky Spencer
 ·
Suzanne Stanwyck
 ·
Nurse Mischa Stephens
 ·
Marcus Taggert
 ·
Nurse Regina Thompson
 ·
Claire Walsh
 ·
Faith Ward
 ·
Keesha Ward
 ·
Dr. Maya Ward
 ·
Dr. Jeff Webber
 ·
Dr. Sarah Webber
 ·
Dr. Steve Webber
 ·
Dr. Lainey Winters
 ·
Grace Yang
 ·
Johnny Zacchara
Crew
Ron Carlivati (Head writer, 2012-present)
 ·
Jill Farren Phelps (Executive producer, 2001-2012)
 ·
Robert Guza, Jr. (Head writer, 1996; 1997-2000; 2002-2008; 2008-2011)
 ·
H. Wesley Kenney (Executive producer, 1987-1989; Head writer, 1988)
 ·
Gloria Monty (Executive producer, 1978-1987, 1991-1992; Head writer, 1981)
 ·
Wendy Riche (Executive producer, 1992-2001)
 ·
Frank Valentini (Executive producer, 2012-present)
 ·
Garin Wolf (Head writer, 2008; 2011-2012)
Related Topics
Cross reference of character names
 ·
List of cast members
 ·
List of current actors
 ·
History of General Hospital