Jason Morgan (Steve Burton)
Talk

0
560pages on
this wiki
Jason redirects here. For other uses of the name, see Jason (disambiguation).
Jason Morgan
Steve Burton as Jason Morgan
General Hospital
Portrayed by
Quinn Carlson (1982)
Bryan Beck (1983–86)
Steve Burton (1991–2012)
Carmel Fainbaum
(baby Jason, 2012)
Unknown Actor (2014-present)

---

Duration
1982–1986, 1991–2000, 2000, 2001, 2002–2012, 2014-present

---

First appearance
1982 (on GH)

---

Created by
Thom Racina
Leah Laiman

---

Introduced by
Gloria Monty (GH, 1982,1991)
Wendy Riche (GH, 2000)
Jill Farren Phelps
(GH, 2001; NS 2007)
Frank Valentini (GH, 2014)

---

Book appearances
Robin's Diary
The Secret Life

---

Spin-off appearances
General Hospital: Night Shift
What If...

---

Profile
Namesake(s)
Morgan Corinthos
Jacob Martin Spencer (initials)
Jason Morgan Jr.

---

Nickname(s)
Stone Cold (by Spinelli)
Jase

---

Gender
Male

---

Born
September 14, 1981
(revised to 1974)[1]
New York, New York

---

Age
39

---

Occupation
Enforcer for Corinthos-Morgan
Coffee importer
Owns 12% of voting stock, non-voting stockholder of ELQ

---

Residence
Crichton-Clark Clinic
Room 1336
Scarsdale, New York

---

Relationships
Family
Cassadine, McCall, Jerome, Morgan, Quartermaine

---

Parents
Alan Quartermaine
Susan Moore
(both deceased)
Monica Quartermaine (adoptive)

---

Siblings
Skye Quartermaine (adoptive)
Emily Quartermaine
(adoptive; deceased)
A.J. Quartermaine (deceased)
(paternal half)
Dawn Winthrop
(adoptive maternal half; deceased)

---

Spouses
Brenda Barrett
(2002–03; annulled)
Courtney Matthews
(2003–04; invalid; deceased)
Sam McCall
(married; 2011–present)[2]

---

Romances
Karen Wexler (dated; deceased)
Keesha Ward (lovers)
Robin Scorpio (lovers)
Carly Benson (lovers; ONS)
Sam McCall
(lovers, engaged)
[2005-07; 2009-11]
Elizabeth Webber
(ONS, 2006)
(lovers, 2007-08; engaged, 2008)
Claudia Zacchara

(engaged, 2008; deceased)

---

Children
Unnamed child
(with Courtney; miscarriage)
Lila McCall (surrogate; stillborn)
Hope Morgan (former foster)
(with Sam)
Jake Spencer
(with Elizabeth; deceased)
Danny Morgan (with Sam)

---

Grandparents
Edward and Lila Quartermaine (paternal; deceased)

---

Aunts and uncles
Bradley Ward (deceased)
Tracy Quartermaine
Jimmy Lee Holt
(paternal)

---

Nieces and nephews
Lila Rae Alcazar (via Skye)
Michael Corinthos (via A.J.)


---

First cousins
Justus Ward (deceased)
Faith Ward
Ned Ashton
Dillon Quartermaine
(paternal cousins)
Maya Ward
(paternal once removed, via Faith)
Brook Lynn Ashton
(paternal once removed, via Ned)
Heather Webber
(maternal, once removed)

---

Godchildren
Morgan Corinthos
Josslyn Jacks

---

Other relatives
Steve Webber
(maternal second cousin)

---
Jason Morgan (né Moore, raised Quartermaine) was a fictional character on the ABC soap opera, General Hospital and has appeared on its SOAPnet spin-off series, General Hospital: Night Shift. He was one of the longest-running characters on the show, having been played by various actors since the character's birth in 1982. The role is best known as Emmy award winning Steve Burton, who joined the cast in 1991 and eventually left the show in 2012. The character returned to the canvas on August 11, 2014 when it was revealed that Jason has been alive and held captive by Victor Cassadine.
Background
Edit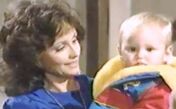 Jason was conceived out of his father, Alan's, affair with Susan Moore. When Jason was born, Alan supported him financially, but was fighting for custody over his other son A.J. Jason lived with his mother and step-father Scott Baldwin up until her death. He briefly lived with Susan's aunt, Alice Grant until Alan came to get him. Then he moved into the Quartermaine mansion with Alan and Monica. Monica was initially displeased at having her husband's illegitimate offspring in the house, but eventually came to love Jason as her own, and adopted him. Jason and A.J. were raised in the Quartermaine mansion, until they were sent off to a boarding school in Switzerland as children.
Personality and traits
Edit
Within the show's storyline, Jason is the biological son of show icon Dr. Alan Quartermaine, from an affair with Susan Moore. Originally a bright and ethical teenager whose main ambition in life was to become a doctor, the character would be revamped into a organized crime family enforcer and hitman in the Corinthos Crime Family, after sustaining a massive head injury that resulted in permanent brain damage and substantial memory loss.
Prior to the car accident, Jason was depicted as a kind-hearted and affable young man. Since then, however, Jason has been largely depicted as taciturn and largely emotionless, and has largely severed his ties with the Quartermaine family. However, Jason is quite a complex character and has his own set of morals.
Even after his accident, Jason displayed several acts of compassion and love, comforting Robin after the death of Stone and helping her to realize that she could live a normal life with HIV. Though no longer romantically involved, the two remain good friends to this day.
Despite his high-ranking position in the Corinthos mob, Jason is somewhat of a vigilante and has often helped to bring down criminals worse than he and Sonny. He frequently displays loyalty and compassion to his loved ones and friends, and can be roused to phenomenal fury whenever they, especially his longtime lover Sam McCall, are harmed or endangered; for example, he yelled at and manhandled Alexis Davis when her actions caused the stillbirth of Sam's daughter. Additionally, upon discovering that Sam had been terrorizing Elizabeth Webber since she discovered that Jason was Jake's biological father, Jason was outraged and threatened Sam's life if she tried anything again.
He has a great deal of kindness and affection towards Sonny's children, particularly Michael and Kristina, and has shown to care a great deal for Molly Lansing despite his history of enmity with her father. Because of the circumstances of Michael's upbringing, Jason has vowed never to get children involved in the mob again; when Molly approached him and requested that he kill Warren Bauer when he began to harass the Davis family, Jason turned her down for that exact reason and told her that she shouldn't try to get involved with the mob because she was "too good."
Jason is also surprisingly perceptive and shows an impressive deductive streak; for example, when Kristina was beaten and hospitalized by her boyfriend Kiefer and told everyone that Ethan Lovett was her attacker, Jason was the first to realize she was lying when nearly everyone else in Port Charles, including Kristina's own parents, were completely fooled.
Storylines
Edit
Crimes Committed
Edit
Has been involved in "unscrupulous" mob-related activities
Commited Grand Theft Auto along with Jagger Cates and Karen Wexler to payoff a blackmail scheme [1992]
Stole from Edward Quartermaine's rare coin collection [1992]
Stole his parents checkbook and forged a check to payoff a blackmail scheme [1992]
Arrested for Train Surfing [1996]
Threatened to kill his father Alan Quartermaine after he brought up Sonny's dead wife Lily [1996]
Threatened to kill Jasper Jacks after he broke up a fight with Sonny Corinthos [1997]
Threatened to kill Dr. Pierce Dorman on numerous ocassions [1997]
Put on trial for the murder of Luis Alcazar [Nov 2002 to Feb 2003; charges dropped]
Arrested for interfering with the capture of Sonny Corinthos [Dec 2003]
Defied a court order; along with Courtney Matthews, took Michael and Morgan Corinthos to France when a social worker arrived to take them away [Dec 2003]
Kidnapped Lorenzo Alcazar and held him captive [Jan 6, 2004 to Jan 19, 2004]
Had Faith Rosco committed to a mental facility under false pretenses [Jan 2004]
Offered Sam McCall $1 million to leave Port Charles [Jan 2004]
Accused of shooting Brian (not guilty) [Feb 2004]
Killed Andy Capelli in self-defense [Feb 2004]
Perjury; signed a statement claiming that Andy Capelli killed Zander Smith during the P.C. Hotel fire to protect Elizabeth Webber [Mar 2004]
Attempted murder; tried to throw Faith Rosco over the balcony of her hotel room [Mar 2004]
Attempted murder; almost murdered Lorenzo Alcazar, but was knocked out by Courtney [Apr 2004]
Tampered with Sam's baby's paternity test [May 2004]
Killed Nico, who shot Sonny and attempted to kill/kidnap Sam [Jun 2004]
Attempted to kill Faith upon her arrival back in Port Charles [Summer 2004]
Broke into John Durant's apartment [Summer 2004]
Bugged John Durant's apartment [Nov 2004]
Helped Sam elude police custody to clear her name in Kristina Corinthos-Davis' kidnapping [Feb 2005]
Shot Faith Rosco and killed two of her men during a shootout [Feb 2005]
Carried out a hit against the Sandoval family [Mar 2005]
Shot and killed Asher Thomas [Aug 2005]
Arrested for the attempted murder of Manny Ruiz (never convicted) [Jan 2006]
Controlled the Corinthos holdings during Sonny's breakdown [Spring/Summer 2006]
Staged a bust for Lucky to help his career [Jun 2006]
Shot a suspect, allowing Lucky to take credit [Jun 2006]
Killed Manny Ruiz during a struggle on the hospital roof top [Jul 2006]
Adultery; slept with Elizabeth Webber while she was married to Lucky Spencer [Aug 14, 2006]
Beat up Ric Lansing [Oct 2006]
Helped Sam McCall evade capture after escaping from jail [Nov 2006]
Impersonated a doctor [Nov 2006]
Took Epiphany Johnson "hostage" at gunpoint [Nov 2006]
Attempted to kill James Craig a.k.a Jerry Jacks after Metro Court Hostage Crisis [Feb 2007]
Shoot out with Lorenzo's men in The Cellar [Apr 2007]
Engaged in a shoot-out with Jerry Jacks [May 2007]
Murdered Lorenzo Alcazar [May 2007]
Jumped bail to rescue his kidnapped son [Jul 2007]
Falsely confessed to shooting Spinelli in the foot; given four months of community service at GH as janitor [Jul-Oct 2007; GH:NS]
Threatened to kill Sam McCall after he learned she hired two armed goons to terrorize Elizabeth, Cameron and Jake in the park [Aug 2007]
Shot and killed Ian Devlin [May 2008]
Burned down the Zacchara mansion [Jun 2008]
Obstruction of justice; knew Lulu Spencer had murdered Logan Hayes and aided in the cover-up of his death [Jul-Sep 2008]
Beat up two of Karpov's guards after they injured Spinelli [Sep 2008]
Shot and killed three of Karpov's associates [Nov 2008]
Shot Dante Falconeri in the abdomen during an ambush in the woods [Jun 23, 2009]
Obstruction of justice; covered up the murder of Claudia Zacchara [Nov 2009]
Ordered multiple times to kill Ethan Lovett under the orders of Sonny Corinthos [Mar/Apr 2010]
Plead guilty to a class D felony in order to get sent to prison to protect Michael; released after Sonny and Claire found a loophole in his plea bargain. [May-Aug 2010]
Murdered Carter, the man who attacked Michael [Jun 2010]
Assaulted former mayor Prescott Floyd [Dec 2011]
Shot and 'killed' Franco and burned down his residence; He was revealed to be alive in 2013 [Jan 2012]
Arrested for the 'murder' of Franco [May 2012]
Ordered two men to beat up John McBain; which led to the kidnapping of his son, Danny Morgan [Jun 2012]
Delivered Joe Scully, Jr. to Sonny and shot Joe's associates [Jul 2012]
Held Jerry Jacks at gunpoint [Aug 2012]
Shot and killed Ewen Keenan [Sep 2012]
Shot and killed Joe Scully, Jr. [Oct 2012]
Health and Vitals
Edit
Suffered permanent brain damage following an accident induced by his brother, A.J. [Dec 1995]
Almost killed by Asher Thomas under the orders of A.J. while in a coma [1996]
Shot in the abdomen by the Tin Man [Jul 1997]
Shot in the side by Moreno's men when their mob meeting went wrong [Dec 1999]
Injured in a car accident with Courtney while headed to tell Sonny about them [Feb 2003]
Shot in the side by Reese Marshall, an FBI agent [Feb 2005]
Almost poisned to death by Asher Thomas [Aug 2005]
Began suffering severe headaches after taking an experimental drug [2005]
Injured a train wreck [Nov 2005]
Began suffering extreme seizures as a side effect of the drug and required surgery [2005]
Shot in the shoulder will attempting to rescue Sam McCall from Manny Ruiz [Jul 2006]
Shot in the leg/knee by police [Nov 2006]
Hit over the head with tequila bottle by Lulu Spencer [Nov 2006]
Trapped in an elevator with Elizabeth Webber following the Metro Court explosion [Feb 2007]
Suffered burns to his hands while trying to save a women in a burning ambulance [Jul 2007; GH:NS]
Injured his hands rescuing Elizabeth from Diego Alcazar [Mar 2008]
Suffered a bout of Asian flu [Jun 2008]
Accidentally shot in the shoulder by Sam McCall during the hospital bio-toxin crisis [Feb 2009]
Injured in a bomb explosion [Apr 2009]
Developed an infection after Jerry Jacks shot him in the shoulder and in the leg/knee and trapped him underneath the rubble of an abandoned church, leaving him for dead [Aug 2009]
Used as bait to draw Franco out of hiding [Summer 2010]
Suffered a head injury after a car accident [Aug 2011]
Underwent brain surgery to remove a piece of dashboard from his 1995 car accident with A.J. [Aug 2011]
Drugged and trapped in a room by Franco and forced to watch Franco sexually assault his wife, Sam [Nov 2011]
Knocked unconscious after running into Michael while on his motorcycle [Dec 2011]
Passed out in the hospital corridor [Jan 2012]
Diagnosed with brain swelling [Jan 2012]
Underwent surgery to relieve swelling in his brain [Feb 2012]
Experienced a fever after being exposed to the toxin Jerry Jacks had placed in the water supply [Sep 2012]
Shot in the leg by Ewen Keenan while rescuing Elizabeth Webber [Sep 2012]
Shot in the back by Cesar Faison (disguised as Duke Lavery) and dumped into the harbor [Oct 2012]
Revealed to be alive and in a cryogenic state [revealed Mar 4, 2014]
Family tree
Edit
External links
Edit
References
Edit
↑

On the episode dated 02-18-14, Jason's birth date is shown on a PCPD file on Julian's computer as November 18, 1972. However, that was the last-said birth date of Jason's brother AJ; so the date appears to be incorrect.

↑

On February 3, Victor told Robin that Jason was alive and on March 4, Robin confirmed that Jason was alive.
v - e
Current Contract Characters
Jordan Ashford
 ·
T.J. Ashford
 ·
Shawn Butler
 ·
Nikolas Cassadine
 ·
Nina Clay
 ·
Dr. Silas Clay
 ·
Michael Corinthos
 ·
Morgan Corinthos
 ·
Sonny Corinthos
 ·
Alexis Davis
 ·
Anna Devane
 ·
Dr. Patrick Drake
 ·
Nurse Felix DuBois
 ·
Dante Falconeri
 ·
Olivia Falconeri
 ·
Fluke
 ·
Robert "Franco" Frank
 ·
Carly Jacks
 ·
Ava Jerome
 ·
Julian Jerome
 ·
Kiki Jerome
 ·
Maxie Jones
 ·
Sam Morgan
 ·
Tracy Quartermaine
 ·
Nurse Sabrina Santiago
 ·
Mac Scorpio
 ·
Luke Spencer
 ·
Lulu Spencer-Falconeri
 ·
Nurse Elizabeth Webber
 ·
Nathan West
 ·
Dr. Britt Westbourne
Current Recurring Characters
Ned Ashton
 ·
Scott Baldwin
 ·
Spencer Cassadine
 ·
Victor Cassadine
 ·
Dr. Linda Chu
 ·
Father Coates
 ·
Lucy Coe
 ·
Dr. Kevin Collins
 ·
Brad Cooper
 ·
Emma Drake
 ·
Rocco Falconeri
 ·
Max Giambetti
 ·
Milo Giambetti
 ·
Alice Gunderson
 ·
Peter Harrell, Jr.
 ·
Josslyn Jacks
 ·
Nurse Epiphany Johnson
 ·
Lucas Jones
 ·
Molly Lansing-Davis
 ·
Duke Lavery
 ·
Janice Lomax
 ·
Nurse Rosalie Martinez
 ·
Diane Miller
 ·
Danny Morgan
 ·
Dr. Liesl Obrecht
 ·
Dr. Monica Quartermaine
 ·
Coleman Ratcliffe
 ·
Carlos Rivera
 ·
Delia Ryan Coleridge
 ·
Felicia Scorpio
 ·
Dr. Robin Scorpio-Drake
 ·
Jeffrey Scribner
 ·
Aiden Spencer
 ·
Nurse Bobbie Spencer
 ·
Cameron Spencer
 ·
Heather Webber
 ·
Dr. Lesley Webber
Deceased and Presumed Dead Characters
Benny Abrahms
 ·
Bernie Abrahms
 ·
Dr. Rachel Adair
 ·
Diego Alcazar
 ·
Lorenzo Alcazar
 ·
Luis Alcazar
 ·
Sage Alcazar
 ·
Ruby Anderson
 ·
Dr. Andy Archer
 ·
Dominique Baldwin
 ·
Cooper Barrett
 ·
Alison Barrington
 ·
Amanda Barrington
 ·
Kiefer Bauer
 ·
Warren Bauer
 ·
Jesse Beaudry
 ·
Katherine Bell
 ·
Connor Bishop
 ·
Mary Bishop
 ·
Paige Bowen
 ·
Nurse Jessie Brewer
 ·
Nancy Brewer
 ·
Dr. Phil Brewer
 ·
Carter
 ·
Irina Cassadine
 ·
Kristina Cassadine
 ·
Mikkos Cassadine
 ·
Stefan Cassadine
 ·
Tony Cassadine
 ·
Stone Cates
 ·
Dr. Ryan Chamberlain
 ·
Stephen Clay
 ·
Adela Corinthos
 ·
Lily Corinthos
 ·
Dr. Ian Devlin
 ·
Mickey Diamond
 ·
Ronnie Dimestico
 ·
Dr. Pierce Dorman
 ·
John Durant
 ·
Bill Eckert
 ·
Cesar Faison
 ·
Connie Falconeri
 ·
Andrea Floyd
 ·
Dr. Russell Ford
 ·
Dr. Steve Hardy
 ·
Abby Haver
 ·
Logan Hayes
 ·
Theo Hoffman
 ·
John Jacks
 ·
Aleksander Janacek
 ·
Victor Jerome
 ·
Stan Johnson
 ·
B.J. Jones
 ·
Georgie Jones
 ·
Tania Jones
 ·
Dr. Tony Jones
 ·
Dr. Ewen Keenan
 ·
Rafe Kovich, Jr.
 ·
Dr. Eve Lambert
 ·
Trevor Lansing
 ·
Dr. Cameron Lewis
 ·
Victor Lord III
 ·
Hope Manning-Thornhart
 ·
Reese Marshall
 ·
Courtney Matthews
 ·
Danny McCall
 ·
Lila McCall
 ·
Nurse Leyla Mir
 ·
Trey Mitchell
 ·
Susan Moore
 ·
Chloe Morgan
 ·
Henry Nakamura
 ·
Dr. Lisa Niles
 ·
A.J. Quartermaine
 ·
Dr. Alan Quartermaine
 ·
Alexandria Quartermaine
 ·
Edward Quartermaine
 ·
Dr. Emily Quartermaine
 ·
Lila Quartermaine
 ·
Faith Rosco
 ·
Manny Ruiz
 ·
Gabriel Santiago
 ·
Joe Scully
 ·
Joe Scully, Jr.
 ·
Damian Smith
 ·
Frank Smith
 ·
Shirley Smith
 ·
Zander Smith
 ·
Jake Spencer
 ·
Lena Spencer
 ·
Siobhan Spencer
 ·
Tim Spencer
 ·
Olivia St. John
 ·
Nurse Diana Taylor
 ·
Martha Taylor
 ·
Dr. Peter Taylor
 ·
Tracy Taylor
 ·
Dr. Asher Thomas
 ·
Cole Thornhart
 ·
Nurse Amy Vining
 ·
Bradley Ward
 ·
Justus Ward
 ·
Mary Mae Ward
 ·
Dr. Rick Webber
 ·
Dr. Karen Wexler
 ·
Dawn Winthrop
 ·
Deke Woods
 ·
Dr. Maggie Wurth
 ·
Anthony Zacchara
 ·
Claudia Zacchara-Corinthos
Off-screen and Former Characters
Lila Rae Alcazar
 ·
Nurse Karen Anderson
 ·
Dr. Grant Andrews
 ·
Terri Arnett
 ·
Brook Lynn Ashton
 ·
Larry Ashton
 ·
Christina Baldwin
 ·
Dr. Gail Baldwin
 ·
Laura Baldwin
 ·
Lee Baldwin
 ·
Serena Baldwin
 ·
Dr. Tom Baldwin
 ·
Brenda Barrett
 ·
Julia Barrett
 ·
Melinda Bauer
 ·
Gia Campbell
 ·
Peter Carroll
 ·
Dimitri Cassadine
 ·
Helena Cassadine
 ·
Petros Cassadine
 ·
Stavros Cassadine
 ·
Valentin Cassadine
 ·
Jagger Cates
 ·
Lois Cerullo
 ·
Skye Chandler-Quartermaine
 ·
Mike Corbin
 ·
Kristina Corinthos-Davis
 ·
Angie Costello
 ·
Blair Cramer
 ·
Jolene Crowell
 ·
Nurse Nadine Crowell
 ·
Dr. Rae Cummings
 ·
Marco Dane
 ·
Téa Delgado
 ·
Roy DiLucca
 ·
Anna Donely
 ·
Sean Donely
 ·
Tiffany Donely
 ·
Dr. Noah Drake
 ·
Taylor DuBois
 ·
Toussaint Dubois
 ·
Sly Eckert
 ·
Angel Ellis
 ·
John Everett
 ·
Nurse Fletcher
 ·
Pres Floyd
 ·
Nurse Audrey Hardy
 ·
Dr. Simone Hardy
 ·
Dr. Tom Hardy
 ·
Dr. Tommy Hardy
 ·
David Harper
 ·
Peter Harrell, Sr.
 ·
Jimmy Lee Holt
 ·
Paul Hornsby
 ·
Dr. Matt Hunter
 ·
Anton Ivanov
 ·
Lady Jane Jacks
 ·
Jasper "Jax" Jacks
 ·
Jerry Jacks
 ·
Terrell Jackson
 ·
Miranda Jameson
 ·
Frisco Jones
 ·
Dr. Leo Julian
 ·
Rose Kelly
 ·
Ric Lansing
 ·
Dr. Kelly Lee
 ·
Winifred Leeds
 ·
Guy Lewis
 ·
Victor Lord, Jr.
 ·
Ethan Lovett
 ·
Starr Manning
 ·
Todd Manning
 ·
John McBain
 ·
Miguel Morez
 ·
‎Hope Morgan
 ·
Jason Morgan
 ·
Ken Morgan
 ·
Delores Padilla
 ·
Blackie Parrish
 ·
Nurse Penny
 ·
Grant Putnam
 ·
Celia Quartermaine
 ·
Dillon Quartermaine
 ·
Burt Ramsey
 ·
Madeline Reeves
 ·
Cruz Rodriguez
 ·
Casey Rogers
 ·
Father Mateo Ruiz
 ·
Juan Santiago
 ·
Robert Scorpio
 ·
Alec Scott
 ·
Hannah Scott
 ·
Rebecca Shaw
 ·
Lucky Spencer
 ·
Damian Spinelli
 ·
Georgie Spinelli
 ·
Suzanne Stanwyck
 ·
Nurse Mischa Stephens
 ·
Holly Sutton
 ·
Marcus Taggert
 ·
Nurse Regina Thompson
 ·
Ellie Trout
 ·
Claire Walsh
 ·
Faith Ward
 ·
Keesha Ward
 ·
Dr. Maya Ward
 ·
Dr. Jeff Webber
 ·
Dr. Sarah Webber
 ·
Dr. Steve Webber
 ·
Dr. Lainey Winters
 ·
Grace Yang
 ·
Johnny Zacchara
Crew
Ron Carlivati (Head writer, 2012-present)
 ·
Jill Farren Phelps (Executive producer, 2001-2012)
 ·
Robert Guza, Jr. (Head writer, 1996, 1997-2000, 2002-2008, 2008-2011)
 ·
H. Wesley Kenney (Executive producer, 1987-1989; Head writer, 1988)
 ·
Gloria Monty (Executive producer, 1978-1987, 1991-1992; Head writer, 1981)
 ·
Wendy Riche (Executive producer, 1992-2001)
 ·
Frank Valentini (Executive producer, 2012-present)
 ·
Garin Wolf (Head writer, 2008, 2011-2012)
Related Topics
List of cast members
 ·
List of current actors
 ·
History of General Hospital