Jason Craig Thompson is a Canadian actor best known for his role as Dr. Patrick Drake on ABC's soap opera General Hospital.
Career
Thompson was born on November 20, 1976 in Alberta, Canada. At the age of 18, he began a successful carer as a runway, print and commercial model. One of his most well-known advertisement campaigns are a series of Gap commercials he did with director Pedro Romhanyi in 1999.
After modeling for a couple of years, Thompson decided to pursue acting. Thompson has had roles in television series and plays. He had lead roles in plays such as The Academy, More Than You and Jakob. He also had a starring role in the film, Wishmaster 4: The Prophecy and Divide.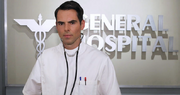 In 2005, Thompson joined the General Hospital cast as Patrick Drake, son of Dr. Noah Drake and he continues to play that role to this day. In 2007, Thompson had a lead role in the GH spin-off General Hospital: Night Shift.
Thompson was nominated for a Daytime Emmy for Outstanding Supporting Actor in 2011 and 2012. Thompson was nominated for a Daytime Emmy for Outstanding Lead Actor in 2013, 2014 and 2015.
Jason portrayed the legendary Dr. Steve Hardy, in a flashback episode in honor of GH's 52th anniversary in 2015.
On October 30, 2015, after many unconfirmed reports, Thompson confirmed on Instagram that after ten years on the show he has decided to leave.[1][2]
On November 20, 2015, Thompson confirmed on Instagram that he taped his final scenes.[3][4] He made his final appearance on January 7, 2016.[5]
On December 3, 2015, it was revealed that he would be taking over the role of Billy Abbott on The Young and the Restless, previously played by GH's Billy Miller (Jason Morgan) and he made his first appearance on January 10, 2016.[6]
Personal life
On April 5, 2015, Thompson married his longtime girlfriend, Paloma Jonas, in San Pancho, Mexico.[7] On May 25, 2016, Thompson announced on Instagram that Paloma had given birth to a baby boy, Bowie Banjo.[8][9]
On May 12, 2017, it was announced that Thompson and wife Paloma are expecting their second child -- a baby girl due in September.[10][11]
Official sites
References
Ad blocker interference detected!
Wikia is a free-to-use site that makes money from advertising. We have a modified experience for viewers using ad blockers

Wikia is not accessible if you've made further modifications. Remove the custom ad blocker rule(s) and the page will load as expected.