Jason and Sam Morgan
Billy Miller and Kelly Monaco as
Jason and Sam Morgan
General Hospital
Couple nickname
JaSam
Marriage/relationship dates
2004 - 07 (lovers)
(broken engagement)
2009 - 11 (lovers)
Sep 22, 2011 - Mar 22, 2016 (divorced)
Mar - Sep 2016 (lovers)
Sep 2, 2016 - present
Status
Married
Profile
Married by
Robert Yi (first time)
Damian Spinelli (second time)
Age at wedding or meeting
Jason (37)
Sam (31)
Gender
Male, Female
Couple residence
Harborview Towers


122 Harbor View Drive, PH #2


Port Charles, New York
Jason Morgan and Sam McCall Morgan are fictional characters and a popular supercouple from the ABC daytime soap opera General Hospital.
Casting and Music
The role of Jason Morgan was portrayed by Daytime Emmy award-winning actor Steve Burton, on and off, from 1991-2012. Burton made his debut on December 19, 1991 and portrayed Jason on General Hospital for a total of twenty-one years. After leaving the show in 2000 to pursue other interests, Burton returned to General Hospital full time in May 2002. Burton exited the show again in 2012, after ten more years with the soap.
In 1998, Burton won a Daytime Emmy Award in the category of Outstanding Supporting Actor for his portrayal of Jason.
Rumors of Miller's casting on "GH" started to surface in June of 2014, when TV Guide's Michael Logan tweeted about the possibility.[2]
On September 2, 2014, after months of speculation, executive producer Frank Valentini announced on Twitter that three-time Daytime Emmy award-winning actor Billy Miller, formerly known for his roles on All My Children as Richie Novak (2007-08) and The Young and the Restless as Billy Abbott (2008-14), would join the cast as Jason.[3] Miller debuted on October 1, 2014,[4] which also coincided with the eleven year anniversary of Monaco's first appearance on the soap as Sam.
In 2010 and 2013, Miller brought home two Daytime Emmy's for Outstanding Supporting Actor in a Drama Series and one in 2014 for Outstanding Lead Actor in a Drama Series, all for his work on The Young and the Restless as Billy Abbott.
The role of Samantha McCall was originated by former Baywatch star and Playboy's April 1997 Playmate of the Month, actress Kelly Monaco, who debuted on October 1, 2003.
Monaco had previously portrayed Livvie Locke on GH's now defunct spinoff Port Charles from 1999-2003 and was also Livvie's double Tess Ramsey from 2002-03.
While portraying Sam, Monaco played Alicia Montenegro, Sam's European look-alike in 2005.
In 2006, Monaco was nominated for a Daytime Emmy Award in the Outstanding Lead Actress category for her portrayal of Sam.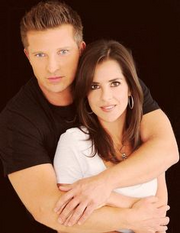 The couple's official song is "Just You and Me" written by musicians Rie Sinclair and Bob Harty and performed by Jayson Belt. In 2009, after guest starring on General Hospital, American Idol contestant and tenth place finalist Chikezie Eze, covered the couple's theme song on his YouTube account.[5] Also in 2009, a new instrumental version of "Just You and Me" was composed for the couple's reunion. "Just You and Me" was played for the couple when they finally wed in September of 2011, but the couple shared their first dance as newlyweds to Ray LaMontagne's "Hold You In My Arms." On their wedding night, "Better Man" by James Morrison was played for the couple when they made love. When the couple made love in 2016, a remixed version of "Just You and Me" was played and later made available for purchase on iTunes.[6] In September 2016, the couple gained two new songs for their wedding. "Beautiful Life" by Michael Kisur was played while the couple took family wedding photos. "Love Like This," an ABC original written by Bob Harty and Daena Jay and performed by Jayson Belt, was played for Jason and Sam's first dance as husband and wife.[7][8]
Background
Jason is the son of the late Dr. Alan Quartermaine and his mistress, the late, Susan Moore and the adoptive son of Dr. Monica Quartermaine. He is a member of the prestigious Quartermaine family.
Sam is the daughter of mob boss/media mogul, Julian Jerome and his ex-wife, headstrong attorney, Alexis Davis via a one night stand from when they were younger. She is a member of the aristocratic Cassadine family and the Jerome family.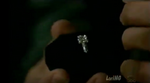 Jason and Sam have been involved on and off since 2004. Amidst turmoil, separation and heartache, this couple continues to have a strong bond and always manage to find their way back to one another. The couple was an instant success when they began their romance back in 2004 and have maintained their popularity throughout the years. Over the years, certain sources, both critics and fans alike, have deemed them a supercouple, a power-couple and a fan favorite couple.[9][10] In 2009, the couple was named one of the best soap opera couples of the decade.[11]
Jason and Sam are both adrenaline junkies who enjoy a good fight and have always accepted each other for who they are. They are each others ride or die. They are also very unconventional so unconventional that when he proposed in 2011, it was with a lug nut because Maxie lost the actual engagement ring.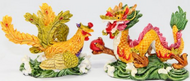 After a prior engagement (he proposed on January 14-17, 2005 and then after he lost his memory later that year he re-proposed on November 18, 2005 with a ring. He proposed again on July 21, 2011.), Sam and Jason were finally married on September 22, 2011 in a small and intimate ceremony at Noodle Buddha, a Chinese restaurant (although on the bottom of the Phoenix (and the Dragon) it says Sep 23, 2011.[12] Also on Sep 23, 2015, it's stated that it is their four year wedding anniversary). They exchanged Alan and Lila's rings during their wedding ceremony. Jason is the Dragon and Sam is the Phoenix. They also gave each other the figurines for their first Christmas as a married couple.
They share a son named, Danny, who was born in June of 2012 (the year of the Dragon) and a daughter named, Scout, who was born in February of 2017 (the year of the Phoenix or fire rooster).
In October 2012, Jason was presumed dead when he was shot the back by Cesar Faison, who was masquerading as Duke Lavery.
In 2014, Jason returned with amnesia as "Jake Doe" and he and Sam had no idea that they are husband and wife. They do not have an immediate romantic connection with each other, but become friends. On their four year wedding anniversary, Sam and Jason (aka Jake) run into each other at Noodle Buddha and Mrs. Yi (rightly) mistakes Jake for Jason. She insists they renew their vows, so Sam and "Jake" agree and unknowingly, really do renew their vows.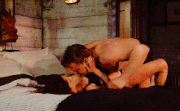 In November 2015, they both find out that Jake is really Jason, although he still has no memory of his life with Sam or anything from before his accident in 2014. Before finding out, that Elizabeth knew who he was before he did, Jason asks Sam for a divorce and she agrees. After the whole truth came out the divorce was put on hold. When Jason has a memory flash of giving Sam the star necklace, some of his romantic feelings for her start to return. Even more of those romantic feelings return after he has a memory of their rain dance and kissing in the rain. After those memories and with the new bond they formed, Jason tells Sam that he is beginning to remember what he feels for her and they grow even closer. After saving Sam from an explosion, Jason finally realizes that he and Sam have a bond that can't be broken and that he doesn't want to lose her.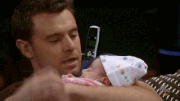 On March 17, Sam asked Jason for a divorce so that they could start over with no pressure to which Jason agreed. On March 22, they signed their divorce papers and Alexis pronounced them divorced and they are now free to just date. After a confrontation with Nikolas, they finally gave into the passion that had been building for months and made love for the first time in 4 years (on April 6, 2016). On May 9, 2016, Jason got his memories back and he told Sam on May 10, 2016. On August 15, Jason proposed to Sam and on August 16, she said yes. They were married for a second time in an intimate ceremony at Greystone Manor on September 2, 2016 (shown on September 2 and 6; although Sam stated that September 6, 2017 was their 1 year anniversary), surrounded by their closest family and friends. They also exchanged Alan and Lila's rings again during their wedding ceremony.
The couple have been to two Nurses' Ball's together, 2016 as a new couple and 2017 as a married couple.
Storylines
Classic quotes
Sam: "You like me?"
Jason: "Sure"
Sam: "Thanks, I like you too."

Jason (to Sam): "All I know is that I love you.......being married to you is the best thing in my life, it's the only thing that's made any sense."

Jason (to Sam): "I want you to stay, because knowing you and loving you is the most important thing that has ever happened to me."

Sam: "Close your eyes."
Jason: "I can't...I can't stop looking at you."

Jason (to Sam): "Run to me."

Jason (to Sam): "You want to know if I loved you? When you were pregnant, I wanted to be a father to your child. And after the baby died, I asked you to stay with me. When you were in the hospital dying, I was by your side, willing you to live because you mean everything to me. I've never loved anyone as much as I love you, and I always will."

Sam: "Sonny needed you and you chose to look for me."
Jason: "It wasn't a choice, it was necessary, like breathing."

Sam (to Jason): "You're not just my husband. Jason, you're my best friend."

Jason (to Sam): "All that time I was in prison, I would think about you every day. It would keep me sane; it would keep me going. And now that I'm out, I'm gonna make sure I never lose you again."

Sam (to Jason): "I will love you for the rest of my life, Jason. If I die tomorrow or if I live to be 100....even if I never see your face again."

Jason (to Sam): "When I -- when I sleep, you know, there's moments I wake up and I -- I still reach for you. And I remember why you're not with me, and everything comes flooding back to me, and I got to move, I got to get up, I got to go to work, I got to do everything I can to make myself stop thinking about you.You like to think I miss you? I miss you all the time."

Jason (to Sam): "I will love you for as long as I live." "I love you, you are my whole world."

Sam: "I am special, I know that, that's why you like me."
Jason: "No that's why I love you."

Jason (to Sam): "Were we always this intense?"

Sam (to Jason): "I had no idea what love was, how it felt, what it meant, until you showed me."

Jason (to Sam): "Now I know why, even now, I would do anything for you."

Sam (to Jason): "I just figured it out....why I sleep so much better at your apartment. Because you make me feel safe."

Jason: "Thank you for making me a better person."
Sam: "Thank you, Jason, for loving me."

Sam (to Jason): "Yeah...usually I am a gambler but I am not willing to risk your life, because without you somewhere in this universe, my world would go completely dark."

Jason (to Sam): "I know it's selfish, but I can't lose even one second of the time I have left with you. Yours is the last face I want to see."

Sam: "Come on, I'll be quiet."
Jason: "You're never quiet."

Sam: "Did you talk to me?"
Jason: "All the time."
Sam: "And I missed it?" (laughs)

Jason: "You shot me."

Sam: "You hustled me in rock, paper, scissors!"
Jason: "Now be a good little loser and go home and rest."

Jason: "What I feel for you is so incredibly complicated, and I know it doesn't compare to what we had before, but... I don't think I would call it just friendship."
Sam: "Okay. Okay, so, what do you want to do?"
Jason: "[Breathes deeply] I don't know. I mean, do we have to call it anything? Can we just... be here together?"

Jason: "Hey. Happy New Year."
Sam: "Happy New Year, Jason."

Jason (to Sam): "I'm not going to waste the chance of getting to know you. So I'm going to be better for you. And hopefully I can give you back some small part of what you've given me."

Jason (to an hallucination of Sam): "I love you, Sam. I love how strong and loyal and fearless you are. You're stubborn. You're gorgeous. I love that our son is lucky enough to have you as a mother, because the bond that you share, it's special. It's rare. I love how easy we fit, how right it feels. I can't believe I'm gonna lose my memories of you, 'cause I want to spend the rest of my life with you. I should have told you that a long time ago. I should have made sure that you know what you are to me."
Proposal videos
Jason has proposed to Sam 5 times (once for baby Lila and the rest for love): May 27-28, 2004, January 14-17, 2005, November 18, 2005, July 21, 2011, and August 15-16, 2016.
Wedding videos
Jason and Sam were married at the Noodle Buddha Chinese restaurant by Robert Yi on September 22, 2011. Jason and Sam were remarried at Greystone Manor by Damian Spinelli on September 2, 2016.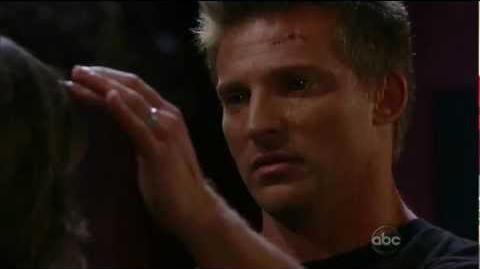 See also
References
Photo galleries
One photo gallery has pictures of Steve Burton as Jason and the other has pictures of Billy Miller as Jason. The second Billy gallery consists of pictures from Jason and Sam's second marriage.
Ad blocker interference detected!
Wikia is a free-to-use site that makes money from advertising. We have a modified experience for viewers using ad blockers

Wikia is not accessible if you've made further modifications. Remove the custom ad blocker rule(s) and the page will load as expected.