John redirects here. For other uses of the name, see John (disambiguation).
Agent John McBain is a fictional character from the ABC soap opera General Hospital.
The character was originated on the soap opera One Life to Live in 2003 by actor Michael Easton, who previously played the character Caleb Morley (aka Stephen Clay) on Port Charles (2001; 2002-03).
When several former PC characters and actors returned to GH in 2013, writers decided to revisit the vampire storyline from PC as a way to pay tribute.[3]
They put their own spin on it, and Easton started playing a dual role of John and an adapted version of Caleb on February 4 to March 13, 2013.[4]
Easton was portraying Dr. Silas Clay, the brother of Stephen Clay, from May 13, 2013 until the character's death in August 2015.
He has been portraying Dr. Hamilton Finn since March 21, 2016.
Storylines
John first arrived in Llanview, Pennsylvania as an FBI agent posing as a billiard scout for crime lord Flynn Laurence. He asked Natalie Buchanan, a billiards champion, to throw a game, but she defied him. She was then kidnapped by Flynn, but later rescued. Natalie later became friends with John.
John then decided to quit the FBI and stay in town to work with the local police department. He was working the Music Box Killer case, and Natalie nearly died at the serial killer's hands, and she and John admitted to each other that their friendship was turning into more. John eventually captured the killer.
John and Natalie grew closer, but he wasn't over his dead fiance Caitlyn Fitzgerald, who had been murdered by the Music Box Killer, yet. Natalie then moved on with Paul Cramer, and John later started a relationship with Evangeline Williamson. Natalie and John still had feelings for each other, but even after Natalie left Paul, John stayed with Evangeline. The two did finally start a relationship, but it soon folded.
In 2006, Natalie's uncle, Todd Manning (who years later would be revealed to actually be Todd's twin brother Victor Lord, Jr.), was convicted and sentenced to death by lethal injection for the murder of a woman named Margaret Cochran, who was pregnant with his child at the time. Margaret had shot, kidnapped, and raped Todd; and he had tried to kill her. The body of a pregnant woman had been found, but Todd insisted he was innocent. Natalie took a job with the police department, working in the forensics department, and she and John grew closer as they worked together to prove Todd's innocence. The eventually found an alive Margaret Cochran and were able to exonerate Todd.
John and Natalie broke up again, and he moved on with Marty Saybrooke, the mother of Cole Thornhart. In the fall of 2007, Marty and Cole were kidnapped by Irish terrorists who had supposed killed Cole's father and Marty's husband Patrick. John found them, but shots were fired into the van holding Marty and Cole. The van rolled down a hill and into a quarry. John ran down to it, and found Marty alive, but Cole missing. Marty insisted John find Cole, and he did; but when he got back to rescue Marty, the van exploded, seemingly killing her. John brought Cole back to Llanview, and he became a close friend and mentor to the teenage boy.
In the spring of 2008, John became suspicious of a man named Ramsey, who was keeping an unidentified woman in his penthouse. He found medical records showing the woman was injured and mentally handicapped. To pay for her treatment, Ramsey had masterminded the theft of the crown jewels of the country of Mendorra. John planted a bug in Ramsey's apartment, but he only heard the woman say "help me." He recognized the voice, but couldn't place it. Unbeknownst to John, however, the woman was actually Marty, who had not died after all.
Ramsey was killed, and Todd found Marty. Seeing as Marty had amnesia and didn't know who he was or remember anything from her past, he took her back to his house where he hid her. Marty found out that she had been gang raped in college, but didn't know the names of the men who did it. Todd kept her in the dark that one of the men was none other than Todd Manning, the man he believed himself to be. He filled Marty's head with lies that John was a bad guy, having left her to die. Meanwhile, John started up a relationship with Todd's ex-wife Blair Cramer. Eventually, however, John figured out that Todd was holding Marty. He was denied a warrant, so he broke into Todd's home to rescue her while Todd was away.
John found Marty and told her the truth about Todd, that had been one of the guys who had raped her in college. This made Marty sick to her stomach, especially since she had fallen in love with Todd and made love to him. Hearing this, when Todd came home, John beat him to a pulp.
Seeing as Marty was alive, John had a difficult time staying in his relationship with Blair. Marty kept getting in the way of their relationship, making Blair jealous. Eventually, Blair broke up with him. Soon after, Blair was repeatedly stabbed and nearly died. With Blair in the hospital and Todd wanting custody of their kids, Blair's attorney Téa Delgado suggested that she marry John so that John could get custody. They were then married.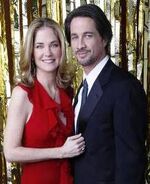 John began looking for the person who attacked Blair. John was arrested for the attack after the knife used in the crime was found in his apartment with his fingerprints. He escaped police custody though, and then realized Marty was the next target. John and Marty went off to find the attacker, and found Powell Lord III, Todd's cousin, who had been another one of the men who had raped Marty in college. Powell kidnapped Marty, Téa, Blair, and Todd and took them to the frat house where the rape had taken place. Meanwhile, John was being held at a sanitarium by Powell's accomplice, Rebecca Lewis. John managed to escape and then rescued Todd and Marty and shoot and kill Powell. The house then exploded, killing Rebecca and badly injuring Téa.
During the ordeal at the frat house, Marty got back her memory and wanted to be with John. John and Blair divorced, and he went back to Marty. Marty, however, was still bothered by the memories of being with Todd. Eventually, John and Marty did make love, but then John found himself drawing back to Natalie. He then found out, however, that Marty was pregnant and she moved in with him. Marty, however later lost the baby when she was pushed down a stairwell at the hospital. After losing the baby, John and Marty broke up.
Natalie was about to move to London, but John rushed to the airport and professed his love for her. Natalie stayed in town and they began dating. Later, Natalie told John she was pregnant. What she didn't tell him though, was that she wasn't positive he was the father. Natalie had also slept with her sister Jessica's fiancé Brody Lovett, and he have possibly been the father.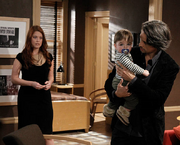 John and Natalie later became engaged, but Marty was suspicious of Natalie. As they were about to get married at the courthouse with Jessica and Brody serving as their witnesses, Marty barged in saying she had something to tell Jessica, who was also pregnant with Brody's baby. Jessica then went into labor. John went to the hospital with Jessica and Brody, and Natalie stayed behind with Marty. After John couldn't reach Natalie for hours, he tracked them down to a cabin, where he found Natalie in labor as well. Liam Asa McBain was born January 11, 2011. John and Natalie then planned to marry on Valentine's day in a double wedding with Jessica and Brody.
Just before they were to be married, someone barged in, announcing that one of the DNA tests of the babies (they had both had DNA tests done) had been switched. Jessica's son, Ryder, was actually Robert Ford's son, not Brody's. John had not known that Natalie had had a DNA test done on their baby until then, and he demanded answers from her. She then confessed to having slept with Brody, and that his DNA test revealed that Liam was Brody's son, not John's. John then left Natalie.
Marty had gone insane, and she was obsessed with John. She later kidnapped Liam. Brody got a tip from Jessica's alter Bess that Todd was the key to finding Liam. The police went to Todd's house, where they found the baby, but Marty was gone. Todd and Téa's brother Tomás had arranged for her to leave town with her presumed dead husband Patrick, who was actually alive. John went to the airstrip hoping to catch Marty, but only found Todd.
Later, John investigated that death of an unknown man that had been found murdered at Blair's house. Blair and Todd's young son Sam told John that his friend had killed him to save his life. Sam identified his friend from a photograph of Todd Manning, before his plastic surgery. They couldn't understand how a man who looked like Todd before his surgery could have possibly be in town, when the Todd they know is there with a new face.
Sam was then kidnapped by a man who had stolen a Spider-Man costume from an entertainer. The real entertainer also identified the original-face Todd as the man who knocked him out and stole his costume. John later got a call from the man with Todd's original face and met with him. The man claimed to John that he was in fact the real Todd Manning, and that the other Todd was an imposter.
John then took a DNA sample from this man, and broke into Todd's office and stole his toothbrush for a DNA sample from him. He had the two sets of DNA tested against DNA the police had on file of Todd Manning from Marty's rape case years before. Shockingly, both samples came back as positive matches. They then decided to get a second DNA test done. While they were waiting for the results, John and Tomás tracked a CIA agent down to Louisiana, where they found Todd's presumed dead mother, Irene Manning, and they brought her back to Llanview.
Irene explained that they two men were actually identical twins, and that the man with the new face was actually Victor Lord, Jr. She had held Todd captive for eight years, and had brainwashed Victor into thinking he was Todd. She had given Victor plastic surgery to make him look like the brother of Mitch Laurence, an enemy of Todd's, so that he would be off Mitch's radar. Later, Victor was found shot to death, and Todd was the key suspect.
Later, John was disappointed when he learned Natalie and Brody were getting married. He quit the force and planned to move to Seattle, where his brother Michael lived. At the airport though, Natalie showed up wearing her wedding dress and confessed that John was in fact Liam's father, not Brody. Natalie had just found out herself and left Brody at the alter. Brody had known for months that Marty had switched the DNA results, and had been covering it up.
They went back to Natalie's house to see Liam, only to find the butler knocked out and Liam gone. Brody had kidnapped him and ran to Michigan to his sister's house. John and Natalie eventually tracked him down and got Liam back. John and Natalie then got back together. Later on, Tomás went missing, and John found the gun used to kill Victor hidden in his Tomás' bedroom with his prints on it. John suspected Todd of actually killing Victor and framing Tomás for it. He eventually tapped Todd's cell phone, and was able to get Tomás' location. He then barged in and arrested Todd for his brother's murder. The only thing was that Victor was not actually dead; he was being held captive by an escaped prisoner named Allison Perkins.
John arrives in Port Charles to arrest Todd for jumping bail for the apparent murder of Victor and bring him back to Llanview to stand trial. After bringing Todd back to Llanview, John returned to Port Charles to begin his vendetta against Sonny Corinthos, a mobster he holds a personal grudge against. He teams with Anna Devane to bring down Sonny for causing his sister Theresa's death. While in town, he begins to bond with Sam Morgan, the pregnant wife of mobster Jason Morgan, Sonny's enforcer. John agrees to help Sam arrange a DNA test on her baby, to determine who the real father is. When she finds out that Franco, her rapist and Jason's twin brother, is the father of her baby, it puts a strain on her marriage, and she leans on John. The night Sam gives birth, John delivers her son, but when he goes to get help, he is beaten up by Jason's hired thugs. He's upset when he finds out Sam's baby died. Meanwhile, Téa arrives in town, pregnant, and John finds out she also gives birth to a baby boy the same night as Sam. 
While in Port Charles, John's relationship with Natalie begins to strain over his continued absence. After confronting Sonny, he is told that it was an associate Joe Scully, Jr. who caused his sister Theresa's death. He then goes to find Joe Scully Jr. He finds Joe and gets tied up and held hostage. Jason shows up and saves John, taking Joe back to Port Charles and leaves John tied up. Jason takes Joe back to Sonny. Sonny interrogates him about Kate Howard's rape. John shows up hoping to find answers about his sister's death. He finds them, but not the ones he was hoping for. Joe claims he saw Theresa talking to John, and realized he was a cop. He killed Theresa to protect his business. Joe is arrested. Sam finds John drunk on the dock, they watch Fourth of July fireworks and then kiss. After catching themselves, Sam chalks it up to the alcohol intake. John confesses there is something between them but he can't put his finger on it. John resolves to return to his family in Llanview. 
John returns home to find Natalie and Liam gone. Clint's driver arrives at the house and tells John that he took them to the airport. John immediately calls Natalie and finds out she's on a plane with Liam, to London. Natalie stole John's passport to prevent him from following her. John finds a note in the trash from Todd. John realizes that Todd sent the photo of him and Sam kissing on the docks to Natalie. John heads to Port Charles where he proceeds to assault Todd. Todd has John arrested but later drops the charges. After finding out Natalie has issued a restraining order against him after returning to Llanview, he and Alexis Davis, Sam's mother, talk about the best course of action. John later assists Sonny, Todd, Johnny Zacchara and Jasper Jacks in foiling Jerry Jacks' plan to poison the PC water supply.   After the water supply is saved, he's approached by Jason, who suspects that Sam's son was switched at birth with Téa's son. Jason says Heather Webber was the one who switched the babies, but John suspects Todd was involved in the switch, because he was with Téa that night. John travels to Llanview and gets a DNA sample from Victor, Téa's son, and hands it over to Jason. The DNA results come back, and Jason tells John that the baby is not Sam's.
John and Sam end up alone at Alexis's house, and nearly take the next step, but Sam stops the interaction. Afterwards, John gets a call from Jason, who tells him he was given the wrong results, and Téa's son is Sam's baby. John leaves to go tell Téa, but before he can, Téa realizes her son and nanny are gone. When Téa tells him that her nanny's name is "Susan Moore," John figures out the woman is actually Heather, who has kidnapped the baby. He lets Jason know, and returns to Port Charles to let Anna know what he found out. He also confronts Todd about his involvement, but Todd denies it, and John tells him Heather has kidnapped the baby.
John goes back to Anna, sharing his suspicions, and they have Todd's phone tapped. Heather contacts Todd, and John & Anna head to the motel where she called from, trying to find her. She's gone, but they realize she's coming back. Todd comes to the motel with Téa, claiming he got a call from his P.I. However, John & Anna punch holes in his story, making Téa question Todd. John is about to tell Téa the truth, but Anna interrupts, saying that Heather is holding the baby hostage on the roof of General Hospital.
John, Anna, Todd, and Téa arrive at the hospital, where they find out Sam and Jason are on the roof with Heather. Téa tries to head to the roof, but John stops her. Anna calls to Heather, saying the police have surrounded the hospital, and telling her to surrender. Heather becomes unhinged, and jumps from the roof, but the baby is saved by Jason. John goes to the roof after and accompanies Sam, Jason, and the baby into the hospital, and when Téa comes and tries to take her "son" back, John stops her, and he & Todd explain that her son was switched at birth with Sam's, and he never made it. Téa doesn't believe him, but when John shows the DNA test, and shares that the baby who died had hemophilia, a condition in Téa's family, she finally accepts the truth. He consoles Téa afterwards and is intent on making Todd pay. Todd is arrested, but his lawyer gets him released on lack of evidence.
John goes over to tell Jason about Todd being released, and instead finds Sam and her son, Danny. Sam says she has decided to stay with Jason, which John accepts. Meanwhile, Jason is presumed dead in a shootout involving Joe, Bernie Abrahms, and Duke Lavery. Jason goes to the pier to help Bernie, who was shot by Scully. Jason shoots Joe in self-defense, but before he can help Bernie, he is shot by Duke and thrown into the harbor. Duke shoots Bernie again, but fails to kill a fleeing Joe. Jason's body is never found and Joe and Bernie die. John later comes to Sam's place, and hears her express how she doesn't believe Jason is dead. John agrees with her, and says that he's going to look for Jason's shooter.
John leaves to investigate, and returns to Port Charles soon after. He finds Sam, and tells her that Jerry Jacks had Joe Scully released from prison. Sam thinks Jerry is holding Jason, but John disagrees, saying whoever shot Jason and killed Bernie is someone much higher up with a bigger agenda. Sam tells John that Heather switched her paternity test, and Jason is Danny's biological father. Sam is upset that John doesn't share her belief that Jason is alive, and sends him away. John, though, realizes Sam is grieving and in denial about Jason being gone.
In December John returns to Port Charles and asks Anna for a job with the PCPD. Anna gives him the position of detective as Dante Falconeri's partner. He ends up arresting Robert Scorpio, Anna's ex-husband, when she catches him breaking in. He convinces John that Anna's recently returned husband, Duke Lavery, is actually Cesar Faison, a career criminal obsessed with Anna. John gets Robert out after getting proof Faison is alive, and he & Robert head to Switzerland, where "Duke" and Anna went. The two get to the clinic, where they question Dr. Obrecht, and realize she's working with "Duke." Dante contacts John to tell him the hotel Anna is at, and he & Robert head there, exposing "Duke" as Faison, and John goes with Interpol, who take him into custody.
In January 2013, he returns to Port Charles to tell Sam about what he found in Switzerland, and reveals that Faison was the one who shot Jason, and pushed him into the harbor, watching him sink. He helps Sam realize that Jason is gone, and never coming back. Later, he helps Sam tell Monica Quartermaine, her mother-in-law, what happened to Jason.
Later, Lucy Coe sees John, and calls him "Caleb." She claims that he is the king of vampires, and is on a mission to kill him. Sam shows up, then, getting between Lucy and John, but Lucy calls her "Livvie," who is supposed to be in danger from Caleb. John and Sam think she's crazy, and leave. Lucy corners John, however, and stabs him with a wooden stake. Sam then takes him to the hospital, where she catches Todd trying to escape police custody. John recovers, and Lucy is sent to Ferncliff, as people believe she is delusional. Lucy's husband shows up and says he knows Lucy's story is not true about Caleb Morley, and the woman he was obsessed with, Livvie Locke. However, soon after, another woman named Alison Barrington shows up, and also calls John "Caleb." She mistakes Sam for "Livvie," and says she and her son are in danger from Caleb. John is surprised when he finds no record of Alison ever having a son, so Sam goes to Ferncliff to see if Lucy sent Alison to back up her story.
John gets a call from Alison, telling him to meet her at Pier 52. John shows up, and finds Alison's dead body instead. Her son, Rafe Kovich, Jr., is next to her with the murder weapon. John arrests him, and he's taken into custody. Sam comes back, and tells John that Lucy said that Caleb was actually Rafe's father, not Alison's husband, Rafe Kovich, Sr. John finds out that Rafe claimed he didn't kill Alison, but that John did. When the murder weapon is processed, they find Alison's and Rafe's prints on it, along with a partial that could possibly belong to John. John then finds out that Heather, Lucy, and Todd all escaped from Ferncliff, and has to juggle both cases. He goes to Rafe's cell, trying to prove his innocence and see if Rafe remembers anything about his mother's killer. Rafe is initially reluctant, but then reveals that he remembers a distinctive ring on the killer's finger. John then leaves.
John shows up at the police station while Dante and Anna are investigating Rafe's disappearance. John is shocked when he finds out that they have him on surveillance taking Rafe out of his cell and taking the murder weapon from the evidence room. Dante tells him that Rafe and "John" left with another officer named Bud Carlson, and they found his dead body at the pier, stabbed with the same weapon that killed Alison. A nurse named Sabrina Santiago identified John as the killer in Carlson's murder. John insists that he's innocent, but due to the evidence, Anna is forced to arrest John and put him in lockup.
While John is in lockup, Sam comes by. Sam asks where he was when Rafe escaped from lockup. John says he was at Port Charles University, talking to a professor named Jay Mosser about the ring Rafe saw on the killer's finger. Sam heads to PCU to get John's alibi, while Alexis comes in to build John's case. Lucy is arrested again, and John insists on talking to her alone. Lucy still believes he's Caleb, but John insists he's not, though he does believe that Caleb exists, and is trying to get Lucy and John out of the picture to get what he wants. Lucy starts to believe that Caleb and John might be two different people. She shares that Caleb wants two things: Rafe and Livvie, who looks just like Sam.
John finds out that Professor Mosser was also killed, but Anna realizes it couldn't have been John, because he was in lockup at the time of death. Meanwhile, Todd is recaptured and brought to the police station. However, he claims that he saw John strangle Heather and throw her into the harbor at Pier 52, then try to kidnap Danny. Todd says he was trying to save Danny when Anna and Sam showed up, and took Danny back. When John hears this, he realizes it was Caleb because he was at the police station when this happened. Rafe is recaptured, as well, and brought to lockup.
While Todd, John, and Rafe are in police lockup, they compare their stories. Rafe starts to believe John when he says that Caleb exists, and is actually committing the crimes. Todd reveals that when Caleb was trying to strangle Heather, he said that he was going to use Danny to get to his mother. John realizes that Caleb thinks Sam is Livvie, and his target is actually Sam, not Danny. Before he can tell Anna, she comes and tells him that Sam & Danny are missing. John is desperate to get out, in order to save Sam & Danny. Sam's sister, Molly Lansing, comes in, trying to break Rafe out on Lucy's orders. John realizes what she's doing, and convinces Molly to let him out too so he can find Sam and Danny. Lucy causes the fire alarm to set off, and Molly is able to let John and Rafe out of their cells, while Lucy escapes from the distracted officers.
John, Lucy, and Rafe go to PCU and find information about Caleb Morley. His real name is Stephen Clay, and he used to be a rock singer who went insane after the death of his wife, Livvie Locke Clay. He started to believe he was an actual vampire, and went on a killing rampage, killing seven people. Stephen was locked up, but escaped from the sanitarium in 2011. He's fixated on finding his dead wife again. Livvie is a dead ringer for Sam, and John realizes Stephen believes Sam is Livvie, which is why he kidnapped her. Lucy mentions a dream she had about "Caleb," and John deduces that Stephen has taken Sam & Danny to Wyndemere.
The three head to Wyndemere, where they find Danny alone, but safe. They realize both Stephen Clay and Sam were there not long before, and John realizes they went into the tunnels. John and Lucy head to the tunnels, while Rafe watches Danny. John finds Stephen and Sam, who has a bite mark on her neck. John tries to stop Stephen, only to be overpowered and tied up. Lucy then shows up and tries to kill him, but she's also overpowered. However, she's able to distract Stephen long enough for John to get free. He kills Stephen when Sam distracts him by calling Stephen "Caleb." Caleb is thought to be dead, but his ring lights up signalling a possibility that he could come back. That never happened in the years following.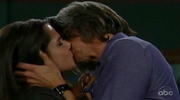 John, Lucy, and Rafe are taken back to PCPD and held in the interrogation room while Mayor Lomax, Anna, and District Attorney Martinez discuss their course of action. Sam shows up and tells the press that the three prisoners saved her life and Danny's. Eventually, the mayor "spins" the story, saying that John, Lucy, and Rafe were working in tandem with Anna to apprehend Stephen Clay. John is released, and resumes his job at the PCPD.  Rafe comes to the hotel and says that he was involved in a fight. John wanted Rafe to stay with him, but Social Services doesn't allow it. John and Sam make out, but before it goes further, Sam wisely stops it. On March 20, John learns that the FBI has an assignment and that he must leave Port Charles for a while.   
Crimes Committed
Withheld the information that John Doe was really Cristian Vega
Aided and abetted a fraud; concealed the paternity of Sam Manning [2007]
False arrest and imprisonment; arrested "Todd Manning" to prevent him from getting to his son [2007]
Aided and abetted a fugitive; hid Marcie McBain's movements from the FBI [2007]
Breaking and entering; broke into "Todd Manning"'s home to rescue Marty Saybrooke [2007]
Assault and attempted murder; shot "Todd Manning"'s guard, assaulted "Todd" and Keyshawn "Keys" Riddick [2007]
Broke into "Todd Manning"'s home to free Marty Saybrooke [2008]
Assaulted "Todd Manning" in his home [2008]
Planted evidence framing Mitch Laurence for his stabbing and clearing the real culprit, Natalie Buchanan [2009]
Arrested for assaulting Mitch Laurence [2010]
Concocted an elaborate ruse to break out of police custody and went on the run [2010]
Arrested for assaulting Todd Manning [Aug 2012]
Shot and killed Lt. Ronnie Dimestico in defense of Sam Morgan and her unborn child [May 7, 2012]
Arrested on suspicion of killing Alison Barrington, stealing police evidence, releasing Rafe Kovich, Jr. from his cell and killing Officer Bud Carlson; actually committed by Stephen Clay aka Caleb Morley [Feb 12, 2013]
Suspected of killing Professor Jay Mosser; actually killed by Stephen Clay [Feb 14, 2013]
Accused by Todd Manning of "killing" Heather Webber and trying to kidnap Danny Morgan; actually committed by Stephen Clay [Feb 15, 2013]
Convinced Molly Lansing-Davis to help him escape police custody with Rafe Kovich, Jr. and Lucy Coe [Feb 21, 2013]
Breaking and entering into a crime scene; broke into Professor Mosser's office with Rafe Kovich, Jr. and Lucy Coe [Feb 22, 2013]
Killed Stephen Clay with a silver-tipped arrow [Feb 28, 2013]
Health and Vitals
On One Life To Live
Badly injured in car accident and believed dead [2006]
Survived warehouse explosion [2010]
On General Hospital
Family tree
References
v - e

Current Contract Characters
Curtis Ashford
 ·
Jordan Ashford
 ·
Franco Baldwin
 ·
Hayden Barnes-Cassadine
 ·
Nikolas Cassadine
 ·
Morgan Corinthos
 ·
Sonny Corinthos
 ·
Carly Corinthos-Jacks
 ·
Alexis Davis
 ·
Anna Devane
 ·
Dante Falconeri
 ·
Olivia Falconeri
 ·
Dr. Hamilton Finn
 ·
Nelle Hayes
 ·
Paul Hornsby
 ·
Ava Jerome
 ·
Julian Jerome
 ·
Kiki Jerome
 ·
Maxie Jones
 ·
Dr. Andre Maddox
 ·
Jason Morgan
 ·
Sam Morgan
 ·
Dr. Griffin Munro
 ·
Dillon Quartermaine
 ·
Michael Quartermaine
 ·
Tracy Quartermaine
 ·
Nina Reeves
 ·
Nurse Sabrina Santiago
 ·
Laura Spencer
 ·
Valerie Spencer
 ·
Lulu Spencer-Falconeri
 ·
Nurse Elizabeth Webber
 ·
Nathan West
Current Recurring Characters
T.J. Ashford
 ·
Ned Ashton
 ·
Scott Baldwin
 ·
Claudette Beaulieu
 ·
Valentin Cassadine
 ·
Lucy Coe
 ·
Darby Collette
 ·
Dr. Kevin Collins
 ·
Brad Cooper
 ·
Kristina Corinthos-Davis
 ·
Landon Dixon
 ·
Naomi Dreyfus
 ·
Nurse Amy Driscoll
 ·
Nurse Felix DuBois
 ·
Parker Forsyth
 ·
Max Giambetti
 ·
Milo Giambetti
 ·
Alice Gunderson
 ·
Jasper Jacks
 ·
Nurse Epiphany Johnson
 ·
Dr. Lucas Jones
 ·
Ric Lansing
 ·
Molly Lansing-Davis
 ·
Dr. Kelly Lee
 ·
Janice Lomax
 ·
Huxley Lynch
 ·
Rosalie Martinez
 ·
Diane Miller
 ·
Dr. Liesl Obrecht
 ·
Dr. Monica Quartermaine
 ·
Dr. Joe Rivera
 ·
Aaron Roland
 ·
Delia Ryan Coleridge
 ·
Felicia Scorpio
 ·
Mac Scorpio
 ·
Robert Scorpio
 ·
Dr. Robin Scorpio-Drake
 ·
Nurse Bobbie Spencer
 ·
Damian Spinelli
 ·
Ellie Trout
 ·
David Walters
 ·
Heather Webber
Current Child Characters
Spencer Cassadine
 ·
Leo Falconeri
 ·
Rocco Falconeri
 ·
Josslyn Jacks
 ·
Avery Jerome-Corinthos
 ·
Danny Morgan
 ·
Teddy Rivera
 ·
Emma Scorpio-Drake
 ·
Aiden Spencer
 ·
Cameron Spencer
 ·
Jake Spencer
 ·
Georgie Spinelli
Deceased and Presumed Dead Characters
Benny Abrahms
 ·
Bernie Abrahms
 ·
Dr. Rachel Adair
 ·
Diego Alcazar
 ·
Lorenzo Alcazar
 ·
Luis Alcazar
 ·
Sage Alcazar
 ·
Ruby Anderson
 ·
Dr. Andy Archer
 ·
Dominique Baldwin
 ·
Cooper Barrett
 ·
Alison Barrington
 ·
Amanda Barrington
 ·
Kiefer Bauer
 ·
Warren Bauer
 ·
Jesse Beaudry
 ·
Katherine Bell
 ·
Connor Bishop
 ·
Mary Bishop
 ·
Paige Bowen
 ·
Nurse Jessie Brewer
 ·
Nancy Brewer
 ·
Dr. Phil Brewer
 ·
Carter
 ·
Helena Cassadine
 ·
Irina Cassadine
 ·
Kristina Cassadine
 ·
Mikkos Cassadine
 ·
Stavros Cassadine
 ·
Stefan Cassadine
 ·
Tony Cassadine
 ·
Victor Cassadine
 ·
Stone Cates
 ·
Dr. Ryan Chamberlain
 ·
Dr. Silas Clay
 ·
Stephen Clay
 ·
Adela Corinthos
 ·
Lily Corinthos
 ·
Dr. Ian Devlin
 ·
Mickey Diamond
 ·
Ronnie Dimestico
 ·
Dr. Pierce Dorman
 ·
John Durant
 ·
Bill Eckert
 ·
Connie Falconeri
 ·
Andrea Floyd
 ·
Dr. Russell Ford
 ·
Dr. Steve Hardy
 ·
Peter Harrell, Sr.
 ·
Peter Harrell, Jr.
 ·
Abby Haver
 ·
Logan Hayes
 ·
Theo Hoffman
 ·
John Jacks
 ·
Aleksander Janacek
 ·
Victor Jerome
 ·
Stan Johnson
 ·
B.J. Jones
 ·
Georgie Jones
 ·
Tania Jones
 ·
Dr. Tony Jones
 ·
Dr. Ewen Keenan
 ·
Rafe Kovich, Jr.
 ·
Dr. Eve Lambert
 ·
Trevor Lansing
 ·
Duke Lavery
 ·
Dr. Cameron Lewis
 ·
Victor Lord III
 ·
Hope Manning-Thornhart
 ·
Reese Marshall
 ·
Courtney Matthews
 ·
Dr. Matthew Mayes
 ·
Danny McCall
 ·
Lila McCall
 ·
Nurse Leyla Mir
 ·
Trey Mitchell
 ·
Susan Moore
 ·
Chloe Morgan
 ·
Henry Nakamura
 ·
Dr. Lisa Niles
 ·
A.J. Quartermaine
 ·
Dr. Alan Quartermaine
 ·
Alexandria Quartermaine
 ·
Edward Quartermaine
 ·
Dr. Emily Quartermaine
 ·
Lila Quartermaine
 ·
Carlos Rivera
 ·
Faith Rosco
 ·
Manny Ruiz
 ·
Gabriel Santiago
 ·
Joe Scully
 ·
Joe Scully, Jr.
 ·
Kyle Sloane
 ·
Damian Smith
 ·
Frank Smith
 ·
Shirley Smith
 ·
Zander Smith
 ·
Lena Spencer
 ·
Pat Spencer
 ·
Siobhan Spencer
 ·
Tim Spencer
 ·
Olivia St. John
 ·
Nurse Diana Taylor
 ·
Martha Taylor
 ·
Dr. Peter Taylor
 ·
Tracy Taylor
 ·
Dr. Asher Thomas
 ·
Cole Thornhart
 ·
Nurse Amy Vining
 ·
Bradley Ward
 ·
Justus Ward
 ·
Mary Mae Ward
 ·
Dr. Rick Webber
 ·
Dr. Karen Wexler
 ·
Dawn Winthrop
 ·
Deke Woods
 ·
Dr. Maggie Wurth
 ·
Anthony Zacchara
 ·
Claudia Zacchara-Corinthos
Off-screen and Former Characters
Lila Rae Alcazar
 ·
Dr. Grant Andrews
 ·
Terri Arnett
 ·
Brook Lynn Ashton
 ·
Larry Ashton
 ·
Christina Baldwin
 ·
Dr. Gail Baldwin
 ·
Lee Baldwin
 ·
Serena Baldwin
 ·
Dr. Tom Baldwin
 ·
Brenda Barrett
 ·
Julia Barrett
 ·
Melinda Bauer
 ·
Shawn Butler
 ·
Gia Campbell
 ·
Peter Carroll
 ·
Dimitri Cassadine
 ·
Petros Cassadine
 ·
Jagger Cates
 ·
Lois Cerullo
 ·
Skye Chandler-Quartermaine
 ·
Dr. Linda Chu
 ·
Father Coates
 ·
Mike Corbin
 ·
Angie Costello
 ·
Blair Cramer
 ·
Jolene Crowell
 ·
Nurse Nadine Crowell
 ·
Dr. Rae Cummings
 ·
Marco Dane
 ·
Téa Delgado
 ·
Roy DiLucca
 ·
Anna Donely
 ·
Sean Donely
 ·
Tiffany Donely
 ·
Dr. Noah Drake
 ·
Dr. Patrick Drake
 ·
Taylor DuBois
 ·
Toussaint Dubois
 ·
Jenny Eckert
 ·
Sly Eckert
 ·
William Eichner
 ·
Angel Ellis
 ·
John Everett
 ·
Cesar Faison
 ·
Nurse Fletcher
 ·
Pres Floyd
 ·
Nurse Betsy Frank
 ·
Ivy Gatling
 ·
Nurse Audrey Hardy
 ·
Dr. Simone Hardy
 ·
Dr. Tom Hardy
 ·
Dr. Tommy Hardy
 ·
David Harper
 ·
Jimmy Lee Holt
 ·
Dr. Matt Hunter
 ·
Anton Ivanov
 ·
Lady Jane Jacks
 ·
Jerry Jacks
 ·
Terrell Jackson
 ·
Miranda Jameson
 ·
Frisco Jones
 ·
Dr. Leo Julian
 ·
Rose Kelly
 ·
Winifred Leeds
 ·
Guy Lewis
 ·
Victor Lord, Jr.
 ·
Ethan Lovett
 ·
Starr Manning
 ·
Todd Manning
 ·
John McBain
 ·
Colleen McHenry
 ·
Miguel Morez
 ·
‎Hope Morgan
 ·
Ken Morgan
 ·
Delores Padilla
 ·
Blackie Parrish
 ·
Nurse Penny
 ·
Grant Putnam
 ·
Celia Quartermaine
 ·
Burt Ramsey
 ·
Coleman Ratcliffe
 ·
Madeline Reeves
 ·
Cruz Rodriguez
 ·
Casey Rogers
 ·
Father Mateo Ruiz
 ·
Juan Santiago
 ·
Alec Scott
 ·
Hannah Scott
 ·
Jeffrey Scribner
 ·
Rebecca Shaw
 ·
Jennifer Smith
 ·
Lucky Spencer
 ·
Luke Spencer
 ·
Suzanne Stanwyck
 ·
Nurse Mischa Stephens
 ·
Holly Sutton
 ·
Marcus Taggert
 ·
Nurse Regina Thompson
 ·
Claire Walsh
 ·
Faith Ward
 ·
Keesha Ward
 ·
Dr. Maya Ward
 ·
Dr. Jeff Webber
 ·
Dr. Lesley Webber
 ·
Dr. Sarah Webber
 ·
Dr. Steve Webber
 ·
Dr. Britt Westbourne
 ·
Dr. Lainey Winters
 ·
Grace Yang
 ·
Johnny Zacchara
Crew
Shelly Altman (Head writer, 2011-2012, 2015-present)
 ·
Ron Carlivati (Head writer, 2012-2015)
 ·
Jill Farren Phelps (Executive producer, 2001-2012)
 ·
Robert Guza, Jr. (Head writer, 1996, 1997-2000, 2002-2008, 2008-2011)
 ·
H. Wesley Kenney (Executive producer, 1987-1989; Head writer, 1988)
 ·
Gloria Monty (Executive producer, 1978-1987, 1991-1992; Head writer, 1981)
 ·
Jean Passanante (Head writer, 2015-present)
 ·
Wendy Riche (Executive producer, 1992-2001)
 ·
Frank Valentini (Executive producer, 2012-present)
 ·
Garin Wolf (Head writer, 2008, 2011-2012)
Related Topics
List of cast members
 ·
List of current actors
 ·
History of General Hospital