This article is incomplete. Please edit this page and help bring it up to standards.
Please remove this template once this article is no longer incomplete.
Johnny Zacchara and

Lulu Spencer

Brandon Barash and Julie Marie Berman as
Johnny Zacchara and Lulu Spencer
General Hospital
Couple nickname
JoLu
Marriage/relationship dates
2007-09 (lovers)
2015 (kissed)
Status
Ex-lovers
Profile
Age at wedding or meeting
Johnny (23)
Lulu (19)
Gender
Male, Female
Couple residence

Falconeri House, #1237

[1]
Port Charles, New York (Lulu)
Johnny Zacchara and Lulu Spencer are fictional characters and were a popular couple on the ABC daytime soap opera General Hospital.
Casting
Johnny was portrayed by actor Brandon Barash on and off from the character's in 2007 until 2016.
Lulu was portrayed by actress Julie Marie Berman from 2005 until 2013.
Berman was nominated for a Daytime Emmy for Outstanding Younger Actress in 2007 and brought home two Daytime Emmy's for Outstanding Younger Actress in 2009 and 2010 and one for Outstanding Supporting Actress in 2013.
Actress Emme Rylan, formerly known for her roles on Guiding Light as Lizzie Spaulding (2006-09) and The Young and the Restless as Abby Newman (2010-13), has portrayed her since 2013.
Background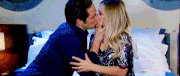 Johnny is the son of the late notorious NYC crime lord, Gino Soleito and the woman he thought was his sister, the late, Claudia Zacchara. He is a member of the Zacchara family.
Lulu is the daughter of most iconic supercouple in the soap genre, Luke and Laura Spencer. She is a member of the Spencer family.
Storylines
Johnny and Lulu meet on September 18, 2007 on the side of the road, after Lulu finds out that her boyfriend at the time, Logan Hayes slept with Maxie Jones.
Photo gallery
References
↑ Seen on August 24, 2016 ... https://www.youtube.com/watch?v=lHxJPQN0IX4

↑

Claudia was believed to be Johnny's sister during his relationship with Lulu. However, in January of 2012, it was revealed that Claudia was actually Johnny's mother, not his sister.
Ad blocker interference detected!
Wikia is a free-to-use site that makes money from advertising. We have a modified experience for viewers using ad blockers

Wikia is not accessible if you've made further modifications. Remove the custom ad blocker rule(s) and the page will load as expected.