Julian Jerome (William deVry)
Talk

0
576pages on
this wiki
Julian Jerome
William deVry as Julian Jerome
General Hospital
Portrayed by
Jason Culp (1988-90)
William deVry (2013-present)
Current status
Contract
First appearance
February 24, 1988
Created by
Ann Marcus
Norma Monty
Introduced by
Gloria Monty (1988)
Frank Valentini (2013)
Profile
Alias(es)
Derek Wells
Nickname(s)
Jules
Gender
Male
Born
1959[1]
Age
56
Education
Dartmouth College
Occupation
President and CEO of Derek Wells Media (Crimson and The Press)
Head of the Jerome mob family
Ava's partner in her art gallery
Residence
Pentonville Penitentiary
Port Charles, New York
Jason Culp as Julian Jerome
Julian V. Jerome[3] is a fictional character on the ABC soap opera General Hospital.
He was originally portrayed by actor Jason Culp from 1988 to 1990. After 23 years of being presumed dead, the character was brought back to the series in 2013. Veteran soap actor William deVry debuted in the role of Julian Jerome on July 30, 2013, using the alias Derek Wells.
The role was originated by Jason Culp on February 24, 1988.[4] Culp made his final appearance on March 16, 1990.[5]
On July 8, 2013, TV Source Magazine announced exclusively that Wiliam deVry, previously known for his role as Storm Logan on The Bold and the Beautiful and his Emmy-nominated role as Michael Cambias on All My Children, had joined the cast of General Hospital in an undisclosed contract role.
deVry filmed his first scenes on July 9, reportedly with Maura West, who had recently joined the cast as Ava Jerome.[6] deVry later took to Facebook to confirm the news and revealed his first air date to be July 30.[7] deVry also appeared briefly on the General Hospital spin-off, Port Charles.[8]
deVry said that when he originally auditioned for the role, he wanted to make sure the series was not using the open casting call in an attempt to cast someone else. Fortunately, no decision had been made and they were still testing candidates for the role. Three weeks after his first audition, deVry had a screen test.[9]
The character and casting was very much a mystery. deVry revealed that he and the others who auditioned for role were only given a vague character breakdown.[10] However, the lack of information provided for the character only piqued his interest. deVry also revealed that he was hesitant to take the role due to his history with All My Children and the sudden change in direction for the character of Michael Cambias with the installation of new producers.[9]
deVry was offered a screen test immediately after his audition. deVry screen test with Maurice Benard, who portrayed Sonny Corinthos.[10] A few days later, deVry booked the role and was offered a four-year contract with the series. deVry filmed his first official scenes with Sullivan, and also confirmed that he had indeed worked with West.[11]
Background
Edit
Julian Jerome is the youngest son of crime lord Victor Jerome, born in 1959.[12][13] Unlike his older brothers, Victor favors Julian and protects him from the mob life. While in graduate school, Julian has a three-year romance with Cheryl Stansbury and they fall in love. According to his sister, Olivia, Julian even plans to marry Cheryl. However, Julian is forced to break off the relationship as Victor refuses to involve Cheryl in the family business.[14]
He has a son, Lucas Jones with Cheryl. In 2013, it is revealed that Julian had a one night stand with Alexis Davis, which resulted in their daughter, Sam Morgan.
Storylines
Edit
Julian comes to town trying to help his father, Victor, take out his rivals alongside Victor's other henchman, Duke Lavery.  Julian took a bullet meant for Duke and before he died, he told Duke to make his family's organization legitimize. Later that year, it was revealed that Julian is actually alive and Victor helped him fake his death. Julian found out that Olivia St. John was behind the hit that got him shot. Soon after, Julian found himself in a power struggle for his father's business with his sister, Olivia and his illegitimate half-brother, Dino. Dino tried to kill Olivia, but ended up leaving her with a severe brain injury that required her to be institutionalized. Dino was arrested, and Victor died after becoming insanely obsessed with Lucy Coe.
Julian would eventually become the head of the Jerome empire, but was seeking revenge on Duke for turning against his father. He enlisted Olivia to help him finally kill Duke. However, their plan misfired and Duke's wife, Anna Devane miscarried their unborn child. Olivia tried to alert Anna about Julian's plans, but Julian abducted and killed her before she could. Duke sought revenge on the Jeromes, but ended up dead. However, he later turned up alive, though it turned out to be an imposter named Jonathan Paget. Julian and "Duke" engaged in a shootout and the both of them ended up dead. Cheryl Stansbury gave birth to his son, Lucas Jones in 1989. Lucas was adopted by Tony Jones and Bobbie Spencer after Cheryl died in a car accident in 1992.
Derek Wells is the new owner of the firm (formerly owned by Todd Manning) controlling both the Port Charles Press and Crimson magazine. He arrived in Port Charles on July 30 after threatening to take charge of Crimson and the Port Charles Press from the current head, Connie Falconeri, due to the failing performance of the Press. Upon his arrival in town, he heads to Connie's office and takes it as his own. However, Connie's assistant, Maxie Jones, calls Connie, who comes to the office and tells Derek she does have a story that is going to put the Press back in the black. Connie leaves to get information, and Derek makes a mysterious phone call letting someone know he is in Port Charles. Connie later comes back and says she's not able to publish the story. Derek tells her to vacate her office, but Connie refuses to, saying she will publish the story, but she needs to get proof that it's a substantial story. Derek tells her to go get the proof, then calls the same mysterious person and asks them to come to the office.
Later, Ava Jerome shows up at the office, and addresses Derek as Julian. "Derek" is revealed as Julian Jerome and Ava is his sister. The two of them are planning to regain control of Port Charles from Sonny Corinthos. Ava reveals that her daughter, Kiki, is engaged to Sonny's son, Morgan, and she's using that to gain a foothold for their plan. It's also revealed that they are behind the gambling ring that put Morgan into massive debt. Sam Morgan goes to the office looking for Connie, but instead finds "Derek." She asks him to publish a story for a bone marrow donor drive because her son, Danny, is sick and in desperate need of a bone marrow transplant. Derek agrees to run the story. However, after Sam leaves, Connie comes back, and gives him the proof for a major headline.
After the story runs, Julian faces the wrath of Ava, who is furious that Julian exposed her daughter's true paternity. Julian, though, says that it works to their advantage, and tells Ava to secure her position in ELQ. Julian goes to the bone marrow drive for Danny, and gets tested as a potential donor to show his support and make up for moving the article. Later, he goes to the hospital, and finds out he's a viable match for Danny. A relieved Alexis later tells "Derek" about how she couldn't find Sam's father because she only knew him for one night. When Alexis starts describing the night, Julian has a memory flash, and realizes he is Sam's father. Julian wants to tell Sam the truth, but Ava dissuades him, saying his identity will be exposed.
"Derek" comes in to get screened for the bone marrow transplant, and meets Danny for the first time. Despite promising Ava not to tell the truth, Julian is tempted to do so when he's with Sam and Danny, though he refrains and asks Sam to let him be a part of her life. After Julian performs the transplant, he checks up on Danny via Alexis & Sam. Ava is irritated by this, and tells Julian she thinks he's distracted from their plan because of his "newfound family." Julian corrects her, saying he hasn't forgotten their goal to take over Sonny's organization, and reminds Ava who is in charge. When one of their henchmen, Vince, is kidnapped by Sonny's men, he gives up the name "Julian Jerome" as his boss. When he is let go, Ava & Julian find him at the pier, where they kill him for his betrayal. Julian & Ava talk about their plan to bring down Sonny, and Julian later finds Carly Jacks & Felix DuBois on the pier, and tries to cover. Julian meets with his enforcer, Carlos Rivera, who helps Julian destroy one of Sonny's shipment while Ava keeps Sonny distracted by throwing a wedding reception for Kiki & Morgan. He also has Carlos raid Sonny's warehouse.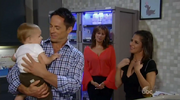 Meanwhile, Ava starts a relationship with Morgan after Kiki leaves him, and Julian advises her to tread carefully. Morgan ends up discovering Julian's true identity, and leaves to tell his father. Julian sends Carlos to kill Morgan, despite Ava's protests. However, Carlos brings Morgan back alive, and Morgan offers to work for Julian to bring down Sonny because of his belief that Sonny prefers his older brother, Michael, to him. Julian tests him by having Morgan plant a bug in Sonny's office. The plan works, and Julian discovers that Sonny knows his true identity because he has the D.A., Lazaro, on his payroll. Julian has Morgan deliver the recording of Lazaro and Sonny to Lazaro's main opponent, Scott Baldwin, who uses the recording to get Lazaro to step down and have himself take over as D.A.
Ava holds a gallery premiere for Franco, her ex-lover, in order to help him restore his artist's reputation, but the gallery ends in disaster. Sonny shows up, and confronts Morgan about working for the Jeromes, and the fact that "Derek Wells" is really Julian. Morgan claims that Sonny drove him to betray him, and he'd rather work with the Jeromes. Sam is present, and finds out about Julian, and realizes he's her biological father. Julian lets Sam know that Sonny has a henchman outside waiting to kill him. Sam tells Sonny not to because Julian was going to donate his bone marrow to store in case Danny has a relapse. Sonny lets Sam know that Julian is going to use Danny as leverage to keep himself alive, and leaves.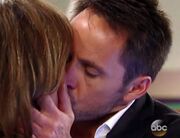 Sam confronts Julian, who tells Sam indirectly that he won't give his bone marrow to store because Sonny will be free to kill him. Sam is furious with Julian, and calls him selfish for using his own grandson as leverage to stay alive. She leaves, upset, and Julian tries to follow her. He is stopped, though, by Alexis, who confronts him about lying. Julian claims there's a connection between them, and Alexis tries hard to resist, saying she doesn't want to be involved with the mob. Though there was a spark, Alexis said she wouldn't forgive the fact that Julian wouldn't donate his bone marrow to save Danny to protect himself. Sam also wrote him off, saying she wants nothing to do with him, and neither would Lucas. Julian asked who Lucas was, though Sam said it was nobody he needed to be concerned about.
Julian found out that Carlos was kidnapped by Sonny and tried to rescue him with Morgan's help. He ended up starting a shootout, and in the chaos, Morgan accidentally shot Max Giambetti, Sonny's bodyguard. Rather than help save Max, Morgan left with Julian, feeling guilty about how he'd hurt Max. He told Julian that he wanted out, not willing to hurt anybody. Julian, however, said that if Morgan didn't spy on Sonny for him, he'd kill Morgan's brother & mother, Michael and Carly, and Morgan would know their deaths were his fault. Morgan agrees to Julian's plan, and pretends to break things off with Julian & Ava in order to get back into Sonny's trust. Julian ran into Bobbie and her brother, Luke, and noticed Bobbie's phone go off with the name "Lucas" on it. He asked Bobbie who Lucas is, but Bobbie deflected him. However, Julian later found out about Bobbie's custody battle for her son, and realized Lucas was his biological son. He tried to get Sam to help him with Lucas, but she refused, and he decided to get on a plane to Seattle to meet Lucas himself. However, Lucas showed up in town to help his mom after his sister, Carly, went missing. Julian tried to get to know him, but Lucas pushed him away.
Morgan let Julian know that Duke was working with Sonny, and they were going to grab Carlos at the pier, and kill him. Julian showed up, and drew a gun on Duke. However, it turned out to be a setup, and he was ambushed by Sonny, Shawn, and Duke. The three of them beat him up as a message before he got back to Ava and Morgan. He let Morgan know that Sonny was onto him, and either he would end up dead or ostracized from his family. Julian tried to get even with Duke by reporting his association with Sonny to Anna, who was unaware Duke was working for the mob again. However, when he came back, Ava held a gun to him, having found out why Morgan was spying on Sonny for Julian. Ava claimed that Morgan would never leave her, but Julian said that he would need to choose between her or Sonny, and if he took his father's side, Morgan would dump Ava. Sure enough, Morgan stayed with his father and left Ava. Julian tried to get to know Lucas, who continued to shut him out. However, when Lucas decided to let him in a little, Julian had bad reaction to finding out Lucas was gay. Lucas tell him that if he can't accept that he's gay then they have nothing left to talk about. Julian went to Alexis for advice, she told him to either accept Lucas or risk losing his son. Julian went and apologized to Lucas, and said he would accept Lucas the way he is.
Ava, meanwhile, was desperate to hold onto Morgan, and begged Morgan to take her back. Morgan told her to help Sonny defeat Julian, and Ava decided to prove her worth by giving Sonny a flash drive of Julian's computer files. Julian was tipped off by Alexis about this, though Ava said that Alexis was lying. While looking through the files, Sonny finds out that Julian is working for someone else who bankrolls his operations, but who Ava doesn't know about. In May, under the orders of his real boss, he tries to kill Ava for her betrayal, but Morgan clobbers Julian over the head with the wine bottle and renders him unconscious. When he wakes up, Ava holds a gun on him, but Shawn arrives and stops her from killing him. Julian tells Shawn that Ava shot Olivia last year. Later, Julian told the police that Ric was his boss under the orders of his real boss. Ric was arrested and later shot and killed at the PCPD. Molly was furious with Alexis for blaming Julian, and Julian was guilt ridden.
On July 24, Julian helped Ava escape from Sonny when she was at the hospital with the help of Mickey Diamond. Before escaping, Mickey threatened to kill Ava for her betrayal, but Julian says she has information on Sonny. Mickey puts his gun down and the three escape the hospital roof via helicopter. When they got to the penthouse, Mickey pulls a gun on Ava again and demands to know the information on Sonny. Julian disarms Mickey and holds him at gunpoint. He later says that he is going to leave the business because of heroin being sold on the streets. Before leaving, Mickey threatens Julian's family. As a result of the skirmish at the penthouse, Mickey had a bomb planted in the mailbox at Alexis's house. Julian realized this and tried to earn Sam and Alexis, but the house exploded right before his eyes. Julian was destroyed to believe that his family was dead, but was relieved to find out they weren't at the house. Julian later stormed into Mickey's apartment and coldly shot him in the head, right in front of Jordan. Jordan agreed to take the blame for shooting Mickey in self-defense. Mickey was later pronounced brain dead at the hospital and was taken off life support on August 7. The next day, he calls his boss who is sad that Mickey has been "murdered by Jordan". Julian demands him to back off his family, but he wants to know the information on Sonny, then they will have truce. Julian calls him a bad word and then hangs up on him. Later, he supports Ava in her plot to kill Michael who the boss wanted dead in order to take over ELQ.
Eventually, Julian's lies caught up with him and Alexis ended their relationship. Julian was later arrested and decided to tell Alexis the whole truth. Alexis got Julian released and they headed to miscaviage where they and a brief encounter with Alexis' long time enemy, Helena Cassadine, and they rescued Luke (unknown to Alexis and Julian, it was the Fake Luke). When Julian returned to the penthouse, he encountered a fake Luke, who threatened to shoot him. Anna and the PCDP arrived just in time to unmasked the fake Luke as Cesar Faison. Julian was arrested alongside Faison for the part he played in Luke's incarceration. After he was released, Carlos informs him that Johnny Zacchara wanted to take over his and Sonny's territories in order to create the Port Charles Mob Alliance. Julian states that he and his boss would not want that to happen. Carlos also shows Julian that Ric is alive and is being locked up in a trunk. Carlos says he'll kill him when Johnny tells him too. Later at Jerome Gallery, Julian encounters Luke who pulls a gun on him. Julian says that Faison is the guy to kill for locking him up at Miscavage, but Luke laughs and puts down his gun. He reveals to Julian as the man he's still working for and that the real Luke is locked up elsewhere. Suddenly, Carlos informs Julian and "Fluke" that Jordan betrayed them and helped Shawn save Ric. "Fluke" then orders Julian to take Jordan out.
Julian later arrives at Jordan's secret hideout and holds Jordan at gunpoint. She assaults him and holds her gun on him, but Julian reveals to her that he unloaded her gun. Julian points his gun at her again and says he'll kill her for destroying his leverage and helping Shawn save Ric from Carlos. Jordan thinks that Johnny sent him to kill her since Faison was incarcerated, but Julian says he's on his own (actually "Fluke" ordered him to take Jordan out). Jordan says to Julian that killing her would trigger a mob war between Julian and her loyalties (Shawn and Duke). This makes him put the gun down and leave Jordan's place. He then informs his boss that he didn't kill Jordan and that there was a complication, killing her will trigger a mob war between them and Jordan's loyalties (Shawn and Duke). Duke became the head of the Corinthos mob family after Sonny was sent to Pentonville Penitentiary for murdering A.J.
On New Year's Eve, Julian arrives at the Metro Court to bring in 2015 where he sees Ric with his ex-wife, Elizabeth Webber. Ric wants to take revenge on Julian for framing him, but Elizabeth escorts him away. He then sees Alexis with Ned Ashton who insults him for being alone. Julian then wants to start another fist fight outside the hotel prompting Ned to threaten him. Julian shoves Ned just as Olivia Falconeri escorts Julian away from Ned and Alexis. Julian later dances with Olivia and kisses her just after midnight.
After midnight, Julian and Olivia have sex in order to make Ned and Alexis jealous. On January 6, Carlos confronts Julian at the penthouse and suddenley pulls a gun om him. Carlos tells him that "Fluke" has instructed him to murder him. The next day, Carlos orders Julian to falsely confess to Anthony Zacchara's murder or else he had to kill him. Julian is forced to do so and is remanded at Pentonville. He meets Sonny there and Julian informs him that "Fluke" is still impersonating Luke who is being held captive elsewhere. On January 9, Johnny's thugs tell Julian that Johnny wanted them to kill him and Sonny leaves them to finish him. As one of the thugs approaches Julian, Sonny kills him from behind and the others are dragged out of the cell by security. Sonny and Julian are now allies.
Crimes Committed
Edit
Committed various crimes while working for and running the Jerome organization [1988-1990]
Faked his death with the help of his father, Victor Jerome [1988]
Kidnapped and murdered his sister, Olivia St. John [1990]
Shot and killed Jonathon Paget (impersonating Duke Lavery) in a gun battle [1990]
Manhandled Maxie Jones while she was pregnant [Jul 31, 2013]
Operated an online gambling ring and knowingly lured Morgan Corinthos into a gambling debt [Aug 2013]
Murdered Vince, a henchman within his organization [Sep 2013]
Ordered Carlos Rivera to destroy a shipment that belonged to Sonny Corinthos [Sept 2013]
Ordered his henchmen to ransack the Corinthos coffee warehouse [Oct 2013]
Ordered Carlos Rivera to kill Morgan Corinthos [Oct 2013]
Tried to shoot Sonny Corinthos during a shootout at the warehouse [Dec 23, 2013]
Tried to order Morgan Corinthos to shoot his father, Sonny [Dec 23, 2013]
Threatened Morgan's family when he tried to quit working for the Jeromes [Jan 6, 2014]
Held Anna Devane and Det. Nathan West at gunpoint, thinking they were intruders [Mar 5, 2014]
Arrested for the shooting of A.J. Quartermaine, but was later acquitted when A.J. himself cleared him [Mar 11, 2014]
Held his sister, Ava Jerome at gunpoint and almost killed her under the orders of Fluke [May 2-5, 2014]
Held Shawn Butler at gunpoint [May 19, 2014]
Arrested following the drug bust at Pier 52 [May 21, 2014]
Assaulted a police officer [May 27, 2014]
Busted into Lucas' hospital room (he wasn't on the "approved visitors" list, so he wasn't allowed in there) [May 27, 2014]
Framed Ric Lansing under the orders of Fluke [May 29, 2014]
Assulted Mickey Diamond and disarmed him [Jul 25, 2014]
Held Mickey Diamond at gunpoint [Jul 25, 2014]
Shot and killed Mickey Diamond [Jul 29, 2014; Mickey died on Aug 7, 2014]
Obstruction of justice; knew that Luke Spencer was locked up in Miscavige and that "Fluke" was posing as him [revealed Aug 22, 2014]
Got into a full-scale fist fight with Ned Ashton [Oct 22, 2014]
Held Jordan Ashford at gunpoint with the intent to kill her under Fluke's orders [Dec 26-29, 2014]
Falsely confessed to Anthony Zacchara's murder, even though he did not do it because his hit man, Carlos Rivera told him to (Carlos would kill him if he didn't do it) [Jan 7, 2015]
Got into a fight with and killed a fellow inmate sent by Johnny Zacchara, under Fluke's orders, to kill him and also sent another inmate to the infirmary [Jan 9, 2015]
Acquired a contraband cell phone [Jan 19, 2015]
Knocked out Johnny's thugs [Jan 19, 2015]
Threatened to kill fellow inmate, Gino [Jan 19, 2015]
Beat up a prison guard [Jan 28, 2015]
Impersonated a prison guard [Jan 29, 2015]
Beat up a second prison guard [Jan 29, 2015]
Health and Vitals
Edit
Shot by a hit man hired by his sister, Olivia St. John [1988]
Presumed deceased after battling Jonathon Paget (impersonating Duke Lavery) [1990]
Donated bone marrow to save the life of his grandson, Danny [Sep 4, 2013]
Slapped by Alexis Davis [Nov 13, 2013]
Beat up by Sonny Corinthos, Shawn Butler and Duke Lavery [Jan 24, 2014]
Held at gunpoint and threatened by his own sister, Ava Jerome [Jan 28, 2014]
Clobbered over the head with a wine bottle and rendered unconscious by Morgan Corinthos (in defense of Ava) [May 5, 2014]
Held at gunpoint and threatened by his sister, Ava again [May 6, 2014]
Rendered unconscious and suffered minor burns in an explosion at Alexis' house [Jul 29, 2014]
Got into a full-scale fist fight with Ned Ashton [Oct 22, 2014]
Held at gunpoint by Cesar Faison (impersonating Fluke) [Dec 1-2, 2014]
Unknowingly held at gunpoint by Fluke [Dec 23, 2014]
Assaulted by Jordan Ashford [Dec 29, 2014]
Threatened by Ned Ashton [Dec 30, 2014]
Held at gunpoint and threatened by his hit man, Carlos Rivera [Jan 6-7, 2015]
Threatened by Johnny Zacchara's thugs [Jan 9, 2015]
Attacked by Sonny [Jan 19, 2015]
Rendered unconscious in a car accident [Jan 30, 2015]
Family tree
Edit
References
Edit
v - e

Current Contract Characters
Jordan Ashford
 ·
T.J. Ashford
 ·
Shawn Butler
 ·
Nikolas Cassadine
 ·
Nina Clay
 ·
Dr. Silas Clay
 ·
Morgan Corinthos
 ·
Sonny Corinthos
 ·
Alexis Davis
 ·
Anna Devane
 ·
Dr. Patrick Drake
 ·
Dante Falconeri
 ·
Olivia Falconeri
 ·
"Fluke"
 ·
Robert "Franco" Frank
 ·
Carly Jacks
 ·
Ava Jerome
 ·
Julian Jerome
 ·
Kiki Jerome
 ·
Maxie Jones
 ·
Jason Morgan
 ·
Sam Morgan
 ·
Michael Quartermaine
 ·
Tracy Quartermaine
 ·
Nurse Sabrina Santiago
 ·
Luke Spencer
 ·
Lulu Spencer-Falconeri
 ·
Nurse Elizabeth Webber
 ·
Nathan West
Current Recurring Characters
Larry Ashton
 ·
Ned Ashton
 ·
Scott Baldwin
 ·
Helena Cassadine
 ·
Spencer Cassadine
 ·
Dr. Linda Chu
 ·
Father Coates
 ·
Lucy Coe
 ·
Dr. Kevin Collins
 ·
Brad Cooper
 ·
Emma Drake
 ·
Nurse Felix DuBois
 ·
Rocco Falconeri
 ·
Max Giambetti
 ·
Milo Giambetti
 ·
Alice Gunderson
 ·
Ivy
 ·
Jerry Jacks
 ·
Josslyn Jacks
 ·
Avery Jerome
 ·
Nurse Epiphany Johnson
 ·
Dr. Lucas Jones
 ·
Ric Lansing
 ·
Molly Lansing-Davis
 ·
Duke Lavery
 ·
Janice Lomax
 ·
Rosalie Martinez
 ·
Diane Miller
 ·
Danny Morgan
 ·
Dr. Liesl Obrecht
 ·
Dr. Monica Quartermaine
 ·
Coleman Ratcliffe
 ·
Madeline Reeves
 ·
Carlos Rivera
 ·
Delia Ryan Coleridge
 ·
Felicia Scorpio
 ·
Mac Scorpio
 ·
Kyle Sloane
 ·
Aiden Spencer
 ·
Nurse Bobbie Spencer
 ·
Cameron Spencer
 ·
David Walters
 ·
Heather Webber
 ·
Johnny Zacchara
Deceased and Presumed Dead Characters
Benny Abrahms
 ·
Bernie Abrahms
 ·
Dr. Rachel Adair
 ·
Diego Alcazar
 ·
Lorenzo Alcazar
 ·
Luis Alcazar
 ·
Sage Alcazar
 ·
Ruby Anderson
 ·
Dr. Andy Archer
 ·
Dominique Baldwin
 ·
Cooper Barrett
 ·
Alison Barrington
 ·
Amanda Barrington
 ·
Kiefer Bauer
 ·
Warren Bauer
 ·
Jesse Beaudry
 ·
Katherine Bell
 ·
Connor Bishop
 ·
Mary Bishop
 ·
Paige Bowen
 ·
Nurse Jessie Brewer
 ·
Nancy Brewer
 ·
Dr. Phil Brewer
 ·
Carter
 ·
Irina Cassadine
 ·
Kristina Cassadine
 ·
Mikkos Cassadine
 ·
Stavros Cassadine
 ·
Stefan Cassadine
 ·
Tony Cassadine
 ·
Victor Cassadine
 ·
Stone Cates
 ·
Dr. Ryan Chamberlain
 ·
Stephen Clay
 ·
Adela Corinthos
 ·
Lily Corinthos
 ·
Dr. Ian Devlin
 ·
Mickey Diamond
 ·
Ronnie Dimestico
 ·
Dr. Pierce Dorman
 ·
John Durant
 ·
Bill Eckert
 ·
Connie Falconeri
 ·
Andrea Floyd
 ·
Dr. Russell Ford
 ·
Dr. Steve Hardy
 ·
Peter Harrell, Sr.
 ·
Peter Harrell, Jr.
 ·
Abby Haver
 ·
Logan Hayes
 ·
Theo Hoffman
 ·
John Jacks
 ·
Aleksander Janacek
 ·
Victor Jerome
 ·
Stan Johnson
 ·
B.J. Jones
 ·
Georgie Jones
 ·
Tania Jones
 ·
Dr. Tony Jones
 ·
Dr. Ewen Keenan
 ·
Rafe Kovich, Jr.
 ·
Dr. Eve Lambert
 ·
Trevor Lansing
 ·
Dr. Cameron Lewis
 ·
Victor Lord III
 ·
Hope Manning-Thornhart
 ·
Reese Marshall
 ·
Courtney Matthews
 ·
Danny McCall
 ·
Lila McCall
 ·
Nurse Leyla Mir
 ·
Trey Mitchell
 ·
Susan Moore
 ·
Chloe Morgan
 ·
Henry Nakamura
 ·
Dr. Lisa Niles
 ·
A.J. Quartermaine
 ·
Dr. Alan Quartermaine
 ·
Alexandria Quartermaine
 ·
Edward Quartermaine
 ·
Dr. Emily Quartermaine
 ·
Lila Quartermaine
 ·
Faith Rosco
 ·
Manny Ruiz
 ·
Gabriel Santiago
 ·
Joe Scully
 ·
Joe Scully, Jr.
 ·
Damian Smith
 ·
Frank Smith
 ·
Shirley Smith
 ·
Zander Smith
 ·
Jake Spencer
 ·
Lena Spencer
 ·
Siobhan Spencer
 ·
Tim Spencer
 ·
Olivia St. John
 ·
Nurse Diana Taylor
 ·
Martha Taylor
 ·
Dr. Peter Taylor
 ·
Tracy Taylor
 ·
Dr. Asher Thomas
 ·
Cole Thornhart
 ·
Nurse Amy Vining
 ·
Bradley Ward
 ·
Justus Ward
 ·
Mary Mae Ward
 ·
Dr. Rick Webber
 ·
Dr. Karen Wexler
 ·
Dawn Winthrop
 ·
Deke Woods
 ·
Dr. Maggie Wurth
 ·
Anthony Zacchara
 ·
Claudia Zacchara-Corinthos
Off-screen and Former Characters
Lila Rae Alcazar
 ·
Dr. Grant Andrews
 ·
Terri Arnett
 ·
Brook Lynn Ashton
 ·
Christina Baldwin
 ·
Dr. Gail Baldwin
 ·
Lee Baldwin
 ·
Serena Baldwin
 ·
Dr. Tom Baldwin
 ·
Brenda Barrett
 ·
Julia Barrett
 ·
Melinda Bauer
 ·
Gia Campbell
 ·
Peter Carroll
 ·
Dimitri Cassadine
 ·
Petros Cassadine
 ·
Valentin Cassadine
 ·
Jagger Cates
 ·
Lois Cerullo
 ·
Skye Chandler-Quartermaine
 ·
Mike Corbin
 ·
Kristina Corinthos-Davis
 ·
Angie Costello
 ·
Blair Cramer
 ·
Jolene Crowell
 ·
Nurse Nadine Crowell
 ·
Dr. Rae Cummings
 ·
Marco Dane
 ·
Téa Delgado
 ·
Roy DiLucca
 ·
Anna Donely
 ·
Sean Donely
 ·
Tiffany Donely
 ·
Dr. Noah Drake
 ·
Taylor DuBois
 ·
Toussaint Dubois
 ·
Sly Eckert
 ·
William Eichner
 ·
Angel Ellis
 ·
John Everett
 ·
Cesar Faison
 ·
Nurse Fletcher
 ·
Pres Floyd
 ·
Nurse Betsy Frank
 ·
Nurse Audrey Hardy
 ·
Dr. Simone Hardy
 ·
Dr. Tom Hardy
 ·
Dr. Tommy Hardy
 ·
David Harper
 ·
Jimmy Lee Holt
 ·
Paul Hornsby
 ·
Dr. Matt Hunter
 ·
Anton Ivanov
 ·
Lady Jane Jacks
 ·
Jasper "Jax" Jacks
 ·
Terrell Jackson
 ·
Miranda Jameson
 ·
Frisco Jones
 ·
Dr. Leo Julian
 ·
Rose Kelly
 ·
Dr. Kelly Lee
 ·
Winifred Leeds
 ·
Guy Lewis
 ·
Victor Lord, Jr.
 ·
Ethan Lovett
 ·
Starr Manning
 ·
Todd Manning
 ·
John McBain
 ·
Miguel Morez
 ·
‎Hope Morgan
 ·
Ken Morgan
 ·
Delores Padilla
 ·
Blackie Parrish
 ·
Nurse Penny
 ·
Grant Putnam
 ·
Celia Quartermaine
 ·
Dillon Quartermaine
 ·
Burt Ramsey
 ·
Cruz Rodriguez
 ·
Casey Rogers
 ·
Father Mateo Ruiz
 ·
Juan Santiago
 ·
Robert Scorpio
 ·
Dr. Robin Scorpio-Drake
 ·
Alec Scott
 ·
Hannah Scott
 ·
Jeffrey Scribner
 ·
Rebecca Shaw
 ·
Laura Spencer
 ·
Lucky Spencer
 ·
Damian Spinelli
 ·
Georgie Spinelli
 ·
Suzanne Stanwyck
 ·
Nurse Mischa Stephens
 ·
Holly Sutton
 ·
Marcus Taggert
 ·
Nurse Regina Thompson
 ·
Ellie Trout
 ·
Claire Walsh
 ·
Faith Ward
 ·
Keesha Ward
 ·
Dr. Maya Ward
 ·
Dr. Jeff Webber
 ·
Dr. Lesley Webber
 ·
Dr. Sarah Webber
 ·
Dr. Steve Webber
 ·
Dr. Britt Westbourne
 ·
Dr. Lainey Winters
 ·
Grace Yang
 ·
Crew
Ron Carlivati (Head writer, 2012-present)
 ·
Jill Farren Phelps (Executive producer, 2001-2012)
 ·
Robert Guza, Jr. (Head writer, 1996, 1997-2000, 2002-2008, 2008-2011)
 ·
H. Wesley Kenney (Executive producer, 1987-1989; Head writer, 1988)
 ·
Gloria Monty (Executive producer, 1978-1987, 1991-1992; Head writer, 1981)
 ·
Wendy Riche (Executive producer, 1992-2001)
 ·
Frank Valentini (Executive producer, 2012-present)
 ·
Garin Wolf (Head writer, 2008, 2011-2012)
Related Topics
List of cast members
 ·
List of current actors
 ·
History of General Hospital