This article is incomplete. Please edit this page and help bring it up to standards.
Reason: Write up for the rest of 2014 and add 2015
Please remove this template once this article is no longer incomplete.
Kiki Jerome
Hayley Erin as Kiki Jerome
General Hospital
Portrayed by
Kristen Alderson (2013-15)
Hayley Erin (2015-present)
Current status
Contract
Duration
2013-present
First appearance
May 13, 2013
Created by
Ron Carlivati
Introduced by
Frank Valentini
Profile
Previous legal name(s)
Lauren "Kiki" Corinthos
Alias(es)
JeromeAroundTheWorld
(screen name)
Lauren Frank
Lauren Quartermaine
Gender
Female
Born
May 29, 1992
(Revised to 1993)[1]
NY Methodist Hospital
Manhattan, New York[2]
Age
23
Education

Dropped out of Vassar College

Occupation
Waitress at the Metro Court
Residence
Reeves Apartment
829 Hawthorne Dr., #82[3]
Port Charles, New York
Kristen Alderson as Kiki Jerome
Lauren Katherine "Kiki" Jerome is a fictional character from the ABC soap opera General Hospital. She is the daughter of the late, Dr. Silas Clay and mobster, Ava Jerome.
She was conceived during an affair her parents had while her father was married. She was formerly believed to be the daughter of Franco, due to Ava's lies.
The character was originated by Kristen Alderson, who held the role from May 2013 to February 2015. It was announced, on January 23, 2015, that Hayley Erin would be Alderson's replacement.
Casting
Alderson was originally on One Life to Live as Starr Manning from 1996 until the shows cancellation in 2012.
Alderson had previously appeared on the series as her One Life to Live (OLTL) character Starr Manning from 2012-13, when Alderson and several co-stars carried their roles over to General Hospital upon One Life's cancellation.[5]
When OLTL was relaunched as a web series, the production company Prospect Park reacquired the rights to the character. Instead of waiting to re-introduce the character, the producers of General Hospital created a new role for Alderson.[6]
Alderson first appeared, in her new role as Kiki Jerome, on May 13, 2013, as a series regular.[7]
Like Alderson's former character, Starr Manning, Kiki was eventually paired with her then-boyfriend, Chad's character, Michael Quartermaine.
On January 10, 2015, Soap Opera Digest reported that Alderson would be leaving the series and her role as Kiki to pursue other interests.[8][9] On that same day, Alderson's then-boyfriend, Chad Duell took to Twitter stating it was her decision to leave.[10] On January 13, 2015, Alderson confirms her departure in a video, stating it was a spur of the moment decision.[11]
Alderson's last scene, on February 16, 2015, was with her former OLTL co-star, Roger Howarth, who currently plays Franco on GH, but who also played Alderson's on-screen father, Todd Manning.
Alderson won her first Daytime Emmy for Outstanding Younger Actress in 2013 and was nominated for two more Daytime Emmy's for Outstanding Younger Actress in 2014 and 2015.
Characterization
According to Alderson, Lauren is very different from Starr, but said the two still had some similarities.
Alderson had been posting several pictures via social media but intentionally hiding her hair leading to speculation that her appearance would be very different.[7] A SOAPnet promo confirmed Alderson's change in appearance in early May.[16] Alderson revealed to Soap Opera Digest that Kiki is reminiscent of a younger Starr who is quite the trouble maker.[17] Alderson said she "channeled the sassy, spunky bad girl that Starr used to be before she matured." She continued, "Kiki's also a little more seductive."[18] Alderson described Kiki as being "darker and edgier" then her former alter ego. Kiki is "risqué" when compared to Starr who is a "one man kind of girl."[19]
Background
In November 2009, actor James Franco began appearing on General Hospital as a guest star as the crazed artist turned serial killer, Robert Frank, aka Franco.[20] The character of Lauren was first written into the series on December 21, 2009, when Franco mentions to Carly Jacks. Lauren was apparently taken away by her "bitch" of a mother. In April 2012, Franco is revealed to be the fraternal twin brother of Jason Morgan making him, and Lauren by extension members of the iconic Quartermaine family.
It is not until the May 20, 2013, that viewers learn that Alderson is actually Lauren. A student at Vassar College, Lauren is raised by a single mother, later revealed to be Ava Jerome, who tells Luke she was once enamored by Franco, but later realized he was delusional and took her daughter away to protect her from Franco's insanity. As a child, Ava gives Lauren the nickname Kiki and it sticks. Kiki grows up believing her father is dead. In July 2013, is it revealed that a 21 year old Kiki is actually the daughter of Dr. Silas Clay. On May 20, Kiki's mother came back from her business trip and called her by full name: Lauren Katherine Jerome.
Kiki is currently living with Franco after her father was killed and she disowned her mother. She and her mom have since started mending their relationship.
Storylines
Michael comes to Manhattan looking for his brother, Morgan Corinthos. He finds him beaten up and takes him to the hospital. Morgan runs from the hospital, and Michael goes after him. There, he finds Kiki, Morgan's girlfriend, who tells Michael that the apartment is her mother's house. He insists on bringing Morgan back to their home, but Morgan refuses. In order to help Morgan pay off gambling debts, Kiki invites some college classmates over to play a game of poker rigged in Morgan's favor. When the other boys catch on and accuse Morgan and Kiki of cheating, Michael breaks up the game and gets them to leave. Soon after, though, the loan sharks Morgan owes money to show up at the apartment and get into a fight with both Morgan and Michael, however, Morgan's father, Sonny Corinthos, shows up with his associate Shawn Butler and pay off Morgan's debt, ordering the loan sharks to leave.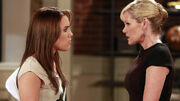 Sonny insists on bringing Morgan back to Port Charles, their home, but Morgan doesn't want to leave Kiki, however, Sonny will not back down and Morgan complies, leaving with Sonny and Michael. When Ava comes back, Kiki reveals that she's been upset since Morgan had to leave with his father, telling Ava that the loan sharks came to their door, and then Sonny showed up. Ava later encourages Kiki to go after Morgan to Port Charles. Kiki ends up on Michael's doorstep where Morgan is staying, and the two force Michael to let her stay at his apartment. She continues to rub Michael the wrong way as well as Morgan's mother, Carly. While Michael is out and subsequently goes to the Mystery Man's Party, Ava arrives and states that they could go out for dinner. Ava and Kiki leave and go to the pier where Ava informs Kiki about her father, Franco, her lineage to the Quartermaine family and her inheritance from her deceased great-grandfather Edward Quartermaine. Ava states that Kiki can have her inheritance by signing the proxy document and pleads her to sign it soon. Ava is forced to reveal that she has a big lump sum of money riding on Kiki signing the document, which infuriates Kiki.
A She gets into another fight with Michael, during which he reveals in anger that he was sent to prison for killing his former step-mother (Claudia Zacchara in 2009) while protecting his half-sister Josslyn. Michael leaves and Morgan starts continuously complaining and about Michael and Kiki stops him because she is getting annoyed. Morgan starts wondering why Kiki is now suddenly in Michael's corner. There is a point where Michael and Kiki is potentially about to kiss, but Morgan comes through the door and nothing is made out of it. Kiki and Morgan get into another argument with Michael, and Morgan asks about ways to get their own apartment. Kiki says that she has recently found about her paternal side is a wealthy family in Port Charles, not knowing they're also Michael's biological family. She decides to go over to the Quartermaine's mansion and she meets her great aunt Tracy, uncle AJ, step-grandmother Monica Quartermaine and her estranged father, serial killer Franco. He has just got posted bail and went to the mansion to have a "family meeting." Tracy and AJ both try to suck up to Lauren (who informs them that she goes by Kiki).
She has the maid, Alice, go get her boyfriend Morgan while she talks to her newly connected father Franco.  Alice and Morgan arrive at the Quartermaine Mansion and Morgan is thrilled that he is in the Quartermaine Mansion because his weariness of the potential of a budding romance between Michael and Kiki. She goes to Michael's apartment for some comfort after a confusing conversation with her father. Kiki and Michael end up making out, but Kiki stops it due to her relationship with Morgan. She leaves for the Quartermaine Mansion and Michael eventually goes to as well. AJ reveals that he wants Kiki to meet her cousin. Michael and Kiki meet for the first time as cousins. Kiki is changing in the boat house when Michael comes in, looking for Morgan and sees Kiki undressed. Morgan wonders what is happening and Michael yells at him for gambling again, this time with Michael's credit card. Later, Morgan is eavesdropping on Kiki's parents Ava and Franco while Michael and Kiki are talking about staying away from each other. Michael and Kiki get tested for being bone marrow donors for their cousin Danny Morgan where they kiss again. The sleazy lab manager Brad Cooper tries to use this to blackmail Michael into sleeping with him. However, Michael overhears Brad and Dr. Britt Westbourne conspiring, and uses this to make Brad back off. Morgan decides to whine about the Michael-Kiki situation and punches Michael.
Meanwhile, Michael lets Kiki know that he told Morgan about their first kiss and Morgan got angry, and left to find Kiki. Kiki leaves to find Morgan. Morgan has found out that Kiki's real father is Dr. Silas Clay, and Ava convinces him to keep it a secret from Kiki because he might lose her to Michael, as a result. Kiki eventually finds Morgan at the Quartermaine house, where he promptly gets down on one knee and proposes to her. She accepts, wanting to fight to stay away from Michael. Kiki goes to tell Michael herself the next morning and finds out AJ called him and let him know. When Penny, a girl Michael picked up at a bar, comes out of Michael's bedroom partially dressed, Kiki realizes what happened. Kiki leaves in a hurry and though she told Michael to move on, she is visibly hurt by Michael sleeping with someone else. Franco is hospitalized after being beaten up, then suffering a seizure. The doctors determine that he has a brain tumor and needs to have surgery to remove it. Kiki stays by his side, wanting him to get better to know him and so he can walk her down the aisle. Tracy stages a coup with Ava's assistance, planning to get enough shares to take over ELQ. Kiki, however, is furious with her mother for staging a coup while "her father" is in surgery. She sides with AJ, and Alice also switches sides to join AJ, giving him the majority & retaining his spot as CEO.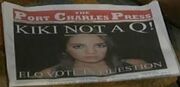 Morgan sets up a romantic dinner for him and Kiki, where he gives her an engagement ring. Morgan later declares he loves Kiki, but she's hesitant to respond. Morgan confronts her about it during dinner and Kiki declares she loves Morgan. However, the next morning, Kiki calls Michael showing some reservations about telling Morgan she loves him. Morgan goes to the main house, and finds out that Kiki's true paternity has been published in the paper. He goes back to the boathouse, and insists he and Kiki go get their marriage license that day itself. Kiki is reluctant, but agrees. Unbeknownst to her, Morgan slips her phone out of her purse and leaves it in the boathouse so no one will inform Kiki about the story. At the courthouse, they run into Mac Scorpio and Felicia Jones, who are also applying for a marriage license. Morgan deflects any talk of the newspaper article by getting Kiki to borrow Felicia's phone so she can check up on Franco. Though Morgan insists he's trying to protect Kiki, Mac and Felicia later suspect that Morgan has an ulterior motive. Michael finally figures out the truth about Kiki's paternity and where Morgan and Kiki are and tries to stop them from getting married.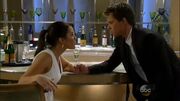 Kiki learns of the truth, but says that she can not be with Michael. Morgan tells Michael that they're married and he should congratulate them. Morgan covers his manipulation by saying that he doesn't care who is Kiki's father and herds her out of the courtroom. Kiki looks really sad. Kiki and Morgan are later evicted from the Quartermaine premises. She brushes off the notion that Morgan could have manipluated her into a quickie wedding and they sleep together several times. Her mother, Ava, plans a wedding reception and persuades Morgan's father Sonny to co-host. Kiki is initially hesitant on the idea, but Morgan convinces her to accept it. She is able to get her father Silas Clay (to punish Ava) and brother-in-law Michael (to try to get over him) to come along. At the reception, Sonny reveals that Morgan knew Michael and Kiki weren't cousins before the wedding.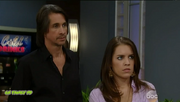 Though Morgan claims Sonny is upset and lying, Kiki finally gets him to admit the truth. Kiki tells Morgan that she can not stay married to him which causes Morgan to storm out of the ballroom. After he leaves, Kiki and Michael finally admit that they love each other, and have for a long time. They finally decide to give their relationship a chance. Kiki decides that though she does want to be with Michael, she won't move in with him because of the trouble she's cause for his family. She decides to move in with her mother. However, the next morning, she comes to her mother's room and finds her in bed with Morgan. Even though Morgan rubs his affair with Ava in Kiki and Michael's face, Ava is mortified at being found. Kiki decides she's had enough, and tells Morgan & Ava that she's done with them, writing her mother off once and for all. She leaves with Michael to find another place. She and Michael are trying to find jobs. Kiki tries to get Silas to get her a job at General Hospital.
When Carly goes missing, Franco is the main suspect because Heather Webber was framing him. Kiki helps Franco escape custody because she is the only one that believes he is innocent. Franco manages to save Carly, but Michael still blames Franco and Kiki. As of February 2014, Kiki is temporarily living with her father. In March of 2014, Luke Spencer starts hitting on Kiki, but telling Tracy that she is hitting on him. Kiki tells Morgan what Luke has been doing because she tell Michael because of A.J. being in the hospital. When Kiki finally tells Michael he is furious and he ousts Tracy as CEO to prevent Luke from getting his hands on ELQ. During the next few weeks, Kiki visits Michael at ELQ. On June 23, Franco calls Kiki to help with Josslyn. A little while later, she shows up with a book of stickers from the movie Frozen, which Josslyn loves.
On June 26, Kiki notices that something is bothering her cousin, Rafe. The two have a long discussion and get to know one another better. Rafe fills Kiki in on his past and some of the recent things going on in his life and she comforts him. On July 16, Kiki must say goodbye to her cousin, Rafe before he is taken off of life support. Kiki and Ava slowly start to reconcile, and Ava turns to her and Morgan when Sonny continues to threaten her life. Ava tells Morgan and Kiki that Sonny killed A.J., but they both agree they shouldn't tell Michael. Kiki also becomes openly hostile to Rosalie Martinez she starts getting closer to Michael. Rosalie released Kiki and Morgan have a secret and tells Michael. Kiki and Morgan cover and say they are planning a surprise party for Michael. Kiki also overhears Sonny and Carly talk about how she cheated on Franco.
At Franco and Carly's Halloween wedding, Franco reveals he knew about Carly cheating on him, and outs Sonny as A.J.'s shooter. When she sees how much Michael is hurting, Kiki admits she knew about Sonny shooting A.J. and he breaks up with her. When Ava is hospitalized after Nina drugs her and takes her newborn baby, Kiki confronts Ava about lying to her about killing Connie. Ava tried to lie her way out if it, but Kiki stands firm in her convictions, and is adamant that Ava pays for her crimes. Ava asks Kiki to get a status update on her baby. When Kiki leaves, Ava escapes from the hospital, and Michael is furious that Kiki allowed Ava to trick her and escape.
Crimes Committed
Rigged a poker game in Morgan's favor [May 2013]
Slapped her mother, Ava [Sep 26, 2013]
Hid Franco from the police [Jan 2014]
Lied about her paternity so she could visit Heather Webber at Miscavige [Jan 31, 2014]
Helped Franco escape from police custody [Feb 3, 2014; arrested and released in Feb 2014; was charged as an accessory but the charges were dropped]
Assaulted Luke Spencer in self-defense [Apr 18, 2014]
Obstruction of justice; knew that Sonny had murdered A.J. Quartermaine but withheld the information [Oct-Nov 2014]
Plotted (along with Morgan) to make Michael look like an unfit "parent" (they drugged him) [Mar 17-Apr 24, 2015; arrested and released in Apr 2015]
Attacked Nina Reeves, after being provoked [Apr 10, 2015]
Threatened Nina [Apr 10, 2015]
Slapped Franco [Aug 5, 2015]
Assaulted a bartender (broke a glass and it cut the bartender's hand) [Oct 12, 2015; arrested and released in Oct 2015; was charged with assault until Nina paid off the bartender to have him drop the charges against her]
Texted Darby from Morgan's phone pretending to be him [Oct 28, 2015]
Theft; stole someone's car keys [Oct 30, 2015]
Drove drunk and caused Carly Corinthos-Jacks to crash her car and didn't stop to help her [Nov 2015]
Breaking and entering; unknowingly broke into a cabin that Morgan told her was Sonny's [Nov 20, 2015]
Fought with Darby Collette [Feb 17, 2016]
Health and Vitals
Jumped into freezing water to save her then-boyfriend, Michael, from drowning [Nov 12, 2013]
Sexually harassed by Luke Spencer many times [Feb-Apr 2014]
Assaulted by Luke [Apr 18, 2014]
An organ donor [revealed Jul 11, 2014]
Unknowingly held at gunpoint by Heather Webber [Nov 5, 2014]
Became an emotional wreck when she found her father, Silas, stabbed to death [Aug 4, 2015]
Manhandled by Finn [Oct 5, 2015]
Shot in the abdomen by Landon Dixon and required surgery to remove a bullet lodged near her spine [Feb 19, 2016; shown on Feb 23, 2016]
Stopped breathing [Feb 19, 2016; shown on Feb 23, 2016]
Had panic attacks when she heard loud noises as they sounded like gunshots [Mar-Apr 2016]
Has a cold [revealed Jun 21, 2016]
Contracted Mycoplasma Genitalium through Morgan Corinthos (from Darby Collette) [revealed Aug 8, 2016]
Had her wrist grabbed and harassed by a man who kept making passes at her until Morgan intervened and assaulted him [Aug 22, 2016]
Family tree
See also
References
v - e

Current Contract Characters
Curtis Ashford
 ·
Jordan Ashford
 ·
Franco Baldwin
 ·
Hayden Barnes-Cassadine
 ·
Nikolas Cassadine
 ·
Morgan Corinthos
 ·
Sonny Corinthos
 ·
Carly Corinthos-Jacks
 ·
Alexis Davis
 ·
Anna Devane
 ·
Dante Falconeri
 ·
Olivia Falconeri
 ·
Dr. Hamilton Finn
 ·
Nelle Hayes
 ·
Paul Hornsby
 ·
Ava Jerome
 ·
Julian Jerome
 ·
Kiki Jerome
 ·
Maxie Jones
 ·
Dr. Andre Maddox
 ·
Jason Morgan
 ·
Sam Morgan
 ·
Dr. Griffin Munro
 ·
Dillon Quartermaine
 ·
Michael Quartermaine
 ·
Tracy Quartermaine
 ·
Nina Reeves
 ·
Nurse Sabrina Santiago
 ·
Laura Spencer
 ·
Valerie Spencer
 ·
Lulu Spencer-Falconeri
 ·
Nurse Elizabeth Webber
 ·
Nathan West
Current Recurring Characters
T.J. Ashford
 ·
Ned Ashton
 ·
Scott Baldwin
 ·
Claudette Beaulieu
 ·
Valentin Cassadine
 ·
Lucy Coe
 ·
Darby Collette
 ·
Dr. Kevin Collins
 ·
Brad Cooper
 ·
Kristina Corinthos-Davis
 ·
Landon Dixon
 ·
Naomi Dreyfus
 ·
Nurse Amy Driscoll
 ·
Nurse Felix DuBois
 ·
Parker Forsyth
 ·
Max Giambetti
 ·
Milo Giambetti
 ·
Alice Gunderson
 ·
Jasper Jacks
 ·
Nurse Epiphany Johnson
 ·
Dr. Lucas Jones
 ·
Ric Lansing
 ·
Molly Lansing-Davis
 ·
Dr. Kelly Lee
 ·
Janice Lomax
 ·
Huxley Lynch
 ·
Rosalie Martinez
 ·
Diane Miller
 ·
Dr. Liesl Obrecht
 ·
Dr. Monica Quartermaine
 ·
Dr. Joe Rivera
 ·
Aaron Roland
 ·
Delia Ryan Coleridge
 ·
Felicia Scorpio
 ·
Mac Scorpio
 ·
Robert Scorpio
 ·
Dr. Robin Scorpio-Drake
 ·
Nurse Bobbie Spencer
 ·
Damian Spinelli
 ·
Ellie Trout
 ·
David Walters
 ·
Heather Webber
Current Child Characters
Spencer Cassadine
 ·
Leo Falconeri
 ·
Rocco Falconeri
 ·
Josslyn Jacks
 ·
Avery Jerome-Corinthos
 ·
Danny Morgan
 ·
Teddy Rivera
 ·
Emma Scorpio-Drake
 ·
Aiden Spencer
 ·
Cameron Spencer
 ·
Jake Spencer
 ·
Georgie Spinelli
Deceased and Presumed Dead Characters
Benny Abrahms
 ·
Bernie Abrahms
 ·
Dr. Rachel Adair
 ·
Diego Alcazar
 ·
Lorenzo Alcazar
 ·
Luis Alcazar
 ·
Sage Alcazar
 ·
Ruby Anderson
 ·
Dr. Andy Archer
 ·
Dominique Baldwin
 ·
Cooper Barrett
 ·
Alison Barrington
 ·
Amanda Barrington
 ·
Kiefer Bauer
 ·
Warren Bauer
 ·
Jesse Beaudry
 ·
Katherine Bell
 ·
Connor Bishop
 ·
Mary Bishop
 ·
Paige Bowen
 ·
Nurse Jessie Brewer
 ·
Nancy Brewer
 ·
Dr. Phil Brewer
 ·
Carter
 ·
Helena Cassadine
 ·
Irina Cassadine
 ·
Kristina Cassadine
 ·
Mikkos Cassadine
 ·
Stavros Cassadine
 ·
Stefan Cassadine
 ·
Tony Cassadine
 ·
Victor Cassadine
 ·
Stone Cates
 ·
Dr. Ryan Chamberlain
 ·
Dr. Silas Clay
 ·
Stephen Clay
 ·
Adela Corinthos
 ·
Lily Corinthos
 ·
Dr. Ian Devlin
 ·
Mickey Diamond
 ·
Ronnie Dimestico
 ·
Dr. Pierce Dorman
 ·
John Durant
 ·
Bill Eckert
 ·
Connie Falconeri
 ·
Andrea Floyd
 ·
Dr. Russell Ford
 ·
Dr. Steve Hardy
 ·
Peter Harrell, Sr.
 ·
Peter Harrell, Jr.
 ·
Abby Haver
 ·
Logan Hayes
 ·
Theo Hoffman
 ·
John Jacks
 ·
Aleksander Janacek
 ·
Victor Jerome
 ·
Stan Johnson
 ·
B.J. Jones
 ·
Georgie Jones
 ·
Tania Jones
 ·
Dr. Tony Jones
 ·
Dr. Ewen Keenan
 ·
Rafe Kovich, Jr.
 ·
Dr. Eve Lambert
 ·
Trevor Lansing
 ·
Duke Lavery
 ·
Dr. Cameron Lewis
 ·
Victor Lord III
 ·
Hope Manning-Thornhart
 ·
Reese Marshall
 ·
Courtney Matthews
 ·
Dr. Matthew Mayes
 ·
Danny McCall
 ·
Lila McCall
 ·
Nurse Leyla Mir
 ·
Trey Mitchell
 ·
Susan Moore
 ·
Chloe Morgan
 ·
Henry Nakamura
 ·
Dr. Lisa Niles
 ·
A.J. Quartermaine
 ·
Dr. Alan Quartermaine
 ·
Alexandria Quartermaine
 ·
Edward Quartermaine
 ·
Dr. Emily Quartermaine
 ·
Lila Quartermaine
 ·
Carlos Rivera
 ·
Faith Rosco
 ·
Manny Ruiz
 ·
Gabriel Santiago
 ·
Joe Scully
 ·
Joe Scully, Jr.
 ·
Kyle Sloane
 ·
Damian Smith
 ·
Frank Smith
 ·
Shirley Smith
 ·
Zander Smith
 ·
Lena Spencer
 ·
Pat Spencer
 ·
Siobhan Spencer
 ·
Tim Spencer
 ·
Olivia St. John
 ·
Nurse Diana Taylor
 ·
Martha Taylor
 ·
Dr. Peter Taylor
 ·
Tracy Taylor
 ·
Dr. Asher Thomas
 ·
Cole Thornhart
 ·
Nurse Amy Vining
 ·
Bradley Ward
 ·
Justus Ward
 ·
Mary Mae Ward
 ·
Dr. Rick Webber
 ·
Dr. Karen Wexler
 ·
Dawn Winthrop
 ·
Deke Woods
 ·
Dr. Maggie Wurth
 ·
Anthony Zacchara
 ·
Claudia Zacchara-Corinthos
Off-screen and Former Characters
Lila Rae Alcazar
 ·
Dr. Grant Andrews
 ·
Terri Arnett
 ·
Brook Lynn Ashton
 ·
Larry Ashton
 ·
Christina Baldwin
 ·
Dr. Gail Baldwin
 ·
Lee Baldwin
 ·
Serena Baldwin
 ·
Dr. Tom Baldwin
 ·
Brenda Barrett
 ·
Julia Barrett
 ·
Melinda Bauer
 ·
Shawn Butler
 ·
Gia Campbell
 ·
Peter Carroll
 ·
Dimitri Cassadine
 ·
Petros Cassadine
 ·
Jagger Cates
 ·
Lois Cerullo
 ·
Skye Chandler-Quartermaine
 ·
Dr. Linda Chu
 ·
Father Coates
 ·
Mike Corbin
 ·
Angie Costello
 ·
Blair Cramer
 ·
Jolene Crowell
 ·
Nurse Nadine Crowell
 ·
Dr. Rae Cummings
 ·
Marco Dane
 ·
Téa Delgado
 ·
Roy DiLucca
 ·
Anna Donely
 ·
Sean Donely
 ·
Tiffany Donely
 ·
Dr. Noah Drake
 ·
Dr. Patrick Drake
 ·
Taylor DuBois
 ·
Toussaint Dubois
 ·
Jenny Eckert
 ·
Sly Eckert
 ·
William Eichner
 ·
Angel Ellis
 ·
John Everett
 ·
Cesar Faison
 ·
Nurse Fletcher
 ·
Pres Floyd
 ·
Nurse Betsy Frank
 ·
Ivy Gatling
 ·
Nurse Audrey Hardy
 ·
Dr. Simone Hardy
 ·
Dr. Tom Hardy
 ·
Dr. Tommy Hardy
 ·
David Harper
 ·
Jimmy Lee Holt
 ·
Dr. Matt Hunter
 ·
Anton Ivanov
 ·
Lady Jane Jacks
 ·
Jerry Jacks
 ·
Terrell Jackson
 ·
Miranda Jameson
 ·
Frisco Jones
 ·
Dr. Leo Julian
 ·
Rose Kelly
 ·
Winifred Leeds
 ·
Guy Lewis
 ·
Victor Lord, Jr.
 ·
Ethan Lovett
 ·
Starr Manning
 ·
Todd Manning
 ·
John McBain
 ·
Colleen McHenry
 ·
Miguel Morez
 ·
‎Hope Morgan
 ·
Ken Morgan
 ·
Delores Padilla
 ·
Blackie Parrish
 ·
Nurse Penny
 ·
Grant Putnam
 ·
Celia Quartermaine
 ·
Burt Ramsey
 ·
Coleman Ratcliffe
 ·
Madeline Reeves
 ·
Cruz Rodriguez
 ·
Casey Rogers
 ·
Father Mateo Ruiz
 ·
Juan Santiago
 ·
Alec Scott
 ·
Hannah Scott
 ·
Jeffrey Scribner
 ·
Rebecca Shaw
 ·
Jennifer Smith
 ·
Lucky Spencer
 ·
Luke Spencer
 ·
Suzanne Stanwyck
 ·
Nurse Mischa Stephens
 ·
Holly Sutton
 ·
Marcus Taggert
 ·
Nurse Regina Thompson
 ·
Claire Walsh
 ·
Faith Ward
 ·
Keesha Ward
 ·
Dr. Maya Ward
 ·
Dr. Jeff Webber
 ·
Dr. Lesley Webber
 ·
Dr. Sarah Webber
 ·
Dr. Steve Webber
 ·
Dr. Britt Westbourne
 ·
Dr. Lainey Winters
 ·
Grace Yang
 ·
Johnny Zacchara
Crew
Shelly Altman (Head writer, 2011-2012, 2015-present)
 ·
Ron Carlivati (Head writer, 2012-2015)
 ·
Jill Farren Phelps (Executive producer, 2001-2012)
 ·
Robert Guza, Jr. (Head writer, 1996, 1997-2000, 2002-2008, 2008-2011)
 ·
H. Wesley Kenney (Executive producer, 1987-1989; Head writer, 1988)
 ·
Gloria Monty (Executive producer, 1978-1987, 1991-1992; Head writer, 1981)
 ·
Jean Passanante (Head writer, 2015-present)
 ·
Wendy Riche (Executive producer, 1992-2001)
 ·
Frank Valentini (Executive producer, 2012-present)
 ·
Garin Wolf (Head writer, 2008, 2011-2012)
Related Topics
List of cast members
 ·
List of current actors
 ·
History of General Hospital