Kristina Corinthos-Davis (Lexi Ainsworth)
Comments

60
Kristina redirects here. For other uses of the name, see Kristina or Christina (disambiguation)
Kristina Corinthos-Davis
Lexi Ainsworth as Kristina Corinthos-Davis
General Hospital
Portrayed by

Kara and Shelby Hoffman (2003)




Emma and Sarah Smith (2003-05)


Kali Rodriguez (2005-08)
Lexi Ainsworth
(2009-11; 2015-present)
Lindsey Morgan (2012-13)
Current status
Recurring
Duration
2002-13, 2015-present
First appearance
November 19, 2002
Created by
Robert Guza, Jr.
Introduced by
Jill Farren Phelps (2002, 2009)
Frank Valentini (2012, 2015)
Book appearances
The Secret Life[1]
Profile
Birth name
Kristina Ashton
Previous legal name(s)
Kristina Davis
Alias(es)
Kristina Corinthos
Kristina Mitchell
Namesake(s)
Kristina Cassadine
Adela Corinthos
Nickname(s)
Krissy
Princess (by Sonny)
Kris (by Michael)
Goddess-in-Training (by Spinelli)
Born
November 19, 2002
(Revised to 1992[2], then 1990[3], then 1993[4], then back to 1992[5])
General Hospital
Port Charles, New York
Age
23
Education
Attended Winston School
Graduate of Madison Prep
Dropped out of Yale University
Attended Wesleyan University
Occupation
Works at Perks Coffee
Title
Russian Royalty
Residence
Davis-Jerome House
2183 Belleforest Drive
Port Charles, New York
Lindsey Morgan as Kristina Corinthos-Davis
Kali Rodriguez as Kristina Corinthos-Davis
Kristina Adela Corinthos-Davis is a fictional character on the ABC soap opera General Hospital. She is the daughter of mob boss, Sonny Corinthos and attorney, Alexis Davis.
She was conceived during a one night stand when Alexis was working for Sonny.
She was born onscreen on November 19, 2002
Kali Rodriguez portrayed the character as a child from 2005 to 2008.
When aged in 2009, the character, portrayed by Lexi Ainsworth (2009-11), emerges as a misbehaving girl, unbeknownst to her parents.
She was aged again in 2012, and returned, being portrayed by Lindsey Morgan (2012-13), with a grudge against her parents for how she got into Yale.
Lexi Ainsworth returned as Kristina in 2015 with a whole new set of problems: her sexuality has been brought into question. She was also de-aged along with her brothers, Michael and Morgan in 2014 and then aged again in 2015.
Casting
Born onscreen on November 19, 2002, Kristina was played between a doll and an unknown infant until the role was recast.[11]

The role was cast with Kara and Shelby Hoffman taking over as Kristina. The twins first appeared on July 23, 2003.

However, they were soon recast with another pair of twins, Emma and Sarah Smith. They first appeared on December 23, 2003, and stayed on GH for a little bit under two years.
Kali Rodriguez, who is most recognizable as young Kristina, debuted on November 15, 2005 and left the show on August 13, 2008, as the show had plans to age Kristina to a teenager.
In May 2009, it was announced teen actress Lexi Ainsworth had been cast in the role of Kristina. Ainsworth first appeared on June 4, 2009.[12]
Response from fans and critics was very positive and Ainsworth was put on contract on June 24, 2009.[13]
Ainsworth confirmed on October 7, 2011 via Twitter she'd been let go and has just filmed her last episode.[14] Ainsworth last appeared in the role on November 4, 2011.
During her time as Kristina, Ainsworth was nominated for a Daytime Emmy for Outstanding Younger Actress in 2011 for her abuse storyline.
After much speculation and rumor as to whether Ainsworth would return to the role, several sources reported that the show was looking to bring Kristina back to Port Charles.
Finally, on April 17, 2012, TVLine reported that actress Lindsey Morgan had been cast as Kristina and would make her debut on May 25, 2012.[15]
Morgan explains during an interview that she was unaware what role she was auditioning for as only a vague character description was released instead of the character's name. The producers put Morgan through a chemistry test with her potential on-screen parents, Maurice Benard (Sonny Corinthos) and Nancy Lee Grahn (Alexis Davis), which was something that hadn't been done in years.
According to posts on Twitter by Morgan and Nancy Lee Grahn, who plays Alexis Davis, Morgan's role as Kristina is contract.[16][17]
However, on March 26, 2013, almost a year after Morgan debuted as Kristina, Lindsey announced she had been let go from the series. Morgan announced via Twitter that "my time in Port Charles has come to an end."[18][19][20]
Morgan last appeared in the role on March 4, 2013.[21][22]
During her time as Kristina, Morgan was nominated for a Daytime Emmy for Outstanding Younger Actress in 2013.
On July 29, 2015, Soap Opera Digest broke the news that Ainsworth would reprise the role of Kristina, set to appear sometime in late August or early September 2015.[23]
She reprised the role on September 17, 2015 on a recurring basis.[24][25][26]
On September 28, 2015, Frank Valentini posted a Vimeo video on Twitter that showed Lexi saying that she was looking forward to spending more time in Port Charles.[27]
Characterization
With the SORAS aging of Kristina in 2009, Kristina is initially introduced as a bit of a wild child.[28]
Kristina's trouble making ways during her first few months as "Kristina" are described as "phase". She often throws caution into the wind just to defy her parents because of how she grew up.[29]
However, several major events in her life, including causing her step-mother, Claudia's (Sarah Brown) car accident and miscarriage facilitate a character transition and Kristina morphs into somewhat of a "good girl".
The vague 2012 casting call described the character as "soulful, but fiery." New comer Lindsey Morgan describes Kristina as having the perfect blend of qualities from both of her parents.
Background

Kristina was formerly believed to have been the daughter of Alexis Davis and her then-fiancé, Ned Ashton. Alexis was working for mob boss Sonny Corinthos at the time and the two slept together once in April 2002 and conceived Kristina. When she learned she was pregnant, she tried to pass the child off as Ned's. Though he knew the truth, Ned agreed to pretend he was the father to keep the baby safe. The paternity test was even tampered with to make Sonny believe Ned was the father.
Through her father's marriage, she gained Carly Corinthos-Jacks as a stepmother. Through her mother's marriage, she gained mob boss, Julian Jerome as a stepfather.
Storylines
In November 2002, Alexis went into early labor in the park and is rushed to the hospital by Cameron Lewis, where her water breaks and she is forced to deliver a very premature baby girl with Ned Ashton by her side. Kristina is named after her mother's late sister, Kristina Cassadine. When Kristina comes down with a life-threatening illness, Alexis is forced to reveal the truth to Sonny; Kristina overcomes her illness when she is given the stem cells of Sonny's stillborn daughter with Sam McCall. Though Alexis initially goes out of her way to keep Kristina away from Sonny and his violent world, she eventually relents and allows Sonny to have visitation rights. Later, young Kristina sees her sister, Sam shoot and "kill" Diego Alcazar. Kristina was frightened to death and for a little while wouldn't let anyone touch her but Sam and she also went into a trance like state for weeks (she wouldn't talk). She breaks her silence when she wishes Alexis a Merry Christmas. Kristina goes silent again when she sees Diego Alcazar actually alive which reveals that he is the Text Message Killer. Kristina is approached by Anthony Zacchara as a way of scaring Sonny and finding leverage.
A 15-year-old Kristina returned to the canvas of General Hospital in June 2009, "diagnosed" with Soap Opera Rapid Aging Syndrome after being absent for an 11 month period which had begun in August of 2008. Since her return, Kristina proved to be very manipulative and out of control; her escapades have included dating an older boy, driving without a license, going to clubs and even smoking marijuana, all because of Sonny's absence during her childhood and Alexis' overbearing attitude and high standards. She reconnected with and helped her brother, Michael Corinthos, who had just woken up from a coma. She also starts spending more time with her father and his new wife, Claudia. Kristina discovers her mother's affair with then mayor Garrett Floyd and has to adjust with all the media's interference. She also helps her sister, Molly Lansing understand and cope with the attention. Kristina's boyfriend, Kiefer is abusing her and harasses Michael constantly. Kristina, who is unable to go against Kiefer, sides with him throughout most of his arguments.
After Kristina gets in a fight with Kiefer, she's illegally drives and causes an accident that injuries Claudia Zacchara and kills the unborn baby (Kristina's half-brother) that Claudia is carrying. Kristina then leaves for Veracruz, Mexico, taking Michael with her to get away from the stress. They are later brought home by her sister Sam and Michael's uncle Jason. After much pressure, Kristina decides she is ready to have sex with Kiefer. Convincing Sam to take her to the free clinic, Kristina gets started on birth control. On October 14, 2009, Kristina loses virginity to Kiefer. Despite that though he still abuses her. Kristina soon becomes flirtatious with a much older Ethan Lovett, causing friction in her relationship with Kiefer. On November 9, 2009, Kristina is with Kiefer when Michael walks in and the two of them (Michael and Kiefer) verbally attack each other. Michael later sends his father's bodyguards to scare Kiefer. Kiefer believes that Kristina sent them and in a rage, he hits her. Kristina doesn't tell anyone about the incident. She later confronts Michael, and Michael retorts that he's just trying to protect her.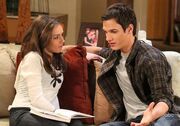 Kristina and Sonny's relationship starts to go downhill again when Kristina lashes out on Sonny for Sam's kidnapping. She calls Kiefer later to help her cope and the two end up having sex in his car. She returns home and finds out from her mom that Sam is safe and has been found. When Alexis tries to tell her that it's a good thing she wanted to spend time with her dad, Kristina tells her that she wants nothing more to do with Sonny ever again. This causes friction between her and Michael, who wants to be just like their dad. Kiefer keeps pressuring Kristina to have sex with him again, and she tells him that she doesn't want their relationship to be just about sex. She asks Sam for advice on a relationship and Sam tells her that someone who puts her down is not worth being in a relationship with. Kristina, however, doesn't take this advice.
At Josslyn Jacks's christening, The Corinthos family learn that Sonny shot Dominic an undercover cop who is Sonny's son and Kristina's half brother. When Morgan says that Dante will live and maybe Sonny will get off easy, Kristina retorts that even though Dante is alive, Claudia isn't and their dad has to pay for killing Claudia. Michael, furious at these accusations, yells at Kristina that he killed Claudia, not Sonny, shocking Kristina. Kristina, overwhelmed by everything Michael told her about Claudia's murder, calls Kiefer over. He takes advantage of her situation and tries to make her sleep with him. Kristina pushes him away and he hits her again, but eventually promises not to abuse her again.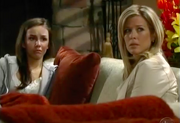 After Keifer finds out Kristina ditched him for Ethan, he enters the house and brutally beats Kristina for ditching him for Ethan. Ethan finds a traumatized Kristina and brings her to the hospital. At the hospital, Kristina, fearing what Sonny would do to Kiefer, lies and insists that Ethan was the one who beat her up. Jason quickly realizes that Kristina is lying and convinces Dante and Lucky to investigate further. Eventually, Dante and Lucky discover that Kiefer is the beater, and when he realizes this, Kiefer immediately beats Kristina again out of rage. This time, Alexis arrives home and catches Kiefer leaving the house right before finding a bruised and bloodied Kristina unconscious on the floor. Immediately realizing the truth, Alexis takes Kristina to the hospital. Dante comes to the hospital on April 5, 2010 and gets Kristina's statement, and she confesses that Kiefer is the one that's been abusing her.
Later, Sam and Molly come in after finding out she was beat up again. They tell her that Kiefer was admitted to the ER after being hit by a car. Kiefer dies from his injuries and Kristina blames herself. Sam and Alexis try to convince Kristina that it's not her fault she got beaten or that Kiefer died. Kristina subsequently asks to see Jason, believing that Sonny had discovered the truth and ordered a hit on Kiefer, but Jason reassures her that he and Sonny had nothing to do with the incident and that Kiefer had no right to touch her either way. During this time, Kiefer's abusive nature and the truth about Kristina's attacks quickly become public knowledge and Ethan is given a clean slate.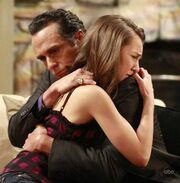 Kristina attends a therapy session while in the hospital. Alexis is waiting when she comes back to her room and she admits to Kristina that she was the hit-and-run driver who hit Kiefer and that it was an accident. Kristina is able to forgive her, but Kiefer's parents are not, as both of them come by, accusing Alexis of deliberately running down their son and Kristina for ruining his life and falsely implicating their son in her beating. Kristina is emotionally overwrought by this and blames herself for Kiefer's death. She is given a little reprieve, though, when Ethan stops by and apologizes for being rude to her when she needs to get better. She is discharged on April 14, 2010, still blaming herself for Kiefer's death, despite Alexis's constant reassurance that she is not accountable for that. Kristina is in an emotional overload dealing with the trauma of her beating and her mother's upcoming trial. Her cousin, Nikolas Cassadine, decides to step in and help her. He brings her to Wyndemere, asking her to help him bond with his son, Spencer. He asks Kristina to be there for Spencer as someone he is able to play with and have fun with more easily. Thanks to Diane Miller's maneuvering, Alexis avoids jail time for Kiefer's death.
During Sonny's trial for Claudia's murder, Kristina watches Johnny Zacchara tell the court that Sonny routinely beat up and abused Claudia, upsetting Kristina. The cover-up is blown when Dante surrenders Michael as Claudia's actual killer. Though it was self-defense, the judge sends Michael to Pentonville for five years. Alexis notices that Kristina is clearly affected by what Johnny says and Kristina starts seeing a therapist. Dante eventually arranges for Michael to be released on the grounds that he live with Dante and be barred from contact with Sonny, the latter of which Kristina insists is a good thing. Michael and Kristina once again get into an argument over their differing opinions about Sonny; Michael insists that Sonny really does love them, but Kristina is simply unwilling or unable to see past Sonny's flaws. When Kristina is bullied by girls at her school, Johnny pretends to be her boyfriend to make the other girls jealous.
Later on, she goes to Johnny's penthouse and tells him of her plan to anger Sonny. She says that if they pretend to date, it will really anger her dad. Johnny reluctantly agrees. Several people warn Kristina that dating Johnny is a bad idea, but she chooses not to listen. This decision literally blows up in her face when she is injured in a car bomb meant for Johnny that was planted by Sonny. Kristina furiously confronts Sonny and agrees to stay away from Johnny to protect him from Sonny, but Sonny, finally fed up with Kristina's disrespectful attitude and smart mouth, lays out several new ground rules for her: she has a curfew, is cut off from her credit cards and is to come over to his house for dinner every Tuesday. Alexis follows suit by taking away Kristina's car. When Johnny is shot by Sonny in self-defense, Kristina blames herself, remembering everyone's warnings about psuedo-dating Johnny, but Ethan insists that neither she nor Sonny are entirely at fault, explaining that everyone has both a good and a bad side, even Sonny. Kristina disagrees, but tells Ethan that, in her eyes, he is her hero and genuinely good.
On July 16, 2010, Kristina, Molly, Alexis, and Sonny get together at the country club, only to be interrupted by Kiefer's father, Warren Bauer, who who has been attempting for months to get revenge on Kristina and Alexis for Kiefer's death, who hassles them over Kiefer and vows to bring them to court. However, Sonny readily comes to Alexis and Kristina's defense and, ascertaining that abusers learn their habits from others, openly accuses Warren of having abused Kiefer himself. Though Warren denies it, his reaction suggests otherwise. After Warren leaves, Kristina talks to Sonny about Kiefer, and finally begins to see the light under the tunnel with her father.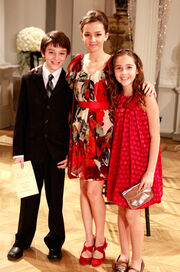 On July 23, 2010, Warren confronts Kristina at the hospital and attempts to hit her when she refuses to sign a release for her medical records. Before he can, Michael, having heard the commotion, rushes to Kristina's rescue, pummeling Warren senseless and nearly strangling him to death. Hearing Kristina's cries for help, Ethan, Maya, Lucky, and Steven arrive and break up the fight. Warren fabricates his own version of the incident and demands that Michael be arrested, but Lucky and Mac quickly deduce the truth and cleverly make it impossible for Warren to press charges. At this, Warren finally snaps and induces a shootout, critically wounding Mac and Ethan before turning his attention to Kristina. Michael nobly stands between Kristina and the gun, but before Warren can fire, Mac garners enough strength to fatally shoot him in the back. Warren uses his last words to condemn Kristina. While Mac and Ethan are being treated, Carly takes Michael and Kristina into another room. In shock, Kristina frantically blames herself for Ethan's misfortune, insisting that none of this would have happened if she had just told everyone the truth about Kiefer in the first place. However, everyone, including Ethan, reassures Kristina that Kiefer set these events in motion and he and Warren are the only ones at fault.
On November 5, 2010, Sonny is finally discovered as the one who planted the bomb in Johnny's car. Initially appearing angry, Kristina confronts Sonny, but quickly softens and forgives him before proceeding to insist that the ordeal was her fault because she was constantly warned that pretending to date Johnny was dangerous. However, Sonny takes responsibility and apologizes, stating that out of all of the mistakes he has made in his life, the worst was his believing that Kristina was better off without him, reassuring her that he loves her more than anything. Kristina is deeply touched by Sonny's words, and the two finally mend fences.
In late December 2010/early January 2011, Kristina is among those caught in the ski resort bus crash and admitted to the hospital with hypothermia, but recovers, while her friend Ali is diagnosed with brain trauma. Ali goes into surgery, but tragically dies on the operating table. Kristina blames herself for Ali's death, insisting that Ali would still be alive if she hadn't convinced her to come with them on the trip, but Sonny comforts her.
During Sonny's wedding to Brenda Barrett, Kristina serves as one of the bridesmaids and is the one who catches the bouquet. During the reception, Kristina and Ethan discuss her improved relationship with Sonny and dance, during which Kristina claims that she will marry Ethan someday. However, after the wedding, the night turns black and ugly. Brenda is captured by Theo Hoffman, who by this point has been outed as the Balkan, an international crime lord who has been after Brenda for months because she killed his son in self-defense and Sam is caught in a bomb planted in Sonny's limo as a decoy, though fortunately, she survives with a concussion and temporary hearing loss because the limo was bomb-proofed. Ethan takes Kristina and Molly home and stays with them while Jason and Alexis are visiting Sam at the hospital, doing his best to help them cope. During this time, Kristina admits her feelings for Ethan, but he lets her down gently because of his marriage to Maya, explaining that he cheats at cards but never on women. Knowing that Ethan and Maya only married for money, Kristina nonchalantly says she can wait for him.
While visiting Sam at the hospital, Kristina and Molly teach Sam some degree of sign language in the event that her hearing loss is permanent, all while having some fun at Alexis' expense. Later, while alone in the room with Kristina, Sam gets out of bed to stretch her legs out, only to pass out almost as soon as she sets foot on the floor, much to Kristina's shock and horror. This incident brings back Kristina's painful memories of Ali's death, and she becomes terrified of losing Sam too, though Jason comforts her and convinces her to be strong for her sister. Fortunately, tests indicate that Sam merely fainted and she is perfectly fine. On March 11, 2011, Kristina becomes jealous of how much time Michael is spending with ex-stripper Abby Haver and begins plotting to sabotage their friendship so she can have her brother back. Kristina later sticks by her brother when his baby half-sister, Josslyn, was diagnosed with kidney cancer. That same night, Jake Spencer, Jason's son with Elizabeth Webber, is hit by a car and dies despite Patrick and Robin's best efforts to save him. Upon discovering from Max that Carly is one of the suspects in the hit-and-run, Kristina accompanied Michael to the police station and caused a distraction so Michael could steal Carly's car.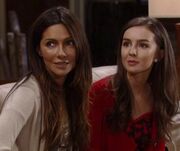 Kristina took a job babysitting Patrick and Robin Drake's daughter Emma and Lisa Niles offers to listen to her whenever she may need it. Unbeknownst to Kristina, Lisa is merely using her to have easy access to Robin and Patrick. To this end, Lisa begins giving Kristina addictive drugs, which she passes off as herbal supplements. When Brenda's long-lost son, Lucian, is revealed to be alive and begins bonding with Sonny and Brenda, Kristina begins to fear that Lucian will throw a wrench into the progress she and Sonny have made into repairing their relationship, but Ethan reassures her that Sonny still loves her and things aren't as bad as they seem. On May 18, 2011, Ethan discovers Kristina has been taking hydrocodone. He warns Kristina about Lisa, leading to Kristina confronting Lisa about it. Lisa makes it seem like Kristina wanted the drugs and knew all long what she was really giving her.
As Kristina's romantic feelings on Ethan Lovett re-emerged, she began to openly pursue him. Ethan's mixed signals towards Kristina for several months only compounded the problem, especially when he made his marriage to Maya seem like it was simply a business arrangement. This became an issue when Kristina boarded a plane to accompany Ethan to the Dominican Republic on June 9 so that he could obtain a quickie divorce from Maya, which lead to her father contemplating Ethan's murder when he discovered their trip to the Dominican Republic (with Alexis and Sonny assuming that they were going to get married). After a few days of fun in the sun and a humorous mix-up in the divorce officiator's office, her parents escorted the two back to Port Charles. Sonny, in particular, seems especially against Ethan having any sort of relationship with his daughter and has threatened Ethan's life numerous times in order to reinforce that belief. Ethan, however, has been adamant about continuing his association with Kristina, with or without Sonny's approval.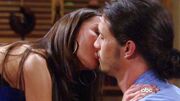 In a discussion about Ethan and Kristina's relationship, Alexis pointed out to Sonny that he had no problem with his son living with a woman ten years his senior, which lead to Sonny's retort that Michael's situation with Abby was different because Michael was "a boy." Their trip to the Dominican Republic only stoked the flames of Kristina's desire to be with Ethan. On June 24, under the guise of planning a trip abroad for a college class, Kristina invites Ethan to the Lake House where she created a romantic setting and flirted with him and ultimately, kissing him upon Ethan's invitation to see if she still has feelings for him once they have kissed. After the kiss, Kristina informs Ethan that she still has romantic feelings for him, but their conversation is interrupted by Alexis and Molly coming home.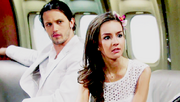 Months later, Kristina was accosted by Anthony Zacchara who threatened her as a means to get to Sonny. Ethan intervened, much to her relief and turned Anthony away, causing Kristina to become grateful to Ethan. Ethan went to see Michael about Kristina's feelings towards him, but Michael pointed out that Ethan did little to dissuade her romantic feelings for him for several months. Afterwards, Ethan, Michael and Abby formulated a plan that involved Ethan feigning interest in Abby in order to get Kristina to move on from Ethan. Kristina was not fooled by the deception, however. After several months of sending Kristina mixed signals about their relationship, Ethan finally told Kristina on July 7 about her skewed perceptions about the two of them together. Kristina, while taken aback, is nonetheless determined to prove that Ethan does, in fact, care about her. In an attempt to protect Ethan, Kristina goes to see Johnny Zacchara, Ethan's employer and friend, with the request that he fire Ethan in an attempt to get him out of harm's way.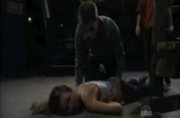 Throughout all of this, Ethan himself has shown on numerous occasions that he could also be developing feelings for her, albeit conflicted, through the actions which he has taken in Kristina's honor, i.e. protecting her with an intensity that eventually caused Johnny to urge him to admit that he likes her. Johnny, in particular, calls Ethan out on having feelings for Kristina, and fires him. On July 26, after leaving Johnny's penthouse with an irritated Ethan, Kristina gets mysteriously dizzy. And although she dismissed it as a head-rush, the worried look on her face leads the audience to believe otherwise. Later, when Jax is seemingly killed in a plane crash orchestrated by Sonny, out of revenge for his perceived role in Brenda's departure, Kristina's animosity towards Sonny returns in full force, and she blasts him for this while he is being confronted by Alexis at the hospital. Kristina is approached Michael when he tries to get her to support Sonny in the wake of Jax's apparent death, and while she insists that she still loves her father, she refuses to condone his actions against Jax. Michael angrily berates and insults her for her refusal to support Sonny's actions against Jax.
Now with Kristina back from PCU, she is still determined to establish a romantic relationship with Ethan. Ethan, on the other hand, is hired by Johnny to find out what plan Skye Quartermine has with his father, Anthony. Kristina goes to the Haunted Star and offers to be Ethan's server for a card game with some highrollers. He coldly tells her to go because he doesn't want to see her hurt, just then Skye arrives with her eyes glued to Ethan. Ethan blows off Kristina to talk to Skye. Kristina leaves, clearly upset. While Ethan thinks he's alone with Skye, he begins telling her how messed up Kristina is, telling Skye that his friendship with Kristina is simply because he feels sorry for her; while Ethan and Skye are discussing Kristina, she is listening to the conversation at the doorway. She leaves, hurt and upset. Strangely, this scene is never again addressed, and the following scenes with Kristina seem to ignore what transpired. She goes to the hospital to see her sister Sam and to discuss the wedding when Ethan is brought up in their conversation. Kristina insists that her and Ethan's relationship is just like Sam and Jason's. Sam tells Kristina that her and Jason are in love whereas Ethan doesn't like Kristina as anything more than a friend.
This upsets Kristina and she storms off. While Kristina is walking by the docks she begins feeling light headed and collapses. She is then found by Anthony Zacchara. Her brother, Michael shows up and takes her to General Hospital. At the hospital, Patrick Drake discovers that Kristina's dizzy spells are a result of a bone fragment causing pressure on her spinal cord which both Alexis and Sam speculate may be a result of her beatings at Kiefer's hands. However, after initially being brought up by Molly, people begin to believe that the bone fragment was dislodged after she was caught in the explosion of Johnny's car at the hands of Sonny. Kristina's doctor, Patrick, confirms this conclusion. When Sonny arrives to see her, Kristina initially wants him to leave, but eventually relents and allows him to sit with her. Ethan encourages her to get surgery to remove the bone fragment, even at the risk of being paralyzed. She agrees to it and he promises to dance with her at Sam's wedding, whether or not she's in a wheelchair. After the bone fragment was removed, Kristina lost all feeling in one of her legs. She was distraught and believed she would be paralyzed. While talking to Ethan one day, he playfully pokes her leg and she realizes she can feel her legs again.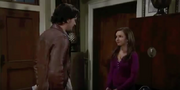 In early November, Kristina learns that she has been accepted at Yale University and we later learn that Alexis had Sonny pull some strings to get Kristina off the wait list, in an attempt to prevent Kristina from pursuing a job at Crimson with Kate Howard. On November 4th Kristina says goodbye to her family and friends at a going away party thrown by her parents. There, she makes peace with Sonny and Abby Haver. She also shares a special goodbye with Ethan, promising him that she will live her life to the fullest and give the guys at Yale a chance. After the party, Kristina left for Yale. (11-4-11)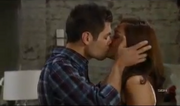 Kristina returned on May 25, 2012 to confront her parents about how she really got in to Yale. Enraged, she told them about the students at Yale finding out how she got in and teasing her calling her "Mob Princess". On May 30, 2012, Kristina both shocked and angered the family when she allowed cameras into Alexis' home against both her parents wishes for her new reality show entitled Mob Princess, about the family's drama. Kristina was feeling conflicted about the production of the show after Sam's baby "died", but upon Alexis calling her a brat decided to continue with the show. Kristina has a crush on her show's producer, Trey Mitchell. He is aware of her crush and uses it to easily manipulate her. While Kristina pushes hard for Trey to see her in a romantic light, Trey seems to have no interest in her beyond using her to to Sonny. He constantly begs her to take trips to her father's home and warehouse. Even flaunting around a bikini trying to entice him to go swimming with her did not falter his interest in the mob. When she kisses him at the Haunted Star, he feels nothing and tells her they should focus only on the show.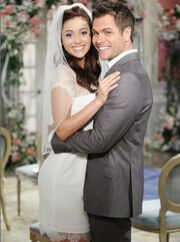 While Kristina is home she discovers Molly is now dating a boy named TJ when she and her crew catch them on camera on the Fourth of July. Though difficult at first, Kristina is protective of her little sister, telling the crew to erase the footage of Molly and tries to hide Molly and TJ's relationship from Alexis. She stands by her little sister as they argue with Alexis over Molly's right to date. Trey and Kristina often argue about the direction of the show. Kristina did not want Kate involved with the show, but Trey wanted to air Kate Howard's legal battle, including the admission that she suffered from dissociative identity disorder. Trey also wanted to include Starr's perspective since it was her boyfriend and child that had been killed and Johnny Zacchara's point-of-view since he had been a suspect before the confession. Kristina argued that the show was titled Mob Princess and should be centered around her. Trey decides to end Mob Princess immediately so he can get closer to Kristina per his father's orders. Trey tells her he wants to date her and after discussing Kiefer, Kristina agrees to date Trey. Despite warnings from her parents and older sister she refuses to see Trey's faults and acknowledge his secrecy.
Trey tells Kristina his father needs their help. He put all his money into the Mob Princess project and if they do not deliver 10 shows and a wedding he will be sued. Kristina believes his lies and decides to head to Las Vegas and marry Trey. After returning to Port Charles from Las Vegas, Kristina tells her parents about her marriage to Trey. They are instantly upset, but she assures them both she plans to get the marriage annulled. Kristina has long talks with both of her parents trying to show them her point of view. She and Trey consummate the marriage and she has the intentions of staying with him. Trey finally comes clean with her and reveals that his father is Joe Scully Jr., Sonny's nemesis. Joe kidnaps Kristina on the day of Sonny and Kate's wedding, holding her hostage at gunpoint in her father's warehouse. He threatens to kill her with the nonsensical idea that Trey will then inherit all of Sonny's money. She is saved, however, when Trey locates her just in time, though Joe escapes with a gunshot wound. Though she acknowledges that Trey saved her life, she is still hurt by his lies and decides she will go through with the annulment after all.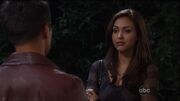 In November, Kristina sees Trey working at the church of Edward Quartermaine's funeral and asks him what he is doing. Trey says that he working there for room and board. They later go to Kelly's to talk about Trey not having too many job options in Port Charles. With Trey not having many career opportunities in Port Charles, Trey decides to move to Los Angeles for work and asks Kristina to go with him. After the Christmas party after her father's house that ended up being ruined by Connie, Kristina accepts Trey's offer. Kristina and Trey get Sonny and Alexis' blessing to leave town. They then go to find Connie and Kristina hears odd sounds coming from the trunk while Trey is talking to Connie. Ignoring it they let Connie go off on her way when Michael and Starr arrive. Michael and Starr fill Kristina and Trey in on what Connie is up to.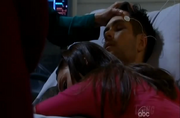 The four of them decide to follow Connie and end up in a crash which also results in Ellie Trout being run down by Connie. She survives the crash with barely any scratches, but later fell unconscious and was resuscitated by Trey. However not long after, Trey passes out. The paramedics arrive and transport Trey and Ellie to the hospital. Trey starts flatlining while Kristina and Connie argue in the ER room. The two start arguing again in a waiting lounge with Alexis and Sonny breaking them up before the fight ends in blows. Finally, Steve comes out of Trey's news with bad news. Trey is rendered brain dead. After much arguing with Connie including Sonny paying Connie's bail against Kristina's wishes, Trey is pulled from life support.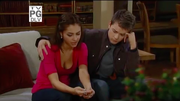 On January 25, Starr comes over to Alexis' house to check up on Kristina. Molly and Starr try to help Kristina with her grief of losing Trey. Starr later checks on her, but she is no where to be found. Kristina arrives at Manning Enterprises and smashes Connie Falconeri's laptop with a baseball bat. Sonny stops her from swinging at Connie and is able to get the bat away from her. Kristina cries on Sonny's shoulder. However, Connie then proceeds to call her names and Kristina breaks free of Sonny's grip and lunges at Connie. Sonny stops Kristina from choking Connie but an angry Connie calls the Police and Dante comes. Dante and another cop cuff Kristina and take her to the PCPD. Kristina is processed through and are told that she must stay overnight due to her level of charges are not permitted to be seen in night court.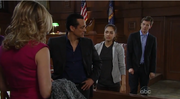 She spends couple nights in lockup and the arraignment starts on February 6. Sonny is able to convince Connie to drop the charges and Connie interrupts Kristina's arraignment insisting that Kristina is not guilty. The DA tries to bring the case to trial without the victims cooperation, but the judge decides that Kristina can plead guilty to a lesser offense and get community service. Kristina pleads guilty to second degree assault and is sentenced to around 500 hours of community service at Pentonville. On her first day at Pentonville Kristina is left alone in a cell with Johnny. She tells him that his being in lock up won't bring back Starr's family. They discuss why Connie dropped the charges against Kristina. She tells him community service won't be so bad with him there. Upon leaving the cell Kristina is shown to be developing a crush on Johnny. She was seen last with her half-sister Molly Lansing in their house watching Janice Lomax give a Mayoral press conference about the situation with Caleb Morley.
In April 2013, Connie visits Johnny in prison, and he tells her that Kristina was transferred to another cell block after Sonny found out that Kristina & Johnny were spending time together. In June 2013, Molly says Kristina has started taking summer classes at Wesleyan University, hoping to enroll full-time as a sophomore in the fall.
On January 5, 2015, Morgan visits Sonny in prison and tells him that Kristina sends her love and that she is going to set up a visit to Pentonville to see him.
On April 29, Sam offers Jason (aka Jake, as no one knew he was Jason at this point) two tickets to the Nurses' Ball and mentions to him that her sister, Kristina was supposed to come but couldn't make it.
In early September, Alexis tells Julian that she is going to see Kristina after a break up.
On September 17, Kristina returns to Port Charles with her mother and reunites with her sisters, Sam and Molly. She then goes to the hospital where she reunites with her brothers, Michael and Morgan. She also reunites with Carly and has a sweet moment with her father, where she tells him how much she loves him and that she is proud to be his daughter. On October 14, she is seen with her family at her dad and Carly's wedding. During her dad's custody hearing, it is mentioned that Kristina is at school taking exams and couldn't make it back in time but left her dad a character witness statement.
On November 17, Alexis mentioned that Kristina will be back for Thanksgiving. Kristina does return for Thanksgiving and has it with both sides of her family. First, with the Corinthos side (her dad, her stepmother, Carly and brothers, Michael and Morgan) including Bobbie, Sabrina and Kiki, at the hospital because Morgan is getting evaluated. Then, she goes to her mom's new house where she meets her little sister, Avery and Avery's mother, Ava, who she tells off and has her second Thanksgiving dinner with her mom, sisters, Julian, Ava, Olivia and Leo.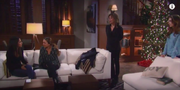 Kristina returns once again for Christmas and reconnects with her mom and sisters. She also talks to Sam about Patrick and Jason. It is later revealed that she has a secret about school so she hacks into her mother's email and deletes an email from school. She then gets ready to go to the Nutcracker Gala. When the Davis girls minus Sam arrive at the ball, where Alexis realizes that she forgot the check but then she sees a colleague and goes to say hi, leaving her phone with Kristina and Molly. Once her mother is gone, Kristina checks her email to make sure that the email she deleted was actually gone. After arriving at the ball, Dillon Quartermaine takes pictures of Kristina and Molly, at Maxie's request. During the ball, Julian asks Kristina and her sisters for their blessing to marry their mom and they all say yes (even Molly). Later on, after running into Carly, Kristina goes over to her dads and spends some time him.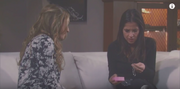 On Christmas, Kristina talks to Sam and Carly about Jason. Later on, Kristina gives Sam back the star necklace that Jason gave her years ago after she found it in the storage cage at the penthouse. Then she goes over to her dad's house and sees that side of the family. She also gives her dad a selfie stick and the whole family takes a Christmas picture. On New Years, Kristina is seen on the docks with Sam and then they both head to the Floating Rib where Kristina runs into Morgan and catches him drinking but promises not to say anything. Kristina is later seen drunk, reintroducing herself to Jason and talking to him about his old life and how he needs to see the things right in front of him (Sam). She is then seen watching a football game with Michael.
A few days later, Kristina is seen at Kelly's with her mom, sisters and Julian celebrating her mom and Julian's engagement. After Julian and Sam leave Kristina, Molly and Alexis talk about sex. Kristina is then seen at the Davis-Jerome house opening a letter from Wesleyan saying she is on academic suspension. Kristina, Sam and Alexis talk about Jason. Sam then reveals, much to Kristina annoyance, that she (Kristina) is studying prelaw. Then Kristina is seen at the Metro Court with her parents talking about her mothers engagement to Julian, school and Johnny Zacchara. Then she finally reveals to Sam that she offered to have sex with her professor in exchange for a better grade and was suspended. Kristina is then seen interrupting T.J. and Molly kissing and pays Molly back for telling Sam that she has problem at school but telling T.J. that he and Molly won't be having sex. Later on, Alexis asks Kristina and Molly (Sam as well) to be her maids of honors, to which they happily accept. After Molly leaves Kristina gets a call from her professor.
On January 29, Kristina is seen getting ready to go back to school. She and Sam end up talking about Jason, Elizabeth, Jake, Franco and school and she tells Sam that she will go back to Middletown, get an apartment and a job and then go back to school next semester. Sam also tells Kristina that no matter what she has her back. After Sam leaves, Alexis comes home to see Kristina off and Kristina tells her that she can't wait for her and Julian to get married and she's happy to be a part of it. Before Kristina leaves, her professor shows up and it turns out her professor is a women (Professor Parker Forsyth), meaning that Kristina only told Sam a half-truth.
Kristina and Parker talk and she forces her way into the house. Then Alexis comes in and Parkers introduces herself, but when she does not recognize the name "Parker", Parker realizes Kristina did not tell her parents about her suspension and the reason behind it. After Alexis leaves Kristina and Parker argue and they both "threaten" each other (Kristina telling Parker's wife and Parker telling Kristina's parents). Kristina accuses Parker of wanting her, which Parker denies. Parker also tells her to use her time away from school wisely and to figure out what she wants before her parents do. Then she leaves.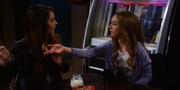 Kristina is later seen at the Floating Rib with Molly, who brings Kristina her diary. When Kristina tries to get her diary back, Molly keeps it at arms length and reads some of it and asks who P is. Then Kristina finally tells Molly the truth about what happened at school (or at least the half-truth like she told Sam) and Molly tells Kristina that she can live with her at her dorm room as Kristina is now homeless because she couldn't find an apartment by school. Later on, Jason comes by and asks if the girls have seen Sam and Kristina tells him that she was headed to Elizabeth's. As they are about to leave, they run into Morgan and he and Kristina promise to continue keeping each others secrets (him drinking on his meds and her still being in Port Charles).
The next day, Kristina, Molly and Alexis visit Sam in the hospital where they talk about how Jason saved Sam. Molly also slips up about Kristina being at the Floating Rib when Jason came looking for Sam but Kristina tries to cover by saying T.J. was there. Later on, Kristina runs into her dad and tells him what happened to Sam and they talk about school and the wedding. then she invites her dad to the wedding and he says he will think about it. Then Alexis and Molly come over to talk and Alexis lets it slip that Parker was at the house and Molly realizes that the P in Kristina's dairy is Parker and she accuses Kristina of being gay. Kristina tries to cover by saying that she has to professors with a first name starting with the letter P. She then turns it around on Molly asking if she or T.J. is gay because they haven't had sex yet. After Molly leaves Kristina talks to Lucas and Brad about how they knew that they were gay.
A couple days later, she goes to see Morgan at work and he goes off on her. Afterwards, Kristina goes to Sam's where they talk about Jason and when Jason arrives she tells him to be really good to her sister. On the day of her mothers wedding to Julian, Kristina gives her something new-a picture of the Davis girls. She also figures out that Molly and T.J. slept together. Alexis and Julian get married and everything goes off without a hitch until a gunman named Dixon takes everyone in the church hostage. While being held hostage, Alexis lets it slip that another one of Sonny's kids is at the wedding (Morgan was part of the reason he was there) and Dixon realizes that it's one of the girls in the front row. Sam tries to convince him that she is Sonny's daughter but is unsuccessful. Afterwards, Dixon chooses to take Molly but Kristina stops him saying she's Sonny's daughter. Dixon tries to take Kristina hostage but Molly goes hysterical which allows Sonny to get out of his wheelchair and save Kristina.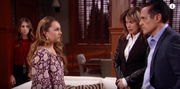 A few days later, Kristina visits Sonny and a talks about how she became friends with her professor. She also talks to Molly about Parker and the possibly of being gay. The next day Kristina comes clean with her parents about her school drama but not the fact that her professor was a woman. Sonny and Alexis are disappointed and don't know what to think and they also try to convince her to go back to school but she doesn't want too. Kristina also talks to Molly about Parker and how she has never felt this way about a woman before. Kristina also tells Molly that she is worried about how her parents are going to react to her sexuality and Molly tells her to give them the benefit of the doubt. They also go to Alexis and Olivia's court hearing on breastfeeding, where they win.
Crimes Committed
Underage drinking [Jun 2009]
Possession of drugs [Jun 2009]
Driving without a license [Jun 2009]
Ran Claudia Zacchara off the road, killing her unborn son, who was also Kristina's half-brother; briefly allowed Michael to think he did it and then allowed her mother, Alexis to take the blame [Jul 21, 2009]
Ran away to Cancún, Mexico with her brother, Michael [Jul-Aug 2009]
Obstruction of justice; knew her brother, Michael had murdered Claudia Zacchara but withheld the information [2010]
With her sister, Molly's help, hacked into Ethan Lovett's email account and deleted an email from it [Mar 2010]
Falsely accused Ethan Lovett of beating her [Mar 2010]
Caused a distraction so Michael could steal Carly's car [Mar 2011]
Attempted murder; tried to remove her ex-husband, Trey Mitchell from life support [Jan 11, 2013]
Attempted murder; assaulted and threatened to kill Connie Falconeri (was arrested but Connie later recanted her statement and Kristina was later given a suspended sentence and community service) [Jan 28-Feb 7, 2013]
Destroyed Connie Falconeri's office with a baseball bat [Jul 25-28, 2013]
With her sister, Molly's help, hacked into Alexis' e-mail account and deleted an e-mail from it [Dec 17, 2015]
Bribery; suspended from college for offering sex to professor Parker Forsyth in exchange for a better grade [revealed Jan 18, 2016]
Health and Vitals
Born severely premature [Nov 2002]
Trapped in a Gatehouse that was on fire; was rescued [Mar 2003]
Diagnosed with a form of leukemia, but received a life saving stem cell transplant from the umbilical cord of her deceased paternal half-sister/maternal half-niece, Lila McCall; in remission [Nov 2004]
Kidnapped (along with her brothers, Michael and Morgan) by Faith Rosco [Feb 2005]
Traumatized after seeing her sister, Sam shoot and "kill" Diego right in front of her (she didn't speak for weeks) [Nov 17, 2006]
Threatened by Anthony Zacchara [Aug 2008]
Victim of an abusive relationship [Jul 2009-Apr 2010]
Threatened by Jerry Jacks under the orders of Claudia Zacchara [Jul 30, 2009]
Blacked out while trapped under a carnival ride; suffered a sprained wrist [Sep 8, 2009]
Manhandled by Ethan Lovett (he grabbed her arm and left bruises) [Mar 12, 2010]
Severely beaten by her boyfriend, Kiefer Bauer [Mar 12-15, 2010]
Severely beaten by her boyfriend, Kiefer again [Apr 2, 2010]
Harassed by Warren and Melinda Bauer [Apr-Jul 2010]
Injured in a car bomb explosion [Jul 2-6, 2010]
Hurt her ankle playing tennis [Jul 2010]
Almost slapped by Warren Bauer [Jul 21, 2010]
Had a gun pulled on her by Warren Bauer [Jul 22, 2010]
Suffered from hypothermia after a bus crash; also suffered other minor injuries [Jan 2011]
Unknowingly hooked on narcotics given to her by Lisa Niles, who said they were herbal supplements [Apr-May 2011]
Threatened by Anthony again [Jul 2011]
Hospitalized after being found unconscious by Anthony Zacchara [Sep 2, 2011]
Underwent surgery to remove a bone fragment near her spinal cord (that was most likely caused by the car bomb in 2010) [Sep 14, 2011]
Kidnapped and held hostage at gunpoint by Joe Scully, Jr. [Oct 1, 2012]
Rendered unconscious in a car accident [Jan 2013]
Rendered unconscious for a second time and required resuscitation after the car accident [Jan 2013]
Suffered from depression following the death of her ex-husband, Trey [Jan-Feb 2013]
Held hostage at gunpoint in a chapel-full of people by Landon Dixon [Feb 19, 2016; shown from Feb 23-24, 2016]
Threatened by Dixon multiple times [Feb 19, 2016; shown on Feb 24, 2016]
Almost taken hostage at gunpoint by Dixon but Sonny saved her [Feb 19, 2016; shown on Feb 24, 2016]
See also
Family tree
Photo gallery
References
v - e

Current Contract Characters
Curtis Ashford
 ·
Jordan Ashford
 ·
Franco Baldwin
 ·
Hayden Barnes-Cassadine
 ·
Nikolas Cassadine
 ·
Morgan Corinthos
 ·
Sonny Corinthos
 ·
Carly Corinthos-Jacks
 ·
Alexis Davis
 ·
Anna Devane
 ·
Dante Falconeri
 ·
Olivia Falconeri
 ·
Dr. Hamilton Finn
 ·
Nelle Hayes
 ·
Paul Hornsby
 ·
Ava Jerome
 ·
Julian Jerome
 ·
Kiki Jerome
 ·
Maxie Jones
 ·
Dr. Andre Maddox
 ·
Jason Morgan
 ·
Sam Morgan
 ·
Dr. Griffin Munro
 ·
Dillon Quartermaine
 ·
Michael Quartermaine
 ·
Tracy Quartermaine
 ·
Nina Reeves
 ·
Nurse Sabrina Santiago
 ·
Laura Spencer
 ·
Valerie Spencer
 ·
Lulu Spencer-Falconeri
 ·
Nurse Elizabeth Webber
 ·
Nathan West
Current Recurring Characters
T.J. Ashford
 ·
Ned Ashton
 ·
Scott Baldwin
 ·
Claudette Beaulieu
 ·
Valentin Cassadine
 ·
Lucy Coe
 ·
Darby Collette
 ·
Dr. Kevin Collins
 ·
Brad Cooper
 ·
Kristina Corinthos-Davis
 ·
Landon Dixon
 ·
Naomi Dreyfus
 ·
Nurse Amy Driscoll
 ·
Nurse Felix DuBois
 ·
Parker Forsyth
 ·
Max Giambetti
 ·
Milo Giambetti
 ·
Alice Gunderson
 ·
Jasper Jacks
 ·
Nurse Epiphany Johnson
 ·
Dr. Lucas Jones
 ·
Ric Lansing
 ·
Molly Lansing-Davis
 ·
Dr. Kelly Lee
 ·
Janice Lomax
 ·
Huxley Lynch
 ·
Rosalie Martinez
 ·
Diane Miller
 ·
Dr. Liesl Obrecht
 ·
Dr. Monica Quartermaine
 ·
Dr. Joe Rivera
 ·
Aaron Roland
 ·
Delia Ryan Coleridge
 ·
Felicia Scorpio
 ·
Mac Scorpio
 ·
Robert Scorpio
 ·
Dr. Robin Scorpio-Drake
 ·
Nurse Bobbie Spencer
 ·
Damian Spinelli
 ·
Ellie Trout
 ·
David Walters
 ·
Heather Webber
Current Child Characters
Spencer Cassadine
 ·
Leo Falconeri
 ·
Rocco Falconeri
 ·
Josslyn Jacks
 ·
Avery Jerome-Corinthos
 ·
Danny Morgan
 ·
Teddy Rivera
 ·
Emma Scorpio-Drake
 ·
Aiden Spencer
 ·
Cameron Spencer
 ·
Jake Spencer
 ·
Georgie Spinelli
Deceased and Presumed Dead Characters
Benny Abrahms
 ·
Bernie Abrahms
 ·
Dr. Rachel Adair
 ·
Diego Alcazar
 ·
Lorenzo Alcazar
 ·
Luis Alcazar
 ·
Sage Alcazar
 ·
Ruby Anderson
 ·
Dr. Andy Archer
 ·
Dominique Baldwin
 ·
Cooper Barrett
 ·
Alison Barrington
 ·
Amanda Barrington
 ·
Kiefer Bauer
 ·
Warren Bauer
 ·
Jesse Beaudry
 ·
Katherine Bell
 ·
Connor Bishop
 ·
Mary Bishop
 ·
Paige Bowen
 ·
Nurse Jessie Brewer
 ·
Nancy Brewer
 ·
Dr. Phil Brewer
 ·
Carter
 ·
Helena Cassadine
 ·
Irina Cassadine
 ·
Kristina Cassadine
 ·
Mikkos Cassadine
 ·
Stavros Cassadine
 ·
Stefan Cassadine
 ·
Tony Cassadine
 ·
Victor Cassadine
 ·
Stone Cates
 ·
Dr. Ryan Chamberlain
 ·
Dr. Silas Clay
 ·
Stephen Clay
 ·
Adela Corinthos
 ·
Lily Corinthos
 ·
Dr. Ian Devlin
 ·
Mickey Diamond
 ·
Ronnie Dimestico
 ·
Dr. Pierce Dorman
 ·
John Durant
 ·
Bill Eckert
 ·
Connie Falconeri
 ·
Andrea Floyd
 ·
Dr. Russell Ford
 ·
Dr. Steve Hardy
 ·
Peter Harrell, Sr.
 ·
Peter Harrell, Jr.
 ·
Abby Haver
 ·
Logan Hayes
 ·
Theo Hoffman
 ·
John Jacks
 ·
Aleksander Janacek
 ·
Victor Jerome
 ·
Stan Johnson
 ·
B.J. Jones
 ·
Georgie Jones
 ·
Tania Jones
 ·
Dr. Tony Jones
 ·
Dr. Ewen Keenan
 ·
Rafe Kovich, Jr.
 ·
Dr. Eve Lambert
 ·
Trevor Lansing
 ·
Duke Lavery
 ·
Dr. Cameron Lewis
 ·
Victor Lord III
 ·
Hope Manning-Thornhart
 ·
Reese Marshall
 ·
Courtney Matthews
 ·
Dr. Matthew Mayes
 ·
Danny McCall
 ·
Lila McCall
 ·
Nurse Leyla Mir
 ·
Trey Mitchell
 ·
Susan Moore
 ·
Chloe Morgan
 ·
Henry Nakamura
 ·
Dr. Lisa Niles
 ·
A.J. Quartermaine
 ·
Dr. Alan Quartermaine
 ·
Alexandria Quartermaine
 ·
Edward Quartermaine
 ·
Dr. Emily Quartermaine
 ·
Lila Quartermaine
 ·
Carlos Rivera
 ·
Faith Rosco
 ·
Manny Ruiz
 ·
Gabriel Santiago
 ·
Joe Scully
 ·
Joe Scully, Jr.
 ·
Kyle Sloane
 ·
Damian Smith
 ·
Frank Smith
 ·
Shirley Smith
 ·
Zander Smith
 ·
Lena Spencer
 ·
Pat Spencer
 ·
Siobhan Spencer
 ·
Tim Spencer
 ·
Olivia St. John
 ·
Nurse Diana Taylor
 ·
Martha Taylor
 ·
Dr. Peter Taylor
 ·
Tracy Taylor
 ·
Dr. Asher Thomas
 ·
Cole Thornhart
 ·
Nurse Amy Vining
 ·
Bradley Ward
 ·
Justus Ward
 ·
Mary Mae Ward
 ·
Dr. Rick Webber
 ·
Dr. Karen Wexler
 ·
Dawn Winthrop
 ·
Deke Woods
 ·
Dr. Maggie Wurth
 ·
Anthony Zacchara
 ·
Claudia Zacchara-Corinthos
Off-screen and Former Characters
Lila Rae Alcazar
 ·
Dr. Grant Andrews
 ·
Terri Arnett
 ·
Brook Lynn Ashton
 ·
Larry Ashton
 ·
Christina Baldwin
 ·
Dr. Gail Baldwin
 ·
Lee Baldwin
 ·
Serena Baldwin
 ·
Dr. Tom Baldwin
 ·
Brenda Barrett
 ·
Julia Barrett
 ·
Melinda Bauer
 ·
Shawn Butler
 ·
Gia Campbell
 ·
Peter Carroll
 ·
Dimitri Cassadine
 ·
Petros Cassadine
 ·
Jagger Cates
 ·
Lois Cerullo
 ·
Skye Chandler-Quartermaine
 ·
Dr. Linda Chu
 ·
Father Coates
 ·
Mike Corbin
 ·
Angie Costello
 ·
Blair Cramer
 ·
Jolene Crowell
 ·
Nurse Nadine Crowell
 ·
Dr. Rae Cummings
 ·
Marco Dane
 ·
Téa Delgado
 ·
Roy DiLucca
 ·
Anna Donely
 ·
Sean Donely
 ·
Tiffany Donely
 ·
Dr. Noah Drake
 ·
Dr. Patrick Drake
 ·
Taylor DuBois
 ·
Toussaint Dubois
 ·
Jenny Eckert
 ·
Sly Eckert
 ·
William Eichner
 ·
Angel Ellis
 ·
John Everett
 ·
Cesar Faison
 ·
Nurse Fletcher
 ·
Pres Floyd
 ·
Nurse Betsy Frank
 ·
Ivy Gatling
 ·
Nurse Audrey Hardy
 ·
Dr. Simone Hardy
 ·
Dr. Tom Hardy
 ·
Dr. Tommy Hardy
 ·
David Harper
 ·
Jimmy Lee Holt
 ·
Dr. Matt Hunter
 ·
Anton Ivanov
 ·
Lady Jane Jacks
 ·
Jerry Jacks
 ·
Terrell Jackson
 ·
Miranda Jameson
 ·
Frisco Jones
 ·
Dr. Leo Julian
 ·
Rose Kelly
 ·
Winifred Leeds
 ·
Guy Lewis
 ·
Victor Lord, Jr.
 ·
Ethan Lovett
 ·
Starr Manning
 ·
Todd Manning
 ·
John McBain
 ·
Colleen McHenry
 ·
Miguel Morez
 ·
‎Hope Morgan
 ·
Ken Morgan
 ·
Delores Padilla
 ·
Blackie Parrish
 ·
Nurse Penny
 ·
Grant Putnam
 ·
Celia Quartermaine
 ·
Burt Ramsey
 ·
Coleman Ratcliffe
 ·
Madeline Reeves
 ·
Cruz Rodriguez
 ·
Casey Rogers
 ·
Father Mateo Ruiz
 ·
Juan Santiago
 ·
Alec Scott
 ·
Hannah Scott
 ·
Jeffrey Scribner
 ·
Rebecca Shaw
 ·
Jennifer Smith
 ·
Lucky Spencer
 ·
Luke Spencer
 ·
Suzanne Stanwyck
 ·
Nurse Mischa Stephens
 ·
Holly Sutton
 ·
Marcus Taggert
 ·
Nurse Regina Thompson
 ·
Claire Walsh
 ·
Faith Ward
 ·
Keesha Ward
 ·
Dr. Maya Ward
 ·
Dr. Jeff Webber
 ·
Dr. Lesley Webber
 ·
Dr. Sarah Webber
 ·
Dr. Steve Webber
 ·
Dr. Britt Westbourne
 ·
Dr. Lainey Winters
 ·
Grace Yang
 ·
Johnny Zacchara
Crew
Shelly Altman (Head writer, 2011-2012, 2015-present)
 ·
Ron Carlivati (Head writer, 2012-2015)
 ·
Jill Farren Phelps (Executive producer, 2001-2012)
 ·
Robert Guza, Jr. (Head writer, 1996, 1997-2000, 2002-2008, 2008-2011)
 ·
H. Wesley Kenney (Executive producer, 1987-1989; Head writer, 1988)
 ·
Gloria Monty (Executive producer, 1978-1987, 1991-1992; Head writer, 1981)
 ·
Jean Passanante (Head writer, 2015-present)
 ·
Wendy Riche (Executive producer, 1992-2001)
 ·
Frank Valentini (Executive producer, 2012-present)
 ·
Garin Wolf (Head writer, 2008, 2011-2012)
Related Topics
List of cast members
 ·
List of current actors
 ·
History of General Hospital