Lorenzo Alcazar was a fictional character on the ABC soap opera General Hospital.
Casting
After previously playing the role of Luis Alcazar in 2002, King originated the role of brother Lorenzo in June 2003. In 2005, King won Favorite Villain in the 19th annual Soap Opera Digest Awards.[1]
In 2007, King chose not to renew his contract and left the series. In an interview with Carolyn Hinsey, Ted King stated his frustration with the direction of Lorenzo Alcazar on the show, stating "Sonny didn't kill his brother [Luis] or his son [Diego] or his niece [Sage]. He's lost three people, and Sonny didn't kill any of them. Yet he's always angry at Sonny. It doesn't make any sense to me."[2] However, he also expressed he would miss the show, explaining to Soap Opera Digest, "Absolutely! The great thing about what I've been able to do with this character in the last four and a half years, particularly with Lorenzo, was that he's been very three-dimensional."[3]
Ted King later moved on to play Tomás Delgado on the ABC soap opera One Life to Live from January 2011 until OLTL's cancellation in January 2012. There was some on-screen speculation if Lorenzo Alcazar and Tomas Delgado might be the same person (for example Lorenzo pretending to be Tomas) in late 2012 on GH, however this storyline is unresolved due to Blair and Tea (original OLTL characters) and Skye (has appeared on all three shows, but mainly GH) have gone in search of him. This will not be proven either way due to Prospect Park's OLTL reboot.
Storylines
Lorenzo Alcazar was an international arms dealer, an intelligent and powerful man with ties to mob families and high-ranking government agencies that made him a formidable force in the town of Port Charles. Prior to joining the family business, arms-dealing, he was a History professor at Oxford University. Lorenzo originally entered Oxford as a student of law, until he became involved with an idealistic French woman named Sophie Germaine who wanted to save the world, and was tragically killed in a village by rebels while Lorenzo was helping his older brother Luis out after a deal went wrong. Lorenzo blamed himself for what transpired to Sophie, and abandoned his life in England to become part of the Alcazar family business.
Years later, Lorenzo came to Port Charles to avenge the death of his older brother, Luis Alcazar. Although he learned that Alexis Davis was the person responsible for his brother's death, he did not take revenge on her because she was a civilian. Rather, knowing that his brother's presence in Port Charles was due in part to resident mob boss Sonny Corinthos, he became a thorn in Sonny's side, trying to get Sonny's half-brother Ric Lansing to usurp the organization from his brother. Ric kidnapped Carly Corinthos before Courtney and Jason's wedding and held her in a panic room at his house. Lorenzo found out about it and helped Ric conceal Carly for a while. Lorenzo held her hostage himself for weeks as leverage over Sonny, whose pier he wanted to use to ship cocaine into Port Charles. While holding Carly, Lorenzo fell in love with her and began to undermine her marriage to Sonny wherever possible. Months later, Lorenzo was also in charge of raising his niece, Sage Alcazar, who came to Port Charles to avenge her father's death. She moved to Port Charles permanently, but was later murdered at the Quartermaine mansion by Mary Bishop.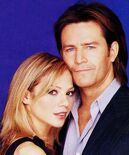 Lorenzo was once married to Carly Corinthos. Their romance began after she suffered a severe brain injury. This brain injury was due to a gunshot wound to the head caused by her husband
Sonny Corinthos
when Lorenzo Alcazar was helping her give birth to
Morgan Stone Corinthos
. The gunshot wound Sonny caused a rift in her relationship with
Sonny Corinthos
. While Carly was in a coma, Lorenzo gave her subliminal suggestions that she should love him and not Sonny. When Carly came out of her coma, she did not care about anything or anyone except Lorenzo. When Sonny saw her kissing Lorenzo, he left her. Subsequently, Sonny would take her sons away from her while she sought solace with Lorenzo, but she would return to Sonny for the sake of her children. After her divorce from Sonny, Carly later married Lorenzo. They divorced because of her obsession with Sonny, which caused her to have a mental breakdown and be committed to a resident mental hospital. He was later involved with
Lois Cerullo Ashton
, but this was a brief affair.
After Sage's death in 2005, Lorenzo found out that he had a son, Diego by former lover María Sánchez, who originally thought Lorenzo died protecting her from would-be assassins in a dark alley. Despite María keeping the truth from him after learning that he was alive, he offered María and Diego a home, and wanted to be a part of his son's life. María left amidst the murders of the Sandoval family by the Corinthos crime organization, where she witnessed Jason Morgan fleeing from the scene and Jason discovering that she'd seen him. During this time, Lorenzo and Skye Chandler Quartermaine became involved when Lorenzo realized that his love for Carly would never be returned. After they spent one night together, she became pregnant, something she thought would never happen since she was told that she could not have children after a horrible car accident. They saw the child as a miracle.
Lorenzo tried to sway his son from a life of crime, but Diego's upbringing left him too emotionally damaged to be dissuaded from the life his father tried to protect him from. Lorenzo had gone legit to give his family some semblance of a normal life and protect them from the dangers of mob life, but his son's troubles changed all that. Lorenzo went back to delivering weapon shipments to the U.S. government to protect his son from going back to prison, where he would have been killed by Manny's people. Having been paroled from a ten-year sentence after ratting out a member of the Ruiz crime family, Diego's life was in danger, especially with Manny Ruiz still loose and gunning for the people Lorenzo loved.
The war between Lorenzo and the Corinthos crime family began when Sonny and Jason took shipments that Lorenzo was delivering to his government handlers to secure his son's freedom, despite knowing that Lorenzo only entered into the life to keep his son safe from the Ruiz organization. Despite Lorenzo's attempts to protect his son, Diego was apparently killed in 2006 by Sam McCall in a shoot-out between Alcazar's men and Jason Morgan, who was on the run with Sam when Ric and Lorenzo hired Damian Spinelli to cybernetically frame Sam for a crime she didn't commit. The apparent death of his son left Lorenzo heart-broken and he realized how dangerous "the business" could be, determined to make sure Lila Rae would never suffer the same fate as Diego. He was determined to end his association in arms-dealing for the government and return to a life of normalcy. (Despite his on-screen death, in November 2006, it was revealed that Diego was still alive and terrorizing Port Charles as the Text Message Killer, but it's speculated that another villain, Ian, may have contributed to the loss of Diego's sanity after his near-death experience.)
After the loss of several shipments he was handling from the U.S. government, Lorenzo went to Sonny's office (with a gun in hand) to prevent him from seizing an important shipment that would allow him to be free of his deal with the government, but Carly walked in allowing Sonny enough of a distraction to pull out a gun and shoot. Lorenzo was shot in the head and lived, but he suffered temporary selective amnesia. He had a couple of surgeries to correct the problems. As a result of his brain injury, he acted uncharacteristically, faking his amnesia to gain an advantage over his enemies, Sonny (who he blamed for the death of his brother Luís) and Jason (who he blamed for the death of his son Diego). Lorenzo Alcazar was (apparently) assassinated on May 23, 2007 by Jason, who got away with the murder because of fabricated evidence produced by the Metro Court Hotel terrorist Jerry Jacks and Sonny's ex-wife Carly Jacks.
On the episode of General Hospital that aired August 9, 2007, Carly and Jerry Jacks were in Venezuela on business allegedly related to both stealing the presently-deceased Alcazar's financial assets and fabricating evidence that could help exonerate Jason Morgan of Lorenzo's murder. In a scene, with a Venezuelan banking official as well as Carly and Jerry, related to having Lorenzo's assets released, Jerry called someone that sounded identical to Lorenzo Alcazar. The person on the phone fooled the banking official and his ex-wife, Carly. Afterward, Jerry told Carly that it was not really Lorenzo on the phone, but rather it was an operative trained to impersonate others. Part of the evidence included someone who had been withdrawing money from Lorenzo's accounts. This person was revealed to be Lorenzo's son Diego, who was very much alive, in a storyline that made little sense and was ridiculed by many fans as absurd.
On August 14, 2007, it was revealed that photos of Lorenzo indicating he's still alive were, indeed, "doctored" by associates of Jerry Jacks. Notwithstanding the August 9, 2007, episode that had Carly on the phone speaking to someone that sounded exactly like Lorenzo Alcázar, Jerry has since declared the man on the phone to be an impostor and admitted to fabricating the photographic evidence presented during Jason Morgan's trial for Lorenzo's murder.
In November 2012, Skye Quartermaine and Carly get into a cat fight at Kelly's and afterwards Skye is afraid about her IPad.  The screen shows the news of Blair Cramer and Tomás Delgado's wedding in Llanview. Carly has heard about Tomás, but never seen him.  Skye and Carly are stunned when they focus on the picture and see that Tomás looks very similar to Lorenzo.  They go to Blair's ex-husband Todd Manning, who recently moved from Llanview to Port Charles, and question him about the man that he knows as Tomás.
Todd calls to get his plane ready and Carly, Skye, and him go on a road trip to Llanview, PA.  They arrive at Tea Delgado's house and Todd can't wait to break the news and says that they are hear to "crash" the wedding.  Blair and Tea confidently deny that Tomás could be Lorenzo, while Carly and Skye tells them that they should go directly to the source of the problem. Skye and Blair begin a cat fight and Todd commenting how it's better than pay-per-view.
Later, Tea received a knock on the door and a CIA agent is there.  The agent tells Tea and others that Tomas has been called and assigned back to active duty. The group can not talk or communicate with Tomas and the agent can not discuss any further details about the situation.  Blair says that Dorian Lord is a powerful senator and the agent should talk. The agent says that he can not and says that if they have connections or want to pursue this further, they should connect with his superiors.
Blair and Tea haven't been seen since their November 2012 appearances and will most likely not re-appear due to the new reboot - Prospect Park's OLTL. Skye hasn't been seen since Nov 2012 either, but is said to be looking for Tomas/Lorenzo with Blair and Tea
Crimes Committed
Drug trafficking [prior to Jun 2003-Feb 2004]
Kidnapped Sonny and beat him up [Jun 2003]
Conspired with Ric in covering up Carly's kidnapping [Jun 2003]
Kidnapped Courtney to try to get Carly back as his captive [Aug 2003]
Hired Marcella Montoya to impersonate Sonny's late wife, Lily Corinthos [Sep 2003]
Covered up Courtney's involvement in Elizabeth Webber's hit-and-run [Sep 2003]
Bugged Carly's hospital room [Nov 2003]
Had his men rob the patrons of the Haunted Star on opening night [Dec 2003]
Adultery with Carly (while she was married to Sonny) [Jan-Mar 2004]
Bribed a man to plant an explosive device in Sonny's limo that was set to explode during Sonny and Carly's custody hearing and cast a negative image on Sonny [Mar 2004]
Killed Mary Bishop [Sep 2004]
Paid Manny Ruiz to go after Sonny [2005-06]
Threatened to kill Damien Spinelli [2006-07]
Switched the files at the hospital to make sure Skye got the serum instead of Lulu. [2006]
Hired Damian Spinelli to falsify evidence [2006]
Teamed up with Ric to plant a flash-drive [2006]
Kidnapped Damian Spinelli and Lulu Spencer and then ordered their murder [Nov 2006]
Tried to shoot Sonny [Jan 2007]
Set up international arms deal that led to the Metro Court crisis [May 2007]
Health and Vitals
Lost consciousness while being strangled by Stefan Cassadine (revived by Carly) [Sep 2003]
Shot in the back by Sonny Corinthos [Oct 2003]
Suffered blindness when an explosion occurred in the courtroom [Mar 2004]
Shot in the head by Sonny Corinthos [Jan 2007]
Shot and killed by Jason Morgan under the orders of Skye Chandler-Quartermaine [May 2007]
See also
External resources
References
v - e

Current Contract Characters
Curtis Ashford
 ·
Jordan Ashford
 ·
Franco Baldwin
 ·
Hayden Barnes-Cassadine
 ·
Nikolas Cassadine
 ·
Morgan Corinthos
 ·
Sonny Corinthos
 ·
Carly Corinthos-Jacks
 ·
Alexis Davis
 ·
Anna Devane
 ·
Dante Falconeri
 ·
Olivia Falconeri
 ·
Dr. Hamilton Finn
 ·
Nelle Hayes
 ·
Paul Hornsby
 ·
Ava Jerome
 ·
Julian Jerome
 ·
Kiki Jerome
 ·
Maxie Jones
 ·
Dr. Andre Maddox
 ·
Jason Morgan
 ·
Sam Morgan
 ·
Dr. Griffin Munro
 ·
Dillon Quartermaine
 ·
Michael Quartermaine
 ·
Tracy Quartermaine
 ·
Nina Reeves
 ·
Nurse Sabrina Santiago
 ·
Laura Spencer
 ·
Valerie Spencer
 ·
Lulu Spencer-Falconeri
 ·
Nurse Elizabeth Webber
 ·
Nathan West
Current Recurring Characters
T.J. Ashford
 ·
Ned Ashton
 ·
Scott Baldwin
 ·
Claudette Beaulieu
 ·
Valentin Cassadine
 ·
Lucy Coe
 ·
Darby Collette
 ·
Dr. Kevin Collins
 ·
Brad Cooper
 ·
Kristina Corinthos-Davis
 ·
Landon Dixon
 ·
Naomi Dreyfus
 ·
Nurse Amy Driscoll
 ·
Nurse Felix DuBois
 ·
Parker Forsyth
 ·
Max Giambetti
 ·
Milo Giambetti
 ·
Alice Gunderson
 ·
Jasper Jacks
 ·
Nurse Epiphany Johnson
 ·
Dr. Lucas Jones
 ·
Ric Lansing
 ·
Molly Lansing-Davis
 ·
Dr. Kelly Lee
 ·
Janice Lomax
 ·
Huxley Lynch
 ·
Rosalie Martinez
 ·
Diane Miller
 ·
Dr. Liesl Obrecht
 ·
Dr. Monica Quartermaine
 ·
Dr. Joe Rivera
 ·
Aaron Roland
 ·
Delia Ryan Coleridge
 ·
Felicia Scorpio
 ·
Mac Scorpio
 ·
Robert Scorpio
 ·
Dr. Robin Scorpio-Drake
 ·
Nurse Bobbie Spencer
 ·
Damian Spinelli
 ·
Ellie Trout
 ·
David Walters
 ·
Heather Webber
Current Child Characters
Spencer Cassadine
 ·
Leo Falconeri
 ·
Rocco Falconeri
 ·
Josslyn Jacks
 ·
Avery Jerome-Corinthos
 ·
Danny Morgan
 ·
Teddy Rivera
 ·
Emma Scorpio-Drake
 ·
Aiden Spencer
 ·
Cameron Spencer
 ·
Jake Spencer
 ·
Georgie Spinelli
Deceased and Presumed Dead Characters
Benny Abrahms
 ·
Bernie Abrahms
 ·
Dr. Rachel Adair
 ·
Diego Alcazar
 ·
Lorenzo Alcazar
 ·
Luis Alcazar
 ·
Sage Alcazar
 ·
Ruby Anderson
 ·
Dr. Andy Archer
 ·
Dominique Baldwin
 ·
Cooper Barrett
 ·
Alison Barrington
 ·
Amanda Barrington
 ·
Kiefer Bauer
 ·
Warren Bauer
 ·
Jesse Beaudry
 ·
Katherine Bell
 ·
Connor Bishop
 ·
Mary Bishop
 ·
Paige Bowen
 ·
Nurse Jessie Brewer
 ·
Nancy Brewer
 ·
Dr. Phil Brewer
 ·
Carter
 ·
Helena Cassadine
 ·
Irina Cassadine
 ·
Kristina Cassadine
 ·
Mikkos Cassadine
 ·
Stavros Cassadine
 ·
Stefan Cassadine
 ·
Tony Cassadine
 ·
Victor Cassadine
 ·
Stone Cates
 ·
Dr. Ryan Chamberlain
 ·
Dr. Silas Clay
 ·
Stephen Clay
 ·
Adela Corinthos
 ·
Lily Corinthos
 ·
Dr. Ian Devlin
 ·
Mickey Diamond
 ·
Ronnie Dimestico
 ·
Dr. Pierce Dorman
 ·
John Durant
 ·
Bill Eckert
 ·
Connie Falconeri
 ·
Andrea Floyd
 ·
Dr. Russell Ford
 ·
Dr. Steve Hardy
 ·
Peter Harrell, Sr.
 ·
Peter Harrell, Jr.
 ·
Abby Haver
 ·
Logan Hayes
 ·
Theo Hoffman
 ·
John Jacks
 ·
Aleksander Janacek
 ·
Victor Jerome
 ·
Stan Johnson
 ·
B.J. Jones
 ·
Georgie Jones
 ·
Tania Jones
 ·
Dr. Tony Jones
 ·
Dr. Ewen Keenan
 ·
Rafe Kovich, Jr.
 ·
Dr. Eve Lambert
 ·
Trevor Lansing
 ·
Duke Lavery
 ·
Dr. Cameron Lewis
 ·
Victor Lord III
 ·
Hope Manning-Thornhart
 ·
Reese Marshall
 ·
Courtney Matthews
 ·
Dr. Matthew Mayes
 ·
Danny McCall
 ·
Lila McCall
 ·
Nurse Leyla Mir
 ·
Trey Mitchell
 ·
Susan Moore
 ·
Chloe Morgan
 ·
Henry Nakamura
 ·
Dr. Lisa Niles
 ·
A.J. Quartermaine
 ·
Dr. Alan Quartermaine
 ·
Alexandria Quartermaine
 ·
Edward Quartermaine
 ·
Dr. Emily Quartermaine
 ·
Lila Quartermaine
 ·
Carlos Rivera
 ·
Faith Rosco
 ·
Manny Ruiz
 ·
Gabriel Santiago
 ·
Joe Scully
 ·
Joe Scully, Jr.
 ·
Kyle Sloane
 ·
Damian Smith
 ·
Frank Smith
 ·
Shirley Smith
 ·
Zander Smith
 ·
Lena Spencer
 ·
Pat Spencer
 ·
Siobhan Spencer
 ·
Tim Spencer
 ·
Olivia St. John
 ·
Nurse Diana Taylor
 ·
Martha Taylor
 ·
Dr. Peter Taylor
 ·
Tracy Taylor
 ·
Dr. Asher Thomas
 ·
Cole Thornhart
 ·
Nurse Amy Vining
 ·
Bradley Ward
 ·
Justus Ward
 ·
Mary Mae Ward
 ·
Dr. Rick Webber
 ·
Dr. Karen Wexler
 ·
Dawn Winthrop
 ·
Deke Woods
 ·
Dr. Maggie Wurth
 ·
Anthony Zacchara
 ·
Claudia Zacchara-Corinthos
Off-screen and Former Characters
Lila Rae Alcazar
 ·
Dr. Grant Andrews
 ·
Terri Arnett
 ·
Brook Lynn Ashton
 ·
Larry Ashton
 ·
Christina Baldwin
 ·
Dr. Gail Baldwin
 ·
Lee Baldwin
 ·
Serena Baldwin
 ·
Dr. Tom Baldwin
 ·
Brenda Barrett
 ·
Julia Barrett
 ·
Melinda Bauer
 ·
Shawn Butler
 ·
Gia Campbell
 ·
Peter Carroll
 ·
Dimitri Cassadine
 ·
Petros Cassadine
 ·
Jagger Cates
 ·
Lois Cerullo
 ·
Skye Chandler-Quartermaine
 ·
Dr. Linda Chu
 ·
Father Coates
 ·
Mike Corbin
 ·
Angie Costello
 ·
Blair Cramer
 ·
Jolene Crowell
 ·
Nurse Nadine Crowell
 ·
Dr. Rae Cummings
 ·
Marco Dane
 ·
Téa Delgado
 ·
Roy DiLucca
 ·
Anna Donely
 ·
Sean Donely
 ·
Tiffany Donely
 ·
Dr. Noah Drake
 ·
Dr. Patrick Drake
 ·
Taylor DuBois
 ·
Toussaint Dubois
 ·
Jenny Eckert
 ·
Sly Eckert
 ·
William Eichner
 ·
Angel Ellis
 ·
John Everett
 ·
Cesar Faison
 ·
Nurse Fletcher
 ·
Pres Floyd
 ·
Nurse Betsy Frank
 ·
Ivy Gatling
 ·
Nurse Audrey Hardy
 ·
Dr. Simone Hardy
 ·
Dr. Tom Hardy
 ·
Dr. Tommy Hardy
 ·
David Harper
 ·
Jimmy Lee Holt
 ·
Dr. Matt Hunter
 ·
Anton Ivanov
 ·
Lady Jane Jacks
 ·
Jerry Jacks
 ·
Terrell Jackson
 ·
Miranda Jameson
 ·
Frisco Jones
 ·
Dr. Leo Julian
 ·
Rose Kelly
 ·
Winifred Leeds
 ·
Guy Lewis
 ·
Victor Lord, Jr.
 ·
Ethan Lovett
 ·
Starr Manning
 ·
Todd Manning
 ·
John McBain
 ·
Colleen McHenry
 ·
Miguel Morez
 ·
‎Hope Morgan
 ·
Ken Morgan
 ·
Delores Padilla
 ·
Blackie Parrish
 ·
Nurse Penny
 ·
Grant Putnam
 ·
Celia Quartermaine
 ·
Burt Ramsey
 ·
Coleman Ratcliffe
 ·
Madeline Reeves
 ·
Cruz Rodriguez
 ·
Casey Rogers
 ·
Father Mateo Ruiz
 ·
Juan Santiago
 ·
Alec Scott
 ·
Hannah Scott
 ·
Jeffrey Scribner
 ·
Rebecca Shaw
 ·
Jennifer Smith
 ·
Lucky Spencer
 ·
Luke Spencer
 ·
Suzanne Stanwyck
 ·
Nurse Mischa Stephens
 ·
Holly Sutton
 ·
Marcus Taggert
 ·
Nurse Regina Thompson
 ·
Claire Walsh
 ·
Faith Ward
 ·
Keesha Ward
 ·
Dr. Maya Ward
 ·
Dr. Jeff Webber
 ·
Dr. Lesley Webber
 ·
Dr. Sarah Webber
 ·
Dr. Steve Webber
 ·
Dr. Britt Westbourne
 ·
Dr. Lainey Winters
 ·
Grace Yang
 ·
Johnny Zacchara
Crew
Shelly Altman (Head writer, 2011-2012, 2015-present)
 ·
Ron Carlivati (Head writer, 2012-2015)
 ·
Jill Farren Phelps (Executive producer, 2001-2012)
 ·
Robert Guza, Jr. (Head writer, 1996, 1997-2000, 2002-2008, 2008-2011)
 ·
H. Wesley Kenney (Executive producer, 1987-1989; Head writer, 1988)
 ·
Gloria Monty (Executive producer, 1978-1987, 1991-1992; Head writer, 1981)
 ·
Jean Passanante (Head writer, 2015-present)
 ·
Wendy Riche (Executive producer, 1992-2001)
 ·
Frank Valentini (Executive producer, 2012-present)
 ·
Garin Wolf (Head writer, 2008, 2011-2012)
Related Topics
List of cast members
 ·
List of current actors
 ·
History of General Hospital