Lucky Spencer
Jonathan Jackson as Lucky Spencer
General Hospital
Portrayed by
Jonathan Jackson
(1993-99; 2009-11; 2015)
Jacob Young (2000-03)
Greg Vaughan (2003-09)
Duration
1993-99, 2000-11, 2015
First appearance
October 29, 1993
Last appearance
July 14, 2015
Cause/reason
Left town
Created by
Claire Labine
Introduced by
Wendy Riche
Book appearances
Robin's Diary
The Secret Life
Profile
Alias(es)
Ronan O'Reilly
(undercover alias while in Ireland)
Namesake(s)
Lucas Lorenzo "Luke" Spencer, Sr.
Spencer Cassadine
Nickname(s)
Cowboy (by Luke)
Gender
Male
Born
August 19, 1985[1]
(Revised to 1983[2], then July 15, 1979[3])
Age
37
Education
Attended PC High
Title
Detective (formerly)
Greg Vaughan as Det. Lucky Spencer
Jacob Young as Lucky Spencer
Lucas Lorenzo "Lucky" Spencer, Jr. is a fictional character on the ABC daytime soap opera General Hospital. He is the son of legendary supercouple Luke and Laura Spencer.
The role was originated by Jonathan Jackson in 1993, and after being portrayed by Jacob Young and Greg Vaughan, Jackson returned to the role in 2009 and then left again in 2011.
Jackson also returned for a brief stint in 2015.
Casting
Background
Lucky Spencer is born in Texas off-screen on August 19, 1985 to Luke and Laura Spencer. Lucky's birth year is revised to 1983 when he first appears on-screen at the age of 10 in October 1993.
His date of birth is revised again in May 2011, when it appears on his marriage license as July 15, 1979.
Storylines
Lucky spent the first 10 years of his life moving from place to place with his parents to get away from mobster Frank Smith, his father's former boss and enemy. While living in British Columbia, Canada, the threat from Frank Smith to their family began again, so Luke and Laura told Lucky to head to Port Charles on his own; they would meet up with him later. Lucky made it to Port Charles safely and Aunt Ruby hid him at Kelly's. However, Frank Smith's men found him there. Lucky then befriended a boy named Sly Eckert, who hid him in the city's catacombs. Luke and Laura found him there with his cousin after Sly's father Bill Eckert (a dead ringer for Luke) was mistaken for Luke and shot by Frank's men. A few months later, Lucky got shot when he followed his dad to a meeting with a henchman. Fortunately, Lucky made a full recovery. The Spencer family settled in Port Charles and Lucky was quite happy with his life. He was thrilled when his new baby sister Lesley Lu was born on August 8, 1994 (changed to 1988).
Lucky's happiness soon came to a halt when he found out his mother had a son by Stavros Cassadine while she was held captive by the Cassadines before he was born. Laura's other son Nikolas Cassadine arrived in Port Charles with his uncle Stefan and became the anonymous bone marrow donor for their baby sister, Lulu, saving her life when she had aplastic anemia. Lucky instantly disliked Nikolas, who was a rival for their mother's love and attention. This rivalry continued on another level, when Lucky had a crush on Sarah Webber, who was more interested in Nikolas. Things changed for Lucky when he found Elizabeth Webber, Sarah's sister, in the park on the night of valentine's Day. Elizabeth was badly bruised and her dress was ripped. Lucky came to her aid and called his Aunt Bobbie for help. Elizabeth told them that she was raped in the park by an unknown man. Lucky started to feel protective of Elizabeth and promised to keep her safe. Lucky and Elizabeth worked together to try to find her rapist.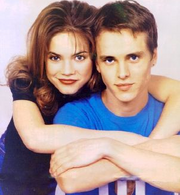 Lucky's world was rocked again when Nikolas blurted out during a fight with Lucky that Luke had raped Laura years ago, before they were married. Lucky thought that Nikolas was lying but was shaken by this information. He confronted his father. Luke didn't deny that he raped Laura and confessed to Lucky what happened that night at the disco. Lucky was disgusted with his father and left the house. He refused to have anything to do with his father and was angry with his mother for allowing his father to get away with it. Laura returned home and tried to explain her reasoning but he refused to accept it. Lucky found a room above Jason Morgan's bike shop to rent in exchange for helping Jason at his shop. Lucky grew closer to Elizabeth during her ordeal and they fell in love. Elizabeth helped Lucky to understand and forgive his parents for not being perfect. Lucky eventually forgave them but wanted to live on his own. Lucky and Elizabeth made plans for the future, including exchanging vows in a church one year after Elizabeth's ordeal. However, their plans were cut short when a fire broke out at Jason's bike shop one night. A body was found in Lucky's room upstairs with the necklace Lucky had given to Elizabeth, leading everyone to believe that the body was Lucky. Actually, Lucky was alive and being held captive by Cesar Faison, who was hired by Helena Cassadine.
For almost a year everyone believed Lucky was dead. But before Faison died in a boat explosion, he revealed to Luke that Lucky was alive. Luke investigated this and started finding clues to Lucky's true whereabouts. Helena led Luke and Laura down memory lane as she traveled with Lucky to the Haunted Star, Ice Princess Island, and Texas. Their last destination was in Canada: the Triple L Diner where Luke, Laura, and Lucky had lived before returning to Port Charles. While there, Helena gave Lucky bus fare and turned him loose. When Luke and Laura had figured out the last clues and arrived to get Lucky, he slugged Luke in the face and ran off. It turned out that during the time Lucky was held captive by Faison, Faison had started to program Lucky through mind control. Lucky was instructed under hypnosis to forget about his last days in Port Charles and focus on the disgust he felt for his parents and especially for Luke raping Laura. Lucky returned to Port Charles, but he was under Helena's control. Helena instructed him to push Elizabeth away and encourage her to be with Nikolas, because Nikolas was the one that loved her.
Elizabeth was suspicious of Lucky's behavior and did not believe him. So she continued to have contact with Lucky. Meanwhile Helena continued to use Lucky to do things for her. Lucky's love for Elizabeth kept him from falling deeper under Helena's control and also kept Lucky from pushing Elizabeth totally away. During a conversation between Lucky and his friend Emily Quartermaine, she accidentally spoke Helena's catch phrase for Lucky's programming, "protect your queen," and became the first person to actually witness Lucky's transformation. Emily literally shook him out of the trance but told Lucky what happened to him every time she said that phrase. Finally he realized that he was not himself and that he had been programmed by Faison and Helena. After some initial reluctance, Elizabeth was able to convince Lucky to see Dr. Kevin Collins. Kevin helped to break down the lower levels of the programming which helped Lucky lose the anger towards his parents. He was able to admit he loved them and advised them that he was under Helena's control. Lucky then continued to fight Helena's control and rebel against her.
When Helena realized that the lower level of control had been broken, she resorted to a higher level involving the use of the Ice Princess diamond. She used the Ice Princess to hypnotize Lucky and instructed him to attack Jason Morgan, who Lucky felt was after Elizabeth romantically. Lucky attacked Jason with a knife on the docks, forcing Jason to defend himself by hitting Lucky several times to get the knife out of his hands. Elizabeth thought that Jason attacked Lucky without cause. Lucky came out of his trance and he didn't remember attacking Jason or why he did it. But he told Liz that Jason started beating on him for no reason. He had some more run-ins with Jason over Elizabeth. Helena gave Lucky a diamond ring (the same ring that Stavros gave to Laura when they were married) to give to Elizabeth and instructed him to propose to her. Lucky complied. Later, Lucky had a run-in with Nikolas at GH. They started fighting in the stairwell, when Nikolas tried to persuade him to get help from Kevin again. Stefan interceded to protect Nikolas from being hurt by Lucky. So instead Lucky hit Stefan in the face and knocked him down a flight of stairs. Nikolas broke up the fight and tried to keep the two apart. Stefan pressed charges and had Lucky arrested for assault at the Port Charles Grille during his engagement party.
Realizing that Lucky was under Helena's control again, Luke and Laura tried to help Lucky by getting him to see Dr. Kevin once more. Kevin went to see Lucky in jail and tried to de-program him but wasn't successful. Helena, dressed as a cleaning lady at the jail, put him under her spell and instructed him to start a fire in his cell and escape. Lucky did what Helena asked and managed to escape but later didn't realize how or why. Elizabeth found him and convinced him to get help, telling him what he had done. Helena later instructed Lucky to pour a vial of mysterious liquid in his cousin Lucas' drink at the Brownstone. Lucky did what she asked but then didn't remember doing it later on. After he learned that Lucas was rushed to GH and was in a coma, Lucky felt uneasy and started to feel that he had something to do with it. He agreed to listen to Nikolas and Elizabeth. Lucky and Elizabeth moved into Nikolas' house so that they could keep a better eye on him and keep him from being alone with Helena.
Lucky learned that he had a talent for photography. His cousin Carly recognized his talent and hired him to take pictures of Gia, his brother's girlfriend. Laura realized that his photos of Gia were very good and hired him to take pictures of Liz, who was offered a job at Deception as a model as well. However, Lucky was not immune to Helena's control. She managed to get him alone and put him under her control. He was told that he was one day going to have to get rid of his father and the rest of his family. Lucky resisted her control as much as he could but it was too hard. After Lucky denied making a pass at Gia, Nikolas kicked him out of the cottage. Later on Lucky spotted Nikolas and Elizabeth in conference several times. He told Elizabeth that she was better off with Nikolas.
Helena gave Lucky instructions which led him to her secret lab underneath General Hospital. He found his father Luke there fighting with Stavros and Helena's men. Helena forced Lucky to inject Luke with a virus that would make Luke go crazy and render him useless as an opponent to the Cassadines. Lucky tried to resist and pled with Luke to forgive him before he injected him with the virus. Later, Lucky went to Luke's apartment above the club and wallowed in the feeling that he had done something to hurt Luke. Elizabeth showed up and immediately realized that Helena had got to him again. Lucky realized that he couldn't control himself and broke the engagement off with Elizabeth. He told her to go to Nikolas and be with him. Elizabeth left reluctantly. When Luke showed up alive at the apartment, Lucky asked Luke to help him fight Helena. But it had been days since Luke had been injected with the virus, so he was too out of it to be helpful to Lucky. Suddenly two goons broke into the apartment and took Lucky away kicking and screaming. He recovered and found himself tied up in a chair in a strange room. As Elizabeth emerged he told her to get out of there, but then he realized that she was the one who orchestrated his kidnapping to keep him safe from Helena. Lucky was impressed by her and realized just how much she loved him. They kissed and made up and Lucky agreed to stay put.
Still in the dark about how to trigger Lucky's programming, Nikolas took Helena to where "he" had stashed Lucky and told her to erase his memories of love for Elizabeth. While Elizabeth hid in a closet, Helena pulled out the Ice Princess and told Lucky to forget his love for Elizabeth. It worked and Lucky pushed Elizabeth away. He behaved erratically in the weeks afterward and even pulled Gia into a kiss. Even though he couldn't remember the things Helena had made him do, Lucky still knew Helena and Stavros were his enemies. When Stavros, using the alias Lucien Kane, began sniffing around the newly single Gia, Lucky warned her to stay away from him but she didn't listen. When she overheard Nikolas tell Helena that he would kill Elizabeth to prove himself to her, Gia tried to get Lucky to help her protect Elizabeth but he refused. However, Lucky later showed up on the Cassadine yacht to accuse Helena of killing Chloe, Luke, and Elizabeth.
When Helena took several Port Charles residents hostage in her underground lab, she gathered all of the captives and revealed her secret weapon: Lucky! She told Lucky the secret trigger phrase but nothing happened. So she pulled out the Ice Princess to get him to focus. But Helena didn't know that Lucky had managed to break through his programming by focusing on his love for Elizabeth. Fists started flying and people started running. Lucky helped Stefan destroy the massive computer system before they fled from the lab. Everyone made it out of lab and Helena was arrested. Lucky went to visit Helena in her cell to gloat over being free from her control and her new status as a jailbird. However the Spencers were flabbergasted to learn weeks later that there was barely any physical evidence to prove that her lab ever existed.
Finally free of Helena, Lucky and Elizabeth reunited. However, Helena's memory wipe of Lucky's love for Elizabeth was harder to shake than Lucky had anticipated. Feeling like he owed it to Elizabeth to make her happy, Lucky ignored his lack of love for Elizabeth and proposed to her. They planned a New Year's Eve wedding, but Gia told Liz that Lucky didn't love her anymore and the wedding never took place. They tried to start over and fall in love again but it was slow going. When Gia and Elizabeth were injured in a car wreck, Lucky stayed by Elizabeth's side at the hospital. Nikolas invited them to move into Wyndemere with Gia and him and they agreed. Elizabeth's newly-returned sister Sarah also moved in with them and the sexual tension between Lucky and Sarah began to grow. Lucky was temporarily distracted by the fact that Nikolas secretly helped Helena escape to protect Gia's secret guilt in the car accident. Lucky declared a new Cassadine/Spencer war but agreed not to tell Elizabeth the truth regarding the accident. When she finally remembered what had happened, she severed her friendship with Nikolas and Gia and broke up with Lucky.
When the brothers briefly reunited to search for a presumed dead Carly, Nikolas tried to explain why he had helped Helena. But Lucky didn't want to hear it. Still wrapped up in his feelings for Sarah, Lucky was shocked to discover that Maxie wanted to take him to bed. He tried to let her down gently but she felt humiliated despite his efforts. In retaliation, Maxie told Elizabeth that she had seen Sarah and Lucky headed towards his room. Elizabeth found them there in bed together and told them off for sneaking around behind her back. Lucky and Sarah tried to have a relationship in the open, but Sarah was jealous of Lucky's concern for Elizabeth's safety. The last straw was when Lucky ran to Elizabeth's side after she was involved in an explosion while being rescued from a crypt. Sarah broke up with Lucky and left town not long after.
Lucky went back to being a photographer for Deception. His parents had reunited and planned to have a wedding in late summer. As Laura planned the wedding, she began to have flashbacks of a night in the attic of her childhood home. Luke then poked around in the attic for clues and discovered an old camera with film still in it. He took it to his son, and Lucky was able to develop it. The first picture he developed was of a young Scott Baldwin covered in blood. While Luke pursued the new lead, Lucky managed to get another picture to develop. Before Lucky could discern what was in the photo, Luke realized what it was and took off in search of Laura.
When Luke and Laura didn't show up for their wedding, Lucky and Nikolas grew worried and went to the attic to search for clues. Instead, they found Rick Webber, Laura's stepfather, dead on the floor. Worried that Luke had killed him, they put Rick's body in his car, covered him in booze, and then pushed the car off a cliff to make it look like a drunk-driving accident. But Scott and Mac knew right away that it was staged. Lucky was also haunted by what he had done to Rick's body. While the boys evaded being arrested, they worried about their mother and speculated about what had happened in the attic. Lucky was relieved when Luke finally called but Nikolas was worried for Laura's safety. Against Lucky's wishes, Nikolas told Scott the couple's whereabouts but the couple had already left by the time they got there. Mac and Scott finally caught up to the couple when they returned to the attic. Lucky and Nikolas were devastated to learn that their mother had had a severe mental breakdown. They went to see her in the hospital, but she had retreated so far into herself that she believed she was still a teenager and didn't recognize them as her children. They said a tearful goodbye to her before she was committed to a mental institution.
Scott arrested Luke for Rick's death and Lucky tried to get Luke to let him break him out of jail. But Luke refused and had Nikolas help him instead. Lucky worried when his father disappeared for a while, especially when a copy of Luke's will arrived on his doorstep. Elizabeth and Lucky managed to find Luke working on a chain gang in the south and brought him home kicking and screaming. Lucky did his best to keep Luke out of trouble. But Luke was determined to punish himself for Laura's condition. He set fire to the police station and would have died if Lucky had not run in and saved him. Luke began seeing a therapist on Scott's order and Lucky tried to get on with his life.
He met a beautiful blonde named Laura while enrolling in some college courses. They met on various occasions and a friendship grew between them. He learned that she was a former high-priced call girl trying to make a fresh start. But a powerful former client wouldn't let go. He beat her and had her arrested. So Lucky blackmailed Scott into helping her dispose of the man. After the incident, Lucky and Laura's friendship blossomed into something more, although it took her awhile to get used to being with a guy who didn't pay her. One day, Lucky saw Luke and "Laura" together. In turned out that Laura, whose professional name was Summer, was Luke's mystery blonde. Lucky got upset and believed that she'd been playing them both for suckers, hoping to gain financially from them. But they decided to keep Luke in the dark about knowing each other. When Scott discovered the truth, he gleefully told a shocked Luke.
Luke tried to get Lucky and Summer back together. But they still had problems, and Summer returned to being a call girl. Lucky later discovered that Nikolas had hired Summer to distract Luke from trying to find their mother. Lucky told Luke and confronted Nikolas. Summer told Luke that Nikolas had blackmailed her into portraying a look-a-like Laura but she had met Lucky by mistake. Lucky, Luke, and Summer then embarked on an adventure to locate Summer's brother Matt. When they found him he revealed he wasn't Summer's brother before dying from a stab wound. Summer confirmed that she was only looking for Matt, her ex-boyfriend, so that he would tell her where the money he had stolen from the Cassadines was hidden. They got arrested for Matt's murder and Nikolas showed up to bail them out, although Luke refused to leave with them. Their adventure ended in a tunnel underneath an old Cassadine estate in Russia where the money was supposed to be buried. But the money had been replaced by worthless coins so they returned to Port Charles empty handed.
Back in Port Charles, Summer finally admitted she loved Lucky and she became a waitress at Kelly's so she could move into the room across from his. When Lucky finally went to see his mother at the mental institution, Summer went with him. Luke blamed Lucky for giving Nikolas complete control over Laura's medical treatment and got into a physical fight with Lucky over it. Summer knocked Luke out to end the altercation, but Luke later showed up at Lucky's after being given drugs at the hospital. He was delusional and believed Summer was Laura. She went along with it, but when Lucky showed up Luke ran away. Later Summer helped Lucky trick Luke into being committed to a mental hospital.
At Nikolas and Emily's engagement party at Wyndemere, Summer was walking out on the bluffs in the heavy fog when she was pushed from behind. Nikolas and Lucky rushed to the bottom to discover that the fall had killed her. Lucky was devastated and vowed to find the person responsible. When Luke showed up at the party, Lucky attacked a shocked Luke and accused him of being responsible for Summer's death. Alexis theorized that Luke didn't do it and that Emily was the intended victim since she had also been out there that evening. However, no one else believed that Luke was innocent. Lucky later learned that one of the servants on the island that night had since disappeared and he believed that servant was the one who pushed Summer off the cliff.
Believing Stefan was responsible for Summer's death, Lucky tried to urge Mac to work harder in finding evidence to arrest him. But Mac told him to back off or become a cop and look into the case himself. So Lucky went to the academy and became a cop. He worked with Nikolas' new bride Lydia to secretly tape Stefan discussing how he had hired Darius to push Emily off the cliff, but Darius had pushed the wrong girl. The tape got Stefan arrested, but it didn't keep him in jail.
Luke came back to town, extremely unhappy to hear that Lucky had become a cop. Luke then brought his own brand of justice to Stefan by kidnapping him and holding a mock trial that he broadcast on TV. Lucky was later forced to arrest Luke after he fought with Stefan and Stefan wound up with a knife in the chest. Luke managed to escape and Lucky tracked him to Skye's lake house. Skye then knocked him out to keep Luke hidden. The charges against Luke were later dropped when Nikolas discovered a suicide note left behind by Stefan. Luke was free but the rift between father and son still existed. They had a brief moment of closeness around the holidays, but Luke continued to live his life apart from his son.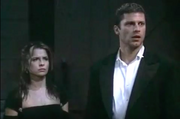 Lucky had a hard time adjusting to being a cop. He was investigated and later cleared after he shot Dillon Quartermaine following an altercation between Sage and Alexis. When Sonny barricaded himself in the penthouse after trying to kill Alcazar in front of several witnesses, Lucky tried to behave like a cop but ended up helping a wounded Sonny and a hysterical Carly out of the building. When the body of Cody McCall was found in the tunnels of Wyndemere, Ric had Nikolas arrested for murder. Lucky pushed hard to get Ric to find the real killer, even when Ric pulled him off the case. Lucky suspected Ric of having an ulterior motive for getting Nikolas convicted, and after he realized that Zander was actually pulling Ric's strings, Lucky conferred with Nikolas on how to go after Zander and Ric for trying to frame Nikolas. Nikolas was later cleared of all charges and Lucky became involved in the hunt for Zander, who was named as the one who shot Detective Beck during a shoot out with mob members.
The Quartermaines and Cassadines auctioned off the treasure from the sunken ship, and Lucky showed up as extra security during the event. But the treasure was stolen anyways. While Lucky detained all the patrons for questioning, news reached the room that a fire had broken out in the basement of the hotel. Lucky then helped coordinate the rescue efforts. While trying to find a way out with Luke, he was nearly killed by a falling beam. But Cameron Lewis, Luke's therapist, pushed Lucky out of the way and died instead. Nearly everyone was evacuated, but others were missing, including Nikolas. Lucky and Emily feared the worst, but Nikolas showed up alive a few days later. A body found in the room where the fire broke out was identified as Zander, but the autopsy showed he was dead before the fire consumed his body.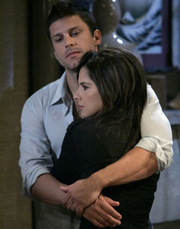 Elizabeth finally admitted to a confrontation with Zander that ended in her knocking him out, making her the murderer. As Lucky, Emily, Nikolas, and Ric vowed to cover up Elizabeth's involvement, evidence began to surface that Zander was really alive. Zander emerged from hiding and took Emily hostage in an effort to force her to love him again. Lucky tried to negotiate with Zander to release Emily and Zander eventually agreed. As they walked out of the cottage, Zander made a threatening move and the cops opened fire on him. Zander died in Emily's arms. Nikolas, who was on the way home from a cancelled business trip, ran his car off the road after hearing that Zander had taken Emily hostage. Lucky and Emily worked hard to search for him. But after a few weeks, they were forced to conclude that Nikolas had drowned in a nearby river. Lucky tried to comfort Emily and supported her while she grieved and planned a memorial. At the memorial, Lucky watched as Helena cursed everyone in the room for Nikolas's death and then Luke got up to stop her. The pair began to grow close again as Emily leaned on him during her grief for Nikolas and for a sick Michael.
In 2005, Lucky and Elizabeth begin their romance again. Elizabeth is now a nurse at General Hospital and has a son, Cameron Webber, fathered by Zander Smith. Before Lucky and Elizabeth marry, Elizabeth chooses to become a surrogate mother for Jasper and Courtney Jacks. Lucky does not approve and takes a break from their relationship. After a car accident, Elizabeth miscarries. Lucky helps her through her pain, and they begin a rocky marriage.
In 2006, Lucky becomes addicted to painkillers and begins an affair with Maxie Jones, his pill supplier. Elizabeth discovers Lucky's infidelity when she walks in on him having sex with Maxie. Upset, she goes to Jason Morgan, and they slept together. She later learns she is pregnant. Lucky goes to rehab while he and Elizabeth divorce. A paternity test reveals that Jason is the father, but Elizabeth keeps the truth a secret, in order to protect the child from Jason's dangerous lifestyle and to keep Lucky from relapsing. After Lucky completes rehab, Elizabeth remarries him.
In February 2007, after being held hostage at the Metro Court Hotel, Elizabeth and Jason are trapped in an elevator and are not sure they are going to live. Elizabeth tells Jason the truth about the baby, but after they survive she continues to keep the secret from Lucky. In May, Elizabeth gives birth to another son, Jacob Martin Spencer. Elizabeth seeks Jason's help when Jake is kidnapped, and their continued friendship causes both Lucky and Sam McCall, Jason's girlfriend, to feel jealous. Jason finds out Sam watched Jake get kidnapped, and they split up. Angry with Elizabeth, Sam tries to get Lucky's attention as payback, and they begin an affair. Elizabeth and Lucky divorce again.
In November 2007, during the Black and White Ball, Lucky discovers the truth about Jake's paternity, but agrees to keep the secret to protect Jake. After Emily Quartermaine's death and funeral, Jason and Elizabeth begin a secret relationship. Jason later decides that his life is too dangerous for Elizabeth, and they break up. When Lucky finds out about Sam's part in Jake's kidnapping, they split up as well. In November 2008, a mob war arises. Lucky asks Jason to send Elizabeth, the boys and Sam to hide in a cabin. Jake is briefly kidnapped again, but saved by Jason and Sam.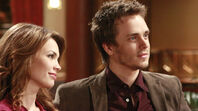 In early 2009, Elizabeth is poisoned by an airborne biotoxin while assisting in surgery. Lucky stays by her bedside and promises to be there for her boys if she does not make it. After the crisis, they agree that although they will always share a friendship and love, they should not get romantically involved again. When Lucky starts to date Rebecca Shaw, the identical twin of Emily, it bothers both Nikolas and Elizabeth. Nikolas, trying to get Lucky and Rebecca jealous, kisses Elizabeth in front of them. Later, Elizabeth and Nikolas get drunk and start to kiss, which is witnessed by Lucky. Upset, he goes to Rebecca, but leaves when he realizes he can't stop thinking about Elizabeth. Elizabeth feels guilty about the kiss, and her and Lucky point out that moving on is not working for them. They decide to get back together, meanwhile Elizabeth still finds herself attracted to Nikolas. After a scare where Jake is injured at the carnival, Lucky proposes to Elizabeth, but she tells him she has to think about it. Elizabeth goes to see Nikolas, and they end up sleeping together. Afterwards, Elizabeth returns to Lucky and accepts his proposal.
Meanwhile, a con man named Ethan Lovett arrives and begins working at the Haunted Star. Ethan turns out to be the son of Luke Spencer and Holly Sutton, making him Lucky's half-brother. As an emotional rift had developed between Lucky and his father, seeing Ethan's instant closeness with Luke makes Lucky jealous. He is upset to learn that Ethan was conceived during an affair Luke had while married to Lucky's mother Laura Spencer. Lucky and Ethan initially do not get along, however they bond over their mutual dislike of Dominic Pirelli, a newcomer in Sonny Corinthos' organization who starts dating Lulu. Lucky also begins to make overtures towards his father, admitting that he misses their former closeness.
Lucky is put in charge of investigating the presumed murder of Claudia Zacchara, Sonny Corinthos' wife, and quickly realizes that his cousin Michael Corinthos III knows something about what happened. He also discovers that Lulu's new friend Dominic is really Dante Falconeri, an undercover detective from New York City. They then become fast friends and secretly begin working together to investigate the mysterious graffiti artist Franco, who has been leaving the tag "CO77X" around town and is a suspected serial killer. On Michael's 18th birthday, Lucky finds him pulled over for drinking and driving. Lucky intercedes and doesn't charge him, but tells Michael that he understands why he is being so self-destructive. Lucky relates to Michael's disillusionment of his father, as Lucky remembers the same experience with Luke.
Elizabeth and Lucky go tree shopping with Cam and Jake, and they all spent Christmas Eve celebrating at Lucky's with the extended Spencer family, including Luke and Ethan. For New Year's Eve, Elizabeth surprises Lucky by arranging for a romantic private party at Jake's, an effort to recreate the night when Lucky asked her to be his girl more than 10 years ago at Luke's old club. Elizabeth presents him with his old guitar and he sings "My Girl" to her, just like old times.
On January 15, 2010, Lucky discovers that Elizabeth and Nikolas were having a secret affair that began in July 2009. He begins drinking and angrily confronts Elizabeth and Nikolas, ending his engagement. When Elizabeth is suspended from her job, Nikolas implores Lucky to reach out to Elizabeth. Lucky also starts getting along with his father more, who was distant and hesitant to accept Lucky's engagement because he knew about Nikolas and Elizabeth. His newfound brother, Ethan Lovett, who Lucky didn't initially get along with, also reaches out to Lucky and tells him he can be there just to make sure he gets home safely. One night, after threatening Johnny Zacchara's life, Lucky realizes that he's lost the sense of who he is due to his drinking problem.
Lucky goes to the church where he and Elizabeth exchanged vows as teenagers on February 12, 2010, and finds Elizabeth passed out from hypothermia, and brings her to the hospital. There, Nikolas yells at Lucky for not seeing just how hurt Elizabeth was by his rejection. Elizabeth's doctor drops on bombshell on Nikolas, Elizabeth, and Lucky: Elizabeth's pregnant. When they bring Elizabeth's brother, Dr. Steven Webber, to see her, she's not in her bed. Lucky ends up finding her on the roof. Steven, Nikolas, and Lucky agree that Elizabeth needs help and commit her to Shadybrook, despite her reluctancy to go. While talking to Luke, Lucky decides he's going to stand by Elizabeth, no matter who the father of her baby is.
Lucky walks in just as Helena Cassadine is threatening Elizabeth and tells her to leave Elizabeth alone. Lucky ends up telling Elizabeth that he forgives her to help her get better, but not because he means it. After leaving Shadybrook, he is having anger problems and ends up nearly hitting Maxie head-on. He swerves to avoid her, and she escapes getting hurt. Maxie takes him back to her apartment to treat the cut he sustained from the crash and hears his story. She tells him to be honest with Elizabeth and himself. He goes back and admits to Elizabeth that he lied to help her get better.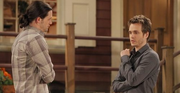 Lucky attends a therapy session with Elizabeth and Nikolas on March 1, 2010, where he tells the therapist that Elizabeth sleeping with Nikolas is partially his fault because he never stopped looking at her as the teenage girl who he played hero to. When Elizabeth's doctor asks Nikolas and Lucky to step outside, Nikolas tells Lucky he wants the baby to be his and a future with Elizabeth. Lucky tells Nikolas he also hopes the baby is his, because he and Elizabeth are over. On March 15, 2010, Elizabeth asks him what he wants for the future, and he admits that he doesn't want the baby to be his and he feels his relationship with Elizabeth is over.
Lucky takes a call to interview an assault victim, who turns out to be Kristina Davis, the daughter of his father's friend, Sonny Corinthos. She points the finger at Ethan for beating her up. Lucky realizes Sonny went after Ethan when he disappears after Kristina gives her statement. He calls fellow detective Dante Falconeri, who is also Sonny's son, for backup. Dante manages to stop Sonny from shooting Ethan just before Lucky arrives. Lucky arrests Ethan for assault and takes him down to the station, where Ethan swears he would never beat Kristina up the way she was.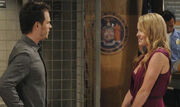 Meanwhile, Lucky is revealed to be the father of Elizabeth's baby. Helena, however, has the paternity test changed to make Nikolas the father as part of her revenge plan to have a Spencer grow up as a Cassadine, hating and taking down his own family. Lucky notices that Elizabeth has not given up on him yet, and keeps trying to let her know that they will never be together. One day, she comes down to the station and sees him kissing Maxie. When she calls him out on this, Lucky gets the message across that he's done with her. Elizabeth finally realizes this, and moves on. Lucky, meanwhile, starts hanging out with Maxie, who is having her own relationship troubles.
On July 16, 2010, Maxie tells Lucky that Elizabeth was admitted to the hospital because she went into early labor. Lucky later goes to the hospital, and is outside the delivery room where Elizabeth is giving birth with Nikolas by her side. Lucky's son is born, and Elizabeth and Nikolas name him Aiden Cassadine. Lucky gets to the hospital when Aiden goes missing. At first, he suspects Helena, but later, they find out that serial killer Franco was the one who took Aiden. He calls up Dante, who has ca Jason. Franco is thrown off a roof and falls to his death. Later, it is determined that the person who fell was not Franco, and he's still alive.
Lucky decides to look for Karen Anderson, Franco's mother, to get a lead on Aiden. While there, Dante and Jason get a lead that indicates Franco took baby Aiden to Astoria, Oregon. Lucky gets to Oregon, and finds Karen in a house recently purchased, holding Aiden on August 5, 2010. He gains access into Karen's house as a census taker, but when she becomes suspicious and tells him to leave, he comes back and admits he's a cop and the baby she has is stolen. He tells Karen that he's the baby's father to get Karen to believe him. Eventually, she does and gives Aiden back.
On the plane ride back, Lucky is holding Aiden and tells him that Lucky and Elizabeth are over, and it's a good thing Nikolas is his father. Deep down though, he confesses that he'll always wish that Aiden was his son. Lucky brings Aiden back to Elizabeth and Nikolas on August 9, 2010, and Nikolas thanks him, showing that some of the animosity between the brothers has begun to disappear. In September, 2010, Lucky heads to Ireland on an undercover assignment for Interpol. While there, he meets Siobhan McKenna and eventually sleeps with her. He goes back to Port Charles with Siobhan and they stay at Wyndemere with Nikolas. While he is trying to ambush the Balkan with Jason and Sam, Siobhan is kidnapped. Lucky, Dante, Jason, and Brenda trick the Balkan into letting Siobhan go and she stays overnight with Lucky.
On March 18, 2011, Elizabeth finds out Lucky is Aiden's biological father. While Elizabeth is distracted, Jake runs out of the house and is hit by a car. Lucky races to the hospital and Liz and Lucky's love rekindles. Jake is in extremely critical condition, and may die. Patrick and Robin Drake operate on Jake to try and save his life, while Lucky, Elizabeth, Steven and Lulu waited for news on his condition. Patrick and Robin worked hard to save him, but the injuries Jake sustained were too great and he died on the operating table, while his biological father, Jason watched from the observation window. Jason broke the news of Jake's death to Lucky, who then went and broke the news to a devastated Elizabeth.
Lucky discovers Luke was the one who ran down Jake and believes he was drunk at the time of the crash. Lucky and his family insists Luke gets treatment. After much emotional distress, Luke goes to rehab, but then runs away. Lucky goes after him and Luke tells Lucky he doesn't want to be a father anymore. Lucky, heartbroken leaves. Lucky discovers Aiden Cassidine is his and he and Nikolas begin to fight again, but Nik eventually believes and accepts this and leaves Port Charles.
Anthony Zacchara wants to take down the Spencers and starts with Lucky. He orders his drug dealer to shoot Lucky up with some drugs and leave him in an alley. After a series of hallucinations, Liz finds him and tries to talk him down. Lucky tells Elizabeth that she is the only one he will ever trust. When she realizes how high Lucky is she leaves him in the care of Lulu's boyfriend, Dante Falconeri, so she can go to the hospital and get medicine to help Lucky. However, a hallucinating Lucky knocks Dante out and runs off to the church where he and Liz took their vows in 1999 and begins hallucinating again. Elizabeth later finds him after getting into a car accident with Siobhan and injects him with drugs to counteract the drugs he was given. Lucky wakes up with Elizabeth by his side, she later tells him about Siobhan, who was injured in the accident, and takes him to the hospital. Siobhan survives the surgery, but later dies after she is poisoned by Anthony. Not being able to handle any more loss, Lucky relapses and starts taking pills again, but Elizabeth continues to have faith in him.
Lucky struggles with pills after Siobhan's death but is able to overcome the temptation and goes to Ireland to honor Siobhan's last wishes. He rushed home when he receives a message from beyond that Aiden was sick. It turns out that the message he received from his late son Jake was right, and Lucky had Luke rush Aiden to the hospital. Aiden was diagnosed with Idiopathic thrombocytopenic purpura and after a blood transfusion from Lulu he fully recovers. Elizabeth tries to reunite with Lucky, believing that they will always find their way back to one another, but Lucky refuses claiming that all they do is hurt one another. He reinforces that he will remain a prominent father to their boys, but a relationship between the two of them just wouldn't work. Elizabeth however refuses to accept that and continues trying to get them back together. She even checks herself into Shadybrook again to gain Lucky's attention. After Lucky continues to reject her, Elizabeth starts to lose hope in them reuniting, but just as she starts to lose hope, Lucky begins to second guess his decision of not pursuing a relationship with Elizabeth again.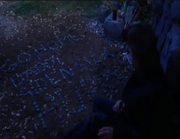 Lucky went to Shadybrook and checked Elizabeth out for the day so that they could spend Christmas together with their boys. At Elizabeth's home, she again tried to talk Lucky into reuniting with her, but he refused and they started to argue. Elizabeth pleaded with him to forgive her and asked that he not run away from her, but Lucky maintained that he needed to get away so that they wouldn't fall into the same trap again and he leaves. While he is gone, Maxie comes over and confronts Elizabeth about faking her breakdown. An upset Matt had revealed to Maxie that Elizabeth faked her illness and wanting to protect Lucky, Maxie went to confront Liz. She called Elizabeth insensitive for faking a breakdown when Lucky's mother Laura really was a mental patient for years.
Towards the end of Maxie and Liz's argument, Lucky returns and overhears that Liz had faked the breakdown. He asks Maxie to leave and once she does, Lucky and Liz start to argue again about her deception and manipulation. Elizabeth again begged him not to leave but his mind was already made up. Elizabeth then left to go to the hospital and confront Maxie for ruining her family. While she was gone, Lucky spent some time with Cameron and Aiden and said goodbye to them. Ethan also stopped by the house and they shared their goodbyes. After saying goodbye to his sons and Ethan, Lucky left Port Charles and returned to Ireland to find himself. Elizabeth has spoken with Lucky since he's been there and she told Anna that he is happy.
On June 15 2015, Laura revealed that Lucky has been kidnapped. It is later revealed that Lucky had contacted Ethan and asked for his help. Ethan was found, but know one knew where Lucky was. The abductor was revealed to be Frank Smith. On July 6, Frank prepared to shoot Luke and Laura. Lucky got the drop on Frank and his men, and shot them all. Lucky reconnected with his parents and sister. Frank survived getting shot, and tried to get off one final shot, but Luke shot him. Before dying, Frank sneered that Lucky was in on the whole thing. Luke finished Frank off, and Lucky admitted he was forced to go along because Jake is alive. Later on, Luke, Laura and Lucky go search for Jake on Cassadine island and he is found by Luke. Lucky is then reunited with his son.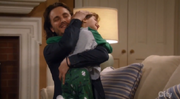 On July 14, Lucky brings Jake home to Elizabeth and visits with Aiden. They share a brief reconciliation before Lucky goes to talk with Luke. They have a honest heart to heart conversation. Lucky tells Luke he is sorry for the way he grew up, and says he has this darkness in him that he fears will hurt his children. Luke assures his son that he is nothing like him or his grandfather. On July 16, Lucky pays Nikolas a visit. He learns about Jake living with Elizabeth, and his children. He expresses concern about his children living with a man they know nothing about. Nikolas then accidentally reveals that Jake is really Jason.
Lucky is surprised that Nikolas hasn't told anyone. Nikolas says everyone has already mourned Jason and moved on. Sam and Patrick are together, and Elziabeth and Jason are together. Lucky stops by Elizabeth's and sees Jason and Jake playing together. He then leaves, believing his children are in good hands.
In June 2016, Lulu mentions to Dante that Lucky spends most of his time in Africa helping orphans and refugees.
On August 18, 2016, Laura stated that Lucky was able to make it to Nikolas' funeral (although Nikolas isn't actually dead).
Crimes Committed
Breaking and entering/theft; broke into Dara Jensen's office and stole an important document [Apr 21, 1998]
Arrested for assaulting Stefan Cassadine [2001]
Attacked Jason Morgan with a knife, started a fire to break out of jail, poisoned his cousin Lucas, and injected his dad with a deadly virus (this was all done while brainwashed by Helena)[2001]
Staged a car accident (with Nikolas and Gia) as the cause of Rick Webber's death, believing his father was responsible [Aug 2002]
Impersonated a prison guard [Sep 13, 2002]
Plotted to help Luke escape from jail [Sep 2002]
Posed as a prisoner to help Luke escape a chain gang prison [Oct 2002]
Assaulted Nikolas, which resulted in a restraining order [Mar 2003]
Assaulted a police officer during Summer's arrest [Apr 2003]
Shot Dillon Quartermaine in the arm [Nov 12, 2003]
Stole Sonny's money during a bust, returned it to the PCPD before it was missed [Jun 2005]
Adultery; had an affair with Maxie Jones while married to Elizabeth [2006]
Took controlled substances from Maxie [Summer 2006]
Stole drugs from a drug dealer [Summer 2006]
Bought drugs [Summer 2006]
Stole drugs from police lockup to frame Jason Morgan [Summer 2006]
Didn't arrest Luke when Luke kidnapped Laura so Lucky could say goodbye [Nov 2006]
Stole drugs during drug raid after being reinstated on the police force [Jan 2007]
Adultery; had an affair with Sam McCall while married to Elizabeth [Sep-Nov 2007]
Punched someone [Jun 12, 2008]
Punched a cop [Jun 13, 2008; arrested and released]
Beat up Dante Falconeri (along with his brother, Ethan) because he was talking to their sister, Lulu [Jul 31-Aug 3, 2009]
Covered for Michael [Aug 2010]
Fraud; married Siobhan McKenna to keep her from being deported [Mar 2011]
Arson; set fire to the Spencer house on Charles Street [Jun 2011]
Caused injury to Siobhan when she ran into the burning house [Jun 2011]
Rendered Dante Falconeri temporarily unconscious [Aug 2, 2011]
Shot and killed Darryl Hayes in defense of Elizabeth Webber [Sep 19, 2011]
Shot Frank Smith in defense of Luke and Laura [Jul 6, 2015]
Shot and killed three of Frank's men [Jul 6, 2015]
Withheld the information that Jake Doe was actually Jason Morgan [Jul 14-Nov 6, 2015]
Health and Vitals
Shot in the abdomen by an enemy of Frank Smith [Dec 1993]
Temporarily paralyzed as a result of the gunshot
Accidentally stabbed in the abdomen by Elizabeth [Aug 3, 1998]
Drugged and kidnapped by Helena, who faked his death in a fire with the help from Cesar Faison [May 1999]
Brainwashed by Cesar Faison and Helena Cassadine [Feb 2000]
Injured after trying to attack Jason Morgan with a knife [2001]
Shot in the chest by Helena Cassadine and lapsed into a coma [Jan 2005]
Suffered a stroke while in a coma and went on life support [Feb 2005]
Critically injured in a train wreck (Impaled with a pole) [Nov 2005]
Fell ill during the encephalitis plague that hit Port Charles [Feb 2006]
Kidnapped by Holly Sutton's company to be used as a human guinea pig [Feb 2006]
Suffered a severe back injury while trying to rescue Elizabeth from Manny [Apr 2006]
Drug addict
Shot in the shoulder by Diego Alcazar (aka the Text Message Killer) [Feb-Mar 2008]
Involved in a car accident (suffered a cut to his forehead as a result) [Feb 19-22, 2010]
Injected with a hallucinogenic [Jul 2011]
Kidnapped and held hostage at gunpoint (along with Ethan) in Vancouver, Canada by Frank Smith and his men (Lucky's escape was revealed on Jul 2, 2015 while Ethan was rescued on Jul 3, 2015) [revealed Jun 15, 2015]
Family tree
See also
References
External Links
v - e

Current Contract Characters
Curtis Ashford
 ·
Jordan Ashford
 ·
Franco Baldwin
 ·
Hayden Barnes-Cassadine
 ·
Nikolas Cassadine
 ·
Morgan Corinthos
 ·
Sonny Corinthos
 ·
Carly Corinthos-Jacks
 ·
Alexis Davis
 ·
Anna Devane
 ·
Dante Falconeri
 ·
Olivia Falconeri
 ·
Dr. Hamilton Finn
 ·
Nelle Hayes
 ·
Paul Hornsby
 ·
Ava Jerome
 ·
Julian Jerome
 ·
Kiki Jerome
 ·
Maxie Jones
 ·
Dr. Andre Maddox
 ·
Jason Morgan
 ·
Sam Morgan
 ·
Dr. Griffin Munro
 ·
Dillon Quartermaine
 ·
Michael Quartermaine
 ·
Tracy Quartermaine
 ·
Nina Reeves
 ·
Nurse Sabrina Santiago
 ·
Laura Spencer
 ·
Valerie Spencer
 ·
Lulu Spencer-Falconeri
 ·
Nurse Elizabeth Webber
 ·
Nathan West
Current Recurring Characters
T.J. Ashford
 ·
Ned Ashton
 ·
Scott Baldwin
 ·
Claudette Beaulieu
 ·
Valentin Cassadine
 ·
Lucy Coe
 ·
Darby Collette
 ·
Dr. Kevin Collins
 ·
Brad Cooper
 ·
Kristina Corinthos-Davis
 ·
Landon Dixon
 ·
Naomi Dreyfus
 ·
Nurse Amy Driscoll
 ·
Nurse Felix DuBois
 ·
Parker Forsyth
 ·
Max Giambetti
 ·
Milo Giambetti
 ·
Alice Gunderson
 ·
Jasper Jacks
 ·
Nurse Epiphany Johnson
 ·
Dr. Lucas Jones
 ·
Ric Lansing
 ·
Molly Lansing-Davis
 ·
Dr. Kelly Lee
 ·
Janice Lomax
 ·
Huxley Lynch
 ·
Rosalie Martinez
 ·
Diane Miller
 ·
Dr. Liesl Obrecht
 ·
Dr. Monica Quartermaine
 ·
Dr. Joe Rivera
 ·
Aaron Roland
 ·
Delia Ryan Coleridge
 ·
Felicia Scorpio
 ·
Mac Scorpio
 ·
Robert Scorpio
 ·
Dr. Robin Scorpio-Drake
 ·
Nurse Bobbie Spencer
 ·
Damian Spinelli
 ·
Ellie Trout
 ·
David Walters
 ·
Heather Webber
Current Child Characters
Spencer Cassadine
 ·
Leo Falconeri
 ·
Rocco Falconeri
 ·
Josslyn Jacks
 ·
Avery Jerome-Corinthos
 ·
Danny Morgan
 ·
Teddy Rivera
 ·
Emma Scorpio-Drake
 ·
Aiden Spencer
 ·
Cameron Spencer
 ·
Jake Spencer
 ·
Georgie Spinelli
Deceased and Presumed Dead Characters
Benny Abrahms
 ·
Bernie Abrahms
 ·
Dr. Rachel Adair
 ·
Diego Alcazar
 ·
Lorenzo Alcazar
 ·
Luis Alcazar
 ·
Sage Alcazar
 ·
Ruby Anderson
 ·
Dr. Andy Archer
 ·
Dominique Baldwin
 ·
Cooper Barrett
 ·
Alison Barrington
 ·
Amanda Barrington
 ·
Kiefer Bauer
 ·
Warren Bauer
 ·
Jesse Beaudry
 ·
Katherine Bell
 ·
Connor Bishop
 ·
Mary Bishop
 ·
Paige Bowen
 ·
Nurse Jessie Brewer
 ·
Nancy Brewer
 ·
Dr. Phil Brewer
 ·
Carter
 ·
Helena Cassadine
 ·
Irina Cassadine
 ·
Kristina Cassadine
 ·
Mikkos Cassadine
 ·
Stavros Cassadine
 ·
Stefan Cassadine
 ·
Tony Cassadine
 ·
Victor Cassadine
 ·
Stone Cates
 ·
Dr. Ryan Chamberlain
 ·
Dr. Silas Clay
 ·
Stephen Clay
 ·
Adela Corinthos
 ·
Lily Corinthos
 ·
Dr. Ian Devlin
 ·
Mickey Diamond
 ·
Ronnie Dimestico
 ·
Dr. Pierce Dorman
 ·
John Durant
 ·
Bill Eckert
 ·
Connie Falconeri
 ·
Andrea Floyd
 ·
Dr. Russell Ford
 ·
Dr. Steve Hardy
 ·
Peter Harrell, Sr.
 ·
Peter Harrell, Jr.
 ·
Abby Haver
 ·
Logan Hayes
 ·
Theo Hoffman
 ·
John Jacks
 ·
Aleksander Janacek
 ·
Victor Jerome
 ·
Stan Johnson
 ·
B.J. Jones
 ·
Georgie Jones
 ·
Tania Jones
 ·
Dr. Tony Jones
 ·
Dr. Ewen Keenan
 ·
Rafe Kovich, Jr.
 ·
Dr. Eve Lambert
 ·
Trevor Lansing
 ·
Duke Lavery
 ·
Dr. Cameron Lewis
 ·
Victor Lord III
 ·
Hope Manning-Thornhart
 ·
Reese Marshall
 ·
Courtney Matthews
 ·
Dr. Matthew Mayes
 ·
Danny McCall
 ·
Lila McCall
 ·
Nurse Leyla Mir
 ·
Trey Mitchell
 ·
Susan Moore
 ·
Chloe Morgan
 ·
Henry Nakamura
 ·
Dr. Lisa Niles
 ·
A.J. Quartermaine
 ·
Dr. Alan Quartermaine
 ·
Alexandria Quartermaine
 ·
Edward Quartermaine
 ·
Dr. Emily Quartermaine
 ·
Lila Quartermaine
 ·
Carlos Rivera
 ·
Faith Rosco
 ·
Manny Ruiz
 ·
Gabriel Santiago
 ·
Joe Scully
 ·
Joe Scully, Jr.
 ·
Kyle Sloane
 ·
Damian Smith
 ·
Frank Smith
 ·
Shirley Smith
 ·
Zander Smith
 ·
Lena Spencer
 ·
Pat Spencer
 ·
Siobhan Spencer
 ·
Tim Spencer
 ·
Olivia St. John
 ·
Nurse Diana Taylor
 ·
Martha Taylor
 ·
Dr. Peter Taylor
 ·
Tracy Taylor
 ·
Dr. Asher Thomas
 ·
Cole Thornhart
 ·
Nurse Amy Vining
 ·
Bradley Ward
 ·
Justus Ward
 ·
Mary Mae Ward
 ·
Dr. Rick Webber
 ·
Dr. Karen Wexler
 ·
Dawn Winthrop
 ·
Deke Woods
 ·
Dr. Maggie Wurth
 ·
Anthony Zacchara
 ·
Claudia Zacchara-Corinthos
Off-screen and Former Characters
Lila Rae Alcazar
 ·
Dr. Grant Andrews
 ·
Terri Arnett
 ·
Brook Lynn Ashton
 ·
Larry Ashton
 ·
Christina Baldwin
 ·
Dr. Gail Baldwin
 ·
Lee Baldwin
 ·
Serena Baldwin
 ·
Dr. Tom Baldwin
 ·
Brenda Barrett
 ·
Julia Barrett
 ·
Melinda Bauer
 ·
Shawn Butler
 ·
Gia Campbell
 ·
Peter Carroll
 ·
Dimitri Cassadine
 ·
Petros Cassadine
 ·
Jagger Cates
 ·
Lois Cerullo
 ·
Skye Chandler-Quartermaine
 ·
Dr. Linda Chu
 ·
Father Coates
 ·
Mike Corbin
 ·
Angie Costello
 ·
Blair Cramer
 ·
Jolene Crowell
 ·
Nurse Nadine Crowell
 ·
Dr. Rae Cummings
 ·
Marco Dane
 ·
Téa Delgado
 ·
Roy DiLucca
 ·
Anna Donely
 ·
Sean Donely
 ·
Tiffany Donely
 ·
Dr. Noah Drake
 ·
Dr. Patrick Drake
 ·
Taylor DuBois
 ·
Toussaint Dubois
 ·
Jenny Eckert
 ·
Sly Eckert
 ·
William Eichner
 ·
Angel Ellis
 ·
John Everett
 ·
Cesar Faison
 ·
Nurse Fletcher
 ·
Pres Floyd
 ·
Nurse Betsy Frank
 ·
Ivy Gatling
 ·
Nurse Audrey Hardy
 ·
Dr. Simone Hardy
 ·
Dr. Tom Hardy
 ·
Dr. Tommy Hardy
 ·
David Harper
 ·
Jimmy Lee Holt
 ·
Dr. Matt Hunter
 ·
Anton Ivanov
 ·
Lady Jane Jacks
 ·
Jerry Jacks
 ·
Terrell Jackson
 ·
Miranda Jameson
 ·
Frisco Jones
 ·
Dr. Leo Julian
 ·
Rose Kelly
 ·
Winifred Leeds
 ·
Guy Lewis
 ·
Victor Lord, Jr.
 ·
Ethan Lovett
 ·
Starr Manning
 ·
Todd Manning
 ·
John McBain
 ·
Colleen McHenry
 ·
Miguel Morez
 ·
‎Hope Morgan
 ·
Ken Morgan
 ·
Delores Padilla
 ·
Blackie Parrish
 ·
Nurse Penny
 ·
Grant Putnam
 ·
Celia Quartermaine
 ·
Burt Ramsey
 ·
Coleman Ratcliffe
 ·
Madeline Reeves
 ·
Cruz Rodriguez
 ·
Casey Rogers
 ·
Father Mateo Ruiz
 ·
Juan Santiago
 ·
Alec Scott
 ·
Hannah Scott
 ·
Jeffrey Scribner
 ·
Rebecca Shaw
 ·
Jennifer Smith
 ·
Lucky Spencer
 ·
Luke Spencer
 ·
Suzanne Stanwyck
 ·
Nurse Mischa Stephens
 ·
Holly Sutton
 ·
Marcus Taggert
 ·
Nurse Regina Thompson
 ·
Claire Walsh
 ·
Faith Ward
 ·
Keesha Ward
 ·
Dr. Maya Ward
 ·
Dr. Jeff Webber
 ·
Dr. Lesley Webber
 ·
Dr. Sarah Webber
 ·
Dr. Steve Webber
 ·
Dr. Britt Westbourne
 ·
Dr. Lainey Winters
 ·
Grace Yang
 ·
Johnny Zacchara
Crew
Shelly Altman (Head writer, 2011-2012, 2015-present)
 ·
Ron Carlivati (Head writer, 2012-2015)
 ·
Jill Farren Phelps (Executive producer, 2001-2012)
 ·
Robert Guza, Jr. (Head writer, 1996, 1997-2000, 2002-2008, 2008-2011)
 ·
H. Wesley Kenney (Executive producer, 1987-1989; Head writer, 1988)
 ·
Gloria Monty (Executive producer, 1978-1987, 1991-1992; Head writer, 1981)
 ·
Jean Passanante (Head writer, 2015-present)
 ·
Wendy Riche (Executive producer, 1992-2001)
 ·
Frank Valentini (Executive producer, 2012-present)
 ·
Garin Wolf (Head writer, 2008, 2011-2012)
Related Topics
List of cast members
 ·
List of current actors
 ·
History of General Hospital