Michael Corinthos (Chad Duell)
Comments

29
479pages on
this wiki
Michael redirects here. For other uses of the name, see Michael (disambiguation)
Michael Corinthos III (né Michael Morgan, formerly Michael Alan Quartermaine) is a fictional character on the ABC soap opera, General Hospital. Dylan Cash portrayed the character as a child from 2002 to 2008, and Drew Garrett debuted in the teenage role in April 2009 but was recast with Chad Duell, who debuted on April 20, 2010[5].
Casting issues
Edit
After being portrayed by numerous child actors, Dylan Cash made his General Hospital debut in March 2002 at age 7. In 2005, Cash was placed on contract with the show and, subsequently, his role became much more prominent. During his six years with General Hospital, Cash earned numerous awards, including a 2003 Young Artist Award in the Best Performance in a TV Series by a Young Actor Ten or Younger category.[6]
Garrett and SORAS
Edit
As the show decided to re-cast and age the character, Cash was fired and the character was put under a coma hoping to be re-casted by Jesse Lee Soffer who played Will Munson on As the World Turns. This was later turned down, seeing as Soffer was twice as old as Cash and the sudden recast would be too shocking for fans.[7] As of January 2009, there was still no re-cast and Cash guest stared as a comatose Michael but was seen in flashbacks up until March 2009. In April 2009, Drew Garrett made his first appearance and has since won fans over by his performance as a 17-year-old Michael.[8] [9]
On March 25, 2010, it was announced that Garrett was recast with Chad Duell, who is set to debut on April 20, 2010[10]. The cause for recast is undetermined at the time but ABC did make this statement:
"We want to thank Drew Garrett for his time with General Hospital and wish him well in all his further endeavors".
Storylines
Edit
Early life
Edit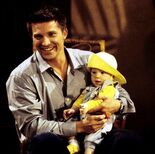 Michael is conceived when his mother,
Carly Benson
, had a one night stand with
A.J. Quartermaine
while in a relationship with Tony Jones in March 1997
[11]
. In December of 1997 Tony dumps Carly, fearing the two men would take her baby, she runs to friend and old flame
Jason Morgan
who agrees to be the father of the child
[12]
and even takes care of the baby and names him after
Sonny Corinthos
when his mother briefly left him
[13]
. Tony later kidnaps Michael but when he was put under trial, Carly shot him and was once again separated.
[14]
She returns to discover
Robin Scorpio
and Jason taking care of the child and soon sets out to destroy the relationship which leads Robin to tell A.J. that he is Michael's real father
[15]
. Carly marries A.J., who threatens to take Michael if she ever disobeys his orders.
[16]
Sonny and Carly
Edit
Carly sleeps with Sonny in 2000 and becomes pregnant with his child and he manages to find evidence of wrongdoing to force A.J. to give Carly a divorce[17]. Carly moves in with Sonny, but loses the baby after a fall down the stairs during an argument with A.J. Carly and Sonny wed as a legal maneuver[18], and Michael was primarily raised by Sonny, even though they constantly break up and eventually, Sonny adopts him[19]. When their parents dated other people, Michael fakes his kidnapped but this fails.
On February 21, 2005, when his parents divorce for the third time, A.J. kidnaps Michael and his other siblings[20], Morgan Corinthos and Kristina Davis but releases Morgan and Kristina and doctors evidence that he was murdered to sneak him out of the country[21]. Jason Morgan and Sam McCall rescue him and A.J. is soon murdered with Michael being a prime suspect, although this is later dismissed. Michael is traumatized by this abduction and his mother had a mental breakdown[22], leading his aunts Emily and Sam to attend his psychiatrist sessions[23]. His parents re-marry, but this marriage ended in a divorce and his mother re-married Jasper Jacks[24], who served as a model parent to Michael[25].
In 2007, Michael's longtime nanny, Leticia, and Michael's close aunt, Emily Quartermaine are murdered. Michael asks Sonny to seek revenge.[26] Seeing as Sonny is busy with the mob, Michael purchases a gun and bullets and while disposing them, Michael accidentally shoots Kate Howard, Sonny's girlfriend. After weeks of being missing, Michael returns and Carly goes to meet him but is soon caught in an explosion, resulting in a miscarriage[27]. Soon after, Sonny decides to show a 12-year-old Michael a life without violence at his coffee warehouse in which a sniper, Ian Devlin, secretly hired by Claudia Zacchara, aims for Sonny but Michael is shot and put in to a life-long coma[28]. Michael is diagnosed with Soap Opera Rapid Aging Syndrome and is shipped to an aftercare institute[29] in which his parents and Jax constantly visit him, as well as Claudia. Carly and Sonny celebrate Michael's 13th birthday[30]. As a way of organizing a fundraiser in his name, Carly hosts a gala[31] but is interrupted by a poison leak. Learning that his mother had almost died, Michael starts to moving his hand showing[32] [33] Carly that he is responsive. Claudia Zacchara, after discovering her pregnancy, confides in Michael about her responsability in his shooting.
After his mother's decision to allow Patrick Drake operate an experimental surgery on him[34], Michael awakes from his year-long coma[35], only to find his life is now changed[36]. Sonny married Claudia Zacchara, who is pregnant and his mother, Carly is now having a baby. Michael is furious with Carly for not being there when he woke up and he quickly befriends his cousin, Lulu Spencer, sister Kristina Davis and step-mother Claudia Zacchara while under the guidance of his uncle Jason Morgan. After having bursts of anger while living with his mother, Carly agrees to let Sonny parent Michael until her baby is born. Michael is soon spoiled rotten with a new sports car, a Blackberry Pearl, and other luxuries. After being held hostage by a Zacchara soldier, Carly fears for her son will be in danger and places him under the custody of the Quartermaines, his biological father's family. Michael, being granted a driver's licence thanks to Carly and Jax, begins driving around.
A volatile Michael is initially indecisive about where he wants to live, and a stubborn Carly only relents to let him stay with Sonny when it is clear that her mothering is putting stress on a recovering Michael. When events soon convince Carly that Sonny's lifestyle still puts Michael in danger, she allows him instead to live with the Quartermaines. On July 21, 2009, Michael, along with Kristina and Claudia were driving and Michael thinks that he was responsible for Claudia's accident. He frantically called Jason for help, and Jason returned Michael to the Quartermaine mansion, where Edward overheard Jason assure Michael he would take care of the accident. Michael denies the problem when Edward confronts him. Michael, believing he caused the crash, has run away with his sister Kristina to avoid juvenile detention. The siblings arrive in Cancun, Mexico. As Jerry Jacks poses a threat in Mexico, Jason and Sam arrive in Mexico and take the teens back to Port Charles.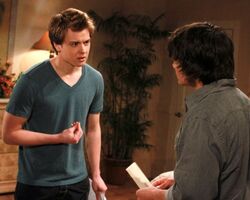 Claudia's death
Edit
After attending the town carnival in September 2009[37], Michael begins to have more flashbacks during his comatose year, especially that of one very apologetic Claudia. Michael eventually puts the flashback sequences together, leading him to blame Claudia as the orchestrator of his shooting. On October 29, 2009, Michael attends Claudia's birthday bash, which as organized by Sonny. Sonny confronts Claudia about her involvement in Michael's shooting and under pressure, Claudia takes a pregnant Carly hostage. Michael finds Claudia, Carly, and a new-born Josslyn Jacks in a cabin. Carly, weakened by childbirth, was unable to stop Claudia, who was on her way to leave with Josslyn. In an attempt to save his family, Michael bludgeons Claudia to death with an axe-handle, leading to her death. Jason thus covers the murder but later regrets it when Michael shows no sign of remorse. With Michael clearly being affected by the death, starts to resent his family, to the point to where he begins to drink and drive. Michael is arrested for drunk driving and is escorted home by his cousin Lucky on December 29, 2009[38], his birthday. When an artist, Franco, steals Claudia's body to blackmail Jason and Michael, Carly and Jax plan to relocate to Australia. During an argument with Carly, Michael breaks down due to his guilt in killing Claudia.
Franco eventually leaves town after setting a bomb in a warehouse with Lulu, Michael's cousin, inside. Fortunately, Lulu is saved by Dominic, Sonny's henchman. Following Lulu's rescue, Sonny offers Dominic control over the organization if Sonny were to retire, causing Michael to be jealous. When the police are cleaning up the wreckage, they find Claudia's body. During a family outing, Michael has horrific flashbacks of the night he killed Claudia. On January 21, 2010, Michael discovers that Dominic is actually an undercover cop, and reveals it Sonny soon after. Sonny originally doubts the statement, leading Michael to go to Jax. While Michael attends Josslyn's christening on January 29, 2010, Sonny shoots Dante[39]. After the shooting, it is revealed that Dominic (Dante) is Sonny and Olivia Falconeri's son. Michael, upset that Kristina is wrongfully blaming their dad for Claudia's murder, tells Morgan, Kristina, and Molly that he killed Claudia.[40] Michael attempts to confess to killing Claudia but the police commissioner considers it as a false statement, stating there is evidence that leads Sonny as the killer. Sam comes to the station and takes Michael back to Jason's apartment, where he emphasizes the need to be quiet.
Sonny is arrested and put on trial for Claudia's murder. Michael goes to live with his father, under the supervision of Sonny's bodyguards, so that he won't go and confess in the court that he killed Claudia. However, Dante shows up on March 11, 2010, getting into a fight with Michael about Sonny. Just as Michael is about to confess the truth to Dante, Sonny comes in and panics, telling Dante to get out of his house. Sonny realizes the risk that Michael poses to the trial, and has Sam and Jason take him to the island until the trial is over, despite Michael's protests. It's not easy, as Michael tries to escape numerous times. Jason and Sam leave to go back for Sonny's trial, and Max, Milo, and Bernie, Sonny's accountant, are called to watch over Michael. Michael tells Dante that he's the one who killed Claudia. Dante gets proof that confirms Michael killed Claudia, and tells the courts that Michael indeed killed Claudia.[41] Michael is sentenced to five years in jail for killing Claudia in May 2010 soon after confessing which upsets everyone in the courtroom with Dante making a plea to the judge to reconsider his sentence and Sonny making his own plea to be punished intsead of Michael. Everyone then rails at Dante and blames him for sending Michael to prison. In the first weeks of jail Michael is raped by Carter. Jason, so he can be with Michael, is sent to prision with him. After a few months Michael and Jason get released due to Dante and Michael and Dante grow very closer. Even though he's still in parole he's glad his life is getting back to normal.
Abby Haver (2010-2012)
Edit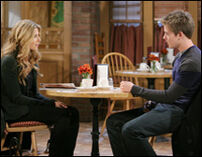 Michael confides in his uncle Jason that he does not have much experience with women. Sam overhearing the conversation wants to help and calls her friend Abby to help Michael become more comfortable interacting with women. Their first meeting is a bit disastrous when things move too fast, but despite this they continue to run into each other around town. Michael and Abby start to meet up at Kelly's diner to discuss each others lives and future ambitions. After a few meetings they admit to liking one another and enjoying the time they have spent together. They later exchange phone numbers and decide to see one another. They start to date, but their happiness is short lived because Michael's mother, Carly disapproves of their relationship because of the age difference between them. Michael opened up to Sam and told her about his feelings for Abby while Carly warned Abby to stay away from her son and even tried to pay her off. As a result of this, Abby at first turns Michael down when he asks her out, but after a long conversation with each other and a brief run in with Kiefer's best friend, during which Abby defended Michael, she came around and accepted Michael's offer to go on a date. Carly continues to disprove of their relationship and tries to keep them apart, but both Michael and Abby warn Carly to stay out of their relationship.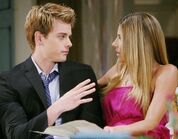 When Abby is attacked and almost raped by her ex-boyfriend Brandon Lowell, Michael rushes to help her. As he nears them he gets flashbacks of him and Carter in prison. He momentarily freezes during this recollection but when he breaks out of it, he begins to beat Brandon until Jason comes and pulls him off of him. Dante arrests Brandon and Abby is taken to the hospital. Michael and Jason sit down to have a talk and he finally breaks down and admits to Jason that Carter raped him in prison. Michael later tells Dante and Abby the truth about what happened to him in prison, and Abby remains supportive of him. Abby soon decides that she wants better for herself and that she no longer wants to be a stripper. Michael supported her and together they went to Johnny Zacchara, who is the owner of the club where she previously worked and quit her job as a stripper. While Abby searches for another job and Michael comes to terms with the events in his life, they continue to date, and soon decide to go on their first real date together at her apartment. On March 28, Michael and Abby make love for the first time.
A few months later both Michael and Abby are given jobs at ELQ Enterprises by Michael's grandfather Edward Quartermaine. Michael becomes a junior executive, and Abby becomes an executive assistant. Even though Michael succeeds in his position, he decides that the business life isn't for him and leaves the company, but Abby had a passion for business and decided to continue working at ELQ. In late 2011, several of Abby's friends from Vaughn's are abused and put in the hospital. It soon became apparent that strippers, past or present were being targeted and beaten by the attacker. Michael and Sam search for the guy doing the beatings, and Michael convinces ELQ's CEO, Tracy Quartermaine-Spencer, to send Abby out of town on business for her own protection. Abby is excited to go out of town on her first business trip. While in Chicago, a load falls off a crane above Abby while she talks on the phone with Michael. She's hit and knocked unconscious, and rushed to the hospital. When Michael and Sam arrive at the hospital, they are directed to the morgue where they find Abby's dead body. Michael blames himself for her death, since he was the one who sent her away on the trip to get her away from the man abusing Abby's friends. When Michael returns to Port Charles, he then left for New Zealand to spread Abby's ashes because she and Michael had always talked about seeing New Zealand together.
Starr Manning (2012-present)
Edit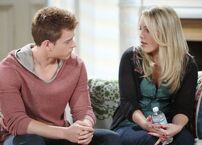 On February 24th Starr Manning, Cole Thornhart, and Hope Manning-Thornhart were driving to Port Charles. There was an accident, and the car ended up hanging off the road. Michael and his brother Dante arrived at the scene. Michael promised Starr he would get Cole and Hope to safety. He failed to do so, and the car exploded. Michael felt extremely guilty. Michael brought her to the hospital while she was unconcious. He talked to her but did not tell her that her family was dead. He comforted her when she did find out. He continued to stay in touch with her. Sonny came to Michael's apartment and told him that because of the trial he had to stay away from Starr. Soon after Starr came to Michael's house, saying that she did not know where to go. He allowed her to spend the night in his apartment. The next day, Jason knocked on Michael's door. Starr hid in the back of the house but listened in on the conversation. Jason once again told Michael not to go anywhere near Starr. Sonny came, making sure he was doing as he told him. They both left eventually.
In middle of 2012, Michael starts dating Starr. They share their first romantic kiss on the fourth of July. In early November, they attempt to have an intimate night during Halloween.
Michael learns about his uncle Jason's disappearance and being presumed dead. He tells his grandmother Monica about the incident at the Pier and possible death of Jason. Later, Michael meets his alive father A.J. at the Haunted Star. He learns information about his father from A.J., Carly and Sonny.
In middle of November, Michael goes to support his biological father, A.J., whom was arrested for crimes from 2005 in the Port Charles Police Department. A.J. is released on bond twice. A.J. and Michael goes to the Quartmaines for the annual Thanksgiving celebration. A.J. gives the PCPD information regarding Faison and the charges are dropped.
End of 2012 - start of 2013
Edit
In early December, Michael and Starr try again at making love, but Carly interrupts them. Later in December, Both of them discuss which place to go to Christmas dinner and Starr suggests they stay at the apartment. They end up having sex.
Michael then goes to Haunted Star to check up on Starr and finds her unconscious. He learns that Connie pushed Starr into the office desk. They go to GH for concussion testing on Starr. Starr is released and find Trey and Kristina in the parking garage. They follow Connie after Trey Mitchell and Kristina heard strange sounds from the trunk. Michael drives the car and heads up crashing on the same highway that Cole and Hope was killed on in February 2012.
He wakes up after the crash and helps get the paramedics to the scene.  He learns about Johnny's misdeeds through Starr. Kristina falls unconscious, but comes back from it. Trey and Ellie Trout are the only two that need to be transported to the hospital. Trey later dies and Ellie was released but needs physical therapy. Michael helps AJ get control of ELQ and says that his father Sonny leaked the information to Connie and the newspaper. However Tracy is the true culprit. Connie reveals that she lied and that Sonny didn't leak the information.
He suggests that they go to the General Hospital lab to test the pickle ralish that Duke Lavery stole from Tracy Quartermaine. A.J. says that Michael that he found Starr - a person whom is smart and beautiful, then Michael says that he [A.J.] should find someone smart and beautiful - then Elizabeth Webber comes and talks to them. Elizabeth is in a dress for the wedding of Steve Webber and Olivia Falconeri, that is interrupted by Memphis Police.  On March 20th, Starr gets a phone call from Langston Wilde saying that Starr is needed in LA.  Starr goes to LA and Michael is required to stay because AJ needs help with ELQ.  On April 8th, Michael is on the phone with Starr and they break up because Starr says that she is staying in LA (or Llanview - or eventually).
Post-Starr, April 2013-present
Edit
After the Nurses Ball, he seen by her mother in the hotel bed of Brenda Barrett.  It seems that Michael is as confused as Carly is.  He sticks up for Brenda when Carly assumes the worst. Brenda later reveals that she didn't sleep with Michael it was just a set up to get revenge on Carly.
Michael is trying to help A.J. revitalize ELQ through Pickle-Lila, and the missing Quartermaine heir. Spinelli later tells them that the heir is Franco's daughter, Lauren, and he'll track her down. A.J. gets a chance to promote Pickle-Lila when he gets booked for the ABC daytime show The Chew. However, before Michael can leave, he finds out from Carly that Morgan is in trouble after getting into debt gambling online and disappearing to avoid the bookies he owes.
Michael stays behind to help with finding his brother. Sonny lets Carly & Michael know that Morgan's roommate believes he ran for help to a girl that he met online. Michael has Spinelli's friend download the chats between Morgan and the girl he met. When Carly leaves, Michael gets a call from Morgan, who says he's going to fix the mess he's in.  Michael says he wants to help, and asks Morgan to tell him where he is so they can figure it out together. Morgan agrees, and tells Michael where he is.
Crimes committed
Edit
Bought bullets and a gun [2008]
Accidentally shot Kate Howard [2008]
Underage drinking [Jun 2009]
Bar fight [Jun 2009]
Driving without a license [Jul 2009]
Murdered Claudia Zacchara with an axe handle [Nov 4, 2009]
Questioned in the murder of Abby's ex-boyfriend, Brandon Lowell; never charged, innocent. [Apr 2011]
Injuries
Edit
Congenital heart condition [as a baby]
Kidnapped [as a baby]
Kidnapped by Faith Rosco and his father A.J. Quartermaine [2005]
Rendered comatose when he was struck in the head by a bullet meant for Sonny Corinthos [Apr 7, 2008]; regained consciousness on May 15, 2009
Sexually assaulted by Carter while in prison [May 21, 2010]

Briefly knocked unconscious after being struck by a motorcycle driven by Jason [Dec 30, 2011]

Suffered minor injuries after a car attack [January 1, 2013]

Family tree
Edit
References
Edit
External links
Edit
v - e

Current Contract Characters
T.J. Ashford
 ·
Shawn Butler
 ·
Dr. Silas Clay
 ·
Michael Corinthos
 ·
Morgan Corinthos
 ·
Sonny Corinthos
 ·
Alexis Davis
 ·
Anna Devane
 ·
Dr. Patrick Drake
 ·
Felix DuBois
 ·
Connie Falconeri
 ·
Dante Falconeri
 ·
Olivia Falconeri
 ·
Carly Jacks
 ·
Ava Jerome
 ·
Kiki Jerome
 ·
Maxie Jones
 ·
Rafe Kovich, Jr.
 ·
Sam Morgan
 ·
A.J. Quartermaine
 ·
Tracy Quartermaine
 ·
Sabrina Santiago
 ·
Mac Scorpio
 ·
Laura Spencer
 ·
Luke Spencer
 ·
Lulu Spencer-Falconeri
 ·
Damian Spinelli
 ·
Elizabeth Webber
 ·
Dr. Britt Westbourne
Current Recurring Characters
Ned Ashton
 ·
Scott Baldwin
 ·
Helena Cassadine
 ·
Nikolas Cassadine
 ·
Spencer Cassadine
 ·
Stavros Cassadine
 ·
Father Coates
 ·
Lucy Coe
 ·
Dr. Kevin Collins
 ·
Max Giambetti
 ·
Milo Giambetti
 ·
Alice Gunderson
 ·
Anton Ivanov
 ·
Josslyn Jacks
 ·
Epiphany Johnson
 ·
Felicia Jones
 ·
Molly Lansing-Davis
 ·
Duke Lavery
 ·
Dr. Kelly Lee
 ·
Janice Lomax
 ·
Diane Miller
 ·
Danny Morgan
 ·
Dr. Monica Quartermaine
 ·
Coleman Ratcliffe
 ·
Emma Scorpio-Drake
 ·
Aiden Spencer
 ·
Cameron Spencer
 ·
Ellie Trout
 ·
Heather Webber
 ·
Dr. Lesley Webber
Forthcoming Characters
Taylor DuBois
Deceased and Presumed Dead Characters
Benny Abrahms
 ·
Bernie Abrahms
 ·
Diego Alcazar
 ·
Lorenzo Alcázar
 ·
Luís Alcázar
 ·
Sage Alcazar
 ·
Ruby Anderson
 ·
Dr. Andy Archer
 ·
Dominique Baldwin
 ·
Cooper Barrett
 ·
Alison Barrington
 ·
Amanda Barrington
 ·
Kiefer Bauer
 ·
Warren Bauer
 ·
Jesse Beaudry
 ·
Katherine Bell
 ·
Connor Bishop
 ·
Mary Bishop
 ·
Paige Bowen
 ·
Dr. Emily Bowen-Quartermaine
 ·
Jessie Brewer
 ·
Nancy Brewer
 ·
Dr. Phil Brewer
 ·
Irina Cassadine
 ·
Kristina Cassadine
 ·
Mikkos Cassadine
 ·
Stefan Cassadine
 ·
Tony Cassadine
 ·
Victor Cassadine
 ·
Stone Cates
 ·
Dr. Ryan Chamberlain
 ·
Adela Corinthos
 ·
Lily Corinthos
 ·
Dr. Ian Devlin
 ·
Ronnie Dimestico
 ·
Dr. Pierce Dorman
 ·
John Durant
 ·
Bill Eckert
 ·
Andrea Floyd
 ·
Dr. Russell Ford
 ·
Franco
 ·
Dr. Steve Hardy
 ·
Abby Haver
 ·
Logan Hayes
 ·
Theo Hoffman
 ·
John Jacks
 ·
Aleksander Janáček
 ·
Stan Johnson
 ·
B.J. Jones
 ·
Georgie Jones
 ·
Tania Jones
 ·
Dr. Tony Jones
 ·
Dr. Ewen Keenan
 ·
Dr. Eve Lambert
 ·
Trevor Lansing
 ·
Dr. Cameron Lewis
 ·
Victor Lord III
 ·
Hope Manning-Thornhart
 ·
Reese Marshall
 ·
Courtney Matthews
 ·
Danny McCall
 ·
Lila McCall
 ·
Leyla Mir
 ·
Trey Mitchell
 ·
Susan Moore
 ·
Chloe Morgan
 ·
Jason Morgan
 ·
Caleb Morley
 ·
Dr. Lisa Niles
 ·
Dr. Alan Quartermaine
 ·
Alexandria Quartermaine
 ·
Edward Quartermaine
 ·
Lila Quartermaine
 ·
Faith Rosco
 ·
Manny Ruiz
 ·
Joe Scully
 ·
Joe Scully, Jr.
 ·
Frank Smith
 ·
Shirley Smith
 ·
Zander Smith
 ·
Jake Spencer
 ·
Lena Spencer
 ·
Siobhan Spencer
 ·
Tim Spencer
 ·
Diana Taylor
 ·
Martha Taylor
 ·
Dr. Peter Taylor
 ·
Tracy Taylor
 ·
Dr. Asher Thomas
 ·
Cole Thornhart
 ·
Amy Vining
 ·
Bradley Ward
 ·
Justus Ward
 ·
Mary Mae Ward
 ·
Dr. Rick Webber
 ·
Dr. Karen Wexler
 ·
Dawn Winthrop
 ·
Deke Woods
 ·
Dr. Maggie Wurth
 ·
Anthony Zacchara
 ·
Claudia Zacchara Corinthos
Off-screen and Former Characters
Lila Rae Alcazar
 ·
Terri Arnett
 ·
Brook Lynn Ashton
 ·
Larry Ashton
 ·
Christina Baldwin
 ·
Dr. Gail Baldwin
 ·
Lee Baldwin
 ·
Serena Baldwin
 ·
Dr. Tom Baldwin
 ·
Brenda Barrett
 ·
Julia Barrett
 ·
Melinda Bauer
 ·
Gia Campbell
 ·
Peter Carroll
 ·
Valentin Cassadine
 ·
Jagger Cates
 ·
Lois Cerullo
 ·
Skye Chandler-Quartermaine
 ·
Mike Corbin
 ·
Kristina Corinthos-Davis
 ·
Angie Costello
 ·
Blair Cramer
 ·
Jolene Crowell
 ·
Nadine Crowell
 ·
Dr. Rae Cummings
 ·
Téa Delgado
 ·
Roy DiLucca
 ·
Sean Donely
 ·
Tiffany Donely
 ·
Dr. Noah Drake
 ·
Toussaint Dubois
 ·
Sly Eckert
 ·
Angel Ellis
 ·
Cesar Faison
 ·
Pres Floyd
 ·
Audrey Hardy
 ·
Dr. Simone Hardy
 ·
Dr. Tom Hardy
 ·
Dr. Tommy Hardy
 ·
David Harper
 ·
Jimmy Lee Holt
 ·
Dr. Matt Hunter
 ·
Jane Jacks
 ·
Jasper Jacks
 ·
Jerry Jacks
 ·
Terrell Jackson
 ·
Lauren Jerome
 ·
Frisco Jones
 ·
Lucas Jones
 ·
Dr. Leo Julian
 ·
Rose Kelly
 ·
Ric Lansing
 ·
Winifred Leeds
 ·
Guy Lewis
 ·
Victor Lord, Jr.
 ·
Ethan Lovett
 ·
Starr Manning
 ·
Todd Manning
 ·
John McBain
 ·
Miguel Morez
 ·
Ken Morgan
 ·
Dr. Lisa Obrecht
 ·
Delores Padilla
 ·
Blackie Parrish
 ·
Celia Quartermaine
 ·
Dillon Quartermaine
 ·
Burt Ramsey
 ·
Cruz Rodriguez
 ·
Casey Rogers
 ·
Father Mateo Ruiz
 ·
Juan Santiago
 ·
Robert Scorpio
 ·
Dr. Robin Scorpio-Drake
 ·
Alec Scott
 ·
Hannah Scott
 ·
Rebecca Shaw
 ·
Bobbie Spencer
 ·
Lucky Spencer
 ·
Suzanne Stanwyck
 ·
Mischa Stephens
 ·
Holly Sutton
 ·
Marcus Taggert
 ·
Regina Thompson
 ·
Claire Walsh
 ·
Faith Ward
 ·
Keesha Ward
 ·
Dr. Maya Ward
 ·
Dr. Jeff Webber
 ·
Dr. Sarah Webber
 ·
Dr. Steve Webber
 ·
Dr. Lainey Winters
 ·
Grace Yang
 ·
Johnny Zacchara
Crew
Ron Carlivati (Head writer, 2012-present)
 ·
Jill Farren Phelps (Executive producer, 2001-2012)
 ·
Robert Guza, Jr. (Head writer, 1996; 1997-2000; 2002-2008; 2008-2011)
 ·
H. Wesley Kenney (Executive producer, 1987-1989; Head writer, 1988)
 ·
Gloria Monty (Executive producer, 1978-1987, 1991-1992; Head writer, 1981)
 ·
Wendy Riche (Executive producer, 1992-2001)
 ·
Frank Valentini (Executive producer, 2012-present)
 ·
Garin Wolf (Head writer, 2008; 2011-2012)
Related Topics
Cross reference of character names
 ·
List of cast members
 ·
History of General Hospital