This article is incomplete. Please edit this page and help bring it up to standards.
Reason: Finish up story lines for 2016 and start 2017
Please remove this template once this article is no longer incomplete.
Nathan West and Maxie Jones
Ryan Paevey and Kirsten Storms as

Nathan West and Maxie Jones

General Hospital
Couple nickname
Naxie
Marriage/relationship dates
Dec 2013 - Sep 2014
(flirtation)
Sep 2014 - Mar 2015 (lovers)
May 2015 - Jan 2017 (lovers)
Jan 17, 2017 - present
Status
Married
Profile
Married by
Damian Spinelli
Age at wedding or meeting
Nathan (28)
Maxie (27)
Gender
Male, Female
Couple residence
Winslow Garden Apts.
114 Clover Ave., #68
Port Charles, New York
Det. Nathan West and Maxie Jones are fictional characters and a popular couple on the ABC daytime soap opera General Hospital.
Casting and Music
Nathan has been portrayed by actor Ryan Paevey since the character's debut at the end of 2013. Paevey was offscreen for about a month, while shooting his Lifetime movie, Unleashing Mr. Darcy, last appearing on December 8, 2015 and was back on January 13, 2016. On January 18, 2017, Paevey revealed that he will be offscreen again for about a month to be villain in a movie.[2]
Maxie has been portrayed by actress Kirsten Storms since 2005. For an eleven-month stint (from September 2011-August 2012) the role was temporarily portrayed by actress Jen Lilley, when Storms took medical leave. The role of Maxie was also briefly portrayed by actress Molly Burnett from July 5-29, 2016, when Storms took another medical leave. Storms also went on maternity leave on January 2, 2014 and returned on April 8, 2014.
Storms was nominated for a Daytime Emmy for Outstanding Younger Actress in 2009.
The couple's official song is "Dreams" by Chris Arena, which was written especially for them.[3] "1000 Kisses" by Christina O'connor, was played for Nathan and Maxie's first dance as husband and wife.[4]
Background
Nathan is the son of supervillain, Liesl Obrecht and an unknown man and and the legal son of socialite, Madeline Reeves and her late husband, Mr. Reeves. He is a member of the Westbourne family.
Maxie is the daughter of GH supercouple Frisco and Felicia Jones. She is a member of the Jones family and Scorpio family.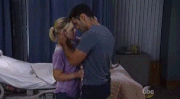 Nathan and Maxie have known each other since New Years Eve of 2013 and have had a romantic relationship since September 2014. They shared their first kiss on Sep 15-16, 2014, while standing over dead bodies. They went on their first date in October 2014. They made love for the first time on the one year anniversary of the day they met. In March 2015, Nathan broke up with Maxie due to her conflicting feelings for him and her ex-fiancé and her little girl's father, Damian Spinelli. In May 2015, Maxie told Nathan that he's the one she wants to be with and that she's in love him. They got back together and are in love.
They moved in together in February 2016. On Valentines Day 2016, Maxie thought Nathan was going to propose when he pulled out a jewelry box but it was a charm for her bracelet and she was relieved as she wasn't ready to get married. On February 26, after Nathan was shot, Maxie proposed to him but he turned her down knowing she wasn't ready. Also on February 26-29, while on pain meds after being shot, Maxie tells Nathan that she loves him and he replies by saying "I love you too, Claudette." When she later asks who Claudette is he lies and says that she was his dog.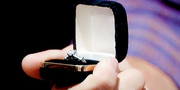 On March 14, 2016, Nathan revealed to Dante that Claudette was his wife and on April 4, he told Maxie that it was a marriage of convenience and that they had it annulled. He later revealed to Obrecht that he told Maxie about Claudette but not didn't tell her everything. On April 15-18, Nathan proposes to Maxie at the Metro Court Hotel and after some hesitation regarding his ex-wife, she says yes. On April 22, 2016, Nathan surprises Maxie with an engagement party at the The Floating Rib with everyone she loves being there. While there, Nathan proposes to Maxie again (with a ring) and of course she says yes. On October 18, 2016, it was revealed that their wedding is going to take place on New Years Eve 2016.
Nathan and Maxie were married on January 17, 2017 at the Metro Court Hotel surrounded by family and friends and with Lulu serving as matron of honor and Dante as best man. She is also still going by Maxie Jones.[5] Nathan gave Maxie her favorite cookies, a designer purse, a vintage necklace that belonged to his legal paternal great grandmother and handcuffs as wedding presents. Maxie gave Nathan a baseball from his first Yankees game signed by Derek Jeter as a wedding present.
The couple has never actually gone to The Nurses' Ball together as of yet (in 2014, she went with Peter Harrell, Jr. (aka Levi) and didn't walk the red carpet, Nathan went stag but walked the red carpet with Nurse Epiphany Johnson, in 2015, after they broke up, he went with Ellie Trout and she went with Spinelli but they did end up back together as did Spinelli and Ellie, in 2016, Maxie went with Dr. Griffin Munro because Nathan couldn't attend due to a head injury and in 2017, Maxie was out of town.
Storylines
Nathan and Maxie meet when he arrives in town on her doorstep on New Years Eve to sublet her apartment while she's out of town. Maxie and Nathan share a brief discussion about making a fresh start in the new year and past mistakes, where Nathan flirts with her a little and also tries to comfort her. Then when she leaves for the airport there is still something hanging in the air between them.
They are seen together again in April, when Maxie returns from her Eat-Pray-Love journey. Maxie and Nathan talk about him having to arrest someone and then Levi walks in, half-naked, saying that he just used the rest of Nathan's shampoo. Maxie introduces Nathan to Levi and right off the bat they don't get along. Nathan tells Maxie that he just had to arrest his "mother" for killing his "sister" and Levi tries to give him advice which he doesn't take well and storms out. Afterwards, he picks Britt Westbourne up at a bar, not knowing that they are siblings, and brings her home. Britt and Nathan almost end up having sex but Maxie interrupts them. Maxie tells Nathan that Britt was her doctor during her surrogacy and kept the secret about her baby. Maxie, Nathan and Britt talk some more and then she finds out that the baby Britt gave birth to is really Dante and Lulu's. The next morning, Nathan wakes up and gets a lecture from Levi about how he needs to forgive his mother, which upsets Nathan. Maxie walks in on Nathan about to punch Levi.
Later that day, Maxie tries to evict Nathan. He realizes that Levi convinced her to kick him out but Maxie says that she is trying to live a more healthy earth life style even thou the shampoo she uses leaves her hair dull and lifeless but Nathan says that it looks really nice. Then Levi (aka Mr. Truth Pillow) comes out to talk to Maxie and Nathan about Nathan leaving. Nathan asks Maxie if she can speak for herself and Levi asks Nathan where all his anger comes from and Nathan says it's because of him. Maxie says that Levi has done nothing but help him and that Nathan has done nothing but blow up at him therefore Maxie and Levi feel that it's best for him to leave. Nathan asks where he's suppose to go on such short notice and Maxie suggests Britt's since she slept at their place but Nathan says he won't be sharing a bed with Britt because she's his sister which means that Nathan's biological mother is Liesl Obrecht. When Maxie this finds out, she decides to let him stay because that's a lot to process in one day which explains his mood and she also needs his rent money. She asks him if he will stay and he says yes. They also agree to work on him being more positive.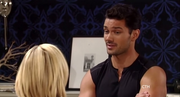 The next day Maxie walks in on Nathan practicing some dance moves and when she finds out the it's for the Nurses' Ball she says that she's surprised because he's very uptight. He asks if that's in addition to being negative, angry and toxic. She says that she never said that, Levi said it and that it was Levi's idea to kick him out. Nathan says that Maxie is full of Levi's ideas and also accuses her of being Levi's parrot and Maxie takes offense to that. Levi later interrupts and tries to kick Nathan out again but Maxie says no. She then finds out that she won't be going to the Nurses Ball and Nathan's point is proven. Before leaving for the Ball, Nathan asks Maxie is she having second thoughts about not going and she says no. After Nathan leaves Maxie decides to watch the red carpet show but Levi turns it off. Maxie turns it back on saying that she will only watch it for ten minutes and when she sees Nathan walk the red carpet she can't take her eyes off of him.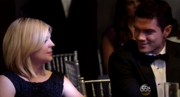 Maxie decides to go to the Ball after all. When she walks in Nathan is standing there and he tells her that she looks stunning. Sadly, Levi comes in and then Nathan says he has to perform his number. Nathan along with Magic Milo and the Magic wands perform a striptease to the song "You Shook Me All Night Long" by AC/DC. During the number, he throws his shirt to Maxie. When Maxie decides to do a number with Lulu, she goes back stage to find her but finds a shirtless Nathan instead and the two of them share a moment. Maxie performs a dance number with the Haunted Starlets to the song "I Love It" by Icona Pop. After her number, Maxie and Nathan sit together and steal a couple of glances at each other. When the Nurses' Ball is over Nathan is sad to see Maxie leave with Levi.
In late May, Maxie comes home with groceries and needs help so Nathan comes to her rescue, shirtless, and they share another moment. Maxie says that she can never figure out if he's about to work out or just wrapped up. Maxie then gets a notice from the courts to appear regarding her daughter. She explains that she and Spinelli took Dante and Lulu to court, she was deemed unfit and Spinelli was given full custody. The six months were up but Maxie decides not to go because she has come to terms with not seeing her daughter. Nathan tries to convince her to go but Maxie tells him that he doesn't know what he is talking about and then tells him to shut the hell up. Nathan says it is up to her but that it would be a mistake not to go out of fear. A few days later, Maxie and Nathan run into each other at the court house, where it is revealed that Maxie missed her hearing but decided that she wanted to fight for her daughter. She explains that she didn't tell anyone she was doing this because she thought she wanted to do it on her own but that was a big mistake. Nathan tells Maxie that he is proud of her and then offers to go with her to meet the judge and she says yes. They meet with the judge, who tells Maxie that she can't see her daughter for another six months because she can't be trusted with an appointment. Nathan then steps in and lies by saying that he threw her notice away. After hearing this, the judge decides to reschedule the hearing. When judge Walters leaves Maxie thanks Nathan for helping her.
The next day, Nathan answers his phone in a towel, hoping it has something to do with Nina but it doesn't. He tells Maxie that according to Madeline, Nina is alive. They talk about him wanting to know if Nina is dead or alive. Maxie says that's kind of how she felt about seeing her daughter and because of him she will get to find out if she can. She wishes she could repay him somehow for what he did for her but he says that listening to him vent about Nina is more then enough. They share another moment until Levi interrupts and then Nathan decides to go get dressed. When he comes back, Maxie and Levi are arguing about the fact the he lied to a judge. They argue some more about how Maxie could get hurt and how nobody wants that, then Nathan leaves for work. A few days later, Nathan and Maxie run into each other in the park after having a bad day (Maxie got into a fight with Levi and Nathan "killed" Ric Lansing). Then they go to the Floating Rib for drinks and continue to talk about Ric and Levi. He kind of explains what happened with Ric and Maxie comforts him and they share another moment where he is about to tell her something but they get interrupted. They also talk about how Levi thinks Gabriel's death was meant to be and then Nathan gives his condolences. He tells her that it's good that she is finally listening to herself instead of Levi. After they finish talking, Maxie helps Nathan polish off the rest of his ribs.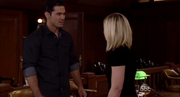 On the day of Gabriel's funeral, Maxie goes to the church to see Patrick while Nathan and Levi get into a fight about Maxie that ends in Levi punching Nathan because he told Levi that Maxie ate his meat and she liked it. Maxie breaks it up and finds out that Nathan threw her meat lapse in Levi face and that Levi had made a comment about Ric's "death" and that's why they were fighting (they were actually fighting because of her). After it gets settled, she and Levi go to the funeral. The next day, Maxie is seen at the court house for her hearing about Georgie. Nathan walks in and it is revealed that the hearing wasn't suppose to be until the next day and that the judge wanted Nathan there. They talk some more and then go in for the hearing where they find out that the judge found out that Nathan lied. The judge wants Nathan to testify under oath and he agrees. Before Nathan gets the chance to testify, Maxie tells the judge that Nathan did throw the notice away but he didn't know that she had already seen it and she let him take the blame. Then Maxie makes heartfelt plea to the judge to let her be a part of her daughter's life. Later on, Nathan asks why she didn't let him help her and that he was willing to lie for her but she didn't want him to lose his job or go to jail. The judge rules that Maxie can't see her daughter for another six months, which leaves Maxie devastated. Nathan tries to comfort her but she runs out of the court room. He then accuses Levi of tipping off the judge (which he did). Maxie goes to Lulu for comfort and holds Rocco.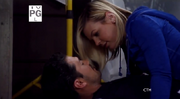 When she goes home she looks for Nathan but finds Levi instead. Meanwhile, Nathan goes to the Floating Rib to tell Mac that Maxie lost custody of Georgie again. Maxie and Levi talk about Nathan accusing him of tipping of the judge (which he did) and then Nathan comes home and Maxie chews him out for it. When Maxie and Levi decide to protest the Waterfront, Michael, Morgan and Kiki try to get them to leave but they won't, so Michael calls the cops on them for trespassing. Nathan arrives and arrests Levi but when he tries to arrest Maxie, she resists and they end up handcuffed to each other. Nathan tries to reach the key in his pocket and when he finally does, he tries to un-cuff them but Maxie tries to grab it, the key flies out of his hand. They blame each other for the key mishap and argue about where to look for the key but they finally pick a direction and start searching. They continue fighting while looking for the key which they can't find. Maxie wants him to call the station but Nathan says no because he doesn't want his fellow officers knowing he got himself cuffed to a "perp". Since he wouldn't call the station, Maxie says she's going to use her phone to call them but she doesn't have her phone on her so she decides to just use his. When she tries to get his phone she falls and lands on top of him and they almost kiss. Afterwards, he tells her that he has a key back at their apartment and that they can leave at anytime.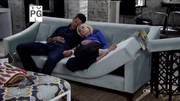 They have to walk home through the park because Nathan can't drive because she on his left side and Maxie can't drive a stick shift. They keep stopping because of her feet and fight the whole way. They finally sit and talk about Nathan blaming Levi for everything but they both end up owning up to their part in the handcuff situation. They also talk about Levi talking her into protesting and then he says that her eyes are beautiful. He says that Levi has to tight a grip on her because she agrees with everything he says. Maxie says that Levi's not the only one who has a grip on her but Nathan says that it's different because they have a grip on each other. They continue walking and arguing until the fireworks start, they stop and watch them and have a moment. The next morning they are sleeping a the couch together after tearing their apartment apart looking for the key. Nathan wakes up to find Maxie sleeping and he stares at her until she wakes up and they have yet another moment that is interrupted by Levi. They start arguing again then Levi tells them that his visa is expired and Nathan says that he is obligated to inform I.C.E but Maxie asks him not too and he agrees. Eventually, Levi finds the key and Nathan unlocks them and they both seem really sad about it.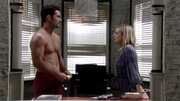 Later on, Maxie and Nathan start fighting about Levi again and Maxie says that she just wants to forget that last night ever happened. Nathan leaves for work and talks to Dante about his night with Maxie while Maxie talks to Lulu about that same night. Dante and Lulu both accuse them of having feelings for each other which they both explicitly deny. Nathan also tells Dante about Levi's immigration problems. After, Lulu leaves Maxie starts to think about Nathan and questions whether or not she might have feeling for him but she is interrupted when a guy from "I.C.E" shows up. Maxie thinks Nathan called immigration on Levi but Nathan denies it. Nathan keeps denying it and also admits that he cares about Maxie. Nathan tells Maxie that he told Dante about Levi's immigration problems and that Mac said something about calling immigration but didn't actually mean it but she goes to see them anyways and accuses them of calling immigration. Nathan and Levi head to the Floating Rib to see whats going on and they find Maxie with Mac and Dante. Mac and Dante both deny calling and so does Nathan so they check Nathan's phone and it turns that one of the numbers is "immigration". Nathan continues to deny it but Maxie isn't buying it. Later on, Nathan finds all of his stuff outside of his apartment because Maxie evicted him. Maxie lets him in and he tries to explain that he didn't make the call and says that Levi made the call on himself. Maxie, Nathan and Levi argue and then Nathan leaves saying that he will prove that Levi is up to no good.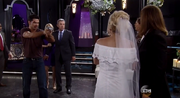 Nathan shows up at work later, with all of his stuff and talks to Dante about Levi while Maxie asks Levi to marry her to keep him in the country and he says yes. Nathan and Dante talk for awhile and then he goes to the Floating Rib to cool down. While he's there he talks to Mac about Maxie. Later on, Maxie and Levi show up and announce their engagement, which Mac an Nathan are not happy about. Maxie and Nathan start arguing about the marriage and he says that she can't marry Levi because its fraud. At the end of July, Maxie asks Lulu to be her matron of honor and she reluctantly says yes and they also talk about Maxie's feelings for Nathan. Meanwhile, Nathan talks to Nina about Maxie and Levi and finally admits that he has feelings for Maxie. On August 8, the day of Maxie's wedding, Nathan admits to Mac that he has romantic feelings for Maxie. Meanwhile, Maxie is getting ready for her wedding. Later on, Mac walks in and tells her that she shouldn't marry Levi because Nathan has feelings for her. Meanwhile, Nathan finds out that someone stole Felicia's Aztec necklace from Paul Murphy and he goes to confront Levi, where he finds the necklace. He is about to arrest Levi when he pulls a gun on him. Meanwhile, after Mac leaves, Lulu comes in and Maxie tells her about Nathan's feelings. Lulu asks if Nathan having feelings for her changes anything and she says no because she has no feelings him but she says that to everything but Lulu. When Lulu calls her out on that and tells Maxie to look her in the eyes and tell her that she has no feelings for Nathan, she says, "I don't have feelings for Levi". Maxie says she made a mistake and meant to say Nathan. Maxie tells Lulu that she wants to go through with the wedding. Later on, Levi reveals his true intentions, which are to marry Maxie and take the Aztec jewels.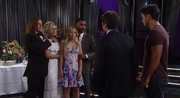 When Nathan tries to get the gun away from Levi they start fighting and it is revealed that Nathan was beat up then tied up by Levi. Later on, Maxie starts having doubts so she goes to see Levi, but Nathan is there instead (she doesn't know that), although he was tied up because of Levi, who was already waiting for Maxie at the alter. Nathan wakes up to Maxie's voice and tries to get her attention but he can't. Later on, Dante finds Nathan tied up and while Dante is untying him, Nathan tells him that Levi is a con and that they can't let him marry Maxie. Meanwhile, Maxie walks down the aisle and is about to say, "I do" when she has second thoughts but Levi talks her out of it. They get back to the ceremony and Maxie says, "I do", however, just as they're about to be pronounced man & wife, Nathan walks in and announces that Levi is under arrest and tells Maxie that he is a con man. Levi then pulls a gun on Maxie and Nathan tries to keep her calm. It is also revealed the the immigration agent is really Levi's accomplice when he ends up pulling a gun on Lulu. Nathan tries to reason with the men, but he has to put down his gun so nothing happens to Maxie. Later on, Levi and his accomplice kidnap Maxie (along with Lulu) but Nathan promises her that he will find her.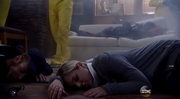 Nathan frantically looks for Maxie but when divers find her veil in the water he fears that he may be too late. Meanwhile, Maxie is alive and well and causing havoc for Levi and Scribner. Later on, Nathan talks to Britt about his feelings for Maxie and then follows up on lead with Dante while Maxie causes even more problems for Levi and Scribner. The next morning, Nathan is praying that Maxie is okay while she is tied to a chair. Nathan later tells Britt that once he gets Maxie in his arms he won't let her go and that nothing will ever stand between them again. Meanwhile, Maxie is getting on Levi nerves again so much so that he forgets his phone so Maxie kicks it to Lulu and they are able to contact Nathan and Dante. When Nathan hears Maxie voice there is a huge sigh of relief on his face. Nathan is able to trace the call even after Levi ends it while Maxie talks to Lulu about Nathan and how he was her cosmic message.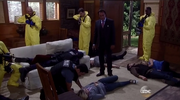 Later on, Nathan and Dante assemble a task force and arrive at the house just as Levi is about to leave with the girls. Nathan and Dante try to negotiate with Levi, who is using Lulu as a human shield, while Maxie is still tied to a chair. Nathan is able to move so he can see Maxie and mouths to her that he's coming and goes around to the back entrance but before he can do anything, Dante shoots Levi. Maxie is then freed from the ropes and asks where Nathan is. Nathan is still outside when gas starts to fill the room and everyone passes out. It turns out that Victor Cassadine is behind this. Nathan is still outside when Victor starts talking about how someone is missing and he tells Nathan to come out or he will kill Maxie. Nathan comes in, puts his gun down and checks on an unconscious Maxie.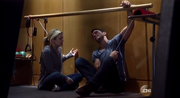 Nathan is seen being escorted by to armed men when Maxie, who is cuffed to a wall, starts calling out. Nathan calls her name and she calls back asking him for help. He tries to get to her but is subdued buy the men and almost knocked unconscious but Victor comes and tells them to knock it off. Victor removes Nathan's blindfold and he asks where Maxie is. Victor says that he can see her but not before he takes some of the blood from Nathan's face. Nathan is then taken to see Maxie, who freaks out because she's worried about what the guys did to him, but he reassures her that he is fine. He is then cuffed to the same pole as Maxie but by both hands and then punched in the stomach. After the guys leave, Maxie asks Nathan how bad he's hurt and he says not that bad. Maxie says that he's lying and Nathan says that she is a sight for sore eyes. Then Maxie tells him that she is really glad to see him and he asks if she's okay. She says besides a killer headache and being chained up that she's fine. Nathan then tries to get up but Maxie tells him to stay put because of all of the pain he's in. Nathan insists that he's good but Maxie tells him to rest before they get started in on plan "B". Nathan says that they can't stay there and Maxie asks if he even knows where they are. He says he got a look when the blindfold was taken off and that they are at Crichton-Clark, the facility that Nina was in during her coma.
While they talk Maxie assesses the cut on Nathan's face which hurts pretty bad and he tells her that would probably hurt less if she didn't touch him. He also fills her in on who the real boss and mastermind of this operation is ~ Victor Cassadine. He then gets up and tells her that they will get out of this but she says that he knows that they could die in there and it would be all her fault. She then goes on to explain that if she had listened to his warnings they wouldn't be where they are right now. She asks Nathan if he could ever for her but he says that there's nothing to forgive. Maxie says thats so not true but Nathan disagrees and says Levi is a con man and that he has her head so messed up that she doesn't think that she's perfect just the way she is. He goes on to say that it killed him the watch Levi hurt her and that he couldn't watch her hurt herself anymore, especially over him. She says that he is bruised, beaten and chained to wall because of her. He says that its technically because of the guards. Maxie insists that its because of her and says that they would all be safe and at home if she had listen to her heart and not gone through with the wedding. Nathan asks if she didn't want go through with it because she saw Levi for who he really is but Maxie says no, it was because of him.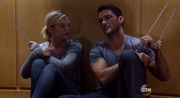 Nathan asks what she means and she explains that Mac came to her before the wedding and told her that she shouldn't marry Levi because he (Nathan) has feelings for her. Maxie tells him that she assumed that Mac was lying to stop the wedding and asks Nathan if what Mac said was the truth. Nathan tells her that he does have feeling for her and has had them since the moment he laid eyes on her. He says that when she answered the door the night he came to sublet he was just dazzled. She says that now she knows he has concussion since she probably looked terrible because she was going through a hard time but he said that she looked beautiful. He also says that it was more then how she looked, it was her personality and the fact that underneath all of her bubbly personality was real pain and he knew that he wanted to comfort her. She says that he tried when he gave her his handkerchief. He also tells her that even thou they only talked for about an hour that he felt this connection to her and then she was gone and he found himself thinking about her and wondering what she was doing. She says that it turns out that she was being duped by a con man. He goes on to say that one of the worst days he could remember was the day he found out about his mother and that when he got home, he didn't have the energy to even turn the lights on. He just sat there, in the dark staring at nothing, but then he looked up and there she was, right when he needed comfort and he couldn't help but wonder if she had been sent back to him to do it.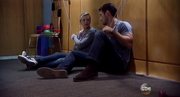 Maxie says that she had know idea he felt that way when she got back and he says that she wouldn't because of Levi. They talk about how obnoxious Levi was and then Nathan says that it all went down hill from there because before he knew they were at each others throats. He didn't know what had happened and if the girl that he had met had actually existed or if he had just made her up in his head. He said that he knew she existed because he could see her underneath Levi's influence and that she was just in a lot of pain. She then apologizes to Nathan for dragging him into this but he says that its not all bad because he finally got his feelings for her out in the open. He then asks her how she feels about him. He says that he didn't mean to put her on the spot, he knows that she left town to put her life back together and that she didn't spend all her time thinking about him.
She confesses that she did think about him on the plane, the whole way there, about how nice he was to her right when she needed it and about how he suggested that she stay and she wondered if she should have. She also thought about how he said that she didn't seem so bad the way she was. He says that she wasn't, she doesn't and she says that he doesn't either. Then Nathan says that he's glad their meeting meant as much to her as it did to him but that he's not quite sure that she answered his question. She says that she knows but she doesn't know if she trusts her feeling right now. She also thanks him for stopping the wedding and that she would have been fine if Nathan had shot Levi but he says that he couldn't get a clean shot. Maxie says that Nathan was being hypersensitive to the situation and that she knew by the way he was holding his gun that he had a perfect shot and Nathan thanks her for having faith in him. Maxie says that's just it that it makes perfect sense for her to have faith in him but not long ago she had faith in Levi which turned out to stupid. She just doesn't think that she's in the position to be telling anyone, meaning him, how she feels right now.
He says that it's okay if she can't tell him how she feels about him right now because the circumstances are less then ideal. They then agree that they should probably focus on getting out of there. When Nathan tries to get up he is in a lot of pain but tries to hide it. Maxie notices and says that he is breathing funny and asks what if one of the goons broke his ribs but again he insists that he's fine. They then get up and try to figure out how to pick the locks on the cuffs. Maxie brings up the fact that the last time they were handcuffed together they were stuck that way until they got a hold of an actual key. Nathan says how could he forget. Maxie apologizes, saying that the whole situation was all her fault but Nathan says that he actually had fun that night despite the circumstances and she says that she did too. Maxie tells him that she was even a little disappointed when Levi found the key as was Nathan. She says that they need to be a little creative in unlocking these cuffs and he agrees. Nathan is able to knock over a trey that has paper clip on it.
He then attempts to unlock Maxie's cuff but gets distracted when he catches Maxie looking at him and they stare at each other for a few seconds before she tells him to focus. He is able to unlock her but then a guard walks in and interrupts them telling them to keep it down. Nathan is able to roll a dumb bell to the door before it closes and then Maxie attempts to unlock his cuffs but breaks the paper clip before she can. She tells him that she is going to go for help but Nathan says its not safe and that they will get him unlocked so he can go with her. She says that he's hurt and even if they could get him unlocked they would get caught in two seconds. Much to Nathan's dismay, Maxie decides it's their best bet for her to go, but before she leaves, Nathan makes her promise that she'll be safe and that she will come back to him.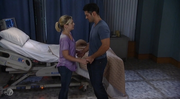 Nathan is later seen trying to get out of his cuffs and worrying about Maxie. Meanwhile, Maxie is sneaking around looking for a phone. Nathan gets a visit from Peter who taunts him while Maxie finds herself in a room with someone very dangerous. When Peter leaves, he goes looking for Maxie. When he finds her, she is introduced to Peter's father, the man in the bed in the room she ended up in. Nathan tries to find another paper clip but then a guard comes in and he is able to over power him. Nathan unlocks his cuffs and ends up in Victor's office wanting to know where Maxie is. Meanwhile, Maxie is in terrible danger when Peter, Sr. says that it is time for Maxie to die. Nathan sets out to find Maxie after Victor tells him where she is. At the same time, Peter, Sr. is getting ready to stab Maxie with a dagger. As Maxie is about to be killed Nathan shoots Peter, Sr. in the back, killing him. Nathan rushes to Maxie's side and checks on her. She assures him that she's fine because of him and the two share their first hug. They are about to leave when Peter, Jr. attacks Nathan and they start fighting. Peter gets the upper hand and is about to shoot Nathan when Maxie stabs him in the back, killing him. Then, Nathan and Maxie share their first kiss.
They continue kissing but then pull away and Nathan apologizes for kissing her saying that it's not the most romantic time or place. Maxie looks arounds and realizes that they are surrounded by dead bodies. Nathan reassures her that he was listening to her when she told him that she was confused and now she has something else to consider when figuring it out. Nathan tells Maxie that she needs to carry a gun but promises to have her back the whole time. Nathan gives Maxie a crash course in handling a gun and then they leave to go find Dante and Lulu. Nathan tries to convince Maxie to leave and let him rescue Dante and Lulu but she says that she's not going to let him do this on his own. They then end up in a room with two unconscious guys and then they hear a noise that they find out is going off because the building is going to self-destruct.
Nathan and Maxie find Dante and Lulu and explain that the building is going to blow up and they need to get out now. They head out and run into Anna and Obrecht and they make a plan to get out. Obrecht tells them that the front door doesn't use the same security pad as the inside doors and they decide that is their best bet. When they get to the door Maxie discovers that it's locked so Dante suggests that together they shoot at the door. They all agree and then Nathan reminds Maxie about what to do but she tells him that she can do this and he says that he knows she can. They all line up and together on three they shoot at the door. Nathan and Dante kick the door open and Nathan and Maxie run, hand in hand, out of the clinic. A couple of minutes after they are safe outside the clinic, it blows up so Nathan, Maxie and the others take cover behind a car with Nathan shielding Maxie.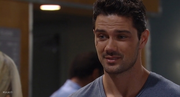 Later on, Maxie and Nathan arrive at the PCPD where they are reunited with family members ~ Mac, Felicia and Britt. Maxie explains to Mac and Felicia that she killed Peter to save Nathan. While, Nathan and Britt discuss him being a Cassadine. Maxie also tells her parents that Nathan told her how he feels about her and Nathan tells Britt the same thing. They both also think about the kiss and tells their family that there is hope for them. After they finish talking to their families, they run into each other and Maxie tells Nathan that her parents are insisting that she stay at their house tonight but that he is welcome to stay at the apartment to which he says that he might take her up on that offer. Then Maxie says that it's going to be weird not being around him after having been locked up with him for so long and he says that maybe they better come off that gradually. She asks what he means and he asks if she wants to have dinner with him tomorrow, if she doesn't have plans. She says that she doesn't have plans, not so soon after coming home from a kidnapping, which means he probably doesn't either. He says he does now and asks if it's a date and Maxie says I guess so and then he leaves.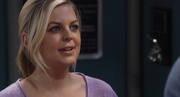 The next day, Maxie is seen at the Brownstone while Nathan is seen, at Anna's door, texting Maxie asking if their date is still on. Nathan goes into to talk to Anna about why his mother is still in custody and they talk until Jordan shows up. At the Brownstone, Maxie pushes her way inside so she can apologize to Morgan (Michael and Kiki) about the protest and asks Morgan for advice about her date with Nathan. Afterwards, Maxie finds Nathan outside Anna's office. Nathan says that he was just thinking of her and she says same here. He asks if there date is still on and she says that she is here to give him an answer in person.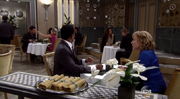 Maxie explains thats she's been thinking about non-stop since they got back, mostly the little things but that she can't go out with him at all. Nathan makes Maxie a proposition and tells her that he will be at the Metro Court in case she decides to show up. Lulu later convinces Maxie to go on the date while Dante convinces Nathan to keep his word and show up. At the Metro Court, Nathan is just about to leave when Maxie shows up. He pulls out her chair and says she looks stunning. He also speaks french which shocks Maxie. They start learning things about each other and they find out that they both like the Simpsons. In the middle of their date, Judge Walters comes to the Metro Court for his date with Monica Quartermaine. He spots Nathan and Maxie and warns Maxie if he sees her with Nathan again he will make sure she doesn't get to see her daughter. Maxie tries to protest but Nathan says if she wants to see her baby girl she can't be with him so they part ways.
Later, they run into the gym together where they talk about Obrecht. Lulu sees them and tells them it's not a good time since a guard who works at court house was in her kick-boxing class. Lulu leaves and then Nathan and Maxie part ways again but not before Maxie tells him that they shouldn't give up on each other. On October 28, Nathan is at Kelly's and sees Diane Miller and asks Diane if she can do anything for Maxie and him. She says might be able to but it may be risky. Then Maxie comes in and finds out that Diane can't do anything so she has to leave but not before she and Nathan give each other longing looks. On November 11, Maxie and Nathan are texting each other saying they miss each other.
On December 8, Maxie is at Kelly's getting ready for her hearing. Lulu later tells her Nathan has been shot in a confrontation while trying to help Sam Morgan while she was being held hostage. Maxie then rushes to hospital and demands to see Nathan. She barges in his cubical with Obrecht at her heels. She holds Nathan's hand and asks if he's ok. Nathan says he is fine and tells Maxie she has to go. Maxie tells him she isn't going anywhere. On December 11, Maxie visits Nathan at the hospital and delivers flowers to him from Britt. There, they start making out and a nurse almost catches them. Nathan tells the nurse a volunteer was just giving him flowers.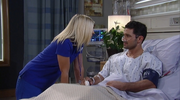 On the day of Maxie's hearing, Nathan and her facetime for a while. Maxie is later denied visitation with her daughter because she was seen with Nathan. Later on, an upset Maxie tells Nathan the news. Nathan wants to make Walters pay but, Maxie says it'll do no good. Nathan comforts Maxie and tells her he will make sure she sees little Georgie for Christmas. On the day of Nina's court hearing, Alexis tells Maxie the judge reversed his decision; Maxie gets to see Georgie. Maxie tells Nathan the good news and wonders if he had anything to do with it. He says he has no clue how it happened. Later on, Nathan and Maxie exchange Christmas gifts early because she is going to be in Portland for Christmas. Maxie gives Nathan a Floating Rib card and Nathan gives her these expensive shoes she's been wanting since the spring. Maxie is pleasantly suprised and tells Nathan these must have cost him a fortune. Nathan says he's been saving and Lulu helped him track them down. Nathan helps Maxie put the shoes on and she talks about how beautiful they are. Maxie and Nathan share a Christmas kiss. Nathan tells her she should get ready to go to Portland. Nathan tells her to be home by New Year's Eve and that they can make new memories in 2015. Maxie says it's a date and they kiss again. On December 24, Nathan gets to meet Georgie over the phone. It is later revealed that Obrecht made it possible for Maxie to see Georgie.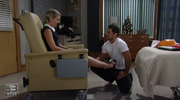 On New Years Eve, Lulu brings Nathan home from the hospital and helps him prepare for his and Maxie's second date. Nathan says he can't believe it's been a year since Maxie first opened the door to him. In Portland, Maxie discovers her flight has been cancelled due to fog. She calls Nathan and tells him the news and they say they miss each other. Then, Nathan and Maxie discuss their problems with Lulu and Spinelli (Maxie with Spinelli and Nathan with Lulu). They talk about how something always seems to get in the way of them having a relationship, first Levi, then Walters, now fog. They also talk about how they want a beautiful relationship, like the relationship Spinelli has with Ellie and Lulu has with Dante. Nathan and Maxie are both determined to see each other. Nathan later arrives in Portland to find Maxie gone and Maxie arrives in Port Charles to find Nathan gone. Maxie calls Lulu to ask where Nathan is, Lulu tells her Nathan has gone to Portland to be with her. Nathan asks Spinelli where Maxie is and he says she is back in Port Charles. When Lulu arrives at apartment, she asks how Maxie got there and she says called in a favor to her father, Frisco and got picked up from a private airstrip outside of Portland. Spinelli also asks Nathan how he was able to get to Portland and Nathan tells him that he called in a few favors to one of his aunt's friends and got flown to a private airstrip outside of Portland, which Spinelli revealed was the same one Maxie flew out of. Nathan calls Maxie and tells her he is going to get a fight out and be back in Port Charles by nine o' clock. Before Nathan leaves Portland he gets to meet Georgie in person. Meanwhile, Maxie asks Lulu to help her pick out her dress and Lulu tells her to wear the blue one.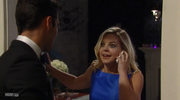 Maxie arrives at the airport to pick him up but Nathan's flight has been diverted and he's in Beechers Corner. Maxie says she is coming to pick him up while Nathan says he will take a cab to her apartment (the call had a bad connection). Nathan arrives at the apartment to find Dante and Lulu eating the ribs they bought for his and Maxie's date, while Maxie arrives at Beechers Corners airport to find no Nathan. Nathan calls and says he's at the apartment. Maxie tells him she can't drive back because her car got towed, Nathan tells her to take a cab. Maxie later calls to tell Nathan that her cab broke down. Minutes until midnight, Maxie arrives at the apartment to find no Nathan yet again, right at that moment Nathan calls and says he went to pick her up. Maxie tells him the tow truck driver drove her back to the apartment. Maxie says at least they tried, and then someone knocks on her door, Maxie goes to open it and it's Nathan!!!!!. Maxie hugs him and he says "I guess I wasn't so far away after all" and then they kiss. Maxie asks him if this is really real that he is actually here and he says it's New Year's Eve, where else would he be but at her door. They then share a midnight kiss.
After they kiss, Nathan says that he has waited a whole year to do that, to touch her and look her. Maxie says he has looked her but he says not like she was his and he was hers. Maxie says it feels good and Nathan says it feels unreal. He also says that 2015 is their year and then they kiss again. Then Maxie pulls away and tells him that she can't believe he tricked her--she thought he stood for truth and honesty. He says in his defense he did leave when she told him that her cab broke down because he couldn't stand the thought of her being alone at midnight. She asks what made him come back. He tells her a little voice was nagging at him that he was going to miss her and that he should stay put. Maxie asks if it was the little voice who told him to pretend he wasn't there when she got home and he says totally. Maxie tells him this can't become a thing "the little voice made me do it". He says "oh come on, forgive us". Maxie says she's just glad he listened; he says me too and then they hug.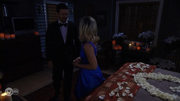 Maxie asks Nathan if he was responsible for the food, Nathan says that was Dante and Lulu; he was a little busy flying across the country. He also tells her that he did get to meet Georgie and that she is remarkable. They talk about how Spinelli is a great guy and thinks she hung the moon but Maxie says he shouldn't because she screwed up with Spinelli. Then Maxie says she doesn't deserve Nathan because he is all the things she isn't and she always messes things up. Nathan tells Maxie that she could not be more wrong and that he thinks she is beautiful, funny, loving and flawed. She says she's afraid because he is saying all those nice things and looking at her like she's the most important thing in the world and she has a knack for detonating anything good in her life. He tells her that she won't screw this up and to look at the last 365 days; the fact that they have been through the ringer together and separately and they made it through. They are free to be together in every way. Afterwards, they eat and after a bit of awkwardness between the two, they finally head to the bedroom, where Nathan has set up candles and put white flower pedals on the bed. She tells him the room is perfect and he says to him she's perfect and they make love for the first time!!!!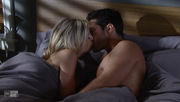 The next morning, Nathan and Maxie wake up in bed together and continue making love. Afterwards, Maxie asks Nathan if he was tutored in the art of seduction like he was tutored in french because he knows how to dazzle her. He says "Non. C'set un cadeau" to her and when she asks what that means he says it means "it's a gift" and she says that she has gift for him - her lips and then they kiss. Nathan pulls away and Maxie thinks it's because she has morning breath but he says no, he likes the way she tastes but he needs 20 minutes to recharge. She tells him not to scare her like that and that sometimes a kiss is just a kiss. He asks if this is one of those times and she says no. Later, Nathan comes out of the kitchen, in his underwear, with breakfast and Maxie comes in and asks him what he's doing; he says they needed sustenance. She says she can't believe he's cooking and he says he does dishes too, but says that she can handle that. She says she would gladly scour all the pots and pans that she owns if he promises to do all of the cooking in his underwear. He says if she keeps staying the night, he will keep doing the cooking. Then Maxie points out that this is her apartment and Nathan says good point. Maxie looks at him and says she's wondering if it's been 20 minutes yet and jumps on him, spilling all the food.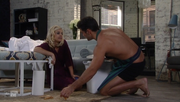 Afterwards, they are on the couch talking about how breakfast is out and about how happy they are. Maxie says they are lucky they are so compatible and Nathan says "compatible?" Maxie says she was being discreet and Nathan says they just had sex all over the living room. Maxie says they could have just fizzled out but that it was great that they woke up jumping for joy like they did this morning. Nathan says I pity the fools who aren't as happy as they are and then they kiss. Later on, they clean up the egg-splosion and promise to try and control themselves. As Nathan leaves the room, Maxie checks out his butt. Nathan returns with more eggs and Nathan tells Maxie that he's sore. Maxie tells Nathan that this breakfast looks better then the first one and that maybe the delay was a blessing in disguise. Nathan says definitely that practice makes perfect and Maxie says it makes her think what other things get better with practice. N: "Playing piano.", M: "Riding a bike." N: "Throwing a spiral.", M: "Driving a stick.", N: "Tying cherry stems together with your tongue.", and M: "Naked things done in pairs.". After the banter, they start making love again and knock over the table in the process, sacrificing their perfect breakfast. Later on, they eat Floating Rib leftovers in bed and toast to the New Year.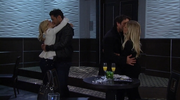 At the Metro Court, Maxie is seen talking to Lulu about her night with Nathan and how amazing it was. She also finds out that Johnny got out of prison. She and Lulu talk about how Lulu did shots with Johnny and Dante walked and wasn't very happy. Lulu assures Maxie that she only has eyes for Dante and Maxie says she only has eyes for Nathan. While, Dante and Nathan arrive at Johnny's apartment to talk to him. Dante tells him to stay away from Lulu. Johnny says he will lay off Lulu then he brings Maxie up. Nathan says he has a problem with that because Maxie is his girlfriend. Nathan says Maxie has never mentioned Johnny to him, Dante notes that Johnny isn't worth mentioning. Nathan later assaults Johnny and they warn him again to stay away from their girls. Moments later at the Metro Court, Nathan and Dante walk in and Nathan and Maxie kiss.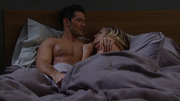 Later on, Nathan takes Maxie back to the apartment where he says "nous devons dépêcher" and then he tells her that it means that they have to hurry because he only has an hour. As he lifts her on the bed, she says she loves when he talks demanding to her especially in french. While they are making out, she says that she's not objecting to sex on his lunch break, to which he says good, but that he practically kidnapped her. He says that he couldn't help himself and had to make sure that she only had eyes for him. She says as "Opposed to who?" and Nathan says "That guy at the Metro Court you were was checking out." Maxie says "Who?" and Nathan says "What?". Maxie says "Did you say something?" and Nathan says "Je dit, ne pense pas." (meaning: I said don't think) as he lays her down in bed and they make love. Afterwards, Maxie says now that we're a little more coherent and Nathan says that coherence is overrated and they start making out again. They stop making out and Maxie says "again" it hasn't even been 20 minutes yet but Nathan says he only has an hour lunch and wants to make the most of it besides he doesn't want her attention wondering. Maxie says she just got finished telling Lulu that she didn't think he was the jealous type and that now he is getting a little possessive because she said that the bartender at the Metro Court is cute. He say yes he is getting all caveman because she was checking him out and Maxie says that it's super sexy when he goes all caveman but he has no reason to be jealous, she hasn't even met the guy. Nathan asks if he should only be jealous of guys she has met, but she says he shouldn't be jealous, period. Maxie notes she told Lulu that he looks more like a soldier than a bartender.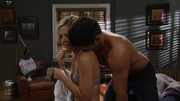 Nathan says she could be right, he tells that the bartender is Jake Doe and Sam Morgan is sure that he is the one that took her hostage and shot him. Maxie tells him that she wasn't the guy who marked up his gorgeous body up but she doesn't believe that it's Jake Doe. She says if Jake Doe did take Sam hostage and shoot Nathan he probably would have been out of Port Charles. She also says that Sam is probably upset that Cesar Faison escaped because he is the one that killed her husband Jason. She asks Nathan what he knows about Jason. Nathan says he knows that he worked for Sonny Corithos and that Faison killed him. Maxie says that they never found Jason's body and says he was very important in Sam's life and grief like that doesn't just go away. Later on, Maxie is trying to get dressed while Nathan kisses her neck and shoulders. He says he could call Dante and see if he could cover for him, Maxie tells him not to tempt her because she has to get over to her mothers. Nathan asks Maxie if he can see her tonight and she says he better see her later and text her so they can figure out where to go. He says anywhere but the Metro Court and she says he still can't be jealous. He says he can, then says "comme ca" (meaning like this) and they kiss. She says she hopes Sam feels this but not with him, he is reserved for her. She just wants Sam and Patrick to work out so Sam can be happy like she is.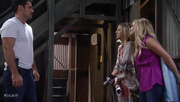 Later on, Nathan and Maxie have mind blowing sex. She mentions how his apartment is very conducive to mind blowing sex and corrects her saying it's her apartment. She says yeah but she is still living with her parents. Nathan points out that she spends more time with him at the apartment then she does at her parents, she asks if he's complaining and he says hell no. He starts kissing her and she says no because they will never get out of bed and she has to go to her mom's inauguration even though there is no winner yet due to the missing ballot box. She says her mom deserves to win and Nathan agrees. She talks about how she just wants her mom to win and that she worked so hard campaigning for her, even though Nathan did his best to stop her. Then it flips to a flashback, to a few months ago, of Maxie and Lulu talking about their time at Crimson while putting up campaign posters. Lulu brings up the fact that they are short and could use Levi's help and asks where he is. Maxie says he is dealing with the immigration issue that Nathan caused. Lulu started to say that they don't know if Nathan did anything, right as Maxie cuts her off, Nathan shows up and hears her saying that he might be gorgeous and have beautiful eyes but Lulu was wrong about him being a nice guy. Then Maxie says to come on, they have hundreds of posters to put on the Waterfront, just as she says that Nathan walks up to them and says that he can't them do that. He says they need a permit and they don't have one so he can't let them continue. Nathan and Maxie argue about Levi and she says if her mom doesn't win because they don't have enough posters up she's blaming him.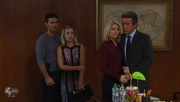 Then it goes back to present time with Maxie saying that she wasn't about to cut him any breaks back then and that Levi played her for a fool but Nathan says she is nobody's fool. Then they start making out again and Maxie says 10 more minutes then they get up, but then the phones rings. Maxie hands it to Nathan saying that it's Anna. He answers and Anna tells him he needs execute a warrant at Wyndermere. Nathan goes to Wyndermere to get the ballot box while Maxie goes to the court house to be with her mother. Later on, Nathan brings the ballot box back to the court house and waits with Maxie to hear the results.
When they find out that Felicia lost, Maxie tries to comfort her and then Nathan tells Felicia that she would have been a great mayor, she is generous and kind, and has welcomed him in to the family with open arms. He also says that if in two years she wants to run again she has his full support and then hugs her. Later on, they watch while Mayor Lomax fires Anna. After the election Nathan and Maxie are in bed discussing the outcome of the election. Maxie wonders if Agent Sloane and Mayor Lomax did something for revenge against Anna. Nathan later switches the topic to their relationship. Maxie says she wants to be smart and take things slow because she doesn't want to mess things up. They agree that Nathan should move out for now. They promise to see each other a lot.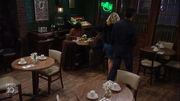 Nathan is later seen at Kelly's talking to Dante about what happened with him, Johnny, and Lulu. while Maxie runs into Johnny at the the Haunted Star and they catch up. Later on, Maxie shows up at Kelly's. Nathan and Maxie kiss and say they missed each other all day. Maxie asks if they are that sickening lovey dovey new couple and Nathan asks her if she cares, she says no and they kiss again. Nathan explains that he moved in above the Kelly's, he just needs to pick up his things and they will be all set. Maxie asks if he can stay over at her apartment for the night because it's late and they were going to go there together anyways. They decide to save the move until tomorrow and they go back to her apartment.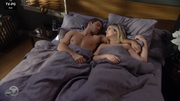 Nathan and Maxie wake up in bed together. They talk about the Port Charles crime organizations and Johnny. Nathan said Johnny implied to him that he and Maxie had a history. Maxie explains that they pretended to have a relationship, but it turned into an attraction. Maxie and Nathan share some kisses in between their discussion. Maxie is at the Haunted Star for the party and is talking to Lulu and Nathan shows up to arrest Jake. They have a brief chat before Nathan hauls Jake away to the station. Nathan later shows up again at the Haunted Star and Maxie finds out he is here to arrest Fluke. Lulu and them discuss about how Fluke put Dante in the hospital. Later when Michael finds the bomb and goes to throw it away, Nathan shields Maxie.
Later Sonny jumps off the Haunted Star with the bomb. Nathan and Maxie rush out after Sonny jumps off. Nathan asks Maxie if she is alright. She says they could have died but Nathan says they didn't thanks to Michael and Sonny. Maxie says "And almost you! You tried to take that bomb didn't you?" Nathan explains that it's his job to protect people. Maxie says she isn't sorry that he didn't get the chance to. Nathan kisses her on the forehead and says they'll talk about it later but Maxie says she is not letting him out of her sight. Nathan says he will come back. Maxie asks "Promise?" and Nathan says "It's 2015, the year of us, remember?". Maxie replies "How could I forget?" and they kiss. Nathan heads down to look for Sonny. Maxie later comes down too. Nathan asks her what is she doing here and Maxie says she got nervous because he was taking to long. She asks if they found Sonny. They haven't yet. Nathan tells Maxie to go home but she doesn't want to. He says "Imagine how much better I'll feel knowing that you're home and under the covers and safe" but Maxie says "Imagine how much worse I'll feel not knowing where you are or what you're doing." Nathan says he will call every hour on the hour but Maxie says it's not good enough. Nathan goes all detective on her saying that she doesn't have a badge so she can't be here. Maxie eventually agrees to go home but tells him not to get used to winning. Then they share a kiss and she leaves.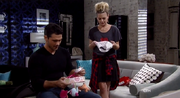 Nathan and Maxie are later at the apartment building a crib for Georgie. They talk about Johnny and Nathan leaves to find Johnny and Carlos (who are on the loose). Nathan shows up at Sabrina's apartment and arrests Carlos but Johnny escapes and comes to Maxie. They talk before Maxie goes to take a shower and Johnny takes her cash and key and splits. Nathan later comes home with flowers for Maxie and a bib for Georgie that says "Mommy's Favorite". They share a kiss. Maxie asks Nathan if he can come to the airport with her to pick up Spinelli, Ellie, and Georgie but Nathan says he can't because he still has to look for Johnny. Maxie has flashback about her with Johnny.
Maxie can't find her keys or cash and Nathan thinks she has been robbed. Later on, Maxie comes clean about Johnny and Nathan is upset with her. They continue to argue about how she helped a criminal escape. Maxie says she did it because Johnny is her friend. Nathan says he is obligated to arrest her for being an accessory to Johnny's crimes. Maxie tells Nathan to put the cuffs on her but Nathan doesn't because he doesn't want her to go to jail or loose her daughter again. He says he has to lie and tell people that Johnny broke into her apartment and stole her things. Maxie says he lied for her before in court but Nathan says he did because Maxie didn't commit a crime and because he did it for the girl he was falling in love with. He later leaves. Then Spinelli shows up with Georgie.
She explains to Spinelli how she helped Johnny and that she doesn't know if they can come back from it. Meanwhile, Nathan is at the PCPD talking to the ADA about Maxie and Johnny and lies to cover for her. Later on, Spinelli explains that Ellie broke up with him because she thinks that he is still in Maxie and he thinks Ellie is right. Back at the PCPD, Nathan tells Dante what happened with Maxie and Johnny. Later on, Nathan shows up to Maxie's apartment while Maxie and Spinelli are talking.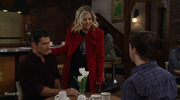 While Maxie takes Georgie to visit Lulu, Nathan crashes into Spinelli at Kelly's spilling hot chocolate all over himself. At Lulu's, Maxie and Lulu talk about Spinelli and Nathan and about their babies while the babies play on the ground. Maxie leaves after Tracy comes in. At Kelly's Nathan goes to change his shirt. He later comes back and they talk about Maxie. Spinelli admits his feeling for Maxie to Nathan as Maxie enters Kelly's with Georgie. They talk about the situation. Maxie says she did know that Spinelli had a romantic interest in her again. Nathan pulls Maxie away. They talk and Nathan says it's not like she returns Spinelli's feelings. Maxie says she doesn't but Nathan isn't buying it so he tells her she needs to sort out her feelings and then he leaves.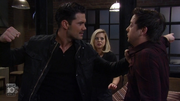 Maxie shows up at Dante and Lulu's but finds Spinelli there instead. While. Nathan is at Shadybrooke to see Nina. While Spinelli and Maxie are talking they argue about Nathan and about their relationship status right now. Spinelli kisses Maxie when Nathan walks in. Maxie tells him that him that the kiss was forced on her and then Nathan tries to beat Spinelli up but they are interrupted by Spinelli's computer. After Spinelli leaves, Nathan tells Maxie that he thinks it time to call it a day and end their relationship. Maxie is able to convince him not to give up on them and they kiss right as Spinelli walks in (karma). They then head to her place.
Later, Maxie and Nathan do break up and Maxie goes to be with Spinelli. Nathan tries to plan to make the them jealous with the help of Spinelli's then ex, Ellie Trout. At the Nurse's Ball, Maxie attends with Spinelli while Nathan attends with Ellie. Maxie is shocked to see Nathan with Ellie but tries to keep her cool. Maxie and Nathan glance at each other throughout the show. Later Maxie realizes she belongs with Nathan and Spinelli realizes he is destined to be with Ellie. Maxie tells Nathan that she belongs with him and the two get back together.
Classic quotes
Nathan and Maxie meet:
Nathan: "Thanks. You must be Maxie Jones."
Maxie: "That is me. You are?"
Nathan: "Nathan West. Nice to meet you."

Nathan: "I was gonna say "stunning," so, no, nothing like that."
Maxie: "Oh. I thought you couldn't stand me.
Nathan: "I can still appreciate a beautiful woman when she's right in front of me."

Maxie: "Look at what you did!
Nathan: "What did you do?!"

Nathan: "No. No. No, 's -- the color's great with your eyes. It's beautiful."
Maxie: "You think that my eyes are beautiful?"

Nathan (about Maxie): "I feel something for Maxie."

Nathan (to Maxie): "Maxie, I will find you."

Nathan: "So, this is what that means."
Maxie: "What what means?"
Nathan: "Sight for sore eyes."

Nathan (to Maxie): "No. No, he wasn't. I do have feelings for you, Maxie. I have since the moment I laid eyes on you."

Gazing at each other:
Maxie: "Focus."
Nathan: "I'm working on it."

Nathan: "Just promise me you'll be safe, okay? Promise you'll come back to me."
Maxie: "I promise. I'm coming back to you."

Maxie: "Oh, my God, I-I killed him. I wasn't even thinking."
Nathan: "Maxie, no, you -- you did it to save me."
Maxie: "No, Nathan. You saved me first."
*First kiss*

Nathan: "I told you your eyes were beautiful."
Maxie: "I vaguely remember that. Very clearly. A little."

Nathan: "You, Maxie Jones, are a good person, okay? You can be a yoga-doing, veggie-loving, world-saving version of yourself, or you could be a committed fashionista or some combination of the two. You'll still be amazing."

Maxie (to Lulu about Nathan): "Oh, like "oh, my God, can't breathe, drop-dead gorgeous."

Nathan (to Dante about Maxie): "Oh, God. It was the most beautiful thing I'd ever seen. Took my breath away."

Maxie: "What were you thinking getting shot? Didn't anyone ever teach you to duck?"
Nathan: "Well, I didn't do it on purpose."

Maxie (to Nathan): "It's gonna be better than great, 'cause not only am I gonna have Georgie, but I'm gonna have you, too."

*A nurse walks in and almost catches them making out*
Nathan (to the nurse): "This, uh, volunteer was just giving me flowers."

Nathan (to Maxie): "Thanks for the, uh... for the visit and the flowers. And the kiss."

Nathan: "I'm sure. I'll make you a deal."
Maxie: "Yes?"
Nathan: "A year ago, I stood in front of a closed door, and when that door opened, I met the girl of my dreams. And then she took off on a plane and I wasn't sure if I was gonna see her again. This time, I know when you get on that plane, you're coming back to me. So you go, spend your Christmas with your daughter, and when you come home, we will make this a New Year's to remember."
Maxie: "It's a date."
*Kiss*

Maxie: "A little voice?"
Nathan: "Mm-hmm. Little but loud."
Maxie: "Sounds like me."

Nathan: "Maxie Jones, to me you are perfect"

Nathan: "Worth the wait?"
Maxie: "Oh, hell yes."

Nathan (to Maxie): "I like the way you taste."

Maxie: "We're very lucky we're so... compatible."
Nathan: "Compatible?"
Maxie: "I was being discreet."
Nathan: "Maxie, we just had sex all over the living room."

Maxie: "Are we that sickening lovey dovey new couple?"
Nathan: "Do you care?"
Maxie: "No."

Nathan: "I'll be back."
Maxie: "Promise?"
Nathan: "It's 2015. It's the year of us, remember?"
Maxie: "How could I forget?"

Nathan: "No, Maxie two big differences here, ok? You hadn't just committed a crime and I wasn't just doing it for some friend. I was doing it for the girl that I was falling in love with."

Nathan: "...But I'm not giving up on you, Maxie. I'm not giving up on us. I-I can't. Because...I love you.

Nathan:...I love you, Mariah Maximiliana "Maxie" Jones. I am deeply and completely in love with you..."
Maxie: "[Scoffs] The answer to your question is, of course, I love you. What? Are -- are you stupid? You had me at -- at --"
Nathan: "Hello?"
Maxie: "I don't think we said hello that night. I think it was somewhere between, "I'm your subletter," and "Detective Nathan West, nice to meet you." I mean, Nathan, you're my hero."

Maxie: "I love you, Nathan. I've loved you for a long time. And even though I said this stupid breakup was your fault because of that boxing match, I know it was partly mine, because I sent you mixed signals and made you think that I was happier with Spinelli. I'm not happier with Spinelli. I'm in love with you. And I know no one will believe this -- maybe not even you -- but I'm not in love with you because you're gorgeous, sexy, or because you can speak French. [Chuckles] I love you because you're kind and honest. And you never gave up on me, even when I stupidly made you think that's what I wanted. You know, we said this was our year. And I'm really sorry that I wasted even a minute of it. What I want more than anything is to make up for lost time. Do you think that we could do that?"
Nathan: Try me."
*Kiss*

Nathan: "Nothing. Everything. Ugh. You are the only woman in the world for me. I love you with every breath I take, with every beat of my heart. Your happiness matters to me more than anything in the world. I would do anything. I would sacrifice everything to make you happy. As long as you promise that we can spend the rest of our lives together. And I don't -- I don't have a ring, and you deserve the best ring in the world, and we'll get there. But I'm gonna ask you anyways. Maxie... will you marry me?"
Videos
Nathan and Maxie montage from August 12, 2014 when Maxie finally realizes that she is falling for Nathan. The first kiss, on September 15, 2014, surround by dead bodies: the kiss that everyone had been waiting for since they met in December of 2013.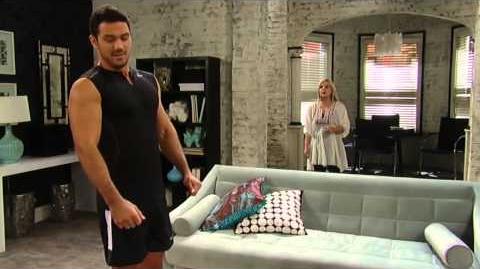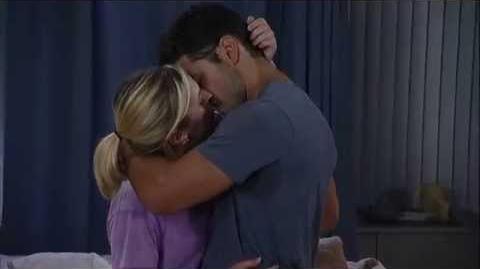 Wedding Videos
Nathan and Maxie were married at the Metro Court Hotel by Damian Spinelli on January 17, 2017.
References
Photo galleries
There are two galleries because there are just too many photos...--Only add to the gallery on the right
Ad blocker interference detected!
Wikia is a free-to-use site that makes money from advertising. We have a modified experience for viewers using ad blockers

Wikia is not accessible if you've made further modifications. Remove the custom ad blocker rule(s) and the page will load as expected.