Robert Scorpio (Tristan Rogers)
Talk

24
572pages on
this wiki
Robert redirects here. For other uses of the name, see Robert (disambiguation).
Agent Robert Xavier Scorpio is a fictional character on the ABC soap opera General Hospital, played by actor Tristan Rogers.
Appearances
Edit
Rogers originally played the role from December 1980 through June 1992, the popularity and longevity of the character coming as a result of his involvement with the monumentally popular "supercouple" Luke and Laura, whose 1981 wedding brought in 30 million viewers and remains the highest-rated hour in American soap opera history.[2][3]
While Rogers' Scorpio had been "killed with no body found" when he left the series in 1992, Rogers returned briefly in 1995 as Scorpio's spirit to comfort the character's daughter Robin Scorpio (Kimberly McCullough), who is dealing with the loss of her boyfriend to AIDS-related illness and is herself HIV-positive.[4]
He returned again in January 2006 for six weeks, this time with Scorpio being very much alive. Rogers reappeared in April 2006 and left again that November.
From August 5, 2008 through October 21, 2008, Rogers reprised the role of Robert Scorpio on the second season of SOAPnet's General Hospital: Night Shift, a prime time spin-off of General Hospital which stars Scorpio's daughter Robin.[5][6]
He was featured in 12 of the season's 14 episodes, and Soap Opera Digest named the appearance their "Best Return" of 2008.[7]
Rogers later reappeared on General Hospital for four episodes starting December 22, 2008 as Scorpio attends Robin's wedding.[8][9]
In March 2012, he reappeared after the death of his daughter Robin. He left after only a few days, but returned in November of that year at the request of Luke to help prove the back-from-the-dead Duke Lavery a fraud.
Storylines
Edit
Robert, an Australian, has a heroic past. He was involved in many adventures with his good friend Luke Spencer and his wife Holly Sutton. He has been an international spy for the WSB spy agency, served as police commissioner of Port Charles from January 24, 1983 until early December 1985, was acting WSB Drector in the Spring and Summer of 1987, then served again as PCPD Commissioner from January 1988 until early February, 1992 when he supposedly perished in an explosion in South America. When he resigned as police commissioner in 1985 he moved to Australia with his wife Holly to start anew.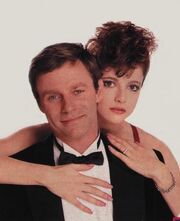 He had a bad relationship with his brother Mac Scorpio when he first came to town because he blamed Mac for the death of their parents. Eventually the brothers patched up their relationship. Robert was presumed dead along with his wife, Anna Devane, in 1992. Their teenage daughter Robin Scorpio was left behind to be raised by Robert's brother Mac Scorpio. Anna Devane reappeared in 2001, but told her family that Robert was dead. However, Robert resurfaced in 2006, when Port Charles was stricken with a deadly strain of encephalitis. It came out that he was forced by the WSB to be incognito for 15 years as the only way to keep his families alive; he had no choice but to let them think he was dead. His daughter is having a difficult time forgiving him for his absence.
Robert Scorpio and Holly Sutton married under strange circumstances. Holly was pregnant with the presumed dead Luke Spencer's baby and was about to be deported so Robert stepped in and married her. She ended up miscarrying the baby but she and Robert eventually fell in love. Robert married Anna Devane when the two were on assignment for the WSB in Italy. The two were married in secret before either character showed up in Port Charles. After Holly "died", Anna and Robert remarried in 1991. When the evil Cesar Faison kidnapped Anna, Robert left Port Charles for South America to rescue her.
Both Robert and Anna turned up alive in Port Charles in 2006 much to the surprise of their daughter, Robin.During his return in 2006, Robert told Robin that he was in the South Pacific trying to track a lethal dose of encephalitis. He said that he quarantined a village and torched it but two potential carriers slipped through the net: one was a chimp, and another was Luke Spencer.
When Anna returned in the summer of 2007, she explained that Robert was deep undercover on a mission to recover black market alien remains. Later, at the end of the summer both Anna and Robert were assigned on a mission in the Amazon.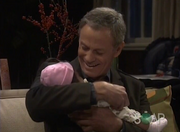 In 2008, Robert returned to walk his daughter Robin down the aisle at her wedding to Patrick Drake. While in town, he also met his new granddaughter, Emma Scorpio-Drake.
Night Shift
Robert Scorpio returned to General Hospital when his plane crashed near Port Charles. Jagger Cates rescued him and brought him to General Hospital where it was revealed that he has a brain tumor. During an MRI, Patrick Drake told Robert that the brain tumor was the result of another tumor. Sadly, Robert learned that he has colon cancer and has fallen into a coma. He came out of the coma October 14, 2008 after being confronted by Luke, Sean, Tiffany and his family when he was in the coma.
In March of 2012, Robert returns to Port Charles after Anna tracks him down because their daughter Robin tragically died in a lab explosion at General Hospital. Robert arrives not knowing why he has been summoned. He bonds with his granddaughter Emma, giving her mother and baby stuffed koalas. Anna then tells him about their daughter's death. He insists on seeing her body, even after Anna tells him she was burned beyond recognition. Robert goes to the hospital morgue and views her body.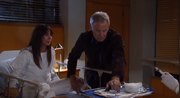 He then takes off and Anna later gets a text from him saying goodbye. Luke finds Robert standing on the ledge of the bridge where Robin and Stone used to go, ready to jump to his death. Luke tries to talk Robert down and gets on the ledge with him, saying that he deserves to die too for killing a child. Luke tells him about Jake's death and how he was responsible. Luke finally is able to get Robert down after telling him that Ethan Lovett is his son, not Luke's. Luke tells him this lie because he feels it is the only way to get him down. Luke tells Robert that Ethan has taken off and Helena Cassadine is after him so that Robert will feel that his life has purpose and take off to save him. Robert then leaves town to find Ethan, and Holly goes with him, to keep up the ruse that Ethan is Robert's son.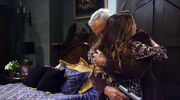 In November-December 2012, Robert returns to Port Charles after Luke reveals the truth about Ethan's paternity.  Robert realizes there is something wrong with Duke Lavery after Luke contacts him about the situation.  Robert helps Anna realized that the man that she was falling back in love with was not Duke and was actually their arch-enemy Cesar Faison.  Robert then accompanies Anna to the mental institution that Cesar Faison has connections to.  Anna and Robert find the real Duke.  Anna stays behind while Robert heads outside of the room.  Robert hears screams and finds Robin but Faison's partner in Liesl Obrecht then injects Robert with a lethal dose of a chemical.  He is currently in a coma clinging to life.
On October 4, Robert wakes up from the coma. Mac and Anna go see him and they are very happy that he is awake. He can't remember what happen right before he was injected. He goes over it in his head and finally remembers that he saw Robin alive and tells Anna. Robert is finally reunited with his daughter on 11/25.
At the end of January in 2014, Robert left town to help Holly and Ethan.
On August 27, Anna says that Robert is investigating what happened to Maxie and Lulu from Wisconsin.
Crimes Committed
Edit
Breaking and entering; he and Anna broke into the Cassadine Mansion looking for Robin Scorpio-Drake [Oct 21, 2013]
Was about to shoot Liesl Obrecht until Anna stopped him [Oct 21, 2013]
Knocked out Liesl Obrecht by hitting her over the head with a gun [Oct 21, 2013]
Hit one of the Cassadine guards with a metal tray, rendering him unconscious [Nov 13, 2013]
Shot Jerry Jacks in the leg [Nov 13, 2013]
Held Jerry Jacks at gunpoint, demanding to know where Robin and Duke were [Nov 13, 2013]
Held Jerry Jacks prisoner in a hotel suite at the Metro Court Hotel [Nov-Dec 2013]
Pointed a gun at Cesar Faison as he and Anna threatened to kill him [Dec 2013]
Responsible for the mysterious disappearance of Cesar Faison along with Anna [Dec 2013]
Keeping whatever he and Anna did to Cesar Faison a secret [Dec 2013-present]
Health & Vitals
Edit
Gunshot wound as a result of a hostage situation at General Hospital [1984]
Hospitalized after a bomb was thrown through his office window while he was at his desk; suffered multiple contusions and a concussion that resulted in him being in a coma and almost dying from his injuries
Shot at by a hit man named Rory in the Finger Lakes area of New York; saved by his brother Mac, who donated blood for a transfusion he needed at a clinic in town
Believed to be killed in the same explosion as Anna
Stabbed in the chest with a used syringe by Liesl Obrecht who injected him with a potentially-fatal virus [2012]
Had to be treated right there at the Swiss clinic after Liesl Obrecht injected him with a potentially-fatal dose of propofol [2012]
In a year-long coma [2012-Oct 2013]
Couldn't walk without the use of a cane [Oct 2013]
Insisted on traveling with Anna to the Cassadine Island mansion despite his maladies [Oct 17, 2013]
Held hostage in Robin's lab and locked there with Anna by Jerry Jacks [Oct 22, 2013-Nov 13, 2013]
Positions held
Edit
Family tree
Edit
References
Edit
v - e
Current Contract Characters
Jordan Ashford
 ·
T.J. Ashford
 ·
Shawn Butler
 ·
Nikolas Cassadine
 ·
Nina Clay
 ·
Dr. Silas Clay
 ·
Morgan Corinthos
 ·
Sonny Corinthos
 ·
Alexis Davis
 ·
Anna Devane
 ·
Dr. Patrick Drake
 ·
Dante Falconeri
 ·
Olivia Falconeri
 ·
Fluke
 ·
Robert "Franco" Frank
 ·
Carly Jacks
 ·
Ava Jerome
 ·
Julian Jerome
 ·
Kiki Jerome
 ·
Maxie Jones
 ·
Jason Morgan
 ·
Sam Morgan
 ·
Michael Quartermaine
 ·
Tracy Quartermaine
 ·
Nurse Sabrina Santiago
 ·
Luke Spencer
 ·
Lulu Spencer-Falconeri
 ·
Nurse Elizabeth Webber
 ·
Nathan West
Current Recurring Characters
Larry Ashton
 ·
Ned Ashton
 ·
Scott Baldwin
 ·
Helena Cassadine
 ·
Spencer Cassadine
 ·
Dr. Linda Chu
 ·
Father Coates
 ·
Lucy Coe
 ·
Dr. Kevin Collins
 ·
Brad Cooper
 ·
Emma Drake
 ·
Nurse Felix DuBois
 ·
Cesar Faison
 ·
Rocco Falconeri
 ·
Max Giambetti
 ·
Milo Giambetti
 ·
Alice Gunderson
 ·
Jerry Jacks
 ·
Josslyn Jacks
 ·
Nurse Epiphany Johnson
 ·
Dr. Lucas Jones
 ·
Molly Lansing-Davis
 ·
Duke Lavery
 ·
Janice Lomax
 ·
Nurse Rosalie Martinez
 ·
Diane Miller
 ·
Danny Morgan
 ·
Dr. Liesl Obrecht
 ·
Dr. Monica Quartermaine
 ·
Coleman Ratcliffe
 ·
Madeline Reeves
 ·
Carlos Rivera
 ·
Delia Ryan Coleridge
 ·
Felicia Scorpio
 ·
Mac Scorpio
 ·
Kyle Sloane
 ·
Aiden Spencer
 ·
Nurse Bobbie Spencer
 ·
Cameron Spencer
 ·
Heather Webber
 ·
Johnny Zacchara
Forthcoming Characters
Nurse Karen Anderson
Deceased and Presumed Dead Characters
Benny Abrahms
 ·
Bernie Abrahms
 ·
Dr. Rachel Adair
 ·
Diego Alcazar
 ·
Lorenzo Alcazar
 ·
Luis Alcazar
 ·
Sage Alcazar
 ·
Ruby Anderson
 ·
Dr. Andy Archer
 ·
Dominique Baldwin
 ·
Cooper Barrett
 ·
Alison Barrington
 ·
Amanda Barrington
 ·
Kiefer Bauer
 ·
Warren Bauer
 ·
Jesse Beaudry
 ·
Katherine Bell
 ·
Connor Bishop
 ·
Mary Bishop
 ·
Paige Bowen
 ·
Nurse Jessie Brewer
 ·
Nancy Brewer
 ·
Dr. Phil Brewer
 ·
Carter
 ·
Irina Cassadine
 ·
Kristina Cassadine
 ·
Mikkos Cassadine
 ·
Stavros Cassadine
 ·
Stefan Cassadine
 ·
Tony Cassadine
 ·
Victor Cassadine
 ·
Stone Cates
 ·
Dr. Ryan Chamberlain
 ·
Stephen Clay
 ·
Adela Corinthos
 ·
Lily Corinthos
 ·
Dr. Ian Devlin
 ·
Mickey Diamond
 ·
Ronnie Dimestico
 ·
Dr. Pierce Dorman
 ·
John Durant
 ·
Bill Eckert
 ·
Connie Falconeri
 ·
Andrea Floyd
 ·
Dr. Russell Ford
 ·
Dr. Steve Hardy
 ·
Peter Harrell, Sr.
 ·
Peter Harrell, Jr.
 ·
Abby Haver
 ·
Logan Hayes
 ·
Theo Hoffman
 ·
John Jacks
 ·
Aleksander Janacek
 ·
Victor Jerome
 ·
Stan Johnson
 ·
B.J. Jones
 ·
Georgie Jones
 ·
Tania Jones
 ·
Dr. Tony Jones
 ·
Dr. Ewen Keenan
 ·
Rafe Kovich, Jr.
 ·
Dr. Eve Lambert
 ·
Trevor Lansing
 ·
Dr. Cameron Lewis
 ·
Victor Lord III
 ·
Hope Manning-Thornhart
 ·
Reese Marshall
 ·
Courtney Matthews
 ·
Danny McCall
 ·
Lila McCall
 ·
Nurse Leyla Mir
 ·
Trey Mitchell
 ·
Susan Moore
 ·
Chloe Morgan
 ·
Henry Nakamura
 ·
Dr. Lisa Niles
 ·
A.J. Quartermaine
 ·
Dr. Alan Quartermaine
 ·
Alexandria Quartermaine
 ·
Edward Quartermaine
 ·
Dr. Emily Quartermaine
 ·
Lila Quartermaine
 ·
Faith Rosco
 ·
Manny Ruiz
 ·
Gabriel Santiago
 ·
Joe Scully
 ·
Joe Scully, Jr.
 ·
Damian Smith
 ·
Frank Smith
 ·
Shirley Smith
 ·
Zander Smith
 ·
Jake Spencer
 ·
Lena Spencer
 ·
Siobhan Spencer
 ·
Tim Spencer
 ·
Olivia St. John
 ·
Nurse Diana Taylor
 ·
Martha Taylor
 ·
Dr. Peter Taylor
 ·
Tracy Taylor
 ·
Dr. Asher Thomas
 ·
Cole Thornhart
 ·
Nurse Amy Vining
 ·
Bradley Ward
 ·
Justus Ward
 ·
Mary Mae Ward
 ·
Dr. Rick Webber
 ·
Dr. Karen Wexler
 ·
Dawn Winthrop
 ·
Deke Woods
 ·
Dr. Maggie Wurth
 ·
Anthony Zacchara
 ·
Claudia Zacchara-Corinthos
Off-screen and Former Characters
Lila Rae Alcazar
 ·
Dr. Grant Andrews
 ·
Terri Arnett
 ·
Brook Lynn Ashton
 ·
Christina Baldwin
 ·
Dr. Gail Baldwin
 ·
Lee Baldwin
 ·
Serena Baldwin
 ·
Dr. Tom Baldwin
 ·
Brenda Barrett
 ·
Julia Barrett
 ·
Melinda Bauer
 ·
Gia Campbell
 ·
Peter Carroll
 ·
Dimitri Cassadine
 ·
Petros Cassadine
 ·
Valentin Cassadine
 ·
Jagger Cates
 ·
Lois Cerullo
 ·
Skye Chandler-Quartermaine
 ·
Mike Corbin
 ·
Kristina Corinthos-Davis
 ·
Angie Costello
 ·
Blair Cramer
 ·
Jolene Crowell
 ·
Nurse Nadine Crowell
 ·
Dr. Rae Cummings
 ·
Marco Dane
 ·
Téa Delgado
 ·
Roy DiLucca
 ·
Anna Donely
 ·
Sean Donely
 ·
Tiffany Donely
 ·
Dr. Noah Drake
 ·
Taylor DuBois
 ·
Toussaint Dubois
 ·
Sly Eckert
 ·
William Eichner
 ·
Angel Ellis
 ·
John Everett
 ·
Nurse Fletcher
 ·
Pres Floyd
 ·
Nurse Audrey Hardy
 ·
Dr. Simone Hardy
 ·
Dr. Tom Hardy
 ·
Dr. Tommy Hardy
 ·
David Harper
 ·
Jimmy Lee Holt
 ·
Paul Hornsby
 ·
Dr. Matt Hunter
 ·
Anton Ivanov
 ·
Lady Jane Jacks
 ·
Jasper "Jax" Jacks
 ·
Terrell Jackson
 ·
Miranda Jameson
 ·
Frisco Jones
 ·
Dr. Leo Julian
 ·
Rose Kelly
 ·
Ric Lansing
 ·
Dr. Kelly Lee
 ·
Winifred Leeds
 ·
Guy Lewis
 ·
Victor Lord, Jr.
 ·
Ethan Lovett
 ·
Starr Manning
 ·
Todd Manning
 ·
John McBain
 ·
Miguel Morez
 ·
‎Hope Morgan
 ·
Ken Morgan
 ·
Delores Padilla
 ·
Blackie Parrish
 ·
Nurse Penny
 ·
Grant Putnam
 ·
Celia Quartermaine
 ·
Dillon Quartermaine
 ·
Burt Ramsey
 ·
Cruz Rodriguez
 ·
Casey Rogers
 ·
Father Mateo Ruiz
 ·
Juan Santiago
 ·
Robert Scorpio
 ·
Dr. Robin Scorpio-Drake
 ·
Alec Scott
 ·
Hannah Scott
 ·
Jeffrey Scribner
 ·
Rebecca Shaw
 ·
Laura Spencer
 ·
Lucky Spencer
 ·
Damian Spinelli
 ·
Georgie Spinelli
 ·
Suzanne Stanwyck
 ·
Nurse Mischa Stephens
 ·
Holly Sutton
 ·
Marcus Taggert
 ·
Nurse Regina Thompson
 ·
Ellie Trout
 ·
Claire Walsh
 ·
Faith Ward
 ·
Keesha Ward
 ·
Dr. Maya Ward
 ·
Dr. Jeff Webber
 ·
Dr. Lesley Webber
 ·
Dr. Sarah Webber
 ·
Dr. Steve Webber
 ·
Dr. Britt Westbourne
 ·
Dr. Lainey Winters
 ·
Grace Yang
 ·
Crew
Ron Carlivati (Head writer, 2012-present)
 ·
Jill Farren Phelps (Executive producer, 2001-2012)
 ·
Robert Guza, Jr. (Head writer, 1996, 1997-2000, 2002-2008, 2008-2011)
 ·
H. Wesley Kenney (Executive producer, 1987-1989; Head writer, 1988)
 ·
Gloria Monty (Executive producer, 1978-1987, 1991-1992; Head writer, 1981)
 ·
Wendy Riche (Executive producer, 1992-2001)
 ·
Frank Valentini (Executive producer, 2012-present)
 ·
Garin Wolf (Head writer, 2008, 2011-2012)
Related Topics
List of cast members
 ·
List of current actors
 ·
History of General Hospital