Ad blocker interference detected!
Wikia is a free-to-use site that makes money from advertising. We have a modified experience for viewers using ad blockers.

Wikia is not accessible if you've made further modifications. Remove the custom ad blocker rule(s) and the page will load as expected.
Nurse Sabrina Maria Dominica Santiago, RN[6] is a fictional character on the ABC soap opera General Hospital. She is the daughter of Mr. Santiago and his late wife, Gabriela Santiago.
She has been portrayed by actress Teresa Castillo since the character's debut on September 19, 2012.
Casting and characterization
Castillo originally auditioned for the role of Delores Padilla when GH's casting director, Mark Teschner noticed her on Franklin & Bash. She actually did a chemistry test with her current co-star, Jason Thompson, who portrayed Patrick. However, the series decided to stick with Rebecca Montoya as Delores.
In the spring of 2012, she was contacted again by the series and she auditioned for the role of "Maya." Castillo admitted that she didn't think they even came up with her character's real name until the day before she was to start taping her first scenes. She once again tested with Thompson. Castillo was chosen out of hundreds of other actresses for the role of Sabrina. After several weeks of waiting, she was contacted by the show again and read for executive producer, Frank Valentini. She went back for another chemistry test in late August.
Castillo began filming her scenes on August 31, 2012. During the audition, the actresses started out getting "pretty" to do a fantasy scene in which the character admits her love for Patrick, and then transforming into a nerdy girl with glasses for the rest of the scene. To make sure she stood out from the 9 other actresses that the producers had called back, Castillo admitted that she "decided to have fun."[7] Several days later, Castillo learned from her manager that she had booked the role.[8] The character first appeared on September 19, despite some sources stating the first air date to be September 14.[9] The date may have been confused with Emily Wilson's first appearance as Ellie Trout, who did appear on the 14th. Castillo originated the role on a contractual basis.[10][11][12]
Though the character does not have a lisp, or the uni-brow, the huge glasses and the not so neat hair remain. Sabrina comes off very afraid at times, and usually cannot be honest about how she feels. Apart from her feelings for Patrick, Sabrina's whole life is defined by following in her mother's footsteps and becoming a nurse. Like her mother, "[Sabrina] wants to make a difference in the world. She truly cares about people." Castillo described the character as "considering, kind and loving." She has a mind of her own.
She went on maternity leave on June 16, 2014 and returned on August 21, 2014.
She went on maternity leave again on January 28, 2016 and returned on May 20, 2016.[13]
Background
Sabrina is the adoptive cousin of Juan Santiago. It is Juan who suggests Sabrina go to General Hospital to finish her nursing degree.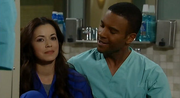 Sabrina's mother, Gabriela was also a nurse, whom according to Sabrina was pretty good at her job. However since, Gabriela died when she was very young, she grows up idolizes her mother. After her mother's death, Sabrina's father sends her to live with her adoptive cousins in Puerto Rico as he is unable to raise her on his own. Sabrina carries her mother's stethoscope. In high school, Sabrina dates Carlos Rivera (Jeffrey Vincent Parise) and she loses her virginity to him. Immediately after college, Carlos wants to marry her and start a family, while Sabrina wants to focus on her career.
She has a son named, Teddy Rivera, who was born in January of 2016, with her late husband, mobster, Carlos Rivera. She also had a son named, Gabriel Santiago, who died shortly after his birth in 2014, with her ex-fiancé, Dr. Patrick Drake.
Felix DuBois is her best friend.
Storylines
In September of 2012, Sabrina comes to General Hospital as a new student nurse; and Epiphany Johnson, the Head Nurse, shows her around. When Sabrina sees Dr. Patrick Drake, she instantly becomes smitten by him. Dr. Britt Westbourne, however comes and pulls Patrick away to talk to him. Sabrina finds out that Britt is going out on a date with Patrick. Patrick's sister-in-law Maxie Jones, however, can't babysit his daughter Emma, so Britt suggests that Sabrina can babysit. When Sabrina goes to babysit, Emma is shy and not happy about her dad going on a date, so soon after her mom, Robin, has seemingly died. Emma mopes around, not wanting to do anything, and Sabrina has a hard time entertaining her. Sabrina calls Patrick, but Britt answers the phone.
Britt scolds Sabrina for calling, saying she's the babysitter and she should handle it. Sabrina later calls again and tells Patrick that Emma has locked herself in a closet, and Patrick ends the date early to go home to Emma, and Britt is upset about it. When Patrick arrives home, he is able to get Emma out of the closet, and he tells Sabrina he's hungry since his date got cut short. Sabrina brings Emma and Patrick chocolate milk and cookies, and Emma finally warms toward Sabrina. As Sabrina's leaving, Patrick asks her to stay and have milk and cookies with them, and Sabrina agrees. Later, at the hospital, Britt overhears Patrick talking to Sabrina about her calling him home while on their date. After Patrick leaves, Britt berates Sabrina again for not being able to handle Emma and for ending their date.
Sabrina later overhears that Patrick and Britt are going on another date but that Maxie can't babysit, and she offers to sit again, which doesn't make Britt happy. Britt accuses Sabrina of trying to get Patrick to herself and tells her that there better not be anymore interruptions during their date. Patrick overhears Sabrina and Elizabeth Webber talking about how Sabrina would not have a chance with a handsome doctor and the doctor is taken. Sabrina covers and lies that she has feelings for Dr. Steve Webber, who was in her line of sight.  In the locker room, Sabrina and Elizabeth talk about the Nurses' Ball and they decide to pursue to start a campaign to get another Nurses' Ball organized.  We find out what her last name is and that Sabrina is related to Juan Santiago.
Later, Sabrina is in a meeting with other members to organize the Nurses' Ball.  Westbourne tried to get Steve Webber and Sabrina paired up together after rudely disclosing that Sabrina's has a "crush" on Dr. Webber. Westbourne then tries to pair herself to Patrick for Ball's host planning team. Elizabeth helps and gets Sabrina paired up with Patrick since both are passionate about the Ball. Steve and Elizabeth would be paired up to scout the potential locations, specifically the Metro Court. Dr. Westbourne would be the odd-person out and work on advertising and such. Sabrina then comes up with a list of wealthy people in Port Charles and the best one is Todd Manning. On December 7, Sabrina is about to head to the Mannings office to try to get Todd Manning to underwrite the Nurses' Ball and Patrick is about to come along.  Westbourne comes up an excuse why Patrick shouldn't go saying that she needs his consult on a patient and it can not wait.  Westbourne says that wealthy people can wait, but patients can't wait.  The consult turns out to be not as a dire situation as Westbourne says and then Westbourne says that Patrick shouldn't go to the meeting with Manning. However, he heads to the meeting. When Sabrina babysits Emma on New Years Eve her and Patrick almost kiss at midnight.
In early January 2013, Britt lies once again and tells Sabrina that Patrick felt uncomfortable when Sabrina tried to kiss him at midnight on New Years. Sabrina is devastated by the news and tells Patrick that she will no longer serve as his babysitter and thus distances herself from Patrick.  Emma is very upset at the news that Sabrina would no longer be her babysitter. In late January after Emma goes missing Sabrina finds her on the docks by the Haunted Star and brings her back to Patrick. Sabrina tells Patrick that Emma ran away because Britt said she didn't like her. Britt tells Sabrina that she will regret it if she does anything to come between Britt and Patrick. Sabrina replies that she could care less about her relationship with Patrick, but Britt would be the one that regrets it if she does anything to hurt Emma.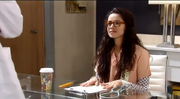 Patrick overhears Britt telling Sabrina that Britt would be in Patrick's life for a long time, and calling Emma a spoiled brat. Patrick breaks up with Britt and tells Sabrina he's not ready to date and when he is it will never be someone from work again. In an attempt to destroy Sabrina, Britt makes her patient Maxie switch the medication bottles in order for it to look as if Sabrina gave the wrong medicine and killed a patient. Sabrina worries that the death on her record might destroy her career before it even begins. Britt sends a letter to Monica attempting to get Sabrina kicked out of nursing school. On February 25, Sabrina talks to Patrick about her childhood; her mother was a nurse and Sabrina's hero but she died when Sabrina was Emma's age. Her father couldn't function or take care of her so he sent her to live with her cousins in Puerto Rico. She says she thinks about her mother all the time and even uses her old stethoscope to keep her close. Sabrina and Patrick light candles together, one for her mother and one for Robin.
On March 1, Sabrina finds out that the board voted in her favor and that she would be able to keep working at General Hospital. Later she finds out that she did not graduate. Her friend and fellow nursing student, Felix DuBois, goes to Epiphany, the head nurse, and Epiphany says that Sabrina passed with flying colors, but that she is being accused of cheating and therefore kicked out of the program. Patrick accuses Britt of having something to do with this, due to Britt's desires to get rid of Sabrina. Sabrina stands up to Epiphany saying she has never cheated and will retake the exam to prove it. Epiphany allows her to retake the exam, and Sabrina passes, and therefore will graduate at the top of her class. Sabrina uses this newfound confidence to tell Patrick about her feelings. Patrick tells her that he never thought of her that way, but is paged to go to the ER before he can say more. Sabrina takes it as Patrick has no feelings for her now or ever. Patrick and Epiphany talk and reveal that Patrick has some feelings for Sabrina.
Sabrina graduates from nursing school and officially becomes a nurse with Elizabeth, Emma and Patrick in attendance. Patrick later comes to talk to her, but Milo Giambetti intercepts Sabrina & asks her out on a date. Milo has a genuine interest in Sabrina, upsetting Felix, who is also interested in Milo. Meanwhile, Patrick leaves a voicemail for Sabrina saying he wants to talk after he keeps getting interrupted when talking to her face-to-face. Milo, though, sees this message and deletes it from Sabrina's phone. Sabrina accepts Milo's invitation to be his date to the Nurses' Ball. The night of the Nurses' Ball, Felix gives Sabrina a makeover that transforms her. Patrick comes in soon after, and is speechless by Sabrina's new look, saying she looks stunning. He finally confesses that he returns her feelings, and kisses her. He asks for a chance with her, which Sabrina happily accepts. She goes downstairs, and gently lets Milo down.
During the Ball, Sabrina performs a number with Emma and is nearby when Patrick comes onstage to make a tribute to Robin. During Patrick's speech, Britt comes onstage and crashes his tribute. Sabrina comes onstage to support Patrick, and Britt announces to everyone that she's pregnant with Patrick's child. Patrick pulls Britt offstage while Sabrina keeps Emma company. Afterwards, Patrick finds Sabrina, and says that he's not willing to let Sabrina go because of Britt's news. Sabrina thinks Britt is faking the pregnancy or the paternity of the baby, and Patrick agrees they will get a paternity test done.
Britt tells Patrick she'll have an abortion because he doesn't want the baby. Meanwhile, Sabrina arranges for her & Patrick to go on a date. However, as Patrick is leaving, Britt asks him to come with her when she gets an abortion. He cancels on Sabrina, something Britt was hoping for. Sabrina watches Emma, who has a hard time accepting that Britt's baby will be a part of her family. Patrick comes back, and says Britt didn't go through with the abortion. Britt later claims that she has a serious illness as a result of her pregnancy, though Sabrina is convinced she is faking. Britt manages to worm Patrick into letting her stay with him. However, Patrick later finds Sabrina and says that he is not going to let Britt move in with him. Sabrina then lets Britt move in with her.
Britt makes Sabrina's life miserable, as well as Felix's, Sabrina's roommate. She's demanding and refuses to settle for anything less than what she wants. Sabrina puts up with her because she later tells Felix she still has her doubts about Britt's illness. Patrick stops by to check on them, and tells Sabrina he's going to take her out on a long overdue date the following night. Sabrina & Patrick go out, but not before Britt tries to get Patrick's attention by feeling the baby's first kick. Patrick isn't deterred, and takes Sabrina out for their date.
The two of them have dinner at the Metro Court, and they discuss how supportive Sabrina has been. Sabrina admits to Patrick that the reason she let Britt move in with her is because she still doesn't believe that Britt is being honest about her condition, and that she's trying to prove what's going on. Patrick admits that he was going to have a paternity test done when Britt found out that she was sick. Sabrina insisted that there was a way for the test to be conducted that was noninvasive. Patrick & Sabrina had a paternity test done without Britt's consent. Felix & Sabrina also realize that the lab manager, Brad Cooper, is conspiring with Britt. They get lab tech Ellie Trout to run the paternity test so Brad won't find out. However, Felix tips Britt off, who finds Patrick & Sabrina as they get the results. She tears the results up, and Patrick says this is confirmation that the baby Britt is carrying isn't his. However, Britt says Ellie would confirm the results, and Ellie tells Patrick he is the father of Britt's baby. Patrick & Sabrina both try to adjust to this truth.
Sabrina catches Britt one day with another woman, whom Britt claims not to know. Sabrina, though, is suspicious that the two know each other. Felix, meanwhile, finds out Brad has fallen for him, and as a gesture of faith, Brad shares that Britt & her mother are somehow conspiring together. Felix goes & shares this news with Sabrina, who begins to suspect the other woman with Britt was her mother. They ask Ellie's boyfriend, Damian Spinelli, to dig up Britt's background. Sabrina later realizes the woman she saw was in fact Britt's mother when Spinelli finds an old photo of her. Furthermore, he finds out that Britt's mother is Dr. Liesl Obrecht, a wanted criminal.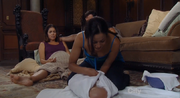 Sabrina & Felix find out about Britt's mother, and the fact that she has committed several crimes in Port Charles, mainly targeting Robin's family. Britt is arrested as her accomplice, but released later on lack of evidence. Patrick is worried about his unborn child, and is not ready to celebrate the exposing of Britt's past. He goes to confront Britt after she's released, and finds out that he's not the father of Britt's baby because her mother fixed the paternity test. Sabrina catches up with him at his house, where he reveals what Britt told him. Patrick convinces Sabrina to stick around, saying he doesn't want to lose her after everything they've both been through.
Sabrina went to Wyndemere and angrily confronted Britt about lying to Patrick and calling Emma a spoiled brat. This leads to an argument between the two with Sabrina telling Britt that she should hate her, but instead she feels sorry for her. This heated discussion is what causes Britt to go into labor. Sabrina is about to deliver her baby when Nikolas Cassadine arrives. The baby, Rocco Falconeri, is born. Sabrina & Felix are suspicious when "Ben" doesn't look anything like Brad or Britt, but don't look into it further.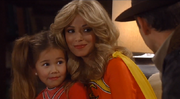 Sabrina feels like Patrick keeps pulling away from her the further their relationship goes, because he's still wanting to hold onto Robin. She's also hurt after Emma asks for her mom when Sabrina tries to take care of her. Considering whether her relationship with Patrick is actually going anywhere, Sabrina gets the surprise of her life when her ex-boyfriend, Carlos Rivera, shows up, saying he wants her back. Sabrina lets him know she's with Patrick, but when Carlos sees a picture & finds out about Robin, he thinks Patrick will always love Robin more than he loves her. Patrick comes home, and Sabrina lets him know about Carlos & that he wants her back.
Carlos tries to corner Sabrina, and push Patrick away from her. Patrick, though, is around to help Sabrina when this happens. Carlos then insinuates that Patrick isn't over Robin because he still wears his wedding ring. Patrick later takes off his wedding ring after consideration, wanting to stay with Sabrina. Carlos, though, finds this convenient when Sabrina comes & tells him. Patrick comes home one night and asks Sabrina to marry him, something that surprises her because they had agreed to take it slow. Patrick says he wants Sabrina to be a part of his life forever, and doesn't want to lose her. Sabrina happily accepts his proposal.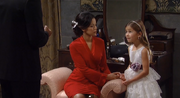 Because of Carlos raising doubts about her engagement, Sabrina eventually convinces Patrick to get married as soon as they can. Felix, Elizabeth, & Emma help her plan the wedding. Carlos finds her one day, and says he saw Patrick's "dead" wife alive and well in the General Hospital lab. Sabrina is outraged at his claim, and discredits what he says. On her wedding day, her cousin Juan shows up and gives her the wedding dress of Sabrina's mother, something she was hoping to wear when she gets married. Sabrina is thrilled, as she thought her mother's wedding dress was lost when she died.
The wedding ceremony starts, and Patrick & Sabrina say their vows. However, just as they're about to be pronounced man & wife, Emma sees Robin, alive, standing at the back of the church. Patrick & Robin share a heartfelt reunion, while Sabrina runs away, heartbroken. Patrick finds her in the back of the church, and says he's torn because he still loves her & Robin. Sabrina tells him that he can love them both, but he can't have both of them, and he has to make a decision. Sabrina disappears after Patrick leaves, and Felix & Patrick both become worried about her.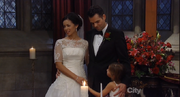 Sabrina ends up running away, crying, and finds Carlos. She gets drunk that night, and wakes up in Carlos' bed. Carlos, though, tells Sabrina that they didn't have sex. Carlos and Sabrina embrace in a passionate kiss when Patrick shows up at Carlos' apartment and tells Sabrina to stay away from Carlos, while Carlos accuses Patrick of cheating on Robin. Sabrina tells them she can take care of herself, and leaves. Robin shows up at Sabrina's apartment, and tells her to break up with Patrick so his decision can be easy. Initially, Sabrina is going to, but later decides to let it be Patrick's decision.
On Christmas Eve, Patrick shows up on Sabrina's doorstep, and tells her he's going to go back to Robin. Patrick apologizes for hurting her, and Sabrina says a heartbreaking goodbye to him. Soon after, Carlos shows up with a gunshot wound. Sabrina finds out Carlos works for the mob, and he was shot by Sonny Corinthos, the local mob boss. Sabrina stitches him up and lets him stay at her place when he begs her not to call the cops because he's afraid of getting killed by Sonny.
Felix comes back on New Year's Eve, and is upset about Sabrina harboring a fugitive. Before Felix can do anything, Sabrina ends up sick to her stomach. Felix then asks Sabrina if she's pregnant. Sabrina denies it, at first. Eventually, she lets Felix get her a pregnancy test to find out. Sabrina hopes she isn't pregnant, but the test comes back positive. Felix tells her to let Patrick know, but Sabrina refuses, because she'll be acting like Britt. Though Felix argues otherwise, Sabrina is adamant that Patrick never finds out. Felix relents, saying he'll let her figure it out.
When Felix is returning to work, Sabrina begs him not to tell Patrick that she's pregnant. Unfortunately, Carlos overhears and asks if it's true. Sabrina finally admits it, but says she's not going to tell Patrick. Carlos asks what she's considering, and Sabrina says she's thought about both not having the baby and giving it up for adoption. Carlos offers to raise the baby with her. Sabrina is hesitant about this, and says she doesn't want a life with Carlos. However, he insists that he'll love the baby, even if it's not his, as much as he loves her.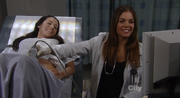 Meanwhile at the hospital, Felix was unsuccessful in trying to fend off Patrick's curiosity about how Sabrina was doing. He admits to Patrick that Sabrina is pregnant. Patrick heads over to Sabrina's apartment and she makes Carlos hide when she hears Patrick at the door. Patrick comes in and asks Sabrina if she is pregnant, which she confirms. He inquires about her well-being and assures her that he will be there to support her. Just as Sabrina and Patrick start to talk about how to handle the situation, Carlos interrupts them and claims to Patrick that he is the father of Sabrina's child. Sabrina goes along with this, telling Patrick she slept with Carlos the night of their interrupted wedding because she was upset. Patrick leaves, and Sabrina is upset about lying to him, but says she will not tell Patrick the truth.
At the hospital, Felix tries to apologize to Sabrina for telling the truth, though Sabrina ignores him. Felix later finds out about Sabrina's lie, and she gets him to keep her secret. However, they're overheard by Elizabeth, who doesn't want to lie to Patrick about Sabrina's baby. Sabrina, though, argues that it's going to hurt Robin, as well, and it's best if they believe that she's carrying Carlos' baby. Patrick and Robin then show up, and Elizabeth tries to tell Patrick the truth. However, before she can, Patrick and Robin stun them by revealing Obrecht is the new chief of staff.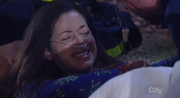 Soon after, Patrick brings Emma to the hospital, and Sabrina's pregnancy is revealed to her. While Sabrina & Emma are talking, Elizabeth comes in asking Sabrina to tell Patrick the truth, and Emma overhears. Elizabeth covers, but Sabrina realizes the lies have gotten out of hand for her. She finally tells Patrick that he's the father of her baby. Patrick leaves, angry and hurt, and tells Robin. Sabrina also lets Carlos know that he won't need to pretend to be the father, something he is not happy about.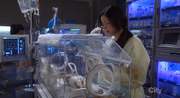 Sabrina has her first ultrasound alone, when Patrick doesn't show up. She ends up having her appointment with Britt when her doctor is absent, and Britt agrees to fill in. Sabrina makes it clear she's not using her baby to get Patrick back like Britt did. Britt apologizes to Sabrina, and says she's changed and realizes her mistake now that she has "Ben" and realizes what it means to be a loving mother. Sabrina forgives her, and is thrilled when Britt tells her the baby looks healthy. She decides not to find out the baby's gender until Patrick is with her. Soon after, Sabrina runs into Robin & Patrick, and brings up her appointment. Patrick apologizes, saying something has come up. He tells Sabrina that Robin is leaving town to do volunteer work in Africa. Sabrina's surprised to hear this, and asks Patrick if Robin is leaving because of her pregnancy. Patrick assures her that it's not the reason, and promises her he wants to be a part of the baby's life. On April 16, Sabrina finds out that she and Patrick are having a baby boy.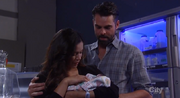 On April 23-24, Sabrina, Patrick and Emma were in a crash and Sabrina went into premature labor. On April 25, Sabrina gives birth to her son 15 weeks early with Patrick and Britt's help. Sabrina passes out after giving birth, once Britt tells Sabrina that her son is breathing. Sabrina and her son are rushed to GH with Patrick by their side. Felix takes Sabrina to a cubicle in the ER while Patrick and Epiphany rush Baby Boy Drake to the NICU. When Sabrina regains consciousness, she quickly remembers what happened and panics. Felix tries to calm her down, but Sabrina wants to see her son. Felix convinces her to stay lying down and once there is any news, they will know. Epiphany walks in and Sabrina asks her how her son is.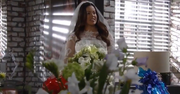 On April 28, Epiphany tells Sabrina that her son is alive. Sabrina insistes on seeing him immediately but is told she needs to rest. Later on, she convinces Felix to take her to her son. She and Patrick go into NICU and spend time with thier son. Sabrina and Patrick name their son Gabriel Drake Santiago. Sadly, Gabriel takes a turn for the worse and Sabrina and Patrick are told that their son is going to die. Later on, Gabriel dies in Sabrina's arms. The next day, Sabrina starts acting weird and it turns out that she blocked out the death of her son and thought it was the eve of her and Patrick's wedding instead of her son's funeral. Patrick has to snap her out of it and when he does, she loses it. On June 16, Patrick and Sabrina attend their sons funeral and then Sabrina decides to go back to Puerto Rico with Juan to heal but promises to come back.
Sabrina returns from Puerto Rico on August 21, and finds out the Rafe caused the accident on purpose because someone put him up to it. Later on, she finds out that Victor Cassadine was the man who put Rafe up to it but initially, she blamed Ava. She decided to switch Ava's medication with one that would cause premature labor, wanting her to suffer a loss like Sabrina did. She kept waiting for Ava to show up but she didn't. Later, Patrick uncovered other evidence to show it wasn't Ava and Sabrina felt guilty and tried to stop what she had put into motion. She confessed and was fired.
On January 16, 2015, Michael would mention to Lucas that he hired Sabrina as a nurse for the A.J. Quartermaine Memorial Clinic. Due to the clinic being put on hold, Michael hired Sabrina to be Avery Quartermaine's (aka A.J.'s) nanny. Sabrina and Michael end up kissing and going to Nurses' Ball together and eventually start dating. Sabrina also convinces him to Avery back to Sonny and afterwards they make love for the first time. She eventually finds out that she's pregnant but it could be Michael's or Carlos' baby because it was implied that Carlos and Sabrina had sex before he died. After finding that she is pregnant, Michael proposes but Sabrina turns him down saying that they need to get to know each other better.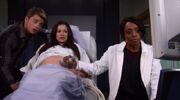 At the Halloween party on the Haunted Star, Sabrina talks to Felix and confirms that the baby could either be Carlos' or Michael's as she and Carlos had a one night stand back in May right before he "died".[14] On December 3, it was revealed that Sabrina is at least 26 weeks pregnant so the baby has to be Carlos'. Sabrina confirms with Carlos that he is the father and that she wants nothing to do with him and he will not be a part of the baby's life. She ends up going to the police station to turn him in but after the baby kicks, she changes her mind. On December 22, Michael confronted Sabrina after Monica pointed out the baby was further along then they originally thought. He asks Sabrina if he is the baby's father, and Sabrina says he isn't, Carlos is.
On January 13, Sabrina accepted Carols offer to leave Port Charles and start a whole new life with their baby.
On January 20, Carlos and Sabrina are hiding in a cabin and he gets angry with her when he finds out that she has talked to Felix.
Days later, Carlos arranged for Sabrina to see a doctor, but once he sees Anna and Robert are at the doctors, he decides against going and the two of them go back to the cabin. While at the cabin, Sabrina goes into labor and then gives birth to a silent baby. When Robert and Anna finally make it to the cabin, Carlos, Sabrina and the baby are gone. It is later revealed that Sabrina and the baby are okay. It was later revealed that she and Carlos had a boy and they got married.
Crimes Committed
Ran a paternity test on "Britt's" unborn child without her consent [Jun 2013]
Gave a pregnant Ava Jerome medication that causes miscarriage/preterm labor [Sep 18, 2014]
Withheld the information that Carlos Rivera was very much alive [Nov 24, 2015-Early 2016]
Aided and abetted Carlos, a known fugitive [Nov 24, 2015-Early 2016; arrested on May 26, 2016; the charges were dropped on Jun 8, 2016]
Health and Vitals
5'4" and 110 pounds[15]
Thought she killed Officer Bud Carlson; Britt had Maxie make it look like she did [Feb 2013]
Suffered emotional anguish when her marriage to Patrick was halted when his not-so-dead wife, Robin Scorpio-Drake made a surprise appearance at the wedding [Dec 2013]
Drank herself into oblivion to numb the pain of losing Patrick and woke up the next morning in Carlos' bed [Dec 2013]
Rendered unconscious in a car accident caused by Rafe Kovich, Jr., who was put up to it by Victor Cassadine [Apr 23-24, 2014]
Went into premature labor following a car accident [Apr 24, 2014]
Gave birth to her premature son, Gabriel completely natural [Apr 25, 2014]
Suffered from severe postpartum hemorrhaging and fell temporarily unconscious after giving birth and was rushed to GH [Apr 25, 2014]
Suffered a mental breakdown after the death of her son, Gabriel (she blocked out his death) [Jun 12, 2014]
Duct-taped to a chair by Carlos Rivera [May 13, 2015]
Fainted during her pregnancy when a not-so-dead Carlos Rivera showed up at her door very much alive [Nov 23, 2015]
Experienced Braxton Hicks contractions [Jan 2016]
Gave birth to her son, Teddy completely natural [Jan 28, 2016]
Held hostage by Marcos (along with her son) [revealed May 20, 2016]
Threatened and held at gunpoint by Marcos [May 20-23 2016]
Family tree
See also
References
v - e

Current Contract Characters
Curtis Ashford
 ·
Jordan Ashford
 ·
Franco Baldwin
 ·
Hayden Barnes-Cassadine
 ·
Nikolas Cassadine
 ·
Morgan Corinthos
 ·
Sonny Corinthos
 ·
Carly Corinthos-Jacks
 ·
Alexis Davis
 ·
Anna Devane
 ·
Dante Falconeri
 ·
Olivia Falconeri
 ·
Dr. Hamilton Finn
 ·
Nelle Hayes
 ·
Paul Hornsby
 ·
Ava Jerome
 ·
Julian Jerome
 ·
Kiki Jerome
 ·
Maxie Jones
 ·
Dr. Andre Maddox
 ·
Jason Morgan
 ·
Sam Morgan
 ·
Dr. Griffin Munro
 ·
Dillon Quartermaine
 ·
Michael Quartermaine
 ·
Tracy Quartermaine
 ·
Nina Reeves
 ·
Nurse Sabrina Santiago
 ·
Laura Spencer
 ·
Valerie Spencer
 ·
Lulu Spencer-Falconeri
 ·
Nurse Elizabeth Webber
 ·
Nathan West
Current Recurring Characters
T.J. Ashford
 ·
Ned Ashton
 ·
Scott Baldwin
 ·
Claudette Beaulieu
 ·
Valentin Cassadine
 ·
Lucy Coe
 ·
Darby Collette
 ·
Dr. Kevin Collins
 ·
Brad Cooper
 ·
Kristina Corinthos-Davis
 ·
Landon Dixon
 ·
Naomi Dreyfus
 ·
Nurse Amy Driscoll
 ·
Nurse Felix DuBois
 ·
Parker Forsyth
 ·
Max Giambetti
 ·
Milo Giambetti
 ·
Alice Gunderson
 ·
Jasper Jacks
 ·
Nurse Epiphany Johnson
 ·
Dr. Lucas Jones
 ·
Ric Lansing
 ·
Molly Lansing-Davis
 ·
Dr. Kelly Lee
 ·
Janice Lomax
 ·
Huxley Lynch
 ·
Rosalie Martinez
 ·
Diane Miller
 ·
Dr. Liesl Obrecht
 ·
Dr. Monica Quartermaine
 ·
Dr. Joe Rivera
 ·
Aaron Roland
 ·
Delia Ryan Coleridge
 ·
Felicia Scorpio
 ·
Mac Scorpio
 ·
Robert Scorpio
 ·
Dr. Robin Scorpio-Drake
 ·
Nurse Bobbie Spencer
 ·
Damian Spinelli
 ·
Ellie Trout
 ·
David Walters
 ·
Heather Webber
Current Child Characters
Spencer Cassadine
 ·
Leo Falconeri
 ·
Rocco Falconeri
 ·
Josslyn Jacks
 ·
Avery Jerome-Corinthos
 ·
Danny Morgan
 ·
Teddy Rivera
 ·
Emma Scorpio-Drake
 ·
Aiden Spencer
 ·
Cameron Spencer
 ·
Jake Spencer
 ·
Georgie Spinelli
Deceased and Presumed Dead Characters
Benny Abrahms
 ·
Bernie Abrahms
 ·
Dr. Rachel Adair
 ·
Diego Alcazar
 ·
Lorenzo Alcazar
 ·
Luis Alcazar
 ·
Sage Alcazar
 ·
Ruby Anderson
 ·
Dr. Andy Archer
 ·
Dominique Baldwin
 ·
Cooper Barrett
 ·
Alison Barrington
 ·
Amanda Barrington
 ·
Kiefer Bauer
 ·
Warren Bauer
 ·
Jesse Beaudry
 ·
Katherine Bell
 ·
Connor Bishop
 ·
Mary Bishop
 ·
Paige Bowen
 ·
Nurse Jessie Brewer
 ·
Nancy Brewer
 ·
Dr. Phil Brewer
 ·
Carter
 ·
Helena Cassadine
 ·
Irina Cassadine
 ·
Kristina Cassadine
 ·
Mikkos Cassadine
 ·
Stavros Cassadine
 ·
Stefan Cassadine
 ·
Tony Cassadine
 ·
Victor Cassadine
 ·
Stone Cates
 ·
Dr. Ryan Chamberlain
 ·
Dr. Silas Clay
 ·
Stephen Clay
 ·
Adela Corinthos
 ·
Lily Corinthos
 ·
Dr. Ian Devlin
 ·
Mickey Diamond
 ·
Ronnie Dimestico
 ·
Dr. Pierce Dorman
 ·
John Durant
 ·
Bill Eckert
 ·
Connie Falconeri
 ·
Andrea Floyd
 ·
Dr. Russell Ford
 ·
Dr. Steve Hardy
 ·
Peter Harrell, Sr.
 ·
Peter Harrell, Jr.
 ·
Abby Haver
 ·
Logan Hayes
 ·
Theo Hoffman
 ·
John Jacks
 ·
Aleksander Janacek
 ·
Victor Jerome
 ·
Stan Johnson
 ·
B.J. Jones
 ·
Georgie Jones
 ·
Tania Jones
 ·
Dr. Tony Jones
 ·
Dr. Ewen Keenan
 ·
Rafe Kovich, Jr.
 ·
Dr. Eve Lambert
 ·
Trevor Lansing
 ·
Duke Lavery
 ·
Dr. Cameron Lewis
 ·
Victor Lord III
 ·
Hope Manning-Thornhart
 ·
Reese Marshall
 ·
Courtney Matthews
 ·
Dr. Matthew Mayes
 ·
Danny McCall
 ·
Lila McCall
 ·
Nurse Leyla Mir
 ·
Trey Mitchell
 ·
Susan Moore
 ·
Chloe Morgan
 ·
Henry Nakamura
 ·
Dr. Lisa Niles
 ·
A.J. Quartermaine
 ·
Dr. Alan Quartermaine
 ·
Alexandria Quartermaine
 ·
Edward Quartermaine
 ·
Dr. Emily Quartermaine
 ·
Lila Quartermaine
 ·
Carlos Rivera
 ·
Faith Rosco
 ·
Manny Ruiz
 ·
Gabriel Santiago
 ·
Joe Scully
 ·
Joe Scully, Jr.
 ·
Kyle Sloane
 ·
Damian Smith
 ·
Frank Smith
 ·
Shirley Smith
 ·
Zander Smith
 ·
Lena Spencer
 ·
Pat Spencer
 ·
Siobhan Spencer
 ·
Tim Spencer
 ·
Olivia St. John
 ·
Nurse Diana Taylor
 ·
Martha Taylor
 ·
Dr. Peter Taylor
 ·
Tracy Taylor
 ·
Dr. Asher Thomas
 ·
Cole Thornhart
 ·
Nurse Amy Vining
 ·
Bradley Ward
 ·
Justus Ward
 ·
Mary Mae Ward
 ·
Dr. Rick Webber
 ·
Dr. Karen Wexler
 ·
Dawn Winthrop
 ·
Deke Woods
 ·
Dr. Maggie Wurth
 ·
Anthony Zacchara
 ·
Claudia Zacchara-Corinthos
Off-screen and Former Characters
Lila Rae Alcazar
 ·
Dr. Grant Andrews
 ·
Terri Arnett
 ·
Brook Lynn Ashton
 ·
Larry Ashton
 ·
Christina Baldwin
 ·
Dr. Gail Baldwin
 ·
Lee Baldwin
 ·
Serena Baldwin
 ·
Dr. Tom Baldwin
 ·
Brenda Barrett
 ·
Julia Barrett
 ·
Melinda Bauer
 ·
Shawn Butler
 ·
Gia Campbell
 ·
Peter Carroll
 ·
Dimitri Cassadine
 ·
Petros Cassadine
 ·
Jagger Cates
 ·
Lois Cerullo
 ·
Skye Chandler-Quartermaine
 ·
Dr. Linda Chu
 ·
Father Coates
 ·
Mike Corbin
 ·
Angie Costello
 ·
Blair Cramer
 ·
Jolene Crowell
 ·
Nurse Nadine Crowell
 ·
Dr. Rae Cummings
 ·
Marco Dane
 ·
Téa Delgado
 ·
Roy DiLucca
 ·
Anna Donely
 ·
Sean Donely
 ·
Tiffany Donely
 ·
Dr. Noah Drake
 ·
Dr. Patrick Drake
 ·
Taylor DuBois
 ·
Toussaint Dubois
 ·
Jenny Eckert
 ·
Sly Eckert
 ·
William Eichner
 ·
Angel Ellis
 ·
John Everett
 ·
Cesar Faison
 ·
Nurse Fletcher
 ·
Pres Floyd
 ·
Nurse Betsy Frank
 ·
Ivy Gatling
 ·
Nurse Audrey Hardy
 ·
Dr. Simone Hardy
 ·
Dr. Tom Hardy
 ·
Dr. Tommy Hardy
 ·
David Harper
 ·
Jimmy Lee Holt
 ·
Dr. Matt Hunter
 ·
Anton Ivanov
 ·
Lady Jane Jacks
 ·
Jerry Jacks
 ·
Terrell Jackson
 ·
Miranda Jameson
 ·
Frisco Jones
 ·
Dr. Leo Julian
 ·
Rose Kelly
 ·
Winifred Leeds
 ·
Guy Lewis
 ·
Victor Lord, Jr.
 ·
Ethan Lovett
 ·
Starr Manning
 ·
Todd Manning
 ·
John McBain
 ·
Colleen McHenry
 ·
Miguel Morez
 ·
‎Hope Morgan
 ·
Ken Morgan
 ·
Delores Padilla
 ·
Blackie Parrish
 ·
Nurse Penny
 ·
Grant Putnam
 ·
Celia Quartermaine
 ·
Burt Ramsey
 ·
Coleman Ratcliffe
 ·
Madeline Reeves
 ·
Cruz Rodriguez
 ·
Casey Rogers
 ·
Father Mateo Ruiz
 ·
Juan Santiago
 ·
Alec Scott
 ·
Hannah Scott
 ·
Jeffrey Scribner
 ·
Rebecca Shaw
 ·
Jennifer Smith
 ·
Lucky Spencer
 ·
Luke Spencer
 ·
Suzanne Stanwyck
 ·
Nurse Mischa Stephens
 ·
Holly Sutton
 ·
Marcus Taggert
 ·
Nurse Regina Thompson
 ·
Claire Walsh
 ·
Faith Ward
 ·
Keesha Ward
 ·
Dr. Maya Ward
 ·
Dr. Jeff Webber
 ·
Dr. Lesley Webber
 ·
Dr. Sarah Webber
 ·
Dr. Steve Webber
 ·
Dr. Britt Westbourne
 ·
Dr. Lainey Winters
 ·
Grace Yang
 ·
Johnny Zacchara
Crew
Shelly Altman (Head writer, 2011-2012, 2015-present)
 ·
Ron Carlivati (Head writer, 2012-2015)
 ·
Jill Farren Phelps (Executive producer, 2001-2012)
 ·
Robert Guza, Jr. (Head writer, 1996, 1997-2000, 2002-2008, 2008-2011)
 ·
H. Wesley Kenney (Executive producer, 1987-1989; Head writer, 1988)
 ·
Gloria Monty (Executive producer, 1978-1987, 1991-1992; Head writer, 1981)
 ·
Jean Passanante (Head writer, 2015-present)
 ·
Wendy Riche (Executive producer, 1992-2001)
 ·
Frank Valentini (Executive producer, 2012-present)
 ·
Garin Wolf (Head writer, 2008, 2011-2012)
Related Topics
List of cast members
 ·
List of current actors
 ·
History of General Hospital