Sam Morgan (Kelly Monaco)
Comments

123
519pages on
this wiki
Sam redirects here. For other uses of the name, see Sam (disambiguation).
Samantha "Sam" Morgan (née McCall) is a fictional character on the ABC soap opera, General Hospital. She has been portrayed by Playboy's April 1997 Playmate of the Month, and the first champion on ABC's Dancing with the Stars, Kelly Monaco, since October 1, 2003. In 2006, Monaco was nominated for a Daytime Emmy in the category of Outstanding Lead Actress in a Drama Series for her role.
Before Kelly Monaco appeared on General Hospital, she portrayed Livvie Locke from 1999-2003 and Livvie's double Tess Ramsey from 2002-2003. While portraying Sam, Monaco played Alicia Montenegro, Sam's European look-alike in 2005.
Background
Sam is the biological daughter of
Alexis Davis
who had Sam as a teen and was forced to give her up by Sam's grandfather,
Mikkos Cassadine
. Sam was adopted by Cody McCall and Evelyn Bass. Cody and Evelyn's older son,
Danny McCall
, was mentally handicapped. Evelyn decided that she didn't want Sam, so she took her son Danny and left. Sam was raised by Cody, who taught her how to salvage and run cons. When Sam found out about her mother and brother, she went to find them. In an accident, Danny burned his mother's house down with her inside. Sam continued to run cons as her father taught her while using the money to take care of Danny. She married five wealthy men in order to scam them out of their money, and provide a life for herself and her brother, but with each marriage she used an alias and they were therefore invalid.
Storylines
Arrival and initial romances (2003-2004)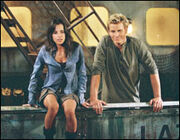 Sam arrived in Port Charles on October 1, 2003 and quickly teamed up with Jasper "Jax" Jacks to find the 5 lucky cards of the Dead Man's hand, which could save Jax's father's life. When Jax's father eventually dies, there is friction because Sam also pursued the cards. They consummate their relationship, but Jax breaks up with Sam after he discovers Sam's involvement in tampering his car.
Sam begins a sexual relationship with Sonny Corinthos, but during the Port Charles Hotel fire, Sam sleeps with Jax. Sonny chooses to return to his wife Carly Corinthos and their family after Michael Corinthos almost dies. Finding herself pregnant with Sonny's child, Sam almost has an abortion but decides not to moments before Jason Morgan, Sonny's right hand man tries to stop her. Eventually Sonny finds out that Sam is pregnant as does Jax, who believes the child is his, they track Sam down at a convent that specializes in adoptions. Both men hassle Sam causing her to run from them and falling down the stairs. Sam and Jason return to Port Charles and she has a paternity test that showed neither Jax or Sonny was the father. Jason and Sonny tell Sam that Jason tampered with the test and the child is Sonny's. Sam agrees to live with Jason and lets him pose as the baby's father so that Sonny and Carly can be together. Jason and Sam begin a friendship and almost get married for the baby's sake, but Sam declares that she doesn't love him at the time and she doesn't want to make a false commitment and leaves town again. Sam again returns with Jason and find out Sonny has been attacked. Later Jason is attacked in the hospital by the same man who turns out to be Sam's abusive ex Nico. Nico is eventually killed by Jason on Sonny's island.
Sam was then arrested for arson and the murder of her mother Evelyn Bass. Though the evidence is strong against Sam, she reveals her brother accidentally started the fire. And the charges are eventually dropped after Ric Lansing interviews Danny.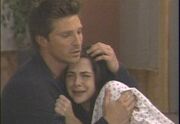 When Sonny's new-found daughter, Kristina Davis, needs stem cells from Sam's unborn child, Sam initially refuses, but after a confrontation with Alexis, she agrees to induce labor, but develops abruptio placentae causing her baby to be stillborn. Sam blames Alexis and this begins a feud. The child is buried in November 2004. Jason and Sam previously decided to name her daughter Lila Morgan after Jason's late grandmother Lila Morgan Quartermaine, but since it was never made official, the child was buried as Baby Girl McCall.
Jason and Sam (2004-2007)
Jason helps Sam through the loss of her baby and they share a kiss in December 2004 after Nikolas and Emily's wedding. They kiss again a few days later but Jason tells Sam they couldn't be in a relationship together because of his work and lifestyle. Sam decides to move out because she doesn't think she can just be friends with Jason. Sam now living at Kelly's helps a young mother named Bridget give birth on Christmas Eve with along with Lorenzo Alcazar .
Jason decides that he want Sam back and invites her to dinner, he receives a surprise when she shows up with a baby, the same baby she helped deliver Bridget gave Sam the baby fearing she couldn't be a mother. Sam moves back in with the intention that they would raise the baby together.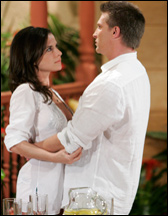 Sam and Jason admit their love for one another in January 2005, and become engaged, sadly Bridget decides that she wants her baby back to avoid a court battle, Jason decides Hope should be returned to her mother. Sam is hurt and angry at this decision, but they reunite after Sam is accused of kidnapping Kristina and they search for Michael, Kristina, and Morgan after they are kidnapped by Faith Rosco for AJ Quartermaine. After finding the kids, Jason and Sam try to help Michael recover from the traumatizing event of being kidnapped and seeing AJ murdered. She is there for Jason when he loses his memory in 2005 and he and Sam fall in love all over again  Sam convinces Jason to undergo a controversial treatment administered by his old girlfriend, Dr. Robin Scorpio.  Jason proposes to her a second time before he begins his treatment. The treatment is a success and causes him to regain his memory. The treatment ultimately fails and Jason initially declines but later agrees to dangerous surgery.
During an encephalitis epidemic in February 2006, Alexis Davis receives an antidote instead of Sam's brother, Danny McCall. Sam is angry and blames Alexis for her brother's death. Before he dies, Danny tells Sam how glad he is that their parents "chose her." Sam has a DNA test done and it reveals that Danny was not her biological brother. She and Jason find records indicating that Sam was born to a 16 year old Alexis on May 11th, 1980. Sam and Jason decide to keep this a secret due to her animosity towards Alexis.
In May 2006 Sam takes a bullet meant for Jason from a rival who stalked Sam and Jason for nearly a year, Sam has surgery but cannot recover because her blood is not clotting. Because Sam is not getting better Jason then tells Alexis that she is Sam's mother. Alexis goes to Sam and stays by her bed side.  Alexis and Jason come to odds when Patrick and Noah Drake have differing opinions on treatment for Sam. Jason has Patrick, Elizabeth and Epiphany perform the surgery and Alexis has all of them arrested. Alexis then talks Jason into breaking up with Sam, for her own good. Sam moves in with Alexis and her husband Ric Lansing and her two little sisters, Kristina and Molly. During this period of time, Sam gets her GED, and a job at the PCPD, but still pursues Jason causing even more problems in their already strained relationship. After months of trying to get Jason to get back together with her and him shutting her down, Sam, who is hurt and upset, picks a fight with Alexis. Which results in Alexis blowing up at Sam and calling her pathetic. Ric sticks up for Sam saying Alexis was out of line and Alexis leaves. Sam and Ric get drunk and have sex which both Alexis and Jason witness. He returns home both devastated and angry but later finds comfort in Elizabeth Spencer and they have a one night stand, that she later becomes pregnant from. After finding out that Jason not only saw her with Ric but that he also slept with Elizabeth she decides to leave town but changes her mind after Alexis reveals she has cancer. Sam stays with her family and helps look after her sisters while Alexis is in treatment. This causes her to be in close confines with Ric and they argue constantly. Finally Alexis reveals that she knows about the night Sam and Ric spent together. Though Sam tries to be there for her sisters and mother as much as she can, Alexis continues to be distant. Sam and Jason reconcile but Ric frames her and she is arrested. Eventually Sam is exonerated and Sam moves back into the penthouse in time for Christmas.
In early 2007 Sam is one of the MetroCourt hostages and stands up to "Mr. Craig" really Jerry Jacks. Sam is then offered a hosting job on TV by Amelia Joffe who is really after Sam for revenge because Sam killed her father Bill Monroe. In this time Sam and Jason's relationship tense because of Jason continued friendship with Elizabeth. In May 2007, Sam finds out that Jason is the father of Elizabeth's baby Jake Spencer. Sam tries to manipulate Jason into telling her the truth but he remains quiet. Jason is then arrested for Lorenzo Alcazar's murder and is in jail when Jake is kidnapped. After Sam witnesses the kidnapping of Elizabeth's son Jake and keeps quiet about it. She confronts Jason about not only witnessing the kidnapping but the fact that she knows the truth about Jake, not knowing Amelia had already told Jason everything. Sam then returns to the jail and breaks up with Jason. Her breakup with Jason causes her to be angry and most of it is directed towards Jason and Elizabeth. Sam proceeds to set up a fake dangerous encounter in the park where Elizabeth is with her two sons. After hearing of her misdeeds, an enraged Jason threatens her life.
Sam and Lucky (2007-2008)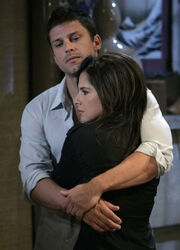 Sam, not finished with Elizabeth and Jason, hires Elizabeth's husband, Lucky Spencer, as her bodyguard, so she can seduce him as payback against Elizabeth and Jason. She sleeps with Lucky on September 17, 2007.[2] Sam and Lucky are lovers while Lucky and Elizabeth await their final divorce proceedings.
In January 2008 Sam and Lucky start to develop real feelings for each other but Elizabeth reveals Sam's role in Jake's kidnapping as well as being behind the encounter in the park. Lucky confronts Sam and kicks her out of his house she goes to the docks and is attacked by the Text Message Killer (TMK). While fleeing the TMK Sam runs into the street and is hit by a car that leaves her there to be found by Jerry Jacks who calls 911. Sam suffers a broken hip amongst other injuries and Lucky feels guilty because Sam had called him when she was being attacked and he didn't believe her. Elizabeth and Jason visit Sam in the hospital believing Elizabeth may have been the driver. Later proven to be Monica Quartermain who was driving drunk. When released from GH the TMK finally reveals himself as Diego Alcazar whom Sam had shot in 2006 and was presumed dead. Diego kidnaps Sam and Elizabeth, almost running the car they were in off a bridge. Though Jason is able to get Elizabeth and Sam out of the car, it goes over the edge leaving Sam hanging on to a rail on the bridge Lucky saves her. Sam and Lucky reconcile after. When Michael Corinthos is shot in April 2008, Sam visits Carly and Michael in the hospital and later goes for coffee with Jason after telling him how sorry she is about Michael. Later she apologizes to Elizabeth for the things she had done to Liz and Jake. Elizabeth accepts her apology and they become friendlier to each other. Sam then starts working undercover investigating mobster Andrei Karpov, and eventually Jerry Jacks causing friction in there relationship. In November 2008, Jerry kidnaps Sam and intends to blow her up on a boat with stolen drugs to fake his death but Jason saves her. She and Elizabeth (along with Jake and Cameron) head to a remote cabin because of an ensuing mob war, the Russians follow them to the cabin. And while Jason and Lucky are distracted in Port Charles a shootout occurs at the cabin where Sam promises to defend Elizabeth and her children with her life. During the shootout Sam sends Elizabeth to the children, and tries to head the guys off, but when her gun runs out of bullets, Elizabeth shows up and saves Sam from being shot by a Russian. After the shootout, Elizabeth and Sam realize Jake has been kidnapped, Sam and Jason go after the kidnappers while Lucky comes to the cabin and takes Elizabeth and Cameron home. Jason tells Sam he forgives her because she saved Jake's life. Sam then follows Sasha Donev, Andrei Karpov's lawyer who kidnapped Jake from the cabin, but gets caught and Sam ends up in the bottom of an old well. Lucky becomes jealous of Jason because he thinks Sam and Jason joined forces to take down the remaining Russians, Jason tells Lucky he hasn't seen Sam since just after finding Jake both Lucky and Jason become worried. Jason finds Sam and she is brought to the hospital. Lucky then gets upset when Sam tells him she wants to become a private investigator.
After a hospital crisis in February 2009, Lucky and Sam have a very civil break-up and decide to remain friends.
Reconciling with Jason (2009-2011)
In January 2009, a distraught Damian Spinelli visits Sam when he is hacked by FBI agent Winifred Leeds because the Feds are tracking his movements. Spinelli is arrested by the FBI, but Jason is able to get Spinelli released by making a deal with the Feds. When the Feds go against their word and make Jason betray Sonny, Sam breaks into the room where the FBI stores the evidence and destroys it, saving both Jason and Spinelli. Jason, appreciating this, helps set up a P.I. organization for Sam and Spinelli through his accountant Bernie Abrahms who was previously a private investigator. Sam helps Jason by gathering evidence against Claudia Corinthos to prove to Sonny that she was involved in Michael's shooting. Sam is suspicious of Claudia when she hears that Claudia is pregnant with Sonny's child.
Jason lets Sam know that a teenage Kristina is drinking underage, partying at clubs, and acting rebelliously. Sam faces a crisis when Kristina is possibly responsible for Claudia's car accident. Sam goes to Jason, who also says that Michael Corinthos could be responsible. Sam is slowly reconciling with Jason. Sam and Jason go looking for Michael and Kristina and they become closer on their trip. When Spinelli informs Sam that Alexis confessed to running Claudia off the road, she realizes Kristina was the driver who ran Claudia off the road, not Michael. After Jason gets injured from a fight with Jerry Jacks, Sam finds him buried underneath some rubble and saves his life. Jason and Sam make love soon after. They later find Michael and Kristina in Cancun, Mexico. Sam and Jason bring Michael and Kristina home. Sam and Alexis get into an argument over whether Alexis was being too lenient on Kristina. Later Sam goes to the penthouse to meet Jason and discuss what happened, they end up kissing as Maxie and Spinelli walk in.
Sam is very understanding about Jason going to prison for Michael's protection. She has been visiting Jason numerous times in Pentonville. Sam is upset to learn that she was denied conjugal visits because she is not Jason's wife. With the help of Spinelli, Sam poses as Brenda Barrett (Jason's ex-wife) and gets a conjugal visit with Jason.[3]
When Maxie, Dante and Josslyn receive pictures from Franco, Dante and Claire Walsh release Jason into Dante's custody to catch Franco. Franco resurfaced June 30. After causing much havoc and mayhem in the lives of many in Port Charles, Franco disappeared again and Jason went back to prison. After being in prison for a few more weeks, Jason was eventually released when Claire Walsh found a loophole in his sentence. He returned home and was reunited with an overjoyed Sam.[4]
On January 11, 2011, Sam learns from Dr. Kelly Lee that she could become pregnant with the assistance of an experimental procedure called "fertility reconstruction." Sam downplays her real feelings about it, saying that she likes her life the way it is. On January 17, 2011, Sam returns to the hospital to talk to Dr. Lee about the procedure more. Afterwards, it is shown that she is researching it on the internet, although she has not mentioned any of this to Jason. Jason later finds the pamphlet about fertility reconstruction and the two discuss having children and what a family would mean for their lives. On February 4, Sam goes out to Jake's with Maxie Jones and Lulu Spencer, when she begins to feel nauseous and dizzy. Maxie believes that the nausea and dizziness is because Sam might be pregnant. Sam denies that there's any way she could be pregnant, but Maxie and Lulu continue to push the issue and tell her that she should buy a pregnancy test. So in order to shut them up, Sam buys a pregnancy test and when she returns to Jason's penthouse to take the test, Jason walks in and finds her with it. She doesn't take the test right then. She goes to the hospital to get it done there. On Valentine's day, during a romantic meal with Jason, they find out that she is not pregnant. Although Sam says she knew it wasn't possible, it still hurts to hear that she wasn't pregnant.
Kristina's abuse
After Sam's sister Kristina is abused and hospitalized by her boyfriend Kiefer Bauer, Sam is supportive and understanding. She spent lots of time with Kristina and by remembering her own abusive past relationship with Nico, Sam was able to help Kristina deal with the after affects of her abuse.[5] However, as Kristina initially lied and claimed it was Ethan Lovett who attacked her, Sam beat him up and warned him never to come near Kristina again. When he later tried to ask Kristina why she blamed him, Sam caught Ethan in the act and had him arrested. After another confrontation with him at Kelly's, Sam found herself debating Kristina's story with Jason; Jason insists that they don't actually have any proof that Ethan did it, while Sam declared that Kristina's word is all the proof she needs. After coming home from the movies with her youngest sister Molly Lansing, they discovered Kiefer's body on the side of the road. Sam and Molly called an ambulance and when arriving at the hospital they found that Kristina had been beaten again.[6] Sam subsequently discovered from Jason that Kiefer was the one who was beating her all along, and that Kristina had lied out of fear that Sonny would kill Kiefer. Sam was shocked and guilt-ridden that she wasn't there for her sister and didn't realize the truth when she knows better than anyone that people lie when they're scared, but nonetheless relieved to discover that Jason and Sonny had nothing to do with Kiefer's hit-and-run.
Shortly after arriving at the hospital, Kiefer died and after staying with Kristina, Alexis later revealed to Sam that she had been the one to hit Kiefer. Sam insisted that Alexis could not turn herself in because Kristina needed her now more than ever, but Alexis ultimately did confess to Mac Scorpio and got out of jail time thanks to Diane Miller's maneuvering. Sam continued to be supportive of her mother and sister when Keifer's grief stricken father Warren Bauer vowed revenge on Alexis and Kristina both, at one point slugging him when he shouted that Kristina deserved to be beaten by Kiefer.[7]
Brenda's return
On August 11, 2010, Brenda returns to Port Charles on the run from the Balkan, an international crime lord whose son was murdered by Brenda. Jason was appointed her bodyguard, and she moved into the Penthouse with him; unfortunately, this left Jason and Sam with very little time to spend together. When Sam meets Brenda, the two become friendly.
Jason and Sam discover that Brenda's lawyer, Theo Hoffman, is the Balkan, and immediately goes out to stop him. In the process, Jason is caught in an ambush and barely escapes. After Sonny and Brenda's wedding reception, Brenda is seemingly killed in a car bomb. Though it was believed that the Balkan was responsible, Jason receives a call from the newly returned Franco, who hints that he planted the bomb. When the authorities manage to get through the wreckage, everyone is shocked to discover Sam within the limo, with no sign of Brenda; Theo's henchmen had swapped Sam for Brenda and blown up the limo as a distraction. Fortunately, due to bomb-proofing, Sam survives the explosion with no severe injuries. However, when she regains consciousness with Jason at her side, she can't hear him. While being visited by Jason, Alexis, Molly, and Kristina, Molly begins to teach her sister sign language in the event that her hearing loss is permanent. Sam regained her hearing and was discharged from the hospital a few days later.
On March 17, 2011, Jake Spencer is hit by a car and severely injured. Sam is one of several people who were on the road at the time of the accident. Despite Patrick and Robin's attempts to save him, Jake dies on the operating table. Jason is grief-stricken, and Sam is guilt-ridden over the way she treated Elizabeth and Jake. Though Jason often disappears for several lengths of time, he tells Sam that he comes back because he doesn't want to leave her.
Reconstructive surgery
Sam and Jason revisited the idea of the reconstructive surgery and Sam decided that she wanted to go through with it to give herself the option of having a child one day. She met with Dr. Lee about the procedure, and discovered that not only is she an excellent candidate for the procedure, but if it is successful, she could get pregnant and carry a baby safely to term. Sam went in the have the procedure and it was completed without any complications. Later at her follow up appointment Sam learned that the procedure was a success and once she is healed she will be able to carry a baby full term with little complication.
A month later while on a stakeout with Spinelli, Sam begins to suffer from stomach cramps and even though she protested, Spinelli insisted that she see a doctor and took her to the hospital. Robin suspected that Sam might be pregnant and decided to run some tests, but just as Sam gets settled into a room and is visited by her cousin Nikolas Cassadine, an unhinged ex-surgeon Lisa Niles takes hostages, sending General Hospital into lock-down. When the hostage situation is resolved, Robin comes back with Sam's test results and breaks the news that she isn't pregnant and the cramping was just some expected after effects of the surgery.
Marriage and honeymoon
In July 2011, Jason decides to take the next step in his relationship with Sam, and asks Maxie Jones to help him set up a romantic rooftop dinner, so that he can propose to Sam. Later that night, Jason proposed to Sam and after she happily accepted, they set their wedding date for September 23, 2011. A few nights after the proposal Carly learns that her husband Jax is back in town and fearing that he might try and take Josslyn, she runs to Jason for help. Meanwhile, Elizabeth was rushing Lucky's new wife Siobhan McKenna to the hospital after she fell down a flight of stairs and sustained a concussion. The two cars collided, and Jason is critically injured with another brain injury. Sam sat vigil by his bedside while he was unconscious and leaned on Monica and Edward for support. Robin discovered that a piece of AJ's dashboard from the original accident was lodged in Jason's frontal lobe and they had to remove it. After talking with Sam, Jason decides to have the surgery to remove the inorganic matter. While Jason is in surgery, Sam dreams about how her life could have been different with Jason, but during his surgery something goes wrong. Fortunately, Patrick was able to correct the complication and Jason pulled through the surgery. Sam sat by his bedside praying for him to wake up but also fearing that he wouldn't know who she was when he awoke. Sam was relieved when Jason woke up and still maintained all the memories of his life as Jason Morgan. After Sam lashes out at Carly, the two women remerge their hostility.
With Jason on the road to recovery, Sam and Jason turned their attention back to planning their upcoming nuptials. However one disaster comes after another, as all of Maxie's wedding plans turn into disasters. The wedding planning begins to overwhelm Sam and Jason takes her on a bike ride to calm her nerves. The end up in a Chinese restaurant and learn that the owner is also an ordained minister. On September 22, 2011, Sam and Jason get privately married in a garden on the restaurant's property. Earlier in the day, Edward had given Jason his grandmother Lila's ring to give to Sam, and Monica had given Sam her late husband Alan's ring to give to Jason. Jason and Sam exchanged these rings as they wed in a small and intimate ceremony. They go to the "wedding" the following day and tell their loved ones that they already got married but have a reception to celebrate with family and friends.
Sam and Jason leave on Jason's bike and go to the mountains to look at the stars and end up at a cabin that Jason had built on the site of the boxcar he lived in when he left the Quartermaines after his accident. It was his special secret place when he needed to get away and he wanted to share it with Sam. After that they went to Hawaii and Sam taught Jason how to surf and they played, laughed and loved. They didn't know that Franco planted cameras all throughout their bungalow and was watching. On November 8, 2011, the last night of their honeymoon, Sam was raped while drugged by Franco. Franco locked Jason in a room with a single TV. He then went after Sam and made Jason watch while he took an unconscious Sam from the shower and laid her on the bed. Franco then taunted Jason and covered up the camera, leading a furious Jason to believe that Franco had raped Sam. Eventually Franco lets Jason out of the room and he races back to the bungalow to find Sam still unconscious. When she awakes, Jason has to break the devastating news of Franco's attack to Sam and once the realization of the attack hits Sam, she breaks down in Jason's arms. When Sam and Jason returned to Port Charles, they each dealt with Franco's attack in different ways. Sam struggled with feelings of disgust and anger, while Jason began to experience extreme outbursts of rage. On December 12, 2011 Sam watches a DVD sent by Franco saying that she should be pregnant by now and it also said "we're going to be a daddy" meaning himself and Jason. On December 16, 2011 Sam is finally able to tell Michael about the rape and he could relate to being raped as a pawn to hurt Jason. Michael was able to help Sam begin to cope with what happened to her and start the healing process.
Pregnancy, birth of son, and baby switch (2012)
Sam finds out she's pregnant. When Jason returns home from killing Franco, she tells Jason that she is pregnant. They talk about the baby and decide to get an early paternity test done to determine who the father of the baby is. The paternity test results come back and show that the baby is Jason's child. Jason soon falls ill again and Sam is by his side while he has to get another surgery done to treat a cerebral edema. In the process of trying to save Jason's life, Robin Scorpio dies in a lab explosion and Sam keeps the news from Jason so as to not upset him, but when Jason does find out the truth, he and Sam get into a heated confrontation but later reconcile. Sam and Carly eventually have a bonding moment and call it a truce.
Sam then decides to find out the truth about the last DVD that Franco sent and her search for the truth led her to the Ferncliff mental institution and Heather Webber. From Heather, Sam learns that Jason and Franco are fraternal twins brothers. Knowing this could affect the paternity of her child, she decides to get another paternity test done. She obtains samples of Franco's DNA from John McBain, a former FBI agent that she had previously befriended and when the results of the second test return they show that Franco is the father. Sam is devastated by the results but finds the courage to tell Jason, who is equally as devastated at the news. Jason is also upset about the friendship between Sam and John. When Jason can't come to terms with the baby, Sam decides to move out of the penthouse to give herself and Jason some time to think things over. However she never gives up on them being a family.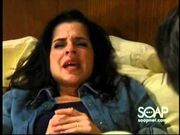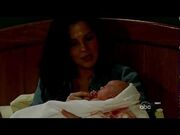 On June 1, 2012, Sam goes into labor in her motel room during a torrential storm that prevents her from getting to the hospital. She gives birth to a healthy baby boy, with help from John. John leaves to get Sam's car to take her and the baby to the hospital but is attacked by thugs sent by Jason. When he does not return, Sam tries to find a way to the hospital herself, but after placing her baby in a plant potter for safekeeping, she passes out and is found by Todd Manning and Heather Webber. Todd is distraught over the death of Téa Delgado's newborn son Victor Lord III and hearing crying from outside the cabin, finds Sam's son on the porch. At the same time, Téa stumbles upon the cabin and sees Todd holding Sam's child, falsely assuming that the child is hers and she then proceeds to thank Todd for saving him. Heather convinces Todd to switch Téa's dead son with Sam's.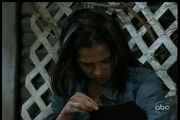 Jason finds Sam not long after and, while outside, discovers the dead baby in the plant potter, assuming it to be Sam's. He has to break the news to her that her son is gone and she breaks down in Jason's arms. Jason gives the child to her and Sam claims the baby isn't hers, but Jason says she's in denial from the grief. Jason then takes Sam to the hospital to recover. She names her son Jason Morgan, Jr. On June 8, it was revealed that the baby is truly Jason's biological son, not Franco's and Heather switched the DNA results so that she could further her vendetta against Sam and Jason. When Sam finds out John was treated for injuries the night she gave birth, she realizes Jason had him beaten up. When Jason comes by and tells her he was ready to accept the baby, she yells at him for hurting John and for everything he put her through in the last few months. She yells at him to leave, saying their relationship is broken.
Coping with her baby's "death"
Sam moves in with Alexis to cope with the loss. On June 18, she buries "her" son next to her daughter, Lila McCall. Jason comes by the memorial, apologizing to Sam for what he did and asking her to come home with him because he wants to fix their marriage. Sam, still unable to forgive him and dealing with the grief, refuses. Sam goes back to work, to cope with the loss of her son. She finds out Spinelli is investigating Heather after she stole Olivia Falconeri's car the night of the storm. When Sam finds out Heather was hired by Todd at his newspaper after mysteriously firing Diane, she realizes Heather is holding something she knows about Todd over him, and is blackmailing him into getting her a job. Sam goes undercover by getting a job as Todd's assistant at his paper. When she and Spinelli break into Todd's apartment, she finds an article about her baby's death torn and crumpled up, and thinks that Todd knows something about her baby.
Sam finds a shoulder to lean on with John, who is depressed over finding out that his sister might have been killed because of him. The two share a kiss on July 4th, though they pull away and decide it didn't mean anything. The next day, Kristina convinces Sam to go talk to Jason to repair her marriage. However, when she does, she hears Steve Webber, Elizabeth's brother, say that Jason and Elizabeth kissed the night before. Sam comes in and asks Jason if it's true, and Jason confirms it and also reveals he saw John and Sam kissing last night. Though Elizabeth insists to Sam the kiss didn't mean anything, Sam realizes Jason has given up on their marriage because he's not wearing his ring, and lets him know Elizabeth is welcome to him.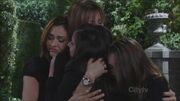 Heather is brought in on the suspicion that she buried Anthony Zacchara's body. When she does, Sam tries to investigate by looking at her bag, only to get distracted by Maxie and have the bag taken away by Todd. Later, she tries breaking into Todd's safe, but keeps getting interrupted by visitors. Eventually, Jason comes by, and tells Sam he heard from Carly that she's now working for Todd, and asks her why. When Sam asks why he cares, Jason reveals that he still cares about her. She admits she's investigating Todd because she thinks he and Heather are keeping a secret about her baby. Jason also reveals that Todd came to the memorial service for "her son," but left before anyone saw. Sam reveals how she's trying to break into the safe, but keeps getting interrupted. Jason offers to stand guard when he hears this, which Sam accepts and tries to get into the safe. However, Todd comes back before she can get in, and Jason is able to distract him long enough for Sam to lock it. The two afterwards admit that it was fun to work together again, and are able to enjoy each others company for the first time since the "death" of Sam's baby.
Heather is eventually arrested after it's revealed that she kidnapped and shot Luke, drugged Olivia, and murdered Maggie Wurth. Todd then fires Sam and reveals he knew Jason was standing watch while she tried to break into his safe. When he asks why, Sam asks why he seems so concerned about her baby. Todd doesn't give her an answer, and she leaves. Though she and Jason started being friendly again, in August 2012, they decide to get a divorce. They share one last kiss, and separate.
Sam gets distracted from the divorce proceedings when Alexis is admitted to the hospital with a mystery illness. Jason also starts to investigate and works with John to bring down the culprit. They find out the perpetrator is Jerry Jacks, who tells Port Charles he has poisoned the water supply and will only hand over the antidote in exchange for a large sum of money. He also reveals that he gave Alexis and Josslyn the counter-agent to prevent them from being infected.
Sam finds out that Todd has an unknown association with Johnny Zacchara, and believes whatever Todd is hiding, Johnny knows about, as well. She and John break into Johnny's office to see if there are any clues there. However, Sam becomes lightheaded and passes out, and John is worried she has been infected, and brings her to the hospital. At the same time, Jason is brought in by Elizabeth after being shot in the leg.
Thinking they're spending the last few hours of their life in the hospital, Sam shares with Jason the fantasy she had about how things would have turned out differently. In her dream, she decided that what Heather had to say wasn't important and walked out of Ferncliff. Sam went into labor during her baby shower, and gave birth to her son at the hospital. Afterwards, she and Jason decide to name the baby Daniel Edward, after her brother and Jason's grandfather. In her dream, they also had a daughter named Emily.
When Jason hears this story, he feels like Sam deserves some answers. So, Jason asks Patrick to take a look at the autopsy report, and clarify what happened. Patrick tells Sam and Jason that the baby died of respiratory failure, and had a serious blood condition called hemophilia. When Jason asks if he died because he didn't make it to the hospital, Patrick isn't sure they would have been able to help him. When Sam asks if her son would be alive if he had been placed on a ventilator, Patrick tells both of them he believes that even if the baby had made it to the hospital, he doubts the baby would have been saved because his lungs weren't developed properly. Sam and Jason realize it's not either of their faults that "her son" died.
Meanwhile, Kristina asks Sam if there is any chance she and Jason will fix their marriage. Though Sam hopes they can, when she goes over to Jason's house, she sees him kissing Elizabeth again. Sam goes to the Chinese restaurant where she and Jason got married on their one-year anniversary. Jason shows up soon after. Sam tells Jason she came there, hoping that things would get better somehow if she returned there. When the owner comes by, neither of them have the heart to say that they're getting a divorce. Eventually, they have lunch together, and Jason ends up kissing Sam afterwards.
Sam attends the bachelorette party of Kate Howard, Sonny's fiancee, with Kristina. There, she overhears Elizabeth telling Lulu that Jason and Sam's marriage is over, and he wants to move on with Elizabeth. Sam is heartbroken when she hears this, and delivers the divorce papers to Jason. When she comes over, though, Spinelli is there and tries to encourages Sam not to give up because there might be hope.
On the night of Sonny and Kate's wedding, Sam decides to stay home. John shows up later, and the two of them kiss. The two of them stop and admit neither of them are ready for the next step. John leaves, and Elizabeth shows up soon after. She tells Sam that she & Jason are not together, and she was manipulating both of them to get a divorce so she could be with Jason. She also reveals that the day Sam came over and saw Jason and Elizabeth kissing at his house, Jason pulled away and told Elizabeth they don't have a future together. Elizabeth apologizes to Sam, and leaves.
Reunion with son and Jason's death
After Elizabeth leaves, Jason comes to Sam's house, and she lets him know Elizabeth confessed the truth to her. When he asks what truth, Sam tells him that she admitted to manipulating both of them into getting a divorce. Sam realizes there's more to the story, and asks Jason. Jason begins to say he has something to tell her, but they are interrupted when Kristina comes home with Trey, and tells Jason and Sam that Trey's father, Joe Scully Jr., also Sonny's longtime enemy, tried to kill Kristina. When Dante comes over to get their statements, Sam is worried Jason will take care of Joe himself. She asks him not to, and call John instead, but Jason tells Sam that he's "busy." He gets a phone call, though, and leaves immediately.
Sam later tells Spinelli to come over, and asks Spinelli what Jason is keeping from her, even going so far as to physically threaten him. He does admit he and Jason were tracking something, but it turned out to be a false lead. Sam calls Jason, and Jason reveals he already knows they need to talk, because he's the one standing at her doorstep. He comes inside, and tells Sam that her son is alive.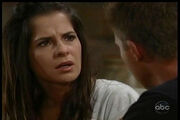 Jason tells her how he figured out that the baby she buried wasn't hers, and that her baby was switched with Téa's stillborn child by Heather and Todd. Sam is overjoyed to know her baby is alive, and leaves to go get her son from Llanview. Jason stops her and tells her the baby isn't in Llanview because he's been kidnapped by Heather, who was hired as a nanny by Téa for "her son." Sam is shocked, but Jason promises they're going to find Heather and get her son back.
Sam and Jason go to the hospital after Heather makes contact with her son, Steve, ends up attacking him. He tells Sam and Jason that Heather wants to raise the baby as her own and thinks a second chance at motherhood will fix her again. Sam and Jason hear a noise in the hospital stairwell. They find Olivia on the floor, injured. She tells them Heather is in the hospital with the baby. Sam runs to find her son, and Olivia points her to the roof. Jason goes with Sam, and they corner Heather on the roof, begging her to give them back their son.
Heather taunts them for not loving the baby because he's Franco's child, but Jason holds his ground, saying that he wants to be the child's father and raise him as his own son. Sam listens to Jason's heartfelt plea, and begs Heather to give her son back. When Heather, however, hears the police say they've surrounded the building, she becomes mentally unhinged and gets onto the ledge of the roof. She jumps off the ledge. Jason runs forward, though, and grabs the baby out of Heather's arms before she falls off the roof, saving Sam's son.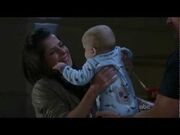 Sam is overjoyed to have her son back, and thanks Jason for saving him. They go downstairs to get the baby checked out. Before they can, however, Téa intercepts them with Todd, and tries to take her son back. Sam stops her, and John handles the situation by having Dr. Britt Westbourne take Sam, Jason, and the baby to an exam room while he explains the situation to Téa. Dr. Westbourne determines Sam's son is in perfect condition, but will keep him overnight as a precaution.
After Dr. Westbourne leaves, Sam and Jason spend time with the baby. There, Sam tells Jason how she's happy and guilty, as well, because Téa now is finding out that her child is dead. Téa later comes by and tells Sam she knows that the baby isn't hers, and asks to say goodbye to "Victor," the name she called him by. When she gives him back to Sam, she thanks Téa for taking care of him before Téa leaves. Sam then decides to call her son the name she gave him in her fantasy: Daniel Edward.
The next day, Jason brings Monica over to introduce her to Daniel. Alexis, Kristina, and Molly arrive and become enthralled by Danny. When Alexis asks when Sam and Danny are coming home, Sam admits she doesn't have the right equipment to take Danny anywhere. Alexis then states that everything she needs has been ordered and will be waiting at her house when Sam and Danny come home, which Jason overhears. After they leave, he tells Sam that he was hoping she and Danny would come home with him. He promises to love her and Danny forever, and he really is ready to be a father to Danny. He apologizes for everything he's done, and Sam forgives him, and decides to take Danny home with Jason, as they officially reunite.
Jason and Sam come home to his penthouse and put Danny down for the night. Sam later notices a message on Jason's machine, which she plays. It's from Bernie Abrahms, who tells Jason frantically he has some important information to give him, and it's a matter of life and death. Though Jason wants his lawyer to handle it, Sam convinces him to go himself. Later on, while she's waiting for him, John shows up. Sam admits she belongs with Jason and has decided to stay married to him. John understands, and leaves.
Sonny comes by and tells Sam that something happened at the docks. Bernie has been shot and killed, and Jason was also shot and fell into the water. He tells Sam that divers are looking for him, and he tried to, as well, but it's not looking good. Sam decides to go and look herself to find and bring Jason back. She convinces the coast guard to let her put on a suit and go into the water. She doesn't find Jason, but she does find the phoenix figurine, which she gave to Jason right before he left the house.
Moving on (2012-2013)
Sam, afterwards, refuses to believe that Jason is dead, and thinks he's alive, and he'll come back to her and Danny. After hearing about Jason, Todd felt that Sam deserved to know the truth and "helped" Steve and Olivia find the paternity test. Steve later brings it to Sam, and tells her Jason is Danny's biological father. Sam is ecstatic, and hopes she'll get to tell Jason. Jason comes by after Steve leaves, and she shows him the paternity results. However, he disappears afterwards, and Sam realizes that he was never there. As she cries with Danny in her arms, she wonders where Jason is.
Sam finds out that A.J. Quartermaine, Jason's brother long presumed dead, is actually alive and in Port Charles. On November 20, Sam gets a call from A.J. that Edward is bed-ridden and may not last much longer. She comes over with Danny and Michael. At Edward's bedside, she introduces Danny to him, telling him Danny was named after him. She also reveals that Jason is Danny's biological father, and promises Edward she'll raise the family to make him proud. Edward then extends his hand to Danny, who grabs his finger, to Sam, Michael, and Monica's delight. Soon after, Edward passes away.
Sam attends Edward's funeral with Danny, and later tells Spinelli she's not ready to say goodbye to Jason. Spinelli tells her he can't hold onto hope, like Sam has. Sam becomes the controller of 18% of ELQ Enterprises stock, after Jason inherits 12% and Danny inherits 6%. Tracy invites her over one day, and when she and A.J. start to get into an argument over ELQ, Sam realizes she has the power to decide whether A.J. or Tracy will become the CEO.
Alexis and Kristina come over during Christmas, and decorate Sam's house. Sam's not in the mood to celebrate, but Alexis tells her they're doing it for Danny. When Sam says she's busy with a case, Alexis realizes she's still searching for Jason, and tells her to not ruin Danny's first Christmas looking for Jason. Tracy comes by later, showering Sam and Danny with gifts in order to gain the 18% of ELQ stock. A.J. comes by with Michael, trying to do the same. Sam, fed up, makes a decision, and gives 9% to both Tracy and A.J.
After New Years', Sam finds out Todd was arrested for his part in the baby switch from Carly. John comes and reveals that he just arrested Cesar Faison. He tells Sam that Faison was disguised as Duke Lavery, and was trying to win the affection of Anna Devane, Duke's wife. John reveals that Faison was the one behind Kristina's attempted murder, trying to gain access to Sonny's funds through Kristina. He then tells Sam that Faison was the one who shot Bernie and Jason, and then kicked his body into the harbor, and watched Jason sink. He makes Sam realize Jason is gone, and not coming back. Sam cries in John's arms over her loss. She later meets up with John at Kelly's with Danny, meeting Monica to prepare a memorial for Jason. Monica hears from John about what Faison did, and agrees to help Sam plan a memorial.
"Vampires" in Port Charles
After Monica leaves, Lucy Coe shows up, and calls John "Caleb Morley," king of vampires. She tries to threaten him to stay away from Danny. Lucy sees Sam and calls her "Livvie." Sam and John realize she's crazy, and leave with Danny. Lucy corners John, though, and stabs him. Alexis and Shawn Butler show up, and stop Lucy & call an ambulance for John.
Sam goes with John to the hospital, where she stops Todd from escaping after getting beaten up in holding and brought to the hospital. Afterwards, she stays with John when he wakes up. She goes to check on Todd, and hears Diane reveal that Todd knew about Danny's paternity, and kept quiet about it. She tells Todd she hopes he gets what he deserves, and gets sent to prison. Later, she finds out Todd pleaded insanity and is being sent to Ferncliff.
Sam is there when Kristina is arrested for attempted murder of Kate, now going by Connie. While there, she comes across Alison Barrington, who calls John and Sam "Caleb" and "Livvie" again. She tries to get Sam to leave with her, saying her son is in danger, but Sam refuses, and Alison leaves. John looks Alison up, and finds there's no record of her having a son. Sam suspects Lucy sent her to back up her story, and goes to Ferncliff to find out.
Sam confronts Lucy about Alison, but Lucy says she hasn't heard from Alison in years. She tells Sam that Alison was married to Rafe Kovich, and gave birth to a son named Rafe Jr. However, when Rafe was born, they realized that Caleb was actually the father of Rafe, and Lucy claims that is Alison in danger. Sam goes back to the station, and tells John what Lucy said, and is shocked when she finds out Alison is dead. John found Rafe standing over her body, and has arrested him. However, Rafe claims that John killed his mother.
Molly comes to the station, and tells Sam and John that she met Rafe, and doesn't believe he's guilty. Sam, meanwhile, tries to help John find out what happened. Meanwhile, Todd, Heather, and Lucy break out of Ferncliff, and Sam takes steps to make sure Danny is safe from Heather. Meanwhile, Rafe escapes from police custody, and John is implicated in the crime with damaging evidence. He's arrested, but Sam isn't convinced. She asks Alexis to represent John, and finds out John believes Lucy is right, and there's someone out there named Caleb, who looks just like him, and is committing these crimes.
John says he was with Professor Jay Mosser of Port Charles University when Rafe was released. Sam goes to PCU to get John's alibi, but she finds Professor Mosser dead. She calls Anna, who realizes John couldn't have committed the murder because he was at the police station when Mosser died. Meanwhile, Sam gets a call from Alexis that Danny was kidnapped by Heather, and Anna is informed from the station. Sam is upset, but Anna gets a tip that Heather is at the pier, and Sam heads there with her. There, they find Todd with Danny.
Todd is arrested by Anna, but insists he was trying to give Danny back to Sam, not kidnap him. He also claims that John was there, and that he choked Heather and threw her into the harbor, then tried to take off with the baby, but Todd stopped him. Anna and Sam know his story doesn't add up. Sam begins to believe that Caleb does exist. When she tries to leave, she finds "John" standing at the pier, claiming he'd been released. Sam is scared and tries to leave, but when "John" blocks her way, Sam tells him she knows he's actually Caleb. Caleb claims to have known her for centuries, but Sam says she doesn't know him at all. She watches as Caleb backs her into a corner with Danny in her arms.
Caleb kidnaps Danny and Sam and brings them to Wyndemere.  He bites Sam because he is convinced that after 3 bites she will remember that she is really Livvie.  John, Lucy and Rafe arrive at Wyndemere and find Danny alone. Caleb brings Sam into the tunnels to avoid being found. While Rafe waits with Danny, Lucy and John search the tunnels for Sam. John finds Sam first but Caleb overpowers him and plans to kill him.  Lucy comes in and the three eventually kill Caleb and escape. Later at the police station Sam tells the press that John, Lucy and Rafe saved her and Danny's lives. The three are released, as a result.
Foster son
Rafe is placed into a group home, as a result of not having any family, and Molly is worried about him. Sam helps her out by calling the group home to check on Rafe. She finds out that he got into a fight, and left the home. She calls John asking for help, and finds out Rafe came to his motel room, not wanting to go back. Molly and Sam head over there, where John decides to take legal custody of Rafe. However, Alexis arrives and says Social Services won't allow it because John doesn't meet the legal requirements. Rafe leaves with Molly & Alexis, while Sam stays behind and consoles John over not being able to help Rafe. The two kiss again, but Sam once again stops it, and tells John she's reminded that when they first kissed, neither of them were free, and they'll never get past that. John agrees with her decision, and they say goodbye to each other.
Sam ends up helping in the Nurses' Ball being hosted and run by Lucy. While volunteering, she meets Anton Ivanov, the handsome dancer who is choreographing the opening number for the Nurses' Ball. Anton tries to encourage her to dance with him, but Sam won't give in. She ends up attending the Ball with Alexis, Molly, Shawn, and TJ Ashford. There, though, Anton tells her that his partner for his dance performance was injured, and asks Sam to step in. Sam agrees, and the two perform a dance number onstage, which the crowd thoroughly enjoys.
After the Nurses' Ball, Sam helps Lucy try to gain guardianship over Rafe by providing testimony at the hearing for Lucy's petition for custody. However, the judge denies Lucy's petition because of her recent issues with the law. Afterwards, Lucy, Alexis, & Sam are conferring about Rafe's situation when Lucy comes up with the idea of Sam becoming Rafe's legal guardian. Initially, Sam is reluctant to accept this, but Lucy later convinces her, and Sam comes to realize she can help Rafe. Sam & Alexis talk to the judge, who agrees to let Sam have temporary custody for 90 days, and Sam brings Rafe home with her.
Sam gets some investigation work from her late husband's best friend Carly Corinthos-Jacks regarding the disappearance and gambling ring scheme of Carly's son Morgan Corinthos.  Sam goes to a hospital where Morgan was taken and sees a doctor who looks very similar to Stephen Clay. The doctor turns out to be Dr. Silas Clay, the older brother of Stephen.  Silas is seemingly emotionless when Sam informs him about Stephen's death and Silas having a nephew.  Sam talks to Spinelli about Spinelli's investigation concerning Lauren Frank and her encounter with Silas. Spinelli leaves and Sam receives a knock on the door. It's Silas, who has come to meet Rafe but she tells him its not a good idea, at that very moment Rafe walks and wants nothing to with him. At Kelly's, Silas gives Sam his petition for guardianship of Rafe. Sam is surprised and believes that he has an agenda. When Rafe finds out he lets Silas know he doesn't want to stay with him. Sam promises Rafe that she is going fight for him.
Meanwhile Franco reveals himself to be alive during a party he hosts at the Haunted Star. He uses Jason to lure Sam, Carly, Spinelli, Maxie, Sonny, Michael, AJ and Liz to the party. After revealing himself, he teases the party-goers with the idea of Jason being alive to keep Sonny from killing him. Then he announced the true intention of the party - he wanted to make amends. He revealed that he never raped Sam during Sam and Jason's honeymoon by showing them video footage of what really happened that night. He also showed another video showing that Michael's attack in prison was never his intention and went beyond what he wanted to happen. Nevertheless no one's attitude toward Franco thawed, because he had still caused lots of terror and pain, so Sonny and Carly begin planning a hit on his life.
Son's illness
In court, Silas trashes Sam and her late husband Jason, in order to make her look like an unfit mother, which infuriates her. While she is trying to ream out Silas, he examines Danny, despite Sam's objection and says he's sick. He tells her that she needs to take Danny to the hospital but she refuses and leaves. Later on, she decides to him in and gets his blood drawn. Patrick informs Sam and Alexis that Danny might have leukemia and on June 13, it is confirmed that Danny does have leukemia. Sam is hurt, as is the rest of her family, when Silas intentionally files for custody of Rafe, and is granted sole custody just as they find out about Danny's diagnosis. Silas wants to take Rafe back to Manhattan, despite everybody's protests. However, he later changes his mind and lets Rafe stay with Alexis while he goes to the hospital to help out with Danny's treatment.
Silas eventually is hired at GH, and takes over Danny's case. Danny doesn't respond to chemotherapy, and Silas tells Sam to look into a potential bone marrow transplant donor. Alexis, Molly, and Sam put together a potential list, reluctantly including Franco, as well. When Franco is admitted after getting beaten up, he has a seizure, and wakes up thinking he is Jason. Silas informs Sam, who goes to confront Franco. When he isn't there, she goes back to Danny's room, and finds him gone. Realizing Franco must have taken him, she goes to search for them.
Sam finds Franco and Danny at her apartment, where she & Franco struggle over a gun, before he knocks her unconscious. Sam wakes up after being found by Silas and Carly. Silas brings Sam to the hospital, where she finds out Franco has a brain tumor that could be responsible for his behavior. Danny is eventually rescued by Carly and Dante, and brought back to the hospital. While talk about potential donors, Sam asks Alexis about her father, since he should be a potential match. Alexis admits that she met Sam's father at a bar when she was a teenager, but she doesn't remember his name and never saw him again. Sam finds out that Franco is a match for Danny, and prays for him to recover from the brain surgery to save Danny's life.
Father revealed
Franco makes it through surgery, but Patrick lets Sam know that he might have cancer within his body. Silas later confirms this, meaning Franco giving a bone marrow transplant could harm Danny further. Sam realizes the only option she has is her father, though he is unknown. She and Alexis ponder how to find him when they spot Dr. Kevin Collins. Alexis asks Kevin to put her under hypnosis to see if she can find out more information about Sam's father.
Sam goes to the Crimson magazine office, looking for Connie. Instead, she finds Derek Wells there with Ava Jerome, the mother of Franco's daughter, Kiki. Derek tells Sam he's the publisher of Crimson and Port Charles Press now. Sam asks for his help to publicize a donor drive for Danny so they can find a match. Derek agrees to put it on the front page, which Sam is grateful for. However, he reneges on his promise later, telling Alexis he found a different story to put on the front page.
Alexis undergoes hypnosis and remembers that Sam's father's name is Julian. The headline on the Press reveals that Kiki is biologically not Franco's daughter, but Silas'. Sam finds out when Silas reads the article and sees his name on Kiki's birth certificate. Sam tells him to go find Kiki, while she and Alexis wait for people to come to Danny's donor drive. Eventually, Derek shows up and also offers to be swabbed as a potential bone marrow donor for Danny. Sam is ecstatic when Ellie Trout tells her that Derek is a match for Danny. Derek finds out he's a match, and agrees to the bone marrow transplant.
Alexis talks with Derek afterwards about Sam's father and the circumstances under which she met him. Derek --- revealed to actually be Julian Jerome --- has a flashback and realizes he is Sam's father. "Derek" later meets Danny in his room, and has a hard time concealing his interest in being a part of both Sam and Danny's life. Julian gives a bone marrow transplant, and Danny recovers, to Sam's relief. Silas informs Sam of Danny's recovery, and in a moment of relief and happiness, Sam and Silas kiss. Sam deflects it, but Silas doesn't.
Relationship with Silas
When Danny is getting better, Silas tells Sam that she can go on a dinner date with him as a way of thanking him. Sam agrees, though Alexis expresses her reservations. Kiki marries Morgan, and Ava throws a reception party for them. Silas asks Sam to be his date for the reception, but Sam declines. She later talks to Patrick about how she declined because she feels like she's betraying Jason. Patrick, who is dealing with losing Robin, makes Sam see that Jason would like her to move on, not stand still with her life because of his memory.
Sam gets dressed, and heads to the reception, only to find Ava & Silas kissing. She leaves, hurt, but Silas follows her. He tries to explain that Ava wants him back, and she told him that at the party. When Sam is still in disbelief, Silas tells her that Ava tried to make a point by kissing Silas to get him back. He pushed Ava away, and ran after Sam because he's only interested in her, not Ava.
Sam is a little taken aback, but agrees to give Silas a second chance. However, Ava comes out of a corner, having heard their conversation, and tries to scare Sam off by telling her that Silas has dark secrets. Sam calls her bluff, wondering why Ava wants him back if Silas is dangerous. Ava backs off, and Silas & Sam leave, going back to the hospital, where they have a dinner date in front of Danny's room with takeout.
Sam is finally able to take Danny home, but Silas hangs around, helping them get settled in, and Sam makes visits to the hospital to see him. During a visit, Sam finds her mother running a DNA test on her against Lucas Jones, Carly's adopted brother, because she thinks Sam's father might be Julian Jerome. Sam agrees to the test, and finds out that Julian Jerome is her biological father, and Lucas her brother.
Sam tells Alexis about Silas mentioning that Ava has a brother Kiki never knew about. She wonders if that brother might be Julian. Sam and Silas go to NYC to investigate Ava's past and the possibility that she may be Ava's niece. There, they find Delia Ryan, who confirms she was Victor's mistress and Ava's mother. Sam confronts Ava about this, though they remain at an impasse about Julian and her connection to the Jeromes.
At an art gallery hosted by Ava for Franco, Heather shows up and reveals that Franco is actually her son with Scott Baldwin. Sam is furious with Heather for ruining her life, and leaves with Silas. They end up kissing outside; however, when Sam notice Morgan & Michael leaving simultaneously, she goes back inside and finds out "Derek" is really Julian Jerome, her father. He also reveals that he's been targeting Sonny's business with Ava, looking to gain the territory.
When Sonny threatens to kill him, Sam fears that killing Julian might kill Danny, as well. Ava & Julian jump on that, and Sonny lets Sam know that Julian is using Danny as leverage. When Sonny leaves and Julian confirms he won't get tested in case Sonny decides to kill him, Sam is furious and storms out with Silas.
Health and Vitals
Suffered from hypothermia while attempting to salvage the sunken Cassadine freighter [Dec 2003]
Hospitalized after an explosion occurred underwater while she was scuba diving [Dec 2003]
Felt weak after being bit by a scorpion [Jan 2004]
Knocked unconscious after an explosion occurred in an Azure Key cave [Jan 2004]
Stabbed by a person who had just planted an explosive in Sonny's limo [Mar 2004]
Hospitalized after the premature birth of her daughter [Nov 2004]
Almost died after being injected with poison by Asher Thomas [2005]
Fell ill during the encephalitis plague that hit Port Charles [Jan/Feb 2006]
Shot by Manny Ruiz, suffered extensive damage to her uterus [May 2006]
Minor injuries following Metro-Court hostage crisis [Apr 2007]
Attacked by the Text Message Killer [Feb 2008]
Victim of hit-and-run [Feb 2008]
Kidnapped and drugged [Feb 2011]
Critically injured in a limo explosion; temporarily deaf as a result [Feb 2011]
Suffered fainting/dizzy spells [Feb 2011]
Underwent fertility reconstruction surgery [May 2011]
Hospitalized after she experienced stomach cramping [Jun 2011]
Drugged by Franco [Nov 4, 2011]
Kidnapped and held hostage by Ronnie Dimestico [Aprl 2012]
Led to believe she was raped by Franco [Nov 2011 (learned she had not been raped; May 2013)]
Rendered unconscious on a cabin floor after giving birth [Jun 2012]
Experienced a fever after being exposed to the toxin placed in the town's water supply by Jerry Jacks [Sept 2012]
Fainted during a dizzy spell while sickened with a fever from the toxin in the water supply; treated for a laceration on her head [Sept 2012]
Kidnapped, along with her son, by Stephen Clay (also known as Caleb Morley) and bitten in the neck twice; injected with an unknown toxin while bitten [Feb 2013]
Rendered unconscious after an altercation with Franco as he impersonated Jason [Jul 2013]
Family tree
See also
External links
References
v - e

Current Contract Characters
T.J. Ashford
 ·
Shawn Butler
 ·
Nikolas Cassadine
 ·
Dr. Silas Clay
 ·
Michael Corinthos
 ·
Morgan Corinthos
 ·
Sonny Corinthos
 ·
Alexis Davis
 ·
Anna Devane
 ·
Dr. Patrick Drake
 ·
Nurse Felix DuBois
 ·
Dante Falconeri
 ·
Olivia Falconeri
 ·
Robert "Franco" Frank
 ·
Carly Jacks
 ·
Ava Jerome
 ·
Julian Jerome
 ·
Kiki Jerome
 ·
Maxie Jones
 ·
Rafe Kovich, Jr.
 ·
Sam Morgan
 ·
A.J. Quartermaine
 ·
Tracy Quartermaine
 ·
Nurse Sabrina Santiago
 ·
Mac Scorpio
 ·
Dr. Robin Scorpio-Drake
 ·
Luke Spencer
 ·
Lulu Spencer-Falconeri
 ·
Nurse Elizabeth Webber
 ·
Dr. Britt Westbourne
Current Recurring Characters
Scott Baldwin
 ·
Helena Cassadine
 ·
Spencer Cassadine
 ·
Father Coates
 ·
Lucy Coe
 ·
Dr. Kevin Collins
 ·
Brad Cooper
 ·
Anna Donely
 ·
Sean Donely
 ·
Taylor DuBois
 ·
Connie Falconeri II
 ·
Max Giambetti
 ·
Milo Giambetti
 ·
Alice Gunderson
 ·
Jerry Jacks
 ·
Josslyn Jacks
 ·
Nurse Epiphany Johnson
 ·
Molly Lansing-Davis
 ·
Duke Lavery
 ·
Janice Lomax
 ·
Diane Miller
 ·
Danny Morgan
 ·
Dr. Liesl Obrecht
 ·
Nurse Penny
 ·
Dr. Monica Quartermaine
 ·
Coleman Ratcliffe
 ·
Carlos Rivera
 ·
Robert Scorpio
 ·
Emma Scorpio-Drake
 ·
Felicia Scorpio-Jones
 ·
Aiden Spencer
 ·
Nurse Bobbie Spencer
 ·
Cameron Spencer
 ·
Damian Spinelli
 ·
Holly Sutton
 ·
Ellie Trout
 ·
Heather Webber
 ·
Dr. Lesley Webber
 ·
Ben Westbourne
Forthcoming Characters
Victor Cassadine
 ·
Lucas Jones
Deceased and Presumed Dead Characters
Benny Abrahms
 ·
Bernie Abrahms
 ·
Diego Alcazar
 ·
Lorenzo Alcázar
 ·
Luís Alcázar
 ·
Sage Alcazar
 ·
Ruby Anderson
 ·
Dr. Andy Archer
 ·
Dominique Baldwin
 ·
Cooper Barrett
 ·
Alison Barrington
 ·
Amanda Barrington
 ·
Kiefer Bauer
 ·
Warren Bauer
 ·
Jesse Beaudry
 ·
Katherine Bell
 ·
Connor Bishop
 ·
Mary Bishop
 ·
Paige Bowen
 ·
Dr. Emily Bowen-Quartermaine
 ·
Nurse Jessie Brewer
 ·
Nancy Brewer
 ·
Dr. Phil Brewer
 ·
Irina Cassadine
 ·
Kristina Cassadine
 ·
Mikkos Cassadine
 ·
Stavros Cassadine
 ·
Stefan Cassadine
 ·
Tony Cassadine
 ·
Stone Cates
 ·
Dr. Ryan Chamberlain
 ·
Stephen Clay
 ·
Adela Corinthos
 ·
Lily Corinthos
 ·
Dr. Ian Devlin
 ·
Ronnie Dimestico
 ·
Dr. Pierce Dorman
 ·
John Durant
 ·
Bill Eckert
 ·
Cesar Faison
 ·
Connie Falconeri
 ·
Andrea Floyd
 ·
Dr. Russell Ford
 ·
Dr. Steve Hardy
 ·
Abby Haver
 ·
Logan Hayes
 ·
Theo Hoffman
 ·
John Jacks
 ·
Aleksander Janáček
 ·
Victor Jerome
 ·
Stan Johnson
 ·
B.J. Jones
 ·
Georgie Jones
 ·
Tania Jones
 ·
Dr. Tony Jones
 ·
Dr. Ewen Keenan
 ·
Dr. Eve Lambert
 ·
Trevor Lansing
 ·
Dr. Cameron Lewis
 ·
Victor Lord III
 ·
Hope Manning-Thornhart
 ·
Reese Marshall
 ·
Courtney Matthews
 ·
Danny McCall
 ·
Lila McCall
 ·
Nurse Leyla Mir
 ·
Trey Mitchell
 ·
Susan Moore
 ·
Chloe Morgan
 ·
Jason Morgan
 ·
Dr. Lisa Niles
 ·
Dr. Alan Quartermaine
 ·
Alexandria Quartermaine
 ·
Edward Quartermaine
 ·
Lila Quartermaine
 ·
Faith Rosco
 ·
Manny Ruiz
 ·
Joe Scully
 ·
Joe Scully, Jr.
 ·
Frank Smith
 ·
Shirley Smith
 ·
Zander Smith
 ·
Jake Spencer
 ·
Lena Spencer
 ·
Siobhan Spencer
 ·
Tim Spencer
 ·
Olivia St. John
 ·
Nurse Diana Taylor
 ·
Martha Taylor
 ·
Dr. Peter Taylor
 ·
Tracy Taylor
 ·
Dr. Asher Thomas
 ·
Cole Thornhart
 ·
Nurse Amy Vining
 ·
Bradley Ward
 ·
Justus Ward
 ·
Mary Mae Ward
 ·
Dr. Rick Webber
 ·
Dr. Karen Wexler
 ·
Dawn Winthrop
 ·
Deke Woods
 ·
Dr. Maggie Wurth
 ·
Anthony Zacchara
 ·
Claudia Zacchara-Corinthos
Off-screen and Former Characters
Lila Rae Alcazar
 ·
Nurse Karen Anderson
 ·
Terri Arnett
 ·
Brook Lynn Ashton
 ·
Larry Ashton
 ·
Ned Ashton
 ·
Christina Baldwin
 ·
Dr. Gail Baldwin
 ·
Laura Baldwin
 ·
Lee Baldwin
 ·
Serena Baldwin
 ·
Dr. Tom Baldwin
 ·
Brenda Barrett
 ·
Julia Barrett
 ·
Melinda Bauer
 ·
Gia Campbell
 ·
Peter Carroll
 ·
Valentin Cassadine
 ·
Jagger Cates
 ·
Lois Cerullo
 ·
Skye Chandler-Quartermaine
 ·
Mike Corbin
 ·
Kristina Corinthos-Davis
 ·
Angie Costello
 ·
Blair Cramer
 ·
Jolene Crowell
 ·
Nurse Nadine Crowell
 ·
Dr. Rae Cummings
 ·
Téa Delgado
 ·
Roy DiLucca
 ·
Tiffany Donely
 ·
Dr. Noah Drake
 ·
Toussaint Dubois
 ·
Sly Eckert
 ·
Angel Ellis
 ·
John Everett
 ·
Pres Floyd
 ·
Nurse Audrey Hardy
 ·
Dr. Simone Hardy
 ·
Dr. Tom Hardy
 ·
Dr. Tommy Hardy
 ·
David Harper
 ·
Jimmy Lee Holt
 ·
Dr. Matt Hunter
 ·
Anton Ivanov
 ·
Lady Jane Jacks
 ·
Jasper "Jax" Jacks
 ·
Terrell Jackson
 ·
Frisco Jones
 ·
Dr. Leo Julian
 ·
Rose Kelly
 ·
Ric Lansing
 ·
Dr. Kelly Lee
 ·
Winifred Leeds
 ·
Guy Lewis
 ·
Victor Lord, Jr.
 ·
Ethan Lovett
 ·
Starr Manning
 ·
Todd Manning
 ·
John McBain
 ·
Miguel Morez
 ·
Ken Morgan
 ·
Delores Padilla
 ·
Blackie Parrish
 ·
Celia Quartermaine
 ·
Dillon Quartermaine
 ·
Burt Ramsey
 ·
Cruz Rodriguez
 ·
Casey Rogers
 ·
Father Mateo Ruiz
 ·
Delia Ryan Coleridge
 ·
Juan Santiago
 ·
Alec Scott
 ·
Hannah Scott
 ·
Rebecca Shaw
 ·
Lucky Spencer
 ·
Suzanne Stanwyck
 ·
Nurse Mischa Stephens
 ·
Marcus Taggert
 ·
Nurse Regina Thompson
 ·
Claire Walsh
 ·
Faith Ward
 ·
Keesha Ward
 ·
Dr. Maya Ward
 ·
Dr. Jeff Webber
 ·
Dr. Sarah Webber
 ·
Dr. Steve Webber
 ·
Dr. Lainey Winters
 ·
Grace Yang
 ·
Johnny Zacchara
Crew
Ron Carlivati (Head writer, 2012-present)
 ·
Jill Farren Phelps (Executive producer, 2001-2012)
 ·
Robert Guza, Jr. (Head writer, 1996; 1997-2000; 2002-2008; 2008-2011)
 ·
H. Wesley Kenney (Executive producer, 1987-1989; Head writer, 1988)
 ·
Gloria Monty (Executive producer, 1978-1987, 1991-1992; Head writer, 1981)
 ·
Wendy Riche (Executive producer, 1992-2001)
 ·
Frank Valentini (Executive producer, 2012-present)
 ·
Garin Wolf (Head writer, 2008; 2011-2012)
Related Topics
Cross reference of character names
 ·
List of cast members
 ·
List of current actors
 ·
History of General Hospital