Dr. Silas Clay, MD was a fictional character on ABC daytime soap opera General Hospital.
He was portrayed by actor Michael Easton.
Casting
Following the cancellation of fellow ABC daytime soap opera One Life to Live in January 2012, it was announced that Michael Easton, who had portrayed the role of police officer/FBI Agent John McBain on the series since October 2003, would bring his character over to General Hospital, after a venture to bring One Life to Live online had fallen apart.
Easton had portrayed the character of McBain on General Hospital for little less than a year before it was announced that the efforts to bring One Life to Live online had begun again, and thus, they were recalling the character of John McBain (as well as two other former One Life to Live characters) back to the parent series.
As Easton was still under contract with ABC at this time, the decision was made to reintroduce the actors to General Hospital as brand new characters. Prior to his role on One Life to Live, Easton had portrayed the role of vampire Caleb Morley on the defunct General Hospital spinoff, Port Charles from May 2001 to October 2003. From February to March 2013, Easton's portrayal of Morley was revisited on General Hospital, with the series retconning the entire Morley identity as an alter ego of psychotic serial killer Stephen Clay.
In Easton's new role as Dr. Silas Clay, he serves as Stephen's older brother, as well as the paternal uncle of Stephen's son, Rafe Kovich, Jr., with any and all references to John McBain in the General Hospital canon eliminated. His first appearance was on May 13, 2013. Michael Easton left after his character was killed off.[3][4] His last appearance was on August 31, 2015.
He has been portraying Dr. Hamilton Finn since March 21, 2016.
Background
Silas Clay was never close to his family or his younger brother, Stephen. He left home at the age of eighteen with no intention of ever coming back. While attending Colombia Medical School, he met another student there named Nina. The two of them began spending a lot of time together, eventually falling in love. Nina's parents were very wealthy and did not think much of Silas because of his poor background. Nina, however loved him regardless and helped pay his way through med school. Upon graduation Silas and Nina married.
Eventually Silas and Nina began to drift apart, they were constantly fighting very frequently. He soon began an affair with Ava Jerome, an aspiring art dealer. When Nina discovered the affair she tried to commit suicide by taking an overdose of medication. Silas discovered her in their home. Unfortunately Nina was rendered comatose by the ordeal. Although Silas wished to take Nina off of life-support, her parents absconded her to a private care facility and prevented Silas access to her. Disgusted at his behavior, Silas ended his relationship with Ava.
Storylines
Sam Morgan goes to a Manhattan hospital looking for Morgan Corinthos after he is beaten by thugs whom he owes money. While trying to find information, Sam meets Silas who she thinks is Stephen Clay, a serial killer who kidnapped her and her son Danny a few months earlier. Silas reveals that he is Stephen's older brother, and that he hasn't been in contact with his brother in ten years. Sam tells Silas of Stephen's crimes and his death, as well as that he had a son, Rafe Kovich, Silas' nephew. She is stunned when Silas doesn't react to the information, and she leaves when Morgan is found.
A couple days later, Silas arrives at Sam's penthouse, wanting to meet Rafe. As Sam and Silas argue, Rafe returns home, but wants nothing to do with his long-lost uncle and storms up to his room with Molly Lansing-Davis. Silas tells Sam he will be back, and leaves. At Kelly's diner, Silas serves Sam with a petition he'd filed for guardianship of Rafe. Sam questions Silas' motives and Rafe tells Silas he doesn't want to live with him. Sam's mother, Alexis Davis, promises to help her daughter keep Rafe. In court, Diane Miller, who Silas hired, trashes both Sam and her late husband, Jason Morgan, in order to depict Sam as an unfit mother. After the hearing, Sam stays behind to confront Silas, who tells Sam that her son Danny is sick.
Silas follows Sam to the hospital and informs her that Danny has cancer, before leaving abruptly. Later, Silas runs into Dr. Patrick Drake and demands to see the test results, but Patrick refuses. While Sam is at the hospital waiting for the results of Danny's biopsy, Silas is awarded custody of Rafe and decides to take him back to Manhattan. He later has a change of heart and drops Rafe back at Alexis' while he goes to General Hospital to see Sam. There, he offers to help Sam with Danny's treatment, and she agrees to let him help when she finds out he decided to stay in Port Charles with Rafe.
Silas takes a job at General Hospital, and assists in Danny's recovery. Silas informs Sam that chemotherapy isn't working, and Danny will need a bone marrow transplant, and helps put together a list of potential donors. Meanwhile, Ava Jerome arrives at the hospital, and it's clear that Ava and Silas knew each other. It's later revealed that they were romantically involved, but their relationship ended very abruptly for reasons unknown. Meanwhile, Silas is treating a new patient, Franco, with Patrick, and he realizes Ava and Franco share a secret, though he's not sure what. Silas also finds out that Franco was the presumed twin brother of Sam's late husband, Jason, and he once made Jason and Sam's lives miserable. Franco suffers a seizure, and when he wakes up, he says that he is "Jason Morgan."
Silas leaves to warn Sam, and they both come back to Franco's room. There, Silas finds Ava waiting with Kiki Jerome, who introduces herself as Ava's daughter. Silas asks Kiki about her father, and she tells Silas that Franco is her father. However, when she leaves, Silas tells Ava he thinks Kiki is actually his daughter. Ava vehemently denies this, and says Franco is Kiki's father. However, after he leaves, Ava is confronted by Morgan, Kiki's boyfriend, about Ava lying to Silas, and it's revealed that Silas is, in fact, Kiki's biological father.[5]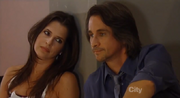 Silas goes to find Danny, and instead finds him missing. Carly Jacks comes in and informs Silas that Patrick thinks Franco has a brain tumor, though she doesn't believe it. Silas, though, thinks it's possible, and finds out that Franco is also missing from the hospital. Silas figures Franco would take Danny somewhere Jason would, and Carly figures out he probably took Danny back to Sam's apartment. Carly and Silas come to Sam's penthouse, and find her unconscious on the floor. Sam regains consciousness, and tells Silas and Carly that Franco was there with Danny, pretending to be Jason. Silas brings her back to the hospital to be checked out, and lets Sam know about Franco having a brain tumor. Eventually, they get a call from Detective Dante Falconeri that Franco was found by Carly, and Danny is safe. Silas and Sam come to get Danny, and bring him back to the hospital.
Silas and Sam find out that Franco is a match for Danny, and can be his bone marrow donor. However, Patrick warns Sam that the surgery Franco requires for the brain tumor could be potentially fatal. Franco manages to make it through surgery, but Patrick lets Sam know that Franco could possibly have cancer as well, which would mean he cannot donate his bone marrow to Danny. Silas runs tests to see whether Franco does have any cells that could possibly be cancer. Eventually, he lets Sam know there are some potentially harmful cells in Franco's blood, which means his bone marrow could make Danny's condition worse, ruling him out as a bone marrow donor. Sam is devastated, and Silas promises to help out.
Silas pulls the samples for potential bone marrow donors, and comes across Kiki's sample. Still suspicious that Ava is lying to him about Kiki's age and father, Silas performs a test between himself and Kiki to see if she is, in fact, his daughter. Ava informs Silas' boss, Dr. Monica Quartermaine, about the unauthorized test being performed on her daughter. Ava demands the test results or she will sue the hospital. Ava warns him away, but Silas is unfazed, and decides to go straight to Kiki with what he knows. Ava pulls a knife on him and threatens him to stay away from her daughter.
The next day, Kiki's true paternity is published in the paper after her birth certificate is published. Silas finds out that Kiki is his daughter, and goes to the Quartermaine mansion looking for Kiki, and instead finds Ava. She finally admits the truth, and warns him that this secret will "destroy us both." Silas decides to take that chance. Silas goes to NYC with Sam Morgan when she wants more information from about her family and learns that Kiki's grandmother, Delia Ryan Coleridge also didn't know about Kiki. On NYE (on the show), Silas and Sam make love for the first time. Silas has been dodging calls from Det. Nathan West and it is revealed to Sam that Silas has a wife.
In early January, after Sam confronts him, he tells her the story of him and his wife. When Silas was 18 years old, he left home and went to Columbia for school where he met a girl named Nina. They began spending lots of time together and eventually fell in love, only Nina's family did not approve of the relationship because they were rich and Silas was from a poor family. Her family believed that he would only use Nina for her money. Nevertheless, Silas and Nina stayed together. After graduation, Silas and Nina married and she paid his way through medical school. About two or three years into his practice as a doctor, Silas and Nina started to grow apart and that is when Silas' affair with Ava began. When Nina found out about the affair, she took some pills, trying to kill herself. She slipped into a coma and was declared brain dead.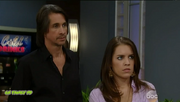 Nina's family banned Silas from visiting her because they thought he was having an affair. Even though Silas lied and denied the affair, her family did not believe him. When Ava discovered she was pregnant with Silas' child, she realized her pregnancy would be the proof of their affair and so she hid the pregnancy from Silas and named someone else as the father of her child. Nina's parents blamed Silas for her condition and were rich and powerful enough to keep him away from her, even though he tried a thousand times to see her. Silas wanted to turn off the machines and let Nina go, but her family took the decision out of his hands and kept Nina alive on life support. Nina has been in a coma for over 20 years. Detective West is investigating Silas and Ava because he does not think Nina tried to kill herself. He, along with Nina's family suspect foul play and think Silas tried to kill Nina.
Sam accompanied Silas to the clinic so he could say goodbye to Nina, but they discovered she was gone. Nathan continues to go after Silas and convict him for Nina's condition. Sam decided to take on his case and help prove his innocence. A few weeks later, Nina's mother Madeline Reeves arrived in Port Charles and told Silas that Nina was dead. Madeline blamed Silas for everything that happened to her daughter. Eventually Nathan comes to realize that Silas was not responsible for what happened to Nina and he worked with Sam to find out who was truly responsible. Sam, Silas, and Nathan set a trap for the person that had harmed Nina and they were shocked to learn that Madeline was at fault. She confessed that her intent had been to harm the baby Nina was carrying.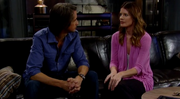 In the midst of Madeline's confessions, it was revealed that Nathan and Nina were not siblings but cousins. Silas and Nathan made peace with one another as they each grieved for Nina and Silas mourned the loss of the child he had never known. In early June, Nina revealed herself to be alive when she showed up at Sam's son's birthday party. She explained that she had woken up awhile ago and Madeline lied to him about her death. After the reunion, Silas took her home with him. Silas and Nina reminisced a little and Nina recalled that they went on their first date in 1989.
Nina settled in with Silas and shared a reunion Nathan. Nathan filled her in on all the changes in his life and told her that their mother was responsible for her coma. Nina was very upset at this news and Nathan helped her cope. Silas returned and apologized for not telling her himself, but Nina maintained that none of this was his fault. They shared a reunion kiss, but Silas stopped the kiss and admitted to Nina that he is in a relationship with someone else. After Nina learns of Silas's new relationship with Sam, she tries to leave and move in with her brother to give him space, but Silas insists that Nina stay with him at his place, so he can take care of her. He also reassures Nina that even though he has moved on, her coming back into his life is a good thing.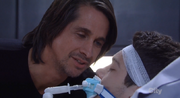 For the following months, Silas and Nina grapple and adjust to being in each others lives again after 20 years. Nina continues to be torn between the love and hate that she feels for Silas. She decides to plot revenge on the people who she feels has wronged her and brings her nurse, Rosalie Martinez into her plans for revenge. Meanwhile, Silas has no idea of Nina's ulterior motives. Nina targets Silas, her mother, Sam, Ava Jerome, and Kiki Jerome. With her mom already in prison, Nina sets her sights on breaking up Sam and Silas. Nina is successful in driving a rift between Sam and Silas, and Sam breaks up with Silas because she sees that he still has feelings for Nina.
Rafe finds out about Nina's revenge scheme, but Nina finds out he ran Patrick Drake's family off the road, killing his son, and he's now wanted by the police. Nina pays him $500 to leave town and keep quiet. Rafe ends up getting into an accident and is taken to the hospital. He ends up brain-dead and is taken off life support by Silas. Nina stays by Silas' side to support him through this tragedy. Nina is haunted and wracked with guilt over Rafe's accident. She almost admits all to Silas, but changes her mind at the last minute.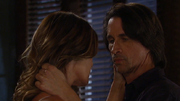 Silas is also plagued with guilt over the accident for not paying enough attention to Rafe. He blames himself and he also develops a grudge against Patrick, who he feels killed Rafe on purpose. Patrick was the attending surgeon operating on Rafe when he was left brain dead, but Patrick was innocent and did everything he could to save Rafe. Silas wasn't easily convinced of this though. Sam believed Patrick and began working to clear his name of all the malicious rumors. As part of her revenge scheme, Nina drugs Silas in an attempt to get herself pregnant. Silas and Nina are entangled in a kiss, when Sam walks in and interrupts her, though she doesn't want Silas back.
Silas catches Nina talking to Franco about a secret, but she covers by admitting to Silas that she's been skipping her physical therapy. She and Silas share a heart-to-heart as she explains how she's been struggling emotionally ever since waking up. Silas promises to be there for her and apologizes for not being more cognizant to her emotional struggles. In exchange, Nina promises that she won't skip any more physical therapy meetings. Later on, Nina shares her desires to have a baby with Silas. Silas is taken aback, but they discuss it. Nina and Silas start to reminisce about their romantic past and then she stands up from her wheelchair to give Silas a striptease. This leads to a moment of passion and Silas pick her up and takes her to the bedroom where they make love.
Silas eventually figured out that Nina can walk and has been lying to him, and ends his relationship with her. He supports Ava when Nina kidnaps her newborn baby. He hides Ava, and still decides to help her even after he learns that she killed Connie Falconeri
Silas and Ava team up with Kiki and Morgan to track down Nina and Franco. Silas manages to talk Nina down, and she is arrested. After Ava is arrested and sent to Pentonville, Silas helps Kiki care for Avery, and even takes Avery to see Ava.
After Ava is presumed dead during a prison break, it is revealed that Silas has stashed Ava in a secret facility in New York City. Silas tells Ava she has cancer, and wants to find her a donor. Ava begs Silas to euthanize her and not let her suffer. Instead, Silas kidnaps Avery from the hospital, and used her bone marrow to save Ava's life.
When Silas got back to town, Kiki tells him about Ava's identical twin, Denise DeMuccio. Silas immediately realizes that Ava is back in town, and confronts her. Silas threatens to expose Ava, but she threatens to reveal that he took Avery from the hospital. Ava tells Silas that she and Morgan are starting to reconnect romantically. Silas tells her that Morgan and Kiki are back together, and Ava agrees to end it.
On July 16, Kiki tells Silas she feels like she has known Denise her whole life. Silas warns Kiki about getting back together with Morgan, but Kiki hopes they can get along. Nina visits Silas and says that she has been hearing a baby crying. She worries that she is losing her mind.
On July 28, Silas decides he can't let Nina suffer for what he did and decides to tell the truth. He heads to D.A. Scott Baldwin's officers sees Franco there. On July 29, Silas admits to Franco that he is the one, who took Avery, and is going to turn himself in. Franco accidentally blurts out that Ava and Morgan are sleeping together behind Kiki's back. Silas storms over to Ava's apartment and finds her and Morgan in bed together.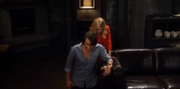 On July 30, Silas says he is going to tell Kiki everything. As Denise, Ava asks Morgan to let her talk to Silas alone. Silas tells Ava that he is telling Kiki that Denise is Ava, and that she and Morgan are sleeping together. Ava says she will say he is the one, who kidnapped Avery and will g to prison. Silas says he is fine with that and then said that Nina is losing her mind thinking she kidnapped Avery. He was going to tell Scott everything, and if he was at his office, Silas would have confessed everything to him.
On July 31, Silas was stabbed in the back and killed. It is currently unknown who killed him. Franco came in his apartment and saw Nina holding a bloody knife, kneeling beside Silas' corpse.
On August 31, exactly a month following Silas' murder, it was revealed that Madeline Reeves was the one that fatally knifed Silas in order to acquire his ex-wife's (her daughter's) money.
Crimes Committed
Adultery; had an affair with Ava Jerome while married to Nina [1991; Kiki was born in 1992; revealed 2013]
Assaulted Det. Nathan West (grabbed him by the collar and almost punched him) [Jan 13, 2014]
Knocked out two armed guards at the Crichton Clark facility (along with Sam) [Mar 2014] 
Threatened to kill Patrick Drake if he tried to exact revenge by killing Rafe [Jul 2014]
Aiding and abetting a fugitive; hid Ava after she was presumed dead [Feb-May 2015]
Kidnapped Avery Jerome-Corinthos [Apr 2015; revealed Jun 3-4, 2015]
Took bone marrow from Avery without parent/guardian consent [Apr 2015; revealed Jun 3-4, 2015]
Performed a bone marrow transplant on Ava without her consent [Apr 2015; revealed Jun 3-4, 2015]
Withheld the information that Denise DeMuccio was actually Ava [May 25-Jul 31, 2015]
Health and Vitals
Threatened with a knife by Ava Jerome [Summer 2013]
Falsely accused of murdering Nina Reeves [Mar 2014]
Drank something that was spiked by Nina [Jul 25-28, 2014]
So drunk that he fell unconscious, and was still drunk when he woke up [Jul 28, 2014]
Hit over the head and rendered unconscious by Nina [Oct 16, 2014]
Died after being stabbed in the back by Madeline Reeves [Jul 31, 2015; revealed Aug 31, 2015]
Family Tree
See also
References
v - e

Current Contract Characters
Curtis Ashford
 ·
Jordan Ashford
 ·
Franco Baldwin
 ·
Hayden Barnes-Cassadine
 ·
Nikolas Cassadine
 ·
Morgan Corinthos
 ·
Sonny Corinthos
 ·
Carly Corinthos-Jacks
 ·
Alexis Davis
 ·
Anna Devane
 ·
Dante Falconeri
 ·
Olivia Falconeri
 ·
Dr. Hamilton Finn
 ·
Nelle Hayes
 ·
Paul Hornsby
 ·
Ava Jerome
 ·
Julian Jerome
 ·
Kiki Jerome
 ·
Maxie Jones
 ·
Dr. Andre Maddox
 ·
Jason Morgan
 ·
Sam Morgan
 ·
Dr. Griffin Munro
 ·
Dillon Quartermaine
 ·
Michael Quartermaine
 ·
Tracy Quartermaine
 ·
Nina Reeves
 ·
Nurse Sabrina Santiago
 ·
Laura Spencer
 ·
Valerie Spencer
 ·
Lulu Spencer-Falconeri
 ·
Nurse Elizabeth Webber
 ·
Nathan West
Current Recurring Characters
T.J. Ashford
 ·
Ned Ashton
 ·
Scott Baldwin
 ·
Claudette Beaulieu
 ·
Valentin Cassadine
 ·
Lucy Coe
 ·
Darby Collette
 ·
Dr. Kevin Collins
 ·
Brad Cooper
 ·
Kristina Corinthos-Davis
 ·
Landon Dixon
 ·
Naomi Dreyfus
 ·
Nurse Amy Driscoll
 ·
Nurse Felix DuBois
 ·
Parker Forsyth
 ·
Max Giambetti
 ·
Milo Giambetti
 ·
Alice Gunderson
 ·
Jasper Jacks
 ·
Nurse Epiphany Johnson
 ·
Dr. Lucas Jones
 ·
Ric Lansing
 ·
Molly Lansing-Davis
 ·
Dr. Kelly Lee
 ·
Janice Lomax
 ·
Huxley Lynch
 ·
Rosalie Martinez
 ·
Diane Miller
 ·
Dr. Liesl Obrecht
 ·
Dr. Monica Quartermaine
 ·
Dr. Joe Rivera
 ·
Aaron Roland
 ·
Delia Ryan Coleridge
 ·
Felicia Scorpio
 ·
Mac Scorpio
 ·
Robert Scorpio
 ·
Dr. Robin Scorpio-Drake
 ·
Nurse Bobbie Spencer
 ·
Damian Spinelli
 ·
Ellie Trout
 ·
David Walters
 ·
Heather Webber
Current Child Characters
Spencer Cassadine
 ·
Leo Falconeri
 ·
Rocco Falconeri
 ·
Josslyn Jacks
 ·
Avery Jerome-Corinthos
 ·
Danny Morgan
 ·
Teddy Rivera
 ·
Emma Scorpio-Drake
 ·
Aiden Spencer
 ·
Cameron Spencer
 ·
Jake Spencer
 ·
Georgie Spinelli
Deceased and Presumed Dead Characters
Benny Abrahms
 ·
Bernie Abrahms
 ·
Dr. Rachel Adair
 ·
Diego Alcazar
 ·
Lorenzo Alcazar
 ·
Luis Alcazar
 ·
Sage Alcazar
 ·
Ruby Anderson
 ·
Dr. Andy Archer
 ·
Dominique Baldwin
 ·
Cooper Barrett
 ·
Alison Barrington
 ·
Amanda Barrington
 ·
Kiefer Bauer
 ·
Warren Bauer
 ·
Jesse Beaudry
 ·
Katherine Bell
 ·
Connor Bishop
 ·
Mary Bishop
 ·
Paige Bowen
 ·
Nurse Jessie Brewer
 ·
Nancy Brewer
 ·
Dr. Phil Brewer
 ·
Carter
 ·
Helena Cassadine
 ·
Irina Cassadine
 ·
Kristina Cassadine
 ·
Mikkos Cassadine
 ·
Stavros Cassadine
 ·
Stefan Cassadine
 ·
Tony Cassadine
 ·
Victor Cassadine
 ·
Stone Cates
 ·
Dr. Ryan Chamberlain
 ·
Dr. Silas Clay
 ·
Stephen Clay
 ·
Adela Corinthos
 ·
Lily Corinthos
 ·
Dr. Ian Devlin
 ·
Mickey Diamond
 ·
Ronnie Dimestico
 ·
Dr. Pierce Dorman
 ·
John Durant
 ·
Bill Eckert
 ·
Connie Falconeri
 ·
Andrea Floyd
 ·
Dr. Russell Ford
 ·
Dr. Steve Hardy
 ·
Peter Harrell, Sr.
 ·
Peter Harrell, Jr.
 ·
Abby Haver
 ·
Logan Hayes
 ·
Theo Hoffman
 ·
John Jacks
 ·
Aleksander Janacek
 ·
Victor Jerome
 ·
Stan Johnson
 ·
B.J. Jones
 ·
Georgie Jones
 ·
Tania Jones
 ·
Dr. Tony Jones
 ·
Dr. Ewen Keenan
 ·
Rafe Kovich, Jr.
 ·
Dr. Eve Lambert
 ·
Trevor Lansing
 ·
Duke Lavery
 ·
Dr. Cameron Lewis
 ·
Victor Lord III
 ·
Hope Manning-Thornhart
 ·
Reese Marshall
 ·
Courtney Matthews
 ·
Dr. Matthew Mayes
 ·
Danny McCall
 ·
Lila McCall
 ·
Nurse Leyla Mir
 ·
Trey Mitchell
 ·
Susan Moore
 ·
Chloe Morgan
 ·
Henry Nakamura
 ·
Dr. Lisa Niles
 ·
A.J. Quartermaine
 ·
Dr. Alan Quartermaine
 ·
Alexandria Quartermaine
 ·
Edward Quartermaine
 ·
Dr. Emily Quartermaine
 ·
Lila Quartermaine
 ·
Carlos Rivera
 ·
Faith Rosco
 ·
Manny Ruiz
 ·
Gabriel Santiago
 ·
Joe Scully
 ·
Joe Scully, Jr.
 ·
Kyle Sloane
 ·
Damian Smith
 ·
Frank Smith
 ·
Shirley Smith
 ·
Zander Smith
 ·
Lena Spencer
 ·
Pat Spencer
 ·
Siobhan Spencer
 ·
Tim Spencer
 ·
Olivia St. John
 ·
Nurse Diana Taylor
 ·
Martha Taylor
 ·
Dr. Peter Taylor
 ·
Tracy Taylor
 ·
Dr. Asher Thomas
 ·
Cole Thornhart
 ·
Nurse Amy Vining
 ·
Bradley Ward
 ·
Justus Ward
 ·
Mary Mae Ward
 ·
Dr. Rick Webber
 ·
Dr. Karen Wexler
 ·
Dawn Winthrop
 ·
Deke Woods
 ·
Dr. Maggie Wurth
 ·
Anthony Zacchara
 ·
Claudia Zacchara-Corinthos
Off-screen and Former Characters
Lila Rae Alcazar
 ·
Dr. Grant Andrews
 ·
Terri Arnett
 ·
Brook Lynn Ashton
 ·
Larry Ashton
 ·
Christina Baldwin
 ·
Dr. Gail Baldwin
 ·
Lee Baldwin
 ·
Serena Baldwin
 ·
Dr. Tom Baldwin
 ·
Brenda Barrett
 ·
Julia Barrett
 ·
Melinda Bauer
 ·
Shawn Butler
 ·
Gia Campbell
 ·
Peter Carroll
 ·
Dimitri Cassadine
 ·
Petros Cassadine
 ·
Jagger Cates
 ·
Lois Cerullo
 ·
Skye Chandler-Quartermaine
 ·
Dr. Linda Chu
 ·
Father Coates
 ·
Mike Corbin
 ·
Angie Costello
 ·
Blair Cramer
 ·
Jolene Crowell
 ·
Nurse Nadine Crowell
 ·
Dr. Rae Cummings
 ·
Marco Dane
 ·
Téa Delgado
 ·
Roy DiLucca
 ·
Anna Donely
 ·
Sean Donely
 ·
Tiffany Donely
 ·
Dr. Noah Drake
 ·
Dr. Patrick Drake
 ·
Taylor DuBois
 ·
Toussaint Dubois
 ·
Jenny Eckert
 ·
Sly Eckert
 ·
William Eichner
 ·
Angel Ellis
 ·
John Everett
 ·
Cesar Faison
 ·
Nurse Fletcher
 ·
Pres Floyd
 ·
Nurse Betsy Frank
 ·
Ivy Gatling
 ·
Nurse Audrey Hardy
 ·
Dr. Simone Hardy
 ·
Dr. Tom Hardy
 ·
Dr. Tommy Hardy
 ·
David Harper
 ·
Jimmy Lee Holt
 ·
Dr. Matt Hunter
 ·
Anton Ivanov
 ·
Lady Jane Jacks
 ·
Jerry Jacks
 ·
Terrell Jackson
 ·
Miranda Jameson
 ·
Frisco Jones
 ·
Dr. Leo Julian
 ·
Rose Kelly
 ·
Winifred Leeds
 ·
Guy Lewis
 ·
Victor Lord, Jr.
 ·
Ethan Lovett
 ·
Starr Manning
 ·
Todd Manning
 ·
John McBain
 ·
Colleen McHenry
 ·
Miguel Morez
 ·
‎Hope Morgan
 ·
Ken Morgan
 ·
Delores Padilla
 ·
Blackie Parrish
 ·
Nurse Penny
 ·
Grant Putnam
 ·
Celia Quartermaine
 ·
Burt Ramsey
 ·
Coleman Ratcliffe
 ·
Madeline Reeves
 ·
Cruz Rodriguez
 ·
Casey Rogers
 ·
Father Mateo Ruiz
 ·
Juan Santiago
 ·
Alec Scott
 ·
Hannah Scott
 ·
Jeffrey Scribner
 ·
Rebecca Shaw
 ·
Jennifer Smith
 ·
Lucky Spencer
 ·
Luke Spencer
 ·
Suzanne Stanwyck
 ·
Nurse Mischa Stephens
 ·
Holly Sutton
 ·
Marcus Taggert
 ·
Nurse Regina Thompson
 ·
Claire Walsh
 ·
Faith Ward
 ·
Keesha Ward
 ·
Dr. Maya Ward
 ·
Dr. Jeff Webber
 ·
Dr. Lesley Webber
 ·
Dr. Sarah Webber
 ·
Dr. Steve Webber
 ·
Dr. Britt Westbourne
 ·
Dr. Lainey Winters
 ·
Grace Yang
 ·
Johnny Zacchara
Crew
Shelly Altman (Head writer, 2011-2012, 2015-present)
 ·
Ron Carlivati (Head writer, 2012-2015)
 ·
Jill Farren Phelps (Executive producer, 2001-2012)
 ·
Robert Guza, Jr. (Head writer, 1996, 1997-2000, 2002-2008, 2008-2011)
 ·
H. Wesley Kenney (Executive producer, 1987-1989; Head writer, 1988)
 ·
Gloria Monty (Executive producer, 1978-1987, 1991-1992; Head writer, 1981)
 ·
Jean Passanante (Head writer, 2015-present)
 ·
Wendy Riche (Executive producer, 1992-2001)
 ·
Frank Valentini (Executive producer, 2012-present)
 ·
Garin Wolf (Head writer, 2008, 2011-2012)
Related Topics
List of cast members
 ·
List of current actors
 ·
History of General Hospital