Sonny Corinthos (Maurice Benard)
Talk

0
566pages on
this wiki
Michael "Sonny" Corinthos, Jr. is a fictional character on the popular ABC daytime soap opera General Hospital. Maurice Benard has played the role, that of a manic depressive Mob boss living in Port Charles, since the character's storyline originated on August 13, 1993.[7]
Michael "Sonny" Corinthos, Jr. is born in the blue-collar Bensonhurst neighborhood of Brooklyn. His biological father, Michael Corinthos, Sr., is of Greek and Irish[8] descent, while his mother, Adela Corinthos, is of Cuban extraction. Due to his gambling problems, Michael Sr. feels that Sonny would be better off not knowing him. Hence, he divorces Adela and leaves the family, changing his name to Mike Corbin. Adela goes on to marry Deke Woods, a police officer who routinely abuses both her and Sonny, Deke would often lock Sonny in a closet and then beat Adela, while Sonny would hear it through the door, Deke would then let him out of the closet and beat him with a belt. This would lead Sonny to develop claustrophobia. Adela, fearing for her son's safety, asks Sonny to move out. He begins working for Joe Scully, a well known mobster who eventually murders Deke as a favor to Sonny. As a teen, Sonny enters into a chaste relationship with Connie Falconeri. He also has a brief sexual relationship with her cousin Olivia Falconeri, who hides the fact that she eventually gives birth to his son, Dante.
Storylines
Edit
In 1993, Sonny Corinthos arrives in town as a minor mafia employee, running a strip club called "The Paradise Lounge " for Frank Smith where he feeds Karen Wexler drugs as a way of keeping her working there. He begins to date the beautiful Brenda Barrett, the beginning of a popular Super Couple for GH. Sonny also befriends Stone Cates, Robin Scorpio, and Luke Spencer. Brenda, who is more attracted to Sonny than to his mob ties, introduces him to an old Bensonhurst friend, Lois Cerullo, who needed Sonny's money to finance a record label whose first artist is Lois's husband. The romance of Sonny and Brenda takes off amidst their new business relationship as partners of the record label, L&B.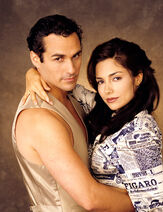 Sonny travels to Puerto Rico and informs the locals that Miguel, a second artist on the L&B label, is under the protection of Frank Smith's organization. Miguel soon begins flirting with a now-model Brenda, which makes Sonny jealous. The two reconcile after Sonny reveals he was abused as a child. When
Luke Spencer
kills Frank as a way of protecting Sonny, Sonny informs mob boss Hernando Rivera that he will be taking over the organization, which leads to Rivera kidnapping
Lily
, his daughter, Miguel, Sonny and Brenda. After they are rushed to safety, Sonny plots his next move, pretending to leave the mafia. Due to mafia ties, Sonny and Luke's club is blown up in which that night, Sonny discovers that Luke's driver,
Mike Corbin
is actually his father, Michael Corinthos, Sr.. That year, Sonny's friend,
Stone Cates
is diagnosed with AIDS and helps him and his girlfriend
Robin Scorpio
deal with it.
Frank's son, Damian Smith, is revealed to be Joe Scully's silent partner, and the two begin to sabotage shipments belonging to Deception Cosmetics and pressure Luke for hush money. Sonny is reticent to take action against Scully, as he is the man responsible for saving Sonny from his abusive step father. During a confrontation at the docks, Mike is shot, and Sonny kills Scully, who was attempting to finish Mike off. Scully's men vow revenge attacking Brenda, Luke's family, and Stone. Lily discovers that Sonny's girlfriend and love of his life, Brenda, is planning on recording Sonny discussing his criminal activities to give to Mac Scorpio. Sonny discovers that this is true and throws Brenda out, although he wants to forgive her knowing her intentions were never to turn him in. Sonny and Lily begin a relationship, though they take things slowly. Sonny also learns that Robin is HIV positive, and Stone dies shortly after this.
After Stone's death, which Sonny illegally paid the hospital bills for, Sonny is arrested, and Lily agrees to reconcile with her father if he helps Sonny stay out of prison. Rivera agrees to help Sonny, but only if he marries Lily. Deciding he can live without love but not without trust, he agrees to marry Lily. Realizing that Sonny still loves Brenda, Lily offers to divorce Sonny, but fearing reprisals, Sonny declines and offers to take her on a second honeymoon. After being trapped in a avalanche at a ski resort on their honeymoon, Brenda and Sonny agree to reconcile but before Sonny could ask Lily for a divorce, she declares her pregnancy. Brenda lets Sonny go acknowledging his need to be an available father. Sonny and Brenda kiss passionately and declare their undying love for each other. Brenda eventually gets together with Jasper "Jax" Jacks.
While Jax and Brenda wed, Lily takes Sonny's car keys and starts the car, which activates the bomb planted by Rivera which was meant for Sonny, killing Lily and the baby. Sonny later kills Rivera upon finding out and searches for Lily's first child with Miguel, Juan Santiago. Upon Lily's death, Sonny earns 30 million dollars, which he donated to General Hospital to create a hospital wing in Stone's name. Jason Morgan, who has suffered brain damage after his brother A.J. Quartermaine injured him while driving drunk, sells Sonny his stock in his family's company, ELQ Enterprises, and joins the Corinthos-Rivera Organization. Sonny becomes involved with various intrigues at ELQ, as does Jax who is working with Ned's mother Tracy Quartermaine to take over the company. When Jax tries to gain control of ELQ through nefarious means, Sonny decides to go after him and also tells him he isn't good enough for Brenda.
On Jax and Brenda's re-marriage date, Sonny brings home Jax's undivorced wife, Miranda Jameson. After Jax leaves Brenda to make sense of it all, Brenda and Sonny reconcile. When attempting to save Brenda Sonny is drugged, when Sonny is brought to the hospital, Sonny tells Brenda he loves her. Believing her marriage with Jax can work, she rejects Sonny. Lily's former lover, Harry Silver, arrives in town causing problems for Brenda and Sonny, leading Sonny to kill him. Fearing the mob life is too dangerous for him and Brenda, he offers to marry her and for them to leave town together. Sonny declares that he loves his life and has worked hard for it, but he loves Brenda more. After a nightmare where Brenda is blown up in a car bomb, Sonny decides he'd rather lose Brenda than see her die. He sends Jason to the altar to end things for him, leading her to have a mental breakdown and to reconcile with Jax.
Soon after returning to Port Charles and discovering that Brenda had died, Sonny soon engages in hate-sex with Carly Benson, Jason's girlfriend who is married to A.J. Quartermaine. After Jason leaves, Carly discovers that she is pregnant and is being blackmailed by A.J. Sonny, wanting the best for his child, discovers criminal evidence against A.J. Sonny then blackmails A.J. and he soon grants Carly a divorce. Carly and Sonny then move in together and after Carly suffers a miscarriage, after falling down the stairs at the Quartermaine's mansion arguing with A.J. Sonny then flies her to his island and begins to be a father figure towards her son, Michael Morgan.
As their dislike turns to love, they eventually wed in Summer 2000 as a legal front. After discovering how much they really love each other, Sonny and Carly rewed in 2001 in a Caribbean style wedding. After discovering the mob life is dangerous, Carly forces Sonny out of the mob. Seeing this as a betrayal, Sonny divorces Carly and sleeps with Alexis Davis. Alexis later discovers she's pregnant and claims that her former fiancé, Ned Ashton, is the father of her daughter, Kristina Davis. After almost losing Carly to car accident, they reconcile and Sonny remarries Carly in July 2002. Sonny and Carly are forced to face many dilemmas when Courtney Matthews, Sonny's sister, marries A.J. Quartermaine. Soon after, mob rival Luis Alcazar returns with an alive Brenda Barrett, who almost kills Sonny. Sonny is still attracted to and loves Brenda, a fact picked up by a jealous Carly. However, Sonny remains loyal to Carly despite his feelings, though he remains keloid of Brenda's attraction to Jax.
Although Luis is soon murdered by Alexis Davis, Brenda marries Jason as a way of preventing reconciliation with Sonny or Jax, but the marriage also prevented them from testifying against each other over Luis's death. When Brenda leaves Port Charles, she and Sonny kiss passionately, proving that love has not been lost between the two. Carly witnesses the kiss and tells Jax, who was planning on remarrying Brenda. Brenda annuls her marriage to Jason and moves to Italy.
Sonny and Carly reconnect and eventually have a baby, which Carly had difficulty conceiving. Sonny's half-brother Ric Lansing is overjoyed when Elizabeth Webber becomes pregnant with their child, but is infuriated when Elizabeth falls down a flight of stairs after Faith Rosco pushed her, although Sonny is blamed. Desiring a child of his own, Ric kidnaps Carly and traps her in a panic room, taunting her that the child will be raised by him at birth. Lorenzo Alcazar, Luis's brother, later frees Carly but keeps her on a yacht as a way of using her as leverage against Sonny to transport Sonny. Although Carly escapes, Lorenzo then kidnaps a pregnant Courtney, who also escapes, causing her a miscarriage. Courtney devastated is declared infertile, like Carly. After confusing labor pains for torture, Sonny finds Lorenzo over Carly helping her give birth. Sonny hears Carly scream and shoots Lorenzo but the bullet lands in Carly's head, causing her to go in to a coma, after giving birth to Morgan Corinthos.
Sonny soon starts a short-lived relationship with Sam McCall that gets even more complicated when Sam discovers she is pregnant. Carly soon points out to Sam the strong resemblance to Brenda, the love of Sonny's life. Sonny then reunites with Carly and Jason requests that Sam lie about the baby's paternity and she agrees to tell everyone that he is the father instead of Sonny. While trapped in a fire at the Port Charles Hotel, Alexis admits to Carly that Kristina is Sonny's daughter not Ned's. After Sonny admits that Sam is carrying his child, Carly tells Sonny the truth about Kristina. Realizing the depth of both of their deception, the two decide to separate once again. When Kristina falls ill, Alexis badgers Sam in a attempt to force the expecting mother to undergo a risky procedure to have her unborn daughter donate stem cells to save Kristina's life. An unrelated medical condition, coincidentally timed with the fight, causes Sam to go into premature labor, and she loses her baby. Unbeknownst to an unconscious Sam, Sonny agrees to donate the stem cells to Kristina.
In 2005 A.J. Quartermaine, still desperate for a relationship with his son, kidnaps Michael and fakes both of their deaths. When Sonny discovers that Faith also played a part in his son's supposed death, the two have a heated confrontation that leaves her for dead. Carly suffers a breakdown, and is committed to a psychiatric hospital. Michael is eventually returned, and A.J. is killed by a doctor who tries to frame young Michael for it.
In 2006 Sonny briefly enters into a relationship with Jason's sister Emily Quartermaine, who is upset that her husband Nikolas Cassadine has become involved with Sonny's sister Courtney. Courtney is married to Jax, but problems arise from their inability to conceive. Courtney leaves town when she finds she is pregnant and doesn't know if Jax or Nikolas is the father. During this time Emily forces Sonny to confront his bipolar disorder. Fearing for Emily's safety, Sonny stages a kiss with Carly, who has in turn asserted her independence and is starting a business relationship with Jasper Jacks. When a deadly outbreak of encephalitis hits Port Charles, several residents die. Among them is Courtney, who gives birth to John Michael Jacks/Spencer Cassadine right before her death. Sonny and Emily attempt a relationship in secret, but when their relationship goes public, Sonny, fearing changes from his bipolar medication and for her safety, again ends things.
In early 2007 Sonny still in love with his ex-wife Carly discovers Jax and Carly have become engaged, though she is disappointed when Jax leaves town to help his wayward brother Jerry Jacks. Preying on this, Sonny is caught in a legal dilemma when Carly witnesses him shoot Lorenzo Alcazar in self-defense, and forces her to marry him temporarily, so they don't have to testify against each other in court. While attending a party at the hotel she owns with Jax, Carly and several other Port Charles residences are taken hostage by the mysterious James Craig who is really Jerry Jacks in disguise. Sonny declares his love for Carly, and when the two survive the hostage crisis, they make love. Sonny is heart broken when Carly divorces him and marries Jax right after their divorce was finalized. Sonny immediately began to see Kate Howard, a high profile magazine editor, who was really an old friend from Bensonhurst, Connie Falconeri, that Sonny dated. The two fall in love, which Carly despises. Trevor Lansing, Sonny's former stepfather, arrives in town with Anthony Zacchara, who causes problems for many of the people in Port Charles. Fearing Anthony is a murderer, Sonny sends his kids to live with Carly. Unfortunately, Diego Alcazar murders Michael and Morgan's nanny Leticia and Sonny's ex-girlfriend Emily in retaliation for the deaths of Luis and Lorenzo. Kate, fearing for her safety rejects Sonny's marriage proposal, which leads him to sleep with Claudia Zacchara.
In 2008 as Sonny's 12-year-old son, Michael, is starting to act like a mobster, he accidentally shoots Kate Howard. Kate doesn't press charges and as a way of showing that he can live without the mob, Sonny brings Kate and Michael to a warehouse, but when a gunman, hired by Claudia (for Sonny keeping Johnny kidnapped falsely) aims for Sonny, the bullet hits Michael, landing him in a permanent coma. Afterwards, Sonny agrees to sign away his parental rights to his sons with Carly, but refuses to do the same for his daughter with Alexis. Carly and Sonny have a one night stand, in which Kate finds out and the two break-up, only to reconcile and get engaged for an October wedding. Kate is shocked when Sonny brings her cousin Olivia Falconeri to town to be her maid of honor. Before the two can marry, Anthony Zacchara shoots Kate and frames Russian mobster Andrei Karpov for the deed. Sonny immediately wants revenge, and is furious that Jason won't act on his behalf. Sonny begins to feel the pressure of not having mafia backed power, and ends things with Kate who is still recovering from her wounds.Anthony offers Sonny control of his business if and only if Sonny marries his daughter Claudia. Sonny agrees, much to Kate's disgust and dismay. Sonny is able to kill Karpov, and uses Carly as an alibi when questioned, causing Jax to leave her yet again. In early 2009 when Jerry Jacks, who knows of Claudia's culpability in Michael's shooting, begins sending DVDs incriminating her. Kate, Olivia, Jax, and Ric each discover a DVD, but only Ric tells Sonny because he is (still in love/ obsessed with Claudia) but she didn't want to have anything to do with him. Ric then blackmails Claudia into sleeping with him for several weeks. Due to Jerry erasing the DVDs, Ric had no proof but the marriage was strained. Claudia told Sonny that she discovered that Anthony and Ric teamed up to kill Kate so that eventually Anthony can lure Sonny into his trap. Claudia and Sonny find their marriage is actually working, and the two begin to make love.
When Claudia realizes that Jason could learn the truth about her involvement in Michael's shooting, Claudia steps up her physical relationship with Sonny, hoping a child could save her life. Claudia succeeds at getting pregnant, and Sonny is dismayed to learn that Carly is also pregnant with Jax's child and could easily die due to health complications. When Michael wakes up from his coma, Sonny is thrilled and fights with Carly to have Michael live with him due to her health. Claudia supports him and Michael moves in temporarily but due to a confrontation with a hired Zacchara soldier, Dominic Pirelli, Carly moves Michael in with the Quartermaines, which causes Sonny grief. Sonny discovers that Claudia is actually carrying his child and later regrets it when she is in a car accident and miscarries their son. When they discover that it was Sonny's daughter, Kristina, who accidentally ran her off the road, Sonny and Claudia ultimately forgive a remorseful Kristina and agree not to turn her into the police.
On October 28, 2009 Jason and Sam find proof that Claudia is the one who is responsible for Michael's shooting and Jason informs Sonny. During a birthday party that Sonny arranged for Claudia at the Metro Court, Sonny alerts everyone in attendance to Claudia's action's, as well as the Jacks brothers' involvement. Sonny then verbally abuses and rips Claudia to shreds, shocking everyone in attendance. Backed into a corner, Claudia panics and takes a pregnant Carly hostage at gunpoint. When Sonny finds out that Michael had killed Claudia to protect his mother and baby sister, he sets the wheels in motion to cover it up and offers his son his support in dealing with the feelings that come with murdering another person and explains that he did good.
On January, 28 2010 Sonny and Jason find out Dominic is a undercover cop trying to take Sonny down. The very next day, Dominic has a warrant for Sonny's arrest, Sonny is to be given one last good day before his arrest. Sonny seeks revenge on the day of Josslyn's christening (Carly's daughter with Jax). Sonny has an assignment for Dominic, and Dominic heads to Sonny's house, assuming he will be capable of arresting Sonny on his own, without backup. Dominic is actually walking into a trap. After Dominic gives a heartfelt speech as to why he wants Sonny to pay and why he should be arrested and sent to prison, Sonny says "goodbye detective" and shoots Dominic point blank in the chest. Olivia comes in only moments after and says "Oh my god, Sonny! You just shot your own son." Sonny appears to be in shock until Olivia further drills it into him that Dominic is actually Dante, their son.
On February 2, 2010 Sonny tells Jason what happened and that Dante is his son with Olivia. Jason begs Sonny to flee the country so that he will not be brought up on a murder charge against a police officer, which guarantees life in prison. Sonny is very shortly after arrested at the hospital for Claudia's murder. Michael is there when they arrest Sonny, Sonny tells Olivia to tell Dante that he loves him and didn't want to leave. Sonny then gets out of jail on bail because Dante lies that he was snooping through one of Sonny's desk drawers when he found a gun, and upon trying to take out the clip he accidentally shot himself. Olivia during later questioning by Mac Scorpio and Agent Rainer says she didn't see what happened. Sonny goes to the hospital to see Dante and when he walks in Dante says "Hey Dad".
On March 15 Sonny's daughter Kristina is badly beaten by her boyfriend, Kiefer. When questioned, Kristina lies to protect Kiefer, saying it was Ethan. Sonny is furious and tracks Ethan down to The Haunted Star with a gun. He is only infuriated more when Ethan accuses Kristina of lying. Sonny leaves Ethan alive after prompting from Dante and Lucky, but he immediately goes to Jason to set up a hit against Ethan. Jason is unsure but Sonny wants "justice". A few days later, Sonny stops Jason from questioning Kristina, dismissing any inconsistency in her story. When Kristina realizes what Sonny is planning she goes off on him, yelling and begging him not to harm Ethan. Though Sonny tries to calm his daughter down, she won't be happy until he promises not to hurt Ethan and Sonny won't be happy until Ethan is six feet under. Alexis finally gets through to Sonny and tells him that he needs to "act like a fricking father" and respect Kristina's wish to have Ethan remain alive.
The next day Carly finds Sonny in his living room, wearing the same clothes as the day before, drinking and sulking. She thinks he's having another breakdown. He explains that he blames himself for what happened to Kristina and how the only thing that got him through his abusive childhood was that he thought it was over when he left and that none of his loved ones would ever experience the same kind of pain. He continues to explain the parallels between Deke and Ethan (or Kiefer) and what an animal he thinks Ethan is. He thinks this whole thing could have been avoided if he had paid more attention to Kristina and taught her about guys like Deke. He believes his lack of presence in her life made her vulnerable.
A few days later Sonny goes to visit Kristina at her house, briefly seeing the real abuser Kiefer. Sonny asked if there is anything he can do for his daughter and Kristina stated she does not want Ethan to pay for what he did (or what she says he did) to her. Though Sonny tries to deny it, Kristina knows her father wants Ethan to die. Sonny tells Kristina she sounds like her grandmother. He tells her a little bit about how his stepfather used to beat his mother (leaving out how his stepfather beat him too). Kristina is shocked that he never told her and he says he doesn't like talking about it. She then states he knows how she feels and wants the whole incident to be over. Sonny holds Kristina while she cries.
Sonny will only let Ethan live because he sees how it would hurt his daughter if he killed him, but he swears if Ethan walks he'll kill him. He only tells Carly that at first, he says how much he loves his little girl and how he finally can relate to her on the fact that they have both been abused (though he is unaware at this point the extent of her abuse). Sonny promises to protect Kristina and his sons, and make sure they are never afraid again.
When Sonny finds out that Kristina dropped the charges against Ethan, he goes ballistic. His tirade is witnessed by Claire Walsh, the state prosecutor called in by Jax to assure Sonny's conviction. Claire has Johnny lie on the stand and say that Sonny beat and abused Claudia. Sonny goes off in court about how Claudia got what she deserved, which Kristina witnessed. Robin is later called to the stand, and though she initially paints Sonny in a positive light, Claire turns it around by forcing Robin to admit that Sonny had insulted and threatened Claudia at her birthday party; Sonny nonetheless assures Robin that she did the right thing. He is dismayed when Maxie is later called to the stand to testify, but ends up grateful when she avoids questions involving Michael. After Maxie's testimony, Kristina is admitted into General Hospital having been attacked by Kiefer again. After finding out from Alexis, Sonny immediately assumes that Ethan was the one who did it and sends Jason out to kill him before Alexis has a chance to tell him the whole story; fortunately, Lucky intercepts Jason before he can do so.
Afterwards, Sonny listens outside Kristina's hospital room when Dante arrives to get her statement. After some encouragement from Dante, Kristina finally admits that Kiefer was the one who attacked her both times and that he had also hit her on multiple occasions beforehand, which reduces both Alexis and Sonny to tears. Jason returns and reveals that he didn't kill Ethan, much to Sonny's relief. After overhearing Kristina speak highly of Dante to Alexis, Sonny asks Dante up to the roof of the hospital to thank him for showing Kristina that she could trust him enough to tell him the truth. However, Dante rips into Sonny, informing him that Kristina only lied in the first place because she thought that Sonny would kill Kiefer, and her biggest concern at the moment is whether or not Jason has been sent out to do so when it should be getting better. Dante proceeds to accuse Sonny of being a horrible father, and when Olivia walks in on the fight, Sonny takes his frustration out on her, stating that Dante only hates him because Olivia never gave them a chance to be father and son. Olivia holds her ground, however, and when she leaves, Dante snaps and slugs Sonny on Olivia's behalf, stating that he hates Sonny for who he is, not what his mother did. Sonny simply warns Dante that he can only push him so far. Unconcerned, Dante states that this only proves his point and dares Sonny to "come and get him."
On the same night of Kristina's second beating, Kiefer is hit by a car. Sam and Molly find him on the side of the road and bring him to the hospital only for him to die shortly after his arrival. Ethan is accused and arrested, but soon released, while Kristina initially suspects that Sonny and Jason are responsible. However, Jason manages to convince Kristina that he and Sonny had nothing to do with Kiefer's demise, and the driver is eventually discovered to be Alexis; she had accidentally hit him while driving Kristina to the hospital. Nonetheless, Kiefer's abusive nature and the truth quickly become public knowledge, and Ethan is given a clean slate.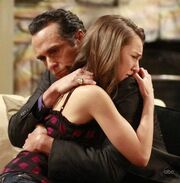 On April 27, 2010, Sonny talks to Kristina about the event, and he finally admits to her that his stepfather abused both him and his mother. Kristina tells him of Alexis' theory that she stayed with Kiefer even after he hit her because she felt rejected by Sonny; however, Kristina reassures him that Kiefer was her own mistake. On May 13, Sonny goes to the Haunted Star to apologize to Luke and Ethan, also admitting that Kristina was right to assume that he would go after Kiefer and he believes that his current situations with his own children may be karmic justice for going after Ethan. Though Luke is somewhat reluctant to forgive him, Ethan tells Sonny that Kristina is a good kid and that he merely hopes that things work out for her.
In June, Kristina channels her anger and frustration at Kiefer towards Sonny and begins to pretend-date Johnny in order to spite him. Sonny, believing that Johnny is taking advantage of his daughter to get back at him for Claudia's death, plants a bomb in Jonny's car, though his plan backfires when Kristina sneaks out to see Johnny and is caught in the bomb along with him; fortunately, neither are severely injured. Though Sonny denies any part in the bomb, Kristina sees through his lies and goes off on him, though she nonetheless agrees to stay away from Johnny to keep Sonny from going after him. Sonny, finally fed up with Kristina's disrespectful attitude and smart mouth towards both him and Alexis, arranges several new ground rules for her; Kristina is now cut off from her credit cards, has a curfew, and must come to Sonny's house for dinner every Tuesday. Alexis follows suit and takes away her car, and Kristina reluctantly agrees to follow their new rules to make up for all the trouble she caused.
Kiefer's father, Warren Bauer, becomes obsessed with getting revenge on Kristina and Alexis and begins plotting for months to "prove" that Kristina is still lying about Kiefer hitting her. On July 19, 2010 Warren harasses Alexis, Sonny, and Kristina at the country club. Sonny quickly stands up for them and openly accuses Warren of being abusive to Kiefer himself because abusers are taught, not born, stating that Kiefer's brutality towards Kristina comes from years of rage of Warren hitting Kiefer. Sonny also comments that, ironically, he now has a little more sympathy and compassion for Kiefer, though Warren denies ever hitting Kiefer, it is obvious from his reaction that Sonny is correct. After he departs, Sonny and Kristina share a private conversation. Sonny reassures Kristina that he meant what he said about feeling bad for Kiefer, and also states that, if he were still alive, he would have gotten him some help. Kristina thanks him and states that, while Kiefer did awful things, he wasn't an awful person, to which Sonny replies that he isn't either.
On July 23, 2010, Warren's vengeance reaches a boiling point when he attempts to outright kill Kristina and Michael at General Hospital, shooting Mac and Ethan in the process. However, Warren is shot and killed by Mac before he can harm Michael and Kristina. When Sonny finds out, he reassures Kristina that, though he can somewhat sympathize with Kiefer for what Warren did to him, he would never lay his hands on a woman like Kiefer did.
Just as the verdict on Sonny is about to come in, Dante enters the courtroom and surrenders Michael as Claudia's true killer. Once Dante's allegations are proven, Judge Carroll, angry that the trial was a farce and fed up with Diane and Claire's courtroom antics, unfairly sentences Michael to five years in Pentonville to punish everyone in the courtroom for covering up Claudia's murder and for making a mockery of his court. To protect Michael, Jason makes a deal with Claire and is sent to prison as well. Guilt-ridden over their roles in Michael's incarceration, Claire and Dante eventually convince the judge to release Michael on the conditions that he live with Dante and have minimal contact with Sonny. Jason, however, is forced to remain in Pentonville, and Diane, despite her best efforts, is unable to find a way to get him out. However, Claire manages to get him a brief exoneration period when Franco returns to Port Charles, and eventually gets him out permanently on a technicality after discovering a loophole in his plea bargain. Though Jason is naturally suspicious of Claire's intentions, Sonny assures him that Claire was only righting a wrong because neither Jason nor Michael should have been in prison to begin with.
In an attempt to revive her career after the embarrassing Michael Corinthos debacle, Claire makes it her mission to put Sonny in prison, permanently. Sonny offers to help her in putting Johnny away, by pushing Johnny into taking action against him. Claire agrees, but she later confides in Lucky that she is merely playing Sonny, and plans to double cross him; Sonny is a "bigger win" than Johnny. However, Claire soon develops genuine feelings for Sonny and excuses herself from any further cases against him due to conflict of interest.
On August 27, 2010 Sonny shoots Johnny in self-defense, but Ronnie Dimestico hides Johnny's gun to make it appear as though Sonny had shot him in cold blood. However, Dante and Jason find pictures that prove that Johnny was attacking Sonny, and Claire is soon rightly convinced as well. Sonny eventually gets off on bail and flees to Rome to see Brenda. However, he returns on September 13, 2010 and turns himself in to prove his innocence. Kristina comes to visit him, and admits that she missed him and regrets all the time she spent hating him and blaming him for everything. Kristina tells Sonny that she is glad he returned because Michael needs him, and Sonny promises to be the best father he can be to both her and her brothers.
Jason tells Sonny that the only way to get the charges dropped is to negotiate a truce with Johnny, and Sonny immediately agrees after reflecting that his vendetta against Johnny nearly cost both Michael and Kristina their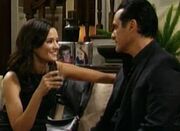 lives; Dante subsequently tricks Johnny into going to the station and changing his verdict, and Johnny and Sonny successfully proctor a peace agreement. Afterwards, Claire and Sonny engage in a romantic relationship, though Sonny secretly admits to Dante that he is only romancing Claire because he is on the rebound. Sonny and Claire's weekend getaway in September 2010 is cut short when she is called back to work. Brenda is waiting to greet Sonny upon his arrival home and Sonny realizes he can't pass up a chance to be with the love of his life. Brenda, however, says she wants nothing to do with Sonny, but Sonny wants to be free (of Claire) to pursue Brenda anyway.
In early October 2010, Sonny breaks up with Claire because of Brenda. Claire is hell bent on getting back at Sonny for leaving her, and renews her efforts to throw Sonny in prison. To this end, Claire confronts Jason and threatens to have Michael sent back to Pentonville unless he testifies against Sonny, but Sonny arrives at that moment. However, it is not until Jason threatens to call Diane in that Claire admits that she was bluffing and never had any intention of turning Michael in. Sonny and Claire later realize Carly set them up; they decide to give their relationship another try (after Brenda insists to Sonny that she doesn't want to rekindle their flame). Claire and Sonny's romantic moment is cut short when they learn Brenda has been brought in to the PCPD.
On November 5, 2010, Ronnie gives Claire proof that Sonny was the one who car-bombed Johnny, and Sonny is arrested. Upon discovering, an angry Kristina immediately comes to the police station and confronts Sonny. Sonny doesn't know what to say to her, but Kristina ultimately realizes that he was only trying to protect her and forgives him, and proceeds to insist that it was her fault because everyone kept warning her that pretending to date Johnny was dangerous. However, Sonny takes responsibility and apologizes for letting things get this far, declaring that the worst mistake of his life was letting Kristina grow up thinking that he didn't love her, because he does love her more than anything. Kristina is visibly touched by Sonny's words, and finally makes peace with him. Subsequently, Claire disposes of the evidence against Sonny when they discover that Ronnie had acquired it without a warrant.
Sonny ultimately chooses to break things off with Claire to help her salvage her career and because of his lifelong love for Brenda, but she does him one last favor by convincing the judge to lift the restrictions on Michael's parole, allowing Sonny and Michael free rein to see each other at any time; Claire reassures Sonny that she accepts that he has moved on and tells him to follow his heart. Some time later, when faced with the possibility of being transferred to Alaska, Claire, at Sonny's advice, instead resigns from her position as federal prosecutor and joins Sonny's legal team at Diane's firm.
On December 27, 2010, Sonny and Brenda get engaged in the rose garden of the late Lila Quartermaine. Sonny tells Brenda he has "never been able to let her go" despite the passage of time, other marriages and having children. Brenda says no at first, but after some convincing she accepts Sonny's proposal.
In late December 2010/early January 2011, Kristina, Molly, Michael, and Morgan are among those caught in the ski resort bus crash. Though Michael and Molly come out relatively unscathed, Kristina and Morgan are hospitalized with hypothermia and a broken leg, respectively, while Kristina's friend Ali dies from brain trauma. Sonny comforts Kristina when she blames herself for Ali's death. Subsequently, Molly begins to suffer from posttraumatic stress disorder which she initially mistakes for bipolar disorder.
On January 11, 2011, Sonny gives Brenda two rings - one that he was supposed to put on her finger at their first wedding in 1997 and the second to assure her that he will show up on their second wedding in 2011. Sonny shows Brenda a third ring that symbolizes their future together, and how much he'll always love her. He tells her he will give her the third ring at their wedding.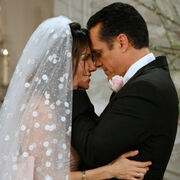 The wedding of Supercouple Sonny Corinthos and Brenda Barrett took place on February 18, 2011 and was on air for 6 days. The wedding marked a four-year ratings high for GH in a climate of gloom and doom for soap operas in general. The bride wore an Oscar de la Renta white-and-pink gown and the groom wore a black Dolce & Gabbana suit. During the elaborate wedding ceremony, the couple faced a slew of hurdles. First, Jason went missing and there was concern that he would not be available to give Brenda away. Edward Quartermaine refused to stand in Jason's place due to objections over Brenda's choice of groom. Next, Carly threatened Brenda with revealing her secret past with Dante and insisted the Brenda leave the Sonny at the alter and get away in the limo she had waiting outside.
Also, Sam and Jason figure out the Balkan is actually Brenda's lawyer, Theo Hoffman, and he has been using his proximity to the bride to wreak havoc. Brenda finally makes it to the alter, but objects to her own wedding, knowing what Carly would do so if she didn't. After telling Sonny about her miscarriage and her relationship with Dante that involved hiding her pregnancy with crime lord Alexander by having Dante declare himself the father, Brenda starts walking away from the alter - assuming the wedding is off after her secret is revealed. Sonny stops her, forgives her on the spot and decides that he cannot let her leave like he did in 1997. Sonny gives a memorable speech about how much he loves Brenda and how her father was wrong to make her believe she's not worthy of love. Sonny and Brenda marry amidst a mostly happy crowd.
As Sonny and Brenda leave to embark on their honeymoon, a bomb explodes in the limo that Brenda was in. This scene was a reference to the famous 1996 "Clink...Boom!" scene, when Brenda and Jax marry ("Clink") just as Sonny's wife, Lily, dies in a car accident ("Boom"). Sonny is shocked and devastated at the thought of losing Brenda and vows revenge. He refuses to leave her body at the site of the explosion and insists on seeing her body.
When they lift the tarp, we learn that it was Sam in the car, and Brenda is nowhere to be found. Sonny and Jason finally figure out that Theo as the Balkan wanted revenge on Brenda and Dante for killing his son, Alexander. Theo had taken Brenda to a cave hideaway and questions her about her son with Alexander. Brenda insists she had a miscarriage, but has her own suspicions that maybe her son is alive without her knowing it. After an extensive search Sonny, Jason and Dante find the cave where Balkan is hiding Brenda. After a stand-off, Sonny lets Balkan and his people go in order to save Brenda, who has been injected with a deadly neurotoxin.
Sonny brings Brenda to GH, where she makes a full recovery after support from family and friends. Sonny takes her to Positano, Italy for their honeymoon, where she admits she sometimes misses her son, whom she still believes she miscarried in her 7th month of pregnancy. The honeymoon is cut short by news of young Jake's death in a car accident caused by Luke Spencer. Sonny and Brenda head home to be with Jason through this devastating time of his life. Upon discovering that Luke was the one who hit Jake, Sonny goes to talk to him. Though Sonny reassures Luke that it was an accident, Luke is adamant in his grief and self-loathing.
Suzanne brings Brenda's son back (Lucian), but Sonny doesn't believe it's Brenda's real son, so he said get a DNA Test. That night Lucian was kidnapped. Sonny and Dante team up to find him, and figure out Suzanne took him, though Brenda is too emotionally distraught to believe them. She is upset that Sonny refuses to believe that one of his enemies might have taken him. Sonny and Dante figure out Suzanne took Lucian, and track her down to San Antonio. He brings Carly along to help calm Lucian down, in case things get out of hand, and doesn't tell Brenda about his lead because she is too upset to think rationally. Sonny, Dante and Carly find Suzanne-only she has another little boy with her named Alec. Sonny realizes Lucian was not Brenda's son, just as he suspected, and Suzanne took him when she realized she was going to be proven wrong with the DNA test.
Sonny and Dante manage to capture Suzanne, and she is taken into custody. Sonny brings Alec home to Brenda, who, though confused, makes an effort to get to know Alec. She also lets Sonny know how hurt she was when he chose to take Carly with him even though it was Brenda's son he was trying to rescue. Brenda and Sonny get back to a normal life.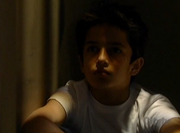 In Summer 2011, Sonny frames Jax for drug possession and raping Grace Yang, while Jax is in a custody battle with Carly for Josslyn. Brenda mad at Sonny for framing Jax, leaves Sonny with Jax and takes her son Alec. Sonny heartbroken is furious at Jax and when he find's out he's back in town he goes after him. Sonny soon finds out that Jax is back in town trying to kidnap his daughter after he lost custody of her. Sonny going around town like a mad man trying to find Jax tracks him down at Robin's house intent on killing him. Sonny and Jax then have some harsh words for each other trying to prove their points. Sonny who's had enough pulls out his gun and fires a bullet meant for Jax but it grazes Robin instead. Jax got away but Sonny had his private jet tampered with and Jax's plane crashes and he is presumed dead. In Fall 2011, Sonny gets over his heartbreak when Kate returns and they start dating. Sonny is finally happy even with his daughter Kristina going to Yale. In December 2011, Sonny returns to Bensonhurst with Kate and confronts his demons of childhood abuse at the hands of his stepfather Deke. On New Years, it is revealed that Jax is alive and Carly had known for a while. Sonny and Kate mad, lash out at Carly for having Sonny take the blame.
In February 2012, Sonny gets shot at a party by jumping in front of Dante in the parking garage. Sonny knowing it was Anthony or Johnny Zacchara goes to Johnny's penthouse intent on killing him but Carly and Dante stop him. Then Sonny goes after Anthony and goes to the Quartermaines mansion (At this time he is married to Tracy.) and tries to shoot him, but Tracy stops him. On the same night, Sonny's longtime best friend Robin "dies" in a fire. Sonny is very upset when he hears the news. Later in the night Anthony's tires get shot which causes a crash causing the death of Starr's boyfriend and daughter. (Characters coming to GH from OLTL) At first, Dante thinks it's Sonny, but he says it's not him. Dante then tells him they will do a test to see what type of gun it is and leaves. Later in the horrible night, Kate asks Sonny to choose between Anthony and Kate. Sonny chooses Anthony which upsets Kate, so they break up, which leaves Kate heartbroken. It is currently believed to the people of Port Charles that Connie shot out Anthony's tires and caused the accident and the two deaths. In actuality, Johnny Zacchara is the true culprit.
In Summer 2012, Sonny helps the police and other parties in finding the antidote to Jerry Jax's water pathogen. Sonny and Kate later try to marry, but Connie (Kate's DID alter) reveals herself and announces to everyone at the wedding that she's not marrying Sonny, and even if she wanted to it's not legally possible. This is due to Connie blackmailing Johnny Zacchara into marrying her a few days before, and if Johnny didn't she would tell everyone that he caused the accident that killed Starr Manning's boyfriend and her daughter earlier that year. In October, Sonny also has to deal with the disappearance of his best friend and enforcer Jason Morgan and the arrival of once-thought to be dead, A.J. Quartermaine.
In late 2012, Shawn Butler becomes Sonny's friend and associate after Jason died in a gunshot by Faison, even Detective Padilla could've protected Jason if she would've stayed in Port Charles longer, but she moved to New York City. Despite all of his failures, mistakes, and crimes he's committed, his new associate Shawn and his lawyer Alexis are always there to help Sonny get Kate back.
With many people around leaving or not there for Sonny, Sonny has a drunken New Years. Kristina was going to leave for Los Angeles, Michael being stuck in the middle of Sonny and A.J. Quartermaine, and Kate turning into her alter Connie.  On January 7, 2013 he has a drunken dream about Kate coming to the Gym to go back to Sonny.  However, Alexis calls and says that their daughter Kristina is at the hospital and needs moral support. Alexis and Sonny arrive to see Kristina and Connie fighting about Trey. Connie gets emotional about the thought of losing her son Trey. Sonny mistakenly calls her Kate, thinking that Kate broke through and started getting emotional and hugs her. Connie gathers herself and storms off, saying that Kate is not the only one that has feelings. He later goes to Connie/Johnny's place to comfort Connie.
Tracy Quartermaine contacts Sonny to help her keep her CEO position of ELQ Industries from A.J. Quartermaine. He ends up wishing Tracy good luck at keeping her position, but can not help her. A.J. comes to ELQ and sees Sonny leaving from Tracy's office. Michael also comes to ELQ and states that he has evidence that Tracy used dirty money to fund ELQ few years back. Tracy leaks the story about ELQ being funded by mob money to Connie Falconeri. However, Connie tells A.J. and Michael that Sonny leaked the story.
On the Valentine's Day episode, Sonny sleeps with Connie.  Kate returns and sees that Sonny slept with Connie and leaves. Kate is told that Joe Scully Jr. is dead and how her son Trey had died. Kate and Sonny go to the scene of Trey's death (or at least the place where his death was caused). Kate tries to gain some memory of what happened. Kate and Olivia talk about their romantic issues and Kate decides to talk to Sonny. Kate and Sonny make up and have sex on March 6, 2013. Later when Sonny is sleeping, Kate goes downstairs and starts talking to Connie, He goes downstairs and sees that the mirror in broken. Connie re-emerges and gives Sonny the excuse of Max and Milo breaking the mirror. Sonny is still under the impression that Kate is still in control. Sonny goes to Olivia's and wants to see Kate, but Olivia tells him that she left already. Sonny suspects that Connie is back, which he is correct. Connie publicly announces to the crowd at the Floating Rib that the book she stole from Molly Lansing Sonny's niece is hers. Connie later after talking to Sonny reveals to everyone that Molly is the true author.
He attends the 2013 Nurses' Ball until Carly kicks out Brenda. He goes to Dante's with Olivia on the 11th of April. He comforts Olivia when they suspect the worse and they find out that Luke, Laura, and Dante have been traced to Cassadine Island. Sonny leaves and goes back to his house. He suspects that there might be an ambush happening due to the front door being open, but finds Michael in the living room. After Sonny puts his gun away, Michael tells Sonny about him sleeping with Brenda, they talk and Sonny forgives Michael and lets him leaves. Sonny contacts one of his henchmen to bring Brenda to his house, but stops that when he hears a knock on the door. He opens the door and Connie shows up. She tells Sonny that she is Kate and Connie merged into one person but she can't be with Sonny without risking her alters coming back.
Olivia Falconeri decides to take Sonny out to the Metro Court for his birthday, but this turns somewhat disastrous when Sonny and AJ Quartermaine start to argue and Sonny punches AJ. AJ has panic attack and is escorted out. Sonny soon finds out from Connie information she got from Johnny Zacchara in jail that there's a online gambling ring getting military children hooked onto gambling and that Sonny's son Morgan is involved. Sonny and Shawn later go out in search of Morgan, they make several stops before finding him with Michael and his new girlfriend Kiki, getting bullied by thugs Morgan owes money two. Sonny then pays Morgan's debt and brings him back home.
In August 2013, Sonny's girlfriend Connie Falconeri is shot and dies in her office by an unknown assailant. Sonny does everything he can by calling 911 keeping pressure on the wound but the damage is to severe, but before Connie dies she writes "A.J." in her own blood to name the person who shot her. Sonny sees this and automatically thinks A.J. Quartermaine shot Connie, so he goes to the Quartermaine's mansion and confronts a drunken A.J., who was in Connie's office earlier that night with a gun and threatened to kill her for the article she wrote that cost him ELQ. Sonny screams at A.J. to confess but he doesn't because he doesn't remember what happened. Sonny who's had enough clobbers A.J over the head with his gun and points the gun at his head, and as he's about to pull the trigger Dante and Michael rush in and try to talk Sonny down but it's no use. Sonny hell bent on killing A.J doesn't care what anyone says until Michael breaks through to him and tells him if he kills A.J. then they won't be father and son anymore. Sonny then stands down and tells Dante it's on him to arrest A.J. and put him away for life.
In September 2013, Sonny heartbroken over Connie's death really breaks down and almost's commits suicide. Olivia finds him at the Haunted Star and tries to talk him down but it's really no use. Dante, Michael, and Morgan later find them and all four try to make Sonny see reason but he sill doesn't listen. Michael then gives a heartfelt speech to his father, followed by Dante and Morgan and he eventually puts down the gun and they leave. Later on that month Sonny still hell bent on self destructing stops taking his medication and everything comes to a head at Morgan and Kiki's wedding reception party at the Metro Court Hotel where things go bad. Sonny shocking everyone in attendance reveal's to Michael, that Morgan lied about Kiki and Michael being cousins because Morgan was afraid that if they knew the truth Kiki would leave him for Michael. Morgan then tries to make Sonny take it all back but the damage is done. This devastates Morgan and he lashes out cruelly at his father in front of Carly, Olivia, Michael and Kiki for revealing the truth. He then calls Sonny a terrible father, a criminal and says he's always loved Michael more than him anyway. Morgan then brings up Connie and this rages Sonny to grab him and almost attack him but he doesn't. After the fiasco at the hotel Carly and Olivia bring Sonny back home, Carly then asks Olivia to leave so she can talk to Sonny privately. Carly and Sonny then have an argument about what he did to Morgan and he insists it was the right thing to do, Carly then realizes Sonny's off his meds and that's why he did what he did at the party. Carly tries to get Sonny to take his medicine but he doesn't want to stating that it wouldn't be fair to Connie's memory and that he should feel the pain instead of feeling better. Carly eventually gets through to Sonny telling him he has a family that loves him and need's him in their lives, Sonny finally listens and decides to take his medicine.
In October 2013, Sonny after taking his meds starts feeling better and is in a much better state of mind, also with Shawn's help he starts to focus more on his business as there has been a new threat in town, while trying to repair his relationship with Morgan. Sonny and Shawn soon find out that the new threat is "Derek Wells" who is really Julian Jerome and his sister Ava Jerome who want to take back the territory Sonny has had for twenty years as they believe it belongs to their family. Things get even worse for Sonny when he finds out Morgan is sleeping with Ava and working for Julian as he still blames Sonny for having him lose Kiki to Michael, and for loving Michael more then him.
On March 4, 2014 Sonny broke his word to Michael and shot AJ Quartermaine in the chest. On March 31, 2014 A.J. dies and this overwhelms Sonny with guilt and causes him to be tormented by AJ's ghost. Sonny ends up having to come clean with Carly after A.J. tells her that Sonny shot him; luckily Carly decides not to tell Michael or anyone else. A few days later Micheal asks Sonny to come to AJ's funeral to support him; hesitant at first Sonny ultimately does. While guilt ridden at AJ's funeral, Sonny has sex with Ava Jerome inside the Quartermaine crypt. Not long after, Morgan walks in and realizes what just happened.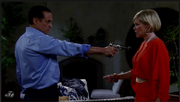 In May 2014 Julian Jerome tries to kill Ava on orders from his boss for giving Sonny information on their business. Sonny later has Shawn get Ava out of town and hides her on his island until things die down. On May 23, Shawn tells Sonny that Ava shot Olivia last year and had Carly and himself take the blame for it. Later on Carly plays Sonny the recording from A.J.'s phone that she got cleaned up with Spinelli's help stating that Ava killed Connie. After hearing this Sonny tells Carly that he is going to kill Ava. Sonny then goes to his island to pay Ava a visit and reveals that he knows she shot Olivia and killed Connie last year. Sonny then pulls out his gun intent on killing Ava, she begs him not to but he's heard enough. Just as Sonny is about to kill Ava she reveals to him that she is pregnant with either his child or his son, Morgan's child. She shows him a positive pregnancy test but he insists that she go to a doctor of his choice to confirm it. On June 4, a blood test confirms that Ava is indeed pregnant.
Crimes Committed
Edit
Has been involved in "unscrupulous" mob-related activities
Arrested in Atlantic City for the murder of John McBain's sister Theresa (Joe Scully arranged for the charges to be dropped)
Put out a hit that resulted in the death of Lieutenant Poletti
Put out a hit on Jagger Cates. [1993]
Helped Luke Spencer break Frank Smith out of prison [1994]
Shot and killed Joe Scully, the man who had befriended him as a teenager and had Sonny's stepfather killed [1995]
Broke Brenda Barrett out of jail when she was arrested for murdering Pierce Dorman [1997]
Arrested by the FBI for racketeering [Sep 1999]
Adultery; slept with Carly Benson, while she was married to A.J. [Nov 29, 1999]
Arrested by the FBI when Carly and Roy DiLucca set him up [Apr 2001]
Helped fugitive Angel Ellis skip town [Oct 25, 2001]
Arrested for locking Skye Quartermaine in a boathouse; not guilty [Mar 2002]
Faked his death to flush out Luis Alcazar; later shot him after Alcazar found Brenda and Jax at her old cottage [Sep 2002]
Shot both Lorenzo Alcazar and Carly Corinthos [Oct 24, 2003]
Held a gun up to Faith Rosco's neck [Oct 31, 2003]
Attempted murder; tried to shoot and kill Lorenzo Alcazar [Nov 26, 2003]
Kidnapped Sam McCall [Nov 26, 2003]
Adultery; had an affair with Sam McCall, while married to Carly [2003]
Shot and killed Ben Rogers to protect Sam [Jan 9, 2004]
Sent Jason to kill Brian Beck [Feb 5, 2004]
Held Brian at gunpoint [Feb 11, 2004]
Killed the assassin who planted the explosive in his limo [Apr 2004]
Arrested for racketeering [Nov 18, 2004]
Held Sam and Jason at gunpoint (Sonny thought Sam kidnaped his daughter Kristina at the time but she was innocent) [Feb 2005]
Involved in a shootout with Faith Rosco and two of her men [Feb 2005]
Ordered the massacre of the entire Sandoval family (Sonny's orders to his men were anybody who worked for or were associated with the family were to die) [Mar 2005]
Attacked Edward Quartermaine[9] [June 22, 2006]
Helped Jason Morgan and Sam McCall hide from the police [Nov 2006]
Shot Lorenzo in the head in self-defense (Lorenzo survived the shooting) [Jan 2007]
Shoot out with Lorenzo's men in The Cellar [Apr 2007]
Ordered Jason to kill Lorenzo Alcazar [May 2007]
Unlawful imprisonment; kidnapped Johnny Zacchara and held him prisoner in an abandoned mental hospital because he thought Johnny had kidnapped his son, Michael and shot Kate [Mar 2008]
Adultery; slept with Carly Jacks while she was married to Jax [May 19, 2008]
Shot and killed Andrei Karpov [Nov 2008]
Held Trevor Lansing at gunpoint [Feb 2009]
Held Anthony Zacchara at gunpoint and threatened to kill him [Feb 2009]
Obstruction of justice; covered up the murder of Claudia Zacchara [Nov 2009]
Attempted murder; shot his son Dante Falconeri in the chest at point blank range (Dante was an undercover cop at the time and neither him nor Sonny knew about their connection as father and son) [Jan 29, 2010]
Arrested and tried for the murder of Claudia Zacchara; the charges were dropped when it was revealed that Michael had murdered her [arrested Feb 2010; Apr-May 2010]
Threatened Ethan Lovett many times [Mar-Apr 2010]
Ordered Jason Morgan to kill Ethan Lovett multiple times [Mar-Apr 2010]
Adultery; slept with Carly Jacks while she was married to Jax [May 12, 2010]
Attempted murder; set a bomb off in Johnny Zacchara's car trying to kill him, but accidently almost killed his daughter Kristina instead [Jul 2-6, 2010]
Shot Johnny Zacchara in self-defense; Ronnie Dimestico, a crooked cop made it look like attempted murder [Aug 2010]
Jumped bail and went to Rome [Aug 2010]
Framed Jax for drug possession [Jul 2011]
Attempted murder; tried to shoot Jax, but shot a bullet that grazed Robin instead, right in front of her daughter [Aug 2011]
Tampered with a private jet owned by Jax which caused his plane to crash [Aug 2011] (Jax survived the accident)
Broke into Johnny Zacchara's home, choked him, held him at gunpoint and almost shot him over his balcony; Olivia Falconeri stopped him from killing Johnny [Sep 2011]
Broke into Johnny Zacchara's home and attempted to shoot him; Dante and Carly stopped him from killing Johnny [Feb 2012]
Broke into the Quartermaine's Manision and tried to kill Anthony Zacchara; Tracy Quartermaine stopped him from killing Anthony [Feb 2012]
Held Johnny Zacchara and Kate Howard at gunpoint because they slept together (Kate was Sonny's girlfriend at the time; but she wasn't in her right state of mind) [Apr 2012]
Held Todd Manning at gunpoint and threatened to kill him [May 2012]
Had Jason kidnap Joe Scully, Jr. and tie him up in one of his warehouses [Jul 2012]
Shot Jerry Jacks in the hand turning it into a shootout on the docks [Sep 2012]
Had Shawn Butler kidnap Connie Falconeri [Nov 2012]
Beat up A.J. Quartermaine [Dec 2012]
After a verbal argument punched A.J. in the face [April 29, 2013]
Held Franco at gunpoint and threatened to kill him [May 2013]
Ordered Shawn Butler to shoot and kill Franco [Jun 2013]
Threatened the life of Carly Jacks [Jun 2013]
Ordered Shawn to beat up Franco [July 2013]
Clobbered A.J. Quartermaine over the head with a gun and threatened to kill him; Michael stopped him from killing AJ [Aug 2013]
Punched a reporter [Sep 2013]
Ordered a hit on Julian Jerome [Nov 2013]
Kidnapped Carlos Rivera, tied him up in a warehouse and threatened to kill him (ordered a hit on him) [Dec 2013]
Shot Carlos Rivera in the shoulder during the shootout at his warehouse [Dec 2013]
Arrested for shooting Max Giambetti in the chest while covering for his son Morgan [Dec 2013]
Ordered Shawn and Duke to beat up Julian Jerome [Jan 24, 2014]
Shot and killed A.J. Quartermaine [Mar 4, 2014; A.J. died on Mar 31, 2014]
Held Ava Jerome at gunpoint and threatened to kill her [May 29-30, 2014]
Unlawful imprisonment; forced Ava to live in his house during her pregnancy and then after the baby is born, he'll kill her [Jun-Jul 2014]
Held Julian Jerome at gunpoint and threatened to shoot out his knee caps [Aug 1, 2014]
Stole a painting and statue from the Jerome Gallery [Aug 1, 2014]
Paid someone to pretend to be Mickey Diamond's sister [Aug 7, 2014]
Health and Vitals
Edit
Suffers from claustrophobia due to being locked in the closet as a child
Beaten up by Jagger Cates [1993]
Shot while helping to break Frank Smith out of jail; passed out while driving and crashed his car into Brenda's [1994]
Nearly died from being injected with heroin [Nov 1996]
Shot outside the police station and nearly died [Dec 2000]
Nearly died when his warehouse was set on fire
Stabbed by Sorel at Lily's gravesite [Jun 6, 2001]
Slightly injured when a bomb he was wearing in a showdown with Sorel went off [2001]
Beaten up by Lorenzo Alcazar when Alcazar kidnapped him to demand the return of his drugs [2003]
Shot by Detective Brian Beck [Dec 2, 2003]
Injured his leg during the inferno at the Port Charles Hotel [Feb 12, 2004]
Injured in a train wreck [Nov 2005]
Fell ill during the encephalitis plague that hit Port Charles [Feb 2006]
Diagnosed with bipolar disorder, a.k.a. manic depression [2006]
Suffered minor injures during the Metro Court explosion [Feb 2007]
Suffered a concusion after the shoot out with Lorenzo's men in The Cellar [Apr 2007]
Shot in the shoulder by Anthony Zacchara [Nov 16, 2007]
Stabbed and thrown in the bay to die; Saved by Carly [Oct 31-Nov 3, 2008]
Shot in the shoulder by Ronnie Dimestico; he took the bullet for his son, Dante [Feb 2012; revealed May 2012]
Held at gunpoint by Todd Manning [Mar 2012]
Held at gunpoint by Starr Manning [May 2012]
Experienced a fever after ingesting the toxin Jerry Jacks had placed in the Port Charles water supply [Sep 2012]
Almost committed suicide while going through a breakdown over Connie's death [Sep 2013]
Held at gunpoint by Julian Jerome [Dec 2013]
Put his gun in Morgan's hands and told him to shoot him (Sonny) [Jan 4, 2014]
Hallucinations; haunted several times by A.J.'s ghost as to how he is going to live with getting away with killing him [Apr 2014]
Family tree
Edit
References
Edit
v - e
Current Contract Characters
Jordan Ashford
 ·
T.J. Ashford
 ·
Shawn Butler
 ·
Nikolas Cassadine
 ·
Nina Clay
 ·
Dr. Silas Clay
 ·
Michael Corinthos
 ·
Morgan Corinthos
 ·
Sonny Corinthos
 ·
Alexis Davis
 ·
Anna Devane
 ·
Dr. Patrick Drake
 ·
Nurse Felix DuBois
 ·
Dante Falconeri
 ·
Olivia Falconeri
 ·
Fluke
 ·
Robert "Franco" Frank
 ·
Carly Jacks
 ·
Ava Jerome
 ·
Julian Jerome
 ·
Kiki Jerome
 ·
Maxie Jones
 ·
Sam Morgan
 ·
Tracy Quartermaine
 ·
Nurse Sabrina Santiago
 ·
Mac Scorpio
 ·
Luke Spencer
 ·
Lulu Spencer-Falconeri
 ·
Nurse Elizabeth Webber
 ·
Nathan West
 ·
Dr. Britt Westbourne
Current Recurring Characters
Ned Ashton
 ·
Scott Baldwin
 ·
Helena Cassadine
 ·
Spencer Cassadine
 ·
Dr. Linda Chu
 ·
Father Coates
 ·
Lucy Coe
 ·
Dr. Kevin Collins
 ·
Brad Cooper
 ·
Emma Drake
 ·
Rocco Falconeri
 ·
Max Giambetti
 ·
Milo Giambetti
 ·
Alice Gunderson
 ·
Josslyn Jacks
 ·
Nurse Epiphany Johnson
 ·
Lucas Jones
 ·
Molly Lansing-Davis
 ·
Duke Lavery
 ·
Janice Lomax
 ·
Nurse Rosalie Martinez
 ·
Diane Miller
 ·
Danny Morgan
 ·
Dr. Liesl Obrecht
 ·
Dr. Monica Quartermaine
 ·
Coleman Ratcliffe
 ·
Carlos Rivera
 ·
Felicia Scorpio
 ·
Dr. Robin Scorpio-Drake
 ·
Jeffrey Scribner
 ·
Aiden Spencer
 ·
Nurse Bobbie Spencer
 ·
Cameron Spencer
 ·
Heather Webber
 ·
Dr. Lesley Webber
Forthcoming Characters
Jason Morgan
Deceased and Presumed Dead Characters
Benny Abrahms
 ·
Bernie Abrahms
 ·
Dr. Rachel Adair
 ·
Diego Alcazar
 ·
Lorenzo Alcazar
 ·
Luis Alcazar
 ·
Sage Alcazar
 ·
Ruby Anderson
 ·
Dr. Andy Archer
 ·
Dominique Baldwin
 ·
Cooper Barrett
 ·
Alison Barrington
 ·
Amanda Barrington
 ·
Kiefer Bauer
 ·
Warren Bauer
 ·
Jesse Beaudry
 ·
Katherine Bell
 ·
Connor Bishop
 ·
Mary Bishop
 ·
Paige Bowen
 ·
Nurse Jessie Brewer
 ·
Nancy Brewer
 ·
Dr. Phil Brewer
 ·
Carter
 ·
Irina Cassadine
 ·
Kristina Cassadine
 ·
Mikkos Cassadine
 ·
Stavros Cassadine
 ·
Stefan Cassadine
 ·
Tony Cassadine
 ·
Victor Cassadine
 ·
Stone Cates
 ·
Dr. Ryan Chamberlain
 ·
Stephen Clay
 ·
Adela Corinthos
 ·
Lily Corinthos
 ·
Dr. Ian Devlin
 ·
Mickey Diamond
 ·
Ronnie Dimestico
 ·
Dr. Pierce Dorman
 ·
John Durant
 ·
Bill Eckert
 ·
Cesar Faison
 ·
Connie Falconeri
 ·
Andrea Floyd
 ·
Dr. Russell Ford
 ·
Dr. Steve Hardy
 ·
Peter Harrell, Sr.
 ·
Peter Harrell, Jr.
 ·
Abby Haver
 ·
Logan Hayes
 ·
Theo Hoffman
 ·
John Jacks
 ·
Aleksander Janacek
 ·
Victor Jerome
 ·
Stan Johnson
 ·
B.J. Jones
 ·
Georgie Jones
 ·
Tania Jones
 ·
Dr. Tony Jones
 ·
Dr. Ewen Keenan
 ·
Rafe Kovich, Jr.
 ·
Dr. Eve Lambert
 ·
Trevor Lansing
 ·
Dr. Cameron Lewis
 ·
Victor Lord III
 ·
Hope Manning-Thornhart
 ·
Reese Marshall
 ·
Courtney Matthews
 ·
Danny McCall
 ·
Lila McCall
 ·
Nurse Leyla Mir
 ·
Trey Mitchell
 ·
Susan Moore
 ·
Chloe Morgan
 ·
Henry Nakamura
 ·
Dr. Lisa Niles
 ·
A.J. Quartermaine
 ·
Dr. Alan Quartermaine
 ·
Alexandria Quartermaine
 ·
Edward Quartermaine
 ·
Dr. Emily Quartermaine
 ·
Lila Quartermaine
 ·
Faith Rosco
 ·
Manny Ruiz
 ·
Gabriel Santiago
 ·
Joe Scully
 ·
Joe Scully, Jr.
 ·
Damian Smith
 ·
Frank Smith
 ·
Shirley Smith
 ·
Zander Smith
 ·
Jake Spencer
 ·
Lena Spencer
 ·
Siobhan Spencer
 ·
Tim Spencer
 ·
Olivia St. John
 ·
Nurse Diana Taylor
 ·
Martha Taylor
 ·
Dr. Peter Taylor
 ·
Tracy Taylor
 ·
Dr. Asher Thomas
 ·
Cole Thornhart
 ·
Nurse Amy Vining
 ·
Bradley Ward
 ·
Justus Ward
 ·
Mary Mae Ward
 ·
Dr. Rick Webber
 ·
Dr. Karen Wexler
 ·
Dawn Winthrop
 ·
Deke Woods
 ·
Dr. Maggie Wurth
 ·
Anthony Zacchara
 ·
Claudia Zacchara-Corinthos
Off-screen and Former Characters
Lila Rae Alcazar
 ·
Nurse Karen Anderson
 ·
Dr. Grant Andrews
 ·
Terri Arnett
 ·
Brook Lynn Ashton
 ·
Larry Ashton
 ·
Christina Baldwin
 ·
Dr. Gail Baldwin
 ·
Laura Baldwin
 ·
Lee Baldwin
 ·
Serena Baldwin
 ·
Dr. Tom Baldwin
 ·
Brenda Barrett
 ·
Julia Barrett
 ·
Melinda Bauer
 ·
Gia Campbell
 ·
Peter Carroll
 ·
Dimitri Cassadine
 ·
Petros Cassadine
 ·
Valentin Cassadine
 ·
Jagger Cates
 ·
Lois Cerullo
 ·
Skye Chandler-Quartermaine
 ·
Mike Corbin
 ·
Kristina Corinthos-Davis
 ·
Angie Costello
 ·
Blair Cramer
 ·
Jolene Crowell
 ·
Nurse Nadine Crowell
 ·
Dr. Rae Cummings
 ·
Marco Dane
 ·
Téa Delgado
 ·
Roy DiLucca
 ·
Anna Donely
 ·
Sean Donely
 ·
Tiffany Donely
 ·
Dr. Noah Drake
 ·
Taylor DuBois
 ·
Toussaint Dubois
 ·
Sly Eckert
 ·
William Eichner
 ·
Angel Ellis
 ·
John Everett
 ·
Nurse Fletcher
 ·
Pres Floyd
 ·
Nurse Audrey Hardy
 ·
Dr. Simone Hardy
 ·
Dr. Tom Hardy
 ·
Dr. Tommy Hardy
 ·
David Harper
 ·
Jimmy Lee Holt
 ·
Paul Hornsby
 ·
Dr. Matt Hunter
 ·
Anton Ivanov
 ·
Lady Jane Jacks
 ·
Jasper "Jax" Jacks
 ·
Jerry Jacks
 ·
Terrell Jackson
 ·
Miranda Jameson
 ·
Frisco Jones
 ·
Dr. Leo Julian
 ·
Rose Kelly
 ·
Ric Lansing
 ·
Dr. Kelly Lee
 ·
Winifred Leeds
 ·
Guy Lewis
 ·
Victor Lord, Jr.
 ·
Ethan Lovett
 ·
Starr Manning
 ·
Todd Manning
 ·
John McBain
 ·
Miguel Morez
 ·
‎Hope Morgan
 ·
Ken Morgan
 ·
Delores Padilla
 ·
Blackie Parrish
 ·
Nurse Penny
 ·
Grant Putnam
 ·
Celia Quartermaine
 ·
Dillon Quartermaine
 ·
Burt Ramsey
 ·
Madeline Reeves
 ·
Cruz Rodriguez
 ·
Casey Rogers
 ·
Father Mateo Ruiz
 ·
Delia Ryan Coleridge
 ·
Juan Santiago
 ·
Robert Scorpio
 ·
Alec Scott
 ·
Hannah Scott
 ·
Rebecca Shaw
 ·
Lucky Spencer
 ·
Damian Spinelli
 ·
Georgie Spinelli
 ·
Suzanne Stanwyck
 ·
Nurse Mischa Stephens
 ·
Holly Sutton
 ·
Marcus Taggert
 ·
Nurse Regina Thompson
 ·
Ellie Trout
 ·
Claire Walsh
 ·
Faith Ward
 ·
Keesha Ward
 ·
Dr. Maya Ward
 ·
Dr. Jeff Webber
 ·
Dr. Sarah Webber
 ·
Dr. Steve Webber
 ·
Dr. Lainey Winters
 ·
Grace Yang
 ·
Johnny Zacchara
Crew
Ron Carlivati (Head writer, 2012-present)
 ·
Jill Farren Phelps (Executive producer, 2001-2012)
 ·
Robert Guza, Jr. (Head writer, 1996, 1997-2000, 2002-2008, 2008-2011)
 ·
H. Wesley Kenney (Executive producer, 1987-1989; Head writer, 1988)
 ·
Gloria Monty (Executive producer, 1978-1987, 1991-1992; Head writer, 1981)
 ·
Wendy Riche (Executive producer, 1992-2001)
 ·
Frank Valentini (Executive producer, 2012-present)
 ·
Garin Wolf (Head writer, 2008, 2011-2012)
Related Topics
List of cast members
 ·
List of current actors
 ·
History of General Hospital