Steve Hardy (John Beradino)
Comment

1
479pages on
this wiki
Dr. Steven "Steve" Hardy, MD was a fictional character on the popular ABC soap opera General Hospital. Steve was an original cast member of the show, and was portrayed by John Beradino until the death of both the character and the actor in 1996.
Storylines
Edit
The early years
Edit
Steve was born in China to American missionary parents and was very devoted to his career and patients. His first patient at General Hospital was a girl named Angie Costello. Angie had been in a car accident with her boyfriend Eddie Weeks and her face was badly disfigured. She underwent hours of surgery to repair her face and came out covered in bandages. Angie was insecure about her looks after the accident and she contemplated suicide. Steve and nurse Jessie Brewer were able to talk her out of it though.
Love with Audrey
Edit
In February of 1964
Audrey March
came to town to visit her sister, Nurse Lucille Weeks. Audrey immediately fell for Steve and decided to stay in
Port Charles
. The couple became engaged and was married in February of 1965. Audrey believed Steve was sterile when she failed to conceive a child. She had herself artificially inseminated and became pregnant. After a car accident, Audrey miscarried and, devastated, she filed for divorce and left town to go to Vietnam where she aided orphans.
In 1969, Audrey returned from Vietnam. She married Dr. Tom Baldwin to prove herself over Steve. It was a disastrous marriage because Audrey refused to consummate it. Tom ended up raping Audrey which resulted in her becoming pregnant. She quickly filed for divorce and left town telling no one save her sister that she was pregnant.
In 1971, she returned and told everyone that her baby was still-born. But really her son "Stevie" was living with his nanny Peggy Nelson in another part of town. Audrey told many lies to keep her estranged husband Tom Baldwin from stopping their divorce. She feared that if Tom found out about their son that she would never get him out of her life. Audrey planned on telling Steve that little "Stevie" was Mrs. Nelson's cousin's baby that she wanted to adopt. Her plan was to marry Steve and then together they would raise little "Stevie." Audrey's plan would have worked had not Peggy Nelson been listening to her scheme. Peggy blackmailed Audrey. Then suddenly, Mrs. Nelson was found shot and Audrey was charged with murder and her secret was revealed. Audrey was nearly convicted when Mrs. Nelson's angry ex-husband Arnold confessed. Audrey was set free and she decided that the only way to keep her son from Tom was to remarry him. Unfortunately their marriage failed again and Tom got nervous and kidnapped his son Tommy Jr. to Mexico. Audrey was devastated. Soon Audrey got a call from Mexico hearing that Tom had died of a heart attack and that Tommy Jr. would be returning home to her. Audrey was thrilled and it was just in the nick of time because Tommy needed open heart surgery. Dr. Jim Hobart, a new doctor at the hospital performed the surgery and a very little time later Audrey was married to Jim. This was a shock to Audrey's sister Lucille and Steve. They believed that the marriage was out of gratitude, not love.
Audrey's marriage to Jim fell apart after Jim injured his hand and became a hopeless alcoholic. Audrey was devastated when Jim walked out and took an overdose of pills. Before she passed out she realized that her death meant that her son would be alone. Steve found her and rushed her to GH. Audrey fortunately survived and confessed her undying love for Steve. They reconciled, but tragedy would strike again when Steve fell down the stairs at General Hospital. Audrey found him unconscious at the bottom of the stairs. He was paralyzed and Audrey stuck by him; she even was his personal physiotherapist. After Steve recovered the two walked down the aisle again.
In 1977, Steve and Audrey were both happy and Steve planned to adopt Tommy until Tom Baldwin came back..alive. Tom begged Audrey to remarry him (being that her marriage to Steve was now invalid) but Audrey refused. A confused Tommy ran away from home and Tom saw how he was affecting his son. Tom gave up all parental rites and left town forever. Steve and Audrey remarried again and Steve adopted Tommy. Audrey finally had the family that she wanted.
The arrival of Jeff Webber
Edit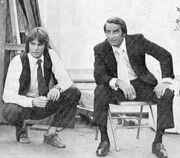 Terri Webber Arnett, whose husband David had been killed in Vietnam, came to town to care for her younger brothers after their parents, Lars and Helen Webber, were killed in an accident. Both brothers, Rick and Jeff had aspirations of becoming doctors. While a resident at GH, Rick volunteered to go to Africa for 6 months where it was later reported he had been killed. Jeff, Rick's younger brother, graduated from med school and along with his wife Monica, was selected by Steve to enter his experimental program as Mr. and Mrs. Intern at General Hospital. Unfortunately the couple was plagued by problems. Monica, who had once been engaged to Rick, and Jeff deeply mourned Rick's passing. Jeff suffered not only the loss of his brother but the fear that he was constantly being compared to him. The marriage became strained and even more so when it was discovered that Rick had not perished in the plane crash as believed but had been held prisoner. Shortly after Rick's return to Port Charles, Steve decided to abandon his program for the greater good of the three Webbers. Monica and Jeff soon split.
Shortly afterwards Jeff disappeared. He resurfaced in a bar, drunk and high on amphetamines. The next morning, Dr. Mark Dante showed up to take him home but before he could do so, Jeff shot himself. He was rushed to the hospital where his life hung in the balance. Fearing the worst, Terri, his sister decided to go to Steve to tell him of a letter her mother had told her about on her deathbed. The letter revealed that Steve was in fact Jeff's biological father.
When Audrey learned that Dr. Jeff Webber was Steve's son by an affair with the late Helene Webber, she decided to keep it secret until Lassa fever hit and Steve fell ill. Audrey thought that Steve was dying and stunned Jeff with the news that Steve was his real father. Jeff was hurt and cold to Steve after his recovery. Eventually Steve and Jeff bonded. That same year, Audrey's niece Anne Logan and her adopted son Jeremy Hewitt came to town. Audrey watched happily as Anne got closer to Jeff and he got farther away from his lying wife Heather Webber.
1980s-90s
Edit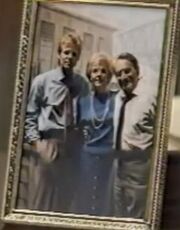 Audrey had to lend her support to Anne as she was charged with the murder of Diana Taylor. There was a clear-cut case against Anne as Heather Webber framed her and Heather's mother Alice Grant was the actual killer. The truth came out and Jeff left town that year with Audrey and Steve's first grandchild Steven Lars Webber. Jeff and Steven Lars had just been reunited as Steven Lars' mother Heather had sold him away to Peter and Diana Taylor three years earlier as a newborn. Steve and Audrey were later overjoyed by the return of their son Tom from medical school as Dr. Tom Hardy. Things weren't all well however when Audrey learned that Tom was seeing Simone Ravelle, a black doctor at GH. Audrey feared that Tom would face discrimination over the relationship but agreed to support the new couple.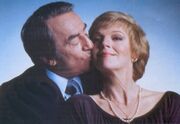 In 1993, Audrey surprised Steve with an anniversary party to honor his thirty years at General Hospital. Steve pledged that he would treat patients more and perform hospital administration work less. Later, Audrey was attacked by a psychotic Ryan Chamberlain who believed that she was his abusive mother. Audrey was badly hurt and Steve had to perform surgery on his own wife. Audrey eventually recovered and Ryan was jailed.
When Tom Jr. ran for Chief of Psychiatry at GH, Steve had lost confidence in him when the votes were tied between Tom and Kevin Collins. Steve voted for Kevin, soon after he was named Chief of Psychiatry and Tom joined the staff under Kevin.
In 1996, Steve died of a heart attack. Audrey was devastated. Steve was working so hard, sometimes all night to keep General Hospital out of considerable financial debt. This hit the Hardys hard, as they all struggled to carry on without Steve.
Positions held at General Hospital
Edit
Family tree
Edit
v - e

Current Contract Characters
T.J. Ashford
 ·
Shawn Butler
 ·
Dr. Silas Clay
 ·
Michael Corinthos
 ·
Morgan Corinthos
 ·
Sonny Corinthos
 ·
Alexis Davis
 ·
Anna Devane
 ·
Dr. Patrick Drake
 ·
Felix DuBois
 ·
Connie Falconeri
 ·
Dante Falconeri
 ·
Olivia Falconeri
 ·
Carly Jacks
 ·
Ava Jerome
 ·
Kiki Jerome
 ·
Maxie Jones
 ·
Rafe Kovich, Jr.
 ·
Sam Morgan
 ·
A.J. Quartermaine
 ·
Tracy Quartermaine
 ·
Sabrina Santiago
 ·
Mac Scorpio
 ·
Laura Spencer
 ·
Luke Spencer
 ·
Lulu Spencer-Falconeri
 ·
Damian Spinelli
 ·
Elizabeth Webber
 ·
Dr. Britt Westbourne
Current Recurring Characters
Ned Ashton
 ·
Scott Baldwin
 ·
Helena Cassadine
 ·
Nikolas Cassadine
 ·
Spencer Cassadine
 ·
Stavros Cassadine
 ·
Father Coates
 ·
Lucy Coe
 ·
Dr. Kevin Collins
 ·
Max Giambetti
 ·
Milo Giambetti
 ·
Alice Gunderson
 ·
Anton Ivanov
 ·
Josslyn Jacks
 ·
Epiphany Johnson
 ·
Felicia Jones
 ·
Molly Lansing-Davis
 ·
Duke Lavery
 ·
Dr. Kelly Lee
 ·
Janice Lomax
 ·
Diane Miller
 ·
Danny Morgan
 ·
Dr. Monica Quartermaine
 ·
Coleman Ratcliffe
 ·
Emma Scorpio-Drake
 ·
Aiden Spencer
 ·
Cameron Spencer
 ·
Ellie Trout
 ·
Heather Webber
 ·
Dr. Lesley Webber
Forthcoming Characters
Taylor DuBois
Deceased and Presumed Dead Characters
Benny Abrahms
 ·
Bernie Abrahms
 ·
Diego Alcazar
 ·
Lorenzo Alcázar
 ·
Luís Alcázar
 ·
Sage Alcazar
 ·
Ruby Anderson
 ·
Dr. Andy Archer
 ·
Dominique Baldwin
 ·
Cooper Barrett
 ·
Alison Barrington
 ·
Amanda Barrington
 ·
Kiefer Bauer
 ·
Warren Bauer
 ·
Jesse Beaudry
 ·
Katherine Bell
 ·
Connor Bishop
 ·
Mary Bishop
 ·
Paige Bowen
 ·
Dr. Emily Bowen-Quartermaine
 ·
Jessie Brewer
 ·
Nancy Brewer
 ·
Dr. Phil Brewer
 ·
Irina Cassadine
 ·
Kristina Cassadine
 ·
Mikkos Cassadine
 ·
Stefan Cassadine
 ·
Tony Cassadine
 ·
Victor Cassadine
 ·
Stone Cates
 ·
Dr. Ryan Chamberlain
 ·
Adela Corinthos
 ·
Lily Corinthos
 ·
Dr. Ian Devlin
 ·
Ronnie Dimestico
 ·
Dr. Pierce Dorman
 ·
John Durant
 ·
Bill Eckert
 ·
Andrea Floyd
 ·
Dr. Russell Ford
 ·
Franco
 ·
Dr. Steve Hardy
 ·
Abby Haver
 ·
Logan Hayes
 ·
Theo Hoffman
 ·
John Jacks
 ·
Aleksander Janáček
 ·
Stan Johnson
 ·
B.J. Jones
 ·
Georgie Jones
 ·
Tania Jones
 ·
Dr. Tony Jones
 ·
Dr. Ewen Keenan
 ·
Dr. Eve Lambert
 ·
Trevor Lansing
 ·
Dr. Cameron Lewis
 ·
Victor Lord III
 ·
Hope Manning-Thornhart
 ·
Reese Marshall
 ·
Courtney Matthews
 ·
Danny McCall
 ·
Lila McCall
 ·
Leyla Mir
 ·
Trey Mitchell
 ·
Susan Moore
 ·
Chloe Morgan
 ·
Jason Morgan
 ·
Caleb Morley
 ·
Dr. Lisa Niles
 ·
Dr. Alan Quartermaine
 ·
Alexandria Quartermaine
 ·
Edward Quartermaine
 ·
Lila Quartermaine
 ·
Faith Rosco
 ·
Manny Ruiz
 ·
Joe Scully
 ·
Joe Scully, Jr.
 ·
Frank Smith
 ·
Shirley Smith
 ·
Zander Smith
 ·
Jake Spencer
 ·
Lena Spencer
 ·
Siobhan Spencer
 ·
Tim Spencer
 ·
Diana Taylor
 ·
Martha Taylor
 ·
Dr. Peter Taylor
 ·
Tracy Taylor
 ·
Dr. Asher Thomas
 ·
Cole Thornhart
 ·
Amy Vining
 ·
Bradley Ward
 ·
Justus Ward
 ·
Mary Mae Ward
 ·
Dr. Rick Webber
 ·
Dr. Karen Wexler
 ·
Dawn Winthrop
 ·
Deke Woods
 ·
Dr. Maggie Wurth
 ·
Anthony Zacchara
 ·
Claudia Zacchara Corinthos
Off-screen and Former Characters
Lila Rae Alcazar
 ·
Terri Arnett
 ·
Brook Lynn Ashton
 ·
Larry Ashton
 ·
Christina Baldwin
 ·
Dr. Gail Baldwin
 ·
Lee Baldwin
 ·
Serena Baldwin
 ·
Dr. Tom Baldwin
 ·
Brenda Barrett
 ·
Julia Barrett
 ·
Melinda Bauer
 ·
Gia Campbell
 ·
Peter Carroll
 ·
Valentin Cassadine
 ·
Jagger Cates
 ·
Lois Cerullo
 ·
Skye Chandler-Quartermaine
 ·
Mike Corbin
 ·
Kristina Corinthos-Davis
 ·
Angie Costello
 ·
Blair Cramer
 ·
Jolene Crowell
 ·
Nadine Crowell
 ·
Dr. Rae Cummings
 ·
Téa Delgado
 ·
Roy DiLucca
 ·
Sean Donely
 ·
Tiffany Donely
 ·
Dr. Noah Drake
 ·
Toussaint Dubois
 ·
Sly Eckert
 ·
Angel Ellis
 ·
Cesar Faison
 ·
Pres Floyd
 ·
Audrey Hardy
 ·
Dr. Simone Hardy
 ·
Dr. Tom Hardy
 ·
Dr. Tommy Hardy
 ·
David Harper
 ·
Jimmy Lee Holt
 ·
Dr. Matt Hunter
 ·
Jane Jacks
 ·
Jasper Jacks
 ·
Jerry Jacks
 ·
Terrell Jackson
 ·
Lauren Jerome
 ·
Frisco Jones
 ·
Lucas Jones
 ·
Dr. Leo Julian
 ·
Rose Kelly
 ·
Ric Lansing
 ·
Winifred Leeds
 ·
Guy Lewis
 ·
Victor Lord, Jr.
 ·
Ethan Lovett
 ·
Starr Manning
 ·
Todd Manning
 ·
John McBain
 ·
Miguel Morez
 ·
Ken Morgan
 ·
Dr. Lisa Obrecht
 ·
Delores Padilla
 ·
Blackie Parrish
 ·
Celia Quartermaine
 ·
Dillon Quartermaine
 ·
Burt Ramsey
 ·
Cruz Rodriguez
 ·
Casey Rogers
 ·
Father Mateo Ruiz
 ·
Juan Santiago
 ·
Robert Scorpio
 ·
Dr. Robin Scorpio-Drake
 ·
Alec Scott
 ·
Hannah Scott
 ·
Rebecca Shaw
 ·
Bobbie Spencer
 ·
Lucky Spencer
 ·
Suzanne Stanwyck
 ·
Mischa Stephens
 ·
Holly Sutton
 ·
Marcus Taggert
 ·
Regina Thompson
 ·
Claire Walsh
 ·
Faith Ward
 ·
Keesha Ward
 ·
Dr. Maya Ward
 ·
Dr. Jeff Webber
 ·
Dr. Sarah Webber
 ·
Dr. Steve Webber
 ·
Dr. Lainey Winters
 ·
Grace Yang
 ·
Johnny Zacchara
Crew
Ron Carlivati (Head writer, 2012-present)
 ·
Jill Farren Phelps (Executive producer, 2001-2012)
 ·
Robert Guza, Jr. (Head writer, 1996; 1997-2000; 2002-2008; 2008-2011)
 ·
H. Wesley Kenney (Executive producer, 1987-1989; Head writer, 1988)
 ·
Gloria Monty (Executive producer, 1978-1987, 1991-1992; Head writer, 1981)
 ·
Wendy Riche (Executive producer, 1992-2001)
 ·
Frank Valentini (Executive producer, 2012-present)
 ·
Garin Wolf (Head writer, 2008; 2011-2012)
Related Topics
Cross reference of character names
 ·
List of cast members
 ·
History of General Hospital