Téa Francesca Delgado[4] is a fictional character on the ABC soap opera General Hospital. The character was originated on the now-canceled ABC soap opera One Life to Live in 1997 by actress Florencia Lozano.
Florencia Lozano and fellow OLTL-GH crossover co-star Kassie DePaiva (Blair Cramer) has returned for the Prospect Park's online reboot of OLTL as the OLTL characters.[5]
Storylines
Téa first arrives in Llanview, Pennsylvania in 1997 at the request of Carlotta Vega, when Carlotta's son Antonio is facing murder charges. Téa defends Antonio, and gets him off. Todd Manning notices Téa's legal skills and hires her to defend his friend Alex Olanov, whom Téa gets off as well. Later, Todd's ex-wife Blair Cramer is injured in a car accident, suffers a stroke, and slips into a coma. Todd wants to ensure that he gets custody of their daughter Starr, so he pays Téa $5 million to marry him and represent him in the custody battle. Téa grew up poor and never had much money; she accepts Todd's offer, marries him, and wins him custody of Starr. Téa actually falls for Todd, however; and Todd develops romantic feelings toward her as well, but will not consummate their marriage, as he has always had intimacy issues. They later divorce.
Todd later becomes a suspect in the murder of Georgie Phillips. He kidnaps everyone involved in the murder case and holds them hostage in an attempt to force a confession out of someone. After Rachel Gannon finally confesses, Todd runs off, trying to evade police, and takes Téa with him. Todd and Téa get into a verbal argument, and he loses his temper and punches her in the face. Later, she knocks him out with a shovel and calls the police, who come and arrest him.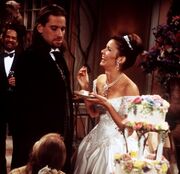 Soon after being locked up, however, Todd escapes. He corners Téa in a cabana and his life-long friend and mentor Sam Rappaport goes in to talk him out. Sam finds out that Todd had not only been physically abused as a child, but raped on his fourteenth birthday by his adoptive father Peter Manning. Sam tries to bring up Todd's abuse in his trial, but Todd collapses and seemingly goes into a catatonic state. When he emerges from it, he appears to have Dissociative Identity Disorder (or multiple personalities) like his sister Viki. A child-like, gentle personality named Tom is in control and is determined for Téa to give him another chance. Téa eventually admits she still loves Todd and they remarry. Starr, however, accidentally plays a tape of Todd confessing that he is faking his mental condition at the reception. Téa has their marriage annulled, and Todd leaves town in 1998. Todd returns in 2000, professing his love for Téa, and he is able to convince her to leave town with him. Four months later, however, Todd returns to town without Téa, stating that she left him.
In 2002, Blair has hired bodyguards to keep Todd away from their kids Starr and Jack, and she then runs off to Hawaii with them. Todd follows her, and hires Ross Rayburn to help him kidnap his kids. He runs into Téa in Hawaii, and she warns Blair of Todd's plan to kidnap the kids. Blair takes the kids back to Llanview, but Todd, Téa, and Ross end up on a deserted island together. While on the island, Todd still has feelings for Téa, but Ross falls for her as well. After he sees Ross and Téa kissing, Todd realizes he's still in love with Blair and decides to leave the island alone on a homemade raft. Before he leaves, however, Téa tells him she's still in love with him, and they make love for the first and only time. Téa then realizes that Todd's still in love with Blair and gives her blessing for them to reunite.
In 2008, the man who now calls himself Todd Manning has a new face, saying that he had to have plastic surgery after he was severely beaten in 2003. It would be revealed three years later, however, that this man is not actually Todd, but his twin brother Victor Lord, Jr. This new-faced Todd is incarcerated after holding Marty Saybrooke hostage while she had amnesia. The real Todd had orchestrated and participated in the gang rape of Marty in college; and the current Todd, believing he was that man, lied to Marty, not telling her he was the man who had raped her. He and Marty fell in love while he was holding her in his house and they made love. When Marty was rescued by John McBain and told that Todd was the man who had raped her, she considered their sexual encounter to be rape.
Todd decided to represent himself in court, and was charged with a laundry list of crimes, including rape. Todd felt that he was in love with Marty and wanted to give her what she wanted; so he pleaded guilty to all charges, including rape, even though he did not feel he had actually raped her. Just after he pleads guilty, Téa barges in and announces that she's their to represent him. The judge allows them to confer, and Téa is able to convince Todd to allow her to represent him. Then, she convinces the judge to overturn his guilty plea. She eventually gets Todd off scot-free. Todd is then tried for the attempted kidnapping of Starr's baby Hope, whom he had planned to kidnap at birth, but decided not to. Starr is going to testify against him, but changes her testimony on the stand and Todd is let off for that too. Later, however, Todd realizes that he truly is guilty of everything, including rape and the attempted kidnapping of Hope, and admits it to everyone (minus the judge).
Later, Téa gets sick of Todd and becomes his ex-wife Blair's attorney. Blair is in the hospital after having been stabbed, and Téa comes up with an idea for her to keep custody of Starr and Jack. She advises Blair to marry her boyfriend John McBain, and they do. John is then granted custody of the kids. In order to get his kids back, Todd offers to be Téa's "sex slave" if she'll get him custody of his kids. Todd thinks that it's a done deal when he is able to seduce her into having sex, but then Téa tells him that she played him and will not be helping him get his kids back. Even though Téa says she won't trade sexual favors for legal help, she and Todd have sex on numerous occasions while the custody battle ensues. In the end, Todd and Blair are granted joint custody.
In 2009, Todd's crazy cousin, Powell Lord III, who was another participant in the Marty Saybrooke gang rape in college, returns to town and kidnaps Todd, Téa, Blair, and Marty. He has Marty and Todd tied up in a bedroom, and Blair and Téa in the boiler room, at the same frat house where the gang rape had happened years before. Blair and Téa think they are going to die and they tell each other that Todd is the love of both of their lives. Téa tells Blair that she has a deeper secret to tell her, but Blair passes out before she can hear it. John arrives and kills Powell and rescues everyone. Todd and Téa then begin to get even closer as he helps her recuperate from being badly injured when the boiler room exploded. Later, Blair suspects Téa is hiding something, and hires private investigator Rex Balsom to research her. He finds that after Téa and Ross got off the desert island years before, they disappeared. He couldn't find any information about the time between the island and when Téa showed up in Llanview again. He does, however, find that Ross is living in Tahiti.
Blair goes to Tahiti and finds out that Téa married Ross after getting off the island, and that they are still legally married. Meanwhile, back in Llanview, Todd proposes to Téa and she says no, but calls Ross demanding a divorce. Blair convinces Ross to tell Téa he'll give her a divorce, but to actually fake the divorce and not actually file any paperwork. After Ross tells Téa he'll give her a divorce and Téa gets her "divorce papers" in the mail, she tells Todd she will marry him. Blair brings Ross back to Llanview, with the intent of crashing Todd and Téa's wedding, but her plans are foiled and Todd and Téa end up getting married. Soon afterward, Blair tells Todd the truth and Todd calls Tahiti to confirm Téa is still married to Ross, invalidating their marriage. Todd breaks things off with Téa, even though she tells him she thought she was divorced. Ross and Téa do get legally divorced later.
Ross tells Blairs that Téa has another deep dark secret, but he doesn't tell her what it is. When Téa goes to confront Blair about her dealings with Ross, they get into an argument and Téa admits to Blair that she has a child with Todd, from their one time together on the island. They get into a scuffle, and Blair falls out of a second story window. After waking up in the hospital, Blair can't remember what it was that Téa confessed to her. Téa then reveals to Rachel Gannon that she has a daughter named Danielle with Todd, which was just recently confirmed with a DNA test. Danielle, now a teenager, is in a boarding school in London, and has been raised by Ross, whom she believes to be her father. Todd eventually finds out about Danielle and she comes to Llanview to live with Téa. Danielle finds out about Todd's past and all his misdeeds and wants nothing to do with him, and Téa breaks up with him.
In 2010, Téa is diagnosed with an inoperable brain tumor after collapsing in court. She hides her condition from Todd and Danielle; but Blair finds out, and the two women form an unlikely friendship. At first, Téa refuses medical treatment, but Blair convinces her to get help, and even drives her to her doctor's appointments. Later, Téa asks Blair to be Danielle's surrogate mother after she dies, and her legal guardian if anything happens to Todd, and Blair accepts. Later, Todd finds out about Téa's condition and insists on being there for her, even after she pushes him away. Danielle eventually finds out too, and Todd and Téa are remarried. Shortly after their wedding, Téa decides to go away to a hospice to die alone, leaving Todd and Danielle behind in Llanview. Todd and Danielle can't let Téa die alone, however, and decide to find her. They track her down to St. Kitts, and go there to find her, only to be told that she's already dead.
Later, however, it is revealed that Téa is actually alive and being held in a hospital room. Ross' brother Eli Clarke is threatening Téa's doctor, Greg Evans, into giving her drugs to mimic the effects of a brain tumor. Eventually, Téa escapes from the hospital, but is kidnapped by Eli and held in an abandoned warehouse. Eli had also kidnapped Starr, Danielle, and Hope. Starr and Hope had escaped, but Danielle was also being held in the same warehouse. Blair, believing Starr and Hope are inside the warehouse, goes in to find them, but finds Téa instead. Then, Todd and John go in to get Blair, and Todd and Téa are reunited. In August 2011, it is revealed that the man to whom Téa is married and has believed was Todd Manning, is not actually that man after all. He is actually Todd's identical twin brother, Victor Lord, Jr., who had been given plastic surgery against his will and brainwashed into believing he was his brother by their crazed mother Irene Manning. The real Todd had been held captive and tortured by Irene for the past eight years.
When the truth comes out, Victor is worried that Téa will leave him. He tells her that he loves her, and she assures him that she loves him, regardless of what his name is. They then make love. On August 30, Victor is shot by an unseen assailant, and he seemingly dies in Téa's arms on the 31. Todd is liked for the murder of his brother, but Téa believes him when he insists he didn't do it, and agrees to represent him. On October 31, Téa thinks she might be pregnant with Victor's baby, from their last time together; and on November 7, a pregnancy test confirms it. Téa is overjoyed at having Victor's baby, as she knows that Victor wanted more children; but she has a tough time accepting the fact that she'll have to raise the baby without him. Danielle promises her mother to help with the baby though, and to make sure that he or she knows all about Victor. Téa and John begin to think that Todd actually did kill Victor, and John eventually gets proof that he did. On January 13, 2012, Todd is arrested for Victor's murder. Unbeknownst to everyone however, Victor is not actually dead; but alive and being held captive by an escaped prisoner, Allison Perkins.
Téa arrives in Port Charles on May 8, 2012, late in her pregnancy, to provide legal counsel to Starr, who had held mobster Sonny Corinthos at gun point. Téa quickly discloses that she was hired by Blair, who was unable to come herself due to her son Sam falling ill. Téa and Todd fight over her being Starr's lawyer, but Starr eventually convinces her father that she needs Téa. Téa soon clashes with Alexis Davis and Johnny Zacchara, when they both approach Starr.
As Téa works on Starr's legal case, Todd works on Sonny to convince his son Michael to recant his statement about Starr attempting to murder Sonny. At Starr's arraignment, Starr and Todd are worried when Téa fails to show up; but Sonny does get Michael to recant his statement after all and Starr is released.
Téa collapses on June 1, 2012, the day of Starr's hearing, and consequently goes into labor. Fortunately, she is found by Todd, who attempts to drive her to the hospital, but drives off the road due to a terrible storm. When they can't make it to the hospital, Todd delivers Téa's son at a bus stop. The baby isn't crying, so Todd takes him, unsure if he is breathing, and promises to return with help. Todd subsequently finds Heather Webber, whom he begs for help. On June 4, 2012 Heather explains to Todd that she has done all that she can, but Téa's baby did not survive. Todd then finds an unconscious Sam Morgan, along with a crying infant.
At that precise moment, Téa, who has left the car in frustration due to Todd's long absence, finds Todd with Sam's baby and automatically assumes the baby is hers. Todd attempts to tell her the truth, but can't bring himself to tell her. Heather convinces Todd to switch the babies, telling him the baby is "where he belongs." [6] The subsequent attempt that Todd makes to tell Téa that the baby is not her own is thwarted: On June 6, 2012, Epiphany comes to take the baby to the nursery while Todd attempts to explain, but Téa hears none of it. Todd later takes Téa and "her" son back to Llanview.
Months later, the crazed Heather goes to Llanview, with the plan to kidnap the baby, whom Téa has named Victor Lord III, and raise him as her own. Heather is able to obtain a job from Téa as "Victor's" nanny. Meanwhile, back in Port Charles, Sam's husband, Jason, is suspicious that Sam's baby, who supposedly died, was actually switched with Téa's baby at birth. He enlists the help of John McBain, who goes to Llanview to obtain a DNA sample from the baby to see if he is actually Sam's. John is able to get a DNA sample from "Victor," without Téa knowing, and takes it back to Port Charles. It is then confirmed that the baby is actually Sam's, not Téa's. John then goes back to Llanview to tell Téa that the baby isn't hers, but Heather has already kidnapped him.
Téa then returns to Port Charles after hearing that Heather has returned there as well. Téa then goes to Todd, seeking help and comfort. Todd tries to confess the truth to Téa about "Victor" not being her son, but Téa is so hysterical, she won't hear it. After Téa composes herself, Todd tells her that he has had his people looking for Heather, and they found her at a motel. They go to the motel, where they meet up with John and the police commissioner, Anna Devane. Heather and the baby are already gone, however. John threatens Todd to either tell Téa the truth, or that he will. John is about to tell her when Anna gets a call that Heather is at General Hospital with the baby, holding him hostage on the roof.
At the hospital, Todd and Téa wait with the police on the ground, looking up at Heather on the roof with the baby. Meanwhile, Sam and Jason are on the roof trying to talk Heather into giving the baby to them. Heather then jumps from the roof, but Jason is able to grab the baby before he goes over. Heather is alive, but left in a coma. Téa and Todd then go into the hospital, and when Téa sees Sam and Jason with the baby, she tries to take him from them, but Sam yells at her to stay away and says she can't have him. Téa doesn't understand and John and Todd then finally tell her that her son had died the night she gave birth to him, and that the baby was switched with Sam's son. Téa demands proof, and John gives her the DNA test on the baby. Téa then goes and says goodbye to the baby, and gives Sam some tips on how to take care of him; though heartbroken, Téa gives him back to Sam.
Todd is arrested for his involvement in the baby switch, and Téa goes to get answers from him while he's in jail. She asks him point blank if he knew that the baby wasn't hers, and he lies to her and tells her that he didn't. He tells her that he never went inside the shack and that Heather brought the alive baby outside to him, making him believe that the baby was actually Téa's. Téa isn't sure if she believes him. She tells him that another scenario she thinks is possible is that he saw an opportunity to give her an alive baby, not wanting her to lose her child after he had taken her husband away from her. She then tells him that if that is what happened, that he has hurt her worse than ever.
Téa appears again onscreen with Blair, just before Tomás and Blair's wedding. Téa gives her a wedding present of keepsakes from her family. Téa recounts how she fell apart after giving away the baby, and thanks Blair for her and Tomás's support to help get her life back on track. Meanwhile, Todd shows up with Skye Quartermaine and Carly Jacks, saying that Tomás is actually a criminal named Lorenzo Alcazar. Blair calls Tomás to get him to come home, but instead, a CIA agent comes, saying Tomás has gone on a mission, and he won't be there for the wedding. Téa sets out with Blair and Skye to go find him, while Todd and Carly go back to Port Charles.
Return to OLTL
Téa returned to normal life in Llanview without Tomas and continued to grieve for her deceased child. Meanwhile her daughter Dani starting drinking heavily and experimented with drugs. Téa was lost in her grief and missed the signs that Dani was in trouble. She was forced to acknowledge her absence in Dani's life after Dani overdosed on oxycodone and was hospitalized. Todd, who recently returned to Llanview, accused Téa of poor parenting and she acknowledged that was partially true but it was all Todd's fault. Téa reminded Todd that he had killed her husband and allowed her to bond with a child that was not hers.
Both Todd and Téa were shocked when Victor Jr. arrived at the hospital to visit Dani. Téa was overjoyed to learn that her husband was alive but immediately noticed changes in him, including a mysterious tattoo. He was reluctant to speak about where he had been or what he had been through but did explain that he had been held captive and that people were still after him. Victor left Téa and their family almost immediately after his visit. He did not tell Téa where he was headed, but said that he had to leave and stay away in order to keep everyone safe.
After Victor's return and subsequent disappearance, Téa was forced to consider that Victor might have changed after the police confirmed that he had tried to poison Todd and had evidence which linked him to a murder. Téa feared for Dani and Blair's children after Todd found a hit list which included the members of their families. At the same time, Téa learned that the oxycodone Dani had ingested had been intentionally tampered with and Téa was forced to work with Todd and Blair. Todd explained that everyone was in danger until he completed his task, which was to kill Victor. Téa refused to help Todd kill her husband but she did agree to fake his death. The plan was rendered moot after Todd received notification that Victor had been captured. Todd left town to search for Victor while Téa and Blair helped each other cope with the absence of Victor and Todd.
Téa received an unwelcome distraction from her concern over Victor when she learned of Dani's association with an older man named Arturo Bandini. Arturo had previously been involved with a young woman and he had plied her with expensive gifts and paid for her to live at the Palace Hotel. The woman had been murdered and Téa did not want Dani involved with Arturo. Dani ignored her mother's concerns and continued to spend time with him.
For further storylines regarding Téa, please see her profile at the OLTL wiki.
Family tree
Rreferences
v - e

Current Contract Characters
Curtis Ashford
 ·
Jordan Ashford
 ·
Franco Baldwin
 ·
Hayden Barnes-Cassadine
 ·
Nikolas Cassadine
 ·
Morgan Corinthos
 ·
Sonny Corinthos
 ·
Carly Corinthos-Jacks
 ·
Alexis Davis
 ·
Anna Devane
 ·
Dante Falconeri
 ·
Olivia Falconeri
 ·
Dr. Hamilton Finn
 ·
Nelle Hayes
 ·
Paul Hornsby
 ·
Ava Jerome
 ·
Julian Jerome
 ·
Kiki Jerome
 ·
Maxie Jones
 ·
Dr. Andre Maddox
 ·
Jason Morgan
 ·
Sam Morgan
 ·
Dr. Griffin Munro
 ·
Dillon Quartermaine
 ·
Michael Quartermaine
 ·
Tracy Quartermaine
 ·
Nina Reeves
 ·
Nurse Sabrina Santiago
 ·
Laura Spencer
 ·
Valerie Spencer
 ·
Lulu Spencer-Falconeri
 ·
Nurse Elizabeth Webber
 ·
Nathan West
Current Recurring Characters
T.J. Ashford
 ·
Ned Ashton
 ·
Scott Baldwin
 ·
Claudette Beaulieu
 ·
Valentin Cassadine
 ·
Lucy Coe
 ·
Darby Collette
 ·
Dr. Kevin Collins
 ·
Brad Cooper
 ·
Kristina Corinthos-Davis
 ·
Landon Dixon
 ·
Naomi Dreyfus
 ·
Nurse Amy Driscoll
 ·
Nurse Felix DuBois
 ·
Parker Forsyth
 ·
Max Giambetti
 ·
Milo Giambetti
 ·
Alice Gunderson
 ·
Jasper Jacks
 ·
Nurse Epiphany Johnson
 ·
Dr. Lucas Jones
 ·
Ric Lansing
 ·
Molly Lansing-Davis
 ·
Dr. Kelly Lee
 ·
Janice Lomax
 ·
Huxley Lynch
 ·
Rosalie Martinez
 ·
Diane Miller
 ·
Dr. Liesl Obrecht
 ·
Dr. Monica Quartermaine
 ·
Dr. Joe Rivera
 ·
Aaron Roland
 ·
Delia Ryan Coleridge
 ·
Felicia Scorpio
 ·
Mac Scorpio
 ·
Robert Scorpio
 ·
Dr. Robin Scorpio-Drake
 ·
Nurse Bobbie Spencer
 ·
Damian Spinelli
 ·
Ellie Trout
 ·
David Walters
 ·
Heather Webber
Current Child Characters
Spencer Cassadine
 ·
Leo Falconeri
 ·
Rocco Falconeri
 ·
Josslyn Jacks
 ·
Avery Jerome-Corinthos
 ·
Danny Morgan
 ·
Teddy Rivera
 ·
Emma Scorpio-Drake
 ·
Aiden Spencer
 ·
Cameron Spencer
 ·
Jake Spencer
 ·
Georgie Spinelli
Deceased and Presumed Dead Characters
Benny Abrahms
 ·
Bernie Abrahms
 ·
Dr. Rachel Adair
 ·
Diego Alcazar
 ·
Lorenzo Alcazar
 ·
Luis Alcazar
 ·
Sage Alcazar
 ·
Ruby Anderson
 ·
Dr. Andy Archer
 ·
Dominique Baldwin
 ·
Cooper Barrett
 ·
Alison Barrington
 ·
Amanda Barrington
 ·
Kiefer Bauer
 ·
Warren Bauer
 ·
Jesse Beaudry
 ·
Katherine Bell
 ·
Connor Bishop
 ·
Mary Bishop
 ·
Paige Bowen
 ·
Nurse Jessie Brewer
 ·
Nancy Brewer
 ·
Dr. Phil Brewer
 ·
Carter
 ·
Helena Cassadine
 ·
Irina Cassadine
 ·
Kristina Cassadine
 ·
Mikkos Cassadine
 ·
Stavros Cassadine
 ·
Stefan Cassadine
 ·
Tony Cassadine
 ·
Victor Cassadine
 ·
Stone Cates
 ·
Dr. Ryan Chamberlain
 ·
Dr. Silas Clay
 ·
Stephen Clay
 ·
Adela Corinthos
 ·
Lily Corinthos
 ·
Dr. Ian Devlin
 ·
Mickey Diamond
 ·
Ronnie Dimestico
 ·
Dr. Pierce Dorman
 ·
John Durant
 ·
Bill Eckert
 ·
Connie Falconeri
 ·
Andrea Floyd
 ·
Dr. Russell Ford
 ·
Dr. Steve Hardy
 ·
Peter Harrell, Sr.
 ·
Peter Harrell, Jr.
 ·
Abby Haver
 ·
Logan Hayes
 ·
Theo Hoffman
 ·
John Jacks
 ·
Aleksander Janacek
 ·
Victor Jerome
 ·
Stan Johnson
 ·
B.J. Jones
 ·
Georgie Jones
 ·
Tania Jones
 ·
Dr. Tony Jones
 ·
Dr. Ewen Keenan
 ·
Rafe Kovich, Jr.
 ·
Dr. Eve Lambert
 ·
Trevor Lansing
 ·
Duke Lavery
 ·
Dr. Cameron Lewis
 ·
Victor Lord III
 ·
Hope Manning-Thornhart
 ·
Reese Marshall
 ·
Courtney Matthews
 ·
Dr. Matthew Mayes
 ·
Danny McCall
 ·
Lila McCall
 ·
Nurse Leyla Mir
 ·
Trey Mitchell
 ·
Susan Moore
 ·
Chloe Morgan
 ·
Henry Nakamura
 ·
Dr. Lisa Niles
 ·
A.J. Quartermaine
 ·
Dr. Alan Quartermaine
 ·
Alexandria Quartermaine
 ·
Edward Quartermaine
 ·
Dr. Emily Quartermaine
 ·
Lila Quartermaine
 ·
Carlos Rivera
 ·
Faith Rosco
 ·
Manny Ruiz
 ·
Gabriel Santiago
 ·
Joe Scully
 ·
Joe Scully, Jr.
 ·
Kyle Sloane
 ·
Damian Smith
 ·
Frank Smith
 ·
Shirley Smith
 ·
Zander Smith
 ·
Lena Spencer
 ·
Pat Spencer
 ·
Siobhan Spencer
 ·
Tim Spencer
 ·
Olivia St. John
 ·
Nurse Diana Taylor
 ·
Martha Taylor
 ·
Dr. Peter Taylor
 ·
Tracy Taylor
 ·
Dr. Asher Thomas
 ·
Cole Thornhart
 ·
Nurse Amy Vining
 ·
Bradley Ward
 ·
Justus Ward
 ·
Mary Mae Ward
 ·
Dr. Rick Webber
 ·
Dr. Karen Wexler
 ·
Dawn Winthrop
 ·
Deke Woods
 ·
Dr. Maggie Wurth
 ·
Anthony Zacchara
 ·
Claudia Zacchara-Corinthos
Off-screen and Former Characters
Lila Rae Alcazar
 ·
Dr. Grant Andrews
 ·
Terri Arnett
 ·
Brook Lynn Ashton
 ·
Larry Ashton
 ·
Christina Baldwin
 ·
Dr. Gail Baldwin
 ·
Lee Baldwin
 ·
Serena Baldwin
 ·
Dr. Tom Baldwin
 ·
Brenda Barrett
 ·
Julia Barrett
 ·
Melinda Bauer
 ·
Shawn Butler
 ·
Gia Campbell
 ·
Peter Carroll
 ·
Dimitri Cassadine
 ·
Petros Cassadine
 ·
Jagger Cates
 ·
Lois Cerullo
 ·
Skye Chandler-Quartermaine
 ·
Dr. Linda Chu
 ·
Father Coates
 ·
Mike Corbin
 ·
Angie Costello
 ·
Blair Cramer
 ·
Jolene Crowell
 ·
Nurse Nadine Crowell
 ·
Dr. Rae Cummings
 ·
Marco Dane
 ·
Téa Delgado
 ·
Roy DiLucca
 ·
Anna Donely
 ·
Sean Donely
 ·
Tiffany Donely
 ·
Dr. Noah Drake
 ·
Dr. Patrick Drake
 ·
Taylor DuBois
 ·
Toussaint Dubois
 ·
Jenny Eckert
 ·
Sly Eckert
 ·
William Eichner
 ·
Angel Ellis
 ·
John Everett
 ·
Cesar Faison
 ·
Nurse Fletcher
 ·
Pres Floyd
 ·
Nurse Betsy Frank
 ·
Ivy Gatling
 ·
Nurse Audrey Hardy
 ·
Dr. Simone Hardy
 ·
Dr. Tom Hardy
 ·
Dr. Tommy Hardy
 ·
David Harper
 ·
Jimmy Lee Holt
 ·
Dr. Matt Hunter
 ·
Anton Ivanov
 ·
Lady Jane Jacks
 ·
Jerry Jacks
 ·
Terrell Jackson
 ·
Miranda Jameson
 ·
Frisco Jones
 ·
Dr. Leo Julian
 ·
Rose Kelly
 ·
Winifred Leeds
 ·
Guy Lewis
 ·
Victor Lord, Jr.
 ·
Ethan Lovett
 ·
Starr Manning
 ·
Todd Manning
 ·
John McBain
 ·
Colleen McHenry
 ·
Miguel Morez
 ·
‎Hope Morgan
 ·
Ken Morgan
 ·
Delores Padilla
 ·
Blackie Parrish
 ·
Nurse Penny
 ·
Grant Putnam
 ·
Celia Quartermaine
 ·
Burt Ramsey
 ·
Coleman Ratcliffe
 ·
Madeline Reeves
 ·
Cruz Rodriguez
 ·
Casey Rogers
 ·
Father Mateo Ruiz
 ·
Juan Santiago
 ·
Alec Scott
 ·
Hannah Scott
 ·
Jeffrey Scribner
 ·
Rebecca Shaw
 ·
Jennifer Smith
 ·
Lucky Spencer
 ·
Luke Spencer
 ·
Suzanne Stanwyck
 ·
Nurse Mischa Stephens
 ·
Holly Sutton
 ·
Marcus Taggert
 ·
Nurse Regina Thompson
 ·
Claire Walsh
 ·
Faith Ward
 ·
Keesha Ward
 ·
Dr. Maya Ward
 ·
Dr. Jeff Webber
 ·
Dr. Lesley Webber
 ·
Dr. Sarah Webber
 ·
Dr. Steve Webber
 ·
Dr. Britt Westbourne
 ·
Dr. Lainey Winters
 ·
Grace Yang
 ·
Johnny Zacchara
Crew
Shelly Altman (Head writer, 2011-2012, 2015-present)
 ·
Ron Carlivati (Head writer, 2012-2015)
 ·
Jill Farren Phelps (Executive producer, 2001-2012)
 ·
Robert Guza, Jr. (Head writer, 1996, 1997-2000, 2002-2008, 2008-2011)
 ·
H. Wesley Kenney (Executive producer, 1987-1989; Head writer, 1988)
 ·
Gloria Monty (Executive producer, 1978-1987, 1991-1992; Head writer, 1981)
 ·
Jean Passanante (Head writer, 2015-present)
 ·
Wendy Riche (Executive producer, 1992-2001)
 ·
Frank Valentini (Executive producer, 2012-present)
 ·
Garin Wolf (Head writer, 2008, 2011-2012)
Related Topics
List of cast members
 ·
List of current actors
 ·
History of General Hospital